New Age Islam News Bureau
5 May 2019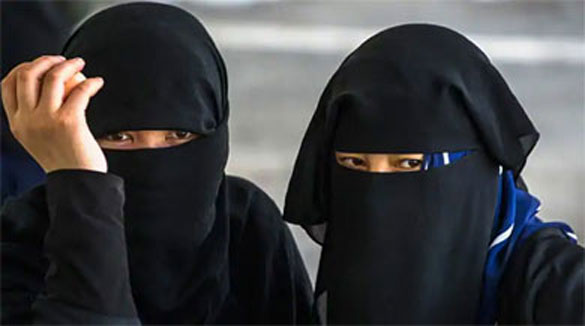 Women covering their faces is not Islamic. It is a new culture brought from abroad and has little to do with religion. The practice of covering the face is a cultural invasion. Now, it has become widespread in Kerala," Fazal Gafoor had explained.
-----
• Jamaat-e-Islami Rejects Call for Ban on 'Burqa' in India
• Behind Kerala Veil Ban, Story Of Uniform, Two Girls Out Of School for a Year
• Muslim Women Are Abandoning Surgery Career Dreams over Fears Of Breaking NHS Dress Code
• New Zealand Official Lauds Status Of Emirati Women
• Bank in Surat Bans Burqa, Backtracks After Protests
Compiled by New Age Islam News Bureau
URL: https://www.newageislam.com/islam-women-feminism/head-educational-group-kerala-banned/d/118506
--------
Head of Educational Group In Kerala Who Banned Face Veil Gets Death Threat
May 04, 2019
The Kerala police on Saturday registered a case after the head of the Muslim Educational Society (MES), who banned wearing niqab, the face veil, on campus of his institutions complained of receiving a death threat.
"I received a call on my mobile phone on Friday evening threatening to kill me. He was very agitated and heaped abuses on me. He told me not to fiddle with religious issues," said MES president Dr Fasal Gafoor. "I tried to reason with him but he was not willing to listen."
But Gafoor insisted his group will go ahead with its decision to ban the veil.
The police later found that the threat call came from one of the countries in the Middle east which has a sizeable non-resident Indians. The police did not name the country.
The MES had issued the circular on Thursday citing a recent Kerala High Court order to ban hijab which covers a woman's head in all its institutions. The MES runs 150 institutions.
While many progressive Muslim outfits have welcomed the decision saying face veil was nothing to do with the religion but many traditionalists opposed it vehemently dubbing it "an incursion on religious freedom".
Samastha Kerala Jemiayathul Ulema president Muthukoya Thangal criticized MES's move saying: "The MES has no right to dictate terms to believers. Burqua is the identity of Muslim women and nobody can deny this," and demanded the withdrawal of the circular. Jammat e-Islami has also criticised the move.
But the dominant Muslim political party, the Muslim League, is yet to comment on the issue. The ruling Left Democratic Front has welcomed the move. "Even while performing the Haj pilgrimage women never cover their face. It is nothing to do with religion and we should promote such saner voices from the community," said K T Jaleel, state minister for local administration.
https://www.hindustantimes.com/india-news/head-of-educational-group-in-kerala-who-banned-face-veil-gets-death-threat/story-zEQy9jeQHP6T0F9OlEg9tL.html
--------
Jamaat-e-Islami Rejects Call for Ban on 'Burqa' in India
04/05/2019
Amid the row over 'Hijab' or 'Burqa' (Muslim women face-veil), one of India's prominent Muslim organization, the Jamaat Islami Hind, has rejected the call for ban on Burqa and said that Muslim women in India will continue to practice modesty as mandated by their religion and will not be intimidated by such specious demands made by what it called "anti social elements".
"In the aftermath of attacks in Sri Lanka, the government there has banned the "burqa" or Muslim women face-veil and some voices have also been raised in our country to do the same. This outrageous demand is not only undemocratic and devoid of any logic but also goes against the basic rights guaranteed under the Constitution of India. Muslim women in India will continue to practice modesty as mandated by their religion and will not be intimidated by such specious demands made by antisocial elements," Jamaat said in a statement issued by its president Syed Sadatullah Husaini today.
The Jamaat leadership has already condemned the serial blasts in Sri Lanka on 21 April and termed them as unforgivable heinous crimes against humanity. The Jamaat expressed deep sorrow over the tragedy and extended sympathies with the families of the over 250 people killed in the blasts. The Jamaat expressed hope that the government of Sri Lanka will thoroughly investigate these blasts and will do its utmost to bring the criminals to justice.
https://theindianawaaz.com/jamaat-e-islami-rejects-call-for-ban-on-burqa-in-india/
--------
Behind Kerala Veil Ban, Story Of Uniform, Two Girls Out Of School for a Year
by Shaju Philip
May 5, 2019
IN ITS April 17 directive asking managements of all its colleges to ensure that girl students don't wear veils covering their faces, the Muslim Educational Society (MES), one of the largest such groups in the country with over 150 institutions, had cited a Kerala High Court order.
The two girls whose case was the basis of that order have not been going to school for a year.
The father of the two minors, Mohammed Sunir, had gone to court after their Christ Nagar Senior Secondary School, located at Thiruvallam near Thiruvananthapuram, had said they couldn't wear long sleeves starting academic year 2018-19. Deeming short sleeves un-Islamic, Sunir had moved court. In December 2018, in a single bench order, Judge A Muhamed Mustaque ruled that a petitioner cannot seek imposition of individual rights over the larger interest of an institution, and that it was within the domain of an institution to decide a dress code.
Sunir, who did not send his daughters, who were then in Classes 7 and 3, to school during the last academic year, has appealed against the single-bench high court order. "I will take the fight to the apex court," says the 40-year-old.
He has another daughter studying in kindergarten of the same school. The children in these classes have a frock and shirt as uniform, while elder girl students have to wear a shirt and pinafore, and boys trousers and shirt.
A trader, Sunir says, "It (the order) is against a child's right to wear a decent dress covering her body. Why can't a student go to school covered? When a person wants it, can anyone deny that right? I am fighting for the rights envisaged for an ordinary citizen in the Constitution. I am not demanding that the face of the students be covered, only demanding full sleeves."
Christ Nagar Senior Secondary School is run by the Catholic body Carmelites of Mary Immaculate. It has 5,000-odd students from kindergarten to Class 12. Of them, 800-odd are Muslims.
Principal Fr Mathew Chakkalakkal says, "When the two students came wearing long sleeves in 2017-18, we insisted they stick to the school uniform. That academic year, we allowed them to wear full sleeves, but wanted to stick to the dress code in the next academic year, 2018-19. But the parent is not ready to follow the dress code and the students didn't attend classes in the last academic year."
Denying that there was any change in school policy regarding sleeves, since it began 20 years ago, the principal adds, "This particular parent complained to the highest authorities in the state government, but everyone stood with us… We can't run an educational institution from religious angle."
The school's Parents Teachers Association (PTA) President, K S Renjulal, says they had tried convincing Sunir to change his mind. "But he remained adamant… One or two students can't be allowed to violate the school dress code."
Advocate Hasshir Labba, who is a member of the PTA executive, says Sunir was wrong in denying his children a good education on these grounds. "If full sleeves are allowed for Muslim girls, tomorrow someone would come demanding the right to wear dhoti and tilak on their forehead," he says.
In his order, Judge Mustaque had held that the right of a woman to dress as per her religious injunctions was a fundamental right protected under Article 25 (1) of the Constitution if such prescribed dress was an essential part of religion. However, the court said, the right to establish, manage and administer an institution was equally a fundamental right, under Article 19, subject to "reasonable restrictions".
Not resolved through legislation, these two competing rights, the judge held, were a matter of judicial adjudication. "The court has to balance those rights to uphold the interest of the dominant rather than the subservient interest. If dominant interest is not allowed to prevail, subservient interest would march over the dominant interest, resulting in chaos. In this case, management is the dominant interest and if the dominant interest is not given free hand to run the institution, that would denude their fundamental rights. The Constitution intends to assimilate those plural interests within its scheme without any conflict or in priority."
Sunir admits his daughters, who receive religious education at home, are missing the school and their classmates. "They want to study at the same school. But I want them to go in full sleeves."
https://indianexpress.com/article/india/kerala-muslim-educational-society-burqa-veil-ban-high-court-5710772/
--------
Muslim Women Are Abandoning Surgery Career Dreams over Fears Of Breaking NHS Dress Code
By Aasma Day
05/05/2019
Some Muslim women claim they are being denied the chance of pursuing their dream of a career in surgery as they are torn between their religious beliefs and NHS dress code policies.
A study looking at the experiences of Muslim women with NHS policies such as 'Bare Below the Elbows' and those concerning head coverings in surgical theatres suggests some are experiencing bullying and harassment as a result of their religious observance. Some women have even revealed they have abandoned their dream of working in surgery or a hospital setting as a result of a lack of clarity and feeling uncomfortable by NHS dress codes.
The research carried out by the British Islamic Medical Association (BIMA) and The Bridge Institute, an organisation which aims to build inclusive societies, questioned Muslim women from around the UK working in healthcare and discovered barriers when it came to dress. It was co-authored by a microbiologist and expert in infection care.
Wearing a headscarf was felt to be significant to many of the Muslim female healthcare professionals in adhering to their religious dress code, but more than half – 52% – reported problems when trying to wear a headscarf in theatre. There is no national NHS guidance relating to the wearing of head coverings. In surgical theatres, the default head garment is a semi-transparent scrub cap.
However, guidance from the National Institute for Health and Care Excellence (NICE) recommend that fully disposable head coverings should be worn in theatre for all individuals
The guidance also states there are alternatives to headscarves that cover the head and neck that can be worn in theatre by individuals where it is required for religious purposes and that it is for individual trusts to ensure that they are available for their staff.
The NHS Bare Below the Elbow policy has also been a source of confusion for Muslim women in healthcare, with conflicting demands to roll up their sleeves and a lack of awareness of national guidance.
The NHS Uniform and Workwear document states it is good practice to "wear short-sleeved shirts/blouses and avoid wearing white coats when providing patient care". The reason given is that "cuffs become heavily contaminated and are more likely to come into contact with patients." However, the document itself states that there is no conclusive evidence that uniforms or other work clothes pose a significant hazard in terms of spreading infection.
Muslim women described being discouraged from pursuing acute medical and surgical careers and instead opting for primary care roles as a result of the pressures in complying with hospital dress codes.
Dr Emma Wiley, a microbiology registrar and former Healthcare Infection Society Fellow from University College London Hospitals NHS Foundation Trust, is one of the co-authors of the study.
She told HuffPost UK: "We had comments from Muslim women saying it had been their dream to go into surgery – some wanted a career in obstetrics or gynaecology.
"But they said concerns and experiences about the dress code in hospitals had made them move into general practice instead.
"Dress code is policed more rigorously in hospitals while GPs work independently in small teams and there are not the same issues around infection control.
"It was heartbreaking to read these comments from Muslim women deterred from going into surgery – particularly when there is a real drive to get more women into surgery."
Wiley added that while infection control and protecting patients is important, the evidence for the Bare Below the Elbows policy is not strong. She says hand washing and hygiene is what is paramount.
Wiley points out that Department of Health guidance on uniform and workwear policies for NHS employers actually makes reference to the fact that exposure of the forearms is not acceptable to some staff because of their Islamic faith and offers recommendations and alternatives – but says the problem is most hospital trusts aren't aware of these.
Building on work with organisations including the British Medical Association, NHS England, NHS Improvement and the Infection Prevention Society, the researchers and BIMA are calling for the effective implementation of a national dress code policy which meets both infection control and faith requirements.
Wiley said: "It is disappointing that Muslim women are being held back in their careers due to dress code policies.
"They feel there are no safe spaces to voice this and no one to speak to if they are being bullied on this issue.
"Speaking out about the Bare Below the Elbows policy as an individual is challenging when it results in escalation to trust management and forms part of hospital inspections."
Dr Sharif Al-Ghazal, president of BIMA, said: "This data from this important research suggests for the first time that dress code policies such as Bare Below the Elbows contribute towards the indirect discrimination of faith groups.
"Our research has highlighted the impact on Muslim women and this may well affect other faith groups as well as our patients.
"We need inclusive policy, processes and systems that support women to succeed in their careers rather than holding them back."
A Department of Health and Social Care spokesman told HuffPost UK: "We are grateful to the British Islamic Medical Association for highlighting this important issue.
"It is vital that we continue to improve the equality and diversity of our workforce and Muslim women should have access to the same career opportunities in the NHS as everybody else.
"Employers must ensure clinical staff are provided with appropriate clothing to treat and care for patients safely, while taking into account their right to adhere to religious practices."
The department says it published fresh guidance for NHS employers on uniform and workwear policies in 2007 which included advice from Muslim Spiritual Care Provision in the NHS.
Recommendations to ensure local dress code policies are sensitive to the obligations of Muslims and other faith groups while maintaining standards of hygiene include sleeves being full length when staff are not engaged in direct patient care activity.
The guidance says uniforms can have three-quarter length sleeves, but any full or three-quarter length sleeves must not be loose or dangling. They must be able to be rolled or pulled back and kept securely in place during hand-washing and direct patient care activity.
Disposable over-sleeves, elasticated at the elbow and wrist, may also be used according to the guidance, but these must be put on and discarded in exactly the same way as disposable gloves.
Strict procedures for washing hands and wrists must still be observed.
https://www.huffingtonpost.co.uk/entry/muslim-women-abandoning-dreams-of-career-in-surgery-due-to-fear-of-flouting-nhs-dress-code-policies_uk_5cc1cde4e4b01b6b3efe0952?guccounter=1&guce_referrer=aHR0cHM6Ly93d3cuZ29vZ2xlLmNvbS8&guce_referrer_sig=AQAAACY3X3DIFb6Ty8WUTUb4pC4ZupYq0CM8n-O9QQXRPCOfG7h6yy7LYwZG-qeo1Mf_doGUUmN9dvEUwSvWKXjFrxteMDrchAA8hRkMxQhy6QsHNZoGcoMJuyNC58DR7zvk1xZnQ1hOnEu3Ioya24fFD3wJ1Kk0tnBuTQ8wt_DFD9-z
--------
New Zealand Official Lauds Status Of Emirati Women
May 04, 2019
ABU DHABI: Dr Amal Abdullah Al Qubaisi, Speaker of Federal National Council (FNC), met Helene Quilter, Secretary of Defence of New Zealand, and her accompanying delegation at the FNC headquarters in Abu Dhabi. The FNC speaker commenced the meeting by first expressing her condolences to the government of New Zealand and its people, and the families of the victims of the terrorist attack on two mosques in Christchurch. She praised the New Zealand government's actions carried out to stand by the families of the victims following the violent terrorist attack. Dr Al Qubaisi affirmed that the UAE's stance towards ending crises, both regionally and globally, is through political and diplomatic solutions. She said the UAE is a model for tolerance and co-existence, noting that the country was the first in the world to form a Ministry of Tolerance. Quilter lauded the status of Emirati women, especially regarding their empowerment and the raising of their representation to 50 per cent within the FNC for the next parliamentary session.
https://gulfnews.com/uae/new-zealand-official-lauds-status-of-emirati-women-1.63741540
--------
Bank in Surat Bans Burqa, Backtracks After Protests
May 04, 2019
Two branches of Bank of Baroda in Surat sparked a controversy on Saturday for banning entries of customers in burqas and helmets and then backtracked following protests from Muslims.
Notices saying 'remove burqa/helmet' and 'no admission with burqa and helmet' had come up at Ambaji Road branch and New Civil Hospital branch in Surat. On Saturday, Muslims raised objections over the ban on burqa which is a religious tradition.
As Muslim leaders raised objections, the bank said it did not intend to hurt sentiments of any community and removed the notice.
Bank officials maintained that the notice was put up after recent terror attacks in Sri Lanka. Only two branches of the bank in the city had the notice.
"There was no ill intent behind the notice. Also, it was not meant to target any community. It was done for security reasons. And it has been removed now", Ambaji road branch manager Navin Gohiya told the media.
But not everybody was convinced with the explanation.
"Such notice definitely targets the Muslims. Helmets can be removed anytime. But Muslim women put on burqa to follow the religion. They are not supposed to remove it", said Congress leader Badruddin Sheikh.
The ruling BJP maintained that the government was not involved in the in the bank's decision and said that people's consent is required even in the matters of security measures.
"The government has nothing to do with the bank's decision. But the BJP believes that even for security steps, consent of people or community should be taken. Besides, the rules should not be the cause of inconvenience for anyone ".
https://www.hindustantimes.com/india-news/bank-in-surat-bans-burqa-backtracks-after-protests/story-VKUYzPchCmnbyAmSgk2OVL.html
--------
URL: https://www.newageislam.com/islam-women-feminism/head-educational-group-kerala-banned/d/118506
New Age Islam, Islam Online, Islamic Website, African Muslim News, Arab World News, South Asia News, Indian Muslim News, World Muslim News, Women in Islam, Islamic Feminism, Arab Women, Women In Arab, Islamophobia in America, Muslim Women in West, Islam Women and Feminism