New Age Islam News Bureau
10 Dec 2015
• The Beheadings of Seven Hazaras and Afghan Women's Struggle
• Sushma, Maryam exchange pleasantries
• 9/11 hearings stumble on female guard spat
• Dubai Police shows their humanitarian side by helping elderly woman receive medical attention
• Now Saudi women can work in airline catering
• Husband threatens women with gun in Saudi Arabia
• When we go beyond the border we learn the importance of limitation!
• 'Revise allocation for women's polls symbols'
• Woman held with Yaba in Ctg
• Ex-Umno woman files appeal to restore challenge against sacking
• Truant schoolgirls taken to shelter
• Women use exercise as a tool to canvass votes
• Once jailed for defying a driving ban, this Saudi woman is now standing for office
• Bureaucracy, male guardianship impede women participation in historic Saudi municipal elections
• Passport proposal to strengthen women empowerment
Compiled by New Age Islam News Bureau
URL: https://newageislam.com/islam-women-feminism/hate-crime-woman-tosses-coffee/d/105559
---------
Hate crime: US woman tosses coffee at praying Muslim men
9 December 2015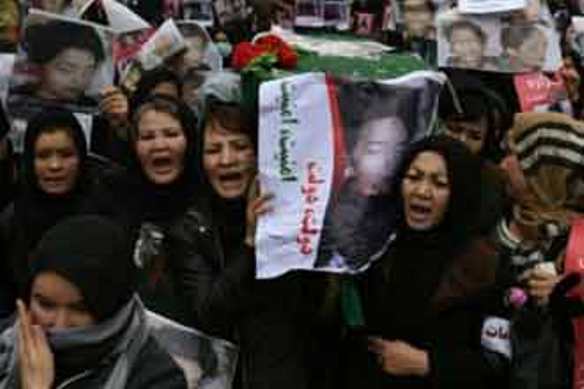 Photo: Afghan women's massive participation in all stages of the protest against the beheading of seven Hazaras in Afghanistan in the face of direct threats from ISIS and the Taliban demonstrates their firm stand for their hard gained rights.
CASTRO VALLEY, California: A California state worker has been caught on video making anti-Islamic slurs and then throwing coffee and an umbrella at a group of Muslim men praying at San Francisco Bay Area park.
KNTV reported Wednesday that East Bay Regional Park District spokeswoman Carolyn Jones says the district's police officers were forwarding their investigation to the district attorney's office for review.
Jones said prosecutors will then decide whether to charge Department of Corrections administrative worker Denize Slader.
Slader's actions at Lake Chabot Regional Park in Castro Valley were captured on video and posted on Facebook by Rasheed Albeshari.
Online news site NBC Bay Area reported that park police have recommended misdemeanor battery charges to prosecutors.
It also said the Department of Corrections, where Slader works, is also investigating the allegations.
It quoted East Bay Regional Park District spokeswoman Carolyn Jones as saying, It is legal to pray in the park, and talk to people in the park. It is not legal to hit people in the park."
In the video, Slader is heard saying Albeshari's "people have tortured" others.
"Your mind has been taken over, brainwashed. You have nothing but hate," she screamed.
A park ranger then arrives and tried to pacify Slader.
Albeshari is then heard saying that "this lady is talking about my God." He said the woman talked against Allah.
When she noticed that she was being filmed, the woman alunged toward Albesharri.
NBC Bay Area quoted Jones as saying the woman threw coffee and her umbrella at Albesharri.
http://www.arabnews.com/world/news/848316
---------
The Beheadings of Seven Hazaras and Afghan Women's Struggle
Dec 10 2015
Afghan women's massive participation in all stages of the protest against the beheading of seven Hazaras in Afghanistan in the face of direct threats from ISIS and the Taliban demonstrates their firm stand for their hard gained rights. While women's gigantic participation symbolizes positive changes in gender relations in Afghanistan, stereotypical
reinforcement of patriarchy, masculinization of the movement, and feminization of incompetency remain prevalent aspects of the protest on November 11.
While ISIS and the Taliban strive hard to curtail Afghan women's mobility, freedom, and socio-political rights, the massive participation of women in the protest, against decapitation of seven Hazaras by ISIS, indicates that ISIS's brutality impedes achievement of its own ideologies. On November 11, hundreds of Afghan women, from diverse age, educational, and ethnic groups, actively marched in the protest along with men and chanted slogans against
ISIS and the Taliban. Although the Taliban and ISIS fight hard to eliminate women from public spheres, the beheading of seven Hazaras motivated hundreds of women to consciously breach the public/private distinction and stand at the forefront of the demonstration.
The breach of the public/ private sphere did not remain limited to Kabul but spread out to the cities which are among the most hostile of environments to women in Afghanistan. On November 12, women fully covered in Burqa or wearing Niqab, marched in the streets of Nangarhar along with men, chanting slogans and demanding justice and security. Women's
march in Nangarhar occurred despite the fact that on June, ISIS openly distributed pamphlets in the city enforcing Burqa and restricting women's mobility unless approved by Sharia law. ISIS is known to have strong bases in Nangarhar and violence against women is at rise in the city. In the face of all these challenges, women's participation in the protest indicates that women firmly insist their mobility rights and articulate that no misogynistic regime or security threat can again take away the streets from them.
Ghazni, Balkh, and Herat; too, have witnessed women's widespread presence in protest once it broke out to these cities. Though a large number of women protesters in all cities were wearing masks to hide their faces, were heavily veiled, or covered their faces with the posters, their persistent participation designates that they are not giving up their hard fought achievements easily. The women's participation in the protest takes place in a context where women get beheaded by razor, get burned to death, get lashed to death, and are stoned to death in public, broad daylight, in daily basis. The women protesters joined the protest knowing that they receive no forms of institutional support from the unity government and that ISIS and the Taliban are making strenuous efforts to seclude women around the country.
Women not only constituted a massive number of protesters but have been actively involved in the protest organizing and leadership committee. Though small, a number of women have been sitting across the negotiating table when president Ghani invited the protesters' representative in the presidential palace. The leadership positions during the protest
highlights how the past fifteen years helped Afghan women establish themselves as authoritative protest organizers and active bargainers at the negotiating table.
While abduction of Hazara men by ISIS and the Taliban insurgents in the highways and cities has been at rise, the beheading or kidnap of Hazara women has been unlikely before. ISIS's beheading of two women and a nine-year old girl, among seven beheaded ones, was a direct warning to Hazara women and a sign to curtail their mobility. Over the past 15 years, Hazaras are known to be rather open and peaceful and Hazara women have generally enjoyed a greater level of liberty and mobility, and have shown an increasing socio-political participation rate compared to Pashtuns and Tajiks. The recent beheading of the two women and a girl attempts to halt Hazara women's "safety" and mobility and conveys them the message that their life is at stake unless they curb their motilities similar to their Pashtun and Tajik counterparts.
While the beheading of the three women was aimed to warn Hazara women and remove them from public spheres, the act motivated women of all ethnic groups to once again break the traditional norm and shoulder Shukria's coffin to the presidential palace throughout the demonstration. After carrying Farkhunda's coffin as a protest against her inhuman murder in March, it was the second time women publicly broke the male dominated practice of carrying a coffin. Women's such symbolic acts of solidarity and resistance in the face of direct security threats indicates that ISIS's brutality and violence could not remove them from public spheres but gave them the sphere to demand further rights and project their voices louder.
Although the protest removed the private/public distinction to a number of women, a mere stance and breaking out to street is not enough. The protest posters in social media and in the protest day yet emphasize masculinity and brotherhood rather than including all subsets of the society in the cause. In the protest in Nangarhar, women hold posters reading "Hazara wa Pashtun baradar and" meaning Hazara and Pashtun are brothers. While the sentence is
aimed to unify people of diverse ethnic groups, it entirely alienates women and their active presence in the protest. In Kabul, the pamphlets inviting people to join the protest boldly write "finding the reason for my beheading masoleat tost baradar" (is your responsibility, brother). Such calls for action reinforce patriarchy, emphasize masculinity, and undermines women's presence in the ground. The sentences conforms to the traditional norm that a brother, a male, is responsible to take charge of his sister, a woman, and the things which occur to her.
Besides the exclusionary content of the posters, feminization of male leaders' ineptness were common ways for protesters to express their fury over the leaders. In social media, people have decorated the images of Mohaqiq with long hair, heavy make-up, and jewelry when he angrily addressed the protesters as "useless" and "a group of mob motivated by the losers of the election" in his speech at the night of the protest in Kabul. Giving a feminine attribute to Mohammad Mohaqiq, the influential Hazara leader and secretary of the unity government, was considered to be a form of insult in response to his indifference to beheading of the seven Hazaras. People have also shown their misogynistic attitude by calling Mohaqiq as "zan bara", meaning someone who is solely busy with his wives, rather than objecting himself for
his own incompetence and indifference.
The prevalence of posters with stereotypical sentences and feminization of male leaders' incompetency indicates that carrying the coffin and a physical stance in the public sphere is not enough. To ensure that women's rights will never again be curtailed, such means of patriarchal reinforcement should be replaced with more inclusive ones. Femininity and
womanhood should not stand for incompetence and weakness and women's efforts should be valued equal to their men counterparts. Women should be holistically included in all sociopolitical spheres of life in Afghanistan.
Nazifa Alizada is a senior student at the Asian University for Women, in Chittagong, Bangladesh.
http://www.khaama.com/the-beheadings-of-seven-hazaras-and-afghan-womens-struggle-1790
---------
Sushma, Maryam exchange pleasantries
December 10, 2015
ISLAMABAD - Indian External Affairs Minister Sushma Swaraj and PML-N leader Maryam Nawaz met here at the Prime Minister House on Wednesday and exchanged pleasantries.
Maryam Nawaz warmly received the Indian External Affairs Minister at the PM House.
During the meeting which continued for some time, they discussed various matters.
Maryam Nawaz while welcoming Sushma Swaraj's to Pakistan said the people of two countries wanted friendly relations with each other.
The visit of Indian External Affairs Minister will help in bringing the people of two countries closer, she said, adding, the two countries would have to mutually find out the solution of resolvable disputes.
Sushma Swaraj said her parents belonged to Dharampura area of Lahore and recalled that she visited Dharampura during her last visit to Pakistan, where she remembered her parents' old memories.
Maryam Nawaz said that Pakistan and India would have to move forward together for the progress of their people.
She said as the world had moved ahead fast in the journey of development, Pakistan and India, while keeping in view the aspirations of their people, would also have to focus on their socio- economic development.
http://nation.com.pk/national/10-Dec-2015/sushma-maryam-exchange-pleasantries
---------
9/11 hearings stumble on female guard spat
December 10, 2015
GUANTANAMO BAY NAVAL BASE, Cuba - The five men accused of plotting 9/11 appeared in a Guantanamo Bay military court Tuesday, but the murder of 3,000 people faded into the background as testimony focused on whether female guards should have been allowed to touch the detainees.
Proceedings against Pakistan-born Khalid Sheikh Mohammed - who has publicly admitted to being the principal planner of the September 11, 2001 attacks - and his four co-defendants have gotten bogged down by complaints stemming from the use of women guards to escort them to and from the courthouse.
As strict Muslims, the inmates say it was inappropriate for women to handle them, and Khalid Sheikh has said it makes him flash back to the torture and sexual humiliation meted out by the Cental Intelligence Agency after he was captured in Pakistan in 2003 and sent to secret prisons.
Prison policy bars women guards from watching the inmates shower or conducting body searches, and authorities have tried to accommodate religious requests including by providing Halal food, undisturbed prayer time and by not touching the Holy Qurans.
But the only witness called Tuesday, a female Army lieutenant colonel who commanded Camp Seven where the detainees are housed, said that when she took the job in March 2014, she needed to use some women soldiers so all positions could properly be filled.
Citing prison operating procedures, Khalid Sheikh's attorney David Nevin asked if "close contact with unrelated females is culturally inappropriate."
The witness, who works for the Massachusetts National Guard and is a 33-year military police veteran, was testifying via video from the United States. "We accommodated their religious practices within our ability to do so," she said. "While I appreciated their concerns, operationally I needed to use all of my soldiers," the witness later added.
She added it wouldn't be fair for women to be overlooked for such roles, because this could adversely impact their career paths.
The judge in the case, Colonel James Pohl, in January ordered the military to stop using female guards; the issue actually dates back more than a year.
His order elicited outrage from the corridors of the Pentagon, whose chief Ashton Carter last week issued a "No Exceptions" directive ordering the US military to open all jobs - including combat positions - to women.
Critics say Pohl is prioritizing inmates' cultural concerns over the rights of women guards to an equal footing. The female guards in question have filed a gender-discrimination complaint.
The five accused were seated alongside their defense teams, with Khalid Sheikh at the front of the courtroom and the others in rows behind him.
Khalid Sheikh - better known by his initials KSM - wore a black-and-white shawl, a red-and-white headscarf and a camouflaged military jacket. He also was sporting a bushy, bright orange beard.
The other four accused are: Walid bin Attash and Ramzi Binalshibh of Yemen, Ali Abd al-Aziz Ali - Khalid Sheikh's nephew - and Mustapha al-Hawsawi of Saudi Arabia.
Al-Hawsawi - a slight man with glasses and a beard - sat on a white cushion throughout the day's hearing. He claims this is because he suffered damage to his rectum during aggressive CIA body cavity searches and has been denied surgery to correct it.
His lawyers have argued that the violence of the searches amounts to sodomy.
At least three defendants brought prayer mats into court. The men were given breaks to pray and were escorted to small yellow cells behind the military courthouse in which a blue arrow pointing to Mecca had been painted on the floor.
The men are charged with eight offenses: conspiracy, attacking civilians, attacking civilian objects, intentionally causing serious bodily injury, murder in violation of the law of war, destruction of property in violation of the law of war, hijacking or hazarding a vessel or aircraft, and terrorism.
Their case - already one of the longest prosecutions in American history and with no end in sight - has slowed to a crawl thanks to numerous defense motions and allegations of government misconduct, coupled with the logistical headache of flying the judge, lawyers and other staff into and out of the remote US naval base every time the men appear in court. The hearings are set to resume Wednesday.
http://nation.com.pk/international/10-Dec-2015/9-11-hearings-stumble-on-female-guard-spat
---------
Dubai Police shows their humanitarian side by helping elderly woman receive medical attention
December 10, 2015
Dubai: Dubai Police helped an elderly woman receive medical treatment.
An Asian family, who had a 90-year-old relative living with them, contacted the Human Right's Department at Dubai Police asking for help to get her medical treatment, said Major Shaheen Ishaq Al Mazmi, Director of the Child and Women Protection Department.
This he said is one of the humanitarian cases the department helped out in 2015.
"The woman had fallen very ill and did not have a valid visa, emirates ID nor a health card, so no hospital wanted to treat her," he said.
The elderly woman was on the head of the household's visa, but since he passed away 10 years ago, no one renewed her visa.
"This was a humanitarian case, and we took it upon ourselves to get her a health card, which is difficult without a visa. Because of the humanitarian nature of the case, the DHA made an exception and they issued a health card for her," he said.
The woman received treatment, and the family she is staying with are paying the expenses, "We told them if they cannot afford the medical bills we will also help them with that," Maj Al Mazmi said.
Dubai Police's Child and Women Protection Department handled 191 cases between January and September 2015.
Of the 191 cases, 55 cases were handled by the social support unit, 36 by the children protection unit and 21 by the women's protection unit.
http://gulfnews.com/news/uae/crime/dubai-police-shows-their-humanitarian-side-by-helping-elderly-woman-receive-medical-attention-1.1635062
---------
Now Saudi women can work in airline catering
Dec 10, 2015
RIYADH — The Ministry of Labor announced that it is opening the doors for Saudi women to work in airline catering.
Private Programs Deputy Labor Minister Abdulmunim Al-Shihry said the ministry is cooperating with Saudi Airlines Catering to offer Saudi women employment opportunities.
"The ministry aims to provide a safe and healthy environment for women to work in. We cooperate with the Human Resources Fund, the Technical and Vocational Training Center and the General Organization for Social Insurance to provide women with the best possible work opportunities and the best training," said Al-Shihry.
He added that the ministry offers a lot of aid to help Saudi women find employment in the private sector.
"We offer financial aid to trainees and set a minimum wage for private sector employees. The ministry supports the emloyment and education of women. The collaboration of the public and private sectors is a clear sign that the Kingdom empowers women," said Al-Shihry.
The ministry also rewards establishments for complying with the ministry's vision, he added.
"The ministry's job is not only to set rules and regulations for the employment of women. Companies can approach us for help in order to allow more women to work," said Al-Shihry.
Saudi Airline Catering CEO Wajdi Al-Ghabban said the company welcomes the employment of women in various departments. We have women employees working in marketing, sales, operational management, health and safety and hygiene and nutrition. Most of our women employees are Saudi. We have 458 Saudi women employees and they make up 98.4 percent of the women employees in the company," said Al-Ghabban. He also said all employees are fully qualified in the positions they hold.
"We offer proper training programs. We also cooperate with the ministry to ensure that all applicants are skilled in the vocation they are applying for and that they go through the proper hiring process," said Al-Ghabban.
http://saudigazette.com.sa/saudi-arabia/now-saudi-women-can-work-in-airline-catering/
---------
Husband threatens women with gun in Saudi Arabia
December 10, 2015
Manama: Security authorities in Asir in southwestern Saudi Arabia have arrested a man accused of approaching a group of women with a gun in his hand, saying he was looking for a woman who had quarreled with his wife.
The women, including the armed man's wife, were teachers waiting for a bus to take them to work.
"My wife and other teachers were assaulted by a man who was brandishing a gun," a man who filed a formal complaint told Saudi news site Sabq.
"They were terribly scared and they were moved to safety by the driver who arrived at the site on time to help them. The armed man was furious and he wanted to know which of the teachers had a fight the day before with his wife."
According to the report, the teacher whose husband showed up with a gun had a history of problems within the school and was often warned to improve her attitudes.
Mohammad Al Fifi, a spokesperson for the education district in Asir, said an investigation was launched into the complaints filed against the teacher by school staff.
Online readers condemned the armed man as a coward who used a gun to show off and scare women.
"A real man will never do that," Endless said. "If there is an issue, it is settled in a civilized way, and not through the use or under the threat of guns. Let alone when you are dealing with women. That is a shame," he said.
Another user, Grateful, said that the man was a "chicken."
"You allow yourself to threaten women? You mean you want to defend your wife by assaulting other women? You are a total failure," he said. "No wonder education levels are suffering because of teachers like your wife and her terrible attitude."
Abu Saleh said there were far more civil ways to settle disputes.
"This man should have contacted the school and found out exactly what happened between his wife and the other teacher," he said. "No one has the right to threaten women even verbally, let alone with a gun, simply because his wife had an issue with one of them. Maybe he was high on drugs, but he should be punished for what he did," he said.
http://gulfnews.com/news/gulf/saudi-arabia/husband-threatens-women-with-gun-in-saudi-arabia-1.1634945
---------
When we go beyond the border we learn the importance of limitation!
Dec 10 2015
I joined Beyond Boundaries:Afghanistan-Pakistan track I.5/ II dialogue after it's first meeting in Pakistan. I was delighted to be a part of such a dialogue where the common values of human rights, freedom of speech, women's rights and in general the interest of the people was the center of attention. The values that I as a modern politician have been fighting for in our own traditional politics where the grounds for such fights are regarded to be culturally very frictional.
In contrast, here I was delighted to participate in such civil society dialogue between the two countries' vibrant delegations where they have the common language of values and principles of human rights, freedom of speech and democracy.
The Afghan delegations were composed of women rights activists, human rights defenders, civil society advocates and 3 modern politicians with their clear distinctions, including two former MPs.
The night before the event, I browsed through our Pakistani delegation biography and noticed that very strong individuals with academic, human rights, civil society and business backgrounds were selected and I thought that the combination of both groups could create a formula of challenge for traditional politics on both sides of the border.
I felt pleased and wanted to ensure that the first thing I should do is to leave my political hat at home and concentrate on the colorful dialogue of civil society as an Afghan woman, as a citizen, as a human rights believer and as a person who as opposed to war was determined for peace, an outspoken belief that led me in to politics.
In the morning when the dialogue officially started in the presence of media, ambassadors and some well known activists, I was trying to listen to the panelist and capture the optimism in the atmosphere, then all of a sudden I realized the scene was changing.
While one of the Afghan panelist who lived in Pakistan expressed the exhaustion and pain of the Afghan nation with regard to peace and war processes, from the past up to present in order to bring the challenge of people's demands at our table (to the two side delegations) to make us realize where we started our mission and how responsible this delegation is, relevant to the people's current situation.
Immediately, the automatic reaction of our Pakistani friends to the realistic point of the Afghan panelist crushed the civil society border by means of which the political question dominated now the atmosphere: why is India/Indian Ambassador not happy with the sound political gesture of President Ghani and Prime Minister Musharaf in Europe? Why did his view reflect on the media? The angry and disappointed voices of our Pakistani friends demanded an answer from the Afghan delegation.
I was surprised to hear such overwhelming disappointment on a dialogue where it is supposed to be about the common values of democracy, human rights and the value of our two nations' blood and life, not the political frustration of our governments in blaming Afghans for India's freedom of expression or to blame the Pakistani people for any Afghan government shortcomings.
As a world citizen of the 21st century, belonging to a 15th century war torn country, I am constantly under pressure of my ambitious mind with regard to human rights, democratic values and freedom of speech by the means of which I can be critical of our internal politics for the lack of commitment and violation of those democratic values and various freedoms of citizens that we hold so dear.
Here, I was surprised to witness such anger from the Civil Society delegates of a country that I thought would be more advanced in respect of such values, due to their relatively peaceful environment
and security stability in comparison to our own country. However, I did not allow myself to show any surprise with his excellency the Ambassador of Pakistan's reaction and expression who intimated the reality of Afghanistan on the ground to be pessimistic and negative, mainly as he represents the government as a political figure.
As a host with a political background among this dynamic civil society and activist members I abstained myself in order to not get attracted or distracted by the political questions which were rhythmically dancing around the room in the inaugural session of this dialogue. Thus, I restrained myself from reacting or raising my voice during this tense atmosphere. Thus, I decided to leave that point as a civil value core discussion for later discourse. When we had the topic of narrative I sincerely made my emphasis on the civil society's responsibility that the table had in front of it, with the reflection on the reality of people's lives on the ground.
Throughout the dialogue we were constantly invited by our Pakistani Civil Society friends to understand that we were not regarded as an enemy to Pakistan but repeatedly we were encouraged to recognize their enemy and it's reference to us was to take their side to be safe!
During the course of the debate we tried to clarify our positions that we represent Afghanistan, not India. When our delegation expressed our concern and discomfort that our sovereignty and independence in relation to our neighbor is constantly being violated and we must not be expected to prioritize Pakistan's interest over Afghanistan when it comes to our foreign relation, the responsive answer came as: Pakistan respects Afghanistan's sovereignty and accepts it as an
Independent country, but it is deeply concerned with Afghan opinions because Pakistan believes that Afghan thoughts and opinions are developed in India then exported to Afghanistan and imposed on our mindsets. All of these so called civilized views shocked me to the core, affecting my credible ambitions within our civil society talks.
I realized that we Afghans are very ambitious with high expectations regarding our civil society demands. Therefore, we tend to prejudge others to have more concentrated values other than political demands in their civil society discourse. Thus, even in our political nature we are more independent within our unsatisfied demands of freedom than that of our neighbors. We not only echo our government's political views when it touches our civil society, human rights and women's rights ambitions, but we are too free to express our civilized dreams and the people's will to touch the globalized values regardless of the reality of war affected political climate.
The recent hundred thousand supported public demonstration, famous for Tabasum/Smile Revolution, is a bold example of Afghan citizen's demand. I noticed that our Pakistani friends do not follow the same democratic road we have been walking through. They belong to a strong traditional army institution, which influences almost everyone's mindsets. Therefore, perhaps unintentionally, they automatically echo what the government preaches. Where the Afghan Civil Society with their critical minds can and do without any doubt criticize their government when they realize their democratic values are under threat, not only that but our civil society relationship with the media attracting and pressurizing Politicians to join their fights!
Our Pakistani counterparts found it difficult to believe that the Afghan media within 14 years turned into the 4th pillar of power in reflecting the freedom of speech and various concepts of conflicting views. I noticed that we prejudge each other by reflection of our own circumstances and the conditions within our country, thus, we judge each other through our own understanding.
At the end of our first table flamboyant dialogue one of our Pakistani delegate with a business background rightly mentioned something important that is valuable for me to mention here: we both suffer but we lack empathy!
I would like to share my experiences relating to this argument from the past in order to exhibit what kind of Civil Society and Media Afghanistan with all its shortcomings has developed in the past 14 years.
I will start by touching on my experience as a MP who joined the civil society during the Chicago Conference to lobby and ensure that the International Community would not blindly support our army and military group in an unbalanced manner in order to undermine our democratic achievements such as freedom of expression and citizen rights. We voiced our concerns loudly that we could not accept a disproportionate power in Afghanistan to become a threat to our freedom whereby in the name of protection, we will not be held hostage by our rights.These voices of values have empowered the civil society community in Afghanistan that now in the midst and heart of war they can speak freely!
I can further add Tabasum's Revolution which recently not only changed the image of Kabul but Afghanistan to highlight the importance of citizen movement in this teen age democratic country which is not post conflict country but still in war.
I as a political person who has been heavily involved in the presidential election am not considered to be in opposition at all but instead, a supporter of the government for its good services. In the above mentioned civilized revolution for the fight of my citizen's values I left my political coat in my wardrobe and eagerly joined the hundred thousands citizens's public demonstration on the volatile roads and streets of Kabul. On the street the colorful women and men were of different age groups, the dynamic civil society along with angry activists were highlighting the NUG government's shortcomings regarding their promises for the protection of citizen's rights and freedoms!
In this demonstration the public critically demanded the accountability of their security contract and reminded the NUG of the power of their votes. In that demonstration citizens, let me clarify not the politicians, angrily critical of the government where the government unlike its traditional source of power ensured the people's safety and security instead of suffocating the public's voices. Eventually, the President with the CEO stood in front of the media to explain and ensure more efforts would be made for the people's security. With all the risks that I have taken as a politician to join that demonstration now I can give the credit to the 14 years of teenage democracy emerging throughout my land.
As a politician who believes in human rights values I understand the complexity of discrimination beyond the borders of national territory where the national citizen and national product of any given country can get priority over the others. However, on a civil society table I find it difficult to understand why it should be the color, religion, gender and geographical border or the realms of human history that has been a failure of the definition of civilization due to their bloody colors is turning to an important criteria for using us as scapegoats as to what we do wrong as a human. Even though politically my view on the subject of history might differ when it touches my political responsibilities.
I heard one of my Pakistani friends, who in the peak of a dominated political atmosphere of the table expressed his concern regarding his civil society values. He turned the mic once in that concern but I thought that he spoke from the heart and represented the civil society values in Pakistan. I want to hear more voices like him in the group, even if the emergence of such voices needs people like myself being half politician out of the group to make it pure Civil Society discussion.
As I stated in our dialogue I repeat that politics have failed in peace talks between the two countries but of course you never fail until you stop trying! Hence, I am not asking my field to be hopeless in our attempt but I am strongly asking the civil society to raise their voice loudly for the common values not for the common political games!
Farkhunda Zahra Naderi is an Afghan rights activist and ex-parliamentarian. She is also a former chair of Democracy and Human Rights Commission at Inter-Parliamentary Union (IPU). She won N-Peace award in 2012.
http://www.khaama.com/when-we-go-beyond-the-border-we-learn-the-importance-of-limitation-1789
---------
'Revise allocation for women's polls symbols'
December 10, 2015
Terming the symbols designated for women candidates for the municipality polls "humiliating", BNP's women wing Jatiyatabadi Mahila Dal today urged the Election Commission for a revised allocation.
A six-member delegation led by Shirin Sultana, general secretary of the party, submitted a written statement to the EC secretary Sirajul Islam in this regard.
The team went to the EC Secretariat around 11:00am.
The EC designated different 'discriminatory' symbols like gas stove, bangles, frocks and dolls as election symbols for reserved women candidates in the upcoming municipality elections.
The elections are scheduled to be held on December 30.
http://www.thedailystar.net/country/mohila-dal-ec-protest-women-candidates%E2%80%99-polls-symbols-185188
---------
Woman held with Yaba in Ctg
December 10, 2015
Police arrested a woman with 500 pieces of Yaba tablets in Karnaphuli 3rd Bridge area of Chittagong city early yesterday.
The arrestee is Mahmuda Begum, 25, of Rupganj in Narayanganj.
On suspicion, police detained her and recovered the Yaba tablets from her possession, said Sub-Inspector of Bakalia Police Station Abdul Karim.
A case was filed.
http://www.thedailystar.net/city/woman-held-yaba-ctg-185026
---------
Ex-Umno woman files appeal to restore challenge against sacking
BY IDA LIM
December 10, 2015
KUALA LUMPUR, Dec 10 — Former Wanita Umno member Anina Saadudin today filed an appeal to restore her bid to get her sacking from the ruling party declared invalid, her lawyer Mohamed Haniff Khatri Abdulla confirmed.
Haniff confirmed that his client is appealing the December 7 decision of Kuala Lumpur High Court judicial commissioner S. Nantha Balan who had thrown out her lawsuit to restore her Umno membership.
"She has filed the appeal against Nantha Balan's decision just this morning," he told Malay Mail Online when contacted today.
On December 7, the High Court allowed Umno secretary-general Datuk Seri Tengku Adnan Tengku Mansor and party secretary Datuk Ab Rauf Yusoh's application to strike out Anina's lawsuit against them over her membership termination.
High Court judicial commissioner S Nantha Balan ruled that the court has no jurisdiction to hear the former Langkawi Wanita Umno leader's challenge, citing Section 18C of the Societies Act 1966 which does not allow the court to rule on decisions by political parties.
Among other things, the 1966 legal provision states that the decision of a political party is final and conclusive and cannot be challenged or reviewed or quashed or called in question in any court.
Anina was reportedly sacked in September for bringing internal party matters to court when she sued Prime Minister Datuk Seri Najib Razak.
Anina had on August 28 sued Najib and Rauf to claim a US$650 million portion of the US$681 million (at that time RM2.6 billion) said to have been donated to Najib by a friendly Middle Eastern nation to help the Malay ruling party in its 2013 election campaign.
The hearing of Najib's application to strike out Anina's lawsuit against him has been fixed for December 15.
http://www.themalaymailonline.com/malaysia/article/ex-umno-woman-files-appeal-to-restore-challenge-against-sacking
---------
Truant schoolgirls taken to shelter
10 December 2015
JEDDAH: The two young Saudi Grade Six schoolgirls who went missing on Sunday and were found at a Jeddah shopping mall 20 hours later were sent to a women's shelter where the police would continue questioning them, according to a report in a local publication on Wednesday.
According to the report, a security guard had identified Amna and Noura in the shopping mall and had handed them over to the mall's administration, which in turn called the police. They were later taken to the Al-Nuzha police station.
A Jeddah police source said there were no indications the girls were kidnapped. They had left Elementary School 170 in Al-Bawadi district on their own because they wanted to have some fun at the Jeddah Corniche and the mall. The investigators had followed police procedure by taking the girls to a shelter where they would continue questioning them. There had been a massive search operation launched by the police to find the girls. Kidnapping was ruled out, particularly when their schoolbags were found in their classroom, the report said.
Col. Ati Al-Qurashi, spokesman for Makkah police, said the girls were found unharmed in the mall, and that police procedures were now being followed.
The parents of the two young girls have complained that their daughters have not been returned to them. Adnan Maghrabi and Abdulhamid Al-Janbi, the fathers of the two girls, said their daughters admitted to leaving the school through a back door, which contradicted a statement from the school that the door was locked and only opened for night classes.
http://www.arabnews.com/saudi-arabia/news/848276
---------
Women use exercise as a tool to canvass votes
Dec 10, 2015
Zain Anbar
JEDDAH — A group of women toured the Al-Basateen District on Sunday as part of a campaign in support of one of the candidates in the municipal council elections.
Olfat Bahaidar, one of the women running the campaign, said she joined the march to support Lama Al-Sulaiman's election campaign.
"Al-Sulaiman's campaign's motto is 'We deserve it'. We are marching in support of her campaign and in support of achieving change and development in our neighborhoods. It might seem unusual for people to see women marching on the streets but I have always supported sports and exercise and we are here to promote the campaign by applying what we believe is important — exercise," said Bahaidar.
She also said the elections are a long-awaited-for opportunity for women to have their voices heard and to contribute to the development of society.
"We have many demands that we want realized. We need more parks and public recreational places. We need more women to be active in the municipal councils. We need to revitalize life in Jeddah and have everyone confident with who they and what they have to offer," said Bahaidar.
Khadijah Bint Khuwailid Center CEO Basmah Al-Umair said there is a lot to be done in order to improve and develop the living standards in Jeddah.
"Jeddah is dubbed the Bride of the Red Sea. We need new solutions for old problems such as the floods and the public parks. We need to have more recreational facilities for young people and social facilities for the elderly," said Al-Umair.
She added we don't give the elderly much attention when they need a lot of care.
"The senior citizens of this country are neglected. We need to have elderly care homes where there are social and entertainment programs set out for them. We also need to encourage the youth to volunteer time with the elderly," said Al-Umair.
http://saudigazette.com.sa/saudi-arabia/women-use-exercise-as-a-tool-to-canvass-votes/
---------
Once jailed for defying a driving ban, this Saudi woman is now standing for office
December 10, 2015
Brian Murphy
Washington: She was jailed for 10 weeks for driving. But Saudi officials will let her stand in elections.
In a surprise reversal, Saudi Arabia has lifted its election block on activist-slash-candidate Loujain Hathloul, who gained fame last year by live-streaming her defiance of the kingdom's ban driving for women.
The decision clears the way for Ms Hathloul's name to be on Saturday's ballot in Riyadh as part of nationwide races for municipal council seats - the first elections in the ultraconservative kingdom to allow women to compete and vote. More than 900 women are among the nearly 7000 candidates.
Until late Wednesday, Ms Hathloul was blackballed along with some other prominent women activists - including two human rights campaigners. For weeks, Ms Hathloul had pushed back, seeking some leverage to get officials to reconsider the ban.
She gave interviews to anyone who would listen. She used connections within the ruling system to lobby for a review of the ban.
"Basically, I annoyed them," she said. "I guess it worked. It's amazing news."
Saudi officials have given no public explanations about the backflip - just as they made no formal disclosures on the reasons for keeping some candidates off the election lists.
But what likely tipped the scales was a relentless social media blitz by Ms Hathloul's supporters. Saudi rulers have long conceded ground to online critics - giving them ample room to grouse, network and muse. Crackdowns come when it crosses over into what authorities perceive as challenges to the state or status quo - meaning the ruling family and the powerful religious establishment that has a hand in all key decisions.
This week, however, all of Saudi officialdom is looking to make a good impression with the world's media shifting its attention to the elections. It's unclear whether the ban will remain in place for the two other women rights activists.
"After I was banned, I wanted to make sure I wasn't ignored," said Ms Hathloul. "This means, of course, making some noise."
She's no stranger to that. In late 2014, Ms Hathloul got in a car in the United Arab Emirates and drove toward Saudi Arabia with a video camera and her UAE driver's licence. Part of the trip was live-streamed onto the Web.
She was arrested by Saudi border officials and spent 73 days in jail, making her for a time among the best-known Saudi activists.
A year earlier, her husband-to-be, a well-known Saudi satirist named Farhad Albutairi, helped produce one of his memorable videos: No Woman, No Drive to the tune of the Bob Marley classic No Woman, No Cry.
Ms Hathloul said her initial motivation to run for a council seat was simply to boost the number of women taking part. After the ban, she now wonders if she could pull off a win.
"The goal has changed," she said. "I want to make a point. It's a personal thing now. The municipal councils have nothing to do with the driving ban. The councils are just about fixing up the community. The driving ban is another fight. It's definitely not forgotten."
http://www.smh.com.au/world/once-jailed-for-ignoring-a-driving-ban-this-saudi-woman-is-now-standing-for-office-20151209-gljwbj.html
---------
Bureaucracy, male guardianship impede women participation in historic Saudi municipal elections
9 Dec 2015
Alia Soliman
Saudi women will head to the polls on 12 December to vote in municipal elections, an unprecedented step forward for women in the kingdom after a 2011 royal decree granted them both the right to vote and run for public office.
Although analysts have agreed that this is a step forward, bureaucractic hurdles and the male guardianship system contributed to a low turnout among women voters.
Saudi women are now exploring uncharted territory and overcoming many challenges as the first-ever woman voters and candidates in the history of the kingdom.
The municipal elections were first introduced in 2005 by King Abdullah, who vowed in 2011 that women would participate in the 2015 polls, saying "we refuse to marginalize the role of women in Saudi society."
King Salman followed through by holding the third round of municipal elections that will witness the participation of women as candidates and voters.
Saudi women as first-time voters
The participation of women in Saudi elections is a step forward, yet still not enough, as some obstacles remain.
Analysts have pointed out that in the context of Saudi Arabia's male guardianship system a number of issues need to be addressed in order for this move to have a meaningful impact on women's lives.
Rothna Begum, women's rights researcher for the Middle East and North Africa at Human Rights Watch told Ahram Online that this is a welcome step and a positive signal.
"Saudi's female voters will be equal to men, and as candidates they will for the very first time be part of the decision making process," Begum said.
In January 2013, King Abdullah appointed 30 women to the previously all-male Shura Council, or the Consultative Assembly of Saudi Arabia, in a move that appeared to expand women's role in government. However, the Shura Council has a relatively limited role in decision-making, as any proposed laws or provisions are entirely up to the king's discretion.
Marwa Shalaby, programme director for Women and Human Rights in the Middle East at the James A Baker III Institute for Public Policy at Rice University, said that promoting women's presence on the local level of governance is an effective step toward promoting women's political participation on the national level and in leadership positions.
"In the context of Saudi Arabia, while this development may lead to more female inclusion in the public sphere, I am still unable to see how this would improve women's status in the country," Shalaby says.
Shalaby goes on to explain that despite the rising levels of woman education over the past decade, women across the country are still held back by the male guardianship system.
Under the male guardianship system, ministerial policies and practices forbid women from obtaining a passport, marrying, travelling, or accessing higher education without the approval of a male guardian — usually her husband, father, brother, or son.
Explaining more the voter registration process that took place in August, Begum says that one of the documents needed to register to vote is proof of residence, which requires a woman to have property or a house under her name, something that is not common in Saudi Arabia.
"This has contributed to the low female turnout at the polls," Begum said.
In addition to proof of residence, anyone registering to vote needs to present a National ID and a family card.
According to the election's official website, 130,600 women have registered to vote in the kingdom's municipal elections, compared to over 1.35 million men.
"There are myriad of deep-rooted gender inequalities in the country that need to be addressed in order for this step to have a meaningful impact on women's lives," Shalaby says.
How can Saudi women secure the male vote?
Approximately 1069 women candidates and 6428 male candidates are running in December's municipal elections, competing for seats in 284 councils that include 3159 members, 2106 (70%) of whom are elected to office rather than appointed by the king.
So far, three women candidates were disqualified from the final list of authorized candidates, announced on the 29th of November.
During a campaigning period that runs from November 29th until December 10th, both male and female candidates are expected to impress and appeal to voters.
These first-time female candidates will have to rally ten times harder than their male counterparts, not only to prove their qualifications, but also to overcome obstacles unique to female candidates, such as their inability to speak directly to male voters.
"Sexes are segregated in all town hall meetings as female candidates can only address female voters. The female candidates can address the male voters only by video feed or a male spokesperson," Shalaby explains.
As part of the male guardianship system, "Saudi female candidates need to find a male intermediary to talk to the other gender on their behalf," Begum explains.
"Since not so many women registered to vote, Saudi male candidates make the bigger percentage and finding a male intermediary who would talk to male voters on behalf of these women candidates, can be another obstacle," Begum said.
Shalaby explained how Saudi women attempted to overcome these obstacles by launching extensive social media campaigns to mobilize voters.
Running with the slogan, "my win is your win," candidate Fouzia Al-Harbi started campaigning on Twitter using her slogan as a hashtag (#فوزي_فوزكم), allowing female and male voters alike to voice their support of her.
Saudi's women candidates, if elected, will be responsible for approving annual budgets, suggesting planning regulations, and overseeing urban and development projects, Al Jazeera reported.
"Many of the women candidates have the support of their families and are willing to overcome the challenges, because it will be worth it," Begum said.
http://english.ahram.org.eg/News/172955.aspx
---------
Passport proposal to strengthen women empowerment
Dec 10, 2015
Shahd Alhamdan
JEDDAH — Many Saudi women welcomed the idea of allowing them have their passports without the consent of male guardians if they have individual identity cards.
If approved, this will be a great step toward empowering Saudi women, they said.
The Shoura Council is planning to table a proposal for discussion on whether to allow Saudi women be issued passports without the consent of their male guardians, according to informed sources.
The Security Affairs Committee of the Shoura Council will soon put forward the proposal for discussion.
Turkan Sharawi, a married woman in her 30s, considers it a positive step for Saudi woman.
"Women need to be independent. They do not want others to process paperwork on their behalf while they sit at home doing nothing," she added.
Mashael Nouh, an accountant, said, "The proposal will give women more flexibility, because sometimes the male guardian is either dead or not available. Sometimes family conditions prevent male guardians from going through the whole process of issuing passports for women."
Rami Afandi, a 30-year-old Saudi male, supported the idea because it will be a great relief for men who have to spend a lot of time and energy following up on the passport issuance process.
The proposal, if implemented, will help reduce work pressure at passports branches. Men also will not need to leave their work to visit passport offices.
Fahad Alshareef, a businessman, said, "I think it is better to have such a regulation because it is part of women's rights."
Rakan, a newly married Saudi man, believes that implementing this regulation will save a lot of time for citizens and will give women the chance to manage their affairs and personal lives. However, there are a few people who do not support this proposal.
Amal Husam Aldin is against allowing women get their passports issued without male consent because she believes that the government departments take a long time and more than one day to finish paperwork, so women will have to make several visits to get their passports issued.
Noha Mokhtar, another woman, said, "I support the idea of women getting their passports by themselves but only for a certain group of women such as divorcees and widows. Implementing such a regulation will give women the freedom to be responsible for themselves. Women will be more confident and be able to deal with any situation. I suffer from this issue since I am a newly widow. I need a male guardian to pursue all my paperwork."
http://saudigazette.com.sa/saudi-arabia/passport-proposal-to-strengthen-women-empowerment/
URL: https://newageislam.com/islam-women-feminism/hate-crime-woman-tosses-coffee/d/105559
Womens in Islam, Islamic Feminism, Arab Women, Womens In Arab, Islamphobia in America, Muslim Women in West, Islam Women and Feminism