New Age Islam News Bureau
20 Oct 2015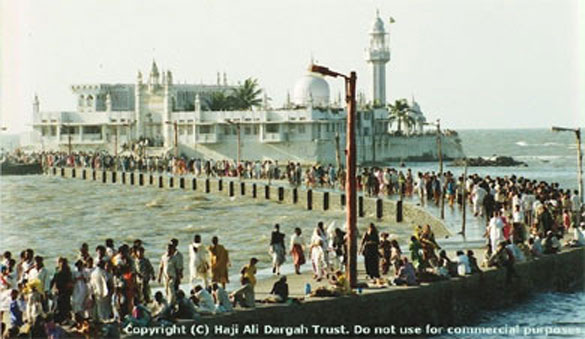 The Haji Ali Dargah trust also invited the judges to visit the dargah, taking stock of the arrangements in place. (Express Photo
----------
• Haji Ali Dargah Trust: 'Grievous Sin for Women to Be near Male Muslim Saint's Grave'
• Sharia Doesn't Ask Women to Cover Face, Hands or Feet: Pak Council of Islamic Ideology
• Dress Code for Female Saudi Ministry Workers Ignites Heated Debate
• Maldives Woman Wins Reprieve from Stoning Ruling
• Protect and Conserve Cows: Muslim Mahila Foundation
• Women Protest in Manali, Demand Resumption of Tourism Activities
• SR1, 000 Fine For Female Workers Not Covering Head
Compiled By New Age Islam News Bureau
URL: https://newageislam.com/islam-women-feminism/haji-ali-dargah-trust-'grievous/d/104990
---------
Haji Ali Dargah Trust: 'Grievous Sin for Women to Be near Male Muslim Saint's Grave'
By Aamir Khan | Mumbai
October 20, 2015
IT is a "grievous sin" as per Islam for women to be in close proximity of the grave of a male Muslim saint. The trust of one of Mumbai's iconic landmarks, the Haji Ali Dargah, raised this point in the Bombay High Court Monday while defending its ban on women from entering the shrine's inner sanctum (Mazaar). The "unanimous" stand of all trustees forms part of a resolution passed by the Dargah's trust. The minutes of the meeting held on August 6 this year that led to passing of the resolution were submitted before Justice V M Kanade and Shalini Phansalkar-Joshi. The trust also invited the judges to visit the Dargah, taking stock of the arrangements in place.
A Mumbai-based group working for the Muslim women of lower strata had challenged the ban imposed on women from entering the shrine. Claiming gender discrimination, members of the group. Dr Noorjehan Niaz and Zakia Soman had said the restriction was imposed sometime between March 2011 and June 2012. The trust's Monday argument was in reply to the public interest litigation (PIL) filed by the group. The minutes of its meeting read, "The trustees are unanimous on the point that entry of women in close proximity to the grave of a male Muslim saint is a grievous sin as per Islam and as such the trust is governed by the Constitution Law and particularly Article 26 of the Constitution of India, which confers upon the trust a fundamental right to manage its own affairs in matters of religion and as such interference is uncalled for by any third agency." The PIL had said Haji Ali was regarded as a patron saint and even saints were born from the womb of a woman. Their lawyer Raju Moray, relying on the trust's affidavit, had earlier pointed out that the women were allowed at a point in the inner sanctum. However, he said, a stand was taken later on the advice of scholars to segregate men and women at places of worship so that sexual harassment of women could be avoided. The existing arrangement for women, the minutes said, provided a "secure place" to them to offer prayers. "This has been decided in the interest of their safety and security and they are close to the inner sanctorum of the tomb as possible, considering the rush of men; this arrangement has been welcomed by the women pilgrims," it said. Therefore, the trustees clarified, at no juncture women were allowed to enter near the grave of the saint. "In fact, the current arrangement of a separate entrance for women is more proximate to the tomb than it earlier was," said the minutes. aamir.khan@expressindia.com
http://indianexpress.com/article/cities/mumbai/ban-on-womens-entry-to-haji-ali-shrine-grievous-sin-for-women-to-be-near-male-muslim-saints-grave/
---------
Sharia Doesn't Ask Women to Cover Face, Hands or Feet: Pak Council of Islamic Ideology
KALBE ALI
October 20, 2015
ISLAMABAD: The Council of Islamic Ideology (CII) continued its tradition of focusing on issues concerning women at its 200th meeting, on Monday.
The meeting, chaired by Maulana Mohammad Khan Sherani, ruled that covering the face, the hands up to the wrists and feet was not mandatory for Muslim women.
Incidentally, some of the more liberal members of the CII, including Maulana Tahir Ashrafi and Allama Amin Shaheedi, did not attend the first sitting of the two-day meeting.
The session was attended, among others, by Dr Samia Raheel Qazi of Jamaat-i-Islami. The ruling was strongly supported by Ms Samia, despite the fact that she wears a niqab.
Maulana Sherani, who belongs to the JUI-F, also supported niqab for Muslim women to cover their face and preferably gloves and socks to cover their hands and feet.
Talking to the media after the meeting, Maulana Sherani said there was no law in Sharia binding women to cover their face, feet or hands up to the wrist.
"Covering the face and other parts of the body is not mandatory. But still it is good to follow ethics and have a careful attitude in society," he said.
"But at the same time, it is necessary to cover the face and adopt complete covering attire if there are threats of mischief."
Maulana Sherani, however, did not elaborate on what he meant by 'threat' and 'mischief'.
While the CII has focused on several issues revolving around girls and women, this was the first time that it took up a matter related to the Sharia interpretation of veil (purdah).
But an official of the CII disclosed that the matter was taken up on the request of the interior ministry as many communities and clerics were still opposing the requirement of women to be photographed for computerised national identity cards (CNIC).
"We have heard that some families are not getting their women registered with Nadra only due to the photo issue," the official said.
A Nadra official added that due to the prevailing law and order situation in the country, getting a photo identity had become mandatory.
Apart from the Sharia description of the veil, the CII reiterated its old stance against co-education and described it as an unhealthy practice for society.
It ruled that education should be imparted to boys and girls separately, even at the early levels.
However, the CII also spoke for the rights of transvestites and criticised the families who discarded such children or left them without inheritance.
In the end, Maulana Sherani stressed the need for maintaining peace during Muharram.
"We all should observe the sanctity of this month," he added.
Under the law, rulings and observations of the CII are not binding on the parliament or the government. But all the functions of the government and enactments of laws have to be vetted by the CII to ensure that they are not contrary to the teachings of Islam.
Published in Dawn, October 20th , 2015
http://www.dawn.com/news/1214319/sharia-doesnt-ask-women-to-cover-face-hands-or-feet-cii
---------
Dress Code For Female Saudi Ministry Workers Ignites Heated Debate
20 October 2015
Saudi Arabia's Ministry of Labor's decision to impose fines on female workers violating the dress code at their workplaces has sparked a heated debate. According to a local newspaper, the Ministry of Labor plans to impose a fine of SR1,000 ($266) on women not following the Islamic dress code within their workplaces.
The fine was included within the ministry's new charter which also outlines that employers must specify a dress code for their female employees and that failure to do so will lead to a SR5,000 ($1,300) fine.
Afnan Kokandi, a Saudi employee in her 20s who works for a private company, said" "I think it is a good policy because women are going to work and not to a fashion show. As a woman, you should wear Islamic dress and there is no need to go to work as if you are going to a wedding."
Rahaf Yamani, a Saudi employee in a private company in her 20s, said that women should stick to Islamic dress code, especially when employed in mix-gender work environments. She added that the fines are somewhat high, especially the ones imposed on companies, which is equivalent to an employee's salary.
Noura Fuad, another Saudi who works for a private company, said: "I do not like the new policy since clothes are a private and personal matter and something between a woman and God. Women should have the freedom to choose."
Sarah, another Saudi woman, said the law has been in place for some time. "Unfortunately, many people are not aware that this law is not new and it has already been there. The only thing new here is the proposed penalty," she said.
The new law has sparked a debate on social media. Many described the decision as brilliant and others believed it was unfair to women. One person commented that in order for the law to be fair, a similar law should be imposed on salesmen who leave the upper buttons of their shirts open.
Some social media users suggested that rather than imposing fines on women, laws need to be introduced that prevent harassment of women, while others said more focus needs to be given on decreasing the rate of female unemployment. The ministry also announced fines on firms making night shifts on women obligatory, and also SR10,000 ($2,600) on companies that fail to provide female sections within the workplace. Such companies would also be required to rectify the situation within a month.
The ministry's charter also includes a clause that prevents companies from employing minors within hazardous workplaces, such as construction sites and on conveyer belts within factories. Violators face a fine of SR10,000 ($2,600).
http://english.alarabiya.net/en/life-style/art-and-culture/2015/10/20/Dress-code-for-female-Saudi-ministry-workers-ignites-heated-debate.html
---------
Maldives woman wins reprieve from stoning ruling
October 20, 2015
COLOMBO - The Maldives' highest court has overturned an unprecedented sentence of death by stoning for a woman convicted of adultery, a crime in the Muslim island nation, media reports said Monday.
The woman, identified by local media as a mother of five, was convicted by a local judge on a remote island in the Maldives, a popular tourist destination that has seen a rise in extremism.
The Haveeru news site said the woman had confessed to the crime after giving birth on the remote equatorial islet of Gemanafushi, about 400 kilometres south of the capital Male.
The Supreme Court annulled the case on Sunday night, ruling that the judge had failed to consider the legal as well as Islamic procedures of the nation of 340,000 Muslims, the Maldives Independent website said.
The Maldives, a popular Indian Ocean honeymoon destination, observes elements of Sharia law as well as English common law.
The sentence was unusually harsh even for the Maldives, which has frequently sentenced those convicted of extramarital sex to public flogging.
However, the country is not known to have carried out the death penalty.
http://nation.com.pk/international/20-Oct-2015/maldives-woman-wins-reprieve-from-stoning-ruling
---------
Protect and conserve cows: Muslim Mahila Foundation
Oct 20, 201
VARANASI: At a time when the country is witnessing beef row, a group of Muslim women associated with Muslim Mahila Foundation (MMF) in Varanasi came forward with an appeal of cow protection and conservation. They went to the 'Gaushala' situated in Maidagin area on Monday to feed cows and they also performed aarti of 'Gau Mata'.
"Cow is a symbol of peace and prosperity as well as Indian culture. Those who advocate beef consumption are actually trying to defame Muslims," said MMF president Nazneen Ansari adding that efforts are being made to give an impression that all Muslims consume beef, which is not true. "Indians either Muslims or Hindus who advocate beef consumption will not be accepted by the society," she said.
Other MMF members including Najma Parveen, Shabnam Bano, Shakeela, Shamima, Rukhsana Begum, Shabana Bibi and many others were present on the occasion.
The MMF had extended its support to Prime Minister Narendra Modi in parliamentary election.
http://timesofindia.indiatimes.com/city/varanasi/Protect-and-conserve-cows-Muslim-Mahila-Foundation/articleshow/49462863.cms
---------
Women protest in Manali, demand resumption of tourism activities
Oct 20, 2015
MANALI: Deprived of a vital source of their livelihood following the NGP ban on commercial activities at Rohtang and Solang, over 300 women from upper Manali villages held a protest demonstration outside the deputy commissioner's office in Kullu on Monday.
Led by AAP representatives, the protesters donned party caps and clanked utensils to create a cacophony out the DC's where office, where submitted a memorandum for the Himachal Pradesh governor. They also held banners and raised slogans like "Give us employment, do not leave us unemployed". Many claimed they would not be celebrating Dussehra and Diwali this year as there is no money for the festivities.
AAP convener in Manali, Dinesh Sharma claimed more than 500 women from nine villages of Manali had turned out to protest. "The deputy commissioner has assured that the state government was discussing up the issue with the green tribunal and that it (NGT) intended to resume activities in a regulated and eco-friendly manner," Sharma said.
http://timesofindia.indiatimes.com/india/Women-protest-in-Manali-demand-resumption-of-tourism-activities/articleshow/49461572.cms
---------
SR1, 000 Fine For Female Workers Not Covering Head
20 October 2015
JEDDAH: Women workers will be fined SR1,000 if they are caught without their head cover in office under new labor laws introduced this week, a newspaper reported Monday.
Companies employing women must also enforce the law and issue written instructions in this regard or they could be fined SR5,000, Al-Hayat Arabic daily said.
"All companies must issue clear written instructions to their female workers to cover their head while in office. Erring companies will be fined SR5,000," the report quoted a Labor Ministry official as saying.
It said the new law also set a fine of SR5,000 for companies which force their female employees to work at night. Firms failing to provide separate sections for their female employees will be fined SR10,000, it added.
http://www.arabnews.com/saudi-arabia/news/822986
---------
URL: https://newageislam.com/islam-women-feminism/haji-ali-dargah-trust-'grievous/d/104990