New Age Islam News Bureau
24 Feb 2013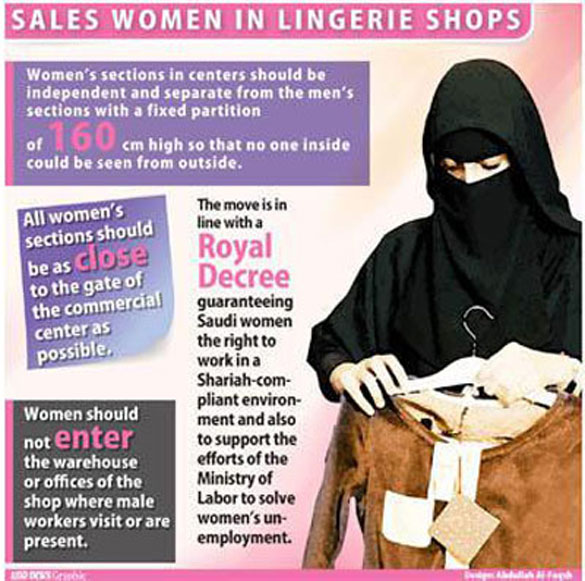 • Victorian 'Angel Maker' killed 400 babies
• Woman Jumps to Death to Escape Rape In Savar: Bangladesh
• The Reality of Domestic Abuse in Yemen
• Dhangethi Rape Victim Suffering From "Serious Sexual Trauma": Police
• Jobs at the Reconciliation Centres Cleared For Saudi Women
• Woman's Corpse Found Encased in Cement Block in Brunei
• Saudi Women Law Students Win Mideast Moot Court Contest
• Jeddah Municipality Moves To Curb Karantina's Illegal Market
• Pakistan: Acid Attack Victim's Mother Seeks Justice
• Hearing Impairment Does Not Impair Creativity: Saudi Minister for Women's Affairs
• Rwandan Woman Stripped Of US Citizenship after Lying About Genocide
• Proposed Bill to Limit Iranian Women's Travel Reportedly Cancelled
Compiled by New Age Islam News Bureau
Photo: Haia approves regulations for sales women in lingerie shops
URL: https://www.newageislam.com/islam,-women-and-feminism/new-age-islam-news-bureau/haia-approves-regulations-for-sales-women-in-lingerie-shops/d/10539
---------------
Haia approves regulations for sales women in lingerie shops
24 February 2013
President of the Commission for Promotion of Virtue and Prevention of Vice (Haia) Abdul Latif Al-Asheikh has approved the procedures and regulations governing women's work in lingerie shops.
The Haia has also instructed its branch offices across the Kingdom to be vigilant that the privacy of working women is not violated.
Al-Asheikh said the move is in line with a royal decree guaranteeing Saudi women the right to work in a Shariah-compliant environment and also to support the efforts of the Ministry of Labor to solve women's unemployment.
Al-Asheikh directed the undersecretary for field affairs at the Haia headquarters to instruct all branch offices to strictly adhere to the regulations governing women's work. The branches will also have to submit periodic reports on their efforts to implement the regulations.
The regulations approved by the Haia stipulate that only Saudi women shall work in a lingerie shop. No man — including workers in other sections in a commercial complex — can enter that shop. The Haia's branch offices should monitor the workers' conduct and take steps if any violations were noticed.
In commercial centers the women's section should be independent and separate from the men's sections with a fixed partition of 160 cm high so that no one inside could be seen from outside. All women's sections should be as close to the gate of the commercial center as possible. Women workers should dress modestly. The women should not enter the warehouse or offices of the shop where male workers visit or are present, the Haia circular said.
Haia officials should monitor the conduct of workers in such shops and stop violations that fall under their authority. A supervisory committee under a woman director should be set up in all branches and field teams should identify the shops and commercial centers that come under their inspection authority, Al-Madinah daily reported on Saturday.
The chairperson of the National Women's Committee at the Council of Saudi Chambers of Commerce, Huda Al-Jeraisy, said the government's order to appoint only women in lingerie shops issued several months ago was not clear on its method of implementation.
The Ministry of Labor did not seek advice on lingerie shops in the private sector. This was another reason why the implementation of the order was delayed. Absence of support services such as transport and child care facilities was another reason why women could not work in shops. She also stressed the role of the Technical and Vocational Training Corporation and other training institutes in preparing women to work in lingerie shops.
She added that campaigns against women's employment in lingerie shops were unjustified because a precondition for implementing the order is that owners should create a Shariah-complaint environment to suit women before women start working in their shops.
Sales women in lingerie shops enable Saudi women to buy undergarments without salesmen being present.
"The decision to permit women to work in lingerie shops is in line with the principles of Shariah because it helps women maintain their dignity and avoid embarrassing situations," she said.
http://www.arabnews.com/saudi-arabia/haia-approves-regulations-sales-women-lingerie-shops
---------------
Victorian 'Angel Maker' killed 400 babies
February 24, 2013
A woman has emerged as the Britain's worst serial killer after over 2.5 million criminal records between 1770 and 1934 were placed online by the National Archives and revealed that she murdered 400 babies.
Amelia Dyer was dubbed the Angel Maker, a prolific serial killer responsible for the horrific crimes that sent shockwaves through 19th century Britain, the Daily Mail reported on Saturday.
She preyed on the down-on-their-luck and desperate unmarried mothers who paid her to have their children adopted, believing she would find them a better life.
But Dyer simply would take the money before strangling the infants with dressmaking tape and dumping their bodies in the Thames river.
Dyer was able to carry out her grisly trade with apparent impunity for over 30 years.
http://www.hindustantimes.com/world-news/europe/Victorian-Angel-Maker-killed-400-babies/Article1-1016568.aspx
------------
Woman jumps to death to escape rape in Savar: Bangladesh
February 24, 2013
A newly-wed woman desperately trying to protect herself from being raped in a bus in Savar early yesterday ended up jumping to death.
The husband of the 19-year-old victim was injured as he too jumped off the moving vehicle where they came under the attack of a group of thugs.
Police arrested the driver and the helper and seized the bus.
The widower, 22, took treatment in hospital and is now at his home.
A seller of old clothes, the man and his wife got into the bus around midnight to travel back to his home in Zirani from Savar where they visited a relative's house.
Some six people were also on board apart from the driver and his assistance.
As the bus reached Shimultala after sometime, some co-passengers started "molesting" the woman, said Officer-in-Charge of Savar Police Station Md Asaduzzaman.
The thugs beat up Bakar when he resisted.
Unable to rise against them, the couple jumped off. But the woman was run over by another bus from behind as soon as she landed, the OC said.
The couple got married one year ago.
The man filed a case with Savar Police Station.
http://www.thedailystar.net/newDesign/news-details.php?nid=270316
---------------
The Reality Of Domestic Abuse In Yemen
By Jihan Anwar
February 24, 2013
In a social system in which men are viewed – by law and per tradition – as superior, a woman will be expected to obey and seek the approval of male guardians throughout her life. According to numerous studies, this type of cultural setting can typically set the stage for the abuse of women by male partners and/or family members. Such is the case in Yemen.
This hierarchical relationship between men and women is instilled and seen as acceptable since childhood, particularly in the household and at school. Every female is expected to submit to the orders of a husband, a father or a brother. Male figures are culturally endowed with the right to decide matters for females, whether these matters concern an education, marriage or career.
Such a dynamic endows men with a great deal of power, a power which can be used to violate women's basic rights with impunity.
Marginalized, low income and rural women have been reported as being the most vulnerable to domestic violence. Considering that a majority of the population is distributed among rural areas – where the income of the average Yemeni is below $2 per day, often accompanied by illiteracy and unemployment – suggested that women in such circumstances are particularly vulnerable to domestic abuse.
According to the study 'Violence Against Women in Yemen', which was conducted by the International Review of Victimology, husbands were most often the perpetrators of violence against women. Fathers and brothers came in second and third, with strangers representing only a small percentage.
Domestic violence is generally considered a gender-specific crime, with males the abusers and females the victims. Though violence may be used by women, it is usually reported as self-defense rather than the result of a will to dominate others.
Walid Barhoon, a UNDP Gender Advisor, stated that domestic violence is common in Yemen, despite the absence of accurate monitoring tools and data.
In a 2012 Interior Ministry report, it was noted that the number of women arrested for killing their husbands had seen a sudden increase. About 50 women between the ages of 25 to 50 were arrested the previous year and domestic violence was identified as one of the major motives for the crimes.
It has also been perceived, as a generality, that domestic violence incidents go underreported. It's seen as rare for women to file complaints against their husbands, and especially when they have a low level of education and have no means to earn an independent income.
According to a National Women's Committee (NWC) study, only 5% of women who were the victims of domestic violence proceeded to report the incidents to the police. This can be attributed to several factors.
To begin with, very few Yemeni women are fully aware of their rights; meanwhile, even less are familiar with what can be fairly considered domestic violence. Complicating the matter, various forms of verbal and physical abuse, as well as restrictions on freedom, are regarded as aspects of Yemen's cultural heritage and customs.
Amal Abdulqader, a Project Manager at the Soul for Development NGO, remarked that when females were prevented from attending school in Hajjah governorate, for example, rebellion or refusal to abide by this restriction weren't even considered as responses. In rural areas in particular, it has been an accepted and established norm that following the 5th grade in school, girls were expected to stay at home, either to help with housework or to prepare to get married.
Moreover, forms of violence or abuse in certain situations are viewed as being deserved consequences.
According to the Status of Women in the Middle East and North Africa (SWMENA) study, domestic violence, as conveyed by a sample of Yemeni women and men, was most likely to follow "the wife doing or saying something wrong that merits punishment."
The fact that the majority in the sample viewed domestic violence as a consequence of the wife's behavior is revealing when it comes to society's perspectives on domestic violence.
According to the SWMENA study, the 21% of women with no education "were the most likely to report that it is always justified for women to be beaten by their husbands if they go out without permission."
UNDP Gender Advisor Barhoon observed that with the great influence and popularity that religious extremists' ideologies have lately regained, domestic violence has both increased and been justified by perceived religious teachings. Due to its perceived legitimacy, it can be essentially considered a crime for victims to report cases of domestic violence. Rather than find justice, victims can possibly expect retaliation from the perpetrator of domestic violence.
While some husbands and fathers have justified the beating of their wives and children as being permissible according to Islamic law, Nabila Al-Dhourani, a manager at the Hafsa Center for the Memorization of the Holy Quran, opined that in such cases verses from the Holy Quran have been intentionally misinterpreted.
She explained that 'permission' to beat one's wife is usually taken from a verse in Surat Al-Nisa'a, in which the verb 'dharaba' is taken to mean 'beat', while in the original Arabic, it's closer to the verb 'strike lightly' or 'talk in a persuading tone'.
"Hitting another human being in Islam is not condoned, and can be accepted only if it was used as a method of last resort. Even so, the striking shouldn't cause a wound, break any bones or hurt the humanity and dignity of a person," she added.
Layla Mohammed, who was a victim of severe abuse at the hands of her husband, nevertheless continued to live with him. By the time Layla died, she had developed into a hunchback , "of the type that you see among very old people," said Al-Dhourani. Layla's physical situation resembled the manner in which the stem of a flower bends when it has no more strength or nutrients to stand tall.
Yet Layla was just 40 years old; though some speculated her severely curved back was the result of some illness or disease, very few could know the true cause. A mother of two, Layla was the first wife of a husband who married twice. After his second marriage, he reportedly grew increasingly violent towards her. One day, when his anger possessed him, he beat Layla to the point that her spinal cord was damaged, leaving her irretrievably crippled.
Only 17% of women who were beaten by their husbands were provided with medical services after receiving injuries, reported a 2003 NW health survey.
"Nowadays, women in Yemen could be treated violently for any reason," commented Barhoon, who listed clothing choices, a failure to prepare food, not bringing her salary to her husband, and failing to attend to all males in the family as some of the most frequent rationales behind violence against women in Yemen.
He also noted that relative to thirty years ago, the domestic abuse situation had drastically deteriorated, and especially for women in Yemen's south.
Before 1989, women residing in the south of Yemen, which was formerly under British colonial rule, generally enjoyed more rights. For example, they were able to advance in their careers while their counterparts in the north, who were under the rule of the Imamate, were prevented from participation in the public sphere and were generally confined to their homes.
In 1984, the Convention on the Elimination of All Forms of Discrimination against Women (CEDAW) was signed by Yemen. Despite this, articles in the current Yemeni constitution continue to disfavor females. In 2011, Yemen was ranked last in the World Economic Forum's Gender Gap Index. In the Gender Inequality Index, Yemen ranked 135th out of 146 countries.
Lawyer Lamis Al-Arashi commented that even when the rights of women were supposed to be granted by law, they were very rarely enforced by police authorities in practice.
"Women are not taken seriously, not even in court, and their complaints and cases receive little attention," said Al-Arashi. Though a law may be in the books, judges possess ultimate discretion.
The past two years have been trying for Yemenis in a number of ways. Some have cited stress, work pressure and a decrease in quality of life as major reasons behind the increase in the type of aggression which leads to domestic violence.
Barhoon identified a deterioration in the socio-economic lives of Yemeni families and an absence of punishments for those who are abusive towards women as significant factors. He also cited "strong religious and cultural acceptance for any violence committed against women within the family" as a major factor behind the practice.
Such violence inflicted upon women in Yemen varies in degree and form. Of the women interviewed for the study by the International Review of Victimology, 55% reported that they had been physically abused; 34% financially victimized; and 17% that they had been the victims of sexual abuse.
In Bahroon's words, "Strong religious and cultural acceptance of any violence committed against women within the family" amounts to a major reason why domestic violence is so prevalent in Yemen. If this is true – and there are many indications that it is – any successful campaign against the practice will challenge the harmful social practices and cultural values which lie at root level.
More than anything else, it is clear that domestic violence must first be recognized as a form of abuse by society before steps to combat the practice will begin to be effective.
http://nationalyemen.com/2013/02/24/the-reality-of-domestic-abuse-in-yemen/
---------------
Dhangethi rape victim suffering from "serious sexual trauma": Police
By MinivanNews | February 23rd, 2013
A young Indian teacher who was raped on the island of Dhangethi in Alif Dhaal Atoll on February 11 has suffered serious sexual trauma, according to police.
Head of Serious and Organised Crime Department Mohamed Dawood told local media that the woman – who was allegedly raped at knife point – was being treated in the atoll hospital for injuries sustained in the attack.
According to local media, when police arrived at the scene the young woman was found slumped near her bed, which was covered in blood.
So far three men, including a Bangladeshi national, have been arrested by police in connection to the rape and assault of the teacher. Dawood told local media that it was believed the Bangladeshi man had committed the rape.
"We monitored all vessels leaving the island during the investigation. In that regard, we first took the two Maldivians into custody. But later we arrested the Bangladesh man living in the island as his behaviour was suspicious," Dawood told local media.
A source close to the victim told Minivan News today that the woman has now been transferred to a hospital in India.
"She has still not recovered from the attack, I have been in contact with her, but now she is in India," he added.
Following the attack the perpetrators stole her laptop computer, mobile phone and her previous month's salary.
Police have since recovered the victim's belongings, including the knife believed to have been used to threaten the woman, inside the home of the Bangladeshi national.
Minivan News was awaiting more information from Police Spokesperson Sub-Inspector Hassan Haneef at time of press.
Speaking to Minivan News on February 11, a source said that the woman had been transferred to the Atoll hospital's intensive care unit whilst "bleeding uncontrollably" following the attack.
Local media reported that the woman was teaching a private computer course on the island.
Island Council President Adam said the young woman had been working on the island for less than a month, and described her as a "very kind person who was very friendly towards the local islanders".
Dhangethi is the third largest populated island of Alif Dhaal Atoll, with a population of around 1200 people.
http://minivannews.com/society/dhangethi-rape-victim-suffering-from-serious-sexual-trauma-police-53476
---------------
Jobs At The Reconciliation Centres Cleared For Saudi Women
24 February 2013
The Ministry of Justice has finalized the schedule to fill the jobs at the reconciliation centers, which was approved last week by the Council of Ministers.
According to Muhammad Fu'aym, assistant deputy minister of justice for judicial referral, said the cases will be promptly referred to the centers, but the step will not be mandatory.
No deadline was given for the time period during which the centers should rule on the cases since it depends on the parties in dispute. The parties might reach an amicable resolution within one or two hearings.
Full report at:
http://www.arabnews.com/saudi-arabia/jobs-cleared-saudi-women
---------------
Woman's corpse found encased in cement block in Brunei
February 24, 2013
BANDAR SERI BEGAWAN, Brunei – Brunei police are probing the death of a Malaysian woman found encased in a block of cement in her friend's garden, in the latest violent death to shock the sleepy sultanate.
Voon Su Ching, 39, was reported missing by her husband on Feb. 13 after she did not return home from an errand to buy their son's birthday cake. Police found her body five days later at the home of a friend, who had asked her to check on the property while she went traveling over the Chinese New Year holidays.
Full report at:
http://www.saudigazette.com.sa/index.cfm?method=home.regcon&contentid=20130224154374
---------------
Saudi women law students win Mideast moot court contest
24 February 2013
Nine women from the Hekma School of Business and Law won first place in the Third Annual Middle East Vis Pre-Moot, a moot court contest.
This is in preparation for the 20th Willem C. Vis Annual Arbitration Moot competition in Vienna in March, which brings together law schools from all over the world. The contest is held to encourage study in commercial and arbitration laws.
Full report at:
http://www.arabnews.com/saudi-arabia/saudi-women-law-students-win-mideast-moot-court-contest
---------------
Jeddah Municipality Moves To Curb Karantina's Illegal Market
24 February 2013
Traveling women vendors at the weekly Jumaa market in Karantina district are selling food items, including products like infants' milk, that are nearing or past the expiration dates.
The conditions are so bad that the Jeddah Municipality is working with the Police and Passport Department to curb the illegal sale and clean up the neighborhood.
The market is a magnet for poor expatriate workers looking for cheap products. However, the sellers' hygiene, the filthy conditions of the neighborhood and the poor quality of the food items have alarmed city officials.
Full report at:
http://www.arabnews.com/saudi-arabia/municipality-moves-curb-karantina%E2%80%99s-illegal-market
---------------
Pakistan: Acid Attack Victim's Mother Seeks Justice
February 24, 2013
SWAT: The mother of a woman allegedly killed by her husband and in-laws in Mangar Kot village, Malam Jabba, has sought justice from the government for her daughter, whose death is being treated as a suicide.
Bano, 22-year-old Tahira's mother has accused her daughter's in-laws of throwing acid on her daughter. Tahira told me that her husband Saba Khan grabbed her and her mother-in-law and sister-in-law threw acid on her last March, while she was admitted in hospital.
Full report at:
http://tribune.com.pk/story/511635/missing-evidence-acid-attack-victims-mother-seeks-justice/
---------------
Hearing Impairment Does Not Impair Creativity: Saudi Minister For Women's Affairs
February 24, 2013
JEDDAH — Nora Al-Fayez, deputy education minister for Women's Affairs, describes her visit to the the Hearing Impaired Club for Women in Jeddah as one of the most memorable days in her life. She met with an amazing group of Saudi women, who although afflicted with hearing impairment are bright, intelligent, creative, hardworking, and friendly.
Full report at:
http://www.saudigazette.com.sa/index.cfm?method=home.regcon&contentid=20130224154361
---------------
Rwandan woman stripped of US citizenship after lying about genocide
February 24, 2013
Beatrice Munyenyezi had been given asylum but now faces up to 10 years in prison and deportation for making false statements
A Rwandan woman who won political asylum in the US after hiding her family's role in the 1994 genocide has been convicted in a New Hampshire court of lying about her own part in the mass killings.
Full report at:
http://www.guardian.co.uk/world/2013/feb/22/rwandan-woman-stripped-citizenship-genocide
---------------
Proposed Bill To Limit Iranian Women's Travel Reportedly Cancelled
By Golnaz Esfandiari
February 24, 2013
A senior Iranian lawmaker has announced the cancellation of controversial new legal measures that would have imposed new travel restrictions on Iranian women.
The proposed changes to the country's passport law were introduced in the 290-seat Majlis last year and would have required single women up to the age of 40 to obtain official permission from their father or male guardian before they could acquire foreign travel documents.
Full report at:
http://www.payvand.com/news/13/feb/1195.html
---------------
URL: https://www.newageislam.com/islam,-women-and-feminism/new-age-islam-news-bureau/haia-approves-regulations-for-sales-women-in-lingerie-shops/d/10539