New Age Islam News Bureau
27 Oct 2017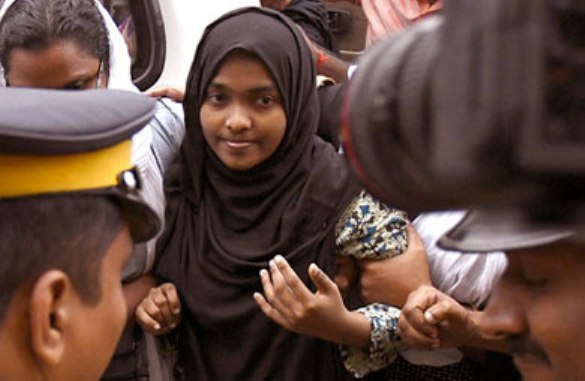 Hadiya, a 24-year-old girl, whose conversion to Islam and subsequent marriage to a Muslim man has rocked Kerala
------
• The Real Reason So Many Rohingya Girls Are Pregnant
• Iran: Three Women Arrested For Modelling
• New School Offers Education 'Salvation' For Syrian Girls in Lebanon
• Social Media Brings Pakistan's Persecuted Women Rare Justice After The Violence
• Fafen Estimates below 14pc Women Voters' Turnout in NA-4 By-Poll
• Quebec's Niqab Ban Is a Chance for Women to Embrace Western Freedom
• War, Violence to Blame for Adverse Conditions Facing Women In Afghanistan
Compiled by New Age Islam News Bureau
URL: https://www.newageislam.com/islam-women-feminism/hadiya-pleads-new-video-please/d/113044
--------
Hadiya Pleads In New Video: 'Please Get Me Out From My Parental Home, I Will Get Killed Soon'
By Vishnu Varma
October 27, 2017
Hadiya, a 24-year-old girl, whose conversion to Islam and subsequent marriage to a Muslim man has rocked Kerala, is now heard pleading in a video to be freed from her parental home.
In the brief video, released to the media by social activist Rahul Eashwar at a press conference in Kochi, Hadiya is heard saying, "You have to get me out. I am sure I will be killed tomorrow or the day after. My father is getting angry, I know. When I walk, he is pushing me and kicking me. If my head or any body part hits somewhere and I die…." before her voice trails away. The video is incomplete and was reportedly taken on August 17 at Vaikom in Kottayam district where she currently resides with her parents.
Eashwar said he has, in his possession, more footage of Hadiya but that it cannot be released publicly as it has communal undertones. He said the video was released in order to get the court's attention to the 24-year-old's plight. The case is scheduled to come up for hearing on October 30.
In an earlier video released by Eashwar, Hadiya is heard saying, "Am I supposed to live like this? Is this what they (father and mother) want?" In the same video, her mother is seen crying and saying that she 'wants her daughter back.'
The marriage of Akhila Asokan, alias Hadiya, to Shafin Jahan was set aside by the Kerala High Court in May and her custody was entrusted to her parents. Her father KM Asokan had said that she was forcefully and fraudulently converted to Islam. The case is currently pending in the Supreme Court, which has ordered a probe by the National Investigation Agency (NIA) to ascertain whether there is a wider pattern of 'love jihad' in the case.
http://indianexpress.com/article/india/love-jihad-akhila-hadiya-hindu-muslim-hadiya-pleads-in-new-video-please-get-me-out-i-will-get-killed-soon-4907980/
--------
The Real Reason So Many Rohingya Girls Are Pregnant
October 27, 2017
Unable to do anything else to protect their daughters from the jaw of brutal sexual assault by Myanmar's military forces and Mogh extremists, helpless parents in the country's strife-torn Rakhine state are marrying off their underage daughters in a bid to save them from the assaulters.
The scenario revealed itself as thousands of minor Rohingya girls started to visit medical centres at refugee camps in Cox's Bazar for pregnancy-related diseases.
Soon after giving birth to a baby, the girls in Rakhine expect another, because they think that remaining conceived is the only means to protect themselves from the brutalities of the army and Mogh (Rakhine Buddhists), narrated expectant women who frequently visit the medical centres.
Speaking to the Dhaka Tribune, Dr AZM Zajid, coordinator of a medical centre near Panbazar at Balukhali of Ukhiya upazila, said: "Every day, some 3,000 to 5,000 Rohingya people visit this centre with numerous diseases. Of them, 400 to 500 are expectant mothers who come to receive treatment for pregnancy-related complications.
"Many of them are suffering from various risks associated with pregnancy and childbirth. We have to struggle to provide treatment to this many patients at a time."
Quoting victims, Zahid said: "In Rakhine, girls are married off at a very young age as their parents hold the belief that army men and Mogh would not target their married daughters.
"And the girls expect baby soon after their marriage. As a result, they each have five to 12 children. Even, we have treated expectant mothers as young as 12/14."
Marrying off underage girls has apparently become a social convention, he added.
In the same vein, male counterparts of the Rohingya women said they too prefer the women to conceive at a young age.
"This has already become a custom in our society. The earlier a girl is married off, the better. Nobody wants his mother, wife and sisters to be violated [at the hands of army men], said an elderly Rohingya refugee, Abdul Zabber.
Fearing stigma, many such girls initially declined to talk to the Dhaka Tribune when the correspondent approached them for their accounts. Later, some of them admitted that they had to agree to wedding proposals as per their families' will, as they were at a constant risk of losing their virginity to the soldiers and Buddhist extremists.
Moreover, the problems of child marriage and early pregnancy are getting even worse due to illiteracy among the girls and lack of family planning campaigns in Rakhine.
On Wednesday, when taking treatment at the Panbazar medical centre, Rohingya refugees Mubina Begum, Sapura Khatun and Ramija Begum described why girls in the state prefer being conceived all the year round.
According to the trio, army men, assisted by local Buddhists, rape Rohingya girls for hours at a stretch after picking them up from their homes, an organised campaign of sexual assault against the Rohingya Muslims that has been continuing for decades.
They burst into tears as they described their terrible ordeal to the correspondent.
Ramija wiped away her tears remembering her 14-year-old daughter Shahena, who never returned home after the Mogh had kidnapped her one year ago.
According to Dr Pintu Kanti Bhattacharya, deputy director of the Directorate General of Family Planning, Cox's Bazar, there are over 30,000 expectant women among 603,000 Rohingya refugees who have fled to Bangladesh from Myanmar since August 24, after ethnic conflicts in Rakhine sparked the most rapid human exodus since the Rwandan genocide in 1994.
Since then, 700 to 1,000 babies have been born in Bangladesh, while over 10,000 women will be delivered of their babies soon, he said, adding that every day seven to eight babies are born at different medical centres in the camps.
Dr Pintu stressed the need for bringing the Rohingya women, who have taken shelter in Bangladesh, under the directorate's family planning campaigns.
"Apart from treating the women infected with various diseases including malnutrition, seven medical teams comprised of 200 health workers are counselling them on birth control. The teams are also carrying out awareness building campaigns to this end," the official continued.
According to reports released by the UNHCR, International Organization for Migration and other stakeholders, 120,000 pregnant and lactating women are in dire need of nutrition support in the refugee camps.
Dr Mejbah Uddin Ahmed, health and family planning officer in Ukhiya upazila, said: "Most girls who fled Rakhine are rape survivors. We have yet to identify all of them."
Stigmatised and therefore reticent, the victims are too shy to share their ordeal with the physicians. As a result, listing and treating them have become a cumbersome task, he added.
http://www.dhakatribune.com/bangladesh/2017/10/27/mysteries-surrounding-pregnancy-rohingya-girls/
--------
Iran: Three Women Arrested For Modelling
26 October 2017
Three women were arrested for modelling activities in Sistan-o Baluchistan Province, south-eastern Iran..
Ali Mohammadi, Commander of the Public Security Police in the province, announced, "A woman owning a hairdresser, had employed two other women as models for ads in the social networks to invite customers to her shop. The agents went to the business, arresting the three women and sealing the shop." (The state-run ISNA new agency – October 25, 2027)
http://www.women.ncr-iran.org/iran-women-news/4438-iran-three-women-arrested-for-modeling
--------
New school offers education 'salvation' for Syrian girls in Lebanon
October 27, 2017
Bar Elias, Lebanon: A new girls' school for Syrian refugees in Lebanon's poor Bekaa region is aiming to give girls from conservative backgrounds the chance at a formal education.
Gaining access to education in general is difficult for Syrian refugees in Lebanon, but for girls from socially conservative families who disapprove of mixed schools, it is even harder.
Zahra Al Ayed, 14, and her sister Batoul, 17, were from a village in Syria's northern Idlib province where women were expected to marry young.
But the experience of fleeing war and living in harsh poverty woke her parents to the life-changing importance of education, the girls' mother Mirdiyeh Al Ayed said.
"My eldest daughter tells me that she will not marry until after she finishes her education. She even wants to travel abroad and learn," she said.
Human Rights Watch organisation said in its latest report in April that more than half a million refugee children are out of school in Jordan, Lebanon and Turkey.
In Lebanon, international donors paid for 200,000 public school spaces for Syrian children in 2015-2016, according to the HRW report, but only 149,000 children actually enrolled.
Lebanese and international non-governmental organisations have been striving to fill the gap, and to eliminate the legal, financial and language barriers preventing refugee children from getting their education.
For the Al Ayed family, used to Syria's system of gender segregation after the age of 12, one big barrier to enrolling the girls was the lack of single-sex schools in Lebanon that accept refugees.
The new school that Zahra will attend is in Bar Elias in the Bekaa valley and was opened on Thursday by the Kayany Foundation, a Lebanese charity.
It educates 160 Syrian girls aged from 14-18 who have missed school for several years.
Those who manage to pass the Lebanese system's eighth grade exams - usually taken at the age of 14 or 15 - can join the local Lebanese public school in Bar Elias, which Batoul Al Ayed has done.
The Kayany Foundation school teaches the official Lebanese curriculum, which includes science, mathematics, Arabic and English, in addition to vocational skills.
The school, built from colourful pre-fabricated classrooms, is its seventh in the Bekaa valley, where the majority of the Syrian refugee communities are located in Lebanon.
It was meant to address the Syrian parents' concerns about sending their teenage daughters to schools for both girls and boys. All its teachers are women and it provides transportation for students between home and school.
"Education is salvation for the refugee girls," said Nora Junblatt, head of the Kayany Foundation, at the opening ceremony.
Funding for the school was secured for this year from international charity Save the Children and the United Nations Women For Peace Association, according to Kayany officials.
"I have a dream to become a pharmacist," Rama, 19, who is preparing to apply for the eight grade exams at Kayany school said. In normal times, Rama would already have been applying for university at that age.
"I still want to go back to Syria and fulfill my dream there, in Damascus University," she added.
http://gulfnews.com/news/mena/syria/new-school-offers-education-salvation-for-syrian-girls-in-lebanon-1.2112566
--------
Social media brings Pakistan's persecuted women rare justice after the violence
October 27, 2017
Last month, Sarah Gill – a 27-year-old Pakistani trans activist who is about to become Pakistan's first transgender doctor – sent out a distress call over Facebook:
"Three men just followed me to my home, grabbed me from my hair and started hitting my genitals and put a gun to my lips ... They told me next time I would have to sleep with as many people as they say and if I don't, they would first burn my breasts and then kill me ... I have no protection here. If anything happens to me, please don't give up, my lovely community."
"That post saved my life," Gill now says. "The way my online community came to my rescue gave me the confidence I needed to stand my ground."
Gill believes she was targeted because she had roused people to take action against a transphobic gang in Karachi. "This gang was carrying out abductions, assaults and rapes, and putting videos of their crimes on the internet. But members of my community saw no sense in going to the police, who treat us just as brutally."
One decision by Gill – at a demonstration – would prove crucial in her pursuit of justice. "We had organised a protest and the police were trying to disperse us by force, as they always do," Gill says. "I considered filming these violent scenes but realised they would confiscate my phone and delete everything. So I started broadcasting a live feed instead."
Unaccustomed to being made accountable, the police immediately retreated. As word of Gill's protest spread, the authorities started to take notice, and charges were eventually filed against the man said to be the gang's leader for allegedly committing violent criminal acts against transgender people. After lifetimes of injustice, Gill says the trans community were "utterly shocked".
The violence that Gill and many other women in Pakistan face – including forced marriage, domestic violence, acid attacks, "honour" killings and rape – is described by Human Rights Watch as "routine". The vast majority goes unreported: though an anti-rape law was passed last year, convictions remain close to zero.
But while the country has one of the world's largest digital gender divides (70-85% of internet users are men), more and more women are claiming their space online – and harnessing it against patriarchy. "We are not going to bring social change by appearing on one morning TV show," Gill says. "We need a continuous platform to speak for ourselves.
'I didn't want to be a victim'
Like Gill, 20-year-old undergraduate Suman Ali has used social media to take control of her selfhood. Having already subjected her to years of sexual harassment, in January 2016 a close relative took her to a secluded spot and threw acid in her face when she again refused his marriage proposal.
"Some of my own family members testified against me; others disallowed me from speaking to the press or using social media," Ali says.
A few days before the courts convicted her perpetrator, however, she joined Facebook under the name Acid Survivor. "Mainstream media in Pakistan reduces victims of acid attacks to a fleeting headline," Ali says. "They force us to feel like victims, stuck behind closed doors, but I didn't want to be a victim."
She began sharing selfies of her recovering scars – sometimes stark and raw; sometimes carefully angled and Snapchat filtered, asserting her prevailing beauty. Replying to a photo comment complimenting her eyes, she wrote: "The monster who attacked me wanted to remove my eyes cuz every one likes my eyes …but Allah saved me."
Her Facebook posts documented not only her physical recovery but her court case too. Ali believes she is the first acid attack survivor in Pakistan to use digital platforms in this way: she hopes posting a copy of the final ruling against her perpetrator – seldom mentioned on mainstream news outlets – may deter further attacks by highlighting the full consequences of his act.
According to Ali: "The trauma of disfigurement makes you feel like you have no say in defining your identity, which is why most survivors withdraw from social spaces." Being Acid Survivor on Facebook has, she says, given her a magnified sense of justice: "When I look at my selfies online, I feel powerful."
'Social norms took priority over justice'
This summer, another survivor of patriarchal violence gained justice by employing social media in a stabbing case that was beginning to look hopeless.
When law student Khadija Siddiqi originally presented solicitors with her allegation – "On 3 May 2016, I was ambushed and stabbed 23 times by my classmate, Shah Hussain" – she was given a wide berth. The tightly-knit Pakistani legal community shunned the case; her attacker, it transpired, was the son of an influential lawyer.
"I almost gave up," Siddiqi recalls. "Social norms took priority over justice, even for lawyers."
Even when she eventually found lawyers who would listen, several advised her to drop the case, suggesting that "compromising" photos – of her socialising with male friends – might be leaked to cast doubt on her claims. "Somehow, it was not about what my attacker had done but who I was," Siddiqi says. "I felt like my soul, my character, my patience, had been put on trial."
She took refuge in online discussions with human rights activists, one of whom – a budding lawyer and political worker, Hassan Niazi – offered to take up her case. According to Niazi, "Khadija had tried every conventional option available to her" – so he proposed an unconventional approach: a strategic social media campaign, designed to counter judicial bias and raise a public outcry.
The day Niazi posted graphic photos of Siddiqi's wounds on his Facebook page, her case was transformed. Condemnations and condolences overshadowed the apologists and deniers. Facebook groups demanding "Justice for Khadija" were launched, and the hashtag #FightLikeKhadija started trending on Twitter. Prominent TV anchors invited Siddiqi on to their prime-time shows.
Her trial became a linchpin for a much-needed national discourse in which the issues of gender inequality, rule of law, class politics and democracy converged. The defence made one last-ditch attempt to discredit her case with attacks on her character, but it was too late: "All the mudslinging proved they didn't have a leg to stand on," Siddiqi says.
Her attacker was sentenced to seven years' imprisonment for attempted murder – an unprecedented victory in a country where violence against women is mostly ignored, especially when carried out by influential men. "Social media turned my case into a nationwide movement," she says.
Together, Gill, Ali and Siddiqi represent a growing movement of Pakistani women using the internet to demand justice for the crimes they have suffered. This month, the #MeToo campaign – in which women globally have used social media to condemn sexual harassment and assault – has also trended in Pakistan, with one media commentator noting that, unlike previous popular campaigns against patriarchal violence, the #MeToo movement has gained "alarmingly high traction" in the country.
Pakistan's leading activist for women and online spaces, Nighat Dad – founder of the Digital Rights Foundation – is cautiously optimistic:
"The replication of offline violence against women online, including cyber harassment, abuse and blackmail, makes the internet an embattled resource for feminist activism," she says. "But when I fight for women's safety online, I fight for their freedom to use this resource to its full potential."
If these three women's cases set a precedent, it could trigger long-awaited change in Pakistan and far beyond.
https://www.theguardian.com/inequality/2017/oct/26/social-media-brings-pakistans-persecuted-women-rare-justice-after-the-violence
--------
Fafen estimates below 14pc women voters' turnout in NA-4 by-poll
October 27, 2017
ISLAMABAD: A group of dozens of NGOs joining hands to make electoral processes transparent estimates that the women voter turnout in Thursday's by-election in the National Assembly constituency NA-4 (Peshawar) remained below 14 per cent.
Fafen (Free and Fair Election Network) says in a preliminary report on the NA-4 by-election that the overall voter turnout is expected to remain around 30pc with women voters' turnout is estimated at just 13.8pc against 41.3pc turnout of men.
Low women turnout, unchecked campaign and canvassing around polling stations and suspicious voting patterns at 10 polling booths remained key deficiencies of an otherwise well-managed and peaceful by-election in NA-4 (Peshawar-IV) constituency, Fafen said.
The preliminary report is based on the observation findings from 87 polling stations, though the network observed over 90pc polling stations by deploying 52 non-partisan and trained observers. Although election staff efficiently managed the opening, voting and identification processes, illegal campaigning and canvassing by political parties and candidates were observed around 52 (60pc) out of 87 polling stations by Fafen observers who also reported suspicious voting patterns at 10 polling booths where more than 45 votes per hour were recorded to be processed at the time of observation.
Not more than 45 voters per hour per polling booth could be facilitated by polling staff. Fafen observers were restricted from observing voting processes at 10pc of observed polling stations despite carrying and prominently displaying Election Commission of Pakistan's (ECP) accreditation, mostly by security staff.
When Fafen observers asked security personnel whether they got any training on election security, 27pc of them responded in the negative. This correlates to the arbitrary interpretation of the election law by security officials and warrants uniform training of security officials on managing election security. The ECP conducted a pilot-test of electronic voting machines (EVMs) at 35 polling stations. Fafen observed the EVM trial at 26 polling stations and noted that secrecy of voters while using the EVM was not ensured at 25 of these polling stations.
The staff of the company that provided these EVMs was observed operating the machines at 10 polling stations. On an average, four violations of electoral laws, rules and codes of conduct per polling station were reported from each polling station. This average is consistent with the average violations recorded in the last by-election in NA-120 (Lahore) held last month.
The highest number of reported violations (229) pertained to illegal campaigning and canvassing. Parties' camps were witnessed outside 36 polling stations within the proscribed 400-metre boundary for campaigning and canvassing, while transport was being provided by the candidates and parties at around 52 polling stations.
Fafen observers reported voter slips with party symbols printed being produced before polling officers at 116 polling booths. The parties' or candidates' promotional material was seen inside 25 polling stations. The observers also reported 31 cases of presiding officers not carrying the required number of critical election materials like Statement of Account and Ballot Paper Account.
https://www.dawn.com/news/1366578/fafen-estimates-below-14pc-women-voters-turnout-in-na-4-by-poll
--------
Quebec's niqab ban is a chance for women to embrace Western freedom
October 26, 2017
By Farzana Hassan
Bill 62 was passed last week, in effect denying public services to people in face masks.
While the ban includes all face coverings, this has predictably turned into an Islam versus the West issue. The familiar rivalries have resurfaced. Politicians have condemned the "burka ban", saying it marginalizes Muslim women.
I see this as an opportunity for those women, whether they are oppressed by their husbands or have themselves chosen to cover up entirely, to embrace the equality the West offers.
The victim narrative assumes that niqabi women will continue to wear face coverings and therefore when they board the bus, or when they go for a hospital checkup, they will insist on staying hidden and consequently be denied service.
Granted, we tend to resist a law we find oppressive. In France, where such laws have been implemented, some women chose to act defiantly and be fined rather than remove face coverings.
However, many have embraced the law, in fact relishing the freedoms often denied at home. In fact, when concerns about religious divisions caused France to ban the hijab in schools years ago, many among the Muslim community expressed relief.
The women's organization Ni Putes Ni Soumises surveyed niqab-wearing women after their 2011 ban. Its research revealed some high-profile acts of defiance, but other women anxiously waited for the law to free them of their husband's pressures.
The situation in Quebec may be similar. There have already been protests, though the law is yet to be implemented.
Once again, the universal assumption is that Muslim women who wear the niqab will decline to remove it when accessing public services. Yet the niqab is not a religious requirement and they have every reason to embrace this attempt to deliver them Western-style freedom.
The niqab is a vestige of a tribal and pre-Islamic culture defined by men. It was instituted when women were considered chattel owned by men. The concept of sexual consent by women is of course a recent development even in the West, but in patriarchal cultures it is taking much longer.
The niqab is a primitive society's primitive attempt to proclaim ownership rights. Naturally, it is aggressively marketed by those with a vested interest in prolonging such a dehumanizing value system.
And their Western supporters also endorse this mindset rather than promote progressive values. They deny any government's right to tell a woman what she should and should not wear and claim that in doing so they are standing up for the Charter of Rights and Freedoms. "It is what Canadians expect of me," says Prime Minister Justin Trudeau.
But Canadians also expect him to support the rights of those forced by husbands, in-laws or even parents to cover up. What about the Charter rights of Aqsa Parvez and the Shafia girls?
Niqabi women believe the niqab protects them, and even gives them back their humanity. Seriously? By becoming anonymous and invisible? Their best chance to attain the respect they deserve as people lies not in rejecting the open garb of other women, but in emulating it.
Here is a chance for them to abandon a mode of dress that is rooted in oppressive patriarchy. When there are laws and bills to discourage short dresses at restaurants and high heels in work places, it is fitting that rules of public expectation are applied to face coverings as well.
http://torontosun.com/opinion/columnists/farzana-hassan-quebecs-niqab-ban-is-a-chance-for-women-to-embrace-western-freedom
--------
War, violence to blame for adverse conditions facing women in Afghanistan
OCTOBER 27, 2017
KANDAHAR: The long- protracted war and ongoing violence have not only deprived huge numbers of people, particularly women, of education, but also created widespread poverty and adversity among families who have lost their breadwinners in Afghanistan.
A shockingly large number of women who lost their husbands, sons and other breadwinners to insurgents in Afghanistan have no other option except to wait from dawn until dusk along the streets in many Afghan cities, particularly in the southern province of Kandahar, to sell old clothes to support their families.
In Shekarpur bazaar, a vicinity in Police District 3 of the provincial capital, Kandahar city, a number of destitute women, some clad in full traditional burqa, queued on the street side to sell their old and second-hand clothing. A mother of six small children and resident of Police District 3 in Kandahar city, Zahra, 54, who lost her husband in the conflict, is among the women who have been working for survival by vending miscellaneous dresses along the road.
https://dailytimes.com.pk/131070/war-violence-blame-adverse-conditions-facing-women-afghanistan/
--------
URL: https://www.newageislam.com/islam-women-feminism/hadiya-pleads-new-video-please/d/113044
New Age Islam, Islam Online, Islamic Website, African Muslim News, Arab World News, South Asia News, Indian Muslim News, World Muslim News, Women in Islam, Islamic Feminism, Arab Women, Women In Arab, Islamophobia in America, Muslim Women in West, Islam Women and Feminism