New Age Islam News Bureau
29 September 2020
• Nobel Laureate Nadia Murad Denounces Lack of Will to End Sexual Violence as a War Tactic
• 'Women Face Similar Issues in America and In Pakistan' – Anila and Faryal Multi-Faith Activist
• 2 Women in Dubai Arrested For Posting Video of On-Duty Policeman
• Turkey's Government Steps Up Measures to Protect Women from Domestic Violence
Compiled by New Age Islam News Bureau
URL: https://www.newageislam.com/islam-women-feminism/hadiqa-bashir-swat-rights-activist/d/122985
--------
Hadiqa Bashir, Swat Rights Activist, Selected by UN for SDGs Wants End to Child Marriages
Fazal Khaliq
29 Sep 2020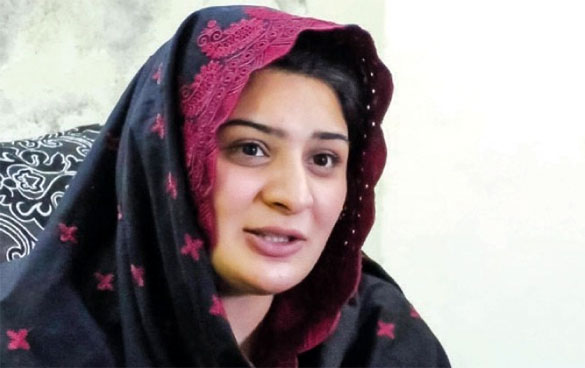 Hadiqa Bashir
----
SWAT: Hadiqa Bashir, the 18-year old women rights activist who has recently been selected along with 16 young leaders by the United Nations for Sustainable Development Goals (SDGs), said that she would not only work for achieving the SDGs but would also carry on her mission of ending child marriages.
She was talking to this scribe about her selection by the United Nations in the latest class of 17 young leaders for SDGs.
"About 7,000 young leaders from 172 countries applied for the 2020 class. Luckily, I have been selected from Pakistan by the UN with 16 other young leaders from across the world," she said. She added that it was not only an honour for her but also for the entire country.
Ms Bashir said that every young leader selected for SDGs was given four of the 17 goals to catalyse their achievement. "Of the 17 SDGs, I will work to ensure quality education, end poverty, achieve gender equality and empower all women and girls, and end gender-based violence," she said.
Hadiqa Bashir is among 17 young leaders selected by UN for SDGs
The rights activist said that she would actively work to engage young people in achieving the SDGs. She said that she had been working to end child marriages in Malakand division since she was 13-year-old.
"My mission of ending child marriages in my region will continue with my new responsibility as young leader," she added.
She said that women education was indispensable for the progress and development of a nation but unfortunately girls in rural areas were deprived of education.
"An educated woman can do a respectable job and earn money. This way she will not be dependent upon her husband for her own needs," she added.
Ms Bashir also received Mohammad Ali Humanitarian Award in 2015, Asian Girls Human Rights Ambassador Award in 2016 and other national and international recognitions.
The United Nations announced the names of 17 young leaders for SGDs on September 18 including AY Young from United States, Hadiqa Bashir from Pakistan, Layda Eskitaçolu from Turkey, Jichen Liu from China, Lester Philipp Vargas Angeles from Peru, Loay Radwan from Egypt, Mariama DjambonyBadji from Senegal, Martin Karadzhov from Bulgaria, Oluwaseun Ayodeji Osowobi from Nigeria, Ralf Toenjes from Brazil, Satta Sheriff from Liberia, Siena Castellon from Ireland, Tania Rosas from Colombia, Tim Lo Surdo from Australia, Udit Singhal from India, VanessaNakate from Uganda and ZahinRazeen from Bangladesh.
https://www.dawn.com/news/1582231/swat-rights-activist-wants-end-to-child-marriages
--------
Nobel Laureate Nadia Murad Denounces Lack of Will to End Sexual Violence as a War Tactic
28 September 2020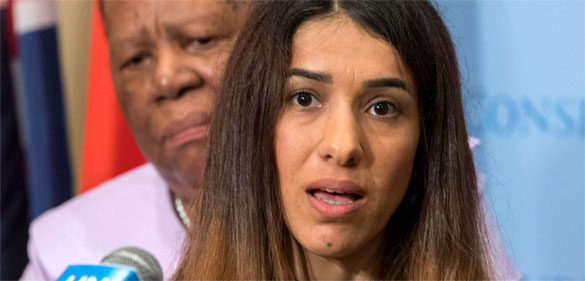 Nobel Laureate Nadia Murad
-----
"We have the ability to provide resources to communities destroyed by violence, Ms. Murad, who also serves as a UN Goodwill Ambassador, said. "We simply lack collective political will to do so."
Speaking during an online event titled #EndSGBV, hosted by the United Arab Emirates, Norway and Somalia on the margins of General Assembly general debate, Ms. Murad – jointly awarded the 2018 Nobel peace prize with Congolese gynecologist Denis Mukwege for their efforts to end the use of sexual violence as a weapon of war - took stock of progress over the last year.
"We must critically look at what we did well, where we can be really proud because we have made a true difference", she said, "but also, be honest and transparent on where we missed opportunities to stop gender-based violence and truly be there for victims."
Survivor-centred approach
She described the launch of the Global Survivors Fund as "a major achievement", along with the Murad Code, a protocol she launched with the United Kingdom for those collecting information from survivors on conflict-related sexual violence.
In a post-conflict region like Iraq, she said survivors must play an active role in the peacebuilding process. "Survivors know best what they need to heal and recover." Efforts to engage them at every level of their recovery will empower them.
Perhaps nowhere is the international unwillingness to engage more stark, than in the experience of the Yazidis, she said, most of whom live in northern Iraq and who in 2014 became victims of genocide by ISIL/Da'esh terrorists, in the group's pernicious campaign to wipe out non-Islamic influence.
Stressing that their situation remains "virtually unchanged," she said it pains her greatly that once again she must convey to the world the seriousness of their plight. Hundreds of thousands of Yazidis are internally displaced in camps, where conditions are dangerous – especially in light of COVID-19.
Their destroyed homeland of Sinjar, lacks critical infrastructure to support their needs. It is ignored, lacking any dedicated effort to build a stable local government and security force committed to equal protection for all citizens. Thus, Yazidis cannot return safely.
Most importantly, she said thousands of Yazidis still face sexual violence daily at the hands of ISIL/Da'esh, with more than 2,800 women and children still missing and in captivity. They have been subjected to sexual violence and slavery for over six years.
"It is incredibly disheartening to understand no collective search and rescue efforts have been made by the Iraqi Government or the United Nations to find these women and children", she said. "Make no mistake, the global community has abandoned over 2,800 human beings."
'Moral imperative'
To be sure, it is the responsibility of Iraq, the United Nations and the international community to take immediate steps to rescue these women and children, she said. "Anything less is unacceptable." Yazidi families cannot rebuild their lives without knowing the fate of their loved ones. "Let us be clear: It is a moral imperative to respond to the vast needs of fellow human beings".
She called for a collaborative grass roots approach, with international organizations, the United Nations and Governments working closely with local non-governmental groups to develop contextually specific approaches. Development can only be sustained if local communities are part of every decision that impacts them. "It is vital that we listen to the communities we serve," she assured.
Call to rebuild Sinjar
Drawing attention to Nadia's Initiative, which seeks to empower Yazidis to rebuild their lives and advocates for investments that will provide survivors of sexual and gender-based violence with comprehensive support, she said non-governmental organizations cannot rebuild post-conflict communities on their own.
In Iraq, she pressed the Government to rebuild Sinjar, provide survivors with reparations and stabilize local governments. While investigations have begun, evidence has been collected and survivors have recorded their testimonies, justice has yet to be served.
It is up to Iraq and the international community to try ISIL/Da'esh perpetrators for crimes against humanity, war crimes and genocide, she stressed. Yazidis and other communities destroyed by violence deserve international support.
https://news.un.org/en/story/2020/09/1074092
--------
'Women Face Similar Issues in America and In Pakistan' – Anila and Faryal Multi-Faith Activist
By Sheher Bano
29 Sep 2020
Anila Ali, founder and president of the largest Muslim & multifaith women's organisation in America, American-Muslim Multifaith Women Empowerment Council (AMWEC), is Pakistani-born educator and women rights activist. She has pioneered the path for Pakistani and Muslim women in America. She was the first Muslim-Pakistani to run for political office in 2014 and 2016. She also made history when she got elected thrice as a Delegate for Obama and then Hillary Clinton. She was recorded as the first Muslim Democrat since Suffrage in California by the Lawrence de Graaf Center for Oral and Public History at the Cal State Fullerton. Currently, she is the National Co-Chair of the Finance Committee for the U.S. presidential candidate, Joe Biden. Known for her work in countering extremism, she has been awarded by federal government agencies for her work in empowering women. President Obama conferred on her the congressional award 'Whitehouse Volunteer of the Year Award' for her work. She runs a charity in Pakistan, Calpak Education Services, which adopts government schools and educates and empowers girls.
Faryal Khan is Vice President of Business Development at American Harvest, Inc. Born and raised in the England, she graduated from the American College of Applied Arts in London before moving to the US in 1990. With two decades of expertise in sales leadership, Khan has served the hotel industry in America for many years. She has worked tirelessly to soften the image of Pakistan abroad. As the founding member of AMWEC, her work has been applauded by local government, federal agencies and interfaith communities.
These days Anila and Faryal are in Pakistan on a short visit. You! got an opportunity to talk to them and share their experience with our readers...
You! What is AMWEC, why it was started and what issues it has taken up so far?
Anila: After 9/11, American Muslims were facing problems in the community. I was raised by parents dedicated to building communities, so I decided that Pakistani women needed a platform to voice their opinions. I wanted to dispel notions about Pakistanis being terrorists, so I founded AMWEC with a dozen other Pakistani women. Initially, we faced a lot of push back, mostly from Arab-centric organisations whose patriarchal structure did not allow women, especially Pakistani women to lead unless they bowed in obedience. I recall when a journalist covering religion from New York Times came to Los Angeles to cover a story, women were told to stay in the 'kitchen'. I realised that I would have to fill in the leadership gaps by elevating the Pakistani voice.
Amongst AMWEC's successes have been youth mentorship and training programmes, Muslim Women in Law Enforcement Programs, youth political and civic leadership programmes, minority business women's programmes to financially empower Muslim women through federal government partnerships, and advocacy against domestic violence, work place discrimination. AMWEC's most successful events are the outreach programmes to faith-based communities. AMWEC has received several Congressional awards and is recognised for its work in fighting extremism by all the federal government agencies and The White House. Recently, AMWEC started the first halal food for Muslim seniors, Government Meals on Wheels programme during COVID-19 to keep Muslim seniors at home and safe.
You! I saw a video on YouTube in which you shared your experience after being racially profiled? Tell us something about that.
Anila: After 9/11 my family was racially profiled at the border just because of being a Pakistani and Muslim. My date of birth matched that of a terrorist. Growing up in London in the '70s and '80s, racism was not new to me. But I knew America was better than England. I was not going to sit and do nothing about it. I used the might of my pen and wrote blogs about my profiling.
I contacted the Asian American Law Caucus who put me in touch with New York University Center of Human Rights and Global Justice. They made a documentary about my story. The film and the activism around it pushed the Department of Homeland Security to develop the Trip Program which allowed frequent travellers like me to get a redress number attached to their flight reservations to avoid false match screenings. With my persistence and faith in my American Dream I helped changed policy and get almost 6 million Muslims out of the list.
You! What are the issues Pakistani community especially women are facing in the USA?
Anila & Faryal: Women face similar issues in America and in Pakistan, except that the laws are stricter and enforced in the U.S. and there is much support for women victims. Many of the issues we deal with are about domestic violence, gender bias, bullying and adult abuse. The American society embraces victims of abuses instead of ostracising them. So we also need to change the mindset of women and families back home that such men should be exposed who abandon their wives like this.
When women from Pakistan arrive in America and are deserted by their husbands, it is very hard to settle them and empower them. A good education is what changes lives and fortunes Pakistani communities.
You! What do you want to do in Pakistan?
Anila: As a Pakistani leader in America, I want to meet and connect with Pakistani women leaders and form a coalition to raise our voices at global level to stop violence against women and children. Together we will be stronger.
You! What challenges did you face as a Pakistani-Muslim leader while contesting election in the USA?
Anila: Many male-dominated organisations, mostly Arab-centric organisations, were not in favour of accepting of our leadership. Bogus candidates, hateful robo-calls and text messages were sent by our own people to discourage us. However, their misogyny and bias did not deter us from our path. I am a Pakistani, American, Muslim, and a woman and all these identities define who I am today. America embraces us and so it is up to us to change perceptions.
You! Do women really possess weak decision power or it is just a notion?
Faryal: Decisions of a strong woman are like a bitter pill to swallow by men. A woman has to reach a status where her voice is heard and validated. A patriarchal society like ours tends to hold women back. Through education and courage, they can break the chains which society has put around them.
Anila: Women have a unique ability to bring people together. Women naturally handle stress well and make excellent leaders. The problem is that a woman is expected to be a superwoman whereas a man can just be a man. But I am happy to say that women like me, are learning to make their own decisions.
You! How can women move on?
Faryal: Our political leaders need to do out-of-box thinking and harsh decisions making. The laid-back attitude and cover ups which our political leadership adopts needs to be shunned. The women will have to put up a constant fight to get their rights. The same fight is going on in the U.S. and Pakistani women are way behind and it will take decades to come anywhere closer.
–– Sheher Bano is the Editor Supplements.
https://www.thenews.com.pk/magazine/you/721540-women-face-similar-issues-in-america-and-in-pakistan-anila-faryal
--------
2 women in Dubai arrested for posting video of on-duty policeman
September 29, 2020
The women could face imprisonment for not less than six months or a fine of not less than Dh150,000, or both these penalties.
Two women have been arrested for taking a video of a policeman while he was doing his duty, and posting it on social media.
The video showed the on-duty cop questioning a man for an alleged assault and arresting him, even as he tried to resist him.
Taking a video of someone without his/her consent and posting it on social media is illegal, according to cybercrime laws.
The two women violated the law by invading the privacy of the police officer while doing his job, pointed out Brigadier Jamal Salem Al Jallaf, director of the General Department of Criminal Investigations at Dubai Police. He added that the authorities have initiated legal procedures against the duo.
According to Article 21 of the law, the women could face imprisonment of not less than six months or a fine of not less than Dh150,000, or both these penalties.
Al Jallaf urged all individuals to respect the privacy of others by not sharing or posting their videos or photos on social media, as well as avoid taking photos or recording videos of cops while they conduct an operation.
https://www.khaleejtimes.com/news/crime-and-courts/man-in-dubai-nearly-killed-over-parking-spot-
--------
Turkey's government steps up measures to protect women from domestic violence
SEP 27, 2020
The brutal killings of women at the hands of their spouses in Turkey, which raised a public outcry in recent years, prompted the government to boost measures to stop domestic violence. The Sabah newspaper reported on Saturday that women will be provided police protection even if they do not press criminal charges against their assailants for fear of reprisal.
The Interior Ministry sent a circular to the governorates of 81 provinces, citing that the ministry worked with other ministries to prevent violence targeting women.
Under the ministry's instructions, security forces will handle each case more carefully and will analyze the past criminal records of the perpetrators of violence. They are ordered not to allow perpetrators with a history of violence to get close to their victims and protection will be immediately implemented for women in ongoing cases of domestic violence. In some cases, families of the slain victims had claimed that culprits have gone unpunished and women were not provided protection in earlier instances of domestic violence. If the victim is in a situation where her life is in direct threat, police will assign a security detail, regardless if she requests it or not.
The government will also streamline procedures against domestic violence perpetrators who are released or who escaped from prison. Relevant agencies will be required to immediately notify security forces in such cases to implement protection for their victims. Hospitals and clinics will be required to notify local prosecutors and violence prevention centers run by the government if any patient admitted are found to be victims of domestic violence. Perpetrators of domestic violence will not be issued gun permits, and domestic violence cases will be exempt from the mediation process that allows plaintiffs to settle any case without a trial.
Violence against women makes headlines on a regular basis. There was a 34% decline in the rate of femicides in Turkey in the first six months of 2020, according to the Interior Ministry. While 173 women were killed in femicides from January through June in 2019, this number dropped to 115 in the same period in 2020.
Last year, the government unveiled a comprehensive action plan to fight domestic violence. The plan is the joint work of ministries, including the ministries of justice, interior, national education and health ministries, along with the Presidency of Religious Affairs (DİB). Among the measures includes the assigning of specialized courts for the implementation of Law No. 6284, which came into force in 2012 to give women more legal options and protection against domestic violence.
https://www.dailysabah.com/turkey/turkeys-government-steps-up-measures-to-protect-women-from-domestic-violence/news
--------
URL: https://www.newageislam.com/islam-women-feminism/hadiqa-bashir-swat-rights-activist/d/122985
New Age Islam, Islam Online, Islamic Website, African Muslim News, Arab World News, South Asia News, Indian Muslim News, World Muslim News, Women in Islam, Islamic Feminism, Arab Women, Women In Arab, Islamophobia in America, Muslim Women in West, Islam Women and Feminism