New Age Islam News Bureau
12 Jul 2018
• Woman Unleashes Anti-Muslim Tirade on NYC Bus
• Women Vow To Defy Men Who Banned Their Vote In Pakistan Village
• Women Heads Of Household In Iran, 16% Are Under 20
• Kashmiri Sikh Girl Alleges Forcible Conversion to Islam
• Supreme Court to Begin Nikah Halala and Polygamy Hearing From July 20
• Paulo Coelho Thanks Malala As She Advocates For Education
• Noon Celebrates 1st Arab Female Football Expert
• 84 Percent of Saudi Jobseekers Are Women: Gastat Survey
Compiled by New Age Islam News Bureau
URL: https://www.newageislam.com/islam-women-feminism/gujarat-muslim-girl-raised-hindus/d/115812
--------
Gujarat: Muslim girl raised by Hindus gets perfect nikah
Jul 12, 2018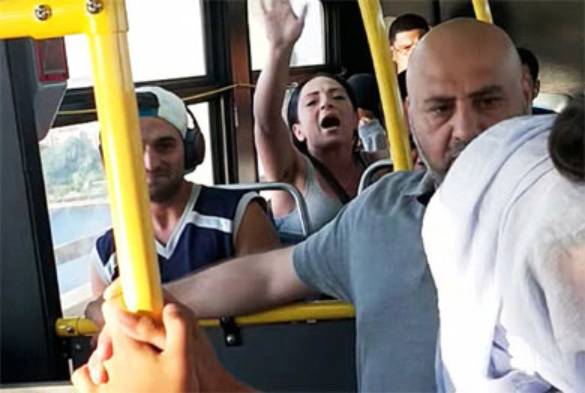 A woman screams anti-Muslim remarks at another woman wearing a headscarf on a city Bus
------
RAJKOT: Shabnam Shaikh's tryst with tragedy began when she was just five. At this tender age, this girl in coastal town of Veraval lost her mother.
Her father Kamruddin Shaikh, a truck driver, was clueless about her upbringing. But she soon started getting the love of parents from her father's friend Meraman Jora, also a truck driver.
She got all the happiness and freedom to follow her religion while growing up in this Hindu household. When she turned 14, another tragedy struck when her father suddenly left the town never to return again. But happy days are back for Shabnam, now 20, as Jora family got her married to a Muslim man few days ago.
Joras, who have two sons and a daughter, have scripted a touching tale of Hindu-Muslim harmony in this town where clashes between the two communities were common till few years ago. They got Shabnam married according to both Hindu and Muslim rituals. "We raised Shabnam like our daughter. We gave her all the freedom to follow her religion and language. She also learnt the Quran and regularly offered namaaz and celebrated Hindu festivals with equal joy as hers," Jora told TOI.
Jora, however, got worried about Shabnam's future when she turned 20. He had no idea about the whereabouts of her father, who had left in 2012 saying that he was going to Ahmedabad. Jora then approached some local Muslim leaders and found a suitable Muslim boy named Abbas, a resident of Talala taluka's Javantri village, who drives an auto rickshaw. He wanted to perform Shabnam's 'kanyadaan' according to the Hindu rituals and the nikah was to be performed as per Muslim rituals.
"Finally, it was decided that the marriage will be performed following rituals of both religions," he said.
Jora's son Gopal said, "We have always considered Shabnam as our family member. Her in-laws also agreed to our proposal of performing the marriage according to both rituals." The marriage began mehndi and the traditional Ganesh puja. The nikah was performed in the presence of Muslim cleric. Shabnam said, "I grew up in a Hindu family where I have received more love and affection than in my own family. I got all the freedom. I consider them to be my rightful parents."
A local Muslim leader, Hasam Mushagra, said, "This is the biggest example of Hindu-Muslim unity. Followers from both the religions should learn from this gesture."
https://timesofindia.indiatimes.com/city/rajkot/muslim-girl-raised-by-hindu-family-finds-perfect-match/articleshow/64951171.cms
--------
Woman unleashes anti-Muslim tirade on NYC bus
July 12, 2018
By Joe Tacopino
A woman was captured on video unleashing an anti-Muslim tirade on a city bus traveling from Brooklyn to Staten Island — mocking another woman wearing a headscarf and telling her that "ICE is here for you."
The aggressor, who identifies herself as Ashley, is captured on cell phone video yelling at the woman after an apparent dispute, according to footage posted on YouTube Wednesday.
"Did you see the sign, you f–king speak English?" the woman says before looking toward the camera and addressing the individual taking the video.
"I'm getting into a fight with some Muslim chick because she has an attitude because she thinks she has rights that she doesn't have."
She then continues to mock the fellow passenger, claiming that "immigration's at the door."
"Oh wait is that ICE? They're here for you." Ashley says to the woman, sarcastically.
https://nypost.com/2018/07/12/woman-unleashes-anti-muslim-tirade-on-nyc-bus/
--------
Women Vow To Defy Men Who Banned Their Vote In Pakistan Village
July 12, 2018
MOHRI PUR: Men banned women from voting in the village of Mohri Pur sometime around 1947, and they have obeyed ever since - until this year, when changes to Pakistan's election laws and women's attitudes could shift the dynamic.
At least, that is the hope of many women meeting beneath a Jambolan tree in the village some 60 kilometres (35 miles) from the central Pakistan city of Multan, its shade protecting them from the blazing sun.
Whether the men watching angrily as the women speak to AFP reporters will allow them to follow through when the nation goes to the polls on July 25 is another question.
"They perhaps think that women are stupid... or there is an issue of honour for them," says 31-year-old Nazia Tabbasum.
Village elders banned women from voting decades ago, claiming that visiting a public polling station would "dishonour" them.
So-called "honour" describes a patriarchal code across South Asia that often seeks to justify the murder and oppression of women who defy conservative traditions by acts such as choosing their own husband, or working outside the home.
"I don't know where their honour goes to sleep while they lie down at home... as their women work in the fields," Tabbasum adds, scathingly.
But the Election Commission of Pakistan (ECP) has declared that at least 10 percent of voters in each constituency must be women, otherwise its results will be voided.
Nearly 20 million new voters have been registered in the rapidly growing country, including 9.13 million women, the commission says.
It is another step in women's long battle for rights in Pakistan, a deeply patriarchal country of some 207 million people - though it does little to address the gender imbalance of the 2013 elections, in which male registered voters outnumbered female by some 11 million.
The shift also sets the stage for a stand-off in conservative rural areas, like Mohri Pur.
Fear of violence
"The main reason is that these are the areas where women are not allowed to even come out of the house," says Farzana Bari, a gender expert and rights activist.
The ECP's rule change should improve things - though Bari warned that within each constituency there could yet be pockets where women are prevented from voting.
There is plenty of precedent: in 2015 men stopped women from voting in a local poll in Lower Dir, in the northwest. The ECP promptly cancelled the result.
In 2013 a court ordered the arrest of male elders in two other northwestern districts over banning female votes in the previous general elections.
In Mohri Pur, located in Punjab province, women do work outside the home and some receive education, yet the vote ban holds.
Many of the younger women under the Jambolan tree are eager to exercise their rights - but not all.
Widow Nazeeran Mai, 60, says it is not "custom" for women to vote. "(T)here is no one to stop me, but still I don't vote because nobody else does," she says.
Others fear violent reprisals.
"If they go to vote alone, there will be violence and unrest, the men will abuse and beat them, so it's better not to go," explains 22-year-old Shumaila Majeed - though she remained determined to get as many women to the polls "as possible".
Even Mohri Pur's lone female councillor Irshad Bibi - elected under laws stipulating at least one woman on every village council - has never voted.
When asked why, she calls on her husband to speak for her.
"Our elders had set up this custom... We stand by this today," the husband, Zafar Iqbal, tells AFP.
'Nobody listens'
"In any civilised democracy, half the population ought not be disenfranchised," says newspaper columnist Hajrah Mumtaz.
But local politicians say they are helpless.
"I can't break their tradition... the people of this village have to decide when they will allow women to vote," says Raza Hayat Hiraj from the Pakistan Tehreek-e-Insaf party.
Bismillah Noor, a member of the district council who arranged the meeting under the Jambolan tree, says the men are stubborn.
"I've been trying since 2001 but nobody listens to me," she says. "In 2005, men told me their women don't want to vote so I should not force them."
Another attempt in 2013 also failed.
The determination Noor hears from the village women now gives her a glimmer of hope - but progress is fragile.
In 2015, one woman, Fouzia Talib, became the only one in Mohri Pur to vote in local elections. She was ostracised.
Now, she is unsure if voting on July 25 for politicians she believes will do little for the area is worth the backlash.
"I will see," she tells AFP.
https://gulfnews.com/news/asia/pakistan/women-vow-to-defy-men-who-banned-their-vote-in-pakistan-village-1.2250299
--------
Women Heads Of Household In Iran, 16% Are Under 20
12 July 2018
Women heads of household in Iran have become younger. This was disclosed by Zohreh Ashtiani, a women's rights activist and secretary of the Family Faction of the mullahs' parliament (Majlis), in an interview with the state-run Shahrvand newspaper on July 10, 2018.
Ashtiani said, "16% of women heads of household in Iran are under 20 years of age."
She stressed that this figure only accounts for those heads of household "who have been identified or have introduced themselves to support centers."
According to the statistics announced by the Welfare Organization and the Relief Committee, she said, about 3 million and 100 women heads of household in Iran have been identified, from which 500,000 (or 16%) are under 20 years of age.
The Welfare Organization has also declared that the number of women heads of household in Iran has increased by 60,300 every year in the past ten years. This has amounted to a cumulative surge in the total number of women heads of household in Iran which was 9.5% of the total population in the Persian year 1380 (March 2001-March 2002) but reached 12.1% ten years later in the Persian year 1390.
Zohreh Ashtiani added that poverty is the main reason for escalation of the number of these women, including those under 20 years of age.
"Poverty drives the head of household towards addiction and when the husband is in jail or just at home (due to addiction), the woman has to undertake the responsibility (of heading and running the family). In other cases, poverty leads to divorce especially among younger women which in turn leads to more young women heads of household."
Taking into account the number of compulsory marriages of girls under 15 and the high percentage of divorce among them, helps us gain a better picture of the situation.
Pointing to the situation of women heads of household in Iran, Ashtiani said, "If we cannot reign in this situation and provide proper support for the women heads of household, we cannot prevent them from joining the cycle of social ailments… The drastic fall in the age of women heads of household in Iran is itself a serious problem because they cannot endure undesirable conditions, and rapidly enter the cycle, sooner than others, to provide the basic necessities of their lives under the poverty line."
She added, "The issue of women heads of household in Iran has been on the table for more than 35 years without being heeded."
Zohreh Ashtiani also revealed that "there was a 39% cut in the budget allocated to women heads of household in this year's budget (Iranian fiscal year 1397), while the budget of some other so-called cultural agencies has doubled or remained the same." (The state-run Shahrvand daily - July 10, 2018)
Just one example of such cultural activities requiring exorbitant expenditures, is the Week of Chastity and Veil which has been launched in all 31 Iranian provinces from July 10 until July 16, 2018.
https://women.ncr-iran.org/iran-women-news/5324-women-heads-of-household-in-iran-16-are-under-20
--------
Kashmiri Sikh Girl Alleges Forcible Conversion to Islam
Jul 11, 2018
By Bismah Malik
A Kashmiri Sikh girl hailing from Gandhpora hamlet of Jammu and Kashmir's Tral district has alleged that several students from Islamic University of Science and Technology (IUST), Awantipora, are forcing her to convert to Islam.
In a viral video, the girl has said that two boys and a girl studying electrical engineering have been harassing her.
Her family has also alleged that two boys riding a motorcycle stabbed her on July 2 when she was going to college. Her family had lodged an FIR with Tral police station.
According to police sources, the investigations into the case are still going on.
As per the complaint, she was asked by the IUST students to offer namaz and cover her head. But when she refused to do the same, she was threatened.
The primary investigations into the case have revealed a possible link between the attack and the threats she received at her college.
However, the IUST management has denied the allegations and described it as an attempt to disturb the harmonious atmosphere in the campus. A statement read that a committee was set up in June when the girl's father approached the university Vice-Chancellor after which the enquiry was done.
According to the IUST management, on the request of the girl's family and taking her security in consideration, a bus service facility from the campus to her home was arranged and she was also offered a varisty hostel accommodation.
The university officials said that they are fully cooperating with local police for ongoing investigations, but denied any injustice or force being meted out to the students from the minority community.
Meanwhile, the J&K Gurduwara Prabandh Committee and various Kashmir-based Sikh delegations have demanded speedy investigations into the case and even appealed the state administration as well as the Hurriyat leaders to ensure justice to the girl.
They have termed such incident as unfortunate aimed at deliberately vitiating the peaceful relations between Sikhs and Muslims in the valley.
"Why our politicians, our intelligentsia, our so-called champions of human rights & separatists maintaining criminal silence over the alleged attack on Sikh girl in South Kashmir. People at the helm of affairs in J&K should bear in mind that the state should be compared to a huge ship cruising through turbulent waters to a golden destination. For this voyage, every section of the Society must be galvanized together firmly as one section. One little crack i.e. a disgruntled minority can force the huge ship to halt in the midst of the deep till the crack is repaired. Hence, the protection of the rights of minorities is sine qua non for a healthy democracy," Srinagar-based activist Raminder Jit Singh wrote on Facebook.
https://www.ibtimes.co.in/kashmiri-sikh-girl-alleges-forcible-conversion-islam-774426
--------
Supreme Court to Begin Nikah Halala and Polygamy Hearing From July 20
July 12, 2018
New Delhi: After triple talaq, another landmark hearing on Muslim personal law dealing with Nikah Halala and polygamy is all set start in Supreme Court from July 20, News18 has learnt.
News18 has learnt that a petition filed by Farzana through Advocate Vivek Narayan Sharma has been listed for hearing on July 20. This is one among several other petitions in the top court demanding to scrap these "Muslim Personal law practices".
One of the petitioners in the case, Sameena Begum, had prayed for an urgent listing of the matter on July 2. A bench comprising Chief Justice Dipak Misra and justices AM Khanwilkar and DY Chandrachud considered the submissions of senior advocate V Shekhar that the petitions be listed before a five-judge constitution bench for final adjudication. "We will look into it," the bench had said.
Begum's lawyers had alleged that she was threatened and asked to withdraw her petition.
The bench, meanwhile, allowed Additional Solicitor General Tushar Mehta, appearing for the Centre, to file a response to the petition on the issue.
All eyes would be now on the Centre while it files its affidavit in the matter.
News18 had earlier reported that Centre has decided to reiterate its stand taken during the triple talaq case and oppose the practice as an attack on gender justice and equality.
The reply filed by the government during the triple talaq case had stated that "the fact that Muslim countries where Islam is the state religion have undergone extensive reform goes to establish that the practices in question cannot be regarded as integral to the practice of Islam or essential religious practices."
The government had also expressed its stand on polygamy and had cited how other countries have regulated their laws on polygamy and divorce.
"It is extremely significant to note that a large number of Muslim countries or countries with an overwhelmingly large Muslim population where Islam is the state religion have undertaken reforms in this area and have regulated divorce law and polygamy," said the affidavit filed by the government during the Shayara Bano case.
In March this year, a three-judge bench of the Supreme Court comprising CJI Dipak Misra and Justices AM Khanwilkar and Chandrachud was hearing a batch of petitions challenging the practices of polygamy and Nikah Halala.
The petitions were filed by BJP leader Aswini Updahyay, Sameera Begum, Nafeesa Begum and Moullim Mohsin Bin Hussain Bin Abdad Al Kathiri.
In his petition, Upadhyay prayed that Section 2 of the Muslim Personal Law (Shariat) Application Act be declared unconstitutional and violative of Articles 14, 15 and 21 of the Constitution, "in so far as it seeks to recognise and validate the practice of polygamy and Nikah Halala".
Upadhyay has sought a declaration that provisions of the Indian Penal Code are applicable on all Indian citizens and triple talaq is a "cruelty" under Section 498A of the IPC, Nikah Halala is "rape" under Section 375 and polygamy is an offence under Section 494 of the IPC.
https://www.news18.com/news/india/supreme-court-to-begin-nikah-halala-and-polygamy-hearing-from-july-20-1808713.html
--------
Paulo Coelho Thanks Malala As She Advocates For Education
July 12, 2018
Malala Yousafzai, a Pakistani activist for female education and the youngest Nobel Prize laureate, made her first visit to Brazil as she tours for education charity.
She intends to advocate for the increase in education spending after the Brazilian government froze federal spending to reduce public debt.
Malala also expects for about 1.5 million girls to return to school, especially the ones belonging to the minorities and are comparatively less privileged in terms of literacy and secondary school completion.
During her visit, she said in a tweet, "Girls should tell their leaders what they need to achieve their goals and continue to use their voices until they are heard. Never give up. "
Following her visit to Brazil, the renowned author, Paulo Coelho thanked Malala for her significant contribution towards education, particularly girls' education.
Paulo Coelho took his twitter handle to address Malala, he tweeted:
https://nation.com.pk/12-Jul-2018/paulo-coelho-thanks-malala-as-she-advocates-for-education
--------
Noon Celebrates 1st Arab Female Football Expert
July 11, 2018
Noon, the Middle East's homegrown digital marketplace, is celebrating the upcoming FIFA World Cup final with Emirati female footballing talent Houriya Al-Thaheri.
As part of its ongoing noon | women series, noon caught up with the female Emirati football coach, who recently became the first Arab female football expert in FIFA.
"In 2007, I visited the FIFA headquarters in Zurich as a player, and took pictures near the FIFA logo," said Al-Thaheri. "To now be a part of FIFA, is a dream come true for me."
Now a technical director in the Women's Football Committee, Al-Thaheri is also head coach of the UAE's under-15 girls team, and she is set on nurturing the next generation of female Arab football stars.
It is her passion to help the women of her country, and region, reach their greatest potential by pushing through obstacles. "One of the challenges is that there are not enough clubs for girls, especially in football," she said.
A true inspiration in her own right, Al-Thaheri holds a football coaching license, which is the highest degree in the Asian football confederation. She also recently authored her first book "Becoming A Legend" — named after the football academy she established in the UAE for boys and girls.
"The idea for the book was to speak about everything, not just my accomplishments, but of all of the support female footballers get from the UAE government. There are a lot of inspirational stories about all the people who have accompanied me in my career, which I wanted to tell."
The noon | women series has been developed to shed light on the female talent driving change across the region, by telling the stories of these unsung heroes.
http://www.arabnews.com/node/1337266/corporate-news
--------
84 Percent of Saudi Jobseekers Are Women: Gastat Survey
July 12, 2018
JEDDAH – The number of Saudi jobseekers reached 1.07 million this year with women accounting for 83.9 percent or 899,000 and men representing 16.1 percent or 173,000, said the General Authority of Statistics (GaSat) in a report published on Tuesday.
The report was based on a survey conducted by the authority, said Al-Madina Arabic daily. About 26.8 percent unemployed Saudis were seeking jobs for the past 12 months while 45 percent of them sought jobs for six months, the report explained.
Referring to the method followed by the jobseekers to get employed, the authority said 31.1 percent of male jobseekers registered their names with the Ministry of Civil Service, while 38.6 percent of them applied directly to companies and other employers. "About 43 percent women jobseekers have registered with the Civil Service Ministry for getting employed," GaSat said in light of its survey.
The latest GaSat report showed unemployment rate among the Saudis at 12.9 percent compared to 12.8 percent in the end of 2017 with jobless men accounting for 7.6 percent and women 30.9 percent, Al-Madina reported.
GaStat also pointed out that 234,000 expatriate workers have left the Kingdom in the first quarter of 2018 after the intensification of Saudization programs.
The Kingdom's Vision 2030 aims at reducing unemployment rate to 9 percent by 2020 and 7 percent by 2030. The Ministry of Labor and Social Development has increased the rate of Saudization in some business sectors to increase job opportunities for Saudi men and women.
Experts have called for halting foreign recruitment, ending false Saudization and increasing efficiency of Saudi jobseekers to get them employed quickly by the private sector.
The total number of workers from the data of administrative records in Saudi Arabia (Q1, 2018) reached 13.33 million individuals, compared to 13.58 million individuals in Q4, 2017.
"However, the first quarter of 2018 witnessed a decrease in the number of non-Saudi workers by 234,191 individuals compared to the fourth quarter of 2017," the GaStat said. The number of Saudi workers registered for jobs reached 3,150,409 individuals during the same period.
Tayseer Al-Mufarrej, spokesman of the authority said there was a difference between jobseekers and the jobless. The "unemployed" according to the Labor Force Survey are individuals who are above 15 years of age and are jobless at the time of survey. They include those who did not search for jobs during the four weeks prior to the household visit because they were either waiting for a job or starting their own business in the coming days.
All job seekers in the administrative records are not subject to the internationally recognized standards and conditions of unemployment approved by the ILO and therefore are not considered to be unemployed, he said.
"Hence, not every job seeker is considered unemployed. They may be looking for better work while working in another job. This is the case of many jobseekers in government entities in particular. They may be working in the private sector," he added.
http://saudigazette.com.sa/article/538812/SAUDI-ARABIA/84-percent-of-Saudi-jobseekers-are-women-GaStat-survey
--------
URL: https://www.newageislam.com/islam-women-feminism/gujarat-muslim-girl-raised-hindus/d/115812
New Age Islam, Islam Online, Islamic Website, African Muslim News, Arab World News, South Asia News, Indian Muslim News, World Muslim News, Women in Islam, Islamic Feminism, Arab Women, Women In Arab, Islamophobia in America, Muslim Women in West, Islam Women and Feminism