New Age Islam News Bureau
13 Jun 2015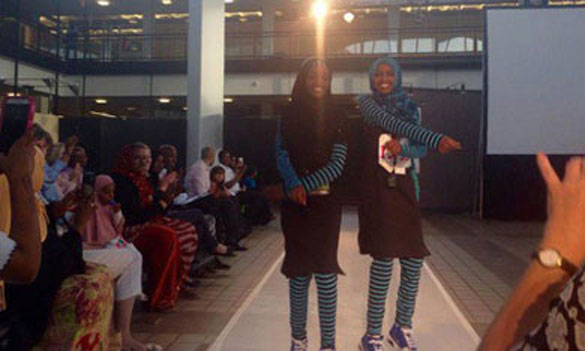 US Muslim Girls Come Up With Shariah-Compliant Uniform to Play Basketball
-------------
• Indonesia's Islamic Aceh Province Canes Unwed Couples
• US Muslim Girls Come Up With Shariah-Compliant Uniform to Play Basketball
• Cops, Harassers Laugh After Muslim Mother's 'Headscarf' Was Yanked Off In London
• Malaysian Gymnast Gets Brickbats for Showing 'Aurat', Despite Winning Gold
• UK Jailed Muslim Woman, Alaa Abdullah, For Posting Thousands of Terror Messages Online
• UK Muslim Woman Loses Legal Battle to Wear Jilbab
• Woman's first book aims to educate about Muslim heritage
• Kosovo Exhibition of Dresses and Skirts in Pristina to Remember Women Who Suffered Sexual Violence in Wartime
Compiled by New Age Islam News Bureau
URL: https://newageislam.com/islam-women-feminism/gujarat-hc-allows-hindu-woman/d/103482
--------
Gujarat HC Allows Hindu Woman to Go With Her Muslim Husband
June 13, 2015
The Gujarat High Court on Thursday allowed a Hindu woman to go with her Muslim husband after she refused to be persuaded by her parents who objected to the inter-religion marriage.
The order by a division bench comprising Justice Mohinder Pal and Justice R D Kothari came on a habeas corpus petition filed by the parents of the woman Damini Chavda (19) who married Saiyed Irfan Riyazul Husain (21).
In March, Damini had gone missing from the protection home, to which she was sent by a court order, for about three months, about which a complaint was filed in Ellis Bridge police station of the city.
On Wednesday, during the scheduled hearing of the case, the High Court directed Irfan to produce the woman before it, following which, Damini appeared today before the High Court and reiterated that she wanted to go with Irfan, which was allowed today.
Damini had in February pleaded before the court to allow her to stay with Irfan but it was refused, after which she had tried to commit suicide by strangulating herself with 'Dupatta' inside the court room, said the High Court order.
Damini, who fell in love with Irfan one year back, had tied the knot with him in December last year.
However, as her family did not accept their marriage, her father Babu Chavda had filed a habeas corpus plea before the High Court in January to get her custody.
But during the trial, she had appeared before the division bench headed by justice Ravi Tripathi and requested him to allow her to stay with her husband as they had signed a marriage agreement under Special Marriage Act.
However, the High Court bench in January sent her to Women Protection Home and also directed the police officials to not allow her to meet Irfan as their marriage certificate mentioned husband's name as Akbarali.
"This court is of the opinion Damini Babubhai Chavada, who is under the influence of Irfan is required to be kept out of that for some time and therefore required to be sent to Nari Sarakshan Gruh or Nari Vikas Gruh (protection home for women) till the next date of hearing on January 28," the order said.
http://indianexpress.com/article/india/india-others/gujarat-hc-allows-hindu-woman-to-go-with-her-muslim-husband/#sthash.aUP72q3Y.dpuf
----------
Indonesia's Islamic Aceh province canes unwed couples
June 13, 2015
Banda Aceh (Indonesia): Three couples were publicly caned in Indonesia's Aceh today after the unmarried university students were caught spending time alone together in violation of the province's strict Islamic laws.
A rowdy crowd of about 1,000 spectators shouted as the three men and three women, aged between 18 and 23, were lashed several times each with a rattan cane in a square in Banda Aceh, the capital of Aceh.
A fourth woman, aged in her 40s, was also publicly caned for committing adultery. One of the women fainted after being caned four times and had to be carried off by officials.
"Hopefully those who are being caned will realise their mistakes and feel remorseful and repent to God so that they can become noble humans again," Ridwan, an official from the local Islamic sharia law office who goes by one name, said before the caning.
Public caning is a common punishment in Aceh, which is the only province in the world's most populous Muslim-majority country that is allowed to implement Islamic sharia law, but it is rare for women to be caned.
More than 90 per cent of Indonesians describe themselves as Muslim, but the vast majority practise a moderate form of the faith.
http://zeenews.india.com/news/world/indonesias-islamic-aceh-province-canes-unwed-couples_1612320.html
----------
US Muslim girls come up with Shariah-compliant uniform to play basketball
June 13, 2015
Muslim girls playing basketball in Minneapolis, United States, have found a way to confront their dilemma of either to exit the game or wear a dress that does not conform with their culture and religious believes.
The girls, playing for Cedar Riverside, designed their own clothing that would allow them to play basketball and still wear something that satisfies their religious and cultural values as well as comfort.
The middle-school, hijab-clad gamers, who choose to play at girls-only session at Brian Coyle Community Center twice-a-week, say they were restricted in their traditional long skirts.
"I wouldn't be able to do moves or anything because of my skirt, and every time I run my wrap will keep falling," the team's point guard, Sihal Ali said while speaking to KARE, the Minneapolis NBC affiliate.
The girls then sought help from University of Minnesota College of Design and the Tucker Center for Research on Girls & Women in Sport along with a grant from the university. The students, along with community volunteers, sewed the uniforms at Mosque Shafici for four weeks in April, the Star-Tribune said.
Students worked on various modeled prototypes which were aimed at collecting feedback from community members and parents.
The dresses, featuring long-sleeved tunic tops, leggings with a tighter hijab and a flexible skirt were then debuted at an on-campus fashion event.
The Minnesota Daily said that the girls had incorporated breathable fabric. The hijab was also fastened in place to add more security to the cloth.
The girls of the East African origin actually work for Girls Initiative in Recreation and Leisurely Sports program initiated by Fatimah Hussein in year 2008 in efforts to enable the gamers stay vibrant and active.
Muslim women of all ages usually have a hard time finding and wearing dresses that are culturally appropriate.
Around the world, women athletes have had a hard time participating in sports owing to religious and cultural considerations.
At other times, incorporating clothing such as headscarves into uniforms have seen them being barred from major international sporting events. One example of this was in 2011 when the Iranian football team was disqualified from the Olympics because of a FIFA ruling banning their hijabs, though it overturned the decision the following year.
Last year, the International Basketball Association was criticised for banning hijabs and other religious headwear, but this rule too was relaxed afterwards. However, it still caused problems for Qatar's basketball team at the Asian Games held last year.
However, with this new set of clothing, at least Muslim girls in US will be able to partake in school and college basketball more, if not the NBA.
http://tribune.com.pk/story/902527/us-muslim-girls-come-up-with-shariah-compliant-uniform-to-play-basketball/
----------
Cops, harassers laugh after Muslim mother's 'headscarf' was yanked off in London
June 13, 2015
LONDON: A 25-year-old Muslim mother in London was allegedly harassed by three women for "wearing a headscarf," last week as she went to collect her children from school.
The alleged incident took place close to Al Khair, a private Islamic primary school in Croydon, south London.
Eyewitnesses said the three women asked if she was hot in the headscarf.
The victim, who wished to remain anonymous, told the Evening Standard that the women then began punching and kicking her.
"They pulled my headscarf off and started punching and kicking me," she said. "They were being so racist and using derogatory terms."
The incident escalated to such an extent that police had to be called in at about 3pm and two women aged 35 and 18 were arrested on suspicion of common assault and racial offence.
The Scotland Yard said that the two women were taken to a police station before being bailed to return at a later date. Officers are still investigating the issue.
However, photos from the scene posted on to social media and eye witnesses disputed the official version, claiming instead that police officers who arrived at the scene began laughing at the victim rather than helping her and that it took another man to intervene.
A Metropolitan police spokesperson told BuzzFeed News that it was aware of the photos. "The victim has made a formal complaint in relation to the Met's response to the incident. This will be investigated fully."
Evening Standard further quoted the spokesperson as saying that they will "take any offence seriously."
http://tribune.com.pk/story/902591/cops-harassers-laugh-after-muslim-mothers-headscarf-was-yanked-off-in-london/
----------
Malaysian Gymnast Gets Brickbats for Showing 'Aurat', Despite Winning Gold
June 13, 2015
KUALA LUMPUR, June 12 — Malaysian gymnast Farah Ann Abdul Hadi has received a slew of criticisms from Muslims who attacked her for showing her "aurat" and the "shape of her vagina" in a leotard despite winning a gold medal at the SEA Games.
Several Facebook users slammed the 21-year-old Malay woman on Buletin TV3's Facebook page that had uploaded Wednesday a photograph of her in the gymnastics outfit, along with a caption that announced her winning gold in floor exercise in artistic gymnastics.
"Until she's dead too people can see the shape of her vagina and aurat," wrote a Facebook user called Muhammad Nur Salam.
Facebook user called Amir Muhd said: "Just strip off your clothes lah… let everyone see."
Another Facebook user said Farah Ann's dressing was even worse than non-Muslims' in terms of showing her "aurat".
"This is the joy of the temporal world...even though our afterlife will be full of pain from Allah swt, what it compared to the medal is hung around that neck if our spirit in the afterlife suffer one day later," wrote Addieputra Jentayu.
Both Muslim women and men are prohibited in Islam from exposing their aurat, though criticisms are more often targeted against women.
Other Muslim Facebook users, however, have come to Farah Ann's defence.
"So disgusting reading these religious comments from the so-called future members of heaven… just ignore them… Congratulations Farah Ann, it's not easy to get a gold medal for Malaysia," wrote Dina Nida.
A Facebook user called Siti Kasim congratulated the young athlete, saying: "Ignore those retards who can't see beyond their limited brain capacity! Keep up the good work! We are proud of you!"
Singapore news website The New Paper reported that Farah Ann had pulled off a flawless floor routine to score 13.733, beating Indonesia and Vietnam.
The Malaysian athlete also reportedly won three bronze medals and a silver in individual events.
http://www.themalaymailonline.com/malaysia/article/malaysian-gymnast-gets-brickbats-for-showing-aurat-vagina-shape-despite-win#sthash.O4IYKxIg.dpuf
----------
UK Jailed Muslim Woman, Alaa Abdullah, For Posting Thousands of Terror Messages Online
June 13, 2015
A UK court on Friday sent a woman to jail for urging people to engage in terrorism.
Alaa Abdullah Esayed, 22, was sentenced to three and a half years by the Central Criminal Court following an investigation by the Metropolitan Police's Counter Terrorism Command, read a statement issued by Metropolitan Police.
The 22-year-old had used her Twitter and Instagram accounts to post thousands of messages, images and links to videos and terrorist-related material online.
Esayed used to send nearly 60 messages a day – almost exclusively encouraging terrorism. Before her Twitter account was suspended in May 2014, she had tweeted over 45,000 messages. She also used to tweet links of documents and videos related to terrorist material online, including speeches and propaganda material posted by terrorist organisations.
She was arrested from her address in south London on June 3, 2014. Almost after six months of her arrest, Esayed was charged on November 27. She pleaded guilty to charges of encouragement of terrorism and dissemination of terrorist publications on April 8, 2015.
Commander Richard Walton, who leads the Met's Counter Terrorism Command, said, "Terrorism will not be defeated until we silence those who inspire others to commit terrorist acts."
"We will prosecute anyone using the internet and social media in this way."
http://tribune.com.pk/story/902755/uk-jailed-muslim-woman-for-posting-thousands-of-terror-messages-on-social-media/
----------
UK Muslim Woman Loses Legal Battle to Wear Jilbab
June 13, 2015
Tamanna Begum wanted to wear a flowing, head-to-toe Hijab gown to Barley Lane Montessori Day Nursery in Ilford, Essex.
She wore her full-length outfit at her interview, where a manager offered her an apprenticeship but asked if she could wear a slightly shorter Jilbab that did not extend over her feet when she joined.
Ms Begum, a devout Sunni Muslim, said that she would discuss the request with her family.
The nursery, which provides day care to children aged two months and over, was expecting Ms Begum to start working at the nursery and was surprised when she failed to show on her first day.
Instead, she issued a tribunal claim for religious discrimination, saying that she "had been insulted" by the request at her October 2011 interview.
She claimed that it would be "against her morals and beliefs" to wear a shorter garment and that she had suffered discrimination because of her "ethnic or cultural background".
She refused to accept that her full-length dress posed a health and safety risk, saying she wore it while running and jumping outdoors.
But the Employment Appeal Tribunal has now upheld a ruling by East London employment tribunal that the gown was "reasonably regarded as a tripping hazard" by the nursery.
Judge Daniel Serota QC noted that Ms Begum was only asked to wear a shorter version of the Jilbab she sported at interview rather than being banned from wearing the religious garment at all.
He cited the original tribunal's ruling: "At no point was she told that she could not wear a Jilbab while working at the nursery."
The original tribunal panel also correctly concluded that health and safety policy "applied equally to staff of all religions" and ruled that the request was a proportionate means of "protecting the health and safety of staff and children."
The nursery employed 16 staff, including four Muslim women who wore Hijabs and were accommodated by their employer with prayer time and time off work for Ramadan.
The appeal judge found in favour of the nursery's owner, Pedagogy Auras UK Ltd.
Commenting on the case, a National Secular Society spokesperson said: "Clearly the health and safety of staff and children is the priority here.
"There is not an unlimited right to manifest your religion in the workplace.
"The employer made a very reasonable, practical request and we are pleased to see the judge siding with them." In 2006, the House of Lords overturned an appeal court ruling that a Muslim teenager's human rights were violated when she was banned from wearing a hijab to school.
The unanimous ruling by five law lords was greeted with relief by teachers' bodies and the Department for Education and Skills, which feared that upholding the ruling, would throw schools' policies on uniforms into chaos.
Shabina Begum, 17, who was represented on legal aid by Cherie Booth QC, had argued that banning her from wearing the Jilbab at Denbigh high school in Luton, Bedfordshire, breached her rights to education and to manifest her religion, as guaranteed by the European convention on human rights.
She lost two years' schooling before moving to a school which allowed her to wear the religious garb.
But the law lords said there was no right to be educated at a particular school and she could have moved earlier to a single-sex school where the garment would be unnecessary or to a school where it was permitted.
http://www.express.co.uk/news/uk/584077/Muslim-woman-islam-jibab-hijab-tripping-hazard-nursery
----------
Woman's first book aims to educate about Muslim heritage
June 13, 2015
Pakistani author Saadia Faruqi has long likened Houston to her hometown of Karachi. But she notes while their climates, proximity to a coast and diverse populations are comparable, to most Westerners, that's where the similarities end.
After 14 years of working as a grant writer in the nonprofit sector and moonlighting as an interfaith instructor - she conducts cultural sensitivity training for the Houston Police Department, among others - Faruqi felt discouraged by her students' and colleagues' negative perceptions of her background.
"People would ask me, 'Did you father beat you?' and were very surprised that I knew English," she said. "The average American has no idea how people in Pakistan live - but they want to."
Faruqi has written several short stories for literary journals. Her first book, a collection of fictional short stories based on reality titled "Brick Walls: Tales of Hope & Courage From Pakistan," debuts this month. Blue Willow Bookshop will host a signing Monday.
"It's a depiction of what life is really like over there," she said. "Every character has a brick wall or obstacle that seems insurmountable to them. Whether that's an idea, stereotype or the people around them, I used my imagination to draw from scenarios that I know happen."
Faruqi addresses gender inequality, socioeconomic issues and the growing population of elderly people who are left behind as younger generations flee the country in pursuit of better opportunities. She hopes to inspire others to embrace different cultures and in turn, enrich themselves.
Faruqi and her three sisters - she's the eldest - experienced a fairly conventional upbringing; they attended a Catholic school run by nuns and spent time at the local mall where shoppers wore jeans or traditional dress. Their father, a banker, and mother, a college educator, emphasized education.
"It doesn't seem like a big deal here, but many are illiterate in Pakistan," she said. "My parents knew that their daughters would have to take care of them in their old age, so they wanted us to be equipped."
Like most of her peers, Faruqi followed the British education system. After completing a secondary-education curriculum developed by the University of Cambridge, she enrolled in a two-year women's college. She then studied business administration at the University of Karachi and graduated from the University of Central Florida in Orlando after she married in 1998 at age 22.
"My husband was already working in the United States," she said. "On a trip home (to Pakistan), his parents decided it was time for him to get married, so they arranged it with my parents. We only met once prior to the wedding."
A newlywed with ample time on her hands, Faruqi started volunteering and realized the demand for grant writers. When the couple moved to Houston in 2002, she began working for organizations including Literacy Advance of Houston and Big Brothers Big Sisters before striking out on her own; she now teaches courses at Rice University as an adjunct faculty member as well.
Faruqi, who has two children, compares having her work published to giving birth.
"I think my next book will be a novel about Pakistan immigrants; there are a lot more stories to tell," she said. "It's like having a baby: People immediately ask when you're going to have another!"
http://www.houstonchronicle.com/life/article/Woman-s-first-book-aims-to-educate-about-Muslim-6324140.php
----------
Kosovo exhibition of dresses and skirts in Pristina to remember women who suffered sexual violence in wartime
June 13, 2015
Over 5,000 skirts and dresses have been hung out on washing lines in Kosovo in the heart of a male preserve, Pristina's main football stadium. Many have messages written on them. All have been donated to the exhibition. They are there to draw attention to the stigma suffered by victims of wartime sexual violence, the idea of artist Alketa Xhafa-Mripa.
"There is no help, there is no support, there is no status for them, then basically I thought how could I contribute in my artistic way for the survivors," she said.
Kosovo's first female president Atifete Jahjaga donated one of her dresses, so to did Cherie Blair the wife of former UK Prime Minister Tony Blair.
"We got together to remember their pain, to recognise their sacrifice and to tell them that they are not alone," the president told an audience at the exhibition.
The number of women who were subjected to sexual violence during Kosovo's 1998-99 war is unknown but NGOs say it could run into thousands.
Many have kept silent about the violence they suffered at the hands of Serbian forces and paramilitaries. Some of those who have spoken out have faced being ostracised by Kosovo's conservative and mainly Muslim Albanian society.
http://www.euronews.com/2015/06/12/kosovo-exhibition-of-dresses-and-skirts-in-pristina-to-remember-women-who/
----------
URL: https://newageislam.com/islam-women-feminism/gujarat-hc-allows-hindu-woman/d/103482