New Age Islam News Bureau
21 Oct 2012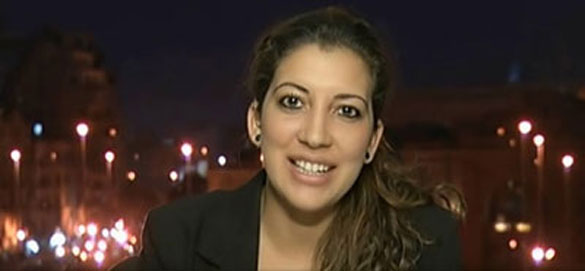 • French Journalist Reports Facing Sexual Assault in Egypt's Tahrir Square
• Hundreds of Saudi Female Activists Protest Against Violation of Their Rights
• US Students Don Hijab, To Show Solidarity with Muslims
• Indonesia: Groups Fight for Women's Right to Abortion
• Malala Yousafzai Could Strip Taliban of Support It Desperately Needs
• Wife or Surrogate Mother: Pak Apex Court Takes Up Unusual Child Custody Battle
• Pakistan Has Failed In Protecting the Right of Education for Girls: UNESCO
• Palestinian Women-Only List Makes Bid for Municipal Council
• Champion's Mission to Iran to Get Women Surfing
• Bahrain: A Nurse Sentenced To One Year Imprisonment
• Aga Khan inaugurate Construction of Obstetrics Facility in Kabul
Compiled by New Age Islam News Bureau
Photo: French Journalist Reports Facing Sexual Assault in Egypt's Tahrir Square
URL: https://newageislam.com/islam-women-feminism/growing-number-women-arab-region/d/9060
----------
Growing Number of Women in Arab Region Prefer To Avoid Pregnancy
Israel's Jewish-Arab Demography: The Real Numbers
OCTOBER 21, 2012
Yoram Ettinger
In 2012, Israel's Jewish demography continued its the robust surge, typical of the last 17 years, while Muslim demography, west of the Jordan River and throughout the Middle East, increasingly embraces Western standards.
According to a June 2012 study by the Washington-based Population Reference Bureau (PRB), 72 percent of 15-49 year old Palestinian married women prefer to avoid pregnancy, as do 78% in Morocco, 71% in Jordan, 69% in Egypt and Libya, 68% in Syria, 63% in Iraq and 61% in Yemen. The PRB study states that "a growing number of women are using contraception, as family planning services have expanded in the Arab region."
The unprecedented fertility decline in the Muslim world was documented in June 2012 by Dr. Nicholas Eberstadt, a leading demographer at the American Enterprise Institute, and Apoorva Shah of the Hoover Institute. According to Eberstadt and Shah, "Throughout the worldwide Muslim community, fertility levels are falling dramatically … According to the U.N. Population Division estimates and projections, all 48 Muslim-majority countries and territories witnessed fertility decline over the last three decades … The proportional decline in fertility for Muslim-majority areas was greater than for the world as a whole over that same period, or for the less-developed regions as a whole … Six of the ten largest absolute declines in fertility for a two-decade period yet recorded in the postwar era (and by extension, we may suppose, ever to take place under orderly conditions in human history) have occurred in Muslim-majority countries … Four of the ten greatest fertility declines ever recorded in a 20-year period took place in the Arab world … No other region of the world — not highly dynamic Southeast Asia, or even rapidly modernizing East Asia — comes close to this showing … The remarkable fertility declines now unfolding throughout the Muslim world is one of the most important demographic developments in our era."
The key developments yielding a drastic decline in Arab fertility, in the Middle East including west of the Jordan River, have been modernity and its derivatives. For instance, urbanization (the Arab population of Judea and Samaria was 70% rural in 1967, and 75% urban in 2012), expanded women's education and employment, a record-high divorce rate and wedding age, all-time-high family planning, rapidly declining teen-pregnancy, youthful male net-emigration, etc.
The Palestinian Authority has inflated the actual number of Arabs in Judea and Samaria (1.65 million) by one million, to counter the arrival of one million immigrants from the former Soviet Union to Israel. Thus, contrary to internationally accepted demographic standards, the PA counts some 400,000 overseas residents, who have been overseas for over a year, as de-facto residents. Some 300,000 Israeli I.D. card-holding Jerusalem Arabs are counted twice, both as Israelis (by Israel) and as Palestinians (by the PA). The number of births is over-reported, the number of deaths is under-reported, emigration is ignored, etc.
In 2012, Israel's Jewish fertility rate (three births per woman) is trending upward, boding well for Israel's economy and national security, exceeding any Middle Eastern Muslim country, other than Yemen, Iraq and Jordan, all of which are trending downward. Iran's fertility rate is 1.8 births per woman, in Saudi Arabia and the Gulf States the rate is 2.5, in Syria and Egypt 2.9 and in North Africa 1.8. The average fertility rate of an Israeli-born Jewish mother has already surpassed three births. In 2012, the Israeli Arab-Jewish fertility gap is half a birth per woman, compared with a six birth gap in 1969. Moreover, young Jewish and Arab-Israeli women have converged at three births, with Arab women trending below — and Jewish women trending above — three births.
In 2012, Jewish births have expanded to 77% of total Israeli births, compared with 69% in 1969. While the ultra-Orthodox Jewish fertility rate has declined, due to growing integration into the workforce and the military, the secular Jewish fertility rate has risen significantly.
Since 2001, the number of Jewish emigrants has decreased and the number of returning Jewish expatriates has increased. Aliyah (Jewish immigration) has been sustained annually since 1882, while Arab net-emigration — especially from Judea and Samaria — has been fixed, at least, since 1950.
The current 66% Jewish majority in the combined area of pre-1967 Israel, Judea and Samaria could catapult to an 80% majority in 2035, if Israel seizes the clear and present dramatic aliyah window of opportunity. At least 500,000 immigrants from the former Soviet Union, France, Britain, Argentina and the U.S. could reach Israel during the next five years, in light of Israel's economic indicators, the intensification of European anti-Semitism, the Islamic penetration of Europe and the expansion of Jewish-Zionist education.
The suggestion that Jews are doomed to become a minority between the Jordan River and the Mediterranean is either dramatically mistaken or outrageously misleading.
This article was originally published by Israel Hayom.
http://www.algemeiner.com/2012/10/21/israels-jewish-arab-demography-the-real-numbers/
----------
French journalist reports facing sexual assault in Egypt's Tahrir Square
21 Oct 2012
A French female television reporter was sexually assaulted during a protest in Cairo's Tahrir Square, she told AFP on Saturday, the latest of such attacks on women covering unrest in Egypt.
Sonia Dridi, a correspondent for France 24, said a mob of mostly young men surrounded her on Friday while she was on the air and then began to grope her. The attack lasted several minutes before a male colleague managed to pull her out.
"I was groped everywhere. I realised (later), when someone closed my shirt, that it was opened, but not torn off," she said.
"I avoided the worst because I have a good belt" and a friend helped her out, said the reporter, who eventually found refuge in a fast food restaurant.
"While she was speaking live from the Egyptian capital ... (she was) violently attacked and savagely assaulted by the crowd," France 24 television said in a statement.
The channel added that Dridi was rescued by her colleague Ashraf Khalil, who works as an English-language correspondent, and by other bystanders.
France 24 said the journalists were "extremely shocked" and would file a complaint. The channel said it was doing all it could to get Dridi back to France and had contacted the French embassy in Cairo.
In the past, police have not succeeded in apprehending suspects after similar attacks on women in the protest hub.
The harassment of women -- veiled or not -- is commonplace on Cairo streets, including obscene remarks and rude gestures.
Recently, witnesses at Tahir Square have reported increasingly serious assaults, even rapes, without getting a reaction from authorities.
In June, a group of men attacked and sexually assaulted several protesters in a women's march against sexual harassment in Tahrir, epicentre of the uprising that toppled president Hosni Mubarak early last year.
The assaults, which female protesters and journalists say are commonplace in Tahrir Square, had gained notoriety after US journalist Lara Logan was sexually assaulted there on 11 February, 2011, the day Mubarak resigned.
http://english.ahram.org.eg/NewsContent/1/64/56132/Egypt/Politics-/French-journalist-reports-facing-sexual-assault-in.aspx
----------
Hundreds of Saudi Female Activists Protest Against Violation of Their Rights
2012/10/18
Hundreds of female activists have taken to the streets in Saudi Arabia's Eastern Province to protest against the violation of women's rights in the kingdom.
(Ahlul Bayt News Agency) - Hundreds of female activists have taken to the streets in Saudi Arabia's Eastern Province to protest against the violation of women's rights in the kingdom.
The protesters staged a gathering on Tuesday in the town of Awamiyah to protest the harassment of female students while leaving school, the Al Jazeera Magazine reported.
Also in Riyadh, people held a rally and blocked a main road in the city in protest against the arrest of Haila al-Qaseer.
Qaseer, 37, was charged over her alleged contribution to terrorist organizations, instigating armed resistance against security personnel, acquiring arms, and branding the government as infidel.
She has been sentenced to 15 years in jail.
The latest demonstrations against the Saudi regime came in the face of the monarchy's heavy-handed handling of critics and its zero tolerance for protest gatherings.
On October11, the Saudi Interior Ministry issued a statement threatening to deal "firmly" with those participating in any demonstrations in support of political prisoners, who the Saudi Civil and Political Rights Association says number to about 30,000.
Since February 2011, protesters have held numerous demonstrations in Saudi Arabia, mainly in Qatif and Awamiyah in the Eastern Province, to call for the release of all political prisoners, freedom of expression and assembly, as well as an end to widespread discrimination against Shias.
http://abna.ir/data.asp?lang=3&Id=357418
----------
US Students Don Hijab, To Show Solidarity with Muslims
2012/10/19
American students in Central Michigan University have donned Muslim headscarf over a week in an event to show solidarity with Muslim students in their campus and stress the value of hijab as a Muslim choice.
(Ahlul Bayt News Agency) - We want to stress that for Muslim women in the United States, wearing the hijab is a choice," Amanda Jaczkowski, Hijab Week coordinator and Clinton Township junior, told.
"It is an outward symbol of an inner commitment."
Jaczkowski is one of the coordinators of the project called "Hijab Week: An Experiment in Cultural Immersion".
The event has been put together by students in the department of religion and philosophy, as well as the CMU Honours Program.
Held for the second consecutive year, the event is a cultural experiment created to promote awareness about Islam.
According to Jaczkowski, the idea of the hijab event came as her sister attended a class about Islam and made plans for a project in the Honours Program.
The project was held later to help spread awareness about the perception of Muslims in the American public.
Welcoming the idea, 25 non-Muslim students participated in Hijab Week.
Along with donning hijab, students participating in the event also adopted other practices associated with Islam, such as modest dress and abstaining from alcohol.
Many of the students participating in Hijab Week are involved as part of their personal development projects for HON 100, the introductory class in the Honours Program.
Though there are no official estimates, the US is home to an estimated Muslim minority of six to eight million.
An earlier Gallup poll found that the majority of Americans Muslims are loyal to their country and optimistic about their future in the United States.
Islam sees hijab as an obligatory code of dress, not a religious symbol displaying one's affiliations.
Changing Perceptions
Donning hijab in their campus over a whole week, many of the students said they gained a better understanding of what Muslims face every day in America.
"With the entire stigma surrounding Islamic culture, it's very different to see what it's like from an inside perspective," Bay City freshman Hannah Foley, one of the Honours students participating, said.
Cadillac freshman Natasha Gabara agreed and recounted incidences during the week where she could notice stares from strangers.
"It's teaching me to empathize with women in the Muslim culture," Gabara said.
"You get a lot of awkward staring."
Livonia freshman Ally Hermann said that reactions of the society all through the Hijab Week were different.
"I get the door held open for me more often," Hermann said.
"I was not expecting that at all. People stare at me more, but you also get a lot of people smiling when you look their way."
The event was welcomed by Muslim students who saw it a positive move towards understanding the true meaning of hijab, Jaczkowski said.
"A lot of my Muslim friends have been tweeting about it," Jaczkowski said.
"They were really excited students were doing this. Some international students have even been calling their families back home to tell them about what we're doing."
http://abna.ir/data.asp?lang=3&Id=358036
----------
Indonesia: Groups Fight for Women's Right to Abortion
BY LINDA HARRIS AND PATRICK BROWN
October 21, 2012
YOGYAKARTA, Indonesia—"Women die because of unsafe abortions," said Setiyani Martha Dewi, a worker with Samsara, an organization based here that campaigns for the right of women to safe abortions.
The fight for access to safe abortion is a pressing question for women in Indonesia, representatives of women's rights groups told Militant reporters during a Sept. 16-24 visit to the country. In addition to Dewi, the Militant spoke with leaders of the Women's Health Foundation and Kalyanamitra, both based in Jakarta.
There are some 230 maternal deaths per 100,000 live births every year in Indonesia, the highest rate in Southeast Asia. According to official figures, 11 percent of the deaths result from unsafe abortions, but the real figure is assumed to be much higher because women are afraid to report abortion complications.
Full report at:
http://www.themilitant.com/2012/7639/763950.html
----------
Malala Yousafzai Could Strip Taliban of Support It Desperately Needs
October 21, 2012
BY REKHA BASU
Perhaps a 14-year-old Pakistani girl will accomplish what 11 years of U.S.-Afghanistan war, internally aimed Pakistani missiles and global inaction could not: Strip the Taliban of the support and patronage keeping it in business.
The hard-line Islamist movement might not care about public opinion. But Pakistan's government, which has variously tolerated, attacked and protected the Taliban, cannot ignore it.
The Taliban's Oct. 9 assassination attempt on 14-year-old Malala Yousafzai for wanting an education has united people across Pakistan in rarely seen outrage and indignation.
As Malala clung to life, the Pakistani Taliban vowed to finish off the job on the girl it hunted down and shot in the head in a van full of schoolgirls.
Full report at:
http://www.pennlive.com/editorials/index.ssf/2012/10/girl_14_could_strip_taliban_of.html
----------
Wife or Surrogate Mother: Pak Apex Court Takes Up Unusual Child Custody Battle
By Azam Khan
October 21, 2012
ISLAMABAD: A US-based Pakistani, Farooq Siddiqui, approached the Supreme Court this week with an unusual request – that it retrieve his seven-year-old daughter, Fatima, from the custody of her 'surrogate mother' Farzana Naheed.
The unusual nature of the case can be judged by the fact that Siddiqui was allegedly slapped on the order of a lower court judge, who found the case to be 'frivolous'. The Supreme Court, however, has decided to take up the matter in a hearing on November 2.
Siddiqui based his case on a claim that Farzana was not his wife but a surrogate mother who became pregnant through artificial insemination. He said that since he and his wife were childless, they had opted for artificial insemination.
Full report at:
http://tribune.com.pk/story/454670/wife-or-surrogate-mother-apex-court-takes-up-unusual-child-custody-battle/
----------
Pakistan has failed in protecting the right of education for girls: UNESCO
Manash Pratim Gohain
Oct 20, 2012
NEW DELHI: Even as the joint statement from the team of doctors from the Queen Elizabeth and Birmingham Children's hospitals described Pakistan's teenage rights activist Malala Yousufzai's condition as "comfortable and stable" on Friday, a recent United Nations Educational, Scientific and Cultural Organisation (UNESCO) report revealed some startling facts about how the country has failed in protecting the right of education for girls and in reducing gender inequality.
While Pakistan Government announced Sitara-e-Shujaat, one of country's highest civilian awards for bravery, to 14-year-old Malala who was shot in the head by the Taliban for speaking out against the militants, the UNESCO report stated that Pakistan, unlike others in the region such as India, Nepal and Bangladesh, has failed to reduce gender gaps over time.
Full report at:
http://articles.timesofindia.indiatimes.com/2012-10-20/pakistan/34606015_1_malala-yousufzai-pakistan-government-gender-gaps
----------
Palestinian women-only list makes bid for municipal council
By Roee Ruttenberg
October 20, 2012
HEBRON, WEST BANK – On Saturday, Palestinians went to the polls in an election that is being closely watched by the Palestinian Authority and by the international community. The vote for municipal councils is seen as a precursor for parliamentary and presidential elections, even though Hamas, the Islamic militia-cum-political party that controls that Gaza Strip, is boycotting the vote. Hamas insists the elections, which have been delayed on numerous occasions since their originally scheduled date in 2010, should not take place before Palestinian reconciliation.
Full report at:
http://972mag.com/watch-palestinian-women-only-list-makes-bid-for-municipal-council/58033/
----------
Champion's Mission to Iran to Get Women Surfing
Tracy McVeigh
21 October 2012
Irish surf champion Easkey Britton hopes her visit to Iran will encourage women around the world to try the sport
Off a quiet stretch of Iran's Indian Ocean coast villagers gathered to stare in astonishment. Someone even called out the local police, who turned up in full force. The view of an Irish woman in a hijab wetsuit riding a bright pink surfboard through the swell of a monsoon sea is not one the Islamic state's citizens get to see often.
"But they were all incredibly nice, just really intrigued and interested. The police were just worried that I'd hit the rocks and hurt myself. The worst thing really was wearing the Lycra hijab suit in 30-degree heat that was pretty tricky. But although I'm sure it would have been fine if I'd gone out in shorts, I was keen to show total respect," said Easkey Britton, 26, four times Irish surf champion and British pro-tour champion.
Full report at:
http://www.guardian.co.uk/world/2012/oct/21/surfing-champion-iran-mission?newsfeed=true
----------
Bahrain: A Nurse Sentenced To One Year Imprisonment
2012/10/18
Dental Assistant Halima Abdul-Aziz Al-Sabag took first-aid medicines for the treatment of injured protesters, who suffered injuries as a result of the suppression of the authorities.
(Ahlul Bayt News Agency) - The Bahrain Centre for Human Rights express concern regarding the arrest of yet another medical staff, Dental Assistant Halima Abdul-Aziz Al-Sabag on 15 Oct 2012, after attending her trial of appeal against 1 year imprisonment sentence which she received earlier, an action that affirm continuation of targeting of medical staff by the Bahraini authorities.
Full report at:
http://abna.ir/data.asp?lang=3&Id=357179
----------
Aga Khan inaugurate Construction of Obstetrics Facility in Kabul
By SAJAD
Oct 20, 2012
The Foundation Ceremony of the new Women's Wing at the French Medical Institute for Children (FMIC) today marked the start of construction for a new obstetrics and gynaecology wing on the hospital premises that will provide high quality care for mothers and newborns in Afghanistan. The building, which will take 24 months to complete, will offer 52 additional beds for obstetric and gynaecologic care and a 14-bed neonatal intensive care unit — the first in Afghanistan.
His Excellency Karim Khalili vice President of the Islamic Republic of Afghanistan, His Highness Prince Karim Aga Khan, and His Excellency Laurent Fabius Minister of Foreign Affairs of the French Republic were the guest for the occasion.
Full report at:
http://www.khaama.com/aga-khan-inaugurate-construction-of-obstetrics-facility-in-kabul-827/
----------
URL: https://newageislam.com/islam-women-feminism/growing-number-women-arab-region/d/9060