New Age Islam News Bureau
28 September 2020
• Saudi Araba Welcomes Return of Live International Sport with Women's Golf Events
• Five Women Specialised Training in Security Checks and Defusing Explosives In Dubai
• How Miss Muslimah USA 2020 Winner Zehra Abukar Hopes To Empower Her Muslim 'Sisters': 'If I Can Do It, You Can Do It'
• Why This Toronto Running Club Is Clearing A Lane for Women of Colour on the Road
• 'Women Peace and Security Training Programme' Renamed 'Sheikha Fatima Bint Mubarak
Compiled by New Age Islam News Bureau
URL: https://www.newageislam.com/islam-women-feminism/growing-demands-dutch-burqa-ban/d/122970
--------
Growing Demands for Dutch Burqa Ban to Be Rescinded
Peter Cluskey
Sep 28, 2020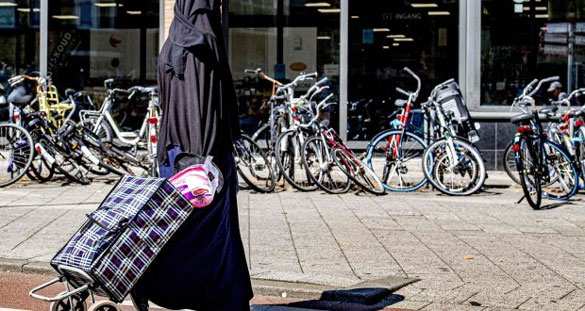 A woman wearing a Niqab Islamic dress, in Rotterdam. The Dutch ban applies in public places such as schools, hospitals, government offices, and on public transport, though not on the street. Photograph: Robin Utrecht/AFP/Getty Images
-----
No matter how you look at it politically, there's more than a little irony in growing demands for the year-old Dutch Burqa ban to be rescinded because Covid-19 regulations now make face coverings not alone socially advisable – but in some circumstances legally obligatory.
In countries with large Muslim communities the ban is inevitably divisive. In the Netherlands, with a population of 17 million of whom only around 400 women at a maximum wear face coverings, it's always been regarded by its critics as using a sledgehammer to crack a nut.
That view was lent credibility by the fact that the legislation was the price extracted in 2010 by far-right leader Geert Wilders for supporting prime minister Mark Rutte's minority Liberal-Christian Democrat coalition government from the opposition benches.
That deal went south even faster than expected: the government collapsed in May 2012 when Wilders refused to support a €15 billion austerity programme aimed at meeting the EU's deficit target.
Even so, a controversial social change had already been set in unstoppable motion in the name of political expediency.
Although this is all quite recent history, what's often conveniently forgotten too is that Dutch Muslims were not alone in making the case that the ban was both unnecessary – on the basis that there was no actual problem to solve – and potentially socially polarising.
They had unlikely allies in the country's august Council of State, founded in 1531 to advise governments on the wisdom of their legislation and to ensure that their policies were broadly in line with the common good.
In fact, the council was scathing, saying the Burqa legislation implied a political urgency that did not actually exist, and risked "infringing the constitutional right to freedom of religion".
But nobody was listening. The legislation went ahead and came into effect on August 1st last year.
By then at the head of his third consecutive coalition, and with Wilders consigned to the role of carping onlooker, Rutte repeatedly insisted the ban did not have any religious motivation. It was purely for reasons of security where it was essential that everyone's face be identifiable.
Stinging criticism
The Dutch rules, he pointed out, were a partial rather than an absolute ban, not as restrictive as in France, Belgium or Denmark, and applied only in public places such as schools, hospitals, government offices, and on public transport, though not, crucially, in the street.
That, however, was emphatically not the view of UN Special Rapporteur on Racism and University of California law professor, Tendayi Achiume.
She warned the government in no uncertain terms last October that the ban discriminated against Muslim women and had "no place in a society that claims to promote equality between the sexes" – a stinging criticism for the Dutch.
Prof Achiume said the "highly polarised" political debate surrounding the ban made plain its "intended targeting of Muslim women", adding: "Even if such targeting was not its intent, it has certainly been its effect."
In recent days, a survey by the Report Islamophobia foundation hammered home that same point, claiming the ban had been "gesture politics" and had led to "a wave of abuse" targeting Muslim women over the past 12 months.
"When that happens, the police aren't always properly informed about the law, and, as a result, Muslim women have lost faith in them."
Social media campaigns urging members of the public to make "citizens' arrests" have driven up the temperature.
The government has said it will review the Burqa ban in 2022, but there's a growing campaign by groups such as Report Islamophobia and Don't Touch My Niqab to have parliament act more quickly – especially with a general election scheduled for the Spring.
Apart from the socially-divisive nature of the ban, one of the weak points those groups are focusing on now is what appears to be the patent irrationality of the situation as it applies to public transport, for instance.
Like everyone else, Muslim women are being told it's obligatory to wear anti-Covid-19 face masks on buses and trains or risk a substantial fine – while it's forbidden to wear a niqab, which also leaves the eyes uncovered, at the risk of an equally substantial fine.
"This is bad and divisive law for many different reasons", says one campaigner who claims the Covid-19 regulations may mean the legal arguments supporting the Burqa ban are effectively void.
"According to our advice, the most compelling argument may turn out to be the coronavirus argument we never expected to make."
https://www.irishtimes.com/news/world/europe/growing-demands-for-dutch-Burqa-ban-to-be-rescinded-1.4365768
--------
Saudi Araba Welcomes Return of Live International Sport with Women's Golf Events
September 28, 2020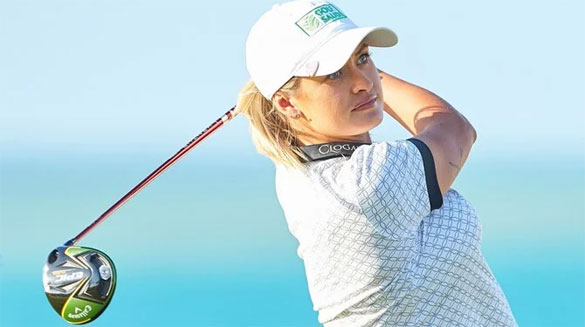 Wales' Amy Boulden will be taking part in both of November's events, fresh from her maiden Ladies European Tour win at this month's Swiss Open. (Supplied)
-----
JEDDAH: Saudi Arabia will welcome international live sport back in November with a world first professional women's golf week expected to be a landmark event for the Kingdom.
King Abdullah Economic City on the Red Sea Coast will host two elite-level European Ladies Tour golf tournaments in the space of seven days: the $1 million Aramco Saudi Ladies International presented by PIF which takes place on Nov. 12 to 15 and the $500,000 Saudi Ladies Team International, whichs runs from Nov. 17 until Nov. 19.
Both tournaments have attracted the world's best golfers, and will be the first time in women's golf history that professionals – themselves competing in the Kingdom for the first time – will partner with amateurs in the all-new team and individual format for the Saudi Ladies Team International.
The events will mark the return of huge international sporting events to the Kingdom, something Saudi Arabia has become renowned for hosting in recent years as the country aims to inspire its next generation under the ambitions of Saudi Vision 2030, a statement said.
Their hosting also reaffirms the Kingdom's commitment to women's sport, which comes at a time when many athletes worldwide have seen their endeavours halted by the COVID-19 pandemic.
"As we all know the first half of this year has been extremely challenging on businesses, organisations and nations worldwide, with sport affected greatly," Yasir O. Al-Rumayyan, chairman of the Saudi Golf Federation and tournament organiser Golf Saudi, said in the statement.
"However, we are thankful to both PIF and Aramco – who are equally determined to give elite level sport the platform to continue to flourish, both here in Saudi Arabia and abroad, and never more so than now – which makes us proud to be throwing our full weight behind both the Saudi Ladies International and Saudi Ladies Team International."
Originally planned for March, the Aramco Saudi Ladies International presented by PIF will be the Ladies European Tour's debut event in Saudi Arabia and the 2020 Tour's third highest paying event.
Wales' Amy Boulden will be taking part in both of November's events, fresh from her maiden LET win at this month's Swiss Open.
"This type of commitment to women's golf is really amazing to see at this time. It's given players another massive week to look forward to competing in and allows us to take the game we love to a new country, where we can play on what is a truly incredible golf course with one of the most picturesque views you'll see on Tour," Boulden said.
"For Golf Saudi to throw their weight behind two events in one week is a really significant gesture from a country I know is passionate about growing golf, and I can't wait to get out there playing."
https://www.arabnews.com/node/1741191/sport
--------
Five Women Specialised Training in Security Checks and Defusing Explosives In Dubai
September 27, 2020
Ali Al Shouk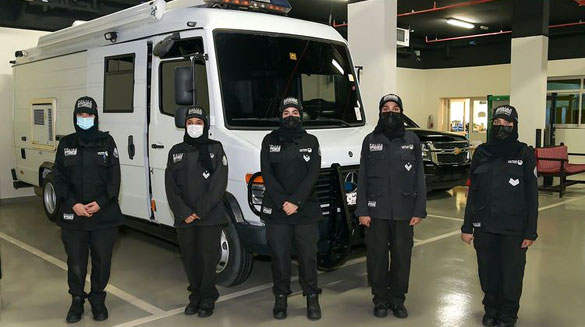 All Women team for defusing bombs and running security checks for the Explosives Defusing Department of Dubai
-----
Dubai: A group of five policemen will be part of Dubai Police's all-women squad for defusing bombs and running security checks for the Explosives Defusing Department.
Brigadier Rashid Al Falasi, Deputy Director of the General Department of Protective Security and Emergency at Dubai Police, said though usually it is men who mostly dominate bomb disposal squads, the female team members of Dubai Police have proven their high efficiency at the job, too.
"Dubai Police are proud of their policewomen who have always been keen on taking up difficult specialisations. Five women have qualified after eight months of special courses to develop their skills, between February and September this year," Brig Al Falasi said in a statement.
Al Falasi said that the establishment of the women team came after direct guidance from and follow-up by Lieutenant General Abdullah Khalifa Al Merri, Commander-in-Chief of Dubai Police, who has stressed the importance of supporting women to learn, train and work in all disciplines — just like men.
The team members were selected based on a set criterion and their passion to work in this field. They received specialised training covering explosives at crucial entry points, the security inspections course and how to deal with suspicious objects in buildings.
They also received practical training and fitness classes, and took part in Dubai's National Sterilisation Programme.
Sergeant Nawf Ibrahim said that Dubai Police have worked diligently to develop the team's competencies and skills through a series of spcialised programmes and workshops, which helped increase their readiness to accomplish the force's mission.
She added that the team's participation in the National Sterilisation Programme has helped the female members work closely with the other specialised teams.
First Corporal Kholoud Al Merri said that it had been her passion to work in a challenging environment. This passion grew stronger when she joined Dubai Police.
https://gulfnews.com/uae/government/look-dubai-polices-all-women-team-geared-up-to-defuse-bombs-1.74168221
--------
How Miss Muslimah USA 2020 winner Zehra Abukar hopes to empower her Muslim 'sisters': 'If I can do it, you can do it'
Hafsa Lodi
Sep 28, 2020
The festive beats of Don Omar's hit Latin American track Danza Kuduro fades, and the DJ gets a drum roll going as guests eagerly wait to hear the evening's big announcement. "It is my honour to announce the next queen of the Miss Muslimah pageant USA. The winner of the fourth Miss Muslimah USA, is … Zehra Abukar!"
A hijab-wearing Somali refugee, Abukar, 23, lived in Turkey for seven years before moving to the US in 2014. Last Thursday, she represented her state of Maine in the fourth annual Miss Muslimah USA pageant, which is the brainchild of modest clothing designer Maghrib Shahid, a black Muslim from Ohio.
Celebrating beauty and modesty
Far from your typical beauty contest, Miss Muslimah USA celebrates women of the Islamic faith sans the skin-­baring propensity typical of pageantry culture.
This year, the pageant welcomed 15 contestants, between the ages of 17 and 30, and culminated in a competition for the crown at a banquet-style dinner where each contestant walked down a red carpet in an abaya, a burkini and a special occasion dress, in addition to a talent show. The latter included recitations from the Quran, spoken-word poetry and, in Abukar's case, a traditional Somali dance.
Modest fashion has been gaining momentum globally, with hijab-wearing Muslim models such as Halima Aden, Ikram Abdi Omar and Mariah Idrissi starring as the diverse faces of the movement. However, some conservative critics are against the idea of Muslim women appearing on public platforms such as runways, magazines and social media, holding patriarchal beliefs that they should stay out of the spotlight. Initiatives such as Miss Muslimah USA, on the other hand, encourage Muslim women in the US to flaunt their faith with pride, and promote the idea that modesty and modernity are by no means mutually exclusive.
A fashionable frame of mind
"When it comes to Muslim women, a lot of us have this idea of oversized clothes and covering from head to toe. I love to dress up and look good. I want people to identify me as a Muslim, so I love wearing clothes that represent my people in the best way possible," Abukar tells The National.
An aspiring fashion designer, Abukar sews most of her clothes herself, and her favourite silhouette to experiment with is that of the abaya. "When you hear the word abaya, the first thing that comes to your mind is a black garment. I love black, it's my favourite colour. But when it comes to abayas, I love wearing bright colours [instead of] the typical black ones," she says.
Accordingly, for the abaya segment of Miss Muslimah USA, Abukar made herself a salmon pink kimono-style abaya with a metallic gold weave, large pockets and a gold rope belt. For the swimwear segment, she wore a grey burkini decorated with a stripe of teal, from online fast-­fashion retailer SheIn. For her final outfit change, Abukar wore a sparkling navy blue gown. "It was sleeveless when I bought it. I fixed it and added the sleeves myself," she says.
Abukar was bestowed with a majestic bouquet of red roses upon being crowned at the end of the evening. With the flowers juxtaposed against her navy gown, she was a vision in red, white and blue, coincidentally and somewhat ironically the colours of the American flag. Taking place in a country that has had its share of racist and Islamophobic incidents, the Miss Muslimah USA pageant can be seen as a symbol of diversity, inclusivity, feminism and religious tolerance. It's also an event for America's multicultural Muslim community to come together as one and celebrate their women.
"I felt like a winner just by coming here," says Abukar. "I live in a city where I don't experience all this, I don't see a lot of sisters, and that was overwhelming, that totality and that sisterhood was beyond beautiful."
Community calling
Even as events across the globe are getting cancelled or digitalised due to the coronavirus pandemic, the Miss Muslimah USA went on as planned in downtown Detroit in the state of Michigan, where Muslims make up almost 3 per cent of the population.
"I have a mission, to empower and uplift Muslim women while promoting modesty and inner beauty," says Shahid, the pageant's founder. "If we give up and stop, I know many others will give up. We can't take any days off because it is imperative to keep spreading our message. The Miss Muslimah USA pageant inspires women to raise their heads and push through, knowing that they have a platform to change misconceptions for a better future for our youth."
Some might say the representation of Muslim women in the US has improved over the past decade, with women such as Aden and congresswoman Ilhan Omar shattering glass ceilings in the fields of fashion and politics. But Abukar believes the country still has a long way to go. "Yes, we're doing better than a few years ago, but we are not there yet. We need to work harder. We need to focus on our similarities, not on our differences," she says.
The pageant winner also emphasises the plurality of the community and says not every Muslim woman wishes to lead her life according to societal norms dictated by culture.
"Islam is the most beautiful religion. If you go back to when the Prophet Mohammed was alive, there were female entrepreneurs and businesswomen, but people today are mixing up the religion of Islam with their cultures. Nowhere in the Quran does it say that women should just stay home, cook, clean and give birth to kids. It's a beautiful thing to do, it's many women's dream, but not everyone fits into that box," she says.
Inspiration in many forms
Abukar's role model is Edna Adan Ismail, a victim of female genital mutilation as a child in Somaliland who studied to become a nurse and midwife to help save other young women from the same fate. Ismail was reportedly the first Somali girl to study in the UK, the first Somali girl to drive, and Somaliland's first registered female nurse and midwife.
"I want Muslim women to have a voice, a choice and a career that they love," Abukar had said in an audition video, explaining that if she were to win the Miss Muslimah USA title, she would use her position to help create a non-profit organisation aiding and advising Muslim women who seek to learn English and start their own businesses.
She has a string of leadership experience, awards and scholarships to her name, and recently completed her undergraduate degree in business administration. "I've been a community leader, and now that I've won this title, I can inspire more people," she says. "I can say to my sisters: 'If I can do it, you can do it. If someone like me can do it, you've got this. A black, Muslim woman did it, and you can do it, too.'"
https://www.thenational.ae/lifestyle/fashion/how-miss-muslimah-usa-2020-winner-zehra-abukar-hopes-to-empower-her-muslim-sisters-if-i-can-do-it-you-can-do-it-1.1084638
--------
Why this Toronto running club is clearing a lane for women of colour on the road
Sep 28, 2020
The only time Fatma Ramadan, 24, would run would be to catch the bus when she was late. When she started to get interested in running as a sport, she could only manage a power walk at first. Not because she wasn't athletic — she'd participated in other sports like horseback riding and volleyball — but because of shame.
"As a Muslim hijabi woman, to think that I'm going to be running on the streets of Toronto ... I kind of felt shameful. It's the fact that you don't see it," Ramadan said, adding because seeing a hijabi woman running in the street for sport isn't common, she was very conscious of being watched and "looking funny."
Her sister who also wears hijab has told her she had that same feeling going out for a run, saying it was difficult "to take that first step, in front of everyone."
Ramadan said she thought maybe she could run with her scarf on a treadmill, but on the streets she felt out of place and conscious of people watching.
It is this type of experience that led Ramadan to creating A Women's Run, a welcoming running space for women of colour in 2019.
Long-distance running in North America has a reputation for being a mostly white sport. Running USA conducts a survey annually that in the past has showed that 90 per cent of "core runners" who compete in races are white.
When 25-year-old Ahmaud Arbery was killed in Georgia this February, it happened while he was out for a jog in the neighbourhood. His killers say they thought Arbery, a Black man, was burglarizing homes in the area. His death stirred conversation about the dangers that can come running as a Black person and the precautions some take as a result: avoiding affluent, white neighbourhoods and not running at night.
In some team sports, women have also faced difficulty being allowed to play while wearing hijab, because of rules and regulations and a lack of exceptions.
Hijabi athlete Shireen Ahmed told the Star in a past interview that the lack of accommodation has been a big obstacle for her. "I was turned away from the soccer field because of my decision to cover," she said.
What prompted Ramadan to create a group tailored for women of colour, was the great experience she had at Nike Run Club, which used to be a workout space in the city.
She started going with a friend when they were training for a marathon and not only was working at the sport cathartic — it helped her during a hard time in university and grieving her father's death — but the community had a big impact on her. When Ramadan ran her first marathon she crossed the 40-kilometre mark to see friends from Nike Run Club cheering her on.
"Traditional sources of support are my friends, family ... but then you are able to put yourself in spaces, where you can find untraditional sources of support and love and someone to cheer you on," she said.
The space was uplifting for Ramadan, but she noticed that not many of the women she'd see there were racialized, and although she would invite her friends to join her, she started thinking about starting something that would specifically cater to and empower women of colour to take part in fitness and running, regardless of their level.
In May 2019, Ramadan decided on planning weekly runs or workouts in downtown Toronto, with the ultimate goal to train for October's Toronto Waterfront Marathon, which offers shorter races, a half-marathon and a full marathon.
Hijabi Ballers, a local organization that supports Muslim women in sport, stepped in to help with funding and promotion.
Ramadan remembered a trainer she crossed paths with, Britt Hern and reached out to see if she could write up a training plan for the group. Hern took the ask further and volunteered to train the women in person.
By June 2019, Ramadan started spreading the word, and A Women's Run was born. Since then, it's been able to partner with brands like Lululemon and Nike and gain more support for the initiative.
The club has operated in volumes with breaks in between. The first volume had training for a race as the end goal. The second volume was during the winter, and Fit Squad offered them space to do more strength training and runs, but it was interrupted as COVID-19 spread and limited group interactions. The third volume, which took place in July of this year, as pandemic restrictions loosened, focused on highlighting Black fitness leaders.
"Running for me is (about) people, running (is about) the community," Ramadan said. "Honestly, it has been the most transformational thing in my life."
One member Dalia Hashim, 26, never called herself an athlete before joining A Women's Run, despite playing basketball and swimming in high school. She says, at six feet tall, she excelled in sports as a byproduct of her height, but on the title of athlete: "it sounds like that came with a very particular image that I didn't fit."
But with A Women's Run, there were a number of women who were also new to running, so it felt much less intimidating to Hashim. And on top of that, having women who looked like her, whether that be people of colour or women who also wore hijab, made the environment more welcoming.
"Just having that around you made it so much easier, because it just meant that everyone understood where you were coming from," she said.
While she trained for the Toronto Waterfront run with the group's first volume of meet ups, Hashim initially signed up for the five-kilometre run, but after doing a 15-kilometre run over the summer, Ramadan urged her to take on the half-marathon — just over 21 kilometres — instead.
Hashim has now stepped up to be a pacer, the person who helps the group maintain the same speed.
Reem Al-Wakeal, 22, who works on producing online content for A Women's Run, as well as joins workouts, says she had always wanted to get into fitness, but felt uncomfortable going to gyms alone because she didn't know where to start. "I kind of needed a push — a community to kind of motivate me."
She found it in A Women's Run.
"No one really cared about how you looked or where you were from, or how fast you were running. As long as you set a personal goal, they were just there to motivate you," Al-Wakeal said.
That is exactly what has been rewarding for Ramadan: seeing the women surprise themselves and exceed their own expectations. "You set boundaries of what you think your body and you are able to achieve. But then you are also the same person who kind of broke [the boundary] down."
Ramadan hopes that A Women's Run is able to act as an entry point for women to gain confidence to join other groups and fitness spaces in the city that they may have found intimidating in the past.
"[We want to] provide our girls that confidence, a safe space for them to come in, get that boost, see all these other spaces and have the courage to step into them."
https://www.toronto.com/news-story/10210313-why-this-toronto-running-club-is-clearing-a-lane-for-women-of-colour-on-the-road/
--------
'Women Peace and Security Training Programme' Renamed 'Sheikha Fatima Bint Mubarak
27-09-2020
ABU DHABI, 27th September, 2020 (WAM) -- UAE's General Women's Union today announced that the Women Peace and Security Training Programme has been renamed the "Sheikha Fatima bint Mubarak Women Peace and Security Initiative", demonstrating the highest level of political support to the programme. Against the backdrop of rising conflict globally, the landmark training programme builds women's capacity in the military and peacekeeping sectors and is sponsored by the UAE government and hosted by the Khawla bint Al Azwar Military School in Abu Dhabi.
Under the patronage of Her Highness Sheikha Fatima bint Mubarak, Chairwoman of the General Women's Union, (GWU), President of the Supreme Council for Motherhood and Childhood, and Supreme Chairwoman of the Family Development Foundation, the programme was established in September 2018 by the UAE's Ministry of Defense and General Women's Union to build and develop the capabilities of women in the military and peacekeeping sectors in September 2018. UN Women plays a key role in providing support and engagement on standard-setting and capacity support in the area of Women, Peace and Security. The signing of an agreement which memorialised this collaboration was witnessed by H.H. Sheikh Abdullah bin Zayed Al Nahyan, Minister of Foreign Affairs and International Cooperation, during his visit to New York to lead the UAE's participation at the 73rd United Nations General Assembly.
Speaking on the development, H. H. Sheikh Abdullah has hailed renaming the programme as "Sheikha Fatima bint Mubarak Women Peace and Security Initiative", noting the UAE's unwavering support for establishing security and peace around the world.
"Women's contribution to global peace-making efforts is essential to their success," he added.
The Sheikha Fatima bint Mubarak Women Peace and Security Initiative aims to boost the participation of women in peace and security sectors, increase the number of women qualified to work in the military sector and create support networks for women working in the military around the world. The initiative also advances the strategic objectives of UN Security Council Resolution 1325, that recognized for the first time the inextricable link between gender equality and women's participation in international peace and security and highlighted the critical role of women's full and equal participation in conflict resolution, peacebuilding, and peacekeeping.
Speaking on the occasion, Noura Al Suwaidi, Director-General of the General Women's Union, said "It is an immense honour for this pioneering training programme to carry Sheikha Fatima bint Mubarak's name. The programme has achieved exceptional success within two years of its establishment and has been praised by UN Women. It is unique in the sense that we have the UAE Armed Forces manage and deliver the training of women from several countries in the region and beyond. This is a testament to the UAE's commitment to women's empowerment across all sectors and our committed contribution to advancing the agenda of Women, Peace and Security."
Phumzile Mlambo-Ngcuka, UN Under Secretary-General and Executive Director of UN Women, added "I have been greatly impressed by the success of the Women, Peace and Security Training Programme that can train our next generation of women leaders across Africa, Asia and the Middle East in the military and peacekeeping sector. UN Women is proud to support this unique effort as a key partner by bringing its expertise on women, peace and security to this programme. Evidence shows that women's engagement in conflict resolution and peacebuilding results in longer lasting peace. It is essential for the effectiveness of security forces that they build their knowledge and understanding of gender equality and women's rights."
The first round of the programme was launched in January 2019 with the participation of 134 Arab women from seven countries. After the success of the first round, the scope of participation was expanded to include countries from Africa and Asia. The second round of the programme was launched with 223 women from 11 African, Asian and Arab countries in January 2020. The participants completed their training programme in April 2020.
https://www.wam.ae/en/details/1395302873015
--------
URL: https://www.newageislam.com/islam-women-feminism/growing-demands-dutch-burqa-ban/d/122970
New Age Islam, Islam Online, Islamic Website, African Muslim News, Arab World News, South Asia News, Indian Muslim News, World Muslim News, Women in Islam, Islamic Feminism, Arab Women, Women In Arab, Islamophobia in America, Muslim Women in West, Islam Women and Feminism