New Age Islam News Bureau
3 Jan 2020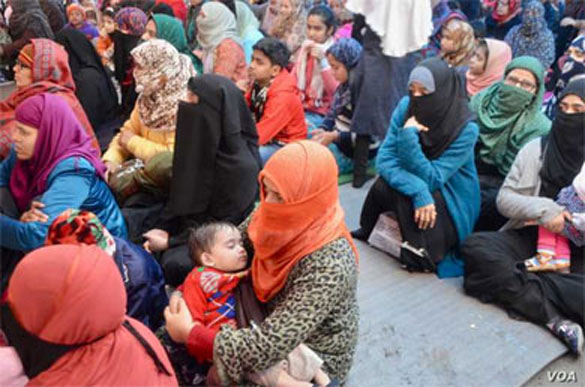 Young mothers and their children are among those who have joined the protests against the citizenship law in India, in the Muslim-dominated Shaheen Bagh neighborhood of New Delhi. (Anjana Pasricha/VOA)
-----
• Grandmothers, Young Mothers with Babies in Their Arms, And Housewives Spearhead Protest against Citizenship Law in New Delhi
• This 19th Century Indian Feminist Didn't Just Educate Women— She Helped Rape Victims and Pregnant Women
• Face Of Anti-CAA Protests, Aysha Renna, Vows To Continue The Fight
• Texas Woman Says She Was Sent Home From Job for Wearing a Hijab
• Austria Considers Headscarf Ban to Counter 'Political Islam'
• Egypt Mob Sexual Attack on New Year's Eve Sparks Controversy
• Abortion Rates in Israel on the Decline: Down 1% in 2018, 10% Since 2010
• Women, Trans and Queer Folks Set To March against CAA-NRC On Jan 3
Compiled By New Age Islam News Bureau
URL: https://www.newageislam.com/islam-women-feminism/grandmothers-young-mothers-with-babies/d/120698
------
Grandmothers, Young Mothers With Babies In Their Arms, And Housewives Spearhead Protest Against Citizenship Law In New Delhi
By Anjana Pasricha
January 02, 2020
NEW DELHI — Hundreds of women once again blocked a key road in the Muslim-dominated Shaheen Bagh neighbourhood of New Delhi on Thursday in their ongoing protest against India's new citizenship law.
Grandmothers, young mothers with babies in their arms, and housewives squatted in rows. Mostly from marginalized sections of society, many, like Rizwana Bano, have emerged from poor Muslim homes gripped with worry that they will be asked to submit documents to prove they are Indian citizens.
"I am from Bihar, where there are always floods. I don't have a house or a fixed address. What proof can I give?" she asked. Bano is one of millions of migrants in Delhi. Her husband works as a driver.
"That is why I have come on the road, so that I don't have to go to jail," she said.
Many fear that the new law, which grants expedited citizenship to "persecuted minorities" from Afghanistan, Pakistan and Bangladesh, sets the stage for the government to initiate a national registry of citizens. They worry that Muslims will be more vulnerable to harassment if they cannot submit documents — which the poor often do not possess — because Islam is excluded from the new law.
Led by Muslim women, many from conservative homes, this is one of the most unusual protests that has wracked India in the aftermath of the new law, which critics say violates India's secular constitution by introducing religion as a criterion for citizenship.
Across India, 23 people have died in protests, mostly in the northern state of Uttar Pradesh, as violence erupted during some demonstrations.
For nearly three weeks, the women have camped out in a makeshift tent erected on this arterial road that connects New Delhi to the satellite town of Noida. The protests have disrupted traffic but otherwise have remained peaceful.
Men stand on the sidelines as speakers talk about what they perceive as dangers of the new law.
"There is no financier, no political party, no NGO (voluntary group) that is backing these protests," said Syed Taseer Ahmed, a volunteer. "This is the public out on their own."
Celebrities occasionally turn up to lend support to what is being called a "leaderless protest." On Wednesday, Bollywood actress Swara Bhaskar called on the crowd to persevere. An army of volunteers has been distributing food, tea and water to protesters who have sat for hours. Some, like Gurnoor Kaur, a postgraduate student from Delhi University, turns up with food packets paid for by a friend. She has donated about $15 to show solidarity.
Posters and banners are everywhere, calling for the scrapping of the new law. A makeshift stage is scattered with blankets and mattresses used late at night — the protesters often continue past midnight, despite Delhi's chilliest winter in years. They welcomed in the New Year singing the national anthem and waving the Indian flag.
Government outreach
Prime Minister Narendra Modi has said no Indian Muslim risks losing his or her nationality. The country's 200 million Muslims make up about 14% of India's population.
The government is launching an outreach to citizens to dispel what it calls rumors fueled by opposition parties. Top ministers have reiterated that the law is about granting citizenship, not snatching it away. Modi has also said that there has been no discussion by his government on the national citizenship registry.
But fears have been fanned by what happened in the northeastern state of Assam, where nearly 2 million people, including many Muslims, were excluded from a citizens list that was finalized last year under an exercise ordered before the BJP government came to power. A huge question mark hangs on the future of these people, with many fearing they could be hauled off to detention centers.
Analysts say the new citizenship law was the tipping point, deepening anxiety and distrust in Modi's government among critics who say he is pressing ahead with a Hindu nationalist agenda during his second term in power.
Pushed 'to the margins'
In August 2019, the government scrapped the special status of Jammu and Kashmir, its only Muslim-majority state. In September, the Supreme Court paved the way for Hindus to construct a temple on a plot of land where a mosque was razed 25 years ago.
"I have come for a protest for the first time," said Azma Hashmi, a housewife and resident of Shaheen Bagh. "I am from a conservative family where purdah is important. I was born in this beautiful country. My seven generations were born and buried here. Today, why are you pushing us to the margins?"
Saima Khan, a mother of four, comes from an economically well-off background compared to many others. She said she joined the protests because of a recent police action that allegedly injured many students in two Muslim-dominated universities.
"We decided we would not tolerate this. There are lots of mothers here. Mothers cannot see their children being targeted," Khan said.
Protesters like Bilkees, who have been on the road for 19 days, are determined to camp here until the new law is repealed, defying police who have ordered them to clear out.
"Whether I have to stay for a month, six months or one year, I will come every day," said the 82-year-old grandmother — one of the oldest protesters. "I am willing to face any action against us, whether sticks or bullets."
https://www.voanews.com/south-central-asia/women-new-delhi-muslim-neighborhood-spearhead-protest-against-citizenship-law
------
This 19th century Indian feminist didn't just educate women— she helped rape victims and pregnant women
JAN 3, 2020
Today, India celebrates the 187th birth anniversary of educationist Savitribai Phule —India's first female teacher who helped set-up over 17 schools in the country.
In 1848, Savitribai along with her husband Jyotirao Phule, founded the first girls' school in Maharashtra — which was unheard of in those times.
Three years later, she founded three schools that taught over 150 girls — higher than the number of boys in government schools.
In times when only higher castes were permitted into schools, the duo started a school for untouchables as well. She also introduced the concept of regular meetings with parents to push girls for education.
In the 1850s, the couple founded two educational trusts — the Native Female School, Pune
and the Society for Promoting the Education of Mahars, Mangs — which were later run by Fatima Begum.
Begum was Savitribai Phule's friend and partner in social empowerment — who became the country's first muslim female teacher, following Phule's steps.
However, these reforms did not go down well with the society and was often abused by conservatives. That turned her into a crusader for social justice as well.
The mother of Indian feminism
She took many steps forward to aid women, that were much ahead of her time. Her 'Balhatya Pratibandhak Griha' supported rape victims and pregnant women in addition to fighting the common practice of female infanticide.
Phule is now referred to as 'the mother of Indian feminism.' She promoted widow remarriage and tried to abolish child marriage. Phule herself was a victim of child marriage, as she was married at the age of nine.
In 1897, she opened a clinic for the victims of pandemic of bubonic plague, along with her son. While helping a young boy suffering from the disease, she was infected.
She passed away on March 10, 1897 but not before leaving us with a better India - long before it was independent.
https://www.businessinsider.in/india/news/savitribai-phule-19th-century-indian-feminist-didnt-just-educate-women-she-helped-rape-victims-and-pregnant-women/articleshow/73071238.cms
------
Face of anti-CAA protests, Aysha Renna, vows to continue the fight
Fri, January 3 2020We show you our most important and recent visitors news details Face of anti-CAA protests, Aysha Renna, vows to continue the fight in the following article
Hind Al Soulia - Riyadh - KONDOTTY, Kerala — The nationwide agitation against the Citizenship Amendment Act (CAA) and the National Register for Citizens (NRC) has turned the heat on the Indian government led by Prime Minister Narendra Modi.
The controversial law has drawn the ire of many people, especially Muslims across the country, who have been hitting the streets for past 20 days.
Twenty-two year-old Aysha Renna, who has been in the forefront of the agitation that began at Jamia Millia in New Delhi, was happy to see the protests spreading all over the country with the support of different groups of people, including Hindu religious leaders.
"It has assumed the form of a pan-India movement against the BJP government's agenda," she said, adding that the government crackdown would only fuel the protests.
In an exclusive interview with Saudi Gazette at her home in Kaloth, near Kondotty, Renna said she and her friends were educating the public on the importance of establishing a forum to mobilize and strengthen minority politics where all minority groups irrespective of their religious and political differences would be able to raise their voices without sacrificing their ideology and identity and express their views and ideas openly while upholding secular values.
Renna added: "We are trying to unite everyone in order to launch a powerful movement with the aim to defeat the destructive ideology of Hindutva that divides the country and its people." The anti-CAA/NRC protests have been successful in bringing together the followers of different faiths and ideologies who believe the two draconian laws threaten India's unity and integrity.
Non-Muslim students in Jamia, BHU in Varanasi and other universities joined the agitation as they wanted to pressure the government to reconsider the move that could deny their friends citizenship and make them stateless. Both CAA and NRC aim to expel Muslims from the country although Modi has reiterated the laws would not affect them. When the NRC was implemented in Assam, 1.9 million lost their citizenship including the family of former President Fakhruddin Ali Ahmed.
Renna thinks the participation of a large number of Muslim girls wearing hijab was one of the reasons for the success of protests in campuses and streets. "Hijabi women in north India rarely took part in public protests and demonstrations. We were able to break that stereotype and mobilize a large number of girls and women wearing Islamic dress for protests all over the country."
Renna and her friend Ladeeda Farzana visited Hyderabad recently to discuss prospects of strengthening cooperation with Majlis-e-Ittihadul Muslimeen (MIM). "We also met with Bhim Army chief Chandrashekhar Azad at Jama Masjid as part of our efforts to promote minority politics."
She believed that Modi and Shah would definitely withdraw the two contentious laws.
"The nationwide protests have frightened Modi and Shah as they never expected such a huge public outcry against the laws. They want to suppress the agitation with an iron fist. The police crackdown on student protesters in Jamia and Aligarh reflects their fear. The government has to withdraw the laws if it wants to end the agitation and bring back peace and stability," she said.
She rebuked Modi and BJP officials for claiming that students were protesting without knowing the intrinsic benefits of the two bills. "I want to tell them that Jamia students have conducted an analytical study on the CAA and the NRC before starting the protests. I think it's Modi and Shah who need to study it again in order to understand its complexities and how the laws divide the country, cause tension among its people and violate the country's constitution."
Social commitment of students is essential to make their education effective, says Renna. "Textbook knowledge will not be enough for students to become successful in life. They can learn many things from their surroundings and engaging in social and political activities. Most students in Jamia have this perspective about education and this has encouraged them to take part in protest rallies in large numbers," she explained.
Asked about the video of Renna pointing her finger against a police officer when the latter tried to beat up her friend Shaheen, she said: "We don't know who took the video. It has spread all over the world through the BBC." She accused police of triggering violence to tarnish the image of peaceful protests. "We never expected police would enter our campus. They thrashed students at the university library as well as those who were praying inside the mosque."
Renna said it was God who gave her the courage to stand up against the police brutalities in Jamia. "I am happy to say that God has chosen me to raise my finger against the police." That video footage of Renna went viral encouraging more women to join anti-NRC rallies across the country. "We were at hospital for treatment of Shaheen when police entered the Jamia campus."
Responding to the controversial comment of Gen. Bipin Rawat, the newly appointed chief of defense staff, that anti-CAA/NRC protests were not led by good leaders as they guided protesters to engage in arson and violence, she said the general was attempting to tarnish the image of protesters. "We don't claim the sole leadership of the nationwide protests. Many leaders are involved and there is no point in attacking us personally. Pro-government officials call protesters as anti-nationals and jihadists to tarnish their image and belittle their mission," she said.
A postgraduate history student, Renna was happy to be with her family in Kaloth after spending tumultuous days in Jamia during the initial days of the anti-government protests. "I have received tremendous support from my family and friends, especially from my husband Afsal Rahman who works as a freelance journalist in New Delhi and my parents Abdul Rasheed and Qamarunnisa. Afsal was with me whenever I was emotionally weak as a result of hate campaigns by the Sangh Parivar," she said.
These were the details of the news Face of anti-CAA protests, Aysha Renna, vows to continue the fight for this day. We hope that we have succeeded by giving you the full details and information. To follow all our news, you can subscribe to the alerts system or to one of our different systems to provide you with all that is new.
It is also worth noting that the original news has been published and is available at Saudi Gazette and the editorial team at AlKhaleej Today has confirmed it and it has been modified, and it may have been completely transferred or quoted from it and you can read and follow this news from its main source.
https://alkhaleejtoday.co/international/13820/Face-of-anti-CAA-protests-Aysha-Renna-vows-to-continue-the-fight.html
------
Texas Woman Says She Was Sent Home From Job For Wearing a Hijab
Jan 2, 2020
A woman who worked at a Chicken Express restaurant in Saginaw, Texas, says her managed discriminated against her for her religion after he sent her home for wearing hijab, CNN reported.
Stefanae Coleman, 22, says she arrived for work on Monday (Dec 30), wearing a hijab for the first time after recently converting to Islam. Coleman had been working at the location over the last three months and thought her coworkers would be supportive of her religious expression. Hijabs are worn by many Muslim women who consider it a religious obligation and do not remove it around men who are not part of their immediate family.
Coleman says after arrived for work, her manager told her to "take off anything that doesn't involve Chicken Express," something she took to mean her hijab, she told CNN.
The 22-year-old single mother told the outlet that she didn't reply and went to the back where she removed her jacket and purse. A few minutes later, her manager called her into his office and informed her she had to take the hijab off because it wasn't part of the restaurant's work uniform.
"Your job is your job. Your job has nothing to do with religion," the manager told Coleman in an exchange she recorded and posted to Twitter.
"The job requires a specific uniform. [The hijab] is not a part of the uniform; you as a paid employee cannot wear it," the man tells Coleman, citing the restaurant's employee handbook.
The manager says he'd have to speak with two other employees, identified by Coleman as another manager and the area coach, before ultimately making a decision. The manager eventually sent Coleman home.
Rhett Warren, who is a lawyer for the franchise, told CNN that the manager sending the employee home was a "mistake" and that Coleman hadn't faced discrimination because of her headscarf.
"The manager's decision to send Ms. Coleman home for wearing the headscarf was due to a lack of training," Warren said. "The manager was using a strict interpretation of the company policy that does not allow derivations from the standard employee uniform, and he unfortunately did not take religious liberty into consideration."
Warren added that Coleman was paid for the full shift, even though she was sent home early by the manager.
Coleman returned to work at the Chicken Express franchise earlier this week, however, because of an "overall negative hostile atmosphere at work" she decided she couldn't stay and decided to leave, Faizan Syed, the executive director of the Council on American-Islamic Relations (CAIR) in Texas, who is representing Coleman in the matter. Syed said Coleman is reconsidering her employment with the restaurant chain.
"I just would have never thought that this would ever happen to me," Coleman told CNN. "I see it all the time on the news, but never once did I even think that I would get sent home because of it."
https://wflanews.iheart.com/content/2020-01-02-texas-woman-says-she-was-sent-home-from-job-for-wearing-a-hijab/
------
Austria Considers Headscarf Ban to Counter 'Political Islam'
JOHN HAYWARD
2 Jan 2020
The measures include a ban on Islamic headscarves for girls until they reach the age of 14 and a provision for putting potentially dangerous individuals in "protective custody" to prevent them from committing violent actions.
Kurz said during his first term as chancellor that "radicalization and political Islam have no place in our country." He invoked the 2015 "Islam Act" to close mosques that were accused of supporting extremism and engaging in subversive political activity. Among other features of the Islam Act was a ban on foreign funding of religious activities in Austria.
Headscarves were banned in May 2019 for girls younger than 10, a rule denounced as "shameless" and a "direct assault on religious freedom" by Austrian Muslims, and an act of "rightwing extremism" by Kurz's political opponents. Kurz plans to raise the age to 14 during his return to office.
The proposal for "preventive custody" for "people for whom facts support the assumption that they pose a threat to public safety" was evidently inspired by an Afghan asylum seeker who went on a knife rampage in February, critically injuring four people. Another Afghan migrant was charged with killing two people in knife attacks in October.
Kurz, currently 33 years old, was the chancellor of Austria and the world's youngest national leader until losing a vote of no confidence in May over a corruption scandal involving Vice Chancellor Heinz-Christian Strache.
While Kurz was not tarnished to any perceptible degree by the scandal, Strache's right-wing Freedom Party (FPO) was booted out of the governing coalition. The OVP subsequently scored its best results ever in the snap September election, so Kurz is once again the world's youngest leader – but this time his coalition partner is the Green Party, marking what nearly all observers saw as a pronounced shift to the left for Austrian politics.
The Greens also made big gains in September but still lag far behind OVP, with about 14 percent to OVP's 37 percent of the vote. The Greens are actually only the fourth-biggest Austrian party, lagging behind the collapsing but still formidable Social Democrats and Strache's uneasy former allies the FPO.
While the FPO has more votes than the Greens, it managed to alienate just about everyone else at the top of Austrian politics with the Strache affair and other scandals, so the Green Party — over the objection of many of its members — was courted and won by Kurz as a coalition partner.
"Frankly, these negotiations on the government were not easy, because both parties are based on very different foundations. But, in my opinion, we achieved an excellent result," Kurz said on Wednesday, proclaiming his alliance with the Greens to be "the best of both worlds" the next day.
That best-of-both-worlds deal includes Green environmentalist priorities and promises of a more transparent government with Kurz's tough stance on migrants coming across the Mediterranean. Under the agreement reached by Kurz and Green Party chief and likely vice-chancellor Werner Kogler, the Greens will actually run the ministries of environment, justice, and health.
https://www.breitbart.com/europe/2020/01/02/austria-considers-headscarf-ban-to-counter-political-islam/
------
Egypt mob sexual attack on New Year's Eve sparks controversy
By NOHA ELHENNAWY
2 January 2020
CAIRO -- A video from Egypt showing a woman enduring a mob sexual assault on New Year's Eve was deemed authentic by the country's police Thursday.
The viral video has reignited long-running controversy over rampant sexual harassment in Egypt. Cases of mob violence against women have been caught on tape since the 2000s.
Surveys indicate that the vast majority of Egyptian women feel insecure in the streets. There were also multiple mass sexual assaults on women during political protests. But polls have found that most men and women in the conservative Muslim country believe harassment is justified if women dress "provocatively" in public.
The New Year's Eve video showed several dozen men tossing around a screaming woman wearing a black miniskirt and fur coat.
Some of the men brandished sticks and jumped on top of a car, into which the woman eventually climbed. The handful of men who got her into the car were apparently trying to help her escape the assault, which took place in the Nile Delta town of Mansoura early Wednesday.
A senior police officer said the attackers have yet to be identified. The officer spoke on condition of anonymity because he was not authorized to brief the media.
In October, Egypt was stunned when a teenage boy was fatally stabbed while defending a girl from sexual harassment. The three teenage attackers were each sentenced to 15 years in prison last month.
Egypt toughened its sexual harassment laws in 2014. A broader definition of harassment is now punishable by up to five years in prison.
But rights groups say authorities aren't doing enough to combat the problem. Most women also remain reluctant to file complaints for fear of stigmatization.
"Can the Egyptian officials please stop denying the existence of sexual harassment in Egypt?" said Amel Fahmy, a women's rights activist, in a post on social media Thursday.
"Our fight is far from over," tweeted Soraya Bahgat, another rights activist. In 2012, she founded a volunteer anti-harassment group for political demonstrations, although the government effectively banned all public protests the following year.
https://abcnews.go.com/International/wireStory/egypt-mob-sexual-attack-years-eve-sparks-controversy-68030933
------
Abortion Rates in Israel on the Decline: Down 1% in 2018, 10% Since 2010
By Judy Siegel-Itzkovich
January 2, 2020
The sad news is that Israeli women underwent 18,209 legal abortions approved by state committees in 2018, the last year for which statistics have been collected. The good news is that the abortion rate declined by one percent compared to that in 2017 and 18% since 2010, despite population growth.
The Health Ministry, which is responsible for supervision of legal abortion procedures, said in its annual report on the subject that there were 19,543 applications for abortions in 2018. The gap represents applications that were not approved by the public committees and cases in which women decided not to go through with it.
These committees consist of three members, two of whom are licensed physicians, and one a social worker. Of the two doctors, one must be a specialist in obstetrics and gynecology and the other an ob/gyn or a specialist in internal medicine, psychiatry, family medicine or public health. At least one member must be a woman.
Abortion in Israel is permitted when approved by a committee under one of four clauses: The woman is younger than 17 years and older than 40; the pregnancy was conceived under illegal circumstances (such as rape or statutory rape) in an incestuous relationship or outside of marriage; the fetus may have a physical or mental birth defect; or when continuing the pregnancy may put the woman's life in risk or damage her physically or mentally. Under these circumstances, the government has been paying for an abortion in women younger than 33 since 2014.
The rate of abortion in Israel has steadily declined since 1988, largely due to better contraception methods, the availability in pharmacies of the abortion pill (Mifegyne, which acts by blocking the effects of a hormone needed for pregnancy to continue and softens and dilates the opening to the uterus) within days of conception; and the reduced number of fertile-age women from the former Soviet Union who in their native country used abortion as a contraceptive. Another reason may be that the Jewish and Muslim populations of Israel have become more observant than in previous decades. Abortion rates among women who came from the former Soviet Union and Ethiopia remain higher than Israeli-born women. Abortion rates among Muslim women have increased slightly in recent years.
According to government data, in Israel, abortion rates in 2016 have dropped steadily to nine per 1,000 women of childbearing age, lower than England (16.2) and the US (13.2). Fully 99% of abortions are carried out during the first three months.
Although the Orthodox and ultra-Orthodox parties do not like abortion in general and encourage organizations that try to persuade women niot to have one, the abortion issue is much less controversial in Israel than in the US. This is because Jewish law allows abortions to save the mother's life and most rabbinical arbiters do not forbid abortions performed for good reasons before the fetus is 40 days old (the Talmud cites the view of Rabbi Hisda that "until 40 days from conception, the fetus is merely water. It is not yet considered a living being").
In 2018, 64% of pregnancy terminations were up to 7th week, 22% between weeks eight and 12 and 14% in 13th week. In 2017, there were 333 late pregnancy terminations after the 23rd week.
In 2018, 53% of pregnancy terminations were based on the clause that the pregnancy results from prohibited relationships under criminal law, incest or out of wedlock; 18% under the section that "continuing the pregnancy could endanger woman's life or cause her physical or mental damage", 20% under the section that the fetus may have a physical or mental defect and 10% under section in which the woman is below the minimum age of marriage or is 40 or older.
Abortion rates in Israel are low, ranking second lowest out of 28 European countries. Among young women up to age 20, the rate in Israel is ranked 10th; among women aged 35 and over, the rate in Israel is ranked fourth out of 28 European countries.
The number of illegal abortions in Israel was not estimated in the report.
https://www.breakingisraelnews.com/142641/abortion-rates-israel-decline-down-1-2018-10-since-2010/
------
Women, Trans And Queer Folks Set To March Against CAA-NRC On Jan 3
JANUARY 2, 2020
BY POORVI GUPTA
On the birth anniversary of Savitribai Phule on Friday (January 3), a call has been sent out to women, trans and queer folks across the country to come out to rally against the Citizenship Amendment Act (CAA), National Register of Citizens (NRC) and now National Population Register (NPR). The march aims to oppose the agenda of spreading hatred between people and the use of indiscriminate violence on unarmed protestors with complete impunity.
A variety of collectives are coming together to march including Centre for Struggling Women, Democratic Teachers', All India Network of Sex Workers, All Indian Democratic Women's Association, Hasratein: A Queer Collective, Jamia Queer Collective, Mahila Nigrani Parishad – Women's Federation, Muslim Women's Forum, National Hawker Federation, National Network of Sex Workers, Pinjra Tod etc.
It is being organised by ANHAD founder Shabnam Hashmi who told SheThepeople.TV, "This march is by women trans and queer groups and these are groups who are going to be most affected by the implementation of CAA and NRC. So, all the groups are coming together to protest. The march focuses on safeguarding the Indian constitution, the idea of India because our constitution has not decided anybody's citizenship on the basis of religion."
All those who are opposed to discriminatory laws of this nature will come to unite for harmony, love and peace and march together, says Anjali Bhardwaj, RTI activist and also one of the organisers of the initiative. "We will hold a public meeting where women people from women, trans and queer community will share their views. There will also be cultural performances around this issue to express solidarity with everyone who stands up against this kind of discrimination, violence and hate," says Bhardwaj.
Hashmi adds that the day is significant because of the fact that she was the first feminist teacher who started the first school and spearheaded the movement for women's emancipation, education and equality.
Vihaan, a trans man who works with Nazariya: A Queer Feminist Resource Group, also talked to us and said that since people from the transgender community mostly have to abandon their biological families because of stigma and taboo around the community, they will be majorly distressed by CAA-NRC-NPR. "The trans and queer narrative is very important in conversation around CAA-NRC-NPR because a large number of trans folks run away from their houses and take refuge in different parts of the country. So, most of us don't have the documents that will be asked to show to prove our citizenship. Then the queer folks who don't get acceptance will also be similarly affected by this arbitrary law.
And the most important issue is the connection established between lineage and property of people and we know very well that most trans people don't inherit property. This would also exclude lots of people from citizenship act. Similarly, several single women, distressed women, sex workers etc. will also find it difficult to include themselves in the NRC."
Talking about how the march will benefit their cause, Vihaan says, "There are so many protests happening against CAA and NRC across the country but when all the women, trans and queer folks come together to rally, it will make a larger noise and impact. We will be able to firmly oppose the act despite the fact that our efforts may or may not motivate the government to revoke nationwide implementation of CAA and NRC."
January 3rd marks the birth anniversary of the pioneering educationist and social reformer from Maharashtra, Savitribai Phule. It is celebrated as Women's Day by Dalit feminists in India. In the 1800s, Savitribai, along with Fatima Begum Sheikh, worked tirelessly for the education of women and girls. They both courageously stood up to forces that tried to stop their mission. This Rally is a way to commemorate Savitribai's birth anniversary and to take inspiration from these national feminist leaders.
https://www.shethepeople.tv/news/women-trans-queer-folks-march
------
URL: https://www.newageislam.com/islam-women-feminism/grandmothers-young-mothers-with-babies/d/120698
New Age Islam, Islam Online, Islamic Website, African Muslim News, Arab World News, South Asia News, Indian Muslim News, World Muslim News, Women in Islam, Islamic Feminism, Arab Women, Women In Arab, Islamophobia in America, Muslim Women in West, Islam Women and Feminism