New Age Islam News Bureau
26 Feb 2020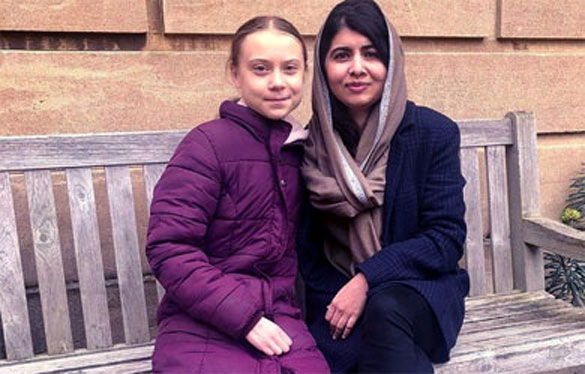 Swedish environmental activist Greta Thunberg meets Nobel Peace Prize winner Malala Yousafzai at University of Oxford
-----
• Climate Activist Greta Thunberg Met Nobel Peace Prize Winner Malala Yousafzai at Oxford
• Women from Marginalised Communities Appealed the Maharashtra Govt Not to Implement NPR
• Iranian Women's Rights Activist: 'Don't Wait For Anyone To Hand You Your Rights'
• Turkish Women Set To Be Nuclear Energy Pioneers
• Saudi Helpers Step up To the Tee at First Women's Golf Tournament
• Saudi Sports for All Federation Inaugurates Women's Football League
• 4 Saudi Women among 8 Confirmed Cases of Coronavirus In Bahrain
Compiled By New Age Islam News Bureau
URL: https://www.newageislam.com/islam-women-feminism/gothenburg-mosque-under-fire-calling/d/121159
--------
Gothenburg Mosque under Fire for calling it Sinful for Women to Deny Men 'Legitimate Intimacy'
26.02.2020
According to the Gothenburg Mosque, a woman must please her husband sexually and is not allowed to leave home without his permission.
The giant Gothenburg Mosque, which was erected in 2011 with financial help from Saudi Arabia, has landed in hot water with its website section for "new Muslims".
Among other things, the guide that includes detailed instructions on how to live like a devout Muslim, says that it is sinful for a woman to reject "legitimate intimacy". The "rights of a married man" suppose that the woman has an obligation to show "responsiveness to his sexual needs". Nor it is permitted for a woman to leave home without her husband's permission, "be it a general or a personal matter".
According to the newspaper Göteborgs-Posten, the website includes exerpts from
"The New Muslim Guide" written by Fahd Salem Bahammam and published in 26 different languages. The website itself touts "The New Muslim Guide" as a consensus among most Muslim scholars.
Tweet: "Woman must not deny husband sex, or leave home without permission. How Gothenburg's largest mosque guides life as a good Muslim".
Its values, however, sparked a negative reaction from the Swedish public. The advice there doesn't only express a "reprehensible view of women", but is also contrary to the law, Sweden's leading terrorism expert Magnus Ranstorp of the National Defence College wrote in an opinion piece. Ranstorp stressed that is not the first time a problematic view of women has been discovered in Swedish mosques.
"The aforementioned mosque is the largest in Gothenburg. This means that a mosque with great legitimacy in society links to a website with extremely controversial views. It is very serious. This case also raises a question on whether and how foreign funding for mosques implies a potential transfer of values from Saudi Arabia and other Gulf states to Sweden that are inconsistent with our basic values. These Gulf states often exert direct influence on mosques through financial grants to non-profit foundations that, in turn, determine the religious orientation of religious communities", Ranstorp warned.
The guide also sparked outrage online.
"It shouldn't be like this. But the feminists and the left have fought for this. So here you go", a user wrote.
"This is the reason why I as a Muslim don't go to the mosque at all in Sweden, will you all wake up now? People take extremism and culture from their home country and all Sweden does is talk about freedom of religion, how is this freedom?" another tweeted.
At times the debate took a more humorous angle.
"Can a wife deny her wife sex? Asking for my wife", a lady tweeted.
Gothenburg Mosque press spokesman Muhammad El Alti later said the mosque does not share the acclaimed interpretation of the "New Muslim Guide".
"The site has good information for new Muslims, but interpretations that we don't share happen to occur. It is good that you pay attention to it, then we will get back and correct this", El Alti said.
Despite the half-hearted condemnation, the link to the "New Muslim Guide" was not removed.
The number of Muslims in Sweden has skyrocketed in recent decades, exceeding 800,000 and amounting to 8.1 percent of the population today, according to the Pew Research Centre. This has sparked a hot debate on the place and the role of Islam in Swedish society.
https://sputniknews.com/europe/202002261078407014-swedish-mosque-under-fire-for-calling-it-sinful-for-women-to-deny-men-legitimate-intimacy/
--------
Climate Activist Greta Thunberg Met Nobel Peace Prize Winner Malala Yousafzai at Oxford
Feb 26, 2020
Teen climate activist Greta Thunberg met Nobel Peace Prize winner Malala Yousafzai at Britain's University of Oxford on Tuesday and posed for a photo together.
Yousafzai, widely known by her first name, Malala, is a student at the University of Oxford. The 22-year-old posted a photo on Instagram of herself and Thunberg sitting on a bench with their arms around each other, with a caption "Thank you, @gretathunberg" and a heart emoji.
In a tweet, Malala said Thunberg is "the only friend I'd skip school for".
Thunberg, 17, is in the United Kingdom to join a school strike in Bristol on Friday.
Both women shot to worldwide fame after standing up for major global issues: climate change and women's education.
Thunberg became a household name after skipping school in Sweden to protest against climate change, while Malala was shot in the head by the Tehreek-i- Taliban Pakistan (TTP) in Swat for campaigning for girls to be allowed to go to school.
In 2014, Malala became the youngest recipient of the Nobel Peace Prize for her advocacy of education. She became a global symbol of the resilience of women in the face of oppression.
Thunberg was nominated for a Nobel Peace Prize in 2019 and 2020.
The pair met to discuss their activism at Lady Margaret Hall, Malala's Oxford college. Thunberg also talked to some of the students about climate change and protest.
The college's master, Alan Rusbridger, posted a photo of Thunberg on his own Instagram and Twitter, saying that he was honoured to host Thunberg and grateful that she found time to talk to the students.
https://www.pakistantoday.com.pk/2020/02/25/greta-meets-malala-young-activists-pictured-together-in-oxford/
--------
Women from Marginalised Communities Appealed the Maharashtra Govt Not to Implement NPR
Feb 26, 2020
Women from marginalised communities, including sex workers, transgender persons and Muslim women, appealed to the state government on Tuesday to not implement National Population Register (NPR). At a meeting in Mumbai, they said that the NPR will have grave implications for their lives and livelihoods as it will only promote disenfranchisement. They want to meet CM Uddhav Thackeray to voice their fear and opposition.
Social activist Ulka Mahajan, who works among tribals, said that the NPR, NRC and CAA are against the poor. "The Adivasis do not even have rights over their land, so what documents are we going to ask them to produce?" she said. "It is not just about submitting papers; the way the Centre is carrying out its exclusionary policies is scary," Mahajan added.
Kiran, who represents Veshya Anyay Mukti Parishad, a sex workers union, said that women like her do not have documents. "We raise our children single-handedly and given them our names as we do not know who their fathers are. If we go to apply for documents like Aadhar, the authorities ask for money," she said.
Kausar Bano, a representative of Muslim women, said that since her name is different on the Nikahnama and divorce papers, she wouldn't be recognised as a citizen.
https://mumbaimirror.indiatimes.com/mumbai/other/marginalised-women-oppose-npr-fearing-exclusion/articleshow/74309972.cms
--------
Iranian Women's Rights Activist: 'Don't Wait For Anyone To Hand You Your Rights'
By Melissa Mahtani
(CNN)She may just have won the Geneva Summit 2020 International Women's Prize but Iranian activist Shaparak Shajarizadeh says she can't feel happiness anymore -- not while her friends and other women's rights activists remain imprisoned in Iran.
"I'm not a happy person and I feel guilty all the time," she told CNN in a candid interview last week, adding that she fears women's rights activists in Iran have "no hope" and that international condemnation of their treatment by authorities has had little impact.
Shajarizadeh, 44, fled Iran almost two years ago, after being arrested three times and imprisoned twice for defying Iran's compulsory hijab law. She was involved in the #White Wednesdays movement—a campaign encouraging men and women to post images on social media of themselves either wearing white or no headscarf to protest being forced to wear the hijab.
She tells CNN she was officially charged with encouraging prostitution, propaganda against the government and acting against national security, charges she was later convicted on.
Masih Alinejad 🏳️
✔
@AlinejadMasih
20 years prison for #WhiteWednesdays activist against compulsory hijab in Iran. #ShaparakShajarizadeh sentenced 2 years prison+18 years Suspended imprisonment.I spoke with Shaparak she said millions of women are against compulsory hijab. Iran is a bigger prison for all of us
View image on Twitter
1,803
6:02 PM - Jul 8, 2018
Twitter Ads info and privacy
1,023 people are talking about this
Iran's mandatory hijab law has only been in effect since the Iranian Islamic revolution in 1979 when Supreme Leader Ayatollah Ruhollah Khomeini came to power. The law was first enforced by the country's 'morality' police and is still enforced by authorities even today. The hijab has consequently become a symbol of oppression for many Iranian women who have been protesting for more freedom and independence in the strictly conservative Islamic society.
Shajarizadeh is one of those women. She was first arrested in February 2018 for protesting without a hijab.
"I was arrested for the crime of waving a white flag of peace in the street, only to be punished by the regime and detained in Gharchak prison," she said in Geneva during her award acceptance speech. "I was beaten up and brutalized during the investigation, and thrown into solitary confinement. It was the most frightening experience in my life."
Recalling her time in prison, she described having panic attacks, and says she was asked to strip naked numerous times and beaten. "The women I saw in there, their bodies were black, pitch black" with bruises, she adds.
Reached for comment about Shajarizadeh's claims, an Iranian government spokesman told CNN that "the content of all judicial and revolutionary dossiers are kept confidential."
Shajarizadeh started a hunger strike after her first day at Gharchak prison and credits it for giving her strength. For nine days, she says she ate nothing and went two days without water. She told CNN that though excruciating, it gave her mental strength because she felt that she was taking action and had the power to at least refuse food.
Shajarizadeh told CNN she was released and arrested two more times after that, with no new charges brought against her in either case.
The Geneva Summit
@GenevaSummit
"As an Iranian woman I have been exposed to violence and inequality in every aspect of my life." #GS2020
- Shaparak Shajarizadeh, Iranian activist imprisoned for removing headscarf in defiance of hijab law & recipient of 2020 Intl. Women's Rights Award
View image on Twitter
137
4:41 PM - Feb 18, 2020
Twitter Ads info and privacy
69 people are talking about this
The second time was on March 17th, 2018, along with her husband. She says they were taken to Iran's notorious Evin prison, interrogated and accused of being spies. Her third arrest came in May that year, while she was on holiday with her son. "State authorities interrogated me in front of my innocent child and handcuffed me while he was crying, screaming and begging them to let us go home. That evening in the courthouse he cried himself to sleep on my lap on a cold stone bench. At that moment, I told myself that I wouldn't let this happen to my family ever again," she said.
After her lawyer Nasrin Sotoudeh got her out on bail last May, Shajarizadeh immediately fled the country with her son, going first to Turkey and then seeking asylum in Canada. Her trial, stemming from her first arrest, continued without her, and she was eventually sentenced to two years in prison in addition to an 18-year suspended prison term.
Soon after, Sotoudeh herself was arrested and convicted of "gathering and colluding to commit crimes against national security" and "insulting the Supreme Leader," according to IRNA, Iran's state-owned news service. The prominent human rights lawyer and women's rights defender was sentenced to 38 years in prison and 148 lashes.
Shajarizadeh blames herself for Sotoudeh's fate. "I'm no hero," she tells CNN, "I wasn't representing anyone. I was my voice... I was doing it for myself." She describes herself as an "ordinary woman" who never planned to be a women's rights activist -- she joined the White Wednesday movement because she was "was fed up of being inactive."
"My whole life I was complaining and expecting the other women's rights activists to do something for me, and I realized no, it's not going to happen. I have to do something for myself and I have to be my voice," she said.
'We feel betrayed'
Shajarizadeh can no longer return to Iran. She has been granted asylum in Canada with her son, and continues to work for human rights, while her husband also seeks asylum. Reflecting on her life and situation now, she asked that people separate the Iranian people from its government.
"Iranian women don't consider the Iranian regime their representatives or their government so every day they try to do something in protest," she said. "For example, at the time when I was going to school, we weren't allowed to wear something white. White socks were forbidden but all the kids were wearing white socks. We knew that they would punish us but we did it."
Iranian women, she says "are fighting for freedom in their daily life."
She also called on the rest of the world to stand in solidarity with the Iranian people, and criticized diplomats who respect Iranian laws that she says violate women's rights. "When European female politicians come to my country and obey compulsory hijab, which is a tool to repress women, and at the same time talk about human rights, we feel betrayed," she said.
Her example, she said, should encourage all women to speak out against injustice in their societies around the world. "Don't wait for anyone to hand you your rights," she said.
https://edition.cnn.com/2020/02/25/world/iranian-womens-rights-shapark-2020-geneva-prize-intl/index.html
--------
Turkish Women Set To Be Nuclear Energy Pioneers
Dilara Hamit
26.02.2020
Three Turkish women who have been studying at Moscow's National Nuclear Research University are preparing to become pioneers at Turkey's first nuclear power plant.
Aysel Karacak, 25, Merve Sahin, 24, and Ozlem Arslan, 28, were awarded scholarships under a joint project between Russia's state nuclear corporation Rosatom and Turkey's Ministry of Energy and Natural Resources to start working at the Akkuyu Nuclear Power Plant in the southern port city of Mersin.
The students told Anadolu Agency about the six and a half years of education they have received, being women and minorities in the field and opportunities the power plant will bring.
An intergovernmental agreement was signed between Turkey and Russia in May 2010 for the Akkuyu plant, which will consist of four VVER-1200 power units with a total installed capacity of 4,800 megawatts.
The students said they encourage all women to follow their dreams without hesitation, even when people say the job is not suitable for women.
Karacak, who went to Russia to study nuclear power plant design, says she has been getting her education in Russian and had no idea of the language until she moved there.
She said there should be no limitations on professions based on gender, noting she was one of the few women in her field.
"We are more successful than many male students here, and I am proud of myself as a woman.
"I suggest that young girls should not hesitate to come," she added.
Karacak said she questioned the lack of a nuclear power plant in Turkey after visits to several nuclear power plants in Russia.
Waiting for the day to start her new job at the Akkuyu plant, Karacak said the country needs nuclear energy and she is more than happy to play a role in bringing it to Turkey.
Women beautify everything they touch
Sahin, who is studying radiation safety at nuclear power plants, said she has been in Russia for five years now.
She said nuclear power is a cleaner and more viable form of energy compared with traditional sources.
"Fossil fuels used to generate electricity pollute the air, cause health problems and trigger global warming," she noted.
Sahin said it is upsetting to see that Russia's Chernobyl nuclear power plant accident in 1986 is the first thing that people think of, emphasizing that nowadays, all kinds of security systems have been developed for any accident scenarios.
"Do not mind anyone who tells you that physics or nuclear [energy] is not a field for women because a woman beautifies everything she touches," she added.
Built upon standards of 21st Century
Arslan, who graduated from the department of nuclear power plant design at the university, said people had warned her because by the time she would be back in Turkey, she would be in her 30s and it would be hard for her to start a family.
However, she said her parents were supportive of her and she therefore came to Russia taking into account all of the difficulties that may occur and the responsibilities.
"The people in Turkey should know that the power plant to be built in Mersin will be built upon the standards of the 21st Century," she said.
"I realized that this is not an ordinary building. There are multilayered security systems during the process. For example, a reactor cover weighing tons is checked to the finest detail during the production phase.
"First, it is checked whether there is the smallest gap left in the caps with gamma rays. Then tests are performed using high-frequency soundwaves, and people measure [the caps in] millimeters," she noted.
The groundbreaking ceremony for the nuclear power plant was held in 2018 and it is targeted to produce electricity by 2023.
The scholarship program, which started in 2011 for Turkish students to be employed at Akkuyu, had its first graduates in 2018.
More than 150 students are continuing their education within the framework of the program in Russia.
https://www.aa.com.tr/en/economy/turkish-women-set-to-be-nuclear-energy-pioneers/1745044
--------
Saudi Helpers Step up To the Tee at First Women's Golf Tournament
February 26, 2020
JEDDAH: Saudi volunteers will be able to write their names into the history books by helping at the first-ever Saudi Ladies International professional golf tournament.
Competition organizers are looking to recruit hundreds of people to help with the smooth running of the four-day event from March 19-22 at the Royal Greens Golf & Country Club in King Abdullah Economic City (KAEC).
Volunteers will have the chance to step inside the ropes and get up close with the sport's leading players, including Order of Merit winner Beth Allen, three-time Ladies European Tour (LET) winner Carly Booth and Solheim Cup hero Azahara Munoz, as they compete for $1 million in prize money.
The LET tournament in Saudi Arabia will mark the first time that professional female golfers have played competitively in the country, and comes hot on the heels of last month's triumphant men's equivalent, the Saudi International, won by Northern Ireland's Graeme McDowell.
Online registration is now open for the debut event's volunteers' program.
Volunteers will be briefed before the event and receive a tournament uniform to wear while they work.
Marshals, including traveling, static, crossing and transitional positions, will be required for the tournament. Mobile scoreboard operators and walking scorers are among other roles that will offer volunteers a unique insight into the world-class event.
Mike Oliver, event director at Golf Saudi, said: "For the first year of this event, we are offering volunteers a chance to be part of history, working at the first professional women's golf event to be held in the country.
"Volunteers, from both Saudi Arabia and abroad, will play a key role in helping us deliver a successful inaugural tournament," he said.
A certificate of service will be presented to volunteers at the completion of the tournament.
As a bonus, volunteers will have their photo taken with the 2020 ladies winner during the prize presentation — a moment that will be seen by a worldwide audience via live broadcasts.
https://www.arabnews.com/node/1633281/sport
--------
Saudi Sports for All Federation Inaugurates Women's Football League
February 25th, 2020
Community sports for female athletes in Saudi Arabia took another giant step forward after The Saudi Sports for All Federation (SFA) on Monday inaugurated the official Women's Football League (WFL) at a launch event in Riyadh.
It is the latest initiative led by HRH Prince Khaled bin Alwaleed bin Talal Al-Saud, president of Saudi Sports for All Federation (SFA), aimed at promoting grass roots sports activities for budding female, as well as male, athletes across the Kingdom.
"The development of the WFL came about because we understood there was a need for community level football for women," Prince Khaled told Arab News. "This community league is the first activation of many different community level sports for women, and it will serve as a great model in terms of league infrastructure and inclusion metrics contributing to Saudi Vision 2030, and the Quality of Life program. The WFL, targeting community level players and community sports groups."
Under the SFA initiative umbrella and fully funded by the Federation, the WFL is a nationwide community level league for women aged 17 and above that will in its first season take place in Riyadh, Jeddah, and Dammam, with more cities potentially joining in due course.
With a prize of SR500,000 at stake, the WFL will consist of preliminary rounds taken place across the three cities to establish regional champions. The winners then progress to a knockout competition, the WFL Champions Cup, to determine the national champion of Saudi Arabia with the date of the final to be announced later in the season.
"With the boundless support of His Majesty King Salman, HRH Crown Prince Mohammed bin Salman and Chairman of the General Sports Authority, HRH Prince Abdul Aziz bin Turki Al-Faisal, the commencement of the Saudi Women's Football League is one more major leap forward for the future of our country, our health, our youth, and our ambitions to see every athlete be recognized and nurtured to their fullest capability," said Prince Khaled.
Women's football is one of the world's fastest growing sports and the 2019 Fifa Women's World Cup raised its profile to unprecedented levels, inspiring greater participation across the globe.
Inspiration for female footballers at grass roots level has come from closer to home, Prince Khaled told Arab News.
"I think a big inspiration for young Saudi women to get involved in community level football is the Saudi Greens Team," he said, referencing an all-female team established by the SFA. "The Saudi Greens placed second in the Global Goals World Cup last year, and this was a huge moment for young female athletes in the Kingdom. The tournament, staged alongside the 2019 United Nations General Assembly, was something the Greens Team worked toward by initially competing and ranking in Copenhagen. That round then qualified the Saudi Greens for the New York finals. The Sports for All Federation sponsored the team, and I think if anything is motivating young Saudi women to go for community football, its seeing Saudi girls get out there and represent the country."
In the long term, Prince Khaled also sees the WFL is a pivotal initiative of the Saudi Sports for All Federation and and major driver behind the realization of Vision 2030 for a healthier and more active society.
SFA Managing Director Ms. Shaima Saleh Alhusseini believes the WFL launch will significantly improve the visibility of women in sports as well as prioritize their fitness, health, and wellness.
"Empowering women comes through positive and proactive programs like the WFL that have been conceptualized to continue to have lasting impact on health, fitness, and wellbeing," she said. "The SFA, committed to putting women at the forefront of our mission to grow Saudi Arabia's healthy and active community, continues to engage public and private sector stakeholders to realise this aim together."
Ms. Alhusseini said that this was a qualitative shift in women's sports in the Kingdom, and that the WFL will also contribute numerous technical and administrative gains as well as increase experiences.
"Spearheaded by SFA Director of Sports Development Ms. Sara Aljawini, the SFA team members who structured the WFL studied all aspects of the new League, conducting continuous workshops to ensure the wider WFL infrastructure and lasting impact metrics," she added.
The SFA has ensured that the football pitches are ready for the start of the WFL in March 2020, with all-female organizational and technical teams in place to manage the various committees working towards delivering the League. The WFL infrastructure teams will address and complete administrative requirements, refereeing, and technical and medical issues.
A significant boon of the overall WFL programme is that coaching and refereeing courses are planned to further develop the country's infrastructure for women in sports. The SFA's investment in the WFL includes both women's coaching and women's refereeing training to fully flesh out the far-reaching program's potential and maintenance.
At a later stage, SFA and WFL will be communicating details on additional leagues and football events and festivals targeting girls aged 16 and below. These competitions, under the banner of "Beyond Football", will focus on building a strong base for future participation at community level, beginning with girls aged five.
https://www.albawaba.com/sport/saudi-sports-all-federation-inaugurates-women%E2%80%99s-football-league-1341350
--------
4 Saudi Women among 8 Confirmed Cases of Coronavirus In Bahrain
February 25, 2020
JEDDAH — Bahrain's Health Ministry on Tuesday announced six new coronavirus cases in the country, bringing the total number of infections to eight, reported Bahrain News Agency.
According to the report, two Bahraini nationals, one male and one female, and four Saudi Arabian female nationals who came from Iran tested positive for the virus upon their arrival in Bahrain International Airport.
Two Bahraini nationals, one male and one female, and four Saudi Arabian female nationals who came from Iran tested positive for the virus upon their arrival in Bahrain International Airport. They were immediately taken to a health center where they are quarantined and will be treated, BNA said.
"The ministry indicated that the infected individuals had arrived in Bahrain from Iran before the Civil Aviation Authority's decision to suspend flights from Dubai International Airport for 48 hours.
Those accompanying the infected travelers were also quarantined as a precautionary measure after they tested negative for the virus.
Meanwhile, Saudi Arabia's Health Ministry said on Tuesday that it is coordinating with its Bahraini counterpart to treat the four infected Saudi nationals. The four women will remain in Bahrain until they are cured, Al Arabia English reported.
The ministry is taking all appropriate and preventative measures to test all passengers arriving from infected countries, the news agency reported. The news agency also said the ministry urged all citizens and residents who are experiencing symptoms of the virus to isolate themselves, avoid close contact with others and follow instructions given to them by the medical team. — Agencies
http://saudigazette.com.sa/article/589701/World/Mena/4-Saudi-women-among-8-confirmed-cases-of-coronavirus-in-Bahrain
--------
URL: https://www.newageislam.com/islam-women-feminism/gothenburg-mosque-under-fire-calling/d/121159
New Age Islam, Islam Online, Islamic Website, African Muslim News, Arab World News, South Asia News, Indian Muslim News, World Muslim News, Women in Islam, Islamic Feminism, Arab Women, Women In Arab, Islamophobia in America, Muslim Women in West, Islam Women and Feminism