Age Islam News Bureau
19 Nov 2012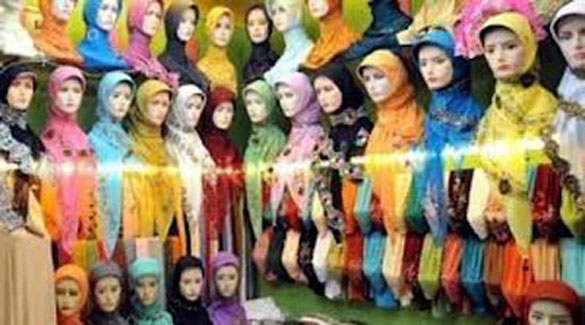 • Wearing Hijabs and Sending Women Back To the Middle Ages Not Our Path: Kazakh President
• Saudi Women Get U.S. 'Victim Visas' Following Family Disputes
• Saudi Arab: There Is No Real Obstacle in Issuing Ids for Women
• Two girls arrested for Facebook post on Mumbai shutdown granted bail
• Eighth Nizam of Hyderabad's daughter stakes claim to Rs 2,000 crore assets
• Star student Sitara Akbar of Pakistan: A teen icon like Malala
• Indian Wives seek UK lawyer's help to free 2 'PoWs' from Pak jail
• More Women in Saudi Arabia Working From Home as Entrepreneur
• 'Expanding lives' for African women
• Saudi Arabia's Haifa Fears Rise of Islamic Conservatives May Impact Filmmaking
• Unemployed nurses in Bangladesh threaten to go for fast-unto-death
• Bangladeshi Security guard accused of sexually molesting Philippine woman in flat
• Arab Women Leadership Forum opens in Dubai
Compiled by New Age Islam News Bureau
Photo: Wearing Hijabs and Sending Women Back To the Middle Ages Not Our Path
URL: https://www.newageislam.com/islam,-women-and-feminism/new-age-islam-news-bureau/good-looking-girls-on-facebook-are-attempting-to-infiltrate-palestinian-computers/d/9347
---------------
Good-Looking Girls on Facebook Are Attempting To Infiltrate Palestinian Computers
Sexy Girls on Facebook in New Warning
Terrorists fear Israeli agents attempting to infiltrate computers
TEL AVIV – The Gaza-based Islamic Jihad terror group is apparently concerned Israeli intelligence agents disguised as good-looking girls on Facebook are attempting to infiltrate Palestinian computers.
During intense fighting in Gaza that reportedly has most jihadist leaders in hiding, members of the Islamic Jihad's so-called military wing, the Al Quds Brigades, found time today to post a lengthy article on their official website warning Palestinian Facebook users of potential Israeli intelligence hackers.
Islamic Jihad has taken responsibility for firing hundreds of rockets from the Gaza Strip aimed at nearby Jewish population centers. It also claimed credit for firing at least one Fajr-5 long range missile toward Tel Aviv.
"How do you know if Mossad became your friend on Facebook," is the title of the piece, posted today at Saraya.ps, Islamic Jihad's main website. In Arabic, Saraya al-Quds means the Al Quds Brigades.
"Do you feel proud because your Facebook account boasts 5,000 friends? Well, here are ten steps to expose whether intelligence agents transplanted themselves inside your friends list," reads the article.
The piece warns of friend invites from Facebook users who are unknown, "especially from a beautiful girl."
The website warns Palestinian Facebook users to be weary of "pretty girls" whose accounts have small pictures that cannot be enlarged.
"This is evidence," Islamic Jihad writes, "that the photos were taken from the Internet and that these pictures are not original and are not from the girl who sent you the invitation."
Also to be avoided, lectures the terror group, are beautiful female Facebook users with three or less photographs with "sexual comments" posted on those photos from "young, excited teenage [boys]" and yet the girl's responses do not exceed the words "thank you."
Islamic Jihad adds, "Do not forget, a large number of Facebook friends does not really reflect your popularity ever."
With additional research by Joshua Klein.
http://www.wnd.com/2012/11/sexy-girls-on-facebook-in-new-warning/
---------------
Wearing Hijabs and Sending Women Back To the Middle Ages Not Our Path: Kazakh President
19.11.2012,
Wearing Hijabs is not in line with Kazakh traditions, Newskaz.ru reports, citing President Nazarbayev as saying at a congress of the Nur Otan political party's youth wing November 16.
"We shouldn't let Kazakhstan's people move backwards. We [,the Kazakhs,] are Sunni Muslims and we have a path of our own. Wearing Arabic hijabs and sending our women back to the Middle Ages is not our path. (…) Elderly ladies have their own well-established preferences in terms of clothes and head covers. Let them decide for themselves what to wear. However, young people wouldn't turn to wearing Hijabs out of their own choice if they weren't instructed to (…)", President believes.
Tengrinews.kz earlier reported that Lama Sharif Kairat Kayirbekuly, Chairman of the Kazakhstan's Agency for Religion, does not consider hijab a major attribute of being a Muslim.
"Wearing a hijab is not an indicator of whether a person is Muslim or not (…) It is more of an attribute of the Arabic culture, bedouin culture. Allowing Kazakh women to wear a hijab, to some extent we are losing our national identity", he said June 8, 2011.
"Concerning our country's girls, women: Kazakhs have beautiful national clothes, but it is not hijab. We should not wear Afghanistan's national clothes. Our people, our women have to dress according to traditions of our ethnicity," Kazakhstan's Supreme Mufti Absattar Derbissali was widely cited as saying at the first forum of religious experts of Kazakhstan in Astana in November 2011.
In March 2011 President Nazarbayev already commented on wearing hijabs and burqas. "I've always been against Hijabs and burqas. Kazakh women have never worn them or kept their faces hidden (…) we respect Islam and its followers, but we have a path of our own", he said at the time.
http://en.tengrinews.kz/religion/Wearing-Arabic-hijabs-and-sending-our-women-back-to-the-Middle-Ages-is-not-our-14583/
---------------
Saudi Women Get U.S. 'Victim Visas' Following Family Disputes
18 November 2012
Five Saudi women living in the United States replaced their student visas with "victim visas" following disputes with male members of their families.
The women, whose change of status renders them ineligible for financial support from Saudi Cultural Bureau in Washington DC, were accompanying their families to the United States and went to court after they got into fights with their husbands or brothers, the Saudi edition of al-Hayat newspaper quoted a source from the bureau as saying.
One of those women, the source explained, is a student currently living with her children in an orphanage because of a dispute with her husband.
After the American court with which she filed a complaint ruled in her favor, she was not able to go back to her husband and since there were no guarantees of her safety if she returns to Saudi Arabia, she preferred to stay in the United States. She is now financially supported by the American government.
The source noted that the financial assistance granted to those girls, who are usually students themselves, varies from one case to another. It could come in the form of a job, an academic scholarship, or food and shelter as in the case of the orphanage.
The source said the embassy and the cultural bureau do their best to reach a peaceful resolution, but these efforts do not usually bear fruit.
"Many of the girls argue that they do not feel safe going back to their husbands or to their families in Saudi Arabia, so they opt for giving up their student visas and the financial assistance provided by the Saudi government and apply for the victim visa which allows them to stay in the U.S. and receive assistance," the unnamed source said.
Women and children living in the U.S. are eligible for a victim visa under certain conditions, the most important of which is having been victims of specific crimes and having those crimes proven and reported.
The most common of the 26 crimes listed by the victim visa regulation are sexual harassment, rape, abduction, human trafficking, and torture.
http://english.alarabiya.net/articles/2012/11/18/250399.html
---------------
Saudi Arab: There Is No Real Obstacle in Issuing Ids for Women
ALAA ALGHAMDI
19 November 2012
It goes without saying every modern country must have a way of keeping track of its citizens, whether for the purpose of employment, medical services provision, taxation, or security.
Current Saudi law states every person over the age of 15 must have a valid national identity card — this should not be an inherently challenging idea.
Why then, is there so much controversy over the fact that this requirement is now extended to women?
The requirement to carry government ID is not so much a privilege as it is a basic social requirement.
As societies become more complex and international security concerns increase, the extent to which governments 'keep tabs' on all of us can appear oppressive; it can truly seem like there is no such thing as privacy anymore.
For the most part, we accept a degree of surveillance and control in exchange for living in a safe, stable and prosperous society. So what message does it send, if we were to excuse the female half of the population from this requirement? It may be construed as a matter or courtesy or of the utmost belittlement.
On the one hand, this attitude may imply women are above both suspicion and need. On the other, exclusion from the requirement to be formally identified also negates a woman's right to the services the state provides. Of course we could argue it does not imply either of those, but rather the fact that women are taken care of — administered, as it were — through an entirely different system, one of tradition and familial ties.
This, I think we will find, is at the heart of the opposition to the new legal requirement. There is a worry it will upset the way things are traditionally done, and somehow remove women from the protection and guardianship of their families. Of course, this is a kind interpretation.
There may also be darker connotations about the perceived need to keep women under male control — but let us assume for the moment, it is a matter of loss of guardianship.
As social agents with their own ID, are women cast adrift and forced to fend for themselves in the world?
It depends entirely on how much we trust our state, our families, our society — and our women. If we believe the state acts fairly and adherence to tradition cannot be forced, then there cannot be any possible problem with issuing ID cards to women.
If we believe women are strong in their own identity, there is no possible way this measure will materially alter their social role and behavior.
If we do not have trust, we must look carefully at why that might be. We must fix what is wrong — not try to obscure it through antiquated attitudes and restrictions.
Of course, having their own ID has a deeper symbolism for women. It represents their freedom; their social power as individuals. These are all excellent reasons to celebrate and uphold the current shift in legislation.
There is a danger however, in overstating these profound issues and neglecting the fact that the issuing of government ID for all adult members of society is, or should be, a simple matter of course.
alaaghamdi@yahoo.com
http://www.arabnews.com/there-no-real-obstacle-issuing-ids-women
---------------
Two girls arrested for Facebook post on Mumbai shutdown granted bail
19 November 2012
Mumbai: Two Mumbai girls have been arrested and were ordered by a court to 14 days in jail for their Facebook post on the shutdown of Mumbai on Sunday, the day of Shiv Sena supremo Bal Thackeray's funeral. They were bailed within hours of being arrested after paying two Rs. 15,000 bonds. (Your Say)
One of the girls, Shaheen Dhada, had written on her Facebook page, "We should remember Bhagat Singh and Sukhdev", two martyrs of India's independence struggle. Her friend Renu had "liked" the post.
Police arrested both the girls under Section 505 of the Indian Penal Code for "statements creating or promoting enmity, hatred or ill- will between classes."
Full report at:
http://www.ndtv.com/article/world/two-girls-arrested-for-facebook-post-on-mumbai-shutdown-granted-bail-294239
----------
Eighth Nizam of Hyderabad's daughter stakes claim to Rs 2,000 crore assets
Nov 19, 2012
HYDERABAD: Niloufer, the daughter of Mukarram Jah, the eighth Nizam of Hyderabad, said on Sunday that she will go to court if she is denied her rightful share in ancestral property. Estimates suggest that she is taking claim on property worth Rs 2,000 crore.
Niloufer, who recently turned 21 and is in Hyderabad with her mother, Manolya Onur, the Nizam's third ex-wife, said she has not spoken to her dad for around two years due to legal wrangles.
Full report at:
http://timesofindia.indiatimes.com/india/Now-Nizams-daughter-stakes-claim-to-Rs-2000-crore-assets/articleshow/17274088.cms
------------
Star student Sitara Akbar of Pakistan: A teen icon like Malala
By Sonya Fatah | Nov 19, 2012
Sitara Brooj Akbar, a 12-year-old girl, hails from Rabwah, a town of 70,000 people, some 180km west of Lahore. Last year the young Sitara achieved a noteworthy academic record: she became the first girl of her age to clear the Cambridge University Ordinary Level examinations in three subjects: English, Urdu and Physics. She was nine when she cleared Chemistry, and 10 years of age when she cleared Biology.
Sitara claims two local icons. For style and female power, she emulates Benazir Bhutto, wearing a light scarf casually over the back of her head and across her shoulders. I am 'daughter of the east' she says, taking on a title accorded to Bhutto. Her intellectual hero is Abdus Salam, a Pakistani physicist who won the country's only Nobel Prize (in Physics) in 1979 but was treated quite shabbily, to say the least.
Full report at:
http://timesofindia.indiatimes.com/world/pakistan/Star-student-Sitara-A-teen-icon-like-Malala/articleshow/17273752.cms
----------
Indian Wives seek UK lawyer's help to free 2 'PoWs' from Pak jail
By Yudhvir Rana
Nov 19, 2012
AMRITSAR: Families of two Indian prisoners of war (PoWs) held by Pakistan since 1971 conflict have approached a UK-based rights activist, seeking help to get them released from jail.
Advocate Jas Uppal, a UK-based activist, told TOI over phone from London on Sunday evening that the families of Mangal Singh and Ram Das have claimed that the duo was being held in Pakistan's Kot Lakhpat jail since 1971 Indo-Pak war.
She said the matter came to light when an Indian prisoner - Rafi-u-Deen - was released after 24 years from Kot Lakphat jail on September 30. Rafi-u-Deen produced a list of 13 fellow prisoners, who despite having completed their sentences several years ago, continued to be unlawfully detained in Kot Lakphat jail.
Full report at:
http://timesofindia.indiatimes.com/india/Wives-seek-UK-lawyers-help-to-free-2-PoWs-from-Pak-jail/articleshow/17274697.cms
-----------
More Women in Saudi Arabia Working From Home as Entrepreneur
19 November 2012
Women in Saudi Arabia increasingly choose to quit their jobs and stay home. Not primarily to be housewives but to work as entrepreneurs.
"I love being at home as a homemaker and an entrepreneur," said Khadija Madni, a catering business owner who works from home. Madni previously worked in a private school as a preschool teacher. The daily obligations at work were keeping her from her commitments toward her children at home. "I would be very tired, and I was not able to give them the attention they deserved," said Madni.
Full report at:
http://www.arabnews.com/more-women-working-home
---------------
'Expanding lives' for African women
November 18, 2012
A Peace Corps mission in Niger about 25 years ago kindled a desire in Leslie Natzke to do more for girls and women of the West Africa republic.
Natzke, a teacher, was startled that few girls attended junior high or high school in Niger and many were married off before turning 18 by impoverished families to collect dowries.
There is still plenty of despair there. Earlier this year, the charity Save the Children ranked Niger as the worst place in the world to be a mother, replacing Afghanistan at the bottom.
Natzke, of Albany Park, spent years thinking about and planning ways to help. In 2008 she launched Expanding Lives, a nonprofit that brings teenage and young adult women from Niger to Chicago each summer and immerses them for up to six weeks in English, computers, leadership, health, entrepreneurship and basic finance.
Full report at:
http://www.suntimes.com/news/garcia/16434825-452/expanding-lives-for-african-women.html
---------------
Saudi Arabia's Haifa Fears Rise of Islamic Conservatives May Impact Filmmaking
11/18/2012
Stuart Kemp
DOHA, Qatar -- Saudi Arabian filmmaker Haifa al Mansour is about to do something she has spent her entire working life having done to herself by others.
The filmmaker, whose passion for cinema has seen her overcome obstacles that would have deterred most in her own country to become the very first woman to shoot a feature there, is sitting on the Doha Tribeca Film Festival's Made in Qatar jury.
Mansour told The Hollywood Reporter that she will likely pay particular attention to any female filmmaking efforts in the festival's sidebar dedicated to the endeavors of local filmmakers.
Full report at:
http://www.hollywoodreporter.com/news/saudi-arabias-haifa-al-mansour-391787
---------------
Unemployed nurses in Bangladesh threaten to go for fast-unto-death
19 November 2012
Bangladesh Diploma Bekar Nurses' Association yesterday threatened to go for fast-unto-death in front of Jatiya Press Club from November 26 if their demand to appoint the unemployed nurses is not met by November 25.
Leaders of the association at a rally in front of Central Shaheed Minar demanded appointment of 5,000 unemployed nurses as per the prime minister's announcement, said a press release.
As the announcement was not implemented in the last three years, age limits for government job of more than 3000 unemployed nurses have already been crossed, they said.
http://www.thedailystar.net/newDesign/news-details.php?nid=258100
---------------
Bangladeshi Security guard accused of sexually molesting Philippine woman in flat
November 18, 2012
Dubai: A security guard has been accused of convincing a woman to wait for a taxi in a flat where he trapped her and sexually molested her.
Prosecutors charged the 30-year-old Bangladeshi, M.R., with locking up the Filipina housemaid in a high rise tower and assaulting her.
The woman claimed that the man told her to wait for her taxi in a hall which he described as a 'waiting hall' before he locked the door from inside.
"No sir I did not molest her. She is lying and fabricating lies against me… and there was another man with her in the flat," claimed M.R. when he appeared before the Dubai Court of First Instance.
Full report at:
http://gulfnews.com/news/gulf/uae/crime/security-guard-accused-of-sexually-molesting-woman-in-flat-1.1106728
---------------
Arab Women Leadership Forum opens in Dubai
November 19, 2012
Dubai: His Highness Shaikh Mohammad Bin Rashid Al Maktoum, Vice President and Prime Minister of UAE and Ruler of Dubai, opened on Monday the third edition of the Arab Women Leadership Forum in Dubai.
The event is organised by the Dubai Women Establishment, chaired by Shaikha Manal Bin Mohammad Bin Rashid Al Maktoum.
Full report at:
http://gulfnews.com/business/general/shaikh-mohammad-opens-arab-women-leadership-forum-1.1106940
---------------
URL: https://www.newageislam.com/islam,-women-and-feminism/new-age-islam-news-bureau/good-looking-girls-on-facebook-are-attempting-to-infiltrate-palestinian-computers/d/9347