New Age Islam News Bureau
21 Dec 2018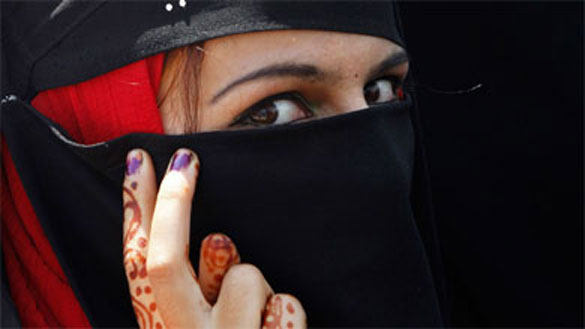 Officials said that a hijab is not allowed in the exam to prevent students from cheating. Image used for representational purposes only. (Photo: Reuters)
------
• Nepali Women Yearn To Learn From UAE to Usher In Change
• Pope Francis Meets With Nobel Peace Prize Winner Nadia Murad
• Nearly 400 Muslim Child Marriages Okayed In Five Years? Terengganu Stats Alarming, Says Sisters in Islam
• How a Young Muslim Woman Who Fled Terror In Myanmar Made It To College
• Malaysia: Women's Ministry Mulling Mandatory HIV Test for Non-Muslim Couples before Marriage
• Egypt Wins 2nd Place in Global Arab Women's Studies Award
• Pakistan Lags Behind In Women's Rights, Says PTI Leader
• Yemen Must Include Women In Peace Talks
Compiled by New Age Islam News Bureau
URL: https://www.newageislam.com/islam-women-feminism/goa-woman-allowed-appear-net/d/117224
--------
Goa Woman Not Allowed To Appear For NET After She Refuses To Take Off Hijab
Dec 21, 2018
A 24-year-old woman on Thursday accused officials conducting the National Eligibility Test (NET) in Panaji of not allowing her to appear for the examination after she refused to take off her 'hijab' (head scarf).
Officials, however, maintained that hijab and other accessories are not allowed to prevent cheating and also from the security point of view. Safina Khan Soudagar alleged that when she arrived at the examination centre in Panaji on December 18, the supervisor there asked her to remove her hijab.
When she refused to do so, he did not allow her to sit for the test, Soudagar told mediapersons here.
NET is conducted by the University Grants Commission (UGC) to determine eligibility for college and university level lecturership and for the award of junior research fellowship. Soudagar said she reached the exam centre at 1 pm on Tuesday and stood in the queue when the process of checking the identity cards (IDs) of candidates began.
"When I reached the inspecting official, he looked at my documents, he looked at me and asked me to remove my head scarf, saying I will not be allowed inside the examination hall with it," she said.
The woman then told the official that she cannot remove the scarf as it is "against her religious belief".
"He began arguing with me and consulted a senior woman official who was standing next to him," she said.
Soudagar said the male supervisor then asked her to show her ears so as to confirm her identity on the photograph. "I eventually agreed to show my ears and asked the officials to direct me to the washroom so that I could re-adjust my hijab. They refused to direct me towards the washroom. Removing hijab in public is against my Islamic belief because there were lot of men around," she said.
She said the officials then informed her that she would will not be allowed to enter the examination hall with her head scarf. "It was a question whether I wanted to take the exam or not. So I chose to keep my faith above the (academic) loss," she said.
Soudagar said while applying for the exam earlier, she had gonethrough the rules on the website concerned and it nowhere mentioned the dress codes. "There was nothing regarding hijab or dress code," she said.
When contacted, a senior official of the Directorate of Higher Education in Panaji, which assists the UGC in conducting the exam here, said "not just hijab, even 'mangalsutra' (sacred necklace worn by married Hindu women) or any other accessory is not allowed in the examination centre to prevent cheating and also from the security point of view".
"There are stringent guidelines by the UGC to ensure that the examination is held in a very transparent manner and the officials were only following it," he added.
https://www.hindustantimes.com/india-news/goa-woman-not-allowed-to-appear-for-net-after-she-refuses-to-take-off-hijab/story-EYJ8WilBp3ferI5bXr99DN.html
--------
Nepali Women Yearn To Learn From UAE to Usher In Change
December 20, 2018
Kathmandu: Aliah Ahmad is a final year public health student in Kathmandu. She claims she is the only girl in traditional Muslim attire in her class. "I am proud of it. My parents inspire me to study, but not everyone is as lucky as I am."
As one of the volunteers with the Nepal Muslim Women Welfare Society (NMWWS) attending a global conference organised by the Abu Dhabi-based World Muslim Communities Council in the Nepali capital earlier this week, Ahmad said, "Illiteracy of parents is the biggest challenge for Muslim girls in Nepal. Not only are they denied a chance to receive education, they also lack opportunities to pursue their dreams."
Her words are echoed by many others. Nazbul Khan, a Muslim women's activist from Udaipur, adds to the list of woes. "Muslim women here not only lack education but also freedom. They are victims of child marriage, dowry, different forms of violence and Talaq."
NMWWS chairperson Seema Khan said despite efforts to promote religious pluralism, Muslims, who make up for less than five per cent of Nepal's population, remain marginalised, with the scourge of gender inequality making matters worse for them.
In 2008, the over 200-year-old monarchy in the Hindu kingdom was abolished, paving the way for a secular republic, a decision that was reinforced in the new Constitution promulgated in 2015.
But grass roots leaders claim change on the ground is yet a reality. It is in this context that the WMCC conference's takeaways gained significance, as the UAE showcased the key role played by its women in all walks of life.
Shama Al Daheri, director of the General Authority of Islamic Affairs and Endowments, said thanks to the vision of the UAE's Rulers, women today are encouraged to take up the most prominent positions in the government, with the result that two-thirds of not just university graduates but also government employees and council of ministers comprise women. "In the early days, a woman bore great responsibility at home. In her capacity as wife, she was also a homemaker and a teacher to her sons and daughters. After the establishment of the UAE in 1971, her position was further enhanced. The paradigm shift has made the UAE woman a cornerstone in the country's development. She is now a role model to be followed, not just in the region but also in other parts of the world," noted Shama.
WMCC's top representatives Dr Muhammad Bechari and Dr Ali Al Nuaimi, who have been working closely with NMWWS, also outlined the UAE's experience in empowering women, a feat that was acknowledged by Nepal Vice-President Nanda Bahadur Pun who inaugurated the forum.
Dr Al Nuaimi said, "No nation can achieve its real objective of development unless it empowers its women. We in the UAE want to show the world the achievements we have realised by engaging women from all over the world."
Local Nepali leaders hope to learn from the example. Bina Kumari Shrestha, deputy mayor of the Gorkha Municipality, said, "We will take the inputs we have gathered here to raise awareness in our villages."
Fellow deputy mayor Naseema Banu of Dhanpal, said, "More programmes such as these must be held, but at the grass roots level."
Helen B. Sherpa of World Education, which works with the Nepal Government for the education of the masses, said, "This meet will hopefully help build capacities among women. Inclusive development is a must to achieve national goals."
https://gulfnews.com/uae/nepali-women-yearn-to-learn-from-uae-to-usher-in-change-1.61026080
--------
Pope Francis Meets With Nobel Peace Prize Winner Nadia Murad
By Courtney Grogan
Dec 21, 2018
Pope Francis met Thursday with the 2018 Nobel Peace Prize winner Nadia Murad, a survivor of ISIS enslavement and an advocate for human rights and persecuted Iraqi minorities.
Murad, who first met Pope Francis at a weekly general audience last year, returned to the Vatican for a private audience with the pope after receiving the Nobel prize in October for her "efforts to end the use of sexual violence as a weapon of war and armed conflict."
Militants of the Islamic State captured Murad four years ago after killing 6 of her brothers, her mother, and more than 600 Yazidis in her Iraqi village. She was enslaved, along with most of the young women in her community, and repeatedly raped by the ISIS fighters.
After being sold as a slave multiple times and suffering both sexual and physical abuse, Murad escaped ISIS at the age of 23 after 3 months of captivity. Now based in Germany, she has used her freedom to become an advocate for the thousands of Yazidi women who remain missing or in ISIS captivity.
The U.S. State Department declared in 2016 that Yazidis, along with the Christian and Shia Muslim religious minorities, were victims of a genocide perpetrated by the Islamic State.
During their meeting Dec. 20, Murad presented Pope Francis with an Italian copy of her memoir, "The Last Girl." Murad is the first Iraqi to be awarded the Nobel Peace Prize.
Last week, Murad stressed in her Nobel Peace Prize Lecture that religious minorities are still at risk in Northern Iraq.
"After the genocide, we received international and local sympathy, and many countries recognized this genocide, but the genocide did not stop. The threat of annihilation still exists," she said Dec. 10.
"Despite our daily appeals since 2014, the fate of more than 3,000 children and women in the grip of ISIS is still unknown. Young girls at the prime of life are sold, bought, held captive and raped every day," Murad said.
"It is inconceivable that the conscience of the leaders of 195 countries around the world is not mobilized to liberate these girls," she added.
Pope Francis has been outspoken in his sympathy and support for the Yazidi population after their genocide.
The pope told a delegation of Yazidi refugees earlier this year, "The international community cannot remain a silent and inert spectator in the face of your drama."
"I raise my voice in favor of Yazidi rights, above all the right to exist as a religious community," Pope Francis said in January 2018.
"It is unacceptable that human beings be persecuted and killed because of their religious affiliation! Every person has the right to freely profess his religious beliefs without constraints," he said.
https://www.catholicnewsagency.com/news/pope-francis-meets-with-nobel-peace-prize-winner-nadia-murad-18405
--------
Nearly 400 Muslim Child Marriages Okayed In Five Years? Terengganu Stats Alarming, Says Sisters in Islam
20 December 2018
By Raynore Mering
PETALING JAYA, Dec 20 — Women's rights group Sisters in Islam (SIS) said today that the number of applications for child marriages in Terengganu from 2013 to 2018 is clear evidence that "injustice and abuse is being perpetuated in the state".
SIS said it was alarmed by the Terengganu Shariah Court Chief Judge Wan Mohd Zakri Wan Mohd's revelation today that there were 444 applications for child marriages between 2013 to 2018, and on top of that, 397 of them were approved.
"According to the Terengganu Shariah Court Department, the applications involved 522 children. SIS is extremely concerned that these numbers tells us that at least 125 of underage marriages in the state involved marriages to spouses who are much older in age.
"We are also worried that more than half of the approved applicants were below the age of 15, with up to 10 applications at the age of 13 approved," SIS said in a statement.
Despite calls to raise the marrying age throughout the country, Wan Mohd Zakri today said the minimum age limit for Muslims in Terengganu to marry remains at 18 years for men and 16 for women, as stipulated under Section 8 of the Family Law (Terengganu) Enactment 2017.
However, he said the court will not easily allow applications for underage marriages except for three factors, namely if the girl had delivered a child, was pregnant, or the couple had pre-marital sex.
Reacting further to Wan Mohd Zakri's comments, SIS said it was surprised that the department had approved applications simply on the basis that the couple was "in love" and that the child "wanted" to marry, involving 252 applications.
"We strongly believe that the court has an obligation to ensure that the needs, rather than the wants, of the child is prioritised, and the primary need for all children should be education," it said.
It added that it was alarmed by Wan Mohd Zakri's claim that 20 applications were approved in order to alleviate the "burden of the family", 11 because the child had dropped out of school and experienced personal issues and one because of rape.
These cases, it said, indicated that the child may have been forced into marriage and was unwillingly exposed to harm.
Moreover, SIS pointed out that the Shariah chief judge had also claimed that 72 applications were approved because of pregnancy out of wedlock, and that 39 applications were approved on the basis that the child had previously had sex.
"We find this to be a dangerous trend as it side-lines the serious issue that sex (consensual or not) with an underage child is considered a statutory rape crime in our country, and that the adult perpetrator is allowed to bypass the law simply by marrying his victim.
"It is important that the court protects children who are unable to understand the meaning of consent and the harms associated with sex, especially when coaxed by a much older person," SIS said.
SIS also said it was dismayed that the Wan Mohd Zakri intends to allow underage marriages to continue in the state despite clear evidence of harm and danger to the child.
It urged the Terengganu Shariah Court Department to prioritise both the education and protection of children by raising the age of marriage for all children in the state to 18 years with no exceptions.
https://www.malaymail.com/s/1705008/nearly-400-muslim-child-marriages-okayed-in-five-years-terengganu-stats-ala
--------
How a Young Muslim Woman Who Fled Terror In Myanmar Made It To College
December 20, 2018
CHITTAGONG, BANGLADESH: On the first day of the school year at the Asian University for Women in southern Bangladesh, groups of teenage girls in skinny jeans, sleeveless tops and T-shirts chattered, their laughter carrying through the sticky air.
Formin Akter, 19, stood in a corner by a row of suitcases, facing away from the students who seemed so modern and full of confidence. Wearing a tunic and pants that hung loosely on her, she nervously adjusted a brown georgette scarf that kept slipping from her head.
When she finally saw someone she recognized, she beamed, holding a card tied to red straps around her neck.
"Look at my identity card!" she said, flashing it like a gold medal.
Getting a college ID may have been a mildly exciting rite of passage for other new students. For Formin, a stateless Rohingya Muslim from Buddhist-dominated Myanmar, it meant the world.
She had spent most of her life dreaming about this moment. But as a Rohingya in Myanmar's apartheid-like Rakhine State, her goal of attending university had been thwarted. Hundreds of thousands of Rohingya have fled a campaign of arson, rape and killing by the military since August 2017, and many of those still in the country are languishing in de facto internment camps.
Raised by a father who wanted more than his peasant's life for his daughters, Formin and her older sister, Nur Jahan, had defied those in their community who believed education was wasted on women. They were the only two girls from their village ever to finish high school.
Back then, the sisters made a pact. Someday, they would go to university together.
In her dorm room, Formin moved her belongings into a cupboard: a small pile of clothes, a dinner plate, a steel pot. Her Burmese-English dictionary – one of the few things she had taken with her when fleeing Myanmar a year before – was tucked on the top shelf. On one of the walls of the dorm, someone had painted a quote from the Harry Potter series: "It does not do to dwell on dreams and forget to live."
A few hours to the south, in the world's largest refugee camp, her sister Nur Jahan spends her days teaching children and trying to forget how close she was to realize her childhood dream. This year, her parents pushed her to accept a young man's proposal; now, she is married and pregnant, and must stay at home.
Formin said her sister calls her every day. Formin is excited about college, but she knows she's a constant reminder of the education that her sister, and hundreds of thousands of other Rohingya women, can't have.
"I miss my sister more than anything else," she said. "Every time I spent with her, I miss."
The two girls loved to skip rope together when they were growing up in Hlaing Thi, an all-Muslim village of about 6,000 people in Rakhine, one of Myanmar's poorest and least-developed states.
Now the village where the girls grew up is no longer home. Scores of Rohingya houses in northern Rakhine, including those in Hlaing Thi, were burned and abandoned in what the United Nations has called an "ethnic cleansing" carried out with "genocidal intent." Satellite images show what remains of the village: rolling green interspersed with the fields that former neighbours left behind, cut here and there by narrow streams. Formin would visit one of those streams every day with her mother to collect drinking water in plastic pails.
Bangladesh arrests 10 Rohingya bound for Malaysia
Since the military launched its crackdown in August 2017, more than 730,000 Rohingya have fled northern Rakhine for neighbouring Bangladesh. About 15,000 fled this year alone.
Myanmar's government denies committing abuses against the Rohingya, saying the military action in northern Rakhine came in response to attacks by militants. Still, the country doesn't grant most Rohingya citizenship, and Myanmar authorities refer to the Rohingya as "Bengali," a derogatory term because it implies they are interlopers from Bangladesh. The government and the military didn't respond to questions about specific incidents in this story.
Restrictions on education, employment and travel meant most Rohingya were like Formin's father, farmers or day labourers largely cut off from the outside world. According to a 2015 survey by the Yangon-based Center for Diversity and National Harmony, Rakhine had the country's lowest literacy levels and the lowest rates of primary and secondary school enrollment in Myanmar. Rohingya students struggle to understand teachers because their language isn't recognized in the public school system.
But Formin's uncle, Sayat Hossain, showed what was possible against the odds. Admitted to an engineering college in 1994 in the then-capital, Yangon, he was forced to leave school after it was shut down in response to pro-democracy protests two years later, and he fled Myanmar to find work as a day labourer in Malaysia. Eventually, he made his way to asylum in Norway, where he now works as a translator.
"My uncle studied, so he is in Norway. My father didn't study, so he is a farmer," Formin said.
For many in Formin's village, her uncle was something of a local hero. "There was no family like theirs in the village," Mohammed Bashar, the Rohingya chairman of Hlaing Thi, said from a refugee camp in Bangladesh. "They understood the value of an education."
Formin's father, Mohammed Hossain, imagined a happier future for his daughters. "You get respect when you have an education," he said. "Illiterate people have to do hard work, but educated people can find comfortable work. I wanted that for my girls."
In 2012, when Formin was 13 and Nur Jahan was 16, an international humanitarian group was operating schools for children in need of a secondary school education in northern Rakhine. It offered the sisters the chance to study under a program that would cover their tuition and living expenses. But they would have to move away from home.
There were murmurs of disapproval in the village. "People thought the girls would be ruined," said Bashar, the former village chairman.
Formin's father said he was often told by fellow villagers: "No matter how much you make them study, they have to sit at home and cook for their husbands. What is the point?"
But he allowed his daughters to go away to school – just as racial and religious tensions in Rakhine boiled over.
In a white notebook with pink flowers, Formin kept a diary. "I wrote about some happy and sad things every day," she said. "If someone said anything bad about me, I used to write about that."
In maintaining that diary, Formin had unconsciously started creating a record of events in Rakhine that few in the largely illiterate population were documenting firsthand. "At that time, we didn't have TV, radio or mobile," she said, matter-of-factly.
Just weeks after Formin and her sister began school away from their village, communal violence broke out. It was June 2012, and thousands were displaced across Rakhine State as Buddhists and Muslims torched each other's homes.
"We saw the military shoot two people going on a motorcycle," Formin said. Schools were shut, travel was risky, and the hostel where she and other students lived had to close.
Authorities responded to the violence, in part, by barring the Rohingya from enrolling in the only university in Rakhine State, citing unspecified "security concerns," according to a report by UN investigators earlier this year. That effectively denied the Rohingya access to higher education, which was already limited because of travel restrictions, the report said.
Aid groups say Rohingya 'terrified' about Myanmar repatriation
But that didn't break the sisters' determination to keep studying. Formin and Nur Jahan moved to a secondary school in Kyein Chaung, a village with a bustling market where Muslims, Buddhists and Hindus ran shops alongside each other. Kyein Chaung had been largely untouched by the wave of violence in 2012, and things began to look hopeful.
In 2015, Aung San Suu Kyi's National League for Democracy swept elections and came to power in a country that had long been ruled by generals. Many Rohingya rooted for Suu Kyi, who had been a political prisoner, believing she would put an end to their persecution.
Nur Jahan, three years older, had finished high school and was teaching children for an international nongovernmental organization. She wanted Formin to graduate, like her, and was paying her sister's study costs with her NGO salary.
At school in Kyein Chaung, Formin met a teacher, Ali Ahmed, who was one of the few Rohingya licensed to teach in public schools. He says he encouraged her and other Rohingya students to dream big.
"Master Ali," as the students called him, would often pepper his lectures with inspiring stories, sometimes pulled from news reports he heard on the small radio he kept.
That was how he first heard about Malala Yousafzai, the Pakistani peace and education rights activist. He took the story to Formin's class with a challenge: "If she can go to Oxford from Pakistan, why can't you?"
Formin was struck by the story from the moment she heard how a young Muslim woman from rural Pakistan stood up to the Taliban, survived a gunshot wound to the head from a would-be assassin and, in 2014, won the Nobel Peace Prize. At home, she told her family all about Malala. "Did you know they put a gun to her head?" Formin said. "She is a great girl. She cares about education, not other things."
In her class, she also heard the story of Helen Keller's remarkable education. Her sister Nur Jahan found her a copy of Keller's autobiography, and she read it with the same rapt admiration.
"She is blind, but she didn't stop learning," Formin said. "We can see everything – we can't stop studying."
The heroic stories of Malala and Helen kept her dreams of university alive. And she began to nurture another desire: to become an inspiration for Rohingya girls like her.
On Oct. 8, 2016, Formin remembers, she went to bed early because she had a physics and chemistry test the next morning. When she woke before dawn for a final round of study, all the students in her lodgings were already up. Overnight, dozens of Muslim militants armed with sticks, knives and homemade weapons had launched an attack on police outposts.
The attack marked the emergence of the Arakan Rohingya Salvation Army (ARSA) – a group that claimed to be fighting for the rights of the Rohingya.
In the early light, Formin said, she could see soldiers fanning out across the village. She heard gunfire. The students hunkered down in their lodgings, afraid to move. Some 80,000 Rohingya fled to Bangladesh in the months that followed, many claiming soldiers had torched homes, arrested and tortured suspected militants and raped women.
Once again, schools were shut, and gradually reopened over the next few weeks. But Formin's parents had no plans of sending her back this time. They were terrified. It wasn't until four months later, as Formin's high school graduation exam neared, that her parents finally relented. They were still fearful, her mother said, but they also wanted to prove wrong those in the village who had predicted that Formin would fail.
Formin and her father made the risky trip back to her high school to take the test. Of the 150 girls who sat for the exam at the Kyein Chaung school in March 2017, only four would pass.
Myanmar's Education Ministry typically puts matriculation results on Facebook, but Formin's village rarely had a connection. She asked a friend in another village to look for her roll number on the list of those who had passed, but the friend couldn't find it.
Formin cried for days. One evening, one of her teachers called and asked her: "Formin, your roll number is 542?"
"I said yes."
"OK," he said. "You passed your exam."
Formin returned to school to receive her diploma. But once again, violence intervened.
The militant group ARSA had waged a more ambitious attack in the early hours of Aug. 25, 2017, across security posts in northern Rakhine. In the military's response, the UN said, entire Rohingya villages were razed, scores of women were raped and murdered, and an estimated 10,000 people, if not more, were killed. The military denies these allegations and says it made a proportionate response to militant attacks.
As houses went up in flames in Hlaing Thi, Formin's mother called her at her lodgings. "Our village is burning. We are leaving for Bangladesh," she said. "What will you do, Formin?"
Formin didn't know what to do. She felt paralyzed as the rattle of bullets went on and on around her.
For the first time in her life, she said, she felt hope slipping away, and she cried – cried because she was scared for her life, and cried for her dream of attending college.
"I thought I was going to die," she said. "I thought that would be the last day of my life."
Formin remained locked up inside her lodgings for two days. But as she saw local Buddhists and the military start to burn houses in the village, an account that echoes those of other eyewitnesses on both sides of the conflict in Rakhine, she decided to escape with five schoolmates.
She was in a panic over how to get away. From afar, her sister Nur Jahan helped her once again.
"She didn't know the way. When I called her on the phone, Formin was crying," Nur Jahan said. "There was military everywhere."
"Just follow the people," Nur Jahan told her.
Using the dim light of a small phone her father had given her, Formin walked with crowds of people heading toward the border through monsoon-drenched forests and streams, protecting her belongings that were wrapped carefully in plastic under her arm.
The group moved by night to avoid security forces and civilian mobs, stopping at abandoned houses for shelter. Along the way, Formin said, she saw several bodies.
At the border with Bangladesh, Formin paid the equivalent of $10 to a boatman to cross the Naf River. On a wooden boat with nine other people, she reached the other shore and a refugee camp that would become a home in exile.
When she was reunited with her family at the camp, one of the first things she asked about was her books back home. Between tears, her mother told her the house had burned down.
Formin's most prized possessions had turned to ash.
Gone too, was a small pink-and-white notebook – her first diary.
Almost exactly a year since she had fled her country to reach the refugee camps of Bangladesh, Formin was preparing to leave. She was going to college.
"I am happy, but nervous," she said, blushing, as she sat on her knees on the mud floor of a hut. She and 24 other Rohingya girls from the refugee camps had been accepted to the university's "Pathways to Promise" program, which offers a full scholarship to selected young women in marginalized communities.
She dipped a hand into a purse to fish out a compact face powder with a mirror. She held the mirror in one hand and with the other lightly dabbed the peach-coloured powder onto her cheeks with the puff, moving her face from left to right. "I have watched makeup videos," she said, giggling.
She also now had a smartphone that she'd bought with her earnings from working as a translator and community health worker for NGOs in the camp. She had filled it with language learning apps: Bengali, Hindi, Urdu, English; and a Bollywood movie about a Hindu boy and Muslim girl who flee communal riots together, and eventually get married.
But marriage hasn't been a fairytale ending for her sister Nur Jahan.
In May, Nur Jahan married a Rohingya from their village. Like Formin, she had been desperate to continue studying, but she was older, and there was no guarantee the university program in Chittagong would come through.
"After coming here, we were worried about our daughters' future. The situation became uncertain," their father said. "She has younger sisters who are growing fast." So when a proposal came from a fellow refugee who had spent time working in Saudi Arabia, her parents pushed her to accept.
Her husband declined to allow Nur Jahan to be interviewed alone. She sat in a chair with her back straight and legs folded, listening attentively and speaking enthusiastically about her relationship with Formin and their life back in Hlaing Thi.
But midway during talk of college, as Nur Jahan tried to stay composed in front of her husband, her voice cracked, and she started to cry.
"Our father was very poor, but he helped a lot for our studies," she said. "We made a pact that we would go to college together, and after we finished our education, we would help our father any way we can."
Her 79-year-old grandfather, Nur Ahmed, said: "Nur Jahan is even smarter than Formin. She would do even better at college.
"I know she is sad. We are also sad. We wish we had waited. But now we cannot do anything. I am happy for Formin, but I feel bad for Nur Jahan. She still blames us."
Formin is hoping to study law after she completes her five-year university program, including two years spent improving her English, math and comprehension skills.
"I am a Rohingya. If I become a lawyer, I can do something for the cause of the Rohingya," she said.
She reflected on her role models, Malala and Helen Keller. And she spoke of another woman whom she revered. Growing up, she said, she idolized Suu Kyi, who has drawn international criticism for her silence on the plight of the Rohingya.
"Yes, yes, I really liked her!" she said. "We thought that woman stood for everyone."
If she ever met Suu Kyi, she said, she would ask her: "I am Rohingya, but I am also a woman like you. We are all women like you. Please put yourself in our place. What do you feel?"
https://tribune.com.pk/story/1871233/3-1871233/
--------
Malaysia: Women's Ministry Mulling Mandatory HIV Test for Non-Muslim Couples before Marriage
17 December 2018
KUALA LUMPUR, Dec 17 — The Women, Family and Community Development Ministry (KPWKM) will discuss with the relevant ministries on making it mandatory for non-Muslim couples who intend to tie the knot to undergo HIV testing.
Its minister, Datuk Seri Dr Wan Azizah Wan Ismail, said since non-Muslim marriages follow civil law and carrying out the (HIV) test would involve costs, discussions with the Home Ministry and the Finance Minister were necessary to implement such measures. She said that for now, there were no provisions that make it compulsory for non-Muslim couples to undergo HIV testing before getting married.
"In principle we support (compulsory HIV testing) but it involves costs and provisions, we do agree and we will work on getting it," she said when winding up the debate on the Supply Bill 2019 for her ministry at the Dewan Negara today.
Dr Wan Azizah, who is also Deputy Prime Minister, said extending the pre-marital course to non-Muslim couples, was still being discussed with the relevant parties.
She said so far, the outcome of the discussion with members of the 'interfaith council' had been good and they welcomed the proposal, however some non-governmental organisations (NGOs) were still not in agreement in implementing it in a uniform manner covering the various races and religions.
"This effort is still being carried out by the ministry through LPPKN (National Population and Family Development Board) through a pioneer proposal in Kuala Lumpur and Putrajaya. The initial plan was to study the course content, duration from two days to only half a day and the training given to trainers from eligible NGOs," said Dr Wan Azizah.
Meanwhile, commenting on the disclosure of sexual crime data developed by the Royal Malaysian Police (PDRM), Dr Wan Azizah said the data was not displayed openly as there were concerns that it could be manipulated by irresponsible parties.
However, she acknowledged that such data was important for the public to be aware that all parties, especially women, may be prepared with information to protect themselves and to avoid being in dangerous situations.
"The PDRM has warned that it is illegal to make known (sexual crime data) as it could cause anxiety and would not help in controlling the situation.
"However, there is a discussion with my ministry about the existence of "hot spots" where women will be informed about places that could be of risk to their safety," said Dr Wan Azizah.
In winding up, she also shared details about the increase in the number of women involved in policymaking and also politics.
She said until Dec 14, the number of women in the board of directors in companies incorporated under the Finance Ministry was 17.4 per cent or 43 women of the total 247 appointed board members.
Based on the Bursa Malaysia list up to September 2018, 23 per cent of the top 100 public- listed companies had women on their board of directors.
"Based on the results of the 14th General Election (GE14) issued by the Election Commission (EC), the number of women as members of the Dewan Rakyat stood at 32 or 14.41 per cent compared to 23 women or 10.4 per cent previously.
"As for the representatives in the state assemblies, data showed that there were 62 women from 505 seats or 12.8 per cent compared to 58 or 11.5 per cent previously," she said. — Bernama
https://www.malaymail.com/s/1703987/womens-ministry-mulling-mandatory-hiv-test-for-non-muslim-couples-before-ma
--------
Egypt Wins 2nd Place in Global Arab Women's Studies Award
December 21st, 2018
Egypt won the second place in the Arab Women's Studies Award for the "Survey of the Economic Cost of Gender-Based Violence in Egypt 2015", prepared by the National Council for Women in cooperation with the Central Agency for Public Mobilization and Statistics (CAPMAS) and the United Nations Population Fund, Al-Ahram news website reported.
This came during a celebration that was organized at the end of the seventh conference of the Arab Women Organization on the "Economic Empowerment of Women and the Promotion of the Values of Peace, Justice and Citizenship", which was hosted by the Sultanate of Oman on December 18-19, 2018.
The Arab Women's Studies Award award was received by National Council for Women President Maya Morsi and Social Solidarity Minister Ghada Wali.
During the celebration, researchers and National Council of Women members Ahmed Zayed, Nisreen al-Baghdadi and Maged Osman were awarded the shield of the Arab Women Organization for working papers they had prepared.
Zayed presented a research paper entitled "Good and rational citizenship and its role in achieving women's empowerment: successful experiences in promoting the values of peace, justice and citizenship".
Baghdadi's paper was entitled "Research Practices on the Issue of Women's Economic and Social Empowerment, Policies for the Empowerment of Egyptian Women as a Model".
Osman presented a paper entitled "Information Technology and the Economic and Social Empowerment of Arab Women".
The main findings of the women's study "Economic Cost of Gender-Based Violence Survey in Egypt 2015" indicate that the total cost to women and their families for violence is at least LE 2.17 billion.
To combat violence against women, the Anti-Harassment and Combating Violence Against Women Unit at Cairo University organized a march earlier in December, featuring the participation of unit members, professors, students, civil society representatives, members of the UN Women's Committee and the National Council for Women (NCW), as part of the international 16 Days of Activism Against Gender-Based Violence" campaign.
Cairo University President Mohamed Othman al-Khosht said that the university has a message for combating violence against women. This message aims for young people, and the students of the university in particular, to raise awareness on the values of equality and the protection for women through a range of activities that support this message.
He praised the role of the anti-harassment unit in promoting a culture of respect and equality among students and its activities and initiatives in this field.
https://www.albawaba.com/editorchoice/egypt-wins-2nd-place-global-arab-women%E2%80%99s-studies-award-1229038
--------
Pakistan Lags Behind In Women's Rights, Says PTI Leader
December 21, 2018
PESHAWAR: Pakistan Tehreek-e-Insaf (PTI) provincial leader Meraj Humayun on Thursday said that Pakistan has failed to protect women's rights despite proper legislation for gender equality in the country.
Speaking at a press conference here, Meraj Humayun said that the Gender Gap Index Report 2018 had ranked Pakistan 148th. She said that women's role had been acknowledged for development.The former provincial lawmaker added that the UN also stressed women's empowerment for sustainable development. She lamented that Pakistan had always shown lack of seriousness to this effect.Meraj Humayun said that Pakistan's approach towards women's empowerment had been a cause of concern for the rights organisations inside the country and abroad.
She also suggested means to the government for implementation of the legislation for women's empowerment. Meraj Humayun asked the government to identify weakness at the departments, ministries, and commissions level and take remedial steps.She said that proper data should be collected at the district level to identify the provinces that lag behind and thus damage the country's image at the international level.
The Pakistan Tehreek-e-Insaf leader said that the government should take civil society into confidence and take sincere steps for gender equality.
KP launches digital policy: Khyber Pakhtunkhwa Thursdaylaunched 'Digital Policy' for the next five years with focus over four areas including access, governance, economy and skills. KP Minister Finance Taimur Saleem Jhagra was the chief guest on the occasion.
Special Assistant to Chief Minister on IT Kamran Bangash, KPIT Board MD Dr Shahbaz Khan and Milanda Good of the World Bank were present on the occasion.
The policy also specifically stresses over provision of digital access to the people of newly merged districts (defunct Fata). Some of the aspects of the policy are overarching and cut across the areas of financial inclusion and equitable digital dividends for women and marginal communities. It also focuses on increased public-private partnership for facilitating the province digital transformation. The policy emphasises rapid implementation in the newly merged districts i.e. the built of defunct Fata and provision for the provincial share in ICT services from the federal government.
Addressing on the occasion, Taimur Saleem Jhagra said that internet was introduced in the province in 1995 but the whole work of the government organisations was still conducted through the old age papers and files. He said that sticking to that obsolete system was a wastage of both time and resources and also hampers service delivery.
https://www.thenews.com.pk/print/408730-pakistan-lags-behind-in-women-s-rights-says-pti-leader
--------
Yemen Must Include Women In Peace Talks
Dec 21, 2018
UN Secretary-General Antonio Guterres announced the parties had agreed to encouraging steps, including a critical ceasefire in the port city of Hodeidah, where most aid enters Yemen.
But though the leaders of the Yemeni peace process plan to resume talks next month, they continue to overlook a vital strategy: the inclusion of women.
This is not just about fairness - it is a strategic imperative.
Research suggests that when women participate in a peace process, the resulting agreement is 64 per cent less likely to fail and 35 per cent more likely to last at least 15 years.
This inspired the US government to enact a 2017 law to support women's meaningful participation in peace negotiations.
Yet in Yemen, women have had little representation in talks since 2011.
The Yemeni people have supported reserving seats for women in contexts such as the peace table, committing in 2013 to a 30 per cent quota for women on political delegations.
Before the Yemeni conflict began in 2015, women's rights were on the march.
After decades of oppression, Yemeni women were at the centre of the 2011 peaceful protests that eventually removed president Ali Abdullah Saleh from power.
Yet once ethnic Houthi rebels from northern Yemen seized Sana'a and the Saudi-led multinational coalition launched its counter-campaign, women's rights were again under assault.
Within the first five months of the war, documented cases of gender-based violence, including rape, rose by 70 per cent.
Of the two million people displaced from their homes, 75 per cent are women and children, forced by war to provide for their families with little training and limited job prospects.
Despite the odds, Yemeni women have overcome their political marginalisation to contribute to peace efforts.
They have already made a difference. Yemeni women from all backgrounds have formed new coalitions, including the Yemeni Women's Pact for Peace and Security.
They have activated local truce committees to prevent fighting over water and land resources, risked their lives to rescue families and evacuate schools held by armed groups.
Hundreds of women-led initiatives to provide education and food to their communities also promote local security.
They have facilitated humanitarian access in areas aid convoys have had difficulty reaching, led efforts to release over 300 detainees and tracked bombings and medicine shortages.
They are also seeding the ground for post-conflict recovery.
Women have advocated the negotiation process and addressed issues that can improve the durability of peace pacts, including the establishment of an international fund for reconstruction, investment in income generation opportunities and the revival of the judicial system.
Women have also pushed for disarmament, demobilisation, and reintegration programmes to respond to the needs of female and child soldiers, and called for the inclusion of more women in the security sector.
Including women at the peace table is not just the right thing to do - it is the smart thing to do. - REUTERS
https://www.tnp.sg/news/views/yemen-must-include-women-peace-talks
--------
URL: https://www.newageislam.com/islam-women-feminism/goa-woman-allowed-appear-net/d/117224
New Age Islam, Islam Online, Islamic Website, African Muslim News, Arab World News, South Asia News, Indian Muslim News, World Muslim News, Women in Islam, Islamic Feminism, Arab Women, Women In Arab, Islamophobia in America, Muslim Women in West, Islam Women and Feminism