New Age Islam News Bureau
31 March 2015
• Isis: Blindfolded Couple Being Stoned To Death for Sex before Marriage
• Iran: Proposed Laws Reduce Women to 'Baby Making Machines'
• Morocco Confronts Abortion Taboo with Proposed Reform
• Two shot dead for 'Honour' in Pakistan
• 190 Policewomen Assumes Duty after Completing Training in Turkey
• Saudi Govt Eyes More Suitable Environment for Female Teachers
• China Sentences Couple to Prison for Beard and Burqa
• Dateline Explores Transgender Culture in Indonesia
Compiled by New Age Islam News Bureau
URL: https://newageislam.com/islam-women-feminism/giving-women-less-inheritance-than/d/102203
--------
Giving Women less Inheritance than Men Normal: Sümeyye Erdoğan
31 March, 2015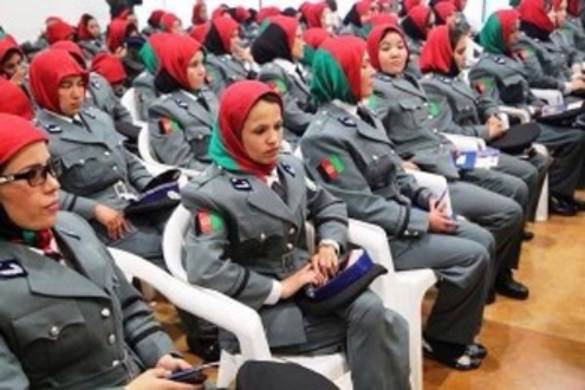 190 Afghan policewomen assumes duty after completing training in Turkey
------------
Women receiving a lower share of inheritance than men are normal, considering men's responsibilities according to Islam, Sümeyye Erdoğan, the daughter of the Turkish president and the deputy head of the Women and Democracy Association (KADEM), has stated.
Giving a lecture in Brussels on "the perception of Muslim women around the world and the fight for the equality," Erdoğan said the topic of inheritance distribution in Islam was among the most discussed in terms of equality.
"They ask why daughters are given lower shares from a will while sons receive more. But when we look closely, we see that men are assigned the responsibility for bringing the bread home, while women are not. So naturally giving higher inheritance shares to men is normal, fair and righteous," Erdoğan said.
"For instance, a married couple can both work. But the man should give some of his income to his wife, while the woman decides herself how to spend her own money," she added.
In the same speech, Erdoğan also said the history of Western countries was "worse when it came to the suppression of women."
"We don't have any reason to be diffident. When you examine the history of the world for practices that dominated women, you mostly see Western countries. You don't see Islamic countries," she said.
"Don't lose your self-confidence by seeing the implementations today in some Islamic countries that result in the victimization of women," she added.
Erdoğan also supported the idea of "gender justice," which she said emphasized notions such as "balance and fairness." This, she said, contrasted to "gender equality" which comes from Western culture and envisions a "prototype world of women and men."
Erdoğan criticized feminism for identifying Islam as the reason why women are kept at home, saying that in fact Islam did not oblige women to ask for permission to work.
"The only social role clearly defined by religion is men's responsibility to bring the bread home and provide for his wife and children. There is no rule in Islamic law about working women. Women are free and have the right to choose. They don't need permission from their fathers or husbands," she said.
http://www.hurriyetdailynews.com/giving-women-less-inheritance-than-men-normal-sumeyye-erdogan-says-in-islamic-lecture.aspx?PageID=238&NID=80360&NewsCatID=341
----------
Isis: Blindfolded Couple Being Stoned To Death for Sex before Marriage
31 March, 2015
Shocking new images have emerged showing Islamic State militants stoning a blindfolded and bound man and woman to death in Iraq.
The couple were sentenced to death for having sex before marriage.
A large crowd, including children and women, gather at the scene in the town square in Mosul in Nineveh province, to watch as the couple are murdered.
The bearded IS executioner-in-chief Abu Ansar al-Ansari pronounces the order of stoning for "fornication."
An Islamic State militant with a yellow scarf covering his face is seen using a microphone and PA system to read out the charges against the couple, as the crowd jostles for a better view.
A large pile of stones are gathered in the middle of the road. The ISIS militants then begin throwing them at the blindfolded couple, whose hands are bound, rendering them unable to defend themselves and helpless.
Pools of blood appear in the road, before the man and woman finally die of their injuries.
IS fighters routinely carry out such horrific executions in accordance with their radical interpretation of Sharia law.
On March 24, thousands of protesters took to the streets in Kabul to demonstrate following the murder of a 27-year-old woman who was accused of burning the Koran.
The victim, named only as 'Farkhunda' and who is believed to have been mentally ill, was lynched by a crowd of men near the Shah-e Doh Shamshira shrine and mosque after she was allegedly seen burning a copy of the Koran.
She was killed by the mob with sticks and stones on 19 March, before being thrown from a roof and run over by a car outside a local mosque. A graphic video of the murder was circulated on social media.
She was buried this week with women's rights activists carrying the coffin at a funeral attended by hundreds of people.
http://www.ibtimes.co.uk/isis-shocking-images-released-blindfolded-couple-being-stoned-death-sex-before-marriage-1494240
http://www.dailymail.co.uk/news/article-3017800/Sickening-images-blindfolded-bound-couple-brutally-stoned-death-fornication-ISIS-militants-Iraq.html
----------
Iran: Proposed Laws Reduce Women to 'Baby Making Machines'
31 March, 2015
Women in Iran could face significant restrictions on their use of contraceptives and be further excluded from the labour market unless they have had a child, if two proposed laws are approved, says a new report by Amnesty International published today.
You Shall Procreate: Attacks on women's sexual and reproductive rights in Iran details the extreme lengths the Iranian authorities are going to in order to encourage repeated childbearing in a misguided attempt to boost the country's declining population figures.
"The bills reinforce discriminatory stereotypes of women, and mark an unprecedented move by the state to interfere in people's personal lives. In their zealous quest to project an image of military might and geopolitical strength by attempting to increase birth rates, Iran's authorities are trampling all over the fundamental rights of women - even the marital bed is not out of bounds."
The Bill to Increase Fertility Rates and Prevent Population Decline (Bill 446) outlaws voluntary sterilization, which is believed to be the second most common method of modern contraception in Iran, and blocks access to information about contraception, denying women the opportunity to make informed decisions about having children.
Coupled with the elimination of state funding for Iran's family planning programme, which had, up until 2012, provided millions of women in the country with access to affordable modern contraception, the move would undoubtedly result in greater numbers of unwanted pregnancies, forcing more women to seek illegal and unsafe abortions. Lack of access to condoms, which were previously dispensed through urban clinics and rural health houses funded by Iran's Family and Population Planning Programme, would also lead to a rise in sexually transmitted infections, including HIV.
The bill was passed in parliament with an overwhelming majority in August 2014 and is undergoing amendments as recommended by the Guardian Council, a body which needs to approve it before it can become law.
"It is vital that the authorities maintain funding for comprehensive family planning programmes to ensure that all women can access quality contraceptive goods, services and information."
Without such access, women will either have to carry their pregnancies to term when it is not their choice to do so; or risk their life and health by undergoing unsafe, clandestine abortions.
Unsafe abortions are among the leading causes of maternal mortality worldwide. According to the World Health Organization (WHO) in 2008 unsafe abortions led to the deaths of 47,000 women and caused disabilities for five million women.
The Comprehensive Population and Exaltation of Family Bill (Bill 315), which is due to be discussed in parliament next month, would further entrench gender-based discrimination, particularly against women who choose not to or are unable to marry or have children.
The bill instructs all private and public entities to prioritize, in sequence, men with children, married men without children and married women with children when hiring for certain jobs. It also makes divorce more difficult and discourages police and judicial intervention in family disputes opening women up to increased risks of domestic violence.
Under Iran's civil code women seeking a divorce already need to prove they are facing "unbearable hardship", while men can divorce without giving any reason. Men also have the exclusive right to have at least two permanent wives in polygamous marriages and as many wives as they wish in "temporary" (sigheh) marriages. Bill 315 would incentivize judges to rule against divorce by offering them bonuses based on how many of their cases result in marital reconciliation
"The bills contradict the reality of Iranian women who have at least until recently constituted the majority of university graduates, and around 17% of the country work force."
Despite claims by Iran's authorities, including statements by President Hasan Rouhani that men and women in Iran are treated equally, in reality this is far from the truth. Sexual violence and discrimination against women in Iran is rife and women in Iran are denied equal rights with respect to marriage, divorce, child custody, inheritance, travel, and even in their choice of clothing.
Iran's Penal Code penalizes women and girls as early as nine years old who fail to cover their hair with a headscarf and comply with compulsory dress codes with imprisonment or a cash fine. These laws are regularly used by the police to harass and detain women in public for their appearance and clothing.
According to Iran's existing Civil Code, a woman would not be entitled to spousal maintenance if she refuses to comply with the "duties of marriage", which can include refusing to have sex with her husband or leaving the house without permission .
A woman's testimony in court is valued at half that of a man in legal proceedings and reparations paid for killing or causing injury to a woman are half those payable for same harms to a man. The age of criminal responsibility for girls is just under nine years old but just under 15 years for a boy. Rape within marriage and domestic violence are not recognized as criminal offences. Engaging in lesbian sex is punishable by 100 lashes with a fourth time conviction resulting in the death penalty.
Early and forced marriages are common with 41,226 girls between the ages of 10 and 14 getting married, according to the 2013-2014 annual report by the National Organization for Civil Registration, and at least 201 girls under the age of 10. At some universities women are barred from studying certain subjects, ranging from engineering to English literature, as a result of quotas that seek to reverse advances made in the number and proportion of female university students. They also face restrictions on watching sports in public stadiums.
"The authorities already seek to control what Iranian women wear, where they work and what they study. Now they are interfering with their private lives by seeking to control their bodies and tell them how many children to have. Both proposed bills must be scrapped and funding for quality family planning services must be restored. Women must be able to live in dignity without such intrusive infringements on their fundamental rights and freedoms."
Background
Amnesty International's global My Body My Rights campaign aims to stop the control and criminalization of sexuality and reproduction by governments. It is intended to remind states of their obligations to respect, protect and fulfil sexual and reproductive rights.
https://www.amnesty.org/en/articles/news/2015/03/iran-proposed-laws-reduce-women-to-baby-making-machines/
----------
Morocco confronts abortion taboo with proposed reform
31 March, 2015
CASABLANCA, Morocco (AP) — It was just 7 a.m. and Hoda was walking alone to a clinic in the Moroccan coastal city of Agadir. She skipped breakfast: the Senegalese doctor had told her that the abortion would be better done on an empty stomach.
Four months pregnant by a man who didn't want to marry, she felt she couldn't have the child in a society that sees unwed mothers as little better than prostitutes. But as she approached the illegal clinic, something was clearly wrong.
Police escorted a handcuffed doctor out of the clinic as a crowd gathered outside. Inside, a woman had just died from a botched abortion.
"She had hemorrhaged, there was blood everywhere," recalled Hoda, who spoke on condition that her last name was not used because of the sensitivity of the situation.
An estimated 600 to 800 abortions are performed every day in Morocco, where the operation is illegal except in cases of threat to the mother's health. Although the procedure is widely practiced underground, the subject has long been taboo.
Years of activism, however, have culminated this month in a new official move to reform the law to stem the tide of illegal abortions by making operations more accessible.
"Morocco's penal code on abortion is very restrictive, the law is not fair to women," Moroccan Health Minister Houssaine Louardi told The Associated Press. "It's out of date and doesn't take into account the reality that Moroccans live in these days — there is an urgent need to revise this law."
With the exception of Tunisia, where it was legalized in 1973, abortion in the Arab world is mostly illegal except in cases of fetal malformation or danger to the mother's health — though in most countries there is an informal "don't ask, don't tell" policy that makes the practice widespread. Reform in Morocco could have wide repercussions for women around the region.
The issue is tied up with the unrest in the region. In Iraq, where the practice is illegal but rarely prosecuted, abortions are on the rise with Yazidi women who escaped from captivity from Islamic State radicals seeking them in large numbers.
In neighboring Algeria, the developments are being watched with particular interest.
"For the last four years we have been working on getting it de-criminalized but it hasn't moved forward much, it's a very sensitive question in country like Algeria," said Nadi Ait Zai, an Algerian lawyer and feminist activist. "We are certainly not indifferent to what is happening in Morocco, we will follow it closely."
In Morocco, calls for reform were sparked in December when Dr. Chafik Chraibi, head of obstetrics at Rabat's Maternity hospital and part of an organization fighting against illegal abortions, was fired after he gave an interview to a French TV program in which he condemned the laws that forced the practice underground.
A rare debate among intellectuals and political party leaders followed, culminating in Chraibi's reinstatement and Moroccan King Mohammed VI asking religious scholars and justice officials on March 16 to come up with ways to revise the law to reduce the number of illegal abortions.
Chraibi said his activism came out of years of working the hospital wards, when women and girls who tried to give themselves abortions would be admitted horribly injured and near death.
For Morocco's rich and the middle class, abortions are easily accessible, costing between 200 to 1,000 euros ($220-$1,100) in hospitals and clinics. But the poor resort to more "traditional" methods, such as poison or sharp objects.
Veteran activist Aicha Ech-Chenna, who runs an organization that gives job training to single mothers and provides daycare, scoffs at the objections of the religious.
Many of the young women at her center came from religious backgrounds and were persuaded by their boyfriends to enter into "customary" marriages that supposedly allow them to have sex — but have no legal standing.
"We have here single mothers who thought they were married and then as soon as she's pregnant, she is dumped," said Ech-Chenna from her center in Casablanca. "It's very nice to say no to abortion but then what will happen to the child afterward?"
Chraibi wanted the new law to broaden the definition of the mother's health to include psychological, physical and social aspects, so that cases such as rape, incest, poverty, age and other circumstances could be considered.
Religious scholars and the Justice Ministry could well come back to the king with a much more restrictive reform than either Chraibi or the health minister have proposed.
Prominent imam Mustapha Benhamza has cautioned against calls for abortion in cases of fetal malformation, and the moderate Islamist Party that heads the governing coalition is also reportedly against increasing access to abortion.
Hoda changed her mind and decided to have her child after what she saw in the Agadir clinic. But she had to leave Agadir for Morocco's commercial capital of Casablanca, and has had very little contact with her family who believe she has shamed them.
"My family hasn't accepted my son," she said. "To this day, they tell me never to bring him by."
Associated Press reporters Vivian Salama in Baghdad and Aomar Ouali in Algiers, Algeria contributed to this report.
http://news.yahoo.com/morocco-confronts-abortion-taboo-proposed-reform-064834265.html
----------
Two shot dead for 'Honour' in Pakistan
31 March, 2015
QUETTA: A man gunned down his wife and her alleged paramour in a village of Kohlu district on.
An official of the Levies Force said a case had been registered against the suspect. The deceased man was identified as Sharbat Khan.
The bodies were handed over to heirs after legal formalities.
http://www.dawn.com/news/1172728/two-shot-dead-for-honour
----------
190 policewomen assumes duty after completing training in Turkey
March 31, 2015
The Ministry of Interior (MoI) announced Monday that 190 policewomen assumed duty by joining the Afghan National Police (ANP) forces after completing their training in Turkey. (File Photo)
The policewomen were deployed to Turkey last year to participate in training courses and recently returned to country to serve with the ANP forces.
A ceremony was organized in Kabul to celebrate the successful completion of the courses by the policewomen and their return to Afghanistan.
MoI officials said 112 of the policewomen would serve in capital Kabul while the remaining would be deployed to the other provinces.
The officials further added that 325 more female police officers would be deployed to Turkey to participate in training courses which would be conducted over a period of six months.
Head of the Gender Department in the Ministry of Interior (MoI) Gen. Hekmat Shahi said the ministry would be unable to achieve its main goals in the absence of female police officers.
Gen. Shahi urged the newly appointed female police officers to remain committed in attracting trust of the people and implementation of law.
Around 2,300 women are currently serving with the Ministry of Interior (MoI) which includes police officers, soldiers and administrative clerks.
http://www.khaama.com/190-policewomen-starts-work-after-completing-training-in-turkey-9961
--------
Saudi Govt eyes more suitable environment for female teachers
31 March, 2015
The Ministry of Education plans to open nurseries in government, foreign and private schools during the coming weeks in order to help female teachers continue their work after having children.
The new regulations were issued by the Minister of Education Dr. Azzam Al-Dakhil, stating that the move comes as a means of creating a more suitable environment for female teachers and to increase their productivity.
New regulations will also be applied to the private sector to assist in opening more nurseries and implementing better early learning programs, according to the regulations of private education.
These programs aim to develop children's physical, interactive, social and mental abilities through early educational stimulation, applied according to the growing needs of children and the needs of mothers who work as teachers.
These nurseries provide mothers with work stability, psychological relief and increased productivity because they can feel that their children are safe, thus decreasing repeated holiday requests.
The minister noted that the ministry intends to begin opening nurseries for children from birth until three years old. This decision comes after decades of demands to set up nurseries for working female teachers.
In a related development, more than 1.5 million students have returned to schools after the spring break. The Director of education in Riyadh, Mohammad Al-Mirshid, said that the directorate has prepared many training programs for teachers in the education training centers that are located around Riyadh.
He said that the directorate has assigned a committee to follow up on school discipline; the committee is to be assigned to draw plans and will follow up on the implementation of regulations to increase the levels of discipline inside schools.
He said that all the ministry's supervisors will carry out field visits to follow up on the attendance of teachers and administrators.
http://www.arabnews.com/saudi-arabia/news/725696
----------
China Sentences Couple to Prison for Beard and Burqa
31 March, 2015
A Chinese couple has been sentenced to spend years in prison for wearing overtly Islamic fashions in the western Chinese city of Xinjiang. Chinese authorities sentenced the man to six years for sporting a beard and the woman to two years for wearing a burqa.
The Agence France-Presse reports that the couple was found guilty of "picking quarrels and provoking trouble," though the article does not mention whether any individuals testified that the couple had expressly picked any quarrels with them. The 38-year-old man reportedly began growing his beard in 2010 and refused to shave it off on multiple occasions, while the woman had also been warned not to wear Islamic clothing in public.
According to local authorities, "Since the beginning of the year, a certain number of people breaking the regulation on beards, veils and burqas have been prosecuted and sentenced."
Uyghur organizations have condemned the punishment as a violation of the couple's rights. The World Uyghur Congress, an organization serving the Uyghur diaspora, called the sentence "absurd," noting, "If a Chinese person grows a beard, it is a personal fashion he is allowed to choose freely. If a Uighur grows a beard, he is a religious extremist."
The Chinese government, run by the Communist Party and, on principle, opposed to all religion, has been transparent in its desire to eradicate Islam from China. In August 2014, authorities announced new regulations that banned beards and Islamic clothing in public in Xinjiang, the western province home to most of the nation's Uyghur population. In December, the regional legislature passed a law banning burqas specifically.
Chinese authorities have argued that such laws are necessary to curb terrorist activity. Xinjiang experienced an increase in terrorist activity in 2014, with a combination of bomb and knife attacks taking dozens of lives. The Chinese government also claims that at least 300 of its citizens–most, if not all, of Uyghur ethnic extraction–have joined the Islamic State.
Some argue that the Chinese government's crackdown on Islam is pushing Uyghurs towards Islamist extremism. UCA News, a Catholic Asian outlet, cites the deputy director of the Xinjiang Islamic Association as urging China to recruit more state-approved Islamic authorities, rather than shun Islam in its entirety. While he notes that "if the religious leaders compete with the extremists on Islamic knowledge, I cannot guarantee that they would win," he adds that a well-versed Islamic authority could use some parts of the Koran to counter the segments that can be used to "inject violent thoughts" into those who are insufficiently well-read.
The Chinese government has not only used the threat of arrest and state-sanctioned violence to curb the practice of Islam. In an attempt to convince Muslim women to abandon Islamic garb, a campaign called "Project Beauty" was launched in 2013, meant to convince Muslim women that wearing their hair out was preferable to hiding it, including the forced viewing of a film arguing why women should show their faces.
http://www.breitbart.com/national-security/2015/03/30/china-sentences-couple-to-prison-for-beard-and-burqa/
----------
Dateline explores transgender culture in Indonesia
31 March, 2015
THEY are elegant and graceful. Dressed in hijabs and high heels, they look like any other woman, except they were born men. And they've caught the attention of extremists in Indonesia.
The community of waria, as they are known in the South-East Asian country, are also under the spotlight from religious extremists who call them "worse than animals".
Datelinereporter David O'Shea delves into the world of Indonesia's minority group, who while generally accepted by society, face a growing threat from extremists.
His story, which airs on SBS One tonight, also takes a revealing look at the lives of some of the waria who are still fighting for acceptance.
O'Shea also follows transgender human rights campaigner, Mama Yuli as she embarks on a national movement, lobbying for acceptance of warias in Indonesian society.
She tells Dateline of the struggle she experienced coming out to her family and her fight for acceptance for the younger generation.
"I cried every day," she said.
"When I got up I had nothing to eat. I was hungry. No one would give me food. I cried. But who helped me? No one did."
According to O'Shea, Indonesia has a vibrant transgender culture and tradition, but it has faced a rise in intolerance in recent years.
Minority groups such as the waria have been targeted by Muslim fundamentalists, along with gays and lesbians.
The Dateline journalist told news.com.au that many Indonesians, including Mama Yuli's own family, are starting to accept waria.
However, he warned there is still a threat from small but vocal extremist groups who refuse to accept warias as humans.
O'Shea said Indonesia remained an incredibly diverse country with more than 20,000 islands and hundreds of different languages.
"Overall there is a tradition of tolerance of difference," he said.
"Unfortunately this has been under attack in recent years by a small group of Islamic hardliners with very loud voices and political backing from some in the police and military and conservative Islamic political parties."
He said hard-line extremists often target waria events — shutting down their meetings and beauty pageants.
The head of the conservative fundamentalist Muslim group Forum Umat Islam (Islamic people's forum) in Yogyakarta, Muhammed Fuad, is typical of those who oppose the waria.
He told Dateline: "A man should accept he is a man.
"We're disturbed by the way they dress, by their presence, their behaviour. They shouldn't be allowed to feel normal."
However he is far from alone as another fundamentalist described them as "worse than animals."
O'Shea said while waria have always been very visible in society, on TVs, on the streets and via sex work, they have also seen as subjects of ridicule.
"People laugh 'at' but also 'with' them," he said.
"Waria complain that their "third gender" is not recognised officially so they are not able to get work in offices or the public service unless they dress as men. On the streets they will get taunted and laughed at but rarely attacked."
O'Shea said waria face all sorts of danger — mostly bashings and sexual assault, but it can be much worse especially when police will generally not do much to help them if they do get into trouble.
Despite this, he said he felt the waria community would eventually be accepted by wider Indonesian society.
"Indonesia has many problems and their transition to democracy is still a work in process," he said.
"The great majority are extremely tolerant and want Indonesia to become a place where everyone has a chance to flourish."
And while some may believe the waria' — a term created by mixing the Indonesian words for woman and man — is a curse, there are also those who believe being transgender is a gift which brings them closer to God.
"Waria is something we have to live with and accepting that makes us closer to the creator," one woman tells Dateline.
"The one who makes us waria is Allah."
Another reveals how she believes she was born into the wrong body and how she at least want to die in the right one.
http://www.news.com.au/lifestyle/real-life/dateline-explores-transgender-culture-in-indonesia/story-fnq2o7dd-1227286506406
----------
URL: https://newageislam.com/islam-women-feminism/giving-women-less-inheritance-than/d/102203