New Age Islam News Bureau
6 Nov 2013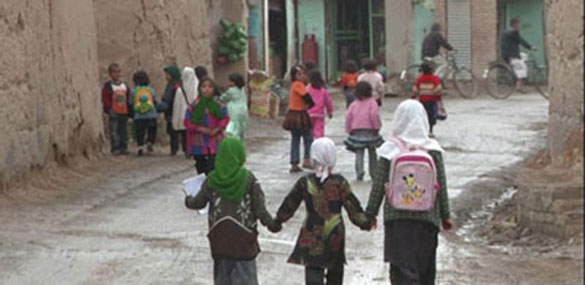 Girls walk home from school in Kabul Province, Afghanistan. (Principle Pictures/Screengrab)
------------
• Girl Expelled for Getting Married for Fear of Negative Impact on Other Students in Pakistan
• Israel's Ultra-Orthodox Jews in a Strop after Knesset Raises Marriage Age
• Extremist Detained In Moscow for Recruiting 'Shy Girls'
• Yemen Must Ban Child Marriage in New Constitution - Right Group
• Child marriage: 11-year-old married to 12-year-old in Pakistan
• 'Virtual' Filipina girl identifies 1,000 webcam sex tourists
• 'Devil' caused Egyptian to sexually harass woman in Dubai
• Muslim Girl, 14, In Forced Marriage: Judge 'Powerless' To Help
• Turkey 'Conservative' On Women's Role
• Acid Attack Victim, Pashto Actress Bushra, Cries for Justice
• Tanzania: Taking Women's Sense of Dress to another Level
• Differences with Zardari's Sisters Cost Minister Dear
Compiled by New Age Islam News Bureau
URL: https://www.newageislam.com/islam,-women-and-feminism/new-age-islam-news-bureau/girls--schools-in-afghanistan-wonder--what-tomorrow-brings-/d/14320
------------
Girls' Schools in Afghanistan Wonder 'What Tomorrow Brings'
November 06, 2013
KABUL PROVINCE, Afghanistan -- On the outskirts of Kabul, the mountainous land is rocky and dry, haunted by decades of war. Although the people here are fortunate to have avoided the violence that has pervaded other parts of the country during this fighting season -- a time that stretches across the spring, summer and early fall -- it is still a tense time in villages here.
This year marks the last full fighting season before the scheduled drawdown of US troops begins in earnest in 2014. People are not sure what to expect as the Americans prepare to leave, particularly in places that have seen enormous gains in rights for women and girls.
Of the 10 million children going to school in the country today, 40 percent are girls -- compared to virtually zero girls in classrooms under Taliban rule.
As a documentarian I have gotten to know students, teachers and administrators at girls' schools in Kabul Province, and returning now at such a tense time is a powerful experience. I find myself full of hope for the girls--many of whom are the first generation of educated
Afghan women in their communities -- delighted when I see how voracious their appetites for learning are; and also aware of how tenuous their futures may be.
Twelve years after the US kicked the Taliban out of power in Afghanistan -- making it possible for girls to go back to school -- there is a difficult question being asked here: Can the hard-won gains be sustained at a time when Taliban power is growing?
Since I was last here this spring, there have been six brutal attacks against schoolgirls -- assaults ranging from a remote-controlled bomb explosion to mass poisonings through gas attacks and drinking water contamination. One school was burned to the ground.
Other challenges face girls' education. According to the Deputy Minister for Education, rural villages -- even those nearest the country's capital -- have trouble finding qualified female teachers. Of the 416 districts in Afghanistan, 166 have no women to teach the girls.
There are also social, cultural and family pressures that girls face -- especially as they enter high school.
Despite the challenges, I also see the incredible progress that has happened here. The girls I meet are smiling and skipping as they arrive each morning, eager to enter the classroom, and in many cases become the first in their families -- male or female -- to read and write.
Their desire for education is palpable. The support from parents -- mothers and fathers --to educate their daughters is real. And the learning that is happening? That is the greatest hope for the future of all.
In one seventh grade class I visited Saturday; several girls are vying for the number one ranking. On the playground they tease each other about the upcoming exams, and each playfully explains why she will come out on top.
At one school, students and teachers start a day of lessons that include Dari, English, religion, science, math and life skills. The girls smile and wave at me; many stop and hug me as they pass, and some even tell me they love me. In the beginning, students didn't know what to think of me, an American woman, traveling to a foreign country without her husband, questioning everyone and everything. But they approached me the same way they approach their lessons -- eager and open and kind.
I've particularly felt a special connection with the teens, and with the teachers committed to giving them hope, knowledge and a small measure of power in a culture so patriarchal that their fates are almost never only in their own control. Each child is a poignant reminder of the possibilities that exist in Afghanistan that could not have been imagined a decade ago.
As one student told me, "I have some education now. I know how a woman should live. I have learned what is right and what is wrong."
Beth Murphy is in Afghanistan as part of a year-long reporting project to document the drawdown of US troops. The GlobalPost 'Special Report' is funded in part by The Ford Foundation.
http://www.huffingtonpost.com/beth-murphy/girls-schools-in-afghanis_b_4213252.html
------------
Girl Expelled for Getting Married for Fear of Negative Impact on Other Students in Pakistan
2013-11-06
CHAKWAL: The headmistress of a school in Chakwal has expelled a female student after she got married, stating that a married student could have a negative impact on her classmates, Dawn has learnt.
Madiha Fatima was studying at Government Girls High School Chakwal in Class 10. Last month, she got married with her relative.
"When I submitted an application for marriage leave, it was not accepted by my teacher who is in charge of our section," Madiha told Dawn.
She therefore had to remain absent from school. "When I returned to school after my marriage, I was not allowed to sit in the class," she said.
Madiha and her mother then met the headmistress and asked her to review the decision, but she refused.
"I requested the teacher to give me the refusal in writing but she did not oblige," Madiha said.
She said she wanted to pursue higher education, but her "dream of higher education was shattered by the teacher."
"Is marriage a crime," Natiq Jaffri, Madiha's husband said.
"I want my wife to acquire education but her basic right has been denied," he added.
When contacted, the headmistress, Shahnaz Begum, said: "A married girl can adversely affect the atmosphere of the school by sharing details of her marital life with her schoolmates."
When asked under what law she had taken the decision, she replied: "The law does not matter here; it is the behaviour which matters."
When the attention of Executive District Officer Education Ghulam Murtaza was drawn to the issue, he said he would look into the matter.
"A student cannot be expelled from school for getting married," he said. —Nabeel Anwar Dhakku
http://www.dawn.com/news/1054429/girl-expelled-from-school-for-getting-married
------------
Israel's ultra-orthodox Jews in a strop after Knesset raises marriage age
November 6th, 2013
Israeli lawmakers passed a bill raising the legal age of marriage from age 17 to 18, despite objections from ultra-orthodox lawmakers.
The Knesset voted 55-11 Monday to adopt the measure.
Some ultra-orthodox lawmakers accused the Knesset of discrimination, The Jerusalem Post reported. In the ultra-orthodox community, arranged marriages are customary, some involving minors less than 17.
Other lawmakers said the bill would prevent forced marriages for those too young to make such decisions.
In some European countries such as Austria, Bulgaria, Germany and Czechoslovakia the minimum marriage age is 16 but requires parental or court agreement, Ynetnews.com said.
In the United States the marriage age varies from state to state, with parental consent required in most cases for those 16 and younger. In Pakistan, Afghanistan and Iran males are permitted to marry at 18 and women at 16. In Syria the law allows girls as young as 13 to marry.
http://www.albawaba.com/editorchoice/israel-marriage-wedding-531514
------------
Extremist Detained In Moscow for Recruiting 'Shy Girls'
November 06, 2013
Police have detained an alleged member of an extremist cell seeking to recruit shy and introverted girls in the Moscow Region town of Balashikha, the Interior Ministry said on Tuesday.
The police reported that the detained man is an alleged member of the At-Takfir Val-Hidjra organization, which was declared extremist in Russia in 2010. The investigators say that the man managed to recruit four young women in the ranks.
"He approached them both on the streets of Moscow and on the social networking sites. The man was after shy and introverted girls. The investigators believe he was especially good at establishing a rapport with these kinds of women," the police report says.
After the man gained the trust of his victims, he allegedly persuaded them to move in with him, before introducing his newfound girlfriends to radical Islam. Three of the girls tracked down by the police refused to return to their families and continue to live in radicalized Islamic communities, the Interior Ministry added.
The suspect was detained while leaving his residence in Moscow Region's Balashikha. He allegedly had with him three grams of amphetamines and a handgun in his car. In his apartment, the police found banned books on radical Islam.
http://themoscownews.com/local/20131105/192027485/Man-detained-in-Moscow-region-for-recruiting-shy-girls-for.html
------------
Yemen Must Ban Child Marriage in New Constitution - Right Group
05/11/2013
LONDON (Thomson Reuters Foundation) - Yemen must ban child marriages in its new constitution and end the abuse and rape of young girls, rights activists say, a month after an eight-year-old girl reportedly bled to death on her wedding night after being raped by her 40-year-old husband.
"Child marriage is a huge problem in Yemen. It affects many thousands of girls every year and causes devastating emotional and physical harm," said Rothna Begum, Human Rights Watch (HRW) women's rights researcher for the Middle East and North Africa.
"Right now Yemen has a unique opportunity to have a constitution that sets the minimum age of marriage at 18."
Yemen, whose president was ousted last year following a popular uprising, is holding a process called a National Dialogue, bringing together a cross section of society to map the country's future and pave the way for a new constitution.
Begum, who visited Yemen this month to press for a child marriage ban, said many poor families marry off young daughters to save on expenses and obtain dowry money.
About 14 percent of girls are married before 15, and more than half before 18, according to 2006 data from the United Nations and Yemen's government.
Yemen has no minimum age for marriage. It is illegal for a husband to have sex with his bride until she has reached puberty, but there is no penalty for men who break this law. Marital rape is not a crime in Yemen.
"Much older men are exploiting the situation of poverty-stricken families to marry very, very young girls," Begum said. "It's completely legal. And if they rape them under the age of puberty, there is no criminal penalty."
Begum said she had also urged the authorities in Yemen to revive a draft law on child marriage that has been languishing in parliament since 2009.
"I THOUGHT MARRIAGE WAS JUST A PARTY"
Child marriage cuts short girls' education and jeopardises their health when they have babies before their bodies are ready. It also increases the risk of sexual and domestic abuse.
Worldwide, girls who give birth between 10 and 14 are five times more likely to die in childbirth than women who give birth in their early 20s, according to U.N. children's agency UNICEF. Yemen's maternal mortality rate is the highest in the region.
Girls and women interviewed by HRW have told how early marriage has deprived them of schooling. Some also said they had been raped and abused.
"I thought marriage was just a wedding, a party and that was it. I didn't have any idea that marriage had another meaning," one girl told HRW in a recently released video.
The government has ordered an inquiry into the case of Rawan, the eight-year-old girl said to have died on her wedding night in northern Yemen. Local officials dispute the reports and insist Rawan is still alive.
Begum said there had been previous incidents of very young girls dying shortly after marriage.
In March 2010, a 12-year-old girl, Elham Mahdi Al-Assi, died three days after she was married to a man twice her age. Her mother said her daughter had been tied up and raped.
A 2010 U.N. assessment on violence against women in Yemen said hospitals receive many girls who have suffered severe injuries resulting from forced sex, but rarely report these incidents to the local authorities.
International donors spend millions of dollars on aid in Yemen, but Begum said development would be limited while child marriage remained prevalent.
"Unless there is a ban, girls will continue to be taken out of school and will continue to risk injury and death through early pregnancies," she added. "At the end of the day, it's very difficult to tackle child marriage when you don't have a law to say that it's wrong."
In 1999, Yemen's parliament abolished the then minimum marriage age of 15 on religious grounds.
Ten years later, parliament voted to set 17 as the new minimum, but the law was scuppered by a minority of lawmakers who said reinstating a minimum age was contrary to sharia.
However, HRW says other countries that recognise sharia have set a minimum age of 18 or higher. These include Algeria, Egypt, Iraq, Jordan, Libya, Morocco, Oman, Tunisia, and the United Arab Emirates.
Women's rights are at the heart of the agenda at the Trust Women conference, to take place in London 3-4 December. Organised by the Thomson Reuters Foundation and the International New York Times, Trust women will tackle issues such as slavery in the supply chain and the impact of the Arab Spring on women's rights. Don't miss a chance to be a part of this incredible conversation - register now and save up to 20% off the ticket price at www.trustwomenconf.com
http://www.huffingtonpost.co.uk/emma-batha/attacks-on-aid-workers-hi_b_4178130.html
------------
Child marriage: 11-year-old married to 12-year-old in Pakistan
November 6, 2013
FAISALABAD: In Kamalia's Jinnah Colony, an 11-year-old girl has been married to a 12-year-old boy. The girl's father had remarried the boy's sister.
Kamalia police say they are not aware of the incident and that they have not received a complaint. Forty-year-old Muhammad Shabbir told The Express Tribune that his wife had died a few years ago. He said he had proposed for Nabeela Bibi, 22, from Kassowal and her parents had agreed. However, he said, a few days before they were to be married, her parents demanded that he marry his daughter to their 12-year-old son on the same day. Shabbir said as a father of four daughters he needed a mother for his children, and did not want this to affect his marriage and so he agreed. Both the marriages took place two days ago. He said he did not regret having married his daughter at the young age "as the religion allowed it". He said his daughter was happy at her in-laws.
http://tribune.com.pk/story/627591/11-year-old-married-to-12-year-old/
----------
'Virtual' Filipina girl identifies 1,000 webcam sex tourists
AFP | Nov 5, 2013
THE HAGUE: A Dutch rights group said Monday it had identified over 1,000 paedophiles around the world by offering online sex with a computer-generated 10-year-old Filipina girl called Sweetie.
Terre des Hommes Netherlands has now handed over to police the identities of over 1,000 adults who were willing to pay children in developing countries for online sex, it said.
"They were ready to pay Sweetie for sexual acts in front of her webcam," the rights group's head Albert Jaap van Santbrink told journalists in The Hague.
The group said it wanted to raise the alarm about a largely unknown but quickly spreading new form of child exploitation that has tens of thousands of victims in the Philippines alone, known as webcam child sex tourism.
Sweetie was created by the child rights group and deployed in Internet chat rooms from a remote building in Amsterdam.
Within a 10-week period, over 20,000 predators approached Sweetie, asking for webcam sex performances. While they were chatting with the "girl", researchers gathered information about her customers through social media.
Using this information, researchers identified the abusers and passed the information on to police.
"The biggest problem is that the police don't take action until child victims file reports, but children almost never report these crimes," said head of campaigns Hans Guyt.
The rights group wants police around the world to have a mandate to actively patrol chat rooms where the abuse is taking place.
"The child predators doing this now feel that the law doesn't apply to them. The Internet is free, but not lawless," said Guyt.
According to the UN and the FBI, there are over 750,000 child predators online at any given moment, Terre des Hommes said, also announcing an online petition to pressure governments to adopt proactive investigation policies.
Yet only six people have been convicted of engaging in webcam child sex tourism in the world, the rights group said.
"It would have been easy with greater resources to identify 10,000 people," Guyt said.
http://timesofindia.indiatimes.com/world/europe/Virtual-Filipina-girl-identifies-1000-webcam-sex-tourists/articleshow/25272954.cms
---------
'Devil' caused Egyptian to sexually harass woman in Dubai
November 6, 2013
Dubai has ordered the deportation of an Egyptian man after he was found guilty of sexually harassing a 26-year-old German woman.
The 33-year-old, who has not been named, received a three-month suspended prison sentence for touching and trying to kiss the woman, who was working as an events organiser.
According to the Dubai's English-language Gulf News, the defendant said that the devil caused his actions.
"Shortly after a meeting we had, the defendant asked me to accompany him to a ballroom to check the flower arrangements," the woman said.
"I was walking to his right when he suddenly hugged me and tried to kiss me. He told me that he wanted to kiss me, but I moved my head and told him that we were working. Immediately he realised that I did not want to be kissed and so he let go of me. I was shocked.
"I rushed back to my office and I was irritated and nervous. I told my supervisor what happened. The next minute I received an SMS from the defendant in which he expressed his admiration and love and apologised for not being able to control his behaviour," added the woman.
http://english.ahram.org.eg/NewsContent/1/2/85728/Egypt/Society/Devil-caused-Egyptian-to-sexually-harass-woman-in-.aspx
----------
Muslim Girl, 14, In Forced Marriage: Judge 'Powerless' To Help
November 06, 2013
A judge has said he is powerless to help a 14-year-old Muslim girl who says she was taken to Pakistan by her father and forced to marry a man at gunpoint.
The girl said she had been subjected to violence and became pregnant following threats, Mr Justice Holman revealed. She now has a one-year-old child.
Expressing sympathy for the girl the judge condemned the "harrowing" circumstances of the case, but admitted there was nothing he could do to help her, the High Court heard.
Despite the young girl being under extreme duress and under at 16 at the time of the forced marriage, the judge said he was prevented by law from granting a declaration that her marriage was "at its inception, void."
Detail has emerged in a written ruling following a hearing in the Family Division of the High Court in Birmingham.
Mr Justice Holman said a local authority began care proceedings in relation to the girl and her baby.
Local authority officials wanted a "declaration of non-recognition" of the marriage, but Mr Justice Holman decided the girl would have to initiate proceedings to have the marriage nullified.
But Vanessa Meachin, the girl's barrister, said it was unlikely that her client could cope with a nullification case.
"She is the victim of forced marriage and rape. She is 17 and struggling with the complexities of the two sets of legal proceedings that she is already involved in. It is unrealistic to consider that she is equipped to proceed with a petition for nullity," she said.
But Mr Justice Holman said his hands were tied.
"I do understand and have sympathy with the point and position that it might be particularly defiant by the girl of her family for herself to initiate proceedings for a decree of nullity, although she now has little contact with most members of her family," he said.
"The reality is that, sooner or later, she needs fully to resolve her legal status and to face up to the obviously necessary step of obtaining a decree of nullity. That, however, is a matter for her own decision, her own timing and her own choice."
"The girl has given an account of the circumstances surrounding that marriage which are, frankly, harrowing," said the judge.
Mr Justice Holman said the girl's parents were Muslim and had emigrated from Pakistan to England. He said the girl's father became a UK citizen more than 30 years ago.
http://www.huffingtonpost.co.uk/2013/11/05/muslim-girl-forced-marriage_n_4217206.html?utm_hp_ref=uk
------------
Turkey 'conservative' on women's role
November 06, 2013
A majority of Turkish society sees women's role at home as being predominantly to raise children and most Turks believe the ideal number of children is two or three, according to a survey made public on Nov. 5.
The International Social Survey Program's field study, conducted in 48 countries, was performed by Professor Ersin Kalaycıoğlu from Sabancı University and Professor Ali Çarkoğlu from Koç University. Some 1,555 respondents in 59 cities participated in the survey.
One of the significant findings of the survey was that the concept of family maintains its importance in Turkey, with women mainly seen as homemakers. Fifty-eight percent of respondents said they believed that a pre-school child is likely to be negatively affected if they have a working mother. Some 48 percent of respondents also disagreed with the proposition that, "a working woman can establish an equally close and confident relationship with her child as a non-working mother."
Sixty-one percent agreed with the suggestion that, "it might be good to have a job, but most women actually primarily want a home and a child."
Most respondents said that having a job was less satisfactory than being a housewife, while only one fifth of respondents disagreed.
Mental culture
These findings, according to Kalaycıoğlu and Çarkoğlu, point to the fact that the mental culture in Turkey sees women's primary role as a housewife.
However, when it comes to answering the economic needs of the family, expectations from women increase. Two out of three respondents said both men and women should contribute to the household income, while those against this were 14 percent.
This contradiction, that on the one hand women should stay at home and raise children but on the other hand contribute to the household income, points to the transitional phase Turkey finds itself in, the researchers say.
"There is a conviction that it is difficult to survive with just one income in the city. But there is a discrepancy between the awareness about the requirements of the city and the mental change that is required to adapt to the city's realities," said Kalaycıoğlu.
When looked at real life, the view of both men and women contributing to the household income seems to be simply wishful thinking. Half of men said their wife did not have an income, while only 6 percent of the women said their husband did not have an income. As men are the main breadwinners in the vast majority of families, it is not surprising that 61 percent said decisions on how to spend household income were mostly made by men. Only 16 percent of women said they were in total charge of spending household income.
Meanwhile, children are seen as both a source of happiness and an economic cost. Some 43 percent of the respondents said the ideal number of children in a family was two, while 36 percent said the ideal number was three.
Turks are generally against gays or lesbians raising children, the survey also shows. More than 70 percent disagree that gay or lesbian couples can raise children equally as well as heterosexual couples.
There is a clear gap among men and women when it comes to the work at home, such as shopping and cleaning. 14 percent of male respondents said they do home cleaning all the time, while the percentage of women is 86. When these rates are compared to the same survey conducted 10 years ago among other countries, there was also a large gap between Turkey and the rest of the world's situation in 2002.
Some 35 percent of respondents said the state should be responsible for covering the cost of pre-schooling, while 61 percent said it should be the family.
http://www.hurriyetdailynews.com/turkey-conservative-on-womens-role.aspx?pageID=238&nID=57430&NewsCatID=341
------------
Acid Attack Victim, Pashto Actress Bushra, Cries for Justice
November 06, 2013
PESHAWAR - Despite lapse of five months, KPK police failed to arrest the criminal who threw acid on a young Pashto actress Bushra who suffered critical burn injuries while the promise made by Shaukat Yousafzai regarding provision of compensation was yet to be fulfilled.
Addressing a press conference here at Peshawar Press club on Tuesday, Bushra, resident of Nowshera, said that she and her family were asleep in the courtyard of their home in Nowshera when the attacker entered into the house, threw acid on her face and made their escape successfully. The brother said his feet were also burnt with drops of acid.
Bushra, who is also known as Shazia Aziz, is a Pashto singer, actress and theatre artist from Pabbi area in Nowshera.
The family members of the young actress have accused her producer Shaukat Khan, who had been forcing her for contracting marriage with him and was also not willing to pay her money she owed for her work. Later the actress was brought to Peshawar's Lady Reading Hospital with severe burn injuries on the right side of her face. Doctors said her right leg and arm were also badly affected by the highly concentrated acid.
Bushra's right eye was also partially damaged but doctors said her eyesight working and she was in her senses when brought to the hospital. "My daughter used to work as an actress and was hired by a producer namely Shaukat Khan to act in his stage dramas and plays but he was not willing to pay her and this led to a number of verbal arguments following which she refused to continue her acting," said the victim's mother.
"We have registered a case against Shaukat Khan but police have not included 336A and 336B of CRPC in this FIR which is an important section for such high crimes.
She appealed to Chief Justice Peshawar high court and IG police to arrest the accuse Shaukat and registered FIR against him along with section 336A and 336B. She also appealed to Chief justice to compensate her for her treatment, as they are very poor to meet their daily expenses.
http://www.nation.com.pk/pakistan-news-newspaper-daily-english-online/editors-picks/06-Nov-2013/acid-attack-victim-cries-for-justice
------------
Tanzania: Taking Women's Sense of Dress to Another Level
BY IMAN MANI RECENTLY
November 06, 2013
Zanzibar — CONTROLLING the live coverage of two evening shows at the just-ended Fashion Week Zanzibar 2013 was the Director of Zanzibar Cable Television (ZCTV), Issa Suleiman.
It was his responsibility to make sure those not present at the Mtoni Palace Ruins on the Isles had an alternative choice of following the proceedings from their own television sets. Added to this Suleiman had to mix videos with three cameras for future viewing.
That is why together with his four-man team he had reached the venue from early Friday morning to set-up their equipment, although it had to be taken down at the end of each evening's presentation and re-erected the following morning.
Another person present, bright and early, owing to her interest in the overall view of the shows was Aj Mynah. When talking to the 'Daily News' she mentioned always having been passionate about fashion. As the Model's Co-ordinator she had to make sure all their requirements were met.
This started with their casting, followed by working with trainers to groom the 20 youngsters, who hailed from the Isles and Dar es Salaam. Added to these duties, Mynah had to supervise the construction of a professional catwalk. In fact, she was the one who was the main backbone of the casting team.
She was amongst the small group who sat down and came up with how they were actually going to handle the fashion show. She also helped choose a venue and started advertising it. The task was not as easy as it may sound, for difficulties were experienced where less expected.
"We started with 150 models, from which we had to cast down to 40, then ended up with 22. Ten of these are from Dar es Salaam and the others from the Isles," she explained. Days prior to the actual shows she had started putting the models through their rehearsals to walk on the catwalk, organise the designers backstage, together with working with the models and the Disc Jokey (DJ) on the music, until everything was satisfactorily done.
The actual preparations for her started last August. She singled out having to bring the number of models down to 22 from 150, as being the most difficult duty she had to perform. This was because of the high level of talents she found amongst the local applicants on the Isles. It's with visible confidence that Mynah told the 'Daily News' local fashion has developed much within the last ten years.
That is why she has no doubt that having the Fashion Week Zanzibar 2013 event is very important towards making even greater steps forward. She predicted that when local designers have developed enough to the point that they are pushing more of their concepts in what is thought to be beautiful, there will be more people doing designs for bigger-built ladies.
Proof of her prediction, the Model's Co-ordinator said lays in the fact that ten years ago, it could not have been imagined that there would be a fashion show on the Isles, but there was within the last week of October. There is a lot in modelling, which she says is often overlooked.
"There are many good things about modelling, which depend on your attitude and your love or passion for it. Passion is the biggest one and if you have it, everything else comes easy. So it's not only about the look or walk; modelling is art, so when you have the passion, you will get to learn the art of modelling," she suggested. Her prediction that the show would be a big event did turn out to be exactly that.
The actual first set of designs to come out on the catwalk belonged to the Zanzibar-born Haba Quettawalla, who now lives in Karachi-Pakistan, where she works from home with her daughter Sarah. Their brand, 'Lamak,' actually started as a hobby, which has turned out to be a full-time business.
It was a selection of these that brought them to the festivities. This was the first time for them to open a fashion show, so Sarah's nervousness before the show should be understood. Just having the opportunity to have their designs known in Zanzibar was enough reason Sarah told the 'Daily News' to make their participation worthwhile.
Their Islamic, simply designs are not intended to do more than just this, she said. Also present was the Dar es Salaam based designer, Vida Mahimbo.
Her dream to see Michele Obama in one of her jeans and khanga designs is still fresh. Her designs, she admitted are based on elements of local culture, while keeping a modern touch, in clothes to be worn inside and outside of the country.
For Mahimbo fashion certainly has a place in the country, simply because African women are always well dressed, like to be very colourful and look beautiful. All that is needed to add to this, she maintains, is something of a little better quality and that's what she has been working on.
http://allafrica.com/stories/201311050991.html?viewall=1
------------
Differences with Zardari's Sisters Cost Minister Dear
November 06, 2013
KARACHI - Differences within the family especially with the two sisters of former President Zardari paved way for ouster of influential former provincial minister Owais Muzaffar, who is famous with his nick name of 'Tappi', from the Sindh cabinet.
Sources privy to the developments told The Nation that former president of the country and co-chairman of the PPP, Asif Ali Zardari was not happy with handling of affairs of portfolios and interference in all government affairs by the local government's minister Owais Muzaffar.
The former minister was even ignoring and going against the directives of Zardari's two sisters - MNAs Faryal Talpur and Azra Pechoho.
Though, Tappi has attached health and personal problems as reasons for his resignations to Sindh Chief Minister Qaim Ali Shah but sources confirmed that the differences within the family and interference in all the departments of the provincial government led ouster of the powerful minister. He was also known as de-facto chief minister of the province.
Even, the sources claimed Owais Muzaffar has not tendered resignation but PPP's co-chairman Asif Ali Zardari, during a meeting at Bilawal House on Monday, expressed annoyance and anger over the handling of issues, directing him to quit as minister and sit in Dubai.
The sources, owing to sensitivity of the issue, were not ready to speak on the record and insisted their names should not be quoted. They further said former president Asif Ali Zardari's sister MNA Faryal Talpur had directly complained to his brother for ignoring her directives by the former minister.
It may be noted that MNA Faryal Talpur, during the tenure of Asif Ali Zardari in Presidency, was looking after the political affairs. She even finalised the names and award of tickets to the candidates for May 11 general elections in Sindh, Punjab and Balochistan. Zardari has more trust in his two sisters - MNAs Faryal Talpur and Dr Azra Pechoho, who are active in the political field over his foster brother Owais Muzaffar alias Tappi. Even, Tappi's colleagues in the Sindh cabinet as well as the party lawmakers are happy over his ouster from the cabinet due to his way of handling the issues and solo flight in government affairs as he did not entertain their requests. Meanwhile, Sindh Senior Minister for Education Nisar Ahmed Khuhro while talking to the media on Tuesday contradicted the rumors of emergence of differences and grouping in the PPP. To a question about Tappi's resignation, he said he had read the report in the media. The portfolio of local government can be given from the existing cabinet members of the Sindh cabinet or could be added an advisor for this assignment.
He further said he was ready to serve as local government minister if party assigns any duty to him.
Meanwhile, the CM spokesman confirmed that the resignation of Owais Muzaffar has been forwarded as now it is the purview of the governor to accept or reject it. On the other side, Sindh Information Minister Sharjeel Inam Memon, who was given additional charge of the local government department, on Tuesday chaired a meeting of the officers of the department for cleanliness during Muharram in the City.
However, the political analysts were of the view that MQM was also not happy with the former LG minister for his handling the KMC and removing the officers posted on the recommendations of MQM in previous tenure of PPP. The close circle of the Owais Muzaffar has claimed that hydrant mafia has managed his ouster because he had launched continuous operation against the illegal hydrant mafia. The mafia is involved in selling water and minting billions of rupees through this illegal business in the City. But sources and analysts are confident that the differences within the family led Owais Muzaffar's ouster from the Sindh cabinet.
http://www.nation.com.pk/pakistan-news-newspaper-daily-english-online/karachi/06-Nov-2013/differences-with-zardari-s-sisters-cost-tappi-dear
------------
URL: https://www.newageislam.com/islam,-women-and-feminism/new-age-islam-news-bureau/girls--schools-in-afghanistan-wonder--what-tomorrow-brings-/d/14320