New Age Islam News Bureau
16 June 2022
• Gender Diversity on the Rise in the UAE As More Women Take Top Board Positions
• UN Decries Taliban Over 'Systematic Oppression' Of Women
• Saudi Authorities Seize Rainbow Toys for Promoting Homosexuality
• Dubai Women's Group Organise Fun-Filled Day for Cancer Patients and Survivors
• 115 Pakistani Women Entrepreneurs Selected For AWE 2022
• Houthis Order Female Aid Workers Not To Travel without Male Escort, Says UN
• Turkey's Top Business Body Vows Support To Boost Female Entrepreneurs
• Nagaland's First Woman MP In RS To Attend IPU Global Conference In Egypt
Compiled by New Age Islam News Bureau
URL: https://newageislam.com/islam-women-feminism/girl-education-climate-malala/d/127260
--------
'Girls' Education Is A Climate Solution': Malala Joins Climate Protest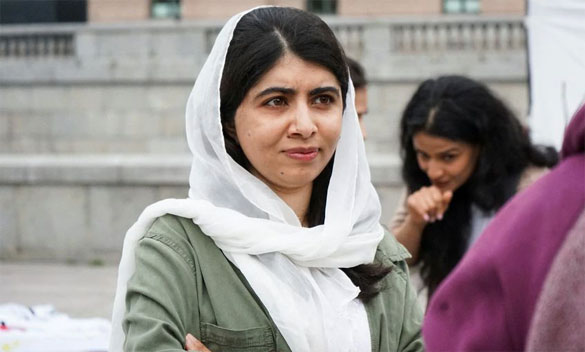 Nobel peace prize winner Malala Yousafzai attends a "Fridays For Future" protest in Stockholm, Sweden, June 10, 2022. REUTERS/Philip O'Connor
-----
June 15, 2022
STOCKHOLM: The fight against climate change is also a fight for the right to education of girls, millions of whom lose access to schools due to climate-related events, Nobel Peace Prize laureate Malala Yousafzai told Reuters.
Yousafzai was speaking outside the Swedish parliament where she joined environmental campaigners Greta Thunberg and Vanessa Nakate at one of the climate protests which have been held there every week since 2018 and sparked a global movement.
In 2012, the now 24-year-old survived being shot in the head by an Afghanistan-based proscribed Tehreek-i-Taliban Pakistan (TTP) gunman after she was targeted for her campaign against the Taliban's efforts to deny women education.
She subsequently became the youngest recipient of the Nobel Peace Prize for her education advocacy.
"Due to climate-related events, millions of girls lose their access to schools. Events like droughts and floods impact schools directly, displacements are caused due to some of these events," Yousafzai said in an interview.
"Because of that, girls are impacted the most: they are the first ones to drop out of schools and the last ones to return."
During the demonstration, Yousafzai recounted a story of how her own education was interrupted by climate change as her school and many others in the locality were flooded.
Yousafzai, Nakate and Thunberg all stressed how women, especially those in developing countries, were disproportionately affected by the climate crisis and can be part of the solution if they are empowered by education.
"When girls and women are educated, it helps reduce greenhouse gas emissions, it helps build resilience and it also helps reduce the existing inequalities that so many women and girls face in different parts of the world," said Nakate, a 25-year-old activist from Uganda.
Yousafzai, who tough her Malala Fund has also become a global symbol of the resilience of women in the face of repression, took selfies with passing locals and tourists, and talked at length to the Fridays For Future activists who have protested outside the parliament building since 2018, becoming a global movement in the process.
Activists unveiled banners and placards expressing support for the right of Afghan girls to education and linking the climate crisis and future solutions to it to the educational opportunities of women around the world.
"Any girl can change the world if provided with the right tools to do so," said Thunberg, 19.
Source: Pakistan Today
https://www.pakistantoday.com.pk/2022/06/15/girls-education-is-a-climate-solution-malala-joins-climate-protest/
--------
Gender Diversity on the Rise in the UAE As More Women Take Top Board Positions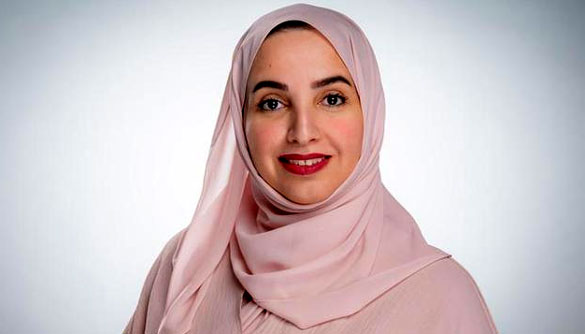 Fatema Al Nuaimi - ADNOC LNG CEO. Craig Strydom craigstrydom.net
----
16 June, 2022
The UAE's continued efforts to improve gender diversity in the boardroom have led to more women holding board positions this year (8.9 percent), up from 3.5 percent in 2020, according to research undertaken by Aurora50, a social enterprise working towards gender parity in GCC boardrooms, and Mohammed Bin Rashid School of Government (MBRSG).
The report, 'Non-executive Board Careers in the UAE: A Path to Gender Balance,' which was sponsored by the Abu Dhabi National Oil Company (ADNOC), reveals that 77 of the 868 board seats from the 115 listed companies on the Abu Dhabi Securities Exchange (ADX) and the Dubai Financial Market (DFM), are now held by women.
This represents 8.9 percent representation of women in UAE boardrooms, up from 3.5 percent in 2020, according to the research findings by Aurora50 in its report which was released on Thursday.
The boost to women on boards in the UAE follows the Securities and Commodities Authority (SCA) setting a quota last year mandating all listed companies in the UAE to appoint at least one woman to their boards.
In a first-of-its-kind study undertaken in the GCC, the report interviewed 16 women with independent board directorships to understand key steps that aspiring women board directors can proactively take throughout their careers to reach non-executive board roles.
The UAE-based Aurora50 was co-founded by Sheikha Shamma bint Sultan bin Khalifa Al Nahyan and Diana Wilde in 2020.
Aurora50's first -- successful -- initiative is to increase the number of women on boards in the UAE through the Pathway20 accelerator program. They have now expanded their focus to support listed corporations, large private organizations and high-growth businesses alike with all their diversity, equity, and inclusion (DEI) objectives.
Wilde, co-founder of Aurora50, said, "It is excellent to see such progress being made in boardrooms across the UAE, but we know there is a lot more that can be done to accelerate the pace of change. We hope this report will help women in the region to confidently make their way to the top. As one of the existing women board directors who was interviewed for this report said, 'Women need to strategically plan the career they wish to have.' If an aspiring woman does this, using our five-step plan, her timeline to become a non-executive board director, or NED, is just 10-15 years. While this is encouraging news for women, it is imperative for them to plan a board career early, to plan it well and with careful thought."
"It is vital now that boards embracing greater diversity must also ensure they do so through inclusive leadership to reap the rewards of higher performance and profitability," Wilde added.
Fatema Al Nuaimi, Chief Executive Officer for ADNOC LNG said, "ADNOC is committed to supporting gender balance and helping women develop, grow and excel in their careers, which is why we are proud to have collaborated with Aurora50. This important research provides us with better insight and actionable recommendations to further accelerate gender diversity on boards in support of the national gender balance agenda."
Al Nuaimi is one of ADNOC Group's three female chief executives and the energy company has committed to ensuring at least one woman sits on the board of every ADNOC Group company by the end of 2022. Currently, 16 women sit on its 18 boards. ADNOC has its own gender balance committee and women's leadership development program and was Aurora50's first corporate client.
Dr. Maryam Buti Alsuwaidi, Chief Executive Officer of UAE Capital Markets regulatory authority, the Securities and Commodities Authority (SCA), said, "I am delighted by the news that over two years, the market has seen a growth in the number of board seats held by women, now 59.1 percent of listed companies having at least one woman board member and 8.9 percent of all board members of listed companies being women."
"The regulatory requirement of having at least one woman board member on each listed company's board that SCA mandated a year ago has clearly had the desired positive impact, as it has in other countries that have set similar mandates. Norway and France, the world leaders in having women on corporate boards, both had set 40 percent quotas and have been successful in surpassing that target in the past two decades."
"Gender diversity on boards positively impacts a company's future success and profits by creating diversity of thought, while such inclusive leadership encourages more women to join, thrive, and succeed in listed companies at all levels."
Five steps to the top
To ensure UAE companies continue to find talented women board directors, the report sets out five steps to ensure aspiring women are appointed to their first non-executive board director in 10-15 years or less:
Plan: Women should take the opportunity to plan their career to the board very early on, then hone their technical competencies, industry expertise and independent thinking to develop the governing skills vital to board directors.
Build: In this phase of their career, women should aim to develop soft skills and networks as well as learn their craft to gain experiences valuable to the boardroom.
Brand: Next, women should focus on their personal brand to raise awareness about who they are and to make it widely known that they are ready for a board role, rather than waiting for good performance to shine through.
Sustain: This phase of the career is about balance. Women need to develop and maintain a strong support system in life as they add ongoing board director duties to their role in an executive day job.
Give: Lastly, having reached the board pinnacle, women can help other women climb up the ladder and give back by mentoring and nominating other talented women, sharing their experiences, and helping to change mindsets.
Source: Al Arabiya
https://english.alarabiya.net/business/economy/2022/06/16/Gender-diversity-on-the-rise-for-UAE-boards-with-more-women-in-top-positions
--------
UN decries Taliban over 'systematic oppression' of women
June 16, 2022
GENEVA: The UN rights chief on Wednesday slammed the Taliban's "institutionalised systematic oppression" of women and girls in Afghanistan, warning they face a "critical" situation.
Since the Taliban returned to power last August, Afghanis have been "experiencing some of the darkest moments of a generation", Michelle Bachelet told the UN Human Rights Council in Geneva.
She decried especially the "scourge of gender inequality" since the Taliban takeover, despite promises they would pursue a softer version of the harsh Islamist rule that characterised their first stint in power from 1996 to 2001. But many restrictions have already been imposed.
Tens of thousands of girls have been shut out of secondary schools, while women have been barred from returning to many government jobs. Women have also been banned from travelling alone and can only visit public gardens and parks in Kabul on days separate from men.
Last month, supreme leader and Taliban chief Hibatullah Akhundzada said women should generally stay at home. They were ordered to conceal themselves completely, including their faces, should they need to go out in public.
Bachelet, who visited Afghanistan in March, described meeting women continuing to demand their rights despite "unimaginable challenges". "Their situation is critical," she said.
"Let me be clear: what we are witnessing today in Afghanistan is the institutionalised systematic oppression of women." The UN High Commissioner for Human Rights stressed the severe limits imposed on women's freedom of movement "negatively impacts almost all aspects of their lives, including the ability of women and their children to access and to participate in health services, livelihood and humanitarian aid."
Source: Dawn
https://www.dawn.com/news/1695082/un-decries-taliban-over-systematic-oppression-of-women
--------
Saudi authorities seize rainbow toys for promoting homosexuality
By David Gritten
June 15, 2022
Authorities in Saudi Arabia have been seizing rainbow-coloured toys and children's clothing, which they claim encourage homosexuality, state TV says.
An Al-Ekhbariya report showed commerce ministry officials removing a range of items from shops in the capital Riyadh.
They included hair clips, pop-its, t-shirts, hats and pencil cases.
One official said the items "contradict the Islamic faith and public morals, and promote homosexual colours targeting the younger generation".
The commerce ministry tweeted separately that its teams were confiscating "products that contain symbols and signs calling for deviation and contradicting common sense".
Shops found to be selling them would face legal penalties, it added.
In December, authorities in neighbouring Qatar announced that they had confiscated rainbow-coloured pop-its and other toys from shops for "bearing slogans that go against Islamic values".
Although Sunni Muslim-ruled Saudi Arabia has no laws regarding sexual orientation or gender identity, sexual relations outside marriage, including homosexual sex, are strictly prohibited.
Under the country's interpretation of Islamic law, consensual same-sex sexual conduct is punishable by death or flogging, depending on the perceived seriousness of the case.
It is also illegal for men to "behave like women" or to wear women's clothes, and vice versa, and for anyone to carry out online activity impinging on "public order, religious values, public morals, and privacy".
In April, cinemas in the kingdom did not screen the film Doctor Strange in the Multiverse of Madness after Disney refused a request from Saudi authorities to cut what they called "LGBTQ references".
A source close to Disney told AFP news agency on Tuesday that its new animated film Lightyear, which features a same-sex kiss, had also been banned in Saudi Arabia.
Saudi officials have not yet confirmed such a move, but the kingdom's two main cinema chains are not advertising screenings.
The United Arab Emirates culture ministry said it had banned Lightyear on Monday "due to its violation of the country's media content standards".
Source: BBC
https://www.bbc.com/news/world-middle-east-61813390
--------
Dubai women's group organise fun-filled day for cancer patients and survivors
By SM Ayaz Zakir
15 Jun 2022
While medical intervention is vital for cancer patients, mental wellbeing also plays a major role in their recovery journey. And to facilitate this, a cultural event was held for cancer survivors and patients by the Indian Women in Dubai (IWD) group in collaboration with Al Jalila Foundation, at Majlis Al Amal, a 'cancer drop-in centre' dedicated for female patients and their wellbeing.
The event saw a huge participation from patients who sang and danced to Bollywood tunes, as they dressed up in ethnic attire.
As many as 80 volunteers were involved in the hosting of the event that showcased the culture, heritage, and cuisine of India. Besides the dances performances, members also enjoyed yoga, meditation sessions and food prepared by IWD members.
Reema Mahajan, founder of IWD, said she lost her mother to cancer in March 2021 and this event was her way to honour her. "With this CSR initiative, we want to give back to society. We want to drive hope and bring smiles to the brave women warriors fighting the disease," she said.
Bharti Rao, 43 , a cancer survivor, who started her fight against the disease in 2018, and endured 12 chemo sessions, a mastectomy, 35 radiotherapy sessions and hysterectomy, said that life is still beautiful for her. "I now live each day , celebrate little things and feel thankful for all that I behold," she said.
"The performers have put smiles on faces of brave souls and we are all taking back wonderful memories of the day," added Rao.
Majlis Al Amal is a unique 'cancer drop-in centre' dedicated to female cancer patients and their wellbeing. The Centre aims to keep the message of hope alive and improve the wellbeing of thousands of women who will now have a haven to drop-in at any time for the emotional support they need.
Source: Khaleej Times
https://www.khaleejtimes.com/uae/dubai-womens-group-organise-fun-filled-day-for-cancer-patients-and-survivors
--------
115 Pakistani women entrepreneurs selected for AWE 2022
June 13, 2022
ISLAMABAD:
The US embassy in Islamabad has selected 115 women to participate in their program to foster and support women entrepreneurs.
US Embassy Islamabad's Counsellor for Commercial Affairs John Coronado congratulated more than 115 Pakistani women entrepreneurs on their selection to the Academy for Women Entrepreneurs (AWE) 2022 in a virtual launch event on June 11.
This US training programme supports women worldwide in building their own businesses. Its launch in Pakistan is part of the 75th-anniversary celebrations of US-Pakistan bilateral relations and an ongoing effort to empower Pakistani women to realise their economic potential and increase prosperity for all Pakistanis.
During his remarks, Mr Coronado spoke about the need to support women entrepreneurs: "When women are economically empowered, they reinvest in their families and communities, strengthening the social fabric and improving education and skill levels of the workforce. This multiplier effect spurs economic growth and enhances stability."
With mentoring and guidance from established Pakistani entrepreneurs, the AWE participants will undertake a three-month, rigorous online training programme developed by Arizona State University's Thunderbird School of Global Management and American natural resource company Freeport McMoran.
Through AWE, participants learn core business skills and will meet weekly to discuss the material with experienced local mentors and US experts. AWE is designed to cultivate entrepreneurial know-how, help women entrepreneurs connect with funding opportunities, enhance opportunities for business expansion, and increase the likelihood of entrepreneurial success.
Four of the US Mission to Pakistan's Lincoln Corners in Multan, Muzaffarabad, Khairpur, and Peshawar will lead AWE Pakistan 2022, with support from the Pakistan American Cultural Centre and the DOVE Foundation. Lincoln Corners in Peshawar, Lahore, Rawalpindi, and Larkana took part in AWE Pakistan 2021.
Toward the end of their AWE journey, participants will have the opportunity to compete for seed funding from the US Mission to Pakistan to further grow or establish their enterprises. Upon completion, the participants will join the global AWE network, which offers further growth opportunities, as well as the community of US exchange programme alumni.
Source: Tribune Pakistan
https://tribune.com.pk/story/2361280/115-pakistani-women-entrepreneurs-selected-for-awe-2022
--------
Houthis order female aid workers not to travel without male escort, says UN
June 15, 2022
AL-MUKALLA: The UN has said that the Iran-backed Houthis banned female aid workers with its Yemen-based organizations from traveling without a male escort or mahram, a move that has significantly hindered the distribution of aid in the war-torn country.
The UN Office for the Coordination of Humanitarian Affairs said in its monthly bulletin on the humanitarian situation in Yemen released this week that the Houthis ordered women who work with international organizations not to travel without being escorted by a male relative.
The Houthi's strict rule has impeded the distribution of aid to needy Yemenis and other humanitarian operations inside the Houthi-controlled areas.
"Significantly, requirements for mahrams — male guardians accompanying female aid workers when traveling on missions — have reportedly increased in Ansar Allah-controlled areas, significantly affecting field mission and the implementation of activities," the organization said using the official name of the Houthis, adding that insecurity in the government-controlled areas also led to temporary suspending humanitarian assistance in Yemen.
During the past two years, the Houthis have imposed tough religious rules targeting women, activists, artists and singers in their territory.
The Houthis banned women from mingling with men in public places, cafes, universities and restaurants, banned singers from singing at weddings, rounded up women for dress code infringements and ordered women not to travel or work without a male guardian.
In March, the Yemeni organization Mwatana for Human Rights said that Houthi-manned checkpoints at the entrances of Houthi-controlled cities harass and question unaccompanied women and demand men who travel with women to prove they are siblings.
The latest Houthi laws have irked Yemeni activists who warned that many women in the Houthi-controlled areas would be thrown out of work.
Zafaran Zaid, a Yemeni human rights activist and lawyer who was sentenced to death in absentia by a Houthi-run court, told Arab News on Wednesday that the Houthis, who refuse to pay public servants or provide people with jobs, would aggravate the humanitarian crisis and the suffering of Yemenis by depriving thousands of women of getting good jobs with international organizations.
"The Iran-backed Houthi militia increases the suffering of women, especially with regard to opportunities to improve livelihoods and job opportunities in the public and private sectors," she said, adding that the Houthis punished bus and taxi drivers in Sanaa for ferrying unescorted women.
In April, residents in the Houthi heartland city of Saada said that all-female morality police officers detained dozens of women for shopping without male companions or shopping in male-only places.
Source: Arab News
https://www.arabnews.com/node/2104196/middle-east
--------
Turkey's top business body vows support to boost female entrepreneurs
JUN 15, 2022
One of Turkey's top business associations has been increasing support for female entrepreneurs and says it is an endeavor to help expand the number of women-led enterprises and ensure their greater participation in the workforce.
Looking to shed light on the matter, the Independent Industrialists and Businesspersons Association (MÜSIAD) Women organized the International Awareness Summit 2022 (IAS'22) in Istanbul, which addressed the effect of women in all segments of social and business life.
The event also addressed the matter of environment and health, entrepreneurship and digitalization.
Addressing the summit, held under the theme "Transformation Begins with Us," MÜSIAD Women's President Meryem Ilbahar stressed the association's efforts and awareness-raising activities.
"As the business women's community, we believe that increasing the number of female employers in the business world, developing and strengthening this potential will undoubtedly contribute positively to both employment and the country's economy," Ilbahar said.
Studies have long stressed that increasing support for female entrepreneurs could boost the global economy by trillions of dollars, but they have also found that women who start businesses face more challenges than men.
"The participation of women in the workforce is also very important for the sustainability of economic and social life," Ilbahar said. "We say 'sustainability' because the development and dissemination of practices that maintain the balance of work and private life will bring about an increase in productivity and motivation."
At the same time, she said digital entrepreneurship has an important place in terms of contributing to both economic growth, employment opportunities and innovation.
"It is important for women in business life. One of our areas of work is to support women's entrepreneurship and strengthen existing initiatives. In this sense, we are committed to providing training and mentoring infrastructure to entrepreneurial activities, facilitating access to the network and acting as a bridge. We are aware of our responsibility," she noted.
The event also addressed migration through a panel during which Ilbahar underlined that "no one voluntarily migrated in crisis regions."
"Migration is a test for those who emigrate, but it is also a test for those of us who open our doors to them" she noted. "Our civilization is full of examples where people from different geographies, different races and languages can coexist. We must strive to restore these colors, to highlight the good, the beautiful and the virtuous."
Also speaking at the event, MÜSIAD President Mahmut Asmalı pointed out to the intense efforts that he said are being made to increase the number of employer women.
"Women's participation in working life to a large extent in recent years and their involvement in entrepreneurship activities by taking a more active role has a strategic importance for developing economies," Asmalı noted.
"The way to activate the unused potential in both production and employment and to create new business fields is to encourage women's entrepreneurship and employment."
Asmalı stressed the association is supporting the policies and projects that will ensure greater engagement of women in economic life.
Source: Daily Sabah
https://www.dailysabah.com/business/economy/turkeys-top-business-body-vows-support-to-boost-female-entrepreneurs
--------
Nagaland's first woman MP in RS to attend IPU Global conference in Egypt
15th June 2022
By Rajesh Kumar Thakur
NEW DELHI: Nagaland's first woman elected as Member of Parliament (MP) to Rajya Sabha and chief of Nagaland BJP Mahila Morcha- S. Phangon Konyak will be representing India at the two-day 8th IPU Global Conference of 'Young Parliamentarians' in Egypt. She, along with two other young Lok Sabha MPs from India, will be sharing her thoughts on the 'Young MPs for Climate Actions'.
The two-day eight Global Inter-Parliamentary Union (IPU) conferences of Young Parliamentarians is slated to start from June 15 to 16 with a good number of young MPs participating from various countries.
She was elected unopposed from Nagaland on March 24 this year becoming the first woman elected to RS from Nagaland.
After her post-graduation in English literature from DU, Konyak entered the parliamentary politics as a BJP MP in Rajya Sabha and had also taken the oath of secrecy of the House wearing the traditional attire of Nagaland.
"I shall be in Egypt for the next two days as part of the Indian delegation to participate in the Eight IPU Global Conference of Young Parliamentarians, at Sharm el- Sheikh, where I will also get to share my thoughts", she tweeted.
According to her, the Northeast has come a long way under PM Narendra Modi, becoming an important and indispensable part of the country's progress.
"We are on the right track with much potential to be unlocked", she quipped in a tweet prior to leaving for Egypt.
The 8th Global Conference of Young Parliamentarians is jointly organized by the Inter-Parliamentary Union (IPU) and the Egyptian House of Representatives annually to provide a platform to young MPs from across the world to exchange learn and define common and innovative strategies to advance the youth empowerment.
This year in Egypt, around 200 young MPs, including the MPs from India, from 60 countries are participating to discuss strategies to mitigate the impact of climate change and ensure that global warming does not exceed 1.5'c in line with the Paris Agreement.
As per the letter, written to the participating young MPs by the hosts, the eighth edition of the Global Conference of the Young Parliamentarians will pursue the efforts reflecting on what may be the most pressing and existential issue requiring strong international responses to fight to mitigate and adapt to
climate change.
According to official information shared by IPU, there are 35,177 parliamentary seats globally but just 2.66% of these are held by young MPs.
Source: New Indian Express
https://www.newindianexpress.com/nation/2022/jun/15/nagalands-first-woman-mp-in-rs-to-attend-ipu-global-conference-in-egypt-2465678.html
--------
URL: https://newageislam.com/islam-women-feminism/girl-education-climate-malala/d/127260
New Age Islam Islam Online, Islamic Website, African Muslim News, Arab World News, South Asia News, Indian Muslim News, World Muslim News, Women in Islam, Islamic Feminism, Arab Women, Women In Arab, Islamophobia in America, Muslim Women in West, Islam Women and Feminism