New Age Islam News Bureau
30 Sept 2018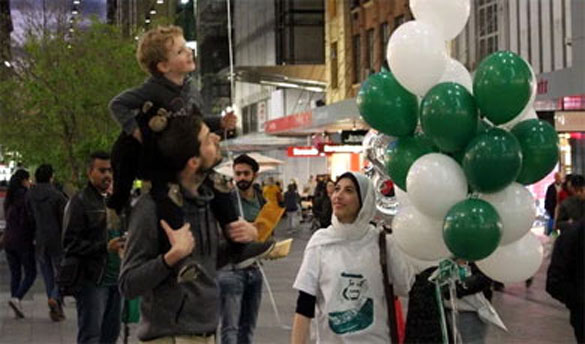 In the capital city of South Australia, Saudi students have chosen to spread the knowledge about their country with flowers and chocolate. (Photo: Issa Alshehhi)
----
• Saudi Female Students in Adelaide Celebrate National Day in Public
• UAE Partners with UN Women to Build Arab Women's Military, Peacekeeping Potential
• Citing Personal Law in a Muslim Couple Case, HC Holds 16-Year-Old Girl's Marriage Valid
• We're Branding All Islamic Issues As Anti-Women: Activist Flavia Agnes
• Court Sentences Egypt Activist Who Slammed Sexual Harassment
• Jeppe Girls High Hijab Fiasco May End Up Court
Compiled by New Age Islam News Bureau
URL: https://www.newageislam.com/islam-women-feminism/girls-marry-14-special-cases/d/116525
--------
'Girls Can Marry At 14 in Special Cases': Sabah Mufti
30 Sep 2018
KOTA KINABALU: After facing public backlash for his controversial remarks, Sabah mufti Datuk Bungsu Aziz has clarified that 14-year-old girls and 16-year-old boys would only be allowed to marry in "special cases".
Bungsu said he merely suggested that these were marriageable ages, and that consideration should be given to teenagers wanting to get married under "special circumstances".
"For certain cases, special cases, the law must allow them to get married," he said.
Sabah had numerous young girls and boys who withdrew from schools, he said.
"In my opinion, if the minimum marriage age is raised to 18, untoward things might happen," he said.
Bungsu said teenagers, however, should first be considered eligible by the courts for marriage.
"They have to go to court to determine whether they are mentally ready and prepared to get married," he added.
However, non-governmental orga­­­nisations in Sabah maintained their stance that 18 should be the minimum age of marriage.
Sabah Women's Action Resource Group secretary Yasmin Ooi, for instance, said scientific, economic and psychological evidence had proven that a child bride could not handle the responsibility of being a wife and mother.
"Some girls may develop secondary sexual characteristics like breasts and start their menstruation at a young age, but their bodies are still developing.
"If they were to become pregnant, they would face complications during delivery, which can be potentially fatal for them and their unborn children.
"If they survive that, they will most likely be deprived of education. As such, they would be disadvantaged when it comes to economic opportunities, trapping another generation in poverty," she said.
Ooi said: "We feel that to start a family or get married, one should be an adult first," she added.
Society for Equality, Respect And Trust for All founder Sabrina Aripen said it was appalling that certain parties were still insisting that puberty was the sign of maturity.
She described such an arrangement as "legalised paedophilia and prostitution of young girls".
"Yes, 18 is the minimum," Sabrina said.
Good Shepherd Services executive director Chin Poh Choo said when a girl reached 18 years, she would at least have completed her secondary education before getting married.
She also dimissed the idea of child marriages as a way out of poverty.
"There should be no distinction between children in urban and rural areas. A child is still a child, regardless of where they come from."
For Muslims, the minimum age of marriage is 16 for girls and 18 for boys, but exceptions can be made for girls or boys to marry at a younger age as long as they obtain the Islamic court's consent.
Under civil law, non-Muslims can only marry from the age of 18 but non-Muslim girls can marry as early as 16, provided they get the permission of the state's chief minister or mentri besar.
https://www.thestar.com.my/news/nation/2018/09/30/girls-can-marry-at-14-in-special-cases/
--------
Saudi Female Students in Adelaide Celebrate National Day in Public
September 29, 2018
ADELAIDE: In the capital city of South Australia, Saudi students have chosen to spread the knowledge about their country with flowers and chocolate.
A group of female Saudi students decided to introduce their country the way they see it. Eighty-eight balloons representing the Kingdom's National Day were distributed to the children in the heart of Adelaide, along with flowers, chocolate and flyers about the history of Saudi Arabia.
Dr. Hesham Khadawardi, the Saudi cultural attaché in Australia, said: "Saudi women are indispensable contributors to national development, They proudly announce their role supporting and serving the success and advancement of their country. The energy of Saudi contemporary advancement by necessity attracts the synergy of all young ambitious Saudis, both women and men."
Following the great relationship between the two countries, the UAE cultural attaché in Canberra has contributed to support this celebration. UAE students have participated in the celebrations and the Emirate flag was held up along with the Saudi flag, representing the long and strong bonds between the two nations.
http://www.arabnews.com/node/1379806/saudi-arabia
--------
UAE Partners with UN Women to Build Arab Women's Military, Peacekeeping Potential
September 30, 2018
NEW YORK: In the presence of Sheikh Abdullah Bin Zayed Al Nahyan, Minister for Foreign Affairs and International Cooperation, the UAE Ministry of Defence and the General Women's Union – under the patronage of Sheikha Fatima Bint Mubarak, Chairwoman of the General Women's Union, President of the Supreme Council for Motherhood and Childhood, and Supreme Chairwoman of the Family Development Foundation – signed a new Memorandum of Understanding with UN Women that will build the capacity of women in the military and peacekeeping in the Arab region.
Among the signatories at the ceremony, which was held at the UAE Mission to the United Nations in New York, were Major General Abdulla Al Hashmi, Assistant Under-Secretary for Support Services at the Ministry of Defence; Noura Al Suwaidi, Director-General of the General Women's Union; and Phumzile Mlambo-Ngcuka, Under-Secretary-General and Executive Director of UN Women. In attendance at the ceremony were Reem Bint Ibrahim Al Hashemy, Minister of State for International Cooperation, Dr Sultan Bin Ahmad Sultan Al Jaber, Minister of State, Ambassador Lana Zaki Nusseibeh, UAE's Permanent Representative to the United Nations in New York; and Dr. Mouza Al Shehhi, Director of the UN Women-UAE Liaison Office for the GCC.
This military and peacekeeping progamme for Arab women will commence in January 2019, providing civilian women with a three-month basic military training followed by a two-week peacekeeping training.
It will prepare female military officers for UN peacekeeping operations and increase the pool of female military officers, create peer to peer networks among women interested in joining the military and peacekeeping fields, and drive the strategic objectives of UN Security Council Resolution 1325, with particular attention to the importance of capacity building and training.
Historic moment
Commenting on the signing, Sheikh Abdullah Bin Zayed said, "Today represents a historic moment in the United Arab Emirates' steadfast partnership with UN Women. The UAE will continue to advocate for the full empowerment of women, particularly under the leadership of Sheikha Fatima Bint Mubarak. We will do this hand-in-hand with our Ministry of Defence, the General Women's Union, and our partners at UN Women to ensure that women in our region and around the world are given the training they need to serve in the security sector, where their presence and leadership adds to the operational effectiveness of missions and increases peace and stability globally. Further, the UAE is committed to advancing the Women, Peace and Security agenda and promoting the tenets of UN Security Council Resolution 1325 both at home and abroad, and we hope that this training programme is just one of many initiatives to come in support of this agenda."
Maj. Gen. Al Hashmi added, "The UAE is committed to ensuring that women are equipped with the skills necessary to contribute to peace and security globally, from defending national interests to providing humanitarian assistance in times of crisis. This is why the UAE's Ministry of Defence will be leading this military and peacekeeping training at the UAE's Khawla Bint Al Azwar Military Academy for Women, where women have undergone military training for the past twenty-seven years." The Khawla Bint Al Azwar Military Academy is the first in the region dedicated exclusively to training women in the military, founded in 1991 on the directive of the late Sheikh Zayed Bin Sultan Al Nahyan, Founder of the UAE.
National efforts
Noura Al Suwaidi remarked, "Since 1975, under the patronage of Sheikha Fatima Bint Mubarak, the General Women's Union has led national efforts in empowering women. We believe that these efforts extend to empowering women in all sectors, including the security sector, where women make real, tangible contributions everyday to keeping families and communities safe."
Ambassador Nusseibeh reinforced this point by underlining the UAE's commitment to advancing the Women, Peace and Security agenda. "The UAE will continue to advance the role of women in all aspects of peace and security because we believe that when women are represented throughout our society - especially as leaders and decision-makers - that our societies become more tolerant, more prosperous, and more stable.
http://www.gulftoday.ae/portal/8f82e551-7347-453f-94ff-2921bc81f80c.aspx
--------
Citing Personal Law in a Muslim Couple Case, HC Holds 16-Year-Old Girl's Marriage Valid
September 29, 2018
Directing the Nuh district's Protection Home to release a 16-year-old Muslim girl from custody, the Punjab and Haryana High Court has allowed her to stay with her husband and said the Muslim couple's marriage cannot be said to be invalid, while referring to the Muslim law.
"As per the Text Book of Mohammedan Law by Aqil Ahmad, 'Puberty and majority' in the Muslim law are one and the same thing…," the judgment passed by Justice Daya Chaudhary on September 26 reads.
The judgment further reads, "A boy or girl, who has attained puberty, is at liberty to marry anyone he or she likes and the guardian has no right to interfere."
The girl was more than 15 years of age at the time of her marriage in June 2018 and "strongly objected" when the court had asked her whether she wants to stay with her parents.
"The detenue is entitled to remain with the petitioner, being his wife. In-charge, Safe House (Protection Home) at Nuh, District Nuh, is directed to complete all formalities and
release the detenue," reads the order.
Her husband had filed a habeas corpus plea in the High Court in June after he was not allowed to meet her in the Safe House.
The couple had also approached the High Court in June for police protection after the marriage. They were residing in Nuh Protection Home until the husband was taken into custody by the police on June 12 in the case registered against him by the girl's family for kidnapping a minor.
He was not allowed to meet her after being released on bail by the trial court and approached the High Court regarding it.
His counsel argued before the court that their marriage was governed by Muslim law and provisions of Prohibition of Child Marriage Act, 2006 are not applicable on them.
"The Muslim Personal Law (Shariat) Application Act, 1937 is a special Act, whereas, the Prohibition of Child Marriage Act, 2006, is a general Act. The general provisions would yield to specific provisions. This is a well-settled proposition of law. The special Act would have predominance over the general Act," the judgment passed by the High Court reads.
Justice Chaudhary, in the judgment, further said that the girl is 16 years of age and marriage without consent of father "cannot be said to be invalid or otherwise" as consent of father is necessary in cases where the girl is less than 15 years of age.
https://indianexpress.com/article/india/citing-personal-law-in-a-muslim-couple-case-hc-holds-16-year-old-girls-marriage-valid-5379651/
--------
We're Branding All Islamic Issues As Anti-Women: Activist Flavia Agnes
September 29, 2018
Flavia Agnes, leading women's rights lawyer and co-founder of Majlis, a legal and cultural resource centre that campaigns for and provides legal representation to women and children, tells Tish Sanghera that reactions to the problems of Muslim women are knee-jerk and prompted from ignorance. Excerpts:
There have been negative and often extreme reactions amongst parliamentarians to news that the All India Muslim Personal Law Board (AIMPLB) intend to establish sharia courts in every district of the country. Can you explain why you believe those who are concerned about sharia courts acting as a 'parallel legal system' may have misunderstood how they operate?
An impression seems to have been created that this move to set up darul qazas in every district is driven by an objective to undermine the impact of the recent constitutional bench ruling in the triple talaq (Shayara Bano vs Union of India) case, which had declared triple talaq invalid last August. But this premise has no basis since darul qazas have been functioning in India for a long time.
For instance, Imarat-e-Sharia in Patna, which has a well-oiled alternate dispute resolution mechanism, was set up in 1920 and has a broad network of darul qazas across many north Indian states. At that time, there was no controversy around the setting up of this institution. Additionally, there are also darul qazas run by muftis who are not affiliated to any darul qazas.
Misunderstanding around the machinations of Islamic law have been seen before. Do you think the AIMPLB's plan to activate its Tafheem-e-Shariyat committee will help to improve awareness levels and even relations between opposing groups?
Yes, I am sure such initiatives will help to clear the air and give a true picture about Islam, and Muslim women's rights. Right now, there is so much Islamophobia and fear of 'the other', because we do not know about the traditions, customs and practices of Muslims. Through our ignorance, we are branding everything concerning Islam as anti-women.
As many as 95 of 100 cases studied in a darulqaza in Kanpur were filed by women who wanted the dissolution of a marriage or maintenance support, in a 2017 study by the Indian Institute of Technology, Kanpur. What does this tell us about the role these organisations play amongst women in this community?
The same is true of all the darul qazas that I have visited in Mumbai, not just this one in Kanpur. I have visited around eight that are functioning and each one said more women approach them than men. A few of these stated that around 95 per cent are women.
This is because when a Muslim woman faces domestic violence she often prefers to go to a darul qaza to dissolve her marriage rather than the family court. In a darul qaza, women feel more comfortable since they are familiar with the culture, understand the language. Also darul qazas offer expeditious and cheaper options to resolve family disputes, than the civil courts.
Men approach the darul qazas if their wife has deserted them or the wife has filed a criminal case under Section 498A of the IPC (Indian Penal Code). Men do not approach a darul qaza for pronouncing talaq.
Hypothetically speaking, if darulqazas were abolished and personal law matters brought more into the purview of the secular judiciary, what in your opinion would be the impact on communities that had traditionally looked towards alternative dispute mechanisms?
Today our judiciary is clogged and cases drag on for a very long time. So actually solving disputes through alternative dispute resolution mechanisms like Lok Adalats (People's Courts), mediation centres etc are encouraged. Therefore, I do not think the government will abolish the darul qazas.
Even if they are abolished people can still choose various alternative fora such as the local panchayats (village councils), mediation by family elders, religious heads and local political parties etc to resolve civil disputes. For instance, even among Christians and Hindus such alternatives are available. Christians have their own church tribunals and many lower caste Hindus approach their caste panchayats or village panchayats to resolve family disputes.
The Hindu Marriage Act validates the divorces granted as per custom of the caste. So if Muslims opt for obtaining khula (divorce initiated by the wife) in a darul qaza, the husband also accepts this fora for resolving the dispute and both parties abide by the decision of the darul qazas, how can this be stopped?
You have previously said the media too often portrays the plight of Muslim women in India inaccurately (as lacking rights) and manipulates the story to fit politically charged discourse. The recent public interest litigation is a good example of this you say. Could you explain what you mean by this?
Based on a study conducted by Bharatiya Muslim Mahila Andolan (the findings and methodology of which were challenged by legal scholars) several articles appeared in the media. A bench of the Supreme Court while denying a Hindu woman right to ancestral property, totally out of context, then made a reference that a Constitution Bench be set up to examine the lack of rights of Muslim women though this was not an issue before the court.
Shayara Bano is a victim of domestic violence just like 50 per cent of all Indian women are. She had left her matrimonial home and was residing with her parents. Remedies to her concerns (maintenance, access to her children and protection against domestic violence) were available to her under the Protection of Women from Domestic Violence Act, but perhaps no one advised her about this.
When her husband filed for Restitution of Conjugal Rights, she contacted a Supreme Court lawyer to transfer this case from Lucknow to Kashipur. As a counter blast, the husband's lawyer sent her a talaqnama. Since a Constitution Bench was constituted, her lawyer advised her to file a writ petition and challenge the talaqnama though she herself consistently maintained that she does not wish to return to her husband due to the domestic violence. So according to me this case does not strictly fit the formula of 'instant and arbitrary triple talaq'. But the writ petition gave her instant fame and she became known as a crusader for Muslim women. Recently I read reports that she has joined the BJP.
In the same article you also said, the media often ignores the large number of positive court judgements in favour of Muslim women in India. Can you give us an example from your own experience working with Majlis or interactions with the Muslim community? I could mention so many since we are constantly using these cases to defend the rights of Muslim women. For instance, in the Shamim Ara case in 2002, the Supreme Court laid down the correct procedure for pronouncing talaq. Even earlier there were judgments of Justice Barul Islam of the Guwahati High Court in 1981 where the procedure for pronouncing talaq was laid down. Since 1981 to 2002, various High Courts had followed the Guwahati judgement. So the issue that arbitrary triple talaq is invalid was already settled. But these judgments were not highlighted in the media.
So every time we have approached the magistrate's court to protect a Muslim woman under this Act, the other side have argued that a Muslim woman is not entitled to claim relief under this Act and this is simply because media had not highlighted this issue enough.
https://www.business-standard.com/article/current-affairs/we-re-branding-all-islamic-issues-as-anti-women-activist-flavia-agnes-118092900569_1.html
--------
Court Sentences Egypt Activist Who Slammed Sexual Harassment
September 29, 2018
CAIRO: An Egyptian court Saturday handed a two-year suspended jail sentence to a woman human rights activist arrested in May after posting a video criticising sexual harassment in Egypt, her lawyer said.
Amal Fathi, 33, was convicted of spreading fake news and fined 10,000 Egyptian pounds ($560 dollars), her lawyer Doaa Mustafa told AFP.
"We will challenge the ruling," Mustafa said, adding that Fathi could pay 20,000 pounds to have her sentence suspended.
However, Fathi is still in detention awaiting trial in another case in which she is accused of "membership in a terrorist group", her lawyer added.
Amnesty International denounced Saturday's "disgraceful" verdict against Fathi who, it said, was sentenced "simply for her courage to speak out against sexual harassment".
"This is an outrageous case of injustice, where the survivor is sentenced while the abuser remains at large," the rights group's Najia Bounaim said in a statement.
Fathi "is a human rights defender and sexual harassment survivor, who told her truth to the world and highlighted the vital issue of women's safety in Egypt," Bounaim said.
"She is not a criminal and should not be punished for her bravery."
Fathi was arrested in May after posting a Facebook video in which she accused authorities of failing to protect women and charging that guards at a bank had sexually harassed her.
Some 60 percent of women in Egypt said they had been victims of some form of sexual harassment during their life, in a 2017 report from UN Women and Promundo.
Public debate over harassment intensified in the aftermath of the January 2011 uprising against former president Hosni Mubarak.
The protests demanding Mubarak's ouster centred around Cairo's Tahrir Square, where constant media coverage also highlighted sexual attacks and helped show public denial of the phenomenon.
Following the uprising, anti-harassment graffiti spread around downtown Cairo, volunteers organised to rescue women from mob attacks, and more women shared their own stories publicly.
http://www.arabnews.com/node/1379696/middle-east
--------
Jeppe Girls High Hijab Fiasco May End Up Court
29 SEPTEMBER 2018
Seven Muslim families are prepared to take Jeppe Girls' High School and the education department to court over alleged discrimination, claiming their daughters have been prevented from expressing their freedom of religion alongside their school spirit.
The school's policy on hijab (headscarves) has been debated - particularly on social media - for several months, with Jeppe Girls' allegedly banning learners from wearing them with the official school blazer or school colours.
However, the young women are given the option to wear their headscarves with a black cloak, which would cover up their uniforms. But in the past week and a half, seven learners at the school were told they would have to attend a disciplinary hearing at the school today for "repeated dress code infringements" and "disregard for educator's instruction".
The Saturday Star has learnt that since the issuing of the disciplinary notices, the pro bono department at law firm Cliffe Dekker Hoffmeyr has now become involved, representing each of the seven learners in a bid to declare the disciplinary hearings unlawful.
In a series of urgent letters written on Thursday to, among others, Gauteng Education MEC, Panyaza Lesufi, the school's principal and the Jeppe school governing body (SGB), the firm has said that the disciplinary proceedings were discriminatory and the school's code of conduct is unconstitutional.
Head of the firm's pro bono department Jacquie Cassette and senior associate Tricia Erasmus argue in their letters that even the notice of the hearings is defective.
They suggest the notice failed to detail the alleged offences, what punishment the learners face and that they failed to give the learners sufficient time to prepare for the hearings.
However, more importantly, they allege the hearings are unlawful as they "flow from a code of conduct which is unconstitutional and unlawful in so far as it fails to accommodate affected learners who wish to follow the dictates of their religion without, at the same time, being denied their rights to equality, dignity, equal respect and to be identified with the school".
The letter implies that in recent months, the Gauteng Department of Education expressly instructed the school's SGB to allow the affected learners to wear a hijab with their uniform until the issue - namely the school's code of conduct and whether it should be changed - was resolved.
"The reasonable conclusion is that there are certain individuals at the school who seek to harass the learners knowing full well that a dispute exists as to the code of conduct itself," the letter reads.
Speaking to the Saturday Star yesterday, Cassette said the school's code of conduct contributed to "othering" the Muslim learners at the school, and that her clients were trying to find a way to allow learners to express their religion and their love of the school.
"Our clients are still willing to co-operate to find an amicable way forward with the school to revise the code of conduct," she said.
Cassette added that this morning she would be attending the hearing to have them stopped or postponed, but that if the school did decide to continue with them, she and her clients would have no choice but to approach the courts for assistance.
However, just before 5pm, the firm was informed that the disciplinary hearing had been postponed.
Spokesperson Steve Mabona said the department was investigating.
Yesterday, social activist Yusuf Abramjee tweeted copies of the disciplinary notice, asking why the young women were being punished for "covering their hair".
Lesufi responded, calling on his team to investigate.
In June, Abramjee was calling for the school's code of conduct to be altered as he believed it was "unconstitutional".
https://www.iol.co.za/saturday-star/news/jeppe-girls-high-hijab-fiasco-may-end-up-court-17266982
--------
URL: https://www.newageislam.com/islam-women-feminism/girls-marry-14-special-cases/d/116525
New Age Islam, Islam Online, Islamic Website, African Muslim News, Arab World News, South Asia News, Indian Muslim News, World Muslim News, Women in Islam, Islamic Feminism, Arab Women, Women In Arab, Islamophobia in America, Muslim Women in West, Islam Women and Feminism