New Age Islam News Bureau
30 Apr 2014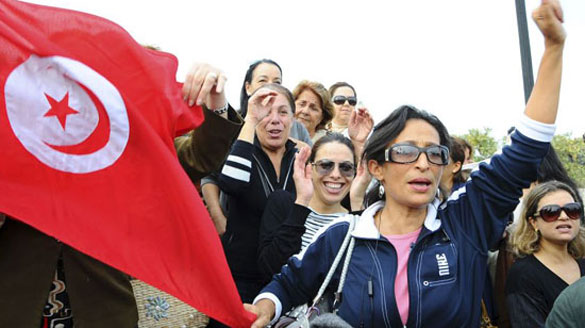 Tunisia Just Took a Step on Women's Rights the U.S. Has Yet to Make, Image Credit: AP
-------------
• Tunisia Just Took a Step on Women's Rights the U.S. Has Yet To Make
• Pak Child Marriage Restraint Bill Passage Lauded
• Pakistan: Two Girls Killed For Honour
• Firms Offer Incentives to Retain Saudi Female Workers
• Shoura Proposes Fund to Help Women Involved In Family Dispute
• Girls Brave Violence for Their Education in Northern Nigeria
• Child Marriage Could Become Law in Iraq This Week
• Vicious Attack at Women's Prison in Iran
• Indonesia: Abuse against Women Shows No Sign of Abating
• Iran's Courts Are Still Blaming Rape Victims for Their Attacks
• 'Hadassah Women' Visit Israel, Refuse To Meet Health Minister
Compiled by New Age Islam News Bureau
URL: https://www.newageislam.com/islam,-women-and-feminism/new-age-islam-news-bureau/girls-abducted-from-nigeria--have-been-sold-to-islamic-militants-for-£8-each-/d/76809
-------------
Girls Abducted From Nigeria 'Have Been Sold To Islamic Militants Boko Haram for £8 Each'
April 30, 2014
Hundreds of Nigerian schoolgirls kidnapped two weeks again are being sold to as wives to Islamic militants for as little as £8 each, it has been claimed.
The teenagers were abducted from their secondary school, in Chibok, in the middle of the night by armed men from Boko Haram and are believed to have smuggled across the borders to Cameroon and Chad Republic.
Some of them have been forced to marry against their will and are being used as servants and sex slaves, according to a community elder.
Pogo Bitrus told The Times the captors were selling the girls aged 16-18 into servitude by forcing them to marry other members of the extremist group.
'If these captors are trying to achieve a political point, I think the best thing is for us to try to make sure that they don't succeed,' he said.
'But from all indications they are succeeding, due to inaction of government it is helping these people in achieving their objectives.'
He said that the girls had been ferried to Cameroon and Chad by canoe where prospective husbands were paying around 2,000 naira (£8) for a bride.
The girls were kidnapped on April 14 by gunmen who raided the dormitories taking the girls while they slept.
Initially officials said that about 85 girls had been taken. But it later emerged that as many as 234 were missing.
So far, none of the schoolgirls have been rescued. About 40 managed to escape the grips of their heavily armed captors - believed to members of a Jihad Islamist group.
Parents and other town residents have mounted a search in the Sambisa Forest, which borders Chibok town and is a known hideout for the militants.
They had no weapons and eventually were forced to turn back.
Security sources have said they are in 'hot pursuit' of the abductors, but so far they have not rescued any of the kidnap victims
The girls' families and their supporters have now organised mass demonstrations across Nigeria in an attempt to force President Goodluck Jonathan to take more drastic action.
Boko Haram has been abducting girls and young women in attacks on schools, villages and towns, but the latest mass kidnapping is unprecedented.
The extremists use the young women as porters, cooks and sex slaves, according to Nigerian officials.
Boko Haram has a history of abducting women, and there has been an estimated 10,000 deaths caused by the group since it was formed in 2002.
The group rejects western beliefs and its purpose is to establish a "pure" Islamic state ruled by Sharia law.
http://www.dailymail.co.uk/news/article-2616437/Hundreds-girls-abducted-Nigerian-school-night-sold-Islamic-militants-wives-8-each.html#ixzz30Mt1QlO5
-------------
Tunisia Just Took a Step on Women's Rights the U.S. Has Yet to Make
April 30, 2014
The North African nation of Tunisia may be best known for its 2010 uprising that helped spark the Arab Spring, but recently the country took a huge step for women's rights that the U.S. hasn't even come close to reaching.
Tunisia's interim government notified the United Nations earlier this month that it had decided to lift all reservations on the UN Convention to Eliminate All Forms of Discrimination Against Women (CEDAW). The decree lifting the reservations on CEDAW was issued in 2011, but the matter went without much discussion until the notification, signed by UN Secretary-General Ban Ki-moon last week, was made available online.
Tunisia ratified CEDAW in 1985. Not only has the U.S. not done so, it has the distinction of being the only industrialized nation among the eight countries that has not recognized the document, which is often referred to as the international women's bill of rights. Some say that the U.S. decision not to ratify CEDAW may have to do with misconceptions that it makes abortion more widely available or that it could encourage a shift away from nuclear, two-heterosexual-parent families.
Tunisia's removal of CEDAW reservations is a noticeable step for anyone following the country's transition. The country has often been lauded for the legal rights Tunisian women enjoy. Women's suffrage, the right to contraceptives and the right to pass on nationality have been legally ensured in the country since long before they were even part of the U.S. political conversation.
Removing its reservations to CEDAW better reflects Tunisia's national laws on an international stage. The government removed its reservations on equal rights for men and women to pass on nationality, to move within their country and choose their residence, and within matters pertaining to marriage, family, adoption and property rights.
The latter is likely the most controversial move for the government. On one hand it faces criticism from Tunisian women's rights activists for inheritance laws modeled on Islamic jurisprudence, which does not view female and male heirs equitably. Meanwhile, a fair share of Tunisian politicians are digging in their heels against the decree because of changes they fear will come in family and property law.
The country hasn't come so far as removing a general blanket disclosure stating it will not conform with parts of CEDAW that conflict with its constitutional self-definition as a free, independent, sovereign republic with Islam as its national religion. But the removal of reservations places Tunisia, a small country facing its own economic and political battles after a recent revolution, exactly where it wants to be on the international stage, and on the right side of history.
http://www.policymic.com/articles/88599/tunisia-just-took-a-step-on-women-s-rights-the-u-s-has-yet-to-make
-------------
Pak Child Marriage Restraint Bill Passage Lauded
April 30, 2014
ISLAMABAD - National Commission on the Status of Women Chairperson Khawar Mumtaz, hailed the Child Marriage Restraint Bill, 2013.
He, congratulating the members of the Sindh Assembly, especially the movers of the Bill, Sharmila Farooqui and Dr Sikander Manghro, Minister Women Development Rubina Qaimkhani.
"It will go a long way to ensure the right of girls," she stated. The chairperson reiterated the resolve of NCSW to promote gender equality and empower women and urged members of the national assembly and rest of the provincial assemblies to enact similar legislation.
Mumtaz also welcomed the Sindh government's announcement to create widespread awareness of the law.
http://www.nation.com.pk/islamabad/30-Apr-2014/child-marriage-bill-passage-lauded
-------------
Pakistan: Two Girls Killed For Honour
April 30, 2014
Shikarpur- Bodies of two girls allegedly killed two months ago in the name of honour were exhumed.
The bodies were shifted to a hospital for post-mortem. The girls belonging to Mehr tribe were allegedly killed for marrying men of their choice. The exhumation took place in the presence of the Judicial Magistrate Lakhi Ghulam Shah in Goth Kamil Khan of Shikarpur District. SSP Altaf Leghari told media that the bodies would be shifted to Edhi Morgue for burial as their families were not ready to own them.
http://www.nation.com.pk/national/30-Apr-2014/shikarpur-two-girls-killed-for-honor
-------------
Firms offer incentives to retain Saudi female workers
April 30, 2014
Several companies are now offering Saudi women employees incentives to stem an alarming rate of attrition, especially in retail stores.
Companies embarked on these incentives after the Human Resource Development Fund awarded SR1.5 billion to more than 88,000 companies that fulfilled the nationalization quota.
Rahmah Al-Seini, an HR official at a retail store, said feminizing shops was a pioneering idea to provide job opportunities for women. More than 400,000 female employees found jobs in 2013.
"The labor system, however, had not provided guarantees to business owners to help curb attrition rates, putting companies in jeopardy," she said. "Companies incurred huge losses by training these women, who then left without warning. These challenges have forced companies to provide incentives."
Many women suddenly stop working due to lack of benefits and job security, she said. "As a result, many companies initiated loyalty schemes for citizens."
A yearly financial sum is given to employees at the end of the year, which is equivalent to ticket and schooling costs given to expat employees. Stipends are calculated relative to employees' wages.
In addition, employee performance is evaluated on an annual basis to determine annual commission, another form of incentive.
http://www.arabnews.com/news/563371
-------------
Shoura proposes fund to help women involved in family dispute
April 30, 2014
The Shoura Council on Monday urged the Ministry of Justice to follow up on the progress made in the implementation of the King Abdullah Project for the development of judicial facilities.
The 33rd session of the council, chaired by Muhammad Al-Jeffery, deputy chairman of the council, discussed a report published by the Justice Ministry in 2012 and stressed the need to expedite court verdicts, said Fahhad Al-Hamad, assistant chairman of the council, in a press statement.
The council also urged the launch of a maintenance fund for women and children involved in family disputes. This recommendation was made by council member Hanan Al-Ahmedi and adopted by the Islamic and judicial committees.
The council also demanded that the Ministry of Justice coordinate with the Higher Council for Justice to fill vacancies for judges to avoid delays and increased work pressure on other judges.
Al-Hamad said that council members voted down several additional recommendations,including a study to pay higher allowances and perks to judges.
The council approved amendments to a 1972 international agreement for the safety of cargo containers after hearing a report published by the transport and communications committee, the Saudi Press Agency reported.
http://www.arabnews.com/news/563386
-------------
Girls brave violence for their education in northern Nigeria
April 30, 2014
NIGERIA: Halimatu Usman, 14, spends her days doing house chores in her home of Marte, near Lake Chad in Borno state, Nigeria. Her school has been shut to pre-empt attacks from members of the Jama'atul Alhul Sunnah Lidda'wati wal Jihad or Boko Haram (meaning western education is forbidden) a group waging an insurgency to establish an Islamic government in Nigeria. As she fills the earthenware pot, she counts herself lucky not to be in a refugee camp in neighboring Niger Republic or among the 234 girls abducted by Boko Haram insurgents from a physics exam in GGSS Chibok and taken to the Sambisa Forest reserve, leaving their parents and an entire country distraught.
Halimatu belongs to a generation of girls suffering from a fractured educational system in Borno state, primarily caused by the insurgency. According to an Amnesty International report in October last year, about 70 teachers and more than 100 school children have lost their lives. In neighboring Yobe state, which has been in a state of emergency for nearly a year, 209 schools have been destroyed. In Borno state more than 800 classrooms have been burned down.
Abubakar Shekau, the leader of the sect, has continued to denounce western education through his YouTube channel. In one video he advises students to study the Qur'an instead of western education. In another video Shekau made an avowal that "we will continue to carry out such school attacks till our last breath". After a killing spree left more than 40 male students dead at a school, gunmen told the female survivors to go and get married and jettison their quest for education.
Girls in northern Nigeria faced challenges long before the insurgency. For instance, girls' education has always been under threat. The region has the lowest girl child enrollment in Nigeria – in 2008 the net enrollment rate for girls into secondary school was 22%. In northern Nigeria girls are married much younger than in other parts of the country, often shortly after puberty. According to the Population Council of Nigeria, 67.4% of girls are married by the age of 15 in the north, compared to 10.8% in the south. This has exacerbated high rates of fistula in the north of the country.
NGOs working to increase girls' enrollment, retention and transition to secondary schools in northern Nigeria include Action Aid and local groups such as the Federation of Muslim Women Association (Fomwan). While groups such as the Center for Women and Adolescent Empowerment and the Adamawa Peace Council are implementing a mentorship project called Stellar, which involves university students adopting five pupils to enhance their knowledge in maths, sciences and languages.
Since the Nigerian army made a volte-face after the false claim that the girls have been rescued, the outpouring of grief from Nigerians has been huge. On Twitter, the hashtag #bringbackourgirls – propelled by the likes of former World Bank vice-president, Africa division, Dr Obiageli Ezekwesili – has garnered the attention of people from all over the world. While Chidi Odinkalu, the chair of the Nigerian Human Rights Commission, appalled by the near indifference of the country's ruling elites, said: "If the threat of mass casualty terrorism cannot give an elite cause for pause from the business of plunder, nothing can."
Across the country there's a unanimous call for the release of the girls. Women's rights groups and the parents of the girls are calling for a one-million-woman march in Abuja this week. This is remarkable in a country famed for its ethno-religious fault lines. Either out of school or in school, minors under the state of emergency have become terrified of the pervading insecurity. There are plans to fortify the schools when they eventually reopen, the abduction of Chibok girls has ensured that the children are scared of the classroom.
Girls such as Halimatu Usman in Borno and Yobe states just want to be able to attend school and play suwe (hopscotch) at break-time without the threat of insurgent gunfire. As it is, school has become a luxury enjoyed in the recent past. If and when the insurgency comes to pass, these memories will remain scars of a time when attending classes was a life-threatening danger.
http://womennewsnetwork.net/2014/04/29/girls-brave-violence-education-northern-nigeria/
-------------
Child marriage could become law in Iraq this week
April 30, 2014
When Iraqi voters go to the polls tomorrow they are likely to endorse parties that plan to legalise child marriage at nine years old. Based on Shia Islamic jurisprudence, what is called the Ja'afari personal status law was approved by the current Iraqi cabinet eight weeks ago. It describes girls as reaching puberty at nine, and therefore ready for marriage. The current legal age is 18.
This barbaric and regressive law would grant fathers sole guardianship of their female children from the age of two, as well as legalising marital rape. It has horrified Iraqi women and they publicly declared last month's International Women's Day an Iraqi day of mourning in response to the worrying developments. Hassan al-Shimari, the Iraqi justice minister who proposed the draft law, is a member of the small Islamist Fadhila (Virtue) party, which is allied with the prime minister, Nouri al-Maliki, who is seeking a third term in office.
The move is a further loosening of protection for school-age girls. Even without the new law the number of child marriages in Iraq is rising. In 1997 15% of marriages involved women under 18, according to Iraqi government figures – jumping to more than 20% in 2012, with almost 5% married by the age of 15.
Activists are worried that because of financial hardship, families are forced to marry off daughters young when they are offered dowries. There are serious concerns that if this new law comes into force it would only escalate the trend.
But Iraq is not alone. Around the world 10 million children are not at school today as a result of being married off as child brides – a number that is rising in many countries. In the past few months Mauritania has been at the centre of allegations of genital mutilation to make it possible for girls of eight and nine to be married. The country has resisted pressure to introduce a legal minimum age for marriage. In Yemen, where the UN estimates that more than 50% of girls are married before they turn 18, there is also still no minimum age.
Nigeria has also been considering reducing the age of marriage. And India, where rape has brought millions on to the streets in protest, has been revealed as having 40% of the world's child brides.
The facts are that the one secure way to prevent child marriage is to deliver the right of every child to be at school. A girl with some education is not only unlikely to be married at eight, nine or 10, but is also six times less likely to be married by 18.
Child marriage-free zones, where girls get together and refuse to be married, are springing up on the subcontinent – the first in Pakistan, with several now in Bangladesh, and others soon to be set up in countries such as Malawi. We see that girls are no longer prepared to succumb to the fate that others have decided for them, or to wait for others to protect them.
Together with a group of high profile individuals I am proud to be part of the Emergency Coalition for Education Action. The coalition is committed to zero education exclusion, and this means zero child marriage. We are linking up with girls' rights movements across the developing world, including Nepal's Common Forum for Kalmal Hari Freedom, the Nilphamari Child Marriage Free Zone in Bangladesh, the Ugandan Child Protection Club, and Indonesia's Grobogan Child Empowerment Group.
Many are linked to the growing Girls not Brides movement spearheaded by Princess Mabel van Oranje of the Netherlands – more than 300 national organisations are already affiliated. They are attempting to stop child marriage by law, to register girls by their correct ages, to enforce existing banning regulations, and to get girls to school.
Children's rights must be protected across the world, and we call on all countries to put an end to the barbaric practice of child marriage and to ensure all children are in school and learning.
http://www.rawstory.com/rs/2014/04/29/child-marriage-could-become-law-in-iraq-this-week-but-its-a-global-scourge/
-------------
Vicious Attack at Women's Prison in Iran
April 30, 2014
Other countries just elected to a five-year term on the United Nations Commission for Women's rights are Sudan and Pakistan, which, along with Iran, still practice burying women to their waists, then stoning them to death.
"[T]he condition of human rights has significantly worsened in Iran." — Dr. Majid Rafizadeh, Al Arabiya
An attack in Tehran's women's prison, Shahr-Ray, similar to the attack on prisoners in Ward 350 of Evin prison a week ago, was reported by reliable sources inside Iran.
According to the report, widely published on social media and on the Rowzane News website, on April 27, 2014 all doors to Shahr Ray prison were locked while five men attacked the women in Wards 1 and 2, a 190 square meter section [about 2000 square feet] that houses 240 female prisoners.
The night guard, Mr. Asghar Kolivand, along with four soldiers -- Mohammad Mohamadzade, one simply known as Mr. Tartar and two unnamed -- descended upon the women. They beat them with belts, batons and electric cables. The guard responsible for the ward was mentioned as Sima Boormand. Prison phones were cut off and all doors to the outside remained locked for some time after the attack.
Shahr-Ray prison is where 26 year old Reyhaneh Jabbari -- whom an international campaign is trying to save from being executed -- is being held. Under threat of rape, Jabbari stabbed a man in self-defense and was sentenced to death. The Islamic Republic of Iran, in general, does not recognize self-defense in its courts, especially in cases of rape.
Since late March 2014, the campaign to save Reyhaneh Jabbari has brought attention internationally and even inside Iran, to the corrupt judicial system in the Islamic Republic; its unnaturally high conviction rate; and the recent surge in the number of executions, while at the same time shining a light on the lack of women's rights in a country under strict seventh century Islamic laws.
On April 23, 2014, the United Nations grotesquely elected the Islamic Republic of Iran, along with more than a dozen other repressive regimes -- including Sudan; Mauritania, where slavery is still rampant; Russia; China; Cuba and Turkey -- to top committees responsible for protecting women's rights and overseeing the work of human rights organizations. Other countries elected to a five-year term on the Commission for Women's Rights were Sudan and Pakistan, which, along with Iran, still practice burying women to their waists, then stoning them to death.
This is the second attack this month on prisoners inside Iran. On April 17, 2014, security forces brutally attacked and seriously injured political prisoners in Ward 350 of Evin prison.
Last year alone, Iran put 369 people to death, more than any other country except China, according to UN Watch [Vol.487, April 25, 2014].
In a surge of executions that has literally doubled since the election of the "moderate" President Hassan Rouhani, Iran has put to death at least 188, or nearly half that amount, in the first quarter of 2014 alone.
"[T]he condition of human rights has significantly worsened in Iran," according to political scientist and Harvard Scholar, Dr. Majid Rafizadeh, with "the increase in the persecution of ethnic and religious minorities, the cracking down on oppositional political figures, the mistreatment of political prisoners, arbitrary detention and unfair trials. ... not even keeping the status of human rights similar to that of his predecessor Mahmoud Ahmadinejad's era."
http://www.gatestoneinstitute.org/4291/iran-shahr-ray-prison-attack
-------------
Indonesia: Abuse Against Women Shows No Sign of Abating
April 30, 2014
Islam does not forbid a wife from reporting her husband to the authorities for committing domestic violence (KDRT) and therefore such an act is not sinful, a member of the country's top Islamic organization said.
"KDRT is a violation. It is against the law of the land and it is against the teachings of Islam," Abidin Wakano, Nadhlatul Ulama's Maluku deputy chairman, said on Tuesday. "It is perfectly permissible for a woman to report her husband to the police if she feels she has been a victim of domestic violence."
Abidin, who is also a lecturer at Ambon's State Islamic University and a director of the Inter-Faith Institution (LAIM), said that Islam regulates clearly the functions and responsibilities of a husband and wife in a household with the stress on love.
Husbands and wives should respect each other's rights and obligations and encourage each other to carry out their roles and responsibilities as well as they can.
"Islam teaches people to form harmonious and blessed families and therefore KDRT, whether it is committed by a husband to his wife or vice versa, or by parents to their children, is an act of sin that violates religious teachings," said Abidin.
Abidin said that in Islam, there are several stages that husbands and wives can take in settling a conflict.
First by sitting together to talk about the problem and if that doesn't work then turning to a third party as a mediator to offer a solution. If that still failed to produce a solution and the domestic violence continues, the victim can report it to the police and take legal action, he said.
"Reporting spousal abuse is not about humiliating a family. The peaceful process has failed to bring results so the problems must be taken to the next level because at the end of the day there has been sin committed," he said.
Discriminatory bylaws
Yuniyanti Chuzaifah, chairwoman of the National Commission on Violence Against Women (Komnas Perempuan), said that cases of violence against women continue to rise with an estimated 279,000 cases since the era of reformation until this March.
Yuniyanti pointed out that 342 bylaws issued since Reformation also had the potential to discriminate women.
Speaking at a discussion on women's issues at the House of Representatives on Monday, Yuniyanti said there had been little progress from "Kartini's struggles and the gender equality in the early 21st century," referring to the Indonesian women's rights pioneer.
"Komnas Perempuan knows of 342 bylaws that have the potential to criminalize women," she added.
Yuniyanti also said that Kartini Day, celebrated annually, was mostly about substance and paid little attention to the struggle many women face in education, the workplace, the family or politics
"Kartini's message was an intellectual one. It was about improving the minds of women, not just parading in a kebaya once a year," she pointed out.
Yuniyanti went on to bemoan the lack of state support for victims of spousal abuse across the country.
"What makes it painful is that the state does not provide services for the recovery of victims of domestic violence. It's no surprise to see women eventually become sex workers because of the way they are treated. They feel helpless and alone and are prone to manipulation," she said.
Yuniyanti also cited the forms of violence endured by female migrant workers working far from home. The case of Erwiana Sulistyaningsih, for example, the maid who was badly beaten while working in Hong Kong, is currently going through the courts in the territory.
Returning to the general theme of spousal abuse, Yuniyanti claimed Indonesia wasn't doing enough.
"All this violence can happen and offenders can get away with it because the state condones violence towards women as there is a lack of harsh punishment against the perpetrators," she said.
Divorce rates
At the same discussion, a government official said domestic violence was a contributing factor in many divorce cases.
West Jakarta recorded the highest divorce rates in Jakarta with around 600 cases over the past four months with domestic violence contributing the most to the divorce.
"Seventy percent of couples [who wanted to break up their relationship] filed for divorce because of KDRT," said Rizal, a spokesman for the West Jakarta Religious Court.
Rizal said that 420 of the divorce cases were caused by KDRT in which 5 percent to 10 percent of the violence was directed against men.
"So far only 30 percent have been settled while the rest are still being processed," he said.
Rizal said that the divorce process becomes complicated when it involves child custody and assets to be divided.
Financial reasons were another common factor in divorce cases and Rizal revealed it was usually women who started the divorce process.
State violence against women
Arimbi Heroepoetri of Komnas Perempuan said that around 100,000 cases of violence against wives were reported last year, while 3,530 violent incidents against women occurred in public spaces in the form of rape, harassment and molestation.
Violence against women by the state was reported in 445 cases — up eightfold from 2009 — of which 395 were victims of evictions in Jakarta.
But there were also several cases reported of women suffering at the hands of the state in the name of religion and morality.
This included the burning of places of worship, forcibly preventing women from engaging in religious activities and even trafficking of people who had been charged under the controversial anti-pornography law.
Arimbi said that domestic violence makes up almost 96 percent of all the violence cases against women and attributed it to power gap between men and women and weak laws to protect women from violence.
Ninik Rahayu, a Komnas Perempuan commissioner, criticized the government for its lack of commitment to provide support for victims of violence.
"The structure, facilities and infrastructure to ensure victims can get the justice and support they deserve have not been met as promised."
The Women Empowerment and Child Protection Ministry's deputy assistant on matters related to violence against women, Retno Adji Prasetiaju, said that the ministry is currently coordinating with the National Police chief, Gen. Sutarman, to have a women and child protection unit in every station at subdistrict and ward levels in order to provide maximum service for the victims of violence.
Easy targets
Earlier this year a retired police general and his wife allegedly held 16 domestic workers in captivity and tortured them in their Bogor, West Java mansion. Such captivity is a form of modern-day slavery and is believed to be the tip of the ice-berg. What makes the case remarkable is that the victims went public. It is widely believed many more women are scared to go down that path.
Anis Hidayah, executive director of Jakarta-based Migrant Care, told the Jakarta Globe that such practices are physically concealed but occur all around us, stripping those silent victims of their most basic of human rights: freedom.
Mutiara Situmorang and her husband, retired police general Mangisi Situmorang, were reported to the police after one of their 16 domestic workers — half of whom were under the legal working age of 17 — fled the mansion, claiming she had suffered from physical abuse.
Anis said this case was far from unique in Indonesia.
http://www.thejakartaglobe.com/news/abuse-women-shows-sign-abating/
-------------
Iran's Courts Are Still Blaming Rape Victims for Their Attacks
April 30, 2014
A female in Iran faces public execution for that most heinous of crimes: defending herself against a rapist.
Rayhaneh Jabbari, a 26-year-ancient from Tehran, was scheduled to be hung two weeks ago for killing her attacker in self-defense. But, after pressure from Iranian human rights groups, the Supreme Court is now reviewing her case for a second time.
Rayhaneh, who was an interior decorator before to her arrest, was 19 when Morteza Abdolali Sarbandi—a former intelligence officer and, at the time, a high-status limb of Iran's regime—invited her to his home to discuss a decorating job. When she arrived, she was offered a fruit juice, which forensics shortly confirmed contained sedatives, that she refused to go. After blocking a number of aggressive sexual advances, she took a knife from her bag and stabbed Sarbandi in the shoulder in an "act of self-defense." Her attacker died from blood loss.
While Rayhaneh's case is currently being reviewed again, most campaigners don't believe it'll be enough to save her life, even with the fact that lawyers for Sarbandi's family have been varying their story throughout the examination. For instance, the knife Jabbari used has now "become" a foot and a half long, considerably larger than its original 6 inches, and the fruit juice apparently contained laxatives, not sedatives, even though forensics proved if not.
Many also believe that the authorities are tiresome to wring a confession from Rayhaneh. Obtaining information owing to torture is unlawful in Iran, but it's a touch the regime tend to turn a blind eye to. It's also a time-tested tactic, used during the ahead of schedule days of the Islamic Republic, when state dissidents—especially socialists—were mandatory to announce that they were traitors, before to being executed.
According to British-Iranian human rights liberal Maryam Namazie, Rayhaneh has spent many of the years in view of the fact that her arrest in solitary confinement, where she's allegedly "undergone brutal interrogations, endured physical manipulate and has been pressured by her jailers to deceptively confess to having murdered Morteza for biased purposes." Namazie added that, even with all that, Rayhaneh has "stood her impose a curfew and has continued to maintain that she acted in self-defense."
Of way, maintaining your innocence doesn't get you off scot-free elsewhere, so there's no real reason it would in a situation where the odds are by now stacked against the defendant. Even with all the evidence presented to the court—including records of text messages showing there was no private link between Rayhaneh and Morteza—the authorities are subdue inclined to house the hold responsible on her.

Many of Iran's female activists hold responsible the country's "medieval" judicial logic, which they believe favors the opinions of men and, more regularly than not, indulges in victim blaming.
Speaking to me on Skype, women's rights liberal and lawyer Arifa (who didn't want her full name published for wellbeing reasons) said that Rayhaneh's treatment is similar to what many Iranian women could expect were they to report a rape. "There have been a lot of suitcases like this, which Iranian officials don't want to talk about," she told me. "They like to place on a front that they punish men who rape, or who indulge in anti-religious sexual endeavor. But, in reality, it's really quite simple for men to get away with it."
From all the suitcases that she's read about and campaigned for, Arifa has formed the conclusion that this male advantage comes down to the way judges in Iran really inspect rape suitcases. "Judges, police, and politicians all go to the female first—they look at her actions," she clarified. "If they see that a female wears baggy or colorful clothing, or they wear a scarf so that it shows some hair, they say that the female was inviting herself to be raped. It makes it very hard for women to fight their suitcases, and one reason that rape punishments are so low is in view of the fact that barely any rapists are sent to jails. That, and less and less women are really reporting the crimes." 


Besides justice for the attacks themselves, it's also hard for women to get honest consideration if they're taken to court for defending themselves against their attackers. In view of the fact that of Iran's severe code, women who claim self-defense have to verify that they used a amount of force "apt" to the hit, and that physical force was used as a "last resort." Of way, in view of the fact that that's impossible to verify conclusively, most women courageous enough to enter the dock in the first house end up bringing up the rear; according to Arifa, there have been less than five suitcases in over a decade where claiming self-defense has really worked.
Rayaneh's story isn't uncommon. Iranian rape victims are regularly subjected to additional punishment after their initial suffering. For model, in 2005, Afsaneh Nowrouzi, a 34-year-ancient mother, was sentenced to death after killing a high-status police officer who tried to rape her. After seven years in one of the country's most severe prisons, where she was beaten, abused with interrupt spray, and left to starve for days, she was eventually released—and that was only in view of the fact that the police officer's family granted her a pardon.
Even today, even with Iran's gradually humanizing confirmation on women's rights, the number of sex manipulate crimes is unrecorded. And in view of the fact that Iran doesn't publish any type of prisoner records, unknown knows how many rape suitcases have been filed or how many rapists have been sent to prison.
These, of way, are huge issues that need confronting. But for the pressing future, a female ruins on death row for inadvertently killing a man in self-defense after he tried to sexually manipulate her.
http://bharatpress.com/2014/04/29/irans-courts-are-still-blaming-rape-victims-for-their-attacks/
https://news.vice.com/articles/irans-courts-are-still-blaming-rape-victims-for-their-attacks?trk_source=homepage-in-the-news
-------------
'Hadassah Women' Visit Israel, Refuse to Meet Health Minister
April 30, 2014
Senior members of the World Hadassah women's organization visited Israel in order to negotiate with the Finance Ministry regarding the financial state of Jerusalem's Hadassah hospitals. Health Minister Yael German asked to meet with the women but was turned down.
In addition, today (Wednesday) the Jerusalem regional court will be handed a document summing up the agreements and disagreements slated to serve as the foundation for a policy for the rehabilitation of the hospital.
http://www.israelnationalnews.com/News/Flash.aspx/292158#.U2DjCoFdU4U
-------------
URL: https://www.newageislam.com/islam,-women-and-feminism/new-age-islam-news-bureau/girls-abducted-from-nigeria--have-been-sold-to-islamic-militants-for-£8-each-/d/76809