New Age Islam News Bureau
11 May 2016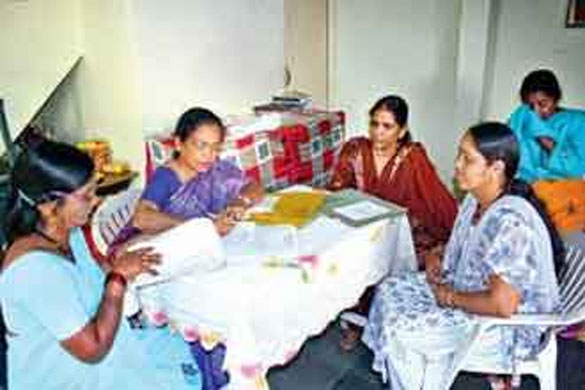 Photo: The all-women Sharia court started here in 2014 folded due to lack of female qazis, infrastructure. (FILE PHOTO)
----------
• All-Women Sharia Court To Come Back In Pune, India
• Hijab-Wearing Dance Group Brings People Together Through Hip-Hop
• The Woman Who Broke the Rules and Made History by Running the First International Marathon in Iran
• Muslim Women's Changing Dress Code in Somaliland
Compiled by New Age Islam News Bureau
URL: https://newageislam.com/islam-women-feminism/girl-denied-permission-board-delhi/d/107268
---
Girl Denied Permission to Board Delhi Metro For She Was Wearing Hijab
MAY 11 2016
New Delhi: Muslim girl was denied entry into the Delhi Metro who was wearing Hijab, for 'security reasons', recently because apparently, her religious beliefs were a threat to other people in the city
On the 6th of May, Humera Khan, a student in Delhi who regularly wears the Hijab,was stopped at the security check at Mayur Vihar Phase 1 Metro Station and what followed shows the real face of 'religious tolerance' in our country
Humera said she was asked to remove her Hijab during the security check. After she had complied with the instructions, she decided to put her Hijab back on, when the security lady told her "Iske sath aap board nahi kar sakte madam".
"I asked her (Security lady) to call a senior person to whom I can talk. A man who looked much authoritative came, I said," Sir you can check my student id, here is my address I have been travelling in metro from past 2 years and I was never stopped at any station. Just tell me the reason and I would not bother you much." That person in a very harsh tone asked me to either leave or remove the hijab without giving any reason. I was left with no option except to leave, which I did,"
"If there exist such rule I condemn it. I have filed a complaint to DMRC. Let them revert back, let them intervene until then I would request you all to maintain peace,"Humera added that she had filed a complaint with Delhi Metro.
This should not be taken lightly. Here's hoping DMRC issues an apology to her and makes sure nobody else goes through the same humiliation ever again for their religious beliefs.
She added, "Hijab" is a religious sentiment for a Muslim girl. If there is any ruling then why they did not consider Muslim women while making such rule. If they start making such provisions then girls like me would not have accessibility to such services. Metro is a public transport made for every citizen. If they have any security issue they should upgrade their security measures instead of making such rules. Besides, they made me remove my Hijab first, checked me thoroughly and then also didn't let me in which was just so unacceptable."
siasat.com/news/girl-denied-permission-board-delhi-metro-she-was-wearing-hijab-956917/
---
All-Women Sharia Court To Come Back In Pune, India
MAY 10, 2016
The all-women Sharia court in Pune — which in 2014 functioned for mere days after its launch before shutting down — is slated to make a comeback in the city.
The Bharatiya Muslim Mahila Andolan (BMMA) has started training 30 Muslim women from across India since December last year to work as qazis at several Aurat Ki Mahila Adalats. Zakia Soman, co-founder of BMMA, told Mirror that training would be finished by the end of this year, after which all-women Sharia courts would be established in several major cities, including here.
Khatum Shaikh from Mumbai, one of the qazi trainees, shared, "Through women-led Sharia courts, we wish to make justice gender-equal and women-sensitive. Currently, with all-men Sharia courts, the practices of triple talaq and halaal are widespread, in spite of there being no Quranic sanction for these. Muslim women suffer because of these un-Islamic practices."
In March 2014, the all-women Sharia court that had been established here began operations, but folded almost immediately thanks to the lack of female qazis and proper infrastructure. Currently, it is functioning in Mumbai, Ahmedabad, Delhi and Jaipur. Soman said that in 2014, 219 cases came before these courts across cities, out of which only 15 cases remained unresolved.
The BMMA, a rights organisation led by Muslim women in India, has set up the Darul Uloom Niswaan (DUN) institution to conduct the trainings. Soman explained that such all-women Sharia courts deal with family matters, including marriage, divorce and property disputes. Training includes learning theology, the history of Islam, the Constitution of India, principles and values of Islam and schools of jurisprudence. Besides this, participants will also be trained to prepare elaborate nikaah naamas and divorce procedures according to the talaq-e-ahsan method found in the Quran.
Soman added, "Women qazis will ensure that underage marriages do not take place, that residence proofs and sources of income of a man are provided to a bride before entering into a marriage contract, besides making sure that mehr amounts are received by a bride at the time of a nikaah. Each year, more women will be recruited to undergo training and become qazis."
The Sharia court is one of the alternative dispute resolution mechanisms set up by the Supreme Court (SC) of India to ensure speedy justice. If parties in a dispute are unhappy with the decision of a Sharia court, they can still appeal to a District Court, High Court or the SC.
BMMA co-founder Noorjehan Safia Niaz said, "Qazis play an important role in society and there is no bar on women performing this role, according to the Quran. It has been observed that male qazis approve of oral divorce and other gender-disparate pronouncements in existing male-dominated Sharia courts. This makes our effort necessary."
Opposing the idea, however, city-based activist Razia Patel told Mirror, "Why do organisations push for justice through frameworks like Sharia courts when India is a secular country? Just days ago, Hafeez Syed announced Sharia courts in Pakistan. If someone decides to run courts in the name of the Manusmriti, what will our stand be on it? Further, any rulings by such courts are not legally enforceable — it is just arbitration. Starting all-women Sharia courts pushes Muslim women into the same framework that is actually against them."
punemirror.in/pune/civic/All-women-Sharia-court-to-come-back/articleshow/52210098.cms
---
Hijab-Wearing Dance Group Brings People Together Through Hip-Hop
May 10, 2016
We're Muslim Don't Panic is a hip-hop dance group that is using hijabs and sneakers to stamp over Islamophobia and combat the stereotype that Muslim women are voiceless.
popsugar.com/news/Muslim-Dance-Group-Wears-Hijabs-Video-41248818
--
The Woman Who Broke the Rules and Made History by Running the First International Marathon in Iran
May 10, 2016
On the second Saturday of April, 44-year-old Mahsa Torabi put on a pair of black running pants and a blue sweater with green reflective stripes. That day, she would become the first woman to ever publicly finish a marathon in Iran. She chose a pink-patterned hijab, and she set out for Naqsh-e Rustam, an ancient necropolis in Fars Province, right across the Persian Gulf from Kuwait.
It was 6 a.m., and the only sign that the first international marathon in Iran's history would take place that morning was a ribbon across the starting line. Torabi took one photo in the dark of the desolate course, and then she began to run. She cruised through her first marathon in just about five hours and 30 minutes without a bib, without tracking, and without any water stations.
Two hours later, the registered runners—250 competitors from 26 countries—lined up for "I Run Iran," a race touted for its ability to unite cultures and an international community. There were no women among them, as has been the case for decades: There has not been a mixed-gender race in Iran for at least 38 years.
More than 1,000 miles and a litany of checkpoints and closed borders away, Stephanie Case waited in Gaza for news of Torabi's finish. The two women, who have never met, had worked together for three months for this moment—a rogue run that would make history in Iran, and ideally, make a statement to the European organizers who had waffled when Case insisted they postpone the race if women weren't allowed.
Sebastiaan Straten, the Dutch entrepreneur who organized the I Run Iran race and its associated four-day tour, believed that anyone running in Iran was better than no one running in Iran. Case, on the other hand, argued that the organizers had a responsibility for inclusion. The race could compromise on start times or dress code to appease local customs, but should never compromise on equality, Case said.
With no resolution, Torabi, who works for a soft drink company, stepped in. 50 years ago, Bobbi Gibb jumped into the 1966 Boston Marathon after half the pack had departed to race after the race director told her women "were not physiologically capable of running 26 miles." The next year, Kathrine Switzer registered under her initials to become the first woman to officially enter the race. Torabi found herself in a similar predicament as these two trailblazers. If she wanted to compete, she would have to do so on her own terms.
"I wanted to run to show that women can run just as well as men," she said. "I wasn't running because I wanted to win. I wasn't trying to break any records. I wanted to show that I can run even with a hijab, and that a woman can run and finish a marathon."
In the past, Torabi has required police permission and an escort to bike in public. She swims, rock climbs, runs and plays volleyball, often to mixed messages, she said—her family is supportive, others are not. Her emails are peppered with exclamation points and enthusiastic comments about proving that nothing is impossible. She runs for "peace, friendship, humanity and happiness," Torabi wrote in Farsi.
The years since the Islamic Revolution have largely cut off Iran from international sports competition, and cut off women in particular from competing in most events: in 2008, the head of the Iranian Olympic Committee insisted that "severe punishment" would fall on athletes who did not follow Islamic rules. Women could not be coached by men, or interact with male referees. (The Iranian women's volleyball team was internally disqualified, as a result.) Women were banned from wearing tight-fitting exercise clothing and required to cover their heads.
The elevation of women in Islam to a protected category aims to respect—but can also entrap. In Iran, though norms are increasingly being challenged, the female's sphere of influence is still located primarily in the home, where she is protected from outside influences that could corrupt or endanger her. These dangers might be prying male eyes or the strain of a five-mile run through busy city streets, or both.
Religion—and its interpretation in modern Iran—kept Torabi from the race. To her, it also helps her justify her run.
"Men and women are all creations of God," she wrote. "Therefore, if a man can do something, so can a woman…There is no difference between them."
Long before Torabi heard about the race, Case had attempted to register for the marathon in November herself, after hearing about it through a then-organizer and running friends. After she was turned back because "Islamic regulations" would not allow women to run, Case offered to help Straten figure out a way to compromise with local officials to make sure anyone could run.
Case is well-acquainted to the difficulty of navigating women's sports in conservative Islamic communities. After placements in south Sudan and Afghanistan as a human rights lawyer for the United Nations, she started Free to Run, a nonprofit dedicated to providing access to sports to women and girls in conflict-affected communities. Last year, she worked with the organizers of the first marathon in Afghanistan to allow her and two other women to run the race.
She's now based in Gaza, where the United Nations-sponsored marathon was postponed after Hamas refused to allow women. That's the example other races should follow when faced with the possibility of fielding an all-men race on the request of the local authorities, Case said.
"I don't think the race organizers would even think about excluding people from the event on any other grounds, such as race, religion, or ethnicity—so why is gender any different?," she wrote via email after the race. "Holding a race that excludes women entrenches discriminatory beliefs about women—it signals to everyone that women are second-class citizens."
But the organization shrugged away her suggestions. On the website, a banner, which has since been taken down, read: "Real Men Run Iran."
Case detailed the interactions on her personal blog, which drew the attention of the organizers of the Iranian Silk Road Ultramarathon, a 155-mile, six-stage race in early May. They contacted Case and began to work with her to arrange for women participants. Torabi, who had met a friend of Case's during a climbing trip in Iran, was chosen as one of those women. Only after she began training for the ultramarathon did she bring up the idea of running the Iran marathon two hours before the start, in the style of Switzer and Gibb.
Case and Torabi talked every day leading up to the race. The latter made sure to let the Iranian athletic federation know about what she planned to do to prevent any trouble on the course. Case waited on "pins and needles the whole day," she said, to see if Torabi would finish without trouble.
People began to fill up the streets as the sun rose. They called out to Torabi and asked if she was a foreigner. Why would an Iranian woman be running at this hour, or at all? She was about halfway through the race when the police stopped her and again, asked if she was a tourist.
"I laughed and told them I was Iranian," she said. When they asked why they hadn't seen any of the runners, she explained that she started early to avoid running with the men. They were pleased with that answer, she said, and encouraged her and sent her off.
She passed a confused crowd waiting for the official runners. They gawked, unsure if they should cheer or not, and Torabi smiled and continued As she approached Persepolis, the ancient capital of the Achamenid Empire, she paused to take photos of ruins of the Gate of Nations Palace.
At the 20-mile mark, where most runners dread hitting "the wall" that saps one of any remaining mental and physical strength, Torabi finally caught site of the official competitors on the opposite side of the course as she turned back toward the start. The spectators on the side stood and cheered when they saw her, and the police from earlier trailed behind and offered fruit and water.
"Sometimes peace is the winning sword!," Torabi wrote of the race of the police's donations. "And friendship is the most peaceful weapon!"
Just like that, Torabi had made history: she along with a woman named Elham Manoocheri who competed without help from Free to Run are the first Iranian women in at least four decades to complete a race also run by men. They are the first women runners to ever finish a modern public marathon in the country.
She'd also influenced the race itself. The organizers of I Run Iran gave Torabi a medal after the race and added her photo to their website, which now boasts that they invite "men, women and children from different cultures and continents to participate."
Torabi, like Bobbi Gibb and Kathrine Switzer, is a renegade in her own right, but is also one of many Muslim women pushing to play and run and hike in communities across the world. There is Inas Nofal, the teen from Gaza who had hoped to compete in the Palestine Marathon and win the 10km, or Aziza Raji, the Moroccan ultrarunner who placed fourth in her first appearance in the Marathon des Sables.
There is a limit on how far these women can go in their own hometowns. But once they get the opportunity to participate outside, how are they supposed to handle situations in which their own "religion is used as an argument to justify gender discriminatory policies," as Case puts it? When organizers neglected to incorporate female athletes into a groundbreaking race designed to preach "unity" and "new horizons," how much of their rationale can be chalked up to local politics and how much was because the organizers just didn't care?
Straten's last email to Case read: "I believe this first marathon can open doors for Iranian women marathon runners in the future…If it was not for the first men-only modern marathon in Athens there would not have been a marathon at all!"
Case counters that point. "I fundamentally disagree with the notion that a discriminatory event can be seen as a positive step forward," she said. Any progress and discussion that come out of Torabi's run will be in spite of the men-only race, not because of it, Case added.
The Iranian Silk Road Ultramarathon finished Sunday in Dasht-e-Lu, a salt desert in the Kerman Province in Iran. Case competed, as well as five other women, including Torabi. This was history, too: the first official mixed-gender race in recent history.
"Mahsa isn't willing to sit by the sidelines," Case wrote. "Hopefully next time she won't have to run on them either."
jezebel.com/the-woman-who-broke-the-rules-and-made-history-by-runni-1774674905
---
Muslim women's changing dress code in Somaliland
MAY 10, 2016
Islamic conservatism is on the rise in Somaliland. Today women cover their heads and dress more conservatively than in the past, dismissing Western criticism. James Jeffrey reports from Hargeisa.
It's sunset on a Saturday evening and women are streaming into the Ali Mataan mosque in the center of Hargeisa, capital of Somaliland, in response to the call to prayers coming from the loudspeakers mounted on top of the four-storey building. Nearby, multi-coloured lights are flashing on the modern-looking Guleed Mall in stark contrast to the mosque's solemnity.
Somaliland's religious conservatism - Sharia law is enshrined in the country's constitution - co-exists with hallmarks of a free market economy. Women here cover their hair in public and one woman DW spoke to expressed exasperation at Western misgivings at the practice.
"I really wish the rest of the world would pass over what women are wearing and focus on what women are contributing to the community and country," 29-year-old dentist Zainab said, relaxing in a café in Hargeisa after work.
Somaliland broke away from Somalia in 1991 but its declaration of independence still lacks international recognition. It has had to develop a strong entrepreneurial streak in order to confront the task of rebuilding a shattered economy on its own.
Many small businesses are run by women, who, as well as bringing up large numbers of children, are often breadwinners for families in which the husband has been physically or mentally scarred by war.
Muted criticism
Some people in Somaliland have expressed concern about the steady drift toward Islamic conservatism in Hargeisa. Music no longer blares out from teashops, colourful Somali robes are increasingly replaced by black abaya cloaks, more women are wearing niqabs (face veils) than a year ago and no woman goes about town bareheaded as happened in the 1970s.
"The last 15 to 18 years have witnessed a dramatic change in the extent to which religion influences how people live their daily lives," said Rakiya Omaar, a lawyer and chair of Horizon Institute, a Somaliland consultancy firm helping communities make the transition from underdevelopment to stability.
"There is pressure to live as a serious Muslim. It may be subtle or overt; it may come from family or it may be the wider society that you interact with," she told DW.
It is hard to find a woman in Hargeisa who will say she feels pressured by Islam or society's adherence to it.
"I asked myself why I wear the hijab, and decided it's because that's Allah's will, and it's part of my religion and my identity, and since then it's been a choice," Zainab said.
"Here, women can be butchers, that doesn't happen in many places - it shows how tough Somaliland women are. It's about what's inside your head, not what's over your head," she added.
But the existence of restrictions on women in political life in Somaliland cannot be argued away so easily.
"Without a women's quota I don't think there will be any more women in parliament," Baar Saed Farah told DW. She is the only woman in Somaliland's 82-member Lower Chamber and was referring to efforts to reserve 30 seats for women at the upcoming elections in 2017. Women are not permitted in the 82-member House of Elders in the Upper Chamber.
"In normal employment there is no differentiation between genders but when it comes to political participation it becomes very difficult for women because of a culture that favors men," Baar said.
Even women may not accept a woman running for election because they are so used to men making decisions, she added.
More prayers, more mosques
And while women may well be able to strike a hard bargain in street trading in Hargeisa, they find their professional opportunities are limited.
"They only operate small businesses, you won't find many rich business women here," says Nafisa Yusuf Mohamed, director of Hargeisa-based female empowerment organisation Nagaad Network. "For now there aren't many alternatives, but this could change as enrolment in higher education is improving."
Changing Muslim clothing trends may be the most noticeable sign to the outsider, but other developments also illustrate Somaliland's increasing religiousness, such as the effect of prayer times on working hours, the higher proportion of adults who pray five times a day and the increasing number of mosques that are being built.
"These changes are also a response to wider regional and international developments which have affected the Muslim world, in particular the growing perception that life in the Western world is becoming more hostile to Muslims," Rakiya said.
dw.com/en/muslim-womens-changing-dress-code-in-somaliland/a-19247382
URL: https://newageislam.com/islam-women-feminism/girl-denied-permission-board-delhi/d/107268
New Age Islam, Islam Online, Islamic Website, African Muslim News, Arab World News, South Asia News, Indian Muslim News, World Muslim News, Womens in Islam, Islamic Feminism, Arab Women, Womens In Arab, Islamphobia in America, Muslim Women in West, Islam Women and Feminism