New Age Islam News Bureau
23 March 2018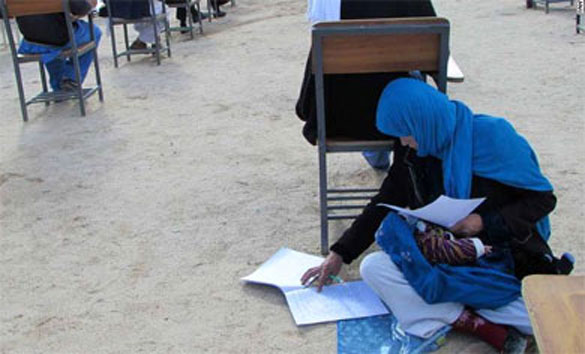 Jahan Taab, 25, taking Kankor exam in in Afghanistan's Daykundi province
-----
• Powerful Image Of Afghan Woman Nursing Baby While Taking University Exam Goes Viral
• Canada Celebrates Achievements, Contributions of Pakistani Women
• Pakistan Gets First Woman Opposition Leader in Senate
• Muslim Women Forced to Remove Burqas during Yogi's Meet
• Saudi Activist Sees 'Real Change' In Women's Rights
• 35,000 Pakistan's Gujarat Women without CNICs: Report
• USAID Launches Project for Female Farmers
• Hend Al-Mansour Names 5 Saudi Arabian Women Artists to Watch
Compiled by New Age Islam News Bureau
URL: https://www.newageislam.com/islam-women-feminism/german-police-train-saudi-women/d/114693
--------
German police train Saudi women Border Guards
23 March 2018
MOHAMMED AL-SULAMI
JEDDAH: Eleven Saudi female Border Guards have completed advanced security training in a joint operation with German Federal Police.
The two-week training course, which ended in Riyadh on Wednesday, was carried out in accordance with a convention signed between the Saudi Interior Ministry and its German counterpart.
Saudi Border Guards spokesman Col. Saher Al-Harbi said development and training of women in the Border Guard was part of a global skills program that included protection and personal security, self-defense, identity verification, search and confiscation, anti-smuggling strategies, forgery and counterfeiting, and first aid.
"The program represented an important step by training technical personnel to perform their duties effectively," he said.
Al-Harbi said the training sessions respected the morals of the Islamic religion regarding privacy and protection of women.
The Border Guards training program has the support of Crown Prince Mohammed bin Salman and the Minister of Interior, and is supervised by Awad bin Eid Al-Balawi, director general of Saudi Border Guards, the spokesman said.
http://www.arabnews.com/node/1271721/saudi-arabia
--------
Powerful Image Of Afghan Woman Nursing Baby While Taking University Exam Goes Viral
March 22, 2018
An inspiring photo of a young Afghan woman nursing her child while taking a university entrance exam has struck a chord with people around the world.
Jahan Taab was completing a test to gain entry into the social sciences program at Nasirkhosraw Higher Education Institute in Afghanistan's central Daykundi province on March 16, according to Yahya Erfan, a lecturer who was monitoring the exam.
During the test, Taab's two-month-old baby started crying. The 25-year-old woman left her desk and sat on the ground in the open-air yard where the exam was being conducted in order to comfort her baby. As she sat nursing her baby and simultaneously writing the test, Erfan took a few photos of the striking scene on his cellphone.
In the images, Taab can be seen sitting cross-legged and huddled over as she diligently writes on the papers strewn around her on the ground while her bundled baby rests in her lap.
Erfan posted the photos to his Facebook page on Tuesday where they have since gone viral on other platforms. One Twitter user shared a photo of Taab with her child that has been retweeted more than 2,500 times.
According to a number of local and international media reports, Taab has three children and travelled approximately six hours from her village in Miramar district to the city of Nili in order to take the exam.
The journey appeared to be well worth the effort, however, as Taab reportedly passed the test and will be able to enroll in the private university.
Local media reported Taab is concerned she will not be able to afford the university's fees.
Thanks to Erfan's photos, a U.K.-based organization called Afghan Youth Association has launched a GoFundMe campaign to raise money for her Taab's education. As of Thursday morning, the fundraiser has raised $7,985 pounds ($14,543) of its target of $10,000 pounds ($18,213).
"She is role model [sic] to thousands of other Afghan women who face similar challenges. It is important that we help her as much as we can to ensure that she continues to fight her way to success," the GoFundMe page states.
https://www.ctvnews.ca/world/powerful-image-of-afghan-woman-nursing-baby-while-taking-university-exam-goes-viral-1.3854044
--------
Canada Celebrates Achievements, Contributions of Pakistani Women
March 23, 2018
ISLAMABAD: The High Commission of Canada continued the celebrating the International Women's Day with the launch of its new documentary "The Journey of Pakistani Women" on Thursday.
This retrospective documentary highlights the history of the Pakistani women's movement and Canada's support over the last three decades. A 17-minute film produced by Islamabad's White Rice Communications, shares insights from several key Pakistani leaders, including Hina Jilani, Farida Shaheed, Khawar Mumtaz and Harris Khalique.
Organisations such as the Kashf Foundation, Strengthening Participatory Organisation (SPO Pakistan), the Aurat Foundation, South Asia Partnership Pakistan and the International Labour Organisation (ILO) shared their thoughts on how best to help empower women and girls. Members of the audience were delighted to hear directly from women entrepreneurs and politicians who have benefited directly from Canadian support.
In keeping with the documentary's message, the Canadian high commission was pleased to convene a youth panel discussion. Canada remains committed to creating opportunities for Pakistani women to raise their voice as full members of the society.
Agahi Foundation Founder and Chief Executive Officer Puruesh Chaudhary said, "Social media is increasingly becoming a bridge between girls that are being educated and the ones contributing their talent in the digital space along with workforce in a traditional environment, thus fuelling growth and development of the communities, cities and countries."
Heinrich Böll Stiftung Pakistan Resource Equity, Energy Innovation and Climate Change Programme Coordinator Mome Saleem said, "Countries like Pakistan have come far in achieving many of the targets, however, the gender policy needs to be made a central pillar of the fragile and infant democracy, and the legal system of the country."
On the occasion, lawyer and activist Benazir Jatoi said, "The greatest obstacle for Pakistani women is that the legal frameworks that have been established over the years have not been translated into de facto enforceable rights. Despite the law telling us that we enjoy fundamental rights and equality but the social/institutional framework in which these laws operate do not allow for such rights to be enforced by those they seek to protect."
Canadian High Commissioner Perry Calderwood noted that Canada is building upon its 30 years of support for the empowerment and inclusion of women in Pakistan. "Empowerment is having the opportunity to make better choices through education, financial independence and the exercise of democratic rights. I am proud to say that Canada is committed to promoting gender equality not only as a human right but also as an essential element of sustainable development. With the adoption of our Feminist International Assistance Policy, Canada supports women's movement around the world in its work to overcome the economic and political marginalisation of women," he said.
https://www.pakistantoday.com.pk/2018/03/22/canada-celebrates-achievements-contributions-of-pakistani-women/
--------
Pakistan Gets First Woman Opposition Leader in Senate
Mar 23, 2018
ISLAMABAD: Pakistani lawmaker Sherry Rehman made history on Thursday by becoming the first woman Leader of the Opposition in the Senate, the Upper House of parliament. Rehman, 57, belongs to the Pakistan Peoples Party (PPP). She has served as Pakistan's ambassador to the US from 2011 to 2013 and was elected to the Senate in 2015.
Her candidacy was approved by PPP chairman Bilawal Bhutto Zardari, who earlier said "PPP (is) ready to make history again". His slain mother and former two time PM Benazir Bhutto had served twice as Leader of the Opposition in the National Assembly, the Lower House, in 1990s.
Rehman was declared as Leader of the Opposition after she secured support of majority 34 opposition senators in the house of 104 and defeated Azam Swati of Pakistan Tehreek-i-Insaf.
https://timesofindia.indiatimes.com/world/pakistan/pakistan-gets-first-woman-opposition-leader-in-senate/articleshow/63422201.cms
--------
Muslim Women Forced to Remove Burqas during Yogi's Meet
March 23, 2018
Firozabad: Burqa-clad Muslim women were asked to take off their veil by a cop during CM Yogi Adityanath's public meeting in Uttar Pradesh Firozabad district.
According to the India Today report, Muslim women who had come to attend the meeting were frisked by the local police and then they were asked to remove her black-coloured veil.
Some women followed what cops and he CM's security detail told them and removed their burqas. Those who didn't were asked to leave the venue.
Visuals show the Muslim women searching for their "traditional dress" as soon as the public meeting ended.
The treatment meted out to the Muslim women at Yogi's public meeting has left the community in doubt over the party's slogan of 'sabka saath sabka vikaas'.
Frowned upon the humiliation, Sami Aghai, Chairman of Bhartiya Muslim Vikas Parishad and Secretary Syed Irfan Salim demanded an apology from CM's office.
"A letter was being written to PM Modi, demanding strict action in this matter and if nothing happens, other means of seeking retribution will be tried," said Aghai.
https://www.siasat.com/news/muslim-women-forced-remove-burqas-during-yogis-meet-1333153/'
--------
Saudi Activist Sees 'Real Change' In Women's Rights
March 23, 2018
Dubai: To Saudi women, the past few months have been simply unbelievable—drastic social and economic changes have swept the country in a short period of time.
This year, and for the first time, Saudi women celebrated International Women's Day by holding triathlons after major restrictions on fitness programmes were lifted.
Saudi universities introduced sports programmes for women and in June women will be driving.
More important changes are currently being studied for implementation including doing away with strict guardianship rules which limit women from traveling, going to school or working without permission of her father or husband.
"Change is happening at such an incredible speed that some people can't believe it is actually happening," Saudi women activist Hatoon Al Fassi said in an interview with Gulf News.
"I believe these changes are genuine and they aim to introducing real qualitative change, which will give a boost to the leadership," she said in an interview on the sidelines of her participation in Emirates literature Festival earlier this month.
Al Fassi, who comes from a prominent family from Makkah, was encouraged by her family to "think independently about women's rights," as she was quoted as saying in one press interview.
She has a Bachleors in history from King Saud University (KSU), and a PhD in ancient women's history from the University of Manchester.
Having been active in women's right to vote campaigns for the municipal elections held in Saudi Arabia, she is one of the most prominent women activists in the country.
The ambitious social change in the country comes at the directive of Saudi King Salman and guidance of Saudi Crown Prince Mohammad Bin Salman, who is personally leading his country through an ambitious Vision2030 programme which involves drastic social and economic change.
The latest gain for Saudi women was the recent announcement by the Ministry of Justice that divorced women are no longer required to file a lawsuit for custody of their children if uncontested.
They also have been granted the right to carry out official formalities from their children.
The changes have been applauded by activists in the country.
"There was a realisation that women were an overlooked segment, and that it is about time to make use of that segment," Al Fassi said.
The status of Saudi women has long tainted the country's image in front of the world.
Women not being able to drive and other restrictions on their freedom of movement were heavily criticised by international rights groups.
With the changes, Saudi Arabia's image has drastically improved abroad, Al Fassi says.
She believes the country stands to benefit economically as well.
"Saudi Arabia had the lowest participation globally for women economic participation," she explained.
She expects women to drastically boost their economic participation when they are able to drive in June which will facilitate their ability to work.
According to Saudi press reports, economic participation of Saudi women has increased from 4.2 per cent in 1990 to more than 13 per cent in 2015.
Additionally, Saudi Ministry of Labour announced in March that it was moving forward with plans to set up nurseries in workplaces and day-care centers to create "a safe and friendly working environment for women," in order to increase women economic participation.
Increasing the number of women in the Saudi workforce from 22 per cent to 30 per cent is one of goals of the Vision 2030.
Decisions taken in the past few months after Mohammad Bin Salman was appointed Crown Prince last June, came in response to both external and internal factors, said observers and activists.
"Demographic changes played a major role as there was much pressure from the youth to introduce change. Women constitute half of the youth," said Al Fassi.
"Those women have demands. They want to live a normal life without having to travel abroad," she said.
Commenting on society's readiness to see a more active women role in public life, Al Fassi replied, "this question always irritates me, how much the society is willing to accept and how much it is not willing to accept. We do not have real statistics. Previous studies included only voices of those who can speak out and express themselves. Today, everybody speaks."
"No one can clearly say whether society is willing or unwilling but it will have to accept it (women rights)".
http://gulfnews.com/news/gulf/saudi-arabia/saudi-activist-sees-real-change-in-women-s-rights-1.2189992
--------
35,000 Pakistan's Gujarat Women without CNICs: Report
March 23, 2018
GUJRAT: A survey conducted in Gujrat revealed that as many as 35,000 women in the district don't have computerised national identity cards (CNICs), and are not listed as voters with Election Commission of Pakistan (ECP) despite attaining the minimum age required for the purpose—18, reported local media outlet.
The survey was conducted by the ECP in collaboration with National Database and Registration Authority (NADRA), Consumer Rights Commission of Pakistan (CRCP) and some non-government organisations.
The district election commissioner told the media that the women identified through the survey are being facilitated in getting their CNICs, claiming that they would be registered voters before upcoming elections.
https://www.pakistantoday.com.pk/2018/03/23/35000-gujrat-women-without-cnics-report/
--------
USAID Launches Project for Female Farmers
March 23, 2018
SIALKOT - USAID has launched a project "Women Investment in Network of Dairy Investment (WINDS)" here on Thursday.
The launching ceremony was held at Sialkot Chamber of Commerce and Industry(SCCI). Consul General Ms Elizabeth Kennedy Trudeau, chief of Part USAID-PEEP, was the chief guest. Addressing the participants, she said that WINDS Project was an exemplary project was the first initiative in the field to be run by the USAID under its Punjab Enabling Environment Project (PEEP). It will provide opportunities of investment for th erural women in dairy development sector in Sialkot district.
USAID will give Rs3 million funds to the 30 selected local women for promoting the local dairy sector. She said that the project would be helpful in providing the employment opportunities to the women in Sialkot's rural areas. It will also ensure easy and smooth provision of safe and hygienic milk to the people.
She added that the WINDS project would be a five-year long project which would play a pivotal role in the development of livestock, dairy and agriculture sectors in Sialkot district under the joint supervision of USAID-PEEP and SCCI.
It will also strengthen the economic condition of the female farmers in Sialkot rural areas, she said. An MoU was also signed during the ceremony.
Senior officials of USAID-PEEP, SCCI, local livestock and dairy development department, a large number of exporters and Chairperson of SCCI's Committee for Women Entrepreneurs Dr Mariyam Nouman also also attended the ceremony.Under the WINDS project, the USAID experts gave necessary training to the rural areas' women in dairy development, milk testing and milk preservation training at SCCI.
USAID, Livestock and Dairy Development Department installed the awareness- stalls in and around the SCCI building. Eralier, a USAID delegation visited the DC Office Sialkot. The USAID officials discussed the matters of mutual interest with Sialkot district administration.
https://nation.com.pk/23-Mar-2018/usaid-launches-project-for-female-farmers
--------
Hend Al-Mansour Names 5 Saudi Arabian Women Artists to Watch
23 March 2018
Saudi Arabia has launched a venture to become an arts hub. The Riyadh-based Misk Art Institute, sponsored by Crown Prince Mohammad bin Salman, aims to be a center of education, culture and society.
Hend Al-Mansour, who has said that women artists are still often overlooked in Saudi Arabia, has named five women to watch who overcome those barriers. Many have been recognized inside and outside Saudi Arabia, particularly in the US.
• Manal Al-Dowayan's work includes black-and-white photography of subjects such as the oil workers of Saudi Arabia. She also produces sculpture, video, sound, neon and large-scale installations.
• Sarah Abu Abdallah, who studied in the US at the Rhode Island School of Design, has exhibited everywhere from Sharjah to Paris and Louisiana. In her 2010 10-minute video, entitled "Saudi Automobile," a car wreck is painted baby pink.
• Basmah Felemban is a graphic designer with a strong interest in Islamic art, whose work featured in an exhibition in Memphis.
• Nouf Alhimiary writes about art for Arab News and owns the digital studio Tamawoj.com. Her work has been exhibited with Cities of Conviction, which explored connections between Utah and Saudi Arabia.
• Dana Awartani is a Palestinian-Saudi artist born and raised in Jeddah. Her art featured at Art Dubai, in exhibitions such as "The Clocks Are Striking Thirteen", in which global artists try to make sense of the concept of the truth.
http://www.arabnews.com/node/1271871/saudi-arabia
--------
URL: https://www.newageislam.com/islam-women-feminism/german-police-train-saudi-women/d/114693
New Age Islam, Islam Online, Islamic Website, African Muslim News, Arab World News, South Asia News, Indian Muslim News, World Muslim News, Women in Islam, Islamic Feminism, Arab Women, Women In Arab, Islamophobia in America, Muslim Women in West, Islam Women and Feminism