New Age Islam News Bureau
29 Nov 2015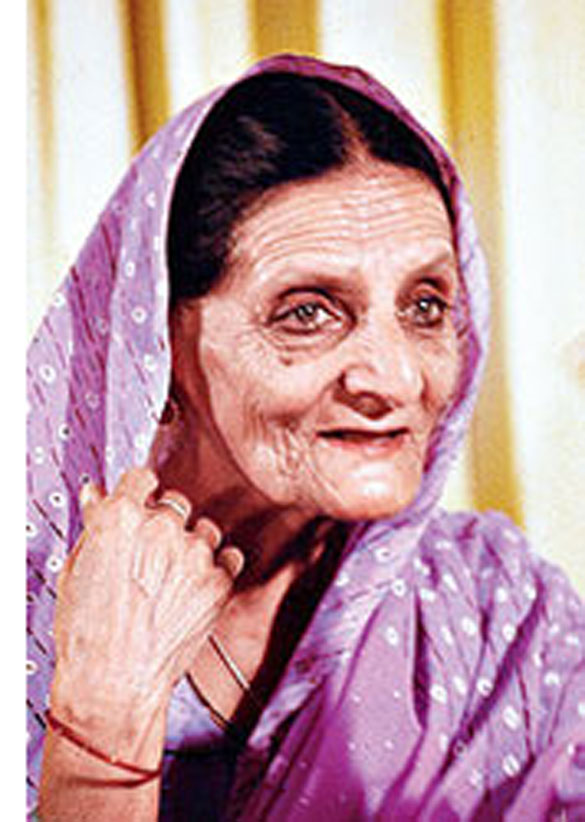 Photo: Shah Bano
-------
• Muslim women seek to be heard in SC
• Personal law should be subject to fundamental rights: Jaitley
• Self-defence classes taken by some Muslim women following violence in Toronto
• Muslim women write to PM seeking changes in personal law
• Pregnant Muslim woman branded 'terrorist' on London bus while passengers looked on
• Why I went undercover to investigate female Islamic State supporters
• Islam, rape, and the fate of Western women
• Aboobacker Musalyar, Kerala Muslim Scholar, Says Gender Equality 'Against Islam'
Compiled by New Age Islam News Bureau
URL: https://newageislam.com/islam-women-feminism/gender-equality-'against-islam'-kerala/d/105456
-------
Kerala Muslim Scholar, Says Gender Equality 'Against Islam'
By Jacob Koshy
29/11/2015
MUSLIM WOMEN KERALA
An influential Sunni Muslim leader in Kerala, Kanthapuram AP Aboobacker Musalyar, has decried reservations for women in elections arguing that "they (women) were only fit to deliver children," and that "Gender equality is something which is never going to be a reality. It is against Islam, humanity and intellectually wrong."
Musalyar, the chief of All India Sunni Jamiyyathul Ulama, made his remarks at a camp of the Muslim Students Federation (MSF) in Kozhikode. On a separate occasion, he had said that the 50% reservation of seats for women in civic polls was "too high" but retracted it when it became controversial.
Referring to the ongoing debates over allowing girls and boys to share seats in colleges, Musalyar said it was "part of a calculated move to destroy Islam and culture."
He also dismissed recent allegations regarding sexual exploitations at madrasas and asked those who raised allegations to bring evidence to prove it.
A controversy had erupted recently after a woman journalist wrote an account on her Facebook wall about the alleged sexual abuse of young boys and girls in madrassas. She faced a volley of abuses on social networks.
Muslim women in Kerala have among the highest literacy rates in the country and members of the community are also an influential political force in the state's electoral demographics.
huffingtonpost.in/2015/11/29/sunni-kerala_n_8674528.html
-------
Muslim women seek to be heard in SC
Imran Ahmed Siddiqui
New Delhi, Nov. 28: Yasmin Khatoon, 32, a graduate from Calcutta, was orally divorced two years ago when her elder daughter was six years old and the younger just six months.
She says she hasn't received any maintenance from her former husband, who had denied her even the mehr (a sum the groom agrees to pay the bride at the time of marriage) during their nikaah.
Shah Bano
Mumbai resident Sumana, 20, whose five-month marriage ended in an oral talaq, has been living with her parents. She didn't receive any alimony, either, not even the three-month maintenance stipulated by Muslim personal law.
Yasmin and Sumana are among tens of thousands of divorced Muslim women hoping the Supreme Court would come to their rescue.
Three decades after the Rajiv Gandhi government passed a law to overturn the apex court's landmark Shah Bano verdict that had granted Muslim women lifelong alimony rights with conditions, the Supreme Court has proposed that a Constitution bench revisit the subject
A Mumbai-based organisation, the Bharatiya Muslim Mahila Andolan, which calls itself "a national coalition of Muslim women, led by Muslim women", plans to apply to the apex court to be heard in the case.
Yasmin and Sumana are among the 70,000 members of the eight-year-old Andolan, which wants to fight Muslim men's right to polygamy and oral divorce, and their requirement to pay alimony for just three months (or till the youngest child attains two years). Usually, the alimony is a measly sum decided by a qazi.
Zakia Soman, co-founder of the Andolan, told The Telegraph: "The time has come to reform Muslim personal law to protect women. The community leaders, mostly men, have failed to address the problems and our only hope is the Supreme Court."
A survey conducted by the group across 13 states including Bengal, Maharashtra, Jharkhand, Karnataka, Bihar and Tamil Nadu shows:
• Nearly 92 per cent of Muslim women want a ban on oral and unilateral divorce (the triple talaq);
• Over 78 per cent divorced Muslim women had no say in their divorce;
• 91.7 per cent don't want their husbands to practise polygamy;
• 75 per cent want the age of marriage to be above 18 for girls;
• 93 per cent want an arbitration process to be mandatory before divorce; and
• 53.2 per cent said they faced domestic violence.
"Nothing has changed since the Shah Bano case. The All India Muslim Personal Law Board and religious leaders are against any changes to Sharia law, so Muslim women must fight for their right to live with dignity," Zakia said.
The Supreme Court had in 1986 ruled that divorced Muslim women who were unable to sustain themselves were entitled, like their counterparts from other religions, to alimony throughout their lifetime or till they remarried.
But Rajiv's Congress government passed a law reverting the alimony period to the traditional three months, with a provision for women to move court if denied this relief. Wakf boards are expected to help the women after this period but say they lack the funds.
Last month, the Supreme Court suggested that a Constitution bench re-examine the controversial law because Muslim women cannot be discriminated against in terms of polygamy and alimony. The matter comes up next month.
Zakia's organisation has already written to Prime Minister Narendra Modi, the Law Commission and the National Commission for Women, forwarding the survey findings and requesting action.
"This is a very important survey. It shows what Muslim women want. They want equal rights, and the matter shouldn't be decided by religious leaders and self-appointed representatives of the community like the personal law board," Zakia said.
Nearly 96 per cent of the women interviewed in the survey, which mostly covered poor families, said they had not heard of the law board.
Oral talaq
Zakia said that of the 235 divorce suits that had come to a Mumbai Sharia court last year - mostly relating to alimony disputes - 80 per cent related to the oral talaq.
Ironically, she said, the advent of modern technology has raised the incidence of oral talaqs.
"Oral talaqs have become rampant through Skype, Twitter and Facebook, denying the women any say.... It's so regressive," she said.
"Since January 2007 (when the Andolan was born), we have come across thousands of cases where the oral talaq has left women and their children homeless and destitute overnight, with nowhere to go."
The survey has found that 44 per cent of Muslim husbands were flouting Sharia law and cheating their wives by not paying the mehr, which is to be handed over immediately after the nikaah.
Zakia said that those claiming to speak on behalf of Indian Muslims had a lot to answer for. "They must accept their failure to build awareness of the Quranic tenets that call for a 90-day period of discussion, dialogue and arbitration before divorce," she said.
"Perhaps with the right education and awareness this problem would not have arisen at all."
Wajahat Habibullah, former chairperson of the National Commission for Minorities, agreed that Muslim personal law needed to reform "to protect Muslim women from discrimination relating to marriage and divorce laws".
Zafaryab Jilani, a senior member of the personal law board, however, said: "It is obnoxious for a man to abuse this right (oral talaq) but we cannot ban the Sharia and Islamic law." He said the law board had been organising an awareness drive across the country asking men not to misuse the Sharia law on divorce. "What's needed is awareness among Muslim men," he said.
Jilani added that the Modi government was trying to impose a uniform civil code, which "would impinge on the religious freedom and secularism principles enshrined in the Constitution".
The Supreme Court bench that sought a review of the 1986 law had also suggested that the Constitution bench explore the possibility of a uniform civil code. It had sought the responses of the attorney-general and the National Legal Services Authority.
Like Jilani, the Andolan is opposed to a uniform civil code.
Zakia cited how Article 25 of the Constitution allows all communities to have their own personal laws based on their religious tenets.
"Under this provision, we demand a gender reform in Muslim personal law based on the Quranic values of equality and justice," Zakia said. "We want codification of the Muslim personal law so that it is not open to interpretations."
Article 44 of the Constitution says the State "shall endeavour to secure for the citizens a uniform civil code throughout the territory of India" but political and religious sensitivities have prevented any such possibility.
The BJP has since its Jana Sangh days been clamouring for a uniform civil code but has in recent years toned down the shrillness that marked the demand in the 1990s.
But the Supreme Court has sought to know whether the "gender discrimination" suffered by Muslim women amounts to a violation of their fundamental rights under Articles 14 (equality), 15 (non-discrimination) and 21 (life and liberty).
telegraphindia.com/1151129/jsp/nation/story_55746.jsp
-------
Personal law should be subject to fundamental rights: Jaitley
Nov 29, 2015
NEW DELHI: Taking cue from the Supreme Court's recent poser on violation of Muslim women's right under polygamy-tolerant Muslim personal law, finance minister Arun Jaitley on Saturday said no person's fundamental rights should be violated by the personal laws governing marriages and divorces.
The SC had last month asked the government why polygamy in the Muslim community should not be banned and sought the Centre's response on framing a Uniform Civil Code (UCC) as provided under Article 51 of the Constitution.
Without referring to the SC poser at the Times LitFest, Jaitley, in his private capacity, argued that the fundamental rights could not be subservient to a personal law as the Constitutionally-guaranteed rights are supreme.
He referred to a 1952 Bombay High Court verdict which had held that personal laws could not be challenged on the ground that its provisions violated individual fundamental rights. "It was one of the most adverse judgments which till date has gone unnoticed. It needs to be reconsidered," he said, adding the HC order was never contested in the Supreme Court and has remained law of the land for last 63 years.
Jaitley's remarks assume significance as the SC last month expressed concern over Muslim women facing harassment in marriage and divorce matters regulated under personal law. The court had said it was high time the judiciary shed its inhibitions towards scrutinizing personal laws.
The SC had said the courts had earlier refrained from examining these issues on the ground that these were policy matters to be decided by the government and legislature. It had said these were not merely a policy matter but related to protection of the fundamental rights of Muslim women.
"The HC had held that personal law does not come within the ambit of Article 13 (laws inconsistent with or in derogation of the fundamental rights). The order was never challenged and it continued to be law of the land for the last 63 years. Personal law must be made subject to the fundamental rights and the HC order needs to be reconsidered," he said.
He said the HC erred in passing the order and upholding Maharashtra's local law on bigamous marriage which was quashed by a district court. He said the HC order was unmindful of the violation of fundamental rights of spouses whose partner remarried.
Jaitley picked up five judgments of the Supreme Court which shaped the destiny of the country and said Keshwanand Bharati verdict is the most important judgment delivered by the court in which the 'basic structure' doctrine was propounded.
He said the SC judgment on Menaka Gandhi case was "monumental" in expanding the fundamental rights to include the right to live with dignity. He said S R Bommai case was another landmark verdict that stopped the frequent misuse of Article 356 to dismiss elected governments in states. Indira Sahani judgement provided legitimacy to social welfare measures through reservation to uplift backward classes. He said the right to freedom of expression got its true meaning through various judgments passed by the SC including the verdict in Indian Express case in 1985.
If he picked five landmark judgments, he also singled out five more which lowered the dignity of the Supreme Court and said these five needed reconsideration. They are—1952 Bombay High Court judgment on personal law, ADM Jabalpur case(which has already been nullified by the Parliament through legislation), Indira-Nehru Gandhi judgment and verdicts on gay sex and NJAC.
http://article.wn.com/view/2015/11/28/Personal_law_should_be_subject_to_fundamental_rights_Jaitley/
-------
Self-defence classes taken by some Muslim women following violence in Toronto
Nov 28, 2015
Some Muslim women in Toronto have decided to deal with violence head-on by taking part in self-defence classes aimed at protecting themselves following a string of anti-Muslim incidents in the wake of the attacks in Paris.
In some of those events, women wearing hijabs were targeted. Ola Mobarak, 17, says she decided to take a self-defence course to show others that she isn't going to let herself become a victim.
"Instead of letting the actions of some hateful bigots or some people who want to take it out on a minority, instead of letting them dictate my life, I'm going to take the action into my own hands," Mobarek said.
Anti-Muslim incidents in Ontario since Paris attacks
Muslim student allegedly spat on, insulted by stranger
Frightening' attacks leave Ontario Muslims shaken
The 17-year-old is learning about self defence at Wen-Do Women's Self-Defence near College and Bathurst streets, which is the oldest women's self-defence organization in Canada.
At the University of Toronto, another course by Wen-Do was taking place last Thursday and more are planned to keep up with demand.
There's yet another self-defence course available to residents in the Flemingdon Park neighbourhood after a Muslim woman was robbed and beaten in the area by two men while picking up her children from school in the days following the attacks in Paris.
In another instance, two Muslim women were verbally assaulted on a Toronto subway, something the Toronto Transit Commission says they have "zero tolerance" for.
These events are not limited to women, though. Nine days ago, CBC News reported a 21-year-old Muslim student was allegedly spat on and insulted while wearing a skullcap near the University of Toronto's downtown campus.
Arij Elmi is an instructor teaching self-defence classes who says she, too, was targeted on public transit.
"About a week ago, a woman on a streetcar called me a 'raghead' and said to everyone else on the streetcar, 'Don't you know what they did to us in Paris?'" she said.
But the instructor says there was a silver lining behind the incident.
"Two men on the streetcar got up and said, 'That's not OK,'" Elmi said.
Alleged hate crime victim's brother says she's scarred
Muslim mom robbed, called 'terrorist' near school: police
Peterborough mosque set ablaze in suspected hate crime
Marium Vahed tells CBC News she already knows karate and adds the course isn't so much about learning how to inflict pain as it is about identifying the right clues in any situation.
Perhaps most importantly, self-defence classes teach participants how to make themselves heard during an attack so others can take notice and intervene.
"There's a misconception that self-defence is learning how to punch or kick or something like that but no, it's actually a lot about simply being aware of what's around you," Vahed said.
Self-defence classes are designed to be small, safe and informative. Visit Wen-Do's website for more information on their courses.
-------
Muslim women write to PM seeking changes in personal law
Sunday, 29 November 2015 n
The letter states, "Certain orthodox and patriarchal males have dominated the debate on rights of Muslim women and have stonewalled any attempt towards reform in Muslim Personal Law."
The Bharatiya Muslim Mahila Andolan (BMMA), an organisation working for Muslim women empowerment, has written a letter to the prime minister to codify the Muslim Personal Law as per a draft prepared by them and make certain prevalent practices illegal.
These include making illegal unilateral oral triple talaq, polygamy, (halala) compulsory marriage of women with another person if she intends to re-unite with divorced husband, and temporary marriage contract (Muta). Their draft seeks a law based on Quranic tenets concerning age of marriage, mehr, talaq, polygamy, maintenance and custody of children among other things.
The letter states, "Certain orthodox and patriarchal males have dominated the debate on rights of Muslim women and have stonewalled any attempt towards reform in Muslim Personal Law."
It goes on to agree with the recent Supreme Court observation and question asked to National Legal Services Authority of India if gender discrimination suffered by Muslim women should not be considered as a violation of fundamental rights under Articles 14, 15 and 21.
Citing their study and agreeing with observations made by SC judges, the letter added, "Justice for Indian Muslim women can be enabled either through amendments to the Shariat Application Act, 1937, as well as the Dissolution of Muslim Marriages Act, 1939, or a completely new enactment of Muslim Personal Law."
"What we need is codification of law. Those who say that codification has happened do not know what codification means," said Noorjehan Safia Niaz, co-founder of BMMA. When asked about apprehensions and reservations sounded out due to a "right wing" government at Centre, she added, "It is a democratically elected government, even if it's right wing. All these years we have been talking to them (ulemas) and, despite creating so much noise, they have not done anything. We want a codified, Quran-compliant law. In this way, at least people do not get the opportunity to talk about the uniform civil code."
dnaindia.com/india/report-muslim-women-write-to-pm-seeking-changes-in-personal-law-2149990
-------
Pregnant Muslim woman branded 'terrorist' on London bus while passengers looked on
Rachel Blundy,Saturday 28 November 2015
A pregnant Muslim woman was racially abused by a drunk man who branded her a "terrorist" in a 15 minute tirade on a London bus while passengers looked on without intervening, it has been claimed.
The Turkish victim faced a barrage of abuse as she travelled on a 259 bus along Blackstock Road, Finsbury Park.
It was only when her abuser threatened to punch her that a man stepped in to protect her, witnesses said.
The bus driver, who remained in his cabin, stopped the bus and told passengers to get off once he was alerted to the abuse.
He called police who arrived on the scene moments later.
Charity worker Betta Elisa watched the events unfold as she travelled to work.
The 40-year-old Sicilian, who lives in Tottenham, said she was "surprised" that no one stepped in to help the woman for at least 15 minutes, adding that one man only moved to restrain the abuser when he threatened to punch her.
She said she was one of two women who stayed with the victim while her sister was called to collect her.
She told the Standard: "What surprised me even more is that no one went to comfort the victim. She was stroking her belly because she was six months pregnant.
"I felt really sad because this should not happen.
"I do not know if it was because it happened in London. We live in an individual world now. We need more of a sense of community. People just do not want to get involved."
Describing the incident, she said: "I was on my way to work and I heard someone talking loudly. It was this man with a bottle of beer.
"He was obviously drunk.
"He started shouting. He was saying things like 'B****, get back to your country'. He called her a Muslim terrorist. His English was quite broken.
"He was really aggressive. She was crying loudly.
"He leaned forward to punch her.
"But a man intervened and stopped him.
"Before that, no one was saying anything. I was going to help but another woman stopped me and said it was dangerous. Now I wish I had."
Fiyaz Mughal, director of Islamophobia watchdog Tell MAMA, said the case was one of an increasing number of attacks on Muslim women after the Paris terrorist killings.
He said: "We have received cases post Paris that show a marked spike in anti-Muslim hate incidents, where at a street level, Muslim women are the ones being targeted.
"Their visibility, with their hijabs, sadly means that they are targeted and in a number of cases, Muslim women have said that no member of the public intervened to stop the abuse.
"This is worrying and there is much more work to do around community education in how to deal with such situations and in a manner that does not put yourself at risk."
Transport for London insists the number of racist crimes per passenger journey has remained "stable" at about one crime for every three million passenger journeys over the last five years.
Steve Burton, Transport for London's director of enforcement and on-street operations, said: "We do not tolerate racist behaviour of any kind on our bus network and the police are currently investigating this incident."
Scotland Yard said a man had been arrested following the attack incident on Monday morning (November 23).
The incident comes just one month after video footage of another pregnant Muslim woman being abused on a bus in north west London went viral.
Simone Joseph, 36, of Angel Court, Willesden Green, was given a 16 week jail sentence suspended for 18 months after admitting racially and religiously aggravated behaviour.
standard.co.uk/news/crime/pregnant-muslim-woman-branded-a-terrorist-on-london-bus-while-passengers-looked-on-a3125006.html
-------
Why I went undercover to investigate female Islamic State supporters
To understand how ISIS were recruiting Western Jihadi brides, Poppy Begum gained the trust of a key group of the terror organisation's female sympathisers for a Channel 4 documentary
By Poppy Begum,12:00PM GMT 28 Nov 2015
When three Bethnal Green schoolgirls left the UK to join ISIS earlier this year, I was appalled.
They had lived and gone to school just over a mile away from where I was brought up and, like so many others, I found it incomprehensible that modern British girls would be attracted to a belief system that states that women are completely inferior and subservient to men; existing only to serve Jihad fighters as wives.
When I was growing up in East London, my friends and I were constantly juggling both our 'British' with our Bengali identities. It was never about religion and we never struggled with it because it wasn't really on the agenda.
CCTV shows British teenagers Kadiza Sultana, Amira Abase and Shamima Begum from Bethnal Green passing through security barriers at Gatwick Airport.
We also didn't have iPhones, Twitter or Facebook and so what our Islamic teachers, our parents and grandparents taught us about Islam was absolute.
I certainly don't ever remember Islam being so politicised or being asked to challenge its teachings of peace and tolerance.
Yet, these school girls had just joined the 700 Britons who have fled the UK - 100 of these being women – to become sympathisers, facilitators and disseminators of propaganda for the IS cause.
What really bought it home was seeing the girls' family on TV pleading with them, begging them to return. I thought to myself these people are not different to my own family. I can only assume, if their parents share a similar background to my own, they too are struggling to understand any of this.
Of course, Western 'jihadi brides' are a major propaganda coup for Isis and watching these and other events unfold I realised that if this was a game, a war even, then ISIS were on the path to winning.
My friend Aisha*, was also deeply affected by what she was seeing.
Also a journalist, she too couldn't comprehend how and why young people – many with the same backgrounds as ourselves - could not only reject their own families, but also the British values like secularism and democracy that they had grown up with and allowed them to practice their faith and exercise their right to free speech so freely and openly.
To make sense of it, we began to research the Channel 4 documentary which caused shock-waves last week.
A veiled British Muslim woman filmed by an undercover reporter. Photo: Channel 4
As we got deeper into this world, the extent to which ISIS were harnessing and exploiting the power of women, especially online quickly became apparent.
Their sheer social media presence and rate of dissemination was startling and it wasn't long before we came into contact with our first prominent, British 'jihadi bride', female convert Khadija Dare.
Khadija made headlines when she appeared in Syria, declaring her desire to take part in the beheading of a journalist like James Foley. This led us to the blog of Aqsa Mahmood, the Scottish girl from quite a well to-do upbringing who went to become, "the bride of ISIS". She was the one who would eventually lure the three East London school girls to leave the UK.
We agreed from the outset that I would report and Aisha would go undercover; mimicking their language, their tweets and political leanings.
I have worked in TV for two years and as with all undercover investigations we carefully calculated the risk. Aisha always had a support team in close proximity and measures were taken to ensure nothing was traced back to her real identity.
"It requires immense patience to create a relationship with the women who trust almost no-one and publicly call out those who they think are spies or journalists"
The production team have carried out many high profile investigations and are incredibly experienced in creating safe and credible profiles for their undercover reporters.
We continued trawling through hundreds of tweets and identifying a map of UK ISIS supporters – a strange combination of disaffected youths and educated fundamentalists - who would use platforms like Twitter, Ask FM, Surespot and Kik.
Through patience, dedication and commitment, we slowly gained the trust of a key group of women.
By hiding our identities in the 'virtual' world of twitter we would reach out to them, liking their statuses and tweets, sharing, re-tweeting and creating a sort of 'girly' friendship bond.
Soon enough, we gained the respect of Umm L, Umm Usmaan and Umm Saalihah as well as others in the concentric circles of the fifth column female disseminators living right here.
Umm L is RubanaUmm L is Rubana, a mother of four living in London and residing at the same address as a leading member of a banned extremist organisation. Photo: Channel 4
Aisha painstakingly bided her time over a number of months. It requires immense patience to create a relationship with the women who trust almost no-one and publicly call out those who they think are spies or journalists.
Aisha was wary of asking too many questions; gaining their confidence by answering all the questions they had regarding her.
This way the women felt like they really knew Aisha which took us to the next phase of the investigation – the real world.
What viewers saw on Monday night was shocking. After helping them leaflet at an 'Islamic roadshow' in Lewisham, Aisha was invited to their study circles.
Captured just weeks before the attacks in Paris, her undercover footage shows some of the leading female Islamic State sympathisers who, in weekly two-hour lectures, use racially abusive language to describe Jews and Israelis and urge young Muslim women to travel to Syria to join ISIS.
"After 12 months infiltrating these groups, I have learnt that the threat from these women and their role in the jihadi war has been severely underestimated"
For us, one of the most shocking scenes were the young children wandering freely in and out of the room absorbing this dangerous and potent ideology; hearing Umm L telling them 'filthy Jews' are killing innocent Muslim children that the 'good days are here' in reference to the caliphate.
I couldn't imagine being exposed to anything like this when I was growing; the narrative of ISIS and the caliphate simply did not exist. Yet, 15 years on here were a group of women preaching this hateful ideology right there in East London.
Poppy Begum reported the undercover investigation into female ISIS supporters.
After 12 months infiltrating these groups, I have learnt that the threat from these women and their role in the jihadi war has been severely underestimated.
These seemingly well-integrated women - one was a careers advisor – are charming, persuasive and convincing. Groups like ISIS understand this and are capitalising on their pulling power.
The 'softening up' effect of these messages on women is important to recognise. Women glorifying jihad to not just other young girls, but also to their very small children is particularly worrying.
This is supposed to be the next generation of 'British-born' children who may grow up feeling anything but. The young Brits who we came across on and off camera had been radicalised by their own family, their friends as well by ISIS through social media.
"After Paris, Isis must have known hate crimes against Muslims were going to rise; it's what they were counting on - the rejection and vilification of Muslims"
Aisha, myself and the team have been fully aware of the potential fall-out since the start of this investigation both in terms of our own personal risk and potential consequences for our British Muslim communities.
It was important for me to make it clear that the pro-Isis messages these women are spreading are as abhorrent to the vast majority of British Muslims as they are to the vast majority of the British public.
I truly believe ISIS want to split the world into two camps; 'us versus them' and engender the kind of hatred that resulted in the vicious verbal attack on a young British Muslim woman, Ruhi Rehman last week on the Metro in Newcastle.
After Paris, Isis must have known hate crimes against Muslims were going to rise; it's what they were counting on - the rejection and vilification of Muslims.
If people turn on each other now, that will be a victory for them. More than ever, we need to stick together which is why I was so heartened to hear how the passengers on that Newcastle train came to Ruhi's rescue.
That, for me, demonstrates British values of liberty and tolerance at their best. Surely that ideology is our best defence against terror.
telegraph.co.uk/news/worldnews/islamic-state/12020844/Why-I-went-undercover-to-investigate-female-Islamic-State-supporters.html
------
Islam, rape, and the fate of Western women
By Carol Brown
Muslim men rape non-Muslim women (and girls) in disproportionately high numbers in countries with growing Muslim minority populations. Rape of infidel women is part of Islamic law and Islamic tradition. As such, it's been going on for centuries.
This article is about the current threat Muslim rapists pose to non-Muslim women. In order to keep this article to a reasonable length, the focus is on the rape epidemic in Europe, but suffice it to say rape jihad is a gruesome reality the world over.
Perhaps there is no European country where rape has reached epidemic proportions as it has in Sweden, a country now known as the "rape capital" of Europe. Sweden ranks Number 2 on the global list of rape countries. From 1975 to present, rape in Sweden has increased 1472%. Based on this model, it is now projected that one in four Swedish women (and sometimes little girls) will be raped. Rape of men and boys is also on the rise.
Making this nightmarish situation worse, the authorities hide what's going on, make outlandish excuses for it, and/or side with the rapists. Dhimmitude has taken hold. Few, if any, will state the truth: that the majority of rapes in Sweden are committed by Muslim males.
Of note, a large number of Muslim rapists are under the age of 18 and, if brought to "justice," receive exceedingly light sentences (even lighter than the absurd non-punishment adults receive) because they are considered juveniles. And so they are released back onto the streets in a flash. To commit more rape. Related to this issue is the fact that many Muslim men in Sweden are classified as "unaccompanied children" when they arrive.
The sickness that has taken over Swedish culture is so shocking that in one case where a Somali Muslim was found guilty of raping a dying woman to death (which is horrific enough), the judicial system refused to send him back to Somalia because they determined he would be just as much a risk to women in Somalia as he would be to women in Sweden. And so Swedish women were disregarded out of deference to Somali women.
But Sweden is not the only European country where rape has become commonplace. Importing Muslims en masse has taken a toll across the continent. With the recent avalanche of young Muslim males sweeping across Europe, violence is rising even further. Including rape.
In the United Kingdom rape is occurring on such a massive scale that women are no longer feel safe taking a taxi cab. Meanwhile, Muslim child sex trafficking gangs have become so pervasive it is estimated there may be as many as one million victims. One million! It has been referred to as rape on an "industrial scale." And how has this massive attack against non-Muslim girls in the United Kingdom been addressed by the authorities? They've covered up the truth, often blaming the victims. Political leaders, the police, the courts, the media. You name it. They're overflowing with cowards, leaving children to suffer the unthinkable horrors of kidnapping, torture, and rape.
In Holland, sex trafficking gangs run by Muslim men are also on the rise. In Germany, rape committed by "asylum seekers" is skyrocketing as rape by Muslim men is explained away as "cultural misunderstandings." So to avoid such "misunderstandings" girls are told to cover up lest they draw attention to themselves and be raped.
In Austria, women are feeling the impact of this current avalanche of Muslim invaders, as when a 72-year-old woman was recently raped by a 17-year-old "asylum seeker." In France, gang rape is on the rise. As with the rest of Europe, if the rapists are brought to trial they barely serve time for their heinous crime. In Spain, the situation is so dire that women don't leave their house after dark for fear of being raped by Muslim men.
In Denmark, more than half of convicted rapists are Muslims. In Norway, there has been a dramatic spike in rapes. In Oslo, 10% of females over the age of 15 have been raped by Muslim men with Muslim men guilty of 100% of the rapes against Norwegian women. Rape in Oslo is now so common that hotels hand out key chain alarms when people check in and increasingly Norwegian women only go out in groups. As is the case throughout the West, anyone who speaks the truth about this is labeled a "racist."
Meanwhile, in the face of this savagery, our political leaders, the media, academics, Muslims, feminists, and/or garden variety lemmings assert that Islam respects women, that it does not sanction the mistreatment of women, and/or that Western culture is a rape culture on par with ISIS. But no matter how persistently or how deeply these fools keep their increasingly vulnerable heads in the sand, it will not change reality. Quite the opposite. By denying the truth, these liars, apologists, and moral relativists fuel violence, rape, torture, enslavement, and death.
We must (more than) make up for the damage they inflict. So let us get about the task of educating others to make sure this reality does not take hold in America. Let us do our part to make sure that women and girls in the United States do not wind up victims of rape jihad.
americanthinker.com/articles/2015/11/islam_rape_and_the_fate_of_western_women.htm
URL: https://newageislam.com/islam-women-feminism/gender-equality-'against-islam'-kerala/d/105456
New Age Islam, Islamic Website, Online Islam, Islamic World News, Womens in Islam, Islamic Feminism, Arab Women, Womens In Arab, Islamphobia in America, Muslim Women in West, Islam Women and Feminism