New New Age Islam News Bureau
20 Sept 2018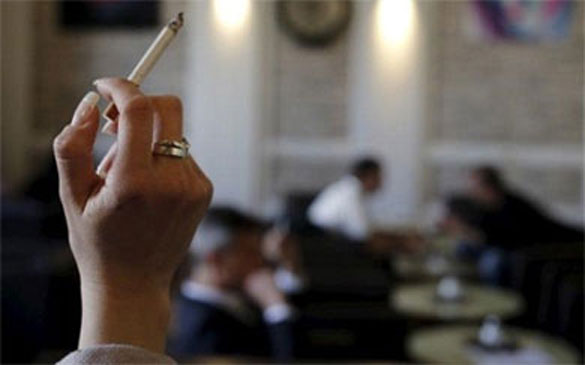 A woman holds a cigarette in a cafe. PHOTO:REUTERS
------
• Marry Muslim Women and Convert Them, VHP Advice to Bengali Hindu Men
• 37% of Arab Women Have Experienced Violence, UN Workshop Hears
• Muslims of Nigeria in Lagos State, Blow Hot As Principal Ejects Students for Wearing Hijab to School
• Tunisia Prompts Debate on Equal Inheritance Rights for Women
• Underaged Muslim Girls Deserve To Be Protected By the Law, Too: Dr Wan Azizah Wan
• These Are the 5 Bahraini Women on Forbes Power List
• Four Women Arrested In Shiraz, Iran, For Their Faith
• 'Mother At Work' Project To Empower Turkish Women
Compiled by New Age Islam News Bureau
URL: https://www.newageislam.com/islam-women-feminism/gender-discrimination-nust-islamabad-bars/d/116436
--------
Gender Discrimination: NUST, Islamabad, Bars Women from Smoking Areas
By Asma Ghani / Amal Zaman
September 19, 2018
ISLAMABAD: The National University of Sciences and Technology's (NUST) Islamabad campus has barred women from designated smoking areas, according to a notification issued by the institution.
A copy of the notification, which went viral on social media states that girls will be fined Rs1,000 if they access the smoking areas and their parents will be informed.
A Masters student at the institution says she is not surprised by the policy. "NUST has several sexist policies in place already."
She says the curfew for female students ends an hour before that of male students, girls' entry and exit from the hostels are logged while the same is not done for boys and parents of female students are called to verify if they stay out overnight.
"As a woman, it has been a humiliating ride to be treated like a criminal suspect or immature little child. Meanwhile, the boys get a free hand to come and go on free will."
"The rules, for them, only adorn the notice board," she says.
A final-year electrical engineering student says the campus has been a smoke-free campus for a while but is now setting up a few designated smoking areas. A map posted alongside the notification shows over 20 new smoking areas for male students.
He saw the notifications posted on department boards about two weeks ago when the semester began.
While not a smoker himself, he has several female friends who have called the policy sexist, questioning whether the administration thinks women and men have different lungs.
NUST designated smoking corners to discourage smoking in hostels, washrooms and secret corners by students.
Project Manager Smoke Free Islamabad Aftab Ahmed said after vacations the notification will be revised to end gender discrimination.
Moral policing and sexist dress codes are commonplace in Pakistan's educational institutions. Bahria University in Karachi drew attention in May for a notification directing male and female students to maintain 'six-inch' distance between each other and forbade "touching of males and females".
The university administration did not respond for comment.
https://tribune.com.pk/story/1807115/1-gender-discrimination-nust-bars-women-smoking-areas/
--------
Marry Muslim Women and Convert Them, VHP Advice to Bengali Hindu Men
Indrajit Kundu
September 19, 2018
The Vishwa Hindu Parishad (VHP) has come out with a set of guidelines for the youth in West Bengal to counter what they term as "love jihad".
As per VHP, Hindu men should marry Muslim women who have a "Hindu mindset" and bring them into the fold of Hinduism. As part of the new campaign in the state, VHP is distributing pamphlets "warning" Hindu women against falling victim to "Love Jihad". It even suggests ways to identify and tackle the issue.
Through a list of seventeen points, the VHP seeks to explain how Muslim youth allegedly "lure" Hindu women into their "trap". "Helping poor Hindu women coming to cities from rural Bengal, using Hindu names to hide real identity, luring girls with expensive gifts, blackmailing women using intimate images etc are some of the ploys that are used by perpetrators of love jihad," the pamphlet reads.
As per the pamphlet, Hindu women face dire consequences when they marry Muslim men like being sold in Arab countries, being used as human bombs, death due to repeated child birth.
As a solution to fight what VHP terms as "love jihad", the VHP suggests that women respect Hindu culture, wear sindur and mangalsutra diligently. Its asks them to conduct Hindu religious festivals and read the Gita, Ramayana and Mahabharata. VHP also asks women to spread consciousness about the pride of being born as a Hindu.
"Dev bhakti is another form of Desh bhakti," reads the VHP pamphlet.
Rather than remaining silent, VHP suggests that women should speak out and get in touch with their activists acorss the state. It asks those falling "prey" to Muslim men to lodge abduction complaint and file FIRs with the the local police. "Those rescued, must be brought back and rehabilitated into Hindu religion," it claims.
VHP has announced that it shall provide legal assistance to victims of "love jihad" in Bengal. "If we get to hear of any such case, we will support the family and even give them legal aid. We have been hearing of such cases via social media and therefore it has become pertinent. Lot of such cases are being reported and therefore such awareness programme is important," says Sourish Mukherjee, VHP spokesperson. VHP claims its workers will soon undertake door-to-door campaign to make the youth aware of the menace of Love Jihad and ways to counter it.
Welcoming the VHP campaign, BJP general secretary Rahul Sinha said, "There has been political support to love jihad. For long some netas have been encouraging it in the name of religion. But slowly people will become aware and I hope this will only change for the better," Sinha said.
After Ram Navami and Hanuman Jayanti, "love jihad" is clearly another issue that right wing groups like VHP and Bajrang Dal plan to use to mobilise people on the ground. The Vishwa Hindu Parishad's ground work in districts like Purulia has given rich political dividends to the BJP in the recent panchayat polls.
The ruling Trinamool Congress has termed this another ploy by the BJP and other right wing outfits to create communal rift in the state. "Who will eat what, who will marry whom, will that be decided by the VHP? Leave the BJP aside, today Hindu youths happily marry Muslim women and Muslim youth can also marry Hindu women. This are just a ploy to create communal discord," said Idris Ali, TMC Lok Sabha MP.
https://www.indiatoday.in/india/story/marry-muslim-women-and-convert-them-vhp-advice-to-bengali-hindu-men-1344133-2018-09-19
--------
37% of Arab Women Have Experienced Violence, UN Workshop Hears
September 20, 2018
BEIRUT: Arab women and their protection took center stage at a regional workshop held by the UN in Beirut this week.
Held on Tuesday and Wednesday at the United Nations House in the Lebanese capital, the workshop to support women in the Arab region was organized by the UN's Economic and Social Commission for Western Asia (ESCWA), the UN Entity for Gender Equality and the Empowerment of Women (UN Women) and the Arab League.
The aim was to address violence against women and highlight the role of international and regional bodies specializing in women's issues, as well as their impact on the development of policies, strategies, national laws and standard services to address the issue.
"Violence against women is one of our key pillars, and we chose the topic based on the request from our Arab member states," said Mehrinaz El-Awady, director at the ESCWA Center for Women. "Most of our work is related to eliminating violence. We do studies and a lot of capacity-building on certain topics."
The center conducted a number of studies on the topic this year, adding to its seven years of cumulative work on the issue. The studies are complemented by workshops to fill the knowledge gap.
"There are a lot of initiatives done by national women's machineries, which are the government offices, departments, commissions or ministries that provide leadership and support to government efforts to achieve greater equality between women and men, but they are not all aligned with international institutions, policy and gender equality in general," El-Awady said. "There are specific requirements for legislation on violence against women, and we have six Arab countries that have done this legislation, yet we need more alignment on these legislations, to have a broader definition on violence against women."
She spoke of the potential in Arab countries to eliminate violence, which the UN wishes to build on. "We're introducing international instruments on violence against women and key pillars that should be legislation on the topic," El-Awady said.
"It should cover prevention, protection, prosecution and rehabilitation, and we're picking some of the examples of countries that have done legislation, allowing them to present the newly developed laws so other countries that haven't had a law would be encouraged to follow the same path."
Of ESCWA's 22 member states, countries that are considered to have adequate laws in place include Jordan, Saudi Arabia, Bahrain, Tunisia, Morocco and Lebanon. In 2013, Saudi Arabia passed legislation to protect women, children and domestic workers against domestic abuse. It was followed earlier this year by an anti-harassment law.
Other countries are said to deal with violence against women under the penal code, which ESCWA is advocating against. "When you have violence against women in a penal code, it loses the privacy," she added. "It's not violence from an intimate partner."
According to UN Women, one in three women worldwide have experienced physical or sexual violence at least once, mostly by an intimate partner. In some countries, that figure is as high as 70 per cent. Globally, almost four in every 10 female homicide victims are killed by intimate partners.
Violence against women has risen in the past few years in the region, which, according to the World Bank, has the lowest number of laws protecting women from domestic violence in the world. UN Women estimates 37 per cent of Arab women have experienced violence, with indicators that the percentage might be higher.
"The region has had a prevalence of violence against women, and it's one of the things we're trying to support countries (in)," El-Awady said.
"We hope Arab member states are more sensitive to the requirement of legislation on violence against women and start the consideration of having a protection order with the legislation to complement it. There's a momentum and Arab countries are now more alert — it's a phenomenon that requires attention from them."
Women and girls make up 70 per cent of all known human-trafficking victims. Adult women constitute 50 percent of the total number of trafficked people, while two in three child victims of human trafficking are young girls.
Rapists are often shown leniency or even acquitted in the Arab region if they marry their victims. In Morocco, Article 475 of the penal code, which allowed rapists to avoid prosecution if they marry their victims, was repealed in 2014 following the suicide of a rape victim who was forced to marry her rapist. Today, 700 million women have been married under the age of 18, and 14 percent of Arab girls marry under the age of 18.
"Violence against women has multiple consequences, at the individual level, within the family, community and wider society," said Manal Benkirane, regional program specialist at UN Women's Regional Office for Arab States. "It can lead to fatal outcomes and have a significant burden on the economy. Despite the ongoing efforts to eliminate violence against women and girls in the region, its prevalence and social acceptance remain high."
She stressed the importance of having enabling legislative frameworks to change the social norms and acceptance of violence, and to ensure women's access to services that meet their needs. "Otherwise, women in the region end up being violated twice, first when they are subjected to assault, and second when they are denied their right to care and support," she said. "This workshop offers the space for participating countries to share their experiences, achievements but also challenges they faced in addressing violence in the region."
More than six in every 10 women survivors of violence refrain from asking for support or protection. The remaining ones who speak up turn to family and friends.
Globally, the total direct and indirect costs of violence against women for countries are estimated to be as high as 1 to 2 percent of their gross national product, which amounts to millions of dollars worldwide.
"Violence against women (has) become a critical issue in the Arab region," said Shaza Abdellateef, head of women in the women, family and childhood department at the Arab League's social affairs sector.
"This is especially pronounced under the recent circumstances that some Arab countries suffer from, with the spread of armed conflicts, refugees and the increase of violence against women, including domestic violence. It is one of the most important issues in the Arab region today."
http://www.arabnews.com/node/1374871/offbeat
--------
Muslims of Nigeria in Lagos State, Blow Hot As Principal Ejects Students for Wearing Hijab to School
September 20, 2018
By Wale Odunsi
President of the Muslim Students' Society of Nigeria in Lagos State, Alhaji Saheed Ashafa, has condemned the ejection of five students of Isolo Senior Secondary School by their principal for putting on hijab (Muslims head cover) to school.
Ashafa blamed the Akinwunmi Ambode-led Lagos State Government for the situation, accusing it of failing to enforce a court order which was in favour of hijab.
He noted that after being sent out of school on Wednesday, the students converted a tricycle popularly known as 'Keke Napep' to their classroom.
The Principal, Mrs. J O Sadare, had last Friday allegedly announced at the assembly ground that students should not wear hijab to school.
After the announcement, some of the students wore the hijab to school and were given a letter to come with their parents on Tuesday.
When the students got to the school with their parents, the principal allegedly walked them out of her office after their insistence that their daughters must put on the hijab.
Narrating the incident, Ashafa said: "The entire drama started on Friday in the school when the Principal announced to the students that no one is allowed to wear hijab in the school.
"Surprisingly for her, some of the students still wore the hijab to school on Monday. She gave the students letters to invite their parents to school. In the letter, she threatened that the students will not be allowed into the school without their parents.
"When she shared the letter, a majority of students fidgeted and agreed to stop wearing the hijab. She collected the letters and let go of those ones, but about five of them refused to return the letter. When we were contacted, we asked the parents to honour the Principal's invitation.
"They went there with our (MSSN) representatives but were embarrassed by the Principal, who gave them the option of either their children's education or religion. She eventually walked them out of her office after they insisted that their daughters must put on the hijab.
"The parents subsequently proceeded to the Education District in charge of the school and they were assured that something would be done. With the hope that her (the Principal) superiors should have spoken with her to realise that what she was doing was wrong with the subsisting Appeal Court judgement, the students went to school on Wednesday (today) and were still prevented from entering the school.
"These are Senior Secondary School Two and Three students who need to study hard for their examinations. When we got to the school this morning, we saw some of the students copying notes for lessons they have missed on Monday and Tuesday while the others were teaching themselves old lessons inside a tricycle on the street.
"This is disastrous for us. While there colleagues were in the classrooms learning, they were on the street just for being Muslims. As we speak, the assistant head girl, who is one of the students that refused to put off her hijab has been removed and replaced.
Ashafa explained that the Lagos State Government has continuously disobeyed the Court of Appeal ruling granting the use of hijab in schools.
"We wish to inform the general public that we have been very peaceful on this matter. Even when some of the principals harassed our members, we go there to engage them amicably. We will not allow this to stay. This Principal must be sanctioned, removed and the students must return to school immediately.
"As a law-abiding student-based organisation, we approached the Court of law on the usage of hijab by students. At the Lagos State High Court in Ikeja on October 17, 2014, Justice Modupe Onyeabo banned the use of hijab in public primary and secondary schools in Lagos State.
"But we headed to the Court of Appeal. A five-man special appellate court panel, presided by Justice A.B. Gumel, on July 21, 2016, overruled the October 17, 2014 judgment of Justice Modupe Onyeabo of the Lagos State High Court in Ikeja, which banned the use of hijab in public primary and secondary schools in Lagos State.
"While striking down Justice's Onyeabo's verdict, the Justice Gumel panel held that the ban on hijab was discriminatory against Muslim pupils in the state.
"Dissatisfied with the decision of the appellate court, the Lagos State Government approached the Supreme Court after failing to secure a Stay of Execution, but no judgment has been delivered yet. In law, where there is no other contrary judgement, the subsisting judgement remains valid.
"Thus, the ongoing harassment of our members is not only unconstitutional, an infringement, but also a contempt. Again, we repeat that this will never be allowed to stay. We will give this lawless, anti-democratic and anti-masses government what it wants and likes to witness."
http://dailypost.ng/2018/09/20/muslims-blow-hot-principal-ejects-students-wearing-hijab-school-blame-ambode/
--------
Tunisia Prompts Debate on Equal Inheritance Rights for Women
ASMA I. ABDULMALIK
September 19, 2018
In a very bold move, Tunisia's president last month promised to submit a bill to parliament that aims to give women equal inheritance rights with men. The new law will include articles that stipulate equality of the sexes in terms of their rights and duties. The announcement came after months of protests by women and some men, who took to the streets in the Tunisian capital to demand equal inheritance rights. Tunisia's decision to move toward equal inheritance also comes after President Beji Caid Essebsi had, in 2017, set up a committee to draft proposals with the aim of advancing women's rights.
In a secular state, which is predominantly Muslim, the announcement was certainly controversial. Clerics in Tunisia and across North Africa voiced their opposition to the president's plan to introduce this legislation, calling it "a flagrant violation of the precepts of Islam."
According to the website Al-Islam: "Allah charges you in regard with your children: A son's share is equal to the share of two daughters; if the (children) are (only) daughters and two or more, their share is two-thirds of the legacy, and if there is only one daughter, her share is half (of the legacy)." To elaborate further, sons inherit twice that of daughters, brothers twice that of sisters, and husbands twice that of wives. But it is also important to note that there are cases where men and women take an equal sum of inheritance, like for instance the father and the mother of the deceased, who would receive an equal share of the inheritance.
The subject of inheritance is certainly complex and has faced contemporary criticism. It is often regarded as Islam's Achilles' heel with regards to women's rights. The jurisprudence of the inheritance system is based on many factors, one of them being that the male has been financially responsible for the upkeep and wellbeing of the women and children. Men are responsible for providing accommodation, child support and other expenses with no reciprocation from the female's side. A woman is not required to spend her wealth on her family. Thus, all the income she acquires, whether she works or not, is solely hers.
On the other hand, many, including some Muslim women, consider the current system no longer reflective of modern day life. While it is true that in the past very few women worked and earned an income, today the percentage of women entering the workforce is increasing steadily. Take Saudi Arabia for example: According to figures provided by the Ministry of Labor and Social Development, the number of Saudi women working in the private sector increased by 130 percent between 2012 and 2016. To many in the Arab world, the financial responsibility argument thus no longer holds true for many families, whose fundamental understanding of marriage is also beginning to morph from that of sole dependency to co-sharing and equal duties.
Furthermore, it is also worth noting that the idea of a family nucleus is beginning to change. Divorce rates are alarmingly high in most Arab countries. Jordan, for example, has the 14th-highest divorce rate in the world, according to a report developed by The Daily Telegraph last year. In Kuwait, almost 60 percent of marriages have ended in divorce, according to figures published by the Ministry of Justice. This trend demonstrates a change in the family unit, one where mothers are essentially the sole caretakers of their children (albeit with the financial support of their divorced partners). While it is true that, in Islam and legally, men are still obliged to financially support their children (and their ex-partners), we've all heard of countless cases where women get entangled in endless court proceedings regarding alimony, or cases where the alimony is not sufficient. How many stories have we heard of women who, despite court orders, did not receive their alimony for many years?
Finally, there are women who may be single, divorced or widowed who would like to be independent of a male's financial guardianship and wish not to depend on their ex-husbands or brothers for financial support, while not undermining those who believe the current system is supportive of them and families.
Drastic measures to change the inheritance jurisprudence will most likely be faced with fierce resistance and will probably cause problems in Arab societies. There is also the likelihood that it may be perceived as a direct threat to the patriarchal nature of families, which has long regarded financial spending as the sole responsibility of the male. Nevertheless, it may be worthwhile to reflect on some exceptions, or allow for the law to be flexible to accommodate these exceptions. Surely the Tunisian approach cannot be seen as a blanket model for all countries. However, each can look at its own context, including divorce rates, government housing subsidies and allowances, and study the possible benefits of women acquiring additional income and assets against the other costs and toward the betterment of their families and society in general.
Asma I. Abdulmalik is an Emirati civil servant and a writer interested in gender and development issues. Twitter: @AsmaIMalik
http://www.arabnews.com/node/1374606
--------
Underaged Muslim Girls Deserve To Be Protected By the Law, Too: Dr Wan Azizah Wan
Sep 20, 2018
It was reported yesterday that the Deputy Prime Minister Dr Wan Azizah Wan Ismail made a shocking statement in relation to the second child bride case that recently has come to light.
According to the report, she said that the 15-year-old bride "consented'" to the marriage and that upon the findings of the Social Welfare Department, "the marriage was based on 'mutual liking' between the minor and the 44-year-old man".
So far, there has been no correction to what has been reported, suggesting that the reporting is indeed accurate.
Such a stand taken by the deputy prime minister is unacceptable and strongly condemned.
This case comes shortly after a similar case that was reported just three months ago.
Syariah law in this country allows for the marriage of girls under the age of 16. This deplorable practice can no longer be allowed to continue but thus far, the government has failed to adequately address the issue.
Such a practice is nothing but the back-door legalising of paedophilia in this country.
To suggest that the 15-year-old willingly consented to the marriage, thus making it acceptable, shows startlingly ignorance of not only the emotional and physical strain on a child but it also clearly demonstrates ignorance of the fact that in Malaysia, the legal age for consent for sexual intercourse is 16.
The law in the Penal Code, which applies equally to Muslims and non-Muslims in this country, is designed to protect girls below the age of 16, in that they cannot consent to sex. Any sexual intercourse with a girl below the age of 16 is (statutory) rape.
Should Muslim girls under the age of 16 not be given equal protection under the law?
How many more child marriages must come to light before this government will act?
Further to suggest that "there was little the government could do" in view of the fact that each state legislates its own syariah law, is shockingly unacceptable.
The Pakatan Harapan is in power in eight out of 13 states in this country. There is nothing stopping Harapan-led states from tabling motions to make the necessary amendments to the syariah law in each of those states.
It could not be clearer that the government simply lacks the political will to do it.
Was it not a Harapan pledge to put an end to child marriage? Did we not pledge to introduce a law that sets 18 as the minimum age for marriage?
The current administration must not be allowed to renegade on this fundamental pledge.
SANGEET KAUR DEO is a lawyer and Selangor Wanita DAP deputy chairperson.
https://www.malaysiakini.com/news/443881
--------
These Are the 5 Bahraini Women on Forbes Power List
September 20th, 2018
Five Bahraini women have made it to Forbes Middle East's Top 100 Most Powerful Arab Businesswomen 2017.
Y K Almoayyed & Sons managing director Mona Almoayyed is ranked ninth in the elite group with the next Bahraini on the list being Batelco Bahrain chief executive Muna Al Hashemi in 16th place.
Suha Karzoon, the chief financial officer of Bahrain's investment arm Mumtalakat, is ranked 27th, while Al Salam Bank chairwoman Shaikha Hessa Al Khalifa ranked 57th.
Securities and Investment Company chief executive Najla Al Shirawi completes the presence of Bahrainis on the list in 89th place.
Ms Almoayyed oversees one of the oldest family businesses in Bahrain, which was founded 77 years ago by her father, stated Forbes Middle East website.
Y K Almoayyed & Sons Group operates in key industry sectors such as automobiles, building materials and luxury goods, and represents more than 300 brands, including Nissan, Daewoo and Komatsu.
Ms Almoayyed was the first woman to be elected to the board of a publicly traded company in Bahrain.
With a bachelor's degree in business administration, Ms Almoayyed also serves as the vice-chairwoman of Ebdaa Bank for Micro Financing.
The UAE has the highest number of women on the list with 18, followed by Egypt and Lebanon with 16 and 12 women respectively.
Saudi Arabia's Lubna Olayan, who runs Saudi conglomerate the Olayan Group, tops the list.
"This year, in particular, women across the Arab world appear to be cracking the remaining glass ceilings, and nowhere more so it seems than in the banking sector," stated Forbes.
"The region's banks have raised several high-achieving and long-serving women to its highest positions, with the industry representing 28 per cent of the 2017 list."
Forbes Middle East, a UAE-based regional media brand, said it collected information from annual reports and company websites as well as other primary sources to compile its list.
As for methodology and criteria, it looked at: company revenues or GDP in the case of government departments and ministries; years of experience and scope of the role or ministry.
"Arab women are not only taking the helm in business and holding senior leadership positions, but they are also excelling in all areas of life such as community service, sports, adventure, entrepreneurship and social media," said Forbes Middle East editor-in-chief Khuloud Al Omian.
"These women are providing senior leadership in different sectors ranging from banking and financial services, diversified, petrochemicals to healthcare, investments and retail."
https://www.albawaba.com/business/these-are-5-bahraini-women-forbes-power-list-1188770
--------
Four Women Arrested In Shiraz, Iran, For Their Faith
20 September 2018
Four women have been arrested in Shiraz, south-central Iran, because of their faith.
One of the four women, Nora Pourmoradian, a Baha'i resident of Shiraz, was arrested on September 16, 2018, by agents of the Department of Intelligence and transferred to the department's Detention Center.
In a brief telephone call following her arrest, Nora Pourmoradian, told her family that she is being held in the Detention Center (No. 100) of the Department of Intelligence. Also, the intelligence agents told her family that she would be informed of her charges on the next day.
Another one of the four women arrested in Shiraz is Ms. Soudabeh Haghighat who was also arrested on Sunday night, September 16, 2018, at her home while her family and relatives were preparing for the funeral of her grandmother.
Earlier on Saturday, September 15, 2018, two other women –Bahareh Ghaderi and Elaheh Samizadeh--- were also arrested in Shiraz.
Agents of the Ministry of Intelligence reportedly broke into the psychology class of Mr. Navid Bazmandegan, confiscating the ID cards, computers, flash disks, mobile phones, along with the passwords and emails of the students. Subsequently, they took Mr. Bazmandegan to his home.
There, they arrested his wife, Bahareh Ghaderi, and after the inspection of their home and confiscation of their personal belongings, they transferred the Baha'i couple to an unknown location.
Bahareh Ghaderi and Navid Bazmandegan have a three-year-old daughter by the name of Darya who is struggling with cancer.
In addition to the four women arrested in Shiraz, another Baha'i woman residing in Shiraz by the name of Rouhiyeh Nariman, was sentenced to 2.5 years in jail by the 17th Branch of the Revision Court in this city.
Currently there are many Baha'i women behind bars because of their faith. They are deprived of their basic human rights and are constantly harassed or insulted by security agents.
Baha'ism is considered an illegal faith in Iran and its adherents are deprived of their rights to education, employment and practice of their faith.
https://women.ncr-iran.org/iran-women-news/5476-four-women-arrested-in-shiraz-for-their-faith
--------
'Mother At Work' Project To Empower Turkish Women
Sep 20, 2018
The Turkish government has launched a project to involve more women in the country's workforce.
The project named, "Mother at Work" will see the Ministry of Labor, Social Services and Family offer vocational training to housewives, a TL 70 ($11) daily allowance, and another TL 400 support for nursery care of their children during the training period.
Labor, Social Services and Family Minister Zehra Zümrüt Selçuk said that they would guide women looking to find a job and learn a skill through the state-run Employment Agency. It will offer vocational and on-the-job training programs.
The project also covers training programs and guidance for women running or planning to establish cooperatives for business purposes.
https://www.dailysabah.com/turkey/2018/09/20/mother-at-work-project-to-empower-turkish-women
--------
URL: https://www.newageislam.com/islam-women-feminism/gender-discrimination-nust-islamabad-bars/d/116436
New Age Islam, Islam Online, Islamic Website, African Muslim News, Arab World News, South Asia News, Indian Muslim News, World Muslim News, Women in Islam, Islamic Feminism, Arab Women, Women In Arab, Islamophobia in America, Muslim Women in West, Islam Women and Feminism