New Age Islam News Bureau
7 May 2016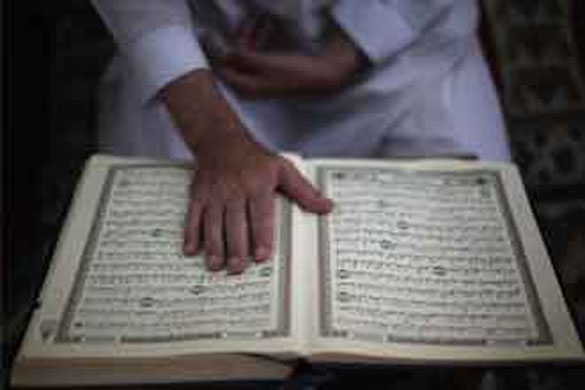 Photo: Some mosques are taking the words of the Prophet Mohammed out of their social and historical context, an Islamic researcher has said Getty Images
-------
• The Islamic Movement of Sudan Supports Woman Active Participation in Social Activities
• Saudi Wife Divorces Husband after Five Days for Not Being 'Religious Enough'
• Horrific Video Shows Taliban Publicly Killing Woman over Adultery
• Dispute Heats Up In Case Of Muslim Women Being Kicked Out Of Cafe
• ARMM Senior Execs Win Endorsement of Muslim Women Bloc
Compiled by New Age Islam News Bureau
URL: https://newageislam.com/islam-women-feminism/fundamentalist-interpretations-islam-that-restrict/d/107227
--------
Fundamentalist Interpretations of Islam That Restrict Women's Rights Are Rising: UK Former Leading Imam
Sat May 07 2016
Mosques using a literal interpretation of the Qu'ran to restrict women's rights are becoming more common in the UK, a former imam has said.
The comments, from a leading Islamic expert, follow revelations that some British mosques are commanding women not to go out without a male chaperone, not to wear jeans and to avoid Facebook.
Dr Salah al-Ansari, a senior researcher in Islamic studies at the Quilliam Foundation, said this misinterpretation of Islam, which take the Prophet Mohammed's words on the role of women out of their proper social and historical context, was "very irritating to moderate Muslims."
"This literalist interpretation has been on the increase since the 1970s onwards," he told The Independent.
"And even if it is not being published, it is being said behind closed doors, which is actually the more likely scenario. It is serious."
The Blackburn Muslim Association is one of the groups which has published orthodox rulings, including one on women not travelling more than 48 miles without a male chaperone.
Dr al-Ansari, who is a former imam at the London Central Mosque, said that rules on women's clothing were not written anywhere in the Q'uran.
Instead the rule was part of the hadith, which are a collection of stories told about the Prophet's actions that traditionally are held to be flexibly interpretable.
In the historical setting in which they were spoken and written, women often took a male chaperone with them because they were genuinely unsafe, Dr al-Asari said. "In another story, the Prophet says he imagines a time when a woman can travel from Yemen to Mecca only with the presence of God.
"What we are criticising are these literal interpretations, they are not fitting with the modern day."
The Croydon Mosque and Islamic Centre also published a document entitled "Advice for the husband and wife," since taken down from the group's website, which said a woman should seek her husband's permission before leaving the house and "should not do so without his knowledge".
According to The Times, another article described modelling and acting as "immoral acts."
"If we follow this literalist interpretation, we actually risk making the Prophet say contradictions," Dr al-Ansari said.
independent.co.uk/news/uk/home-news/islam-womens-rights-fundamentalist-interpretations-rising-leading-imam-a7017246.html
---
The Islamic Movement of Sudan Supports Woman Active Participation in Social Activities
Sat May 07 2016
Khartoum — The Secretary General of the Islamic Movement in the Sudan has argued that the jurisdictions authenticated by the Islamic Movement on the participation of woman in the social activities, has been based on the lofty value of piety and moral principles of Islamic which open many doors of good and made many people wish to follow Sudan's foot prints.
He said the participation of woman in the various activities is open, overt and comprehensive to engulf all programmes seeking the betterment of the community in the Sudan
Addressing the final session of the third activities of the women secretaries gathering, the secretary general Zubair Ahmed Al Hassan said all activities duped as Migration to almighty, should target rehabilitation, training and other Daawa programmes that are simple and direct and good to and open for all the community.
He also stressed that the Islamic movement is keen to see a recitation and pondering on the meaning of the Holy Koran and called for organizing workshop and meeting for memorizing the Koran and for interpretation of tis meaning in the mosques and all other houses of workshops in the localities and the quarters, bringing together women, students and youth.
allafrica.com/stories/201605060488.html
--
Saudi Wife Divorces Husband after Five Days for Not Being 'Religious Enough'
5, May, 16
A woman divorced her husband five days after their wedding after discovering he did not pray.
According to Saudi news site Al Marsad, the 'disappointed' wife said her new husband was not committed enough to religion as he did not perform the five daily prayers as determined by Islam.
Social media was quick to pass judgment on the woman's decision.
Saleh said, "The most important thing is that they treat each other nicely and respectfully. There are men who do perform their prayers daily, but they show no respect towards their wives. I believe this woman should have waited at least for one month and then make a decision."
Reem wrote, "Islam is very clear about the obligation of prayers. This woman obviously does not want to live with someone who is not fulfilling the requirements, and the best thing is to end the marriage at the earliest stage possible."
Khalid agreed with the woman's decision. "She is absolutely right. When a man does not honour commitments to God, he cannot be trusted to respect his pledges to his wife. The best thing is to part ways."
Scout said, "She should have been more patient and gradually convinced him to perform his prayers. She has really rushed into a decision that is not necessarily the best option."
asianimage.co.uk/news/14472889.Wife_divorces_husband_after_five_days_for_not_being__religious_enough_/?ref=ebmpn
---
Horrific video shows Taliban publicly killing woman over adultery
Sat May 07 2016
Taliban execute woman in JawzjanA horrific video has emerged online which purportedly shows the execution of a woman by the Taliban militants in northern Jawzjan province.
The woman was reportedly executed in Khanqa village in Aqcha district with the footage showing the woman is forced to kneel in a dessert before she is shot dead.
The execution is carried out by a Taliban insurgent who has covered his face with a scarf and shooting the woman with an Ak-47 rifle from behind.
The local officials have not commented regarding the report so far to confirm the exact date and location of the incident.
The brutal killing of the woman refreshes the savagery of the group while they were ruling the country in early 90s.
The group executed a woman in a stadium in capital Kabul in a similar way which sparked international condemnation.
The group still continues to try convicts in desert courts in areas where they have influence and publicly execute the convicts after they are awarded death sentence.
The latest video is followed amid concerns by the rights organizations that the condition of the women in northern parts of the country is rapidly getting worse amid deteriorating security situation.
khaama.com/horrific-video-shows-taliban-publicly-killing-woman-over-adultery-0865
---
Dispute heats up in case of Muslim women being kicked out of cafe
Sat May 07 2016
A war of words broke out between attorneys representing opposing sides in the dispute over a group of Muslim women kicked out of a Laguna Beach cafe, a conflict that has spilled over into the courts.
The attorneys for the women, who sued Urth Caffe this week in Orange County Superior Court, issued a statement Thurdsay saying the restaurant's attorney, David Yerushalmi, has been involved in a "long litany of anti-Muslim litigation and advocacy."
Yerushalmi fired back that his clients plan to sue the Muslim women on the grounds of trespass and malicious prosecution.
"We're going to take this lawsuit (from the customers) and ram it right back down their throats," Yerushalmi told City News Service Thursday. "They're going to have to reach into their pockets and pay our clients."
Yerushalmi said he runs a "public interest law firm" that can represent his clients "for free," and that the Urth Caffe owners will "litigate this thing to the teeth and (the accusers) will rue the day they picked on this particular cafe."
Dan Stormer, the attorney for the women, laughed off the threats and called his case of discrimination against Urth Caffe a "trial lawyer's dream."
Stormer's firm pointed reporters to a profile the Southern Poverty Law Center did on Yerushalmi that claims the attorney has made eyebrow-raising comments in the past such as, "There is a reason the founding fathers did not give women or black slaves the right to vote. You might not agree or like the idea but this country's founders, otherwise held in the highest esteem for their understanding of human nature and its effect on political society, certainly took it seriously."
Yerushalmi said the Southern Poverty Law Center, "is a discredited, hardcore, leftist group that has no credibility whatsoever."
Yerushalmi ridiculed the idea that the Urth Caffe showed some sort of bias just by hiring him.
"Any lawyer who would make that kind of statement about the merits of the case is either stupid or committing malpractice," Yerushalmi said
"Whatever beliefs I may or may not have does not affect the merits of my client's case. Do you ask a murderer what his lawyer's ideological beliefs are?"
Yerushalmi denied taking part in any "anti-Muslim litigation."
In fact, the attorney said, he has represented many Muslims in the past and is representing a Muslim client presently.
"Right now we're representing Muslims in D.C. — four Muslims suing (the Council on Islamic-American Relations) for fraud," Yerushalmi said.
"Am I an anti-Sharia activist? You bet, I don't apologize for that," Yerushalmi said. "Am I anti-Muslim? I don't think my Muslim clients think that."
Stormer said, "the fact this owner has chosen to select as its lawyer someone who has gone around the country engaging in rhetoric that is incredibly anti-Muslim speaks volumes about their behavior. If they are so correct in their position why not hire a lawyer who knows what he's doing in situations like this instead of a lawyer who has written anti-Muslim legislation throughout the country."
Stormer added, "I'm not saying (Yerushalmi) doesn't have a right to represent them. I'm saying it's a very strange selection by someone who says they don't discriminate against Muslims."
Yerushalmi said the women were ejected from the restaurant because they overstayed the time limit for the front patio seating, which is the most popular area because of its view of downtown Laguna Beach. The patrons were welcome to seat themselves elsewhere in the restaurant where it is not so busy, he said.
When they balked they were asked to leave and police were called to escort them out.
On Tuesday, the attorneys for the women alleged that a few racially charged incidents before the ejection of the women prompted the owners to kick out the women, six of whom were wearing hijabs, a head scarf for Muslim women.
Laguna Beach police Capt. Jason Kravetz confirmed there were two incidents, one on March 11 and the other on March 21, that involved car loads of young men hurling eggs at the restaurant.
There was another incident in which an employee called police to say her tires were slashed in a parking area about a block away from the restaurant, Kravetz said.
Police were still investigating the vandalism, so Kravetz declined to comment on any evidence that may exist about whether the crimes were racially motivated.
Stormer said "witnesses" have told his staff the crimes had an anti- Muslim aspect to them.
Yerushalmi adamantly denied there was any evidence the incidents were racially motivated.
"They just made it up," he said.
mynewsla.com/orange-county/2016/05/05/dispute-heats-up-in-case-of-muslim-women-being-kicked-out-of-cafe/
---
ARMM Senior Execs Win Endorsement of Muslim Women Bloc
Sat May 07 2016
LANAO DEL NORTE, Philippines - The country's largest block of missionary Muslim women on Friday pledged support to the candidacy of two senior re-electionist executives of the Autonomous Region in Muslim Mindanao (ARMM).
The Al-Mustaqbal Women, established more than a decade ago by former Lanao del Sur Gov. Aleem Basheer Manalao, endorsed during a gathering in Marawi City ARMM Gov. Mujiv Hataman and his running mate, Vice Gov. Haroun Al-Rashid Lucman, as their favored candidates for the highest and second highest elective posts in the regional government, respectively.
Hataman and Lucman, both Liberal Party (LP) stalwarts, are each aspiring for a second term in tandem.
Manalao, a cleric who studied Islamic theology abroad, said it was only during the time of the Hataman administration that the ARMM government started empowering the local women sector through massive education, health and social welfare interventions.
He said Moro women also now have convenient access to service outfits of the ARMM's health department and to higher academic institutions owing to the Hataman administration's having built concrete roads connecting far-flung villages to the location of such facets.
Lucman, who had also studied Islamic religion and Arabic language in two universities in Saudi Arabia while his family was in exile there due to persecution by former President Ferdinand Marcos, was guest of honor and keynote speaker in the mammoth Marawi City gathering of Al-Mustaqbal members from across Southern Philippines.
The term mustaqbal means "future" in Arabic.
While Lanao del Sur governor, Manalao, the group's founder, spent most of his time organizing Muslim women into community-based preachers focused on propagating Islamic family values and peace education based on the faith's fraternalism and interfaith tolerance doctrines.
Manalao even raised the hand of Lucman, as part of their gathering program, to manifest their support to the Lucman-Hataman tandem.
"They also announced during the gathering that they also give to Gov. Hataman the same support. We are thankful. The lists of voters in all of ARMM's five provinces indicate that more than half of the registered voters in the autonomous region are women," Lucman said.
The ARMM covers Maguindanao and Lanal del Sur, both in mainland Mindanao, and the island provinces of Basilan, Sulu and Tawi-Tawi.
Manalao said it took him and all Al-Mustaqbal members a long time to decide on supporting Hataman and Lucman owing to their collegial consensus-building practice in formulating organizational policies.
He said it was the accomplishments in the past three years of Lucman and Hataman in regional governance, peace and infrastructure initiatives that enticed them to support duo's aspiration to serve again for three more years under a new electoral mandate.
Manalao said in Lanao del Sur alone they have more than 5,000 members scattered in municipal centers and far-flung barangays in all of the 39 towns in the province.
Local officials present in the Al-Mustaqbal assembly confirmed to reporters that the group is more influential than all local political blocs in Lanao del Sur, among them the Ompia Party, which was established by another former provincial governor, the late Imam Mahid Mutilan.
philstar.com/nation/2016/05/07/1580817/armm-senior-execs-win-endorsement-muslim-women-bloc
URL: https://newageislam.com/islam-women-feminism/fundamentalist-interpretations-islam-that-restrict/d/107227
New Age Islam, Islam Online, Islamic Website, African Muslim News, Arab World News, South Asia News, Indian Muslim News, World Muslim News, Womens in Islam, Islamic Feminism, Arab Women, Womens In Arab, Islamphobia in America, Muslim Women in West, Islam Women and Feminism, Moderate Islam, Moderate Muslims, Progressive Islam, Progressive Muslims, Liberal Islam, Liberal Muslims, Islamic World News