New Age Islam News Bureau
29 Apr 2018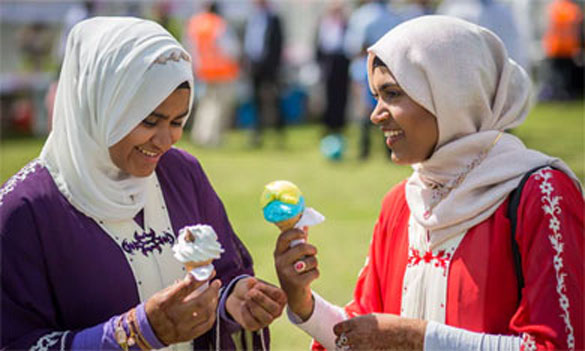 Celebrating Eid al-Fitr in Southwark, south London. Photograph: Rob Stothard/Getty Images
-----
• Saudi Aramco Appoints New Board Members Including a Woman
• 100 Female Teachers Complete Teaching Techniques' Course in Pakistan
• Indonesia Hijabfest Comes to Bandung, Jakarta
• Woman Given Triple Talaq on WhatsApp After Indian SC Bans Islamic Instant Divorce
• How Female Entrepreneurs Will Boost Middle East Economies
• Iran: Women Make Up 60 Per Cent of Illiterates
• Two ISIS Women Land in Germany after Release from Iraqi Prisons
• Iraqi Police Arrest 9 Islamic State Females, Including "Biters"
Compiled by New Age Islam News Bureau
URL: https://www.newageislam.com/islam-women-feminism/fun-fashion-halal-lipstick-retailers/d/115084
--------
Fun, Fashion and Halal Lipstick: Retailers Cash In On £200m Ramadan Economy
29 Apr 2018
Muslims observing Ramadan are increasingly being targeted by supermarkets and brands in the UK, which has led to a rise in spending on food and gifts during the month, according to new research.
The Ramadan economy in the UK is worth at least £200m, with supermarket chains such as Tesco, Sainsbury's, Asda and Morrisons increasingly gearing products, displays and special offers on popular food items to Ramadan in areas with significant Muslim populations. This year, for example, Morrisons is selling a Ramadan countdown calendar, similar to an Advent calendar, aimed at children.
The month-long Muslim religious observance starts in mid-May and its ending is marked with the Eid al-Fitr holiday. MAC cosmetics, the Body Shop and Godiva chocolates are some of the brands specifically packaging goods as Eid gifts.
Despite the trend, more than three-quarters of British Muslims want retailers to pay even more attention to Ramadan, according to the Great British Ramadan, a study by an Islamic marketing consultancy Ogilvy Noor.
"Muslims feel that Ramadan and Eid are ignored, the report says. "They see the nation proudly gravitate towards cultural and religious holidays such as Chinese New Year and Diwali. They are saying it's also time to embrace Ramadan and Eid."
In an indication of growing awareness of the lucrative opportunities of the Muslim market, Westfield London, Europe's largest shopping centre, is hosting its first Eid festival in June. It will include live catwalk shows, pop-up food stalls, special offers and performances.
"The Muslim pound is seen as a valuable and largely untapped opportunity in the UK economy," says festival promotional material.
Guardian Today: the headlines, the analysis, the debate - sent direct to you
The global Islamic economy is forecast to be worth more than £3 trillion by 2021, according to the State of the Global Islamic Economy report, and is growing at nearly double the rate of the general worldwide economy. The sector includes halal food, Islamic finance, halal travel, modest fashion, halal media and recreation, and halal pharmaceuticals and cosmetics.
Shelina Janmohamed, vice-president of Ogilvy Noor and author of a 2016 book, Generation M: Young Muslims Changing the World, says: "The Ramadan season is one of complete life transformation, which brings with it an economic surge.
"We conservatively estimate this to be upwards of £200m each year, covering everything from financial planning to food, eating out, clothes, toys and gifting. Following only Christmas and Easter in scale and size, this is surely Britain's biggest untapped business opportunity."
Many of the UK's four million Muslims begin to prepare for Ramadan two weeks before its start date, which is determined by the lunar calendar. The month is characterised by sunrise-to-sunset fasting. Although in some countries the working day is adjusted to accommodate the season, for many British Muslims the fasting requirement is complicated by the need to continue working or studying.
For the second year running, Ramadan falls within the six-week summer exam season, which means hundreds of thousands of school and university students have to take exams when their concentration may be impaired by lack of sleep, food and water.
The absence of official recognition in the UK of the three-day Eid holiday immediately following the end of Ramadan means traditional visits to family and friends end up being spread over two weekends.
"In the UK, you don't have three days of shutdown over Eid like you do in the Middle East," says Janmohamed. "Only about half of people take time off work, so Eid visits and celebrations are spread out."
She said brands and retailers should wake up to the opportunities of the Ramadan season. "If brands can play a useful role in Muslims' experience of Ramadan, if they can help with planning or freeing up time for spiritual or social activities, that is very welcome."
Almost two-thirds of Muslims plan financially for Ramadan and Eid, the study found. More than half are concerned about their concentration during the month-long daylight fast and two-thirds worry about dehydration. Young men in particular are concerned about maintaining fitness and some gyms in areas with big Muslim populations adjust opening times to allow exercise between iftar, the sunset meal that breaks the fast, and suhoor, the pre-dawn meal.
The majority of British Muslims eat a range of food over the two meals, with chicken and chips a favourite for 18-to-24-year-olds. Despite the long hours of fasting, four in 10 married women say putting on weight during Ramadan is a worry. Gift-giving, buying new clothes, eating out and family gatherings are key features of the Eid holiday.
Charitable donations also increase markedly during Ramadan, particularly among 25-to-34-year-olds. Donations to Muslim charities through the JustGiving website increased by almost 500% over Ramadan last year.
https://www.theguardian.com/world/2018/apr/29/ramadan-eid-fun-fashion-halal-lipstick-retailers-economy
--------
Saudi Aramco Appoints New Board Members Including a Woman
29 April, 2018
Saudi Aramco, the world's top oil company, has appointed three new members to its board including a woman executive, the state run company said on Sunday.
Saudi Arabian Minister of Finance Mohammed al-Jadaan and Minister of Economy and Planning Mohammed al-Tuwaijri were named as members of the Aramco board of directors.
Lynn Laverty Elsenhans, former Chairwoman, President and CEO of Sunoco Inc. was also appointed as a board member, according to a company statement.
The five new members to Aramco's board will join six returning members including Saudi Energy Minister Khalid al-Falih, who is also Aramco's chairman, and Amin Nasser, Aramco's Chief Executive.
https://www.salaamgateway.com/en/story/saudi_aramco_appoints_new_board_members_including_a_woman-SALAAM29042018054219/
--------
100 Female Teachers Complete Teaching Techniques' Course in Pakistan
April 29, 2018
Islamabad - Around 100 female teachers were awarded certification on completion of special teaching techniques' course to serve in their communities and work as entrepreneurs under the Women Focused Employment Driven Training Programme.
Children's Global Network Pakistan in partnership with the Allama Iqbal Open University (AIOU) and Punjab Skills Development Fund (PSDF) on Saturday organised a ceremony here to give away certificates to young women on successful completion of training in Interactive Teaching Techniques under 'Women Focused Employment Driven Training Program' for unemployed educated women of Punjab.
The programme builds the capacity of women to serve as teachers at educational institutions and earn a decent livelihood utilizing their skill set.
The training included a three-month comprehensive face-to-face training in CGN-P interactive teaching techniques.
The ceremony was organised to award certificates to forty women of batch I who had completed their training. Under the programme 100 women will be trained in interactive teaching techniques.
The ceremony was attended among others by Engr. Muhammad Baligh-ur-Rehman, Minister for Federal Education & Professional Training, Dr Fazal-ur-Rehman Head of Education Department AIOU, Mehnaz Aziz President Parwaan & CEO Children's Global Network Pakistan (CGN-P), training participants, parents head teachers of private schools, CGNP and Parwaan team. Speaking on the occasion, Minister for Federal Education & Professional Training appreciated CGNP and Parwaan for working with the government on important gaps in education. It was for the first time under the present government that work on early childhood was taken on a large scale.
He appreciated PSDF initiative and said many years back this initiative was undertaken by the Punjab government with their own funds. Working within limited resources is not any easy task and you have to set priorities, he remarked.
President Parwaan Mehnaz Aziz while felicitating the passing out cohort remarked that the future of millions of out of school children in Pakistan is in your hands and you should take the responsibility of inducting them into the education system. She said that the participants of this program are fortunate to have been trained in globally recognized best teaching methodologies.
The 'Interactive Teaching Techniques' equips young trainees with the required skills as well as theoretical understanding essential for primary pedagogy.
The course introduced the trainees to a wide range of pedagogy domains and helped them develop an in-depth understanding of the teaching domains to prepare children to be motivated learners. The workforce of skilled and well-versed young women trained as teachers during this program will not only find suitable employment but also help Pakistan in meeting its international obligations as according to Sustainable Development Goals SDG 4.
https://nation.com.pk/29-Apr-2018/592344
--------
Indonesia Hijabfest Comes to Bandung, Jakarta
April 29, 2018
Jakarta. Indonesia Hijabfest 2018 will be held in Sasana Budaya Ganesha, Bandung, West Java, on May 2-5.
"Indonesia Hijabest is an annual event that was started in Bandung in 2012," Sheena Krisnawati, founder of Indonesia Hijabfest, said during a press conference in Jakarta on Friday (27/04).
Sheena, who also owns event organizer company Kaminari Productions, came up with the idea for the Hijabfest in 2010.
"At that time, I had just started wearing hijabs, but I wanted to remain looking modern and fashionable," she said. "Then, I actively searched for stylish products to accommodate my needs. In my search, I discovered many creative products by local entrepreneurs that are actually very good and affordable."
A brief visit to attend the Halal Expo in Istanbul, Turkey, in 2011 opened her eyes to the immense opportunities of the modern Muslim fashion industry.
"[Turkey] is a conservative country, but their hijab styles are very chic and forward, just like the Europeans," Sheena said. "I believe we, in Indonesia, can do much more. We have immense talents and resources to produce creative products in modest wear and Syar'i fashion, and thus, we can also boost the country's economy."
The first Indonesia Hijabfest was held in Sasana Budaya Ganesha, Bandung, in June 2012. The debut event featured about 100 Muslim fashion brands by Bandung entrepreneurs.
"It was booming," Sheena said.
According to the founder, the first event, also held over four days, drew 38,000 visitors and generated Rp 3.6 billion ($260,000).
The seventh event this year will combine fashion, cuisine and tauziah (religious teachings).
This year's event will present 120 Muslim fashion brands by Bandung-based entrepreneurs, as well as culinary delights of the city.
Indonesian author and motivational speaker Ippho Santosa will present a talk show, themed "Tujuh Keajaiban Rezeki" (Seven Secrets of Fortune), on the opening day of the event on Wednesday.
"In the talkshow, the speaker will share tips on how to make a fortune in blessed, halal ways," the founder of the event said.
Actress Dewi Sandra will also present a talkshow on the second day of the event, themed 'Because We Are Precious Muslimah'.
On Friday, Ustad Hanan Attaki will present a seminar, titled "Online With Allah."
"Ustad Hanan is very popular with young people these days," Sheena said. "We hope his presence [at the seminar] will encourage more young people to come to our event."
Aside from the scheduled seminars and talk shows, visitors can also enjoy music performances by Indonesia's top artists.
On Friday, singer and songwriter Melly Goeslaw will perform at a charity concert for Palestine.
On Saturday, the last day of the event, singer Afgansyah Reza will also present a concert in the convention hall of Sasana Budaya Ganesha Bandung.
But a fashion event is nothing without fashion shows.
"This year, we have challenged our tenants to prepare a fashion collection of Muslim outfits for mothers and daughters," Sheena said. "This challenge is based on visitors' demands from previous years."
In addition to the shows, visitors can also watch make-up demos and hijab tutorials by the main sponsor of the event, Wardah Cosmetics.
"It's a very positive event," said Elsa Maharani of Wardah Cosmetics. "These days, many women feel moved to wear hijabs. We fully support this movement, as well as Indonesia's target to become a center of global Muslim fashion by 2020."
This year's event is expected to draw about 40,000 visitors and generate approximately Rp 5 billion.
Indonesia Hijabfest will also be held in Jakarta for the first time this year.
The event will have a second showing at The Hall, Senayan City, Jakarta, on May 30-June 2.
The debut event in Jakarta will feature 60 local brands from Bandung and Jakarta.
During the four-day event, there will be two fashion parades featuring some of the participating brands.
Ustad Hanan Attaki is also scheduled to present a seminar during the event in Jakarta.
"With these events, we hope Indonesia's Muslim fashion will continue to grow and boost the country's creative industry," Sheena Krisnawati said.
http://jakartaglobe.id/features/indonesia-hijabfest-comes-bandung-jakarta/
--------
Woman Given Triple Talaq on WhatsApp After Indian SC Bans Islamic Instant Divorce
29 April 2018
Despite Supreme Court quashing the instant triple Talaq practice, a handful of men in the Muslim community continue to follow the discriminatory and unfair practice. According to a report, a 32-year-old woman from Mira Road has alleged that her spouse had pronounced triple talaq over WhatsApp in November, 2017. Giving more details about the incident, to media at Fort, the woman, identified as Farahnaaz Khan said, "I married a Virar-based man in 2012.Though the meher () amount was decided way before the wedding. After I got married, my husband and father-in-law would torture me, asking me to get more money and gold from my father, so that my husband could set up his business. When I couldn't take the torture, I left their house and returned to my parent's place".
Farahnaaz who is a graduate and a housewife further said that she approached multiple police stations to file her complaint but none of them took cognisance of it. "Even when Supreme Court has given a verdict stating that instant triple talaq should not be practice, I was given instant talaq through a video just because I filed a domestic violence complaint against my husband. I was married in May 2012 to my elder uncle's son. On April 21, during the hearing of our domestic violence case in Sessions Court, I showed the instant triple talaq WhatsApp video to the judge. After the hearing, outside the courtroom, he (Farahnaaz's husband) physically abused me and my father for showing the video. While we went to file a complaint, only NC was filed in Nayanagar police station".
Denying the claims, Farahnaaz's husband claimed that he hadn't pronounced talaq to her. He also added that his lawyer would contact the media with more details about the case in the coming days.
The Supreme Court in 2017 had struck down the practice of instant triple talaq. Muslim Women (Protection of Rights on Marriage) Bill, 2017, which was passed in the Lower House of the Parliament during the winter session. The bill criminalises the practice and classifies triple talaq as a cognisable and non-bailable offense, with minimum 3 years of imprisonment and a fine. Notably, the bill hasn't been passed in Rajya Sabha yet.
https://www.newsx.com/national/woman-given-triple-talaq-on-whatsapp-after-supreme-court-bans-islamic-instant-divorce
--------
How Female Entrepreneurs Will Boost Middle East Economies
April 28, 2018
Investors seeking opportunities to maximise returns on their capital would be wise to look towards female-led businesses
Dubai's well-earned moniker as a global trading hub is one of the stabilising pillars of the regional community. A robust economic environment not only helps create jobs and supports development but spreads technology and ideas, boosts productivity and enables cross-border communication channels and supply chains.
While entrepreneurship, the bedrock of a thriving society, is anybody's game, the rates of female entrepreneurship have traditionally lagged a far second to those of men. The tremendous economic impact of increased female entrepreneurial participation is significant and continues to be a major driver of growth across economies. Women share an equal role with men in driving economic growth. Simply increasing women's labour force participation and eliminating discriminatory barriers could raise productivity by as much as 25 per cent in some economies, reveal statistics in the World Bank Report Women, Business and the Law 2018.
In light of these figures, it is easy to see the significant impact the continued increase of women-led businesses can have on domestic job creation and economic growth. A Harvard Business Review case study shows that on average, female-founded companies create over 60 per cent more value for investors than those founded by men. Therefore, investors continuing to seek opportunities to maximise returns on their capital would be wise to look towards female-led businesses.
Yet, the Middle East has one of the lowest rates of female entrepreneurship and female labour participation in the world. But things are looking up; according to the World Economic Forum's Global Gender Gap Report, released in November 2017, the Mena region is showing noteworthy progress and is closing more than 60 per cent of its overall gender gap for the second year running. Last year also saw the first Women's Economic Empowerment Global Summit take place in Sharjah where the focus was on sustainable development through gender equality.
Typically, the barriers that prevent women from running their own businesses range from a lack of access to funding to a lack of confidence in being able to balance work and home responsibilities, according to a US Senate report titled 'Tackling the Gender Gap'. In essence, women are held back from being entrepreneurs due to time, resources and confidence. Additional barriers include a lack of access to education or training, and limited access to information and communication technology (ICT), market information and finance.
We know that everyone benefits when women have the resources they need to fully participate in our economies and societies. While there are many challenges to women entrepreneurship, there has never been a more important time to make a concerted push for women to take charge.
UAE: A model example
Many countries in the region are taking steps towards more gender equity. The UAE has been a model example of a country that is driving female participation across all areas of society. His Highness Sheikh Mohammed bin Rashid Al Maktoum, Vice-President and Prime Minister of the UAE and Ruler of Dubai, had publicly tweeted that women comprise 70 per cent of his work team. Around 70 per cent of university students are girls, the UAE's female participation rate in the workforce stands at 46.6 per cent, and 66 per cent of all government employees are women, according to Sheikha Jawaher bint Mohammed Al Qasimi, chairperson of Nama Women Advancement Establishment.
Given the government's impetus to transition away from its dependence on oil and look at innovative ways to both catalyse growth and create further jobs, it is key that the government focuses on supporting innovation and entrepreneurship, as well as developing a highly-skilled workforce - including supporting women to finding and growing their own businesses.
While smart and inclusive policies can go a long way in encouraging women entrepreneurs and workforce participation, the development of new technologies is equally crucial. New business technologies can help all entrepreneurs - regardless of gender - manage time and resources better. Automation and artificial intelligence can help enhance productivity and streamline business operations. It can also help remove the burden of repetitive and routine administrative tasks, so entrepreneurs can manage their businesses with greater ease and have more time to focus on growing their core business.
Meanwhile, advancements in cloud-based technologies and the Internet of Things can also allow for remote working, which is an important factor for women entrepreneurs who might have to balance both commitments at work and at home. Technology can level the playing field for female entrepreneurs, even if they have limited access to funding.
As technology continues to spread and create a level playing field and governments continue championing female entrepreneurship and participation in the workforce, society as a whole could be wealthier, happier and more productive.
The writer is regional technical director for Sage Middle East. Views expressed are his own and do not reflect the newspaper's policy.
https://www.khaleejtimes.com/business/economy/how-female-entrepreneurs-will-boost-middle-east-economies
--------
Iran: Women Make Up 60 Per Cent of Illiterates
28 April 2018
Head of the Literacy Movement Organization admitted that 60 per cent of illiterates in Iran were women.
Ali Bagherzadeh, who was speaking in a meeting at the Alephba Studio of the Ministry of Education, also revealed that education is not mandatory in Iran. (The state-run Salamatnews.com, April 25, 2018)
Education is mandatory and free in most countries of the world for 6-14 age group and UNESCO has underlined the need for mandatory education for children.
Bagherzadeh also confessed that the criterion for literacy in Iran is the sole ability of reading, writing and counting, whereas in other countries, this criterion has been improved to include much more. Still, he shamelessly claimed that the growth of literacy in Iran had been 2.85 times more than the world's average rate!
Based on the census done in 2016 in Iran, Bagherzadeh said the number of illiterates in the 10-49 age group was 2.3 million, 60 per cent of whom are women. In another big lie, he claimed that this is better that the world rate of 64 per cent for women's illiteracy.
Clearly, when education is neither free, nor mandatory in Iran and the criterion for literacy is way behind international standards, such comparisons are a desperate bid by officials of a tyrannical and oppressive regime to improve their repulsive image.
https://women.ncr-iran.org/iran-women-news/5011-iran-women-make-up-60-per-cent-of-illiterates
--------
Two ISIS Women Land in Germany after Release from Iraqi Prisons
28 April, 2018
Two German ISIS women with their three children have arrived in Frankfurt, after being held in a prison in the Kurdish capital Erbil.
German newspaper Die Welt cited in its Friday issue reliable security circles, that the two ISIS women arrived at the Frankfurt International Airport a day earlier.
German authorities allowed the two women to take their children after undergoing a DNA screening to prove maternity, the newspaper said.
The two women and their young children were transported to Germany on an Iraqi Airways flight, and were accompanied by Germany's Federal Criminal Police. They are expected to be referred to special guidance committees.
Die Welt sources confirmed that the two women were released and that the Federal Public Prosecution failed to obtain an arrest warrant against them.
However, the Supreme Court authorized federal police to search and interrogate the two women upon arrival in Frankfurt.
Last year, Germany's Attorney General Peter Frank confirmed that he had zero tolerance policy against German ISIS members who had voluntarily joined the terrorist organizations and then returned from combat zones in Syria and Iraq.
However, the Federal Court rejected their request for detention because there were insufficient evidence of their support for the terrorist organization.
The court distinguishes between male combat duties in ISIS and the duties of others who join but conduct activity limited to childcare and housekeeping. It considers that German penal laws do not apply to such activity.
Frank challenged the court's decision in January, but federal court judges have not yet ruled on the case until the arrival of the two women to Germany.
According to Die Welt's report, there are over 80 Germans who are currently imprisoned in northern Syria and Iraq. Women prisoners have many children, some of whom were born in the war-torn countries and in captivity.
So far 10 children have been repatriated to Germany after undergoing DNA analyses to prove their links to the German so-called "jihadi" women detained abroad.
https://aawsat.com/english/home/article/1251941/two-isis-women-land-germany-after-release-iraqi-prisons
--------
Iraqi Police Arrest 9 Islamic State Females, Including "Biters"
by Mohamed Mostafa
Apr 29, 2018
Mosul (IraqiNews.com) Iraqi police said on Sunday they arrested nine Islamic State female members, including foreign nationals, at the group's formerly proclaimed capital: Mosul.
Maj. Sallam al-Ekeidi from Nineveh police force, told state-owned daily Al Sabaah that the nine women were arrested in a village in Qayyara region, south of Mosul after intelligence information received from locals told they had snuck into three villages. The women, who used to work for the extremist group's Hisbah "vigilantism", were taken to the Nineveh operations command for interrogation over crimes committed against the women of Mosul, according to the officer.
Ekeidi said those included three "biters", two of whom are a Russian and a Syrian, who had caused the death of Mosulian women.
A biter was an infamous term given to women from IS who were assigned to punish local women violating the group's extreme religious rules by biting them brutally at various parts of the body.
Iraqi forces recaptured Mosul from the militants last July, and declared an all-out victory over the group in Iraq last December.
Iraqi judiciary recently sentenced some foreign women to death and life in prison over involvement with the extremist group during its three-year occupation of a third of Iraqi territories.
https://www.iraqinews.com/iraq-war/iraqi-police-arrest-9-islamic-state-females-including-biters/
--------
URL: https://www.newageislam.com/islam-women-feminism/fun-fashion-halal-lipstick-retailers/d/115084
New Age Islam, Islam Online, Islamic Website, African Muslim News, Arab World News, South Asia News, Indian Muslim News, World Muslim News, Women in Islam, Islamic Feminism, Arab Women, Women In Arab, Islamophobia in America, Muslim Women in West, Islam Women and Feminism