New Age Islam News Bureau
22 Oct 2018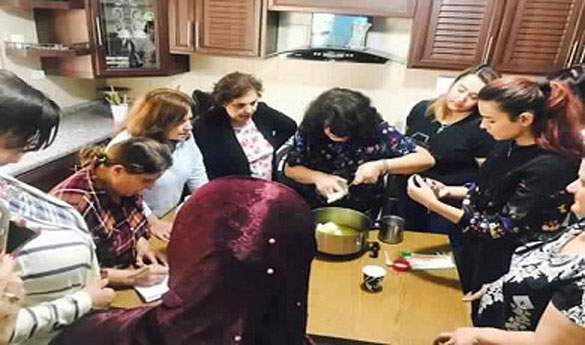 Photo: Women are gathered around Amar Hamati who is teaching them how to make homemade shampoo (Photo by Rula Samain)
--------
• The sea knows no gender, says Saudi woman diver
• Kerala Muslim committee expels woman who tried to enter Sabarimala
• Women actively participated in recent protest gatherings in Iran
• Afghan women & elections
• Muslim woman: Denied house on rent by 2 owners in Bengaluru
• Woman who threatened police lands in hospital
• Suspected ride-hailing service driver who 'harassed' Karachi woman released on bail
• Truck artist paints messages to campaign for female literacy
• 11 of a family including a woman and children killed in Nangarhar IED blast
• Rashida Tlaib: Meet the Democrat poised to be first Muslim woman in Congress
• Building a bigger role for women in Saudi security services
• A victory for women's rights? Tunisia's inheritance laws and the 'human rights' discourse
• Muslim girls less likely to drop out of school than boys at higher education level
• Princess Nourah University holds first conference for Saudi women's studies
Compiled by New Age Islam News Bureau
URL: https://www.newageislam.com/islam-women-feminism/fuheis-centre-abused-women-spreads/d/116686
--------
Fuheis centre for abused women spreads 'new hopes for life'
Oct 20,2018
By Rula Samain
FUHEIS — "He convinced me that women are a danger to themselves and others around them, that the right place for women is inside their homes; he literary meant 'inside'," recalled a domestic abuse survivor who was kept inside her house for 24 years.
"When damage is done, one can only try to move on, and try to prevent such miserable life from repeating itself with other female family members," she continued with her eyes wide open, referring to her two daughters.
Fatima (names were changed for anonymity) is a 44-year-old Syrian woman married to a Jordanian, who used to live in dire poverty with her five children. Food was rare in the house, mostly donated by neighbours or relatives, she said, noting that her husband was jobless most of the year.
"Whenever money was available, he made sure to feed his greedy stomach first and maybe feed the children with the leftovers," Fatima remembered, saying that, before their marriage, her husband had promised her almost everything she was deprived from in Syria.
"He promised freedom only to find out that not only every word he said was a lie, but freedom was far-fetched, living with an abusive and monster-like husband," she told The Jordan Times in an interview.
Even when her children went to school and later work at an early age, the outside world was off limits for her.
But while Fatima thought she could never emerge from her own pit of darkness, beams of light came shining as she was introduced to a support group at Grace of Love Centre (GOLC).
"A relative of my husband saw hopelessness in my eyes during one of her rare visits. She begged me to 'just visit the centre once', not comprehending that I had grown to fear the outside world," she remembered.
Her three sons, now adults, stood against their father's will and supported their mother, which helped her take on the path towards change.
David Rihani, director of GOLC, told The Jordan Times that establishing the centre a year ago came as a response to the need amongst marginalised and abused women, especially Iraqis and Syrians.
Also president of Assemblies of God Church of Jordan, Rihani said that the centre's various programmes have served more than 80 women, giving them confidence, a sense of belonging and helping them overcome the negative circumstances they have faced.
Conducted by women specialists, the programmes include trauma treatment courses, self-reliance, house management, sewing, cooking and hand crafting, among others.
"We receive many women like Fatima; women who survived abuse or violence might be victims in some ways but they are definitely more than that. They are human beings worth of dignity and respect," Rihani stated.
Fatima said that only recently did she regain her will and "semi-independence", learning that life is "not worth living without hope".
"Life free of fear is worth living," she said with a faint smile, explaining how she has learned to make shampoos, cook new dishes, make new clothes out of the old and ragged ones, which she has been to sell through the centre's regular bazaar, therefore gaining a "modest but decent income no less".
"Because I bring money, my husband allows me now to leave for two hours once a week," she explained, noting that she is in peace now with the fact that her husband has "stolen a good part of her life".
"He stole the past, but never my will to keep going," she asserted.
Project Manager Amar Hamati said that, as she used to help vulnerable individuals along with her friends, "the centre was the best idea to bring them all together".
Hamati teaches art and handicraft, which she said helps overcome violence and traumatic memories, and illuminate the road ahead.
Meanwhile, Executive Manager Hala Naffa said she believes that in the heart of every woman, no matter how abused and used she is, there is "a creative, strong, hidden woman".
Both Hamati and Naffa agreed that the centre provides a "warm homey atmosphere" where every woman is important.
"We teach them that they are not victims but survivors, and encourage them to tell their stories to inspire other women to cope better with their challenges," they agreed.
http://www.jordantimes.com/news/local/fuheis-centre-abused-women-spreads-new-hopes-life
--------
The sea knows no gender, says Saudi woman diver
2018-10-21
JEDDAH — Nisreen Khan became the first Saudi woman to obtain a diving license, which enabled her to train other female divers.
She said she has been a diving instructor since 2013.
"Training others to become divers is something I do on the side. It wasn't my main goal as the sole reason behind becoming a diver was to explore the world of the sea. I was fascinated by it and I watched numerous documentaries about the sea and what it hides," Khan told Al-Madina newspaper.
She added that in 2013 she was on a trip to Sharm Al-Shaikh where she met and conversed with professional divers.
"Their world intrigued me and I was mesmerized since then. The moment I came back to Jeddah, I began looking for diving centers and I found plenty. On my first visit to a diving center, I registered to be on a course that prepared me for the international diving license. I then trained on diving in open waters and I quickly got the national license to be a trainer," said Khan.
She also said she worked as a schoolteacher during the day.
"My day job may seem far from my hobby but working with children has taught me patience and the ability to think on my feet and have fun at any given moment. These are important characteristics to have when you are a diving instructor. You need to be able to deal with different people and earn their trust by being patient and acceptable to them," said Khan.
She added that many told her that diving is a sport that was for men only.
"The sea is God's creation and God did not limit it to a particular gender. Diving is important for meditation and mental health. I disagree with those who try to push me away from my hobby. I only wish that diving equipment were more affordable and that there are centers that teach diving to encourage more women to enter the field," said Khan.
She confessed that when she first started she never told her family about her passion.
"My mother has an extreme phobia from the sea. She finds it dangerous and unpredictable. So I would go to classes behind my family's back. But after a while, I wasn't comfortable with hiding the truth from them and I began gradually introduce them to my new hobby. I am very thankful that they opened their minds to it and accepted it once they learned that it is safe to practice," said Khan.
http://saudigazette.com.sa/article/546087/SAUDI-ARABIA/The-sea-knows-no-gender-says-Saudi-woman-diver
--------
Kerala Muslim committee expels woman who tried to enter Sabarimala
October 22, 2018
The Kerala Muslim Jama-ath Council has expelled Rehana Fathima from the community. The council has also decided to cancel membership of her family members from Mahall Committee.
The decision comes after Rehana Fathima attempted to enter Sabarimala temple on Friday.
The Jama-ath Council in a press release alleged that Rehana Fathima has been expelled from the community for trying to enter Sabarimala which was against the religious sentiments of lakhs of Hindus.
Rehana, who took part in the 'Kiss of love' protest and acted nude in movies does not have the right to use a Muslim name. The council has also urged the state government to book her under section 153A for hurting religious sentiments.
On Friday Pamba and Sabarimala witnessed dramatic scenes as Rehana Fathima along with journalist Kavitha Jakkala started trekking from Pamba. Amid tight police security and led by IG Sreejith, the team reached the Nadapandal.
Owing to protest and pressure from the chief priest, the plan was aborted at the last level.
Kerala Devasom Minister Kadakapally Surendran told the media that activists should not come to Sabarimala to prove a point.
He also warned the police that they should have done proper background verification before accompanying people to Sabarimala.
https://www.indiatoday.in/india/story/kerala-muslim-committee-expels-woman-who-tried-to-enter-sabarimala-1372518-2018-10-22
--------
Women actively participated in recent protest gatherings in Iran
21 October 2018
Women actively participated in the protest gatherings of different social sectors in mid-October, including the protests by university students and plundered clients of fraudulent credit institutes.
On October 21, 2018, some 400 housing applicants held a protest in Tehran's Vanak Square to demand their units. They rallied outside the building of the company in charge of Construction of New Cities in Iran.
On October 20, 2018, a group of protesters gathered outside Tehran's Revolutionary and Public Prosecutor's Office. Women actively participated in this protest by clients swindled by the Sekkey-e Samen Company.
Meanwhile in Tehran, Ph.D. students of various Iranian universities gathered outside the building of Research and Technology Sciences Ministry. The protesters, including girl students, had problems with the dollar exchange rate for their studies.
Also on Saturday, October 20, Iran's second largest city, Mashhad, saw the protests of defrauded clients of Padideh Shandiz. Women actively participated in this protest gathering, demanding their plundered money. The protesters gathered outside the place where Padideh Shandiz CEO was holding his press conference.
A group of men and women gathered in protest outside the Governorate of Qods City on October 20, and demanded their belongings plundered by the Kouy-e Farzan Coop.
Medical sciences students from various branches of Azad University held a protest on Wednesday, October 17, 2018. The protest over the errors found in admission of new students this year took place outside the central building of Azad University in Tehran.
A group of students of Tehran's University of Art held a protest on October 16, 2018. They held placards declaring support for workers and the teachers' nationwide strike and sit-in. They also demanded freedom of political prisoners, including students who have received heavy jail sentences.
Iranian women actively participated in at least 430 protests by various sectors from March until the end of September 2018.
https://women.ncr-iran.org/iran-women-news/5531-women-actively-participated-iran-protest-gatherings
--------
Afghan women & elections
OCTOBER 22, 2018
After a three year delay, Afghanistan finally held parliamentary elections this year. This is a welcome change, for a country unable to legitimise its government's rule due to the Taliban's presence. This year marks another important moment for nascent Afghan democracy, as a record of 417 women out of 2500 candidates contested the elections across the country. This is an increase from the last elections on 2010, where there were 400 female candidates out of 2,600 candidates in total. They competed for 250 seats in the lower house of the parliament, out of which 27 percent seats are reserved for women.
It is vital to remember, that these Afghan women are unlike any other female candidates contesting elections anywhere in the world. Given the state of affairs in Afghanistan for the past decades, the country and its people have displayed unparalleled mettle, resilience and perseverance.
Even this time, the Afghan Taliban, had made its distaste for the democratic process clear. Spokesperson for the Taliban, Zaibullah Mujahid stated before the elections that "People who are trying to help in holding this process successfully by providing security should be targeted and no stone should be left unturned for the prevention and failure [of the election]". Moreover the independent Election Commission, has noted the killing of 10 electoral candidates since July, and despite the high turnout, there were bouts of violence across the nation. The Taliban cannot fathom the inclusion of women in the public space. Let alone, their involvement in policy and governance.
However, this did not dissuade these female candidates advocating for a democratic Afghanistan. Zakia Wardak a candidate, said that the Taliban and their violence does not scare her, as "she has seen it all." Her father, brother and husband have all been murdered in their struggle, in the past years. Which, fuels her passion; for a peaceful liberal Afghanistan and catering to the trauma, war and poverty stricken nation.
Similarly, across the nation young female candidates are on the rise. 27-year old Pashtana Arabzai a TV anchor, 26-year old Sabri Andar; a disabled candidate from Kabul among others, were also contesting. For these women, they campaigned on a simple manifesto, 'women are less corrupt than men'. Perhaps one of the clearly feminist claims made by any group of women across the world; establishing the relationship between efficient, honest governance and the female gender.
Reportedly voter turn-out stands at 45 percent, out of which an astounding 33 percent, were women voters. Making it clear that Afghan women are set to participate in Afghanistan's future. While these elections may not solve the larger issues facing Afghanistan, we wish the best to our neighbours. *
https://dailytimes.com.pk/313014/afghan-women-elections/
--------
Muslim woman: Denied house on rent by 2 owners in Bengaluru
Oct 22, 2018
BENGALURU: A woman has accused two Bengaluru-based landlords of discrimination on the basis of her religion. The house owners allegedly refused to rent out their premises to her family when they got to know that she's a Muslim.
Heena Rehman (name changed), co-founder of an organisation, has posted her ordeal on Facebook and Twitter. The post has gone viral, drawing support as well as criticism.
Heena said she found two houses matching her family's requirements on Nestaway, an online portal for house rental ads, and approached their owners. But they refused to rent out their premises to her, she alleged.
"I'm denied 2 houses in Bangalore for rent for my family bcz we are Muslims. Only a fanatic & irrational Hindu house owner can judge me without even talking to me. @nestawayhomes - you were the one who did #HomesThat-DontDiscriminate campaign.
It seems that it was just a gimmick!" she tweeted.
Taking on Nestaway, she asked: "Why do you even list such houses which are against your brand's principle? Stay loyal to your customers at least. I admired you because of the courage you guys had shown by starting a company which fights discrimination."
"What an irony that I am not finding a "house" in my own "home country". I would like to invite more of my Hindu friends to engage in this conversation (a healthy discussion and not rant/abuse). I'm keen to understand your point of view," she wrote.
Twitterati and Facebook users criticised the house owners and demanded that Nestaway take appropriate measures.
Nestaway, replying to Heena's tweet, regreted what she had gone through. "As a company, we stand by you. We do not condone discrimination of any sort and believe in treating everybody equally. We are off-boarding both these properties from our website, and the owners will no longer be associated with Nestaway in any manner. We would like to help you move into a house of your preference."
https://timesofindia.indiatimes.com/city/bengaluru/muslim-woman-denied-house-on-rent-by-2-owners-in-bengaluru/articleshow/66309808.cms
--------
Woman who threatened police lands in hospital
Ikram Junaidi
October 22, 2018
ISLAMABAD: A woman, who tried to forcefully enter Diplomatic Enclave without number plates on her car on Wednesday, was sent to jail on a judicial remand on Sunday, but landed in Polyclinic minutes later.
"The woman was brought to the hospital by police for a checkup and during electrocardiography (ECG) some premature ventricular contractions (PVCs) were observed due to which it was decided that she should be kept under observation for one day," Polyclinic's spokesperson Dr Sharif Astori told Dawn.
On Monday morning, he added, the woman would be examined again and can be discharged if her reports are normal.
PVCs are extra heartbeats that begin in one of the heart's two lower pumping chambers (ventricles).
These extra beats disrupt the regular heart rhythm, sometimes causing the person to feel a fluttering or skipped beat in the chest.
On Oct 17, the woman reached Gate-1 of Diplomatic Enclave in a black Honda car which did not have number plates. She told the police that she was going to the United States embassy.
However, she was not allowed entry as vehicles without number plates cannot enter the high security area. But the woman lost her temper and started threatening the officials and also used foul language.
She then dialed a number on her mobile phone and handed it over to a police officer.
The person on the line claimed that he was an embassy official and asked the police to allow the woman to enter the enclave. But the police refused and the woman left.
A video clip of the incident went viral on social media triggering a debate about how a citizen can misbehave with the police and force them to allow her to violate the law.
A case was registered against the woman on Saturday. State Minister for Interior Shehryar Afridi took notice of the incident and ordered the police to take action against the woman.
An official of the Secretariat police, Abdul Jabbar, told Dawn that as the First Information Report (FIR) had already been registered, a police team arrested the woman from a housing society in the federal capital on Sunday.
"The woman, a doctor by profession, seemed fine and healthy so we produced her in front of the judicial magistrate. The court sent her to Adiala Jail. However, later we learnt that the jail police had shifted her to the hospital where she was admitted," he said.
Before the judicial magistrate, the woman's lawyer argued that the clauses mentioned in the FIR were bailable.
The counsel also said his client was a heart patient and under pressure due to which her mental health can be affected.
He claimed that instead of helping her, the police officials had pressured her.
Judge Adnan Rasheed rejected the lawyer's plea and directed the investigation officer to get a medical test conducted on her.
He said if the medical test confirmed that the woman was healthy she would be sent to jail otherwise she can be admitted to the hospital.
Dr Astori said cardiologist Dr Roshan Javed examined the patient and found PVC changes in the ECG.
In such cases, risk cannot be taken so it was decided to keep the patient under observation in the coronary care unit (CCU).
"The patient has been given medicines and she can be discharged on Monday morning if she is all right," he said.
https://www.dawn.com/news/1440449/woman-who-threatened-police-lands-in-hospital
--------
Suspected ride-hailing service driver who 'harassed' Karachi woman released on bail
Shafi Baloch
October 21, 2018
A city court on Sunday released on bail a suspected ride-hailing service driver who was arrested a day earlier for allegedly harassed a woman. The driver has denied the charges.
On Saturday, a woman travelling from Gulshan-i-Iqbal to Saddar jumped out of her car near a five-star hotel on the Sharea Faisal. In her statement, she claimed she had jumped out of the moving vehicle as the driver was allegedly harassing her.
City Senior Superintendent Police (SSP) Dr Samiullah Soomro said a police party had rushed to the spot and taken both the driver and the woman to a police station, where the driver was arrested on charges of harassment.
SSP Soomro added that the Saddar police had registered an FIR against the driver on the woman's complaint under Section 354 (assault or criminal force to woman with intent to outrage her modesty) of the Pakistan Penal Code.
The court today ordered the driver's release against bail worth Rs10,000.
Both Careem and Uber have denied that the driver is associated with either of their companies.
https://www.dawn.com/news/1440426/suspected-ride-hailing-service-driver-who-harassed-karachi-woman-released-on-bail
--------
Truck artist paints messages to campaign for female literacy
Oct 22, 2018
Samar Minallah, anthropologist and documentary filmmaker, has recruited truck artists and owners under the Asian Development Project's Legal Literacy for Women in Punjab initiative to paint women empowerment messages on their trucks
This project is a collaboration between Minallah and the United Nations Educational, Scientific and Cultural Organization (UNESCO).
One of the recruits is Hayat Khan, a truck artist from Islamabad who is painting pictures of school going girls on trucks with empowering messages such as, "forced and child marriages are punishable by law" citing the Punjab Child Marriage Restraint Act of 2015.
In this project, as many as 20 trucks will be painted with empowering portraits and messages to campaign for female literacy and the legal prohibitions on forced marriages of underage children.
https://www.pakistantoday.com.pk/2018/10/21/truck-artist-paints-messages-to-campaign-for-female-literacy/
--------
11 of a family including a woman and children killed in Nangarhar IED blast
Oct 21 2018
At least eleven people, all belonging to a single family, were killed in an explosion triggered by an Improvised Explosive Device (IED) in eastern Nangarhar province of Afghanistan.
The incident has taken place in the vicinity of Mamand Dara area of Achin district before noon today.
The provincial government media office in a statment said at least eleven people, including a woman and six children were killed in the explosion.
The Taliban militants and other militants including ISIS often use improvised explosive device as the weapon of their choice to target the security forces and government officials.
However, in majority of such attacks the ordinary civilians are killed while in some cases the Taliban militants are themselves blown up in premature explosions.
Anti-government elements must immediately end the indiscriminate and disproportionate use of all improvised explosive devices (IEDs) in areas frequented by civilians, said UNAMA in a special human rights report released few days earlier.
The special report – titled "Increasing Harm to Afghan Civilians form the Deliberate and Indiscriminate Use of Improvised Explosive Devices" – documents a sharp increase from 1 January – 30 September 2018 in the killing and maiming of Afghan civilians by IEDs, which have caused almost half of the civilian casualties from conflict-related violence.
https://www.khaama.com/11-of-a-family-including-a-woman-and-children-killed-in-nangarhar-ied-blast-06199/
--------
Rashida Tlaib: Meet the Democrat poised to be first Muslim woman in Congress
21 OCTOBER 2018
Barring a freak result, Rashida Tlaib is set to be the first Muslim woman in Congress, and for this she has to thank the unlikely figure of Donald Trump.
"Trump was a bit of a Bat-Signal for women in general of being engaged," she says, talking while out on the campaign trail in Detroit.
Congress as it stands is far from diverse - over 90 per cent of members are Christian, 5.6 per cent are Jewish and the Muslim members (both of them) are heavily outflanked by Mormons, of whom there are 13.
Despite the fact there are more women in the Senate and House of Representatives than at any other point since 1789, they still only make up 20 per cent of its membership.
Looking across the country, Ms Tlaib believes there is a "sense of urgency" driving Left-wing and female voters in the midterm elections, which will see seats in the Senate, House and state-wide positions up for grabs.
"I remember when people came to vote for Barack Obama and there was kind of a waltz to it, it was like this confidence and people were excited to vote," she says.
"This time, people are marching. It's like, 'move out the way I've got to do this.'"
Ms Tlaib's ascent came after five years in local politics, when a wave of grassroots support saw her win the Democratic nomination for the House of Representatives in her home district in Detroit, Michigan.
A surge in first-time voters was credited with giving her the win. Now, since there is no Republican opponent standing in the deeply blue district, she is all but sure to win a seat in Congress on November 6.
Ms Tlaib is just one of a number of 'firsts' that could come this year - the first Native American congresswoman, the first transgender governor and the first black female governor could all be elected at the midterms on November 6.
Change is afoot, not just when it comes to gender. Around 90 Muslim candidates are running for elected office this year – the highest number at any point since the September 11 attack in 2001, according to political advocacy group JetPac.
Born to Palestinian immigrants and the eldest of 14 children, Ms Tlaib first garnered national attention two years ago when she was arrested for heckling Mr Trump during a speech in Detroit.
Ms Tlaib is not a particularly conservative Muslim but her faith is an important part of her life.
The gruelling campaign schedule did not stop her from fasting for Ramadan this June, ahead of the Democratic primary vote.
"It's not about just being out there and flaunting your faith," she told CNN earlier this year. "I always tell people that I'm exposing Islam in such a pivotal way, an impactful way, through public service."
Her political rise has not been without fractious moments. Once, as a state legislature, she says the chair of a committee jokingly asked for her birth certificate.
"He thought it was very funny," she says. "I was very much seen by some of my colleagues as nothing but a Muslim and in their eyes that meant I was less than them I'm sure."
The incident mirrored Mr Trump's repeated demands that Barack Obama reveal his birth certificate during his time as president, in a stunt that riled the Republican base.
But Ms Tlaib says her experience of prejudice was largely a one-off. "The majority of my colleagues treated me very well," she says
Her election success is part of a wider trend – a swell of women, people of colour and first-time candidates have won Democratic primaries.
She points to Alexandria Ocasio-Cortez, her friend and fellow member of the left-wing group Justice Democrats, who at 29 is set to become the youngest ever congresswoman.
The group have been campaigning on a promise to shake up Congress with vows to abolish America's Immigration and Customs Enforcement, known by its acronym ICE, refusing to take donations from corporations.
Ms Tlaib believes a deeper momentum has been building for years, but she credits part of the surge to the Trump presidency. "I think he pushed us over the cliff," she says.
"I feel like we go through stages in the United States with all parties where a new group or generation - in this case a generation of women - who are running for office because they see injustice and they feel a sense of need to speak up and not be silenced".
She accepts that there is still Islamophobia, but she draws hope from the Muslim candidates now becoming politicians.
"Muslims are now saying: 'Okay we're not going to be still'," she says.
https://www.telegraph.co.uk/news/2018/10/21/rashida-tlaib-meet-democrat-poised-first-muslim-woman-congress/
--------
Building a bigger role for women in Saudi security services
MADISON CLOUGH
October 21, 2018
For years, Saudi Arabia has struggled with malicious actors seeking to reverse the country's progress in favor of violent ideologies outside the fold of mainstream Islam. Now picture this: In a nation where separate male and female spaces exist, a select cadre of women trained as intelligence analysts and security operators identify patterns that may otherwise go unobserved by their male counterparts. They extract essential information from sensitive contacts, exploiting sources to protect the public. They track the online activity of extremist cells emanating domestically and region-wide, using sharp linguistic and analytical skills to frustrate the next generation of threats.
Until this becomes reality, the arm of intelligence can only extend so far.
In February, Saudi Arabia announced it would allow women to serve in the General Security Directorate of the Ministry of Interior at soldier rank. One month later, officials revealed the potential recruitment of women into the Civil Defense force. While this shift toward allowing women on to the frontlines of the Kingdom's security apparatus is significant, more must be done to employ women in back-end positions in monitoring, analysis, and countering violent extremism (CVE) policy-making.
Both anecdotally and empirically, security officials and researchers have celebrated women as meticulous analysts and firm decision-makers who combine intuition with attention to detail, rounded out by social skills honed by cultural and familial conditioning. With so much unharnessed interest among women who have not yet had a chance to shine as security professionals, the Saudi leadership can be confident that qualified women who volunteer simply need the space to flourish.
As about 900,000 Saudi women search for work, according to the General Authority for Statistics, the Kingdom is increasingly under pressure to pursue creative ways to employ Saudi citizens. Undoubtedly, Saudi women represent a captive pool of talented recruits for the security sector. Many are multilingual, possess advanced degrees — and therefore may excel at high-level research and analysis — and have resided abroad thanks to the generosity of the King Abdullah Scholarship Program.
But are women equipped with the proper formal education and technical training for the security profession? The issue is two-fold. First, Saudi women are often unable to certify security studies as a valid degree when obtained abroad. Domestically, university-level education in security studies for women is non-existent, as King Fahd Security College — linked to the Ministry of Interior — is only open to men. Second, upon their return to Saudi Arabia, some female graduates find that few career paths are available outside of local research institutions or universities. Perhaps even more daunting is the perception that the security field is inherently a male domain — a barrier that persists even in my home country, the US.
Despite these challenges, many Saudi women's education and experience should encourage their recruitment now, not five years down the line. Women who have studied communications, political science, law, international studies, linguistics, economics and others make excellent trainees for positions in the security field.
Furthermore, looking beyond the defense and interior ministries, recognized institutions already exist for women to enter the security space. Two initiatives immediately come to mind: Etidal and the Islamic Military Counter Terrorism Coalition (IMCTC). Established as part of the Kingdom's ongoing efforts to combat ideological and violent extremism, these bodies represent the face of an agile, outward-facing Saudi Arabia, one that adapts to rapidly evolving narratives on what motivates terror and what can be done to halt radicalization among vulnerable individuals.
Ultimately, hiring more women in the security sector is not only a practical matter in lowering unemployment, it also represents a move toward more comprehensive representation in a field that derives its strength from diversity in gender, background, education, and thought. Employing women at institutions like Etidal and the IMCTC is a logical progression of a Saudi Arabia that upholds its internal security priorities while reshaping social and professional opportunities for women.
Above all, such a move would also send a firm message that reflects the spirit of Vision 2030: The best and brightest minds are integral to this nation's security and stability, and Saudi women are half of that equation.
http://www.arabnews.com/node/1391626
--------
A victory for women's rights? Tunisia's inheritance laws and the 'human rights' discourse
Oct 22, 2018
Diversity and difference, both within and between societies, continually give rise to a series of important and potentially divisive questions, as societies embodying different civilizational outlooks and values and divergent epistemologies are increasingly voicing differences on issues ranging from political representation and social autonomy to gender and sexuality. Finding morally defensible and politically viable answers to these questions is arguably one of the great challenges of our time.
One particularly divisive framework in which many of these issues have been addressed is "human rights," as they have come to be conceived and codified in international human rights charters and proclamations. Premised on an absolute equality between human beings "without distinction of any kind, such as race, color, sex, language, religion, political or other opinions," the human rights scheme arguably fails to convincingly indicate how such an imagined equality should be promoted and maintained in the face of difference. The question that needs to be continually asked is who determines what constitutes equality? In this context, any system that is viewed to violate the principle of equality is deemed to be problematic.
The recent spat over Tunisia's Islamist-lite political party Ennahda's non-adoption of a presidential initiative to establish full equality between men and women in inheritance is a case in point. Characterized in a Human Rights Watch (HRW) report as an "official rejection" and a "blow to women's rights in the country," the uproar over Ennahda's position is consistent with a discourse that first developed in the 19th century around "the problem of the status of Muslim women" and continued until today in the guise of human rights discourse. HRW Executive Director Kenneth Roth described Ennahda's position in a tweet as follows: "Tunisia's Ennahda Party misses an opportunity to become a modern Islamist party as it rejects President Beji CaidEssebi's pledge to establish full equality between men and women in inheritance." His use of the term "modern" is instructive, as it betrays the roots of this discourse, which since the 19th century has regarded the Sharia as a religious law that is largely inappropriate for a modern society. This criticism has been external as well as internal, from colonial administrators and Westernized elites, respectively.
In the context of family, the Westernized urban elite in 19th century Cairo reproduced westernized discourse of the ideal family, articulated among 19th-century "reformers" within the context of the "problem of the status of Muslim women." Qasim Amin's famous text "The Emancipation of Women" is exemplary in this regard. Long regarded as a seminal work in the history of feminism in the Arab world, others have conceived of it in different terms. For the Egyptian-American scholar of Islam Leila Ahmed, while ostensibly calling for women's "liberation," Amin was, in fact, calling for a transformation of Muslim society along Western lines, and the replacement of a supposedly oppressive Islamic patriarchy with that of Western-style male dominance. Thus, Amin's discourse was nothing more than a deliberately reproduced colonial attack on "native" culture and society, what Talal Asad refers to as helping "eradicate bad habits among natives."
Like Amin's call for the "emancipation" of women, the push for the abolition of Sharia-based inheritance law in Tunisia, and the reaction by HRW and others towards Ennahda for refusing to support the motion, while ostensibly about equality, represents a continued agenda directed against alternative conceptions of society and family that modernity has deemed to be "inappropriate." In the former case, the attack was directed against traditional family structures in favor of the nuclear family, while in the latter we are witnessing a reduction of the sum of society to its parts, namely the autonomous individual.
Although in some ways beside the point, it should be stated that Sharia-based inheritance laws are complex. Even a cursory examination of the rules of inheritance reveal that privileging one gender above the other is not the objective nor its basis, despite what the polemicists constantly tell us. Rather, they are a reflection of a worldview that is based on an alternative epistemology and ontology to that of post-enlightenment modernity. The problem with human rights as a universal ideal, is, in-fact, its universalism. The universal pretensions of the discourse are what allow it to label all practices that contravene its ideals as "culturally relativistic" and thereby "cruel," "barbaric" or at the very least "problematic." Furthermore, the human rights discourse as a project involves an active sociopolitical agenda. People (read "backward" people) must be persuaded, pushed and even coerced into transforming themselves into something worthy of the redemption and liberation of modernity. As the practice of human rights organizations themselves illustrate, the cruelty of the state is not the only or even the primary concern, but rather the customs or ordinary people that are deemed intolerable.
It can safely be said then that Ennahda's defense of Sharia-based inheritance laws is not about seeing women as being inferior. It is rather what remains of traditionally informed defense of the conception of the family and society in the face of the ongoing atomizing effects of modernity.
https://www.dailysabah.com/op-ed/2018/10/22/a-victory-for-womens-rights-tunisias-inheritance-laws-and-the-human-rights-discourse
--------
Muslim girls less likely to drop out of school than boys at higher education level
FATIMA KHAN
22 October, 2018
New Delhi: Muslim girls are less likely to drop out of school at the higher secondary level than boys of the community.
A new study published in ScienceDirect by two IIT-Kharagpur researchers — Shobhit Goel and Zakir Husain — has debunked the general perception that gender disparity in school drop-out rates would be higher among the marginalised communities.
The researchers have conducted a statistical analysis of the National Sample Survey on Employment and Unemployment (2011-2012) and found that gender disparity in the Muslim community grows narrower with higher levels of education, and eventually, becomes negative, i.e. more boys drop out than girls.
In rural areas, Muslim and Hindu Schedule Castes (SCs) have a lower gender disparity in drop-out rates than Hindu forward castes.
In urban areas, while girls from all socio-religious groups are at a higher risk of dropping out than those from the Hindu forward castes, the risk for Muslim girls is just 1 per cent higher.
The state of Muslims
The scholars have found that that the perceived sense of discrimination against Muslims in the labour market lowers the expectations of a 'return' on education. That's why Muslim boys are withdrawn from schools — the cost and benefit of education doesn't seem to match.
But in the case of Muslim girls, the changing attitude of parents and realising the non-economic importance of education seem to have played a role.
"Unlike in other communities, among Muslims, it is easier to marry off educated daughters. In Muslim societies, marriages between low educated males and highly educated females is acceptable" writes Husain.
However, all this is tempered by the finding that Muslims lag behind not just Hindu forward castes, but also SCs and Scheduled Tribes at the secondary and higher secondary levels.
The study calculates a 'hazard ratio' — how many times one gender/social/religious group is likely to drop out relative to others.
In rural areas, Muslims face the highest risk (2.04), followed by STs (1.45) and SCs (1.4). Surprisingly, the risk is even greater for Muslims in urban areas, with a hazard ratio of 2.49.
This demolishes the notion that in urban India, socio-religious differences become relatively insignificant.
What school drop-out rates tell us
Drop-outs lead to a waste of economic resources for the country. Moreover, they create difficulties and a further burden for those students who come from socially-marginalised communities.
Broadly, students drop out because of financial responsibilities; they start earning meagre but important livelihoods for their families. Other possible reasons include inability to bear the cost of education, disillusionment with schooling, unkind behaviour of teachers, and parents' discouragement.
Given the largely patriarchal nature of society, girls often bear the brunt of this and have tended to have higher drop-out rates than boys historically. But the drop-out rates of girls across communities have been decreasing. In 1960, girls in urban India were 1.6 times more likely to drop out than boys. By 2009, that number reduced to 1.0 — meaning they are as likely to drop out as boys. In rural areas, however, the gender gap persists.
Scholars believe there are a variety of reasons behind this improvement. Education is said to improve marriage prospects of the girl, and creates a sense of independence in cases of widowhood. An educated woman can educate her children, and thus be responsible for imparting education to another generation.
More tangible improvements like schools with a high proportion of female teachers make schools more girl-friendly. A large number of schools connected by strong, all-weather roads is another factor linked to the low drop-out rates of girls.
However, the study has found that despite a significant improvement in enrolment in schools over the years, a sharp drop-out occurs after the primary level.
Impact of government policies
In 1993, the district primary education programme (DPEP) was introduced with multiple objectives, including making education more inclusive by actively working towards enrolment and retention of female, SC and ST students.
Development economist A.K. Shiva Kumar believes such these policies have definitely played a role.
"Families are now realising the importance of education. It wouldn't be a stretch to suggest that all the policies have contributed to popularising school education and making it seem accessible," he said.
Noting that this study is a measure of Muslim girls in regular schools and not madrasas, Prof. Shiva Kumar said: "Schemes like the Sarva Shiksha Abhiyan and especially the mid-day meal scheme have ensured there is greater social integration in schools."
https://theprint.in/governance/muslim-girls-less-likely-to-drop-out-of-school-than-boys-at-higher-education-level/138086/
--------
Princess Nourah University holds first conference for Saudi women's studies
October 21, 2018
JEDDAH: The Center for Promising Research for Social Research and Women Studies at Princess Nourah bint Abdulrahman University (PNU) will hold a two-day conference for studies on Saudi women, starting on Wednesday, Oct. 24, it was announced on Monday. The conference will be the first of its kind in the Kingdom.
The vice president for graduate studies and scientific research at PNU, Dr. Ahmed Al-Ghadeer, said the conference will discuss the personality traits of Saudi women, as well their role in culture, literature, history, language, and community service.
"The conference also aims to shed light on the importance of studying women's participation in development, to support social and economic transformation and, subsequently, achieve the Kingdom's Vision 2030, in addition to providing specialized scientific studies in the field of women's studies," he added.
Al-Ghadeer said the conference, which will bring together 70 male and female researchers from inside and outside the Kingdom, will present 48 scientific papers during 10 sessions and two discussions. The conference which examine several topics, including literature, media, arts, community service, and women's participation in sustainable development.
He stressed his hope that the conference would achieve its goals and that its recommendations and outcomes would help achieve PNU's vision and Vision 2030, in terms of empowering women.
The head of the Center for Promising Research for Social Research and Women Studies, Dr. Maha bint Ali Al-Khoshail, explained that the conference will contribute to raising awareness about the importance of conducting studies on Saudi women, their challenges and needs, enhancing their contribution in society, and improving their role in development to reflect "a true image stemming from the Saudi society and its strong values and identity, and allow researchers to exchange scientific experience in this field."
The center's deputy head, Dr. Nada Al-Rakaf, pointed out that the conference will be accompanied by an art exhibition entitled "Saudi Women: Present and Future," featuring work from 16 students and seven Saudi female artists who "transparently express themselves and reflect Saudi artists' views on women."
The exhibition will present artworks by distinguished students from the Visual Arts Department at the PNU College of Arts and Design to shed light on the new image of Saudi women through figurative painting, concept art, vacuum formation, and sculptures. These students represent the promising young generation that will improve the field of arts.
The conference will be organized based on the vision of PNU in order to achieve its strategic objective to tackle women-related issues, provide a scientific environment concerned with women's studies, in general, and Saudi women, in specific, and contribute to Saudi Arabia's efforts to empower women as well as the success of the development plans of Vision 2030.
http://www.arabnews.com/node/1391526
--------
URL: https://www.newageislam.com/islam-women-feminism/fuheis-centre-abused-women-spreads/d/116686
New Age Islam, Islam Online, Islamic Website, African Muslim News, Arab World News, South Asia News, Indian Muslim News, World Muslim News, Women in Islam, Islamic Feminism, Arab Women, Women In Arab, Islamophobia in America, Muslim Women in West, Islam Women and Feminism