New Age Islam News Bureau
02 October 2021
• Girl Dancing Under One of the Arches inside Lucknow's Bara Imambara Draws Shia Clerics' Ire
• 'Courage' Mixed-Gender Cycling Club Of Jeddah Takes Arabian Women Cyclists To The Streets
• Fleeing Afghan Women Footballers Seek New Home from Pakistan
• Qatar Women Ready To Contest Polls Described As 'Extremely Positive Step'
• Only Husband Can Be Prosecuted In Instant Triple Talaq Case: Bombay HC
• Muslim Women Need Greater Breast-Cancer Awareness; 'Mammovan' Is Helping
• Glasgow's Muslim Community Want To Educate People on Women's Rights In Islam
• Angelina Jolie Sports Lebanese Label In Rare Red Carpet Outing With Daughter
• Three Ex-Afghan Women Mps Leave India For Europe
Compiled by New Age Islam News Bureau
URL: https://www.newageislam.com/islam-women-feminism/taliban-ronaldo-afghan-women-footballer/d/125496
--------
From Taliban to Ronaldo's Land, Afghan Women Footballers Train Again
Oct 1, 2021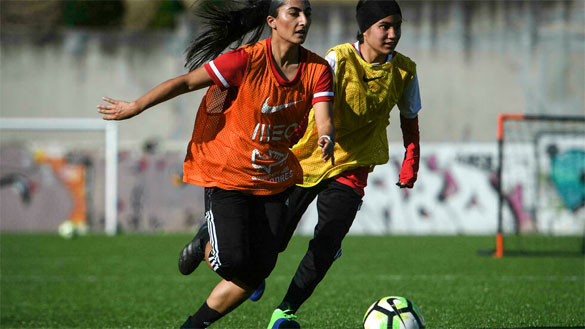 Players of Afghanistan national women's youth football team attend a training session on the outskirts of Lisbon where they have found safe haven after escaping from the Taliban PATRICIA DE MELO MOREIRA AFP
------
LISBON: Forced to flee Afghanistan by the Taliban takeover, members of the Afghan women's youth football team and their families have sought refuge in Portugal and are back training in the Lisbon suburbs.
The relief at having found a safe haven after arriving on September 19 shows in their faces as well as joy at being in a country whose most famous son these days is a footballer.
"I can't believe it. I'm so happy I can play football again," Omul Banin Ramzi tells AFP after their first training session in six months.
"In Afghanistan it was so bad.
"I'm happy in Portugal because Cristiano Ronaldo is from here," she adds with a broad smile as her father looks on proudly.
Ramzi, sporting a red shirt topped off with a black bandana round her head, added that she would love to meet the five-time Ballon D'Or winning, Manchester United superstar.
She and her team-mates are being housed temporarily in hotels in the Lisbon suburbs after finally fleeing Afghanistan following several failed attempts since mid-August.
Their salvation came thanks to "a joint operation between the American and Portuguese authorities," the Portuguese government said.
Ramzi and her team-mates were determined to leave because the Taliban oppose women playing a prominent role in public life.
Since their return to power on August 15, they have said that women can play football but only under strict conditions -- namely barred from playing in public.
Nevertheless, members of the senior squad -- many of whom flew to Australia in late August -- were threatened by hardline Islamists and others beaten by the Taliban.
The Islamists banned women from sporting activity or even going to a match when they last ruled Afghanistan from 1996 to the 2001 US-led invasion that followed the September 11, 2001 Al-Qaeda attacks on the United States.
Since the first women's Afghan teams started emerging about 15 years ago, football has grown rapidly in the country.
Khalida Popal, Denmark-based former national captain and now manager of the national squad, told AFP in August that there were "around 3,000 to 4,000 women and girls who were registered in the football federation at different levels."
But it all disappeared overnight when Kabul fell to the Taliban.
Ramzi and her team-mates and families left Afghanistan with little in the way of personal items but their lack of kit has been resolved due to captain Farkhunda Muhtaj.
The 23-year-old travelled from Canada with the essential items and delivered them on the eve of their training session on Thursday.
She will stay on to put them through their paces and prepare them for their friendly match with Benfica's women's team on Saturday.
"There is still a lot of work to do," Muhtaj told AFP.
She is due to leave Portugal and return to Canada but hopes that the team will be able to continue to train on a regular basis -- and of course Ramzi hopes her dream of meeting Ronaldo will be fulfilled.
Source: Times of India
https://timesofindia.indiatimes.com/sports/football/top-stories/from-taliban-to-ronaldos-land-afghan-women-footballers-train-again/articleshow/86681064.cms
--------
Girl Dancing Under One of the Arches inside Lucknow's Bara Imambara Draws Shia Clerics' Ire
Oct 1, 2021
LUCKNOW: A viral video of a masked girl dancing under one of the arches of the Bara Imambara drew the ire of Shia clerics who said that the monument is a religious place and not a tourist spot and demanded a thorough probe into the incident.
Minority welfare minister Mohsin Raza also wrote to the Lucknow district magistrate, Abhishek Prakash — who is also the chairman of Husainabad and Allied Trust (HAT) (HAT) which is responsible for the upkeep of the monument — calling for an inquiry.
In a statement, Shia cleric Maulana Saif Abbas said, "Bara Imambara is a religious monument and not a tourist place. Action should be taken against the officials concerned. It is extremely unfortunate that such an incident has occured."
"This is not the first time that such a video has surfaced. We have already informed the administration that Bara Imambara is a religious place where dance and music is unacceptable. Special officers should be deployed at our religious places so that such incidents do not recur," he said.
General Secretary of the All India Shia Personal Law Board, Maulana Yasoob Abbas, said: "The sanctity of our religious places is being breached. The district magistrate is the chairman of HAT but no rules are being followed. This is condemnable that HAT is not able to perform its duty of protecting the sanctity of our places of worship. We will launch an agitation against this."
In a letter to the district magistrate, state minister Mohsin Raza said the guards and guides on duty at the Imambara should have taken steps to prevent such an incident. "An investigation should be conducted and action should be initiated against those found responsible for laxity," he said.
Source: Times of India
https://timesofindia.indiatimes.com/city/lucknow/girl-dancing-inside-lucknows-bara-imambara-draws-shia-clerics-ire/articleshow/86687192.cms
--------
'Courage' Mixed-Gender Cycling Club Of Jeddah Takes Arabian Women Cyclists To The Streets
October 2, 2021
JEDDAH: For years, Samar Rahbini thought it would be "impossible" to cycle in the streets of conservative Saudi Arabia, where women's sport was long frowned upon.
Now she runs the "Courage" mixed-gender cycling club in the Red Sea city of Jeddah, ignoring the raised eyebrows that persist despite the kingdom's social reforms.
"I chose the name 'Courage' because what we are doing takes courage… to go out on the streets and practise in public and in crowded places," she told AFP.
Still, Rahbini said the reactions have been vastly more subdued than before 2017, when the crown prince and de facto ruler Mohammed bin Salman kicked off a drive for liberalisation.
"The situation before 2017 was very difficult because of society's reluctance to accept women in sport, especially cycling," the 23-year-old told AFP.
"There would be glares, people filming and bewilderment, with people unable to comprehend what's going on when we biked."
In the past, the involvement of Saudi women in sport has been met with hostility from some conservatives who see it as immoral and a gateway to indecent acts.
But now women's cycling has become far more common in Jeddah, where Rahbini and her friends glided past cars on a recent ride.
She was wearing a black tracksuit, white jacket and a helmet, with her hair flowing underneath in the wind.
"Now, the large number of women who cycle on almost a daily basis have made female cycling a familiar thing," said Rahbini, whose club has hundreds of women members.
Saudi Arabia's social changes have included allowing women to drive, the reopening of cinemas, and mixed-gender music concerts.
But the authorities continue to crack down on any opposition or activists.
Rahbini, who organises bike tours and gives riding lessons twice a week, said she hopes to see more women and girls involved in cycling.
The "Courage" club rents out bikes and all the necessary equipment for a small fee, or for free for those who cannot afford it, she said.
For Fatima Salem, 44, cycling is not only fun but a great way to stay fit.
"I used to cycle when I was a child, and it took me a long time to take it up again," said the mother of four, who wore a headscarf and a pink T-shirt over her long-sleeved tracksuit.
"What is happening is new to us and to women in society, and it is beautiful allowing women to discover their hobbies."
While Saudi Arabia is not equipped with bike lanes, Rahbini hopes that will soon change, urging the government to set up proper infrastructure.
"My dream is for every Saudi woman to cycle," she said.
Source: Free Malaysia Today
https://www.freemalaysiatoday.com/category/leisure/2021/10/02/courageous-arabian-women-cyclists-take-to-the-streets
--------
Fleeing Afghan women footballers seek new home from Pakistan
01.10.2021
A group of 32 Afghan women football players and their families are seeking safe haven from the Taliban in third countries after fleeing to Pakistan, the former Afghanistan women's team captain said on Friday.
Women's team captain Khalida Popal told DW that some of the players "had their houses burned down and some family members were taken by the Taliban."
Some 135 people — 32 players and coaches as well as their families — "were displaced from their provinces" because of their involvement in women's football, Popal added.
"They are in Pakistan and we are trying our best to find a host country for them," she said.
'Stay strong,' Popal urges
Popal told women in the country not to give up: "I am feeling sorry and sad for my people, for especially women in Afghanistan. I want to tell you, stay strong. We are trying our best to help you in any way possible."
Popal, who now lives in Denmark, said she was happy that some of her fellow soccer players could get out of the country and have the opportunity to play the sport they have grown to love.
"As one of the founding members of the Afghanistan Women's first National Team I found my freedom through football," Popal told DW. "The foundation of women's football was based on standing up for our rights for the women of Afghanistan, but also challenging the culture that was taking the basic human rights from women."
Popal had even warned women and girls who played football to burn their kits and delete their social media accounts back in August when the Taliban seized power.
Escaping Afghanistan
Over 3,000 women and girls who played football in Afghanistan feared for their lives after the withdrawal of Western forces and the Taliban takeover of the country.
The Taliban had banned women and girls from education or playing sports between 1996 to 2001.
On September 8, a Taliban spokesman, Ahmadullah Wasiq, told Australian broadcaster SBS that "Islam and the Islamic Emirate do not allow women to play cricket or play the kind of sports where they get exposed."
The women's national senior and youth teams were the first to leave the country, securing asylum in Australia and Portugal respectively.
The Football for Peace international organization arranged the departure of Afghan provincial football players and their families to Pakistan throughout September.
The Pakistan football federation received the first group of them at its headquarters in Lahore with red flowers in mid-September.
Source: DW
https://www.dw.com/en/fleeing-afghan-women-footballers-seek-new-home-from-pakistan/a-59381126
--------
Qatar women ready to contest polls described as 'extremely positive step'
October 02, 2021
DOHA: Qatari women are standing in the country's first legislative election Saturday, but in far lower numbers than men.
Of the 284 hopefuls running for the 30 available council seats, 28 are women. The remaining 15 seats will be appointed by the emir.
"It's an extremely positive step that women are part of this process," said Elham Fakhro, senior Gulf analyst at the International Crisis Group.
"However, I think we do have to limit our expectations (of their influence) ... as there are only 28 women running for positions — it really shouldn't be surprising."
One candidate, Leena Al-Dafa, said her priorities if elected would be promoting education for women, supporting female teachers and the issue of citizenship for the children of Qatari women.
Qatari citizenship can currently only be inherited by children from their fathers, meaning the children of a Qatari woman who marries someone of another nationality will not be citizens.
This affects the children's ability to benefit from lavish grants, land allocations and other state support.
"The most important issues for me are (citizenship of) children of Qatari women and documents. This is the most important issue that I adopted from the heart," Dafa said ahead of a campaign event.
Dafa, an education official who is running in Qatar's 17th district against two women and seven men, said competence was more important than gender.
"I do not see it as a competition between me and the men because I see the men as complementary to the legislative process.
"And we are talking about competencies, not gender," she added, before addressing a small crowd of women voters at Qatar's Education City golf club.
Fakhro suggested the emir could directly appoint women "to improve the gender balance" if none or few are elected — similar to what happened in Bahrain's legislative election.
Representation of women in Qatar is stronger than in its Gulf neighbors with the Health Ministry led by a woman and the Foreign Ministry represented by a spokeswoman.
Women also hold prominent roles in the World Cup organizing committee as well as philanthropy and the arts, medicine, law and business.
The constitution of Qatar provides for "equal opportunities for all citizens."
Men outnumber women in Qatar by 2.6 to one, according to the latest official data, largely because of the disproportionate number of migrant workers in Qatar who are men.
Qatari officials have previously insisted "gender equality and female empowerment" are central to the Gulf state's "success and vision."
Fakhro, the analyst, said women running in Gulf elections was an important signal "that these countries are ready to advance women and do want them to be part of public life."
"(They can) advance women's rights and to ensure legislative equality in areas of family law and divorce — and across the board," she said.
Human Rights Watch previously acknowledged that Qatari women had "broken barriers and achieved significant progress," pointing to the number of female graduates, which outstrips males, and the high per capita number of female doctors and lawyers.
Source: Arab News
https://www.arabnews.com/node/1939956/middle-east
--------
Only husband can be prosecuted in instant triple talaq case: Bombay HC
Oct 2, 2021
PUNE: The Aurangabad bench of Bombay high court has quashed and set aside the prosecution of two in-laws of a woman from Beed under the Muslim Women (Protection of Rights on Marriage) Act, 2019 (for instant triple talaq) observing that the same was "unsustainable" and holding that only the husband was liable to be prosecuted and not his relatives.
Based on the woman's complaint on September 6, 2019, the Beed police had registered offences of harassment, assault, criminal intimidation and other IPC sections, besides under the Muslim Women (Protection of Right on Marriage) Act against her husband, mother-in-law and sister-in-law. The two in-laws had moved the high court seeking quashing of the FIR.
The HC bench of justices Sunil Deshmukh and Nitin Suryavanshi, however, said that there were specific allegations against the woman's mother-in-law relating to harassment, assault and other IPC offences and the FIR, to that extent, cannot be quashed against the mother-in-law.
The high court quashed the FIR against the sister-in-law observing that she was staying with her husband at a different place in the same city and only vague and general allegations were made against her.
During the hearing, additional public prosecutor M M Nerlikar, appearing for the state, had conceded that the two in-laws could not have been prosecuted under the 2019 Act for the protection of rights of Muslim women.
Lawyer Sudarshan Salunke, representing the two in-laws, had submitted that continuation of criminal proceedings against the two applicants will be nothing but abuse of process of law. "Registration of crime under the 2019 Act against them for merely being relatives, was not permissible," he submitted.
The bench upheld these arguments and went on to quash and set aside the two in-laws prosecution under the 2019 Act.
Source: Times of India
https://timesofindia.indiatimes.com/city/aurangabad/only-husband-can-be-prosecuted-in-instant-triple-talaq-case-hc/articleshow/86688230.cms
--------
Muslim Women Need Greater Breast-Cancer Awareness; 'Mammovan' Is Helping
October 1, 2021
By Seema Azim Al-Shaikhli
A breast cancer diagnosis does not have to be a death warrant. Early detection is the key to saving lives. Mammography is the easiest and most important screening test for breast cancer. But many minority women forego regular screenings.
I saw this disparity as a volunteer at a Muslim women's community organization. Delayed screening is a common denominator in many cases because of cultural factors and inaccurate beliefs about breast cancer. This is not unique to my local Muslim community. Studies show that American Muslim women, in general, are less likely to get regular mammograms.
A mammogram is a low-dose X-ray of the breasts. It can help detect cancer years before a woman or her doctor might be able to actually feel a lump. Yet, data shows more than a third of eligible women did not have a mammogram within the past two years. Reasons vary from lack of understanding about the importance of regular screening to fear of the procedure to lack of insurance. Not surprisingly, Muslim and other minority women have disproportionately lower mammography rates.
As a medical student and first-generation Afghan-Indian Muslim-American woman, I felt compelled to address this disparity and found an ally in my medical school. The Florida International University Herbert Wertheim College of Medicine runs a mobile center that offers free mammograms to uninsured women in Miami-Dade County. The service is supported by the Braman Family and The Batchelor foundations with the goal of "driving out breast cancer from our community."
In Islamic history, mosques and medical institutions commonly were adjacent to one another. This inspired my idea of bringing the school's mobile mammography center to a local mosque to create a sense of acceptability and comfort for Muslim women while highlighting the importance of health, a foundation of our faith.
The college's Linda Fenner 3D Mobile Mammography Center routinely collaborates with community agencies, including places of worship, to provide free breast screenings. But it had never partnered with a mosque. That changed this year. With the support of Imam Abdul Hamid Samra, for the first time, our "mammovan" performed free breast screenings at the Islamic Center of Greater Miami, in Miami Gardens. We also hosted an educational webinar for the mosque and translated a mammography infographic into Arabic and Urdu. All of this encouraged Muslim women to consider the importance of breast health.
The mammovan's next visit to the mosque is scheduled for October, Breast Cancer Awareness Month. However, as Lorraine Nowakowski, the mobile mammography center's director of clinical operations, likes to say, "For us, every month is October."
This year, more than 43,000 women are expected to die from breast cancer in the United States. We urge women 40 and older to speak with their healthcare providers about the benefits of mammograms and when to start. Women in that age group can call 305-FIU-PINK — 305-348-7465 — to see if they qualify for a free screening mammogram.
Source: FIU News
https://news.fiu.edu/2021/muslim-women-need-greater-breast-cancer-awareness.-fius-mammovan-is-helping
--------
Glasgow's Muslim community want to educate people on women's rights in Islam
1 OCT 2021
Members of Glasgow's Muslim community are working to change people's opinions about women's rights in the Islamic religion.
Following the Taliban takeover in Afghanistan there have been increasing reports the status of women accessing education or having a job.
While the barbaric and outdated restrictions are being enforced by the hard-line Taliban government however they have led to conflicting views and some beliefs that women hold an inferior status, or that are not truly free, when practising Islam.
Now Glasgow's Ahmadiyya Muslim Community are looking to educate people and are hosting a unique online event this Sunday to discuss the misconceptions of women's rights in the Islamic religion.
The virtual event will be streamed live across Facebook and YouTube this Sunday, October 3 at 6pm where viewers will be able to enjoy interesting talks and have their questions answered as well.
Spokesperson Ahmed Owusu-Konadu said: "One of the areas which is very much misunderstood in the public eye is the rights of women in Islam.
"The media don't tend to show this side of Islam, they report on the Taliban and other organisations who abuse women. People think that is what Islam teaches.
"The rule of the Taliban has become an issue because the women in the country are trying to move out, they have been stopped from achieving an education or working.
"We thought now is the right time to educate the public and let them know what the teachings of Islam are and show that the atrocities which are happening around the world by these so-called Islamic nations, are not associated with our religion."
It is hoped Sunday's event will open the public's eyes to the fact that Islam teaches that the rights of women are equal to men.
Mr Owusu-Konadu added: "When it comes to the spiritual aspect both men and women are equal in the eyes of God. Whatever station a man can reach a woman can reach as well and vice versa.
"However when it comes to the physical aspect the way the almighty God has made us is a bit different and we include that in our responsibilities with our families, in the community and within the religious sector.
"For instance men and women don't play together in football because the physical build up is different. When it comes to athletics, women wouldn't run with Usain Bolt because that is unfair.
"It comes down to the physical aspect of it. God has made man physically stronger and bigger which would mean we use that form of protection for the women.
"If you see a man abusing a woman, that is contrary to what his build is supposed to be used for. He is supposed to protect his wife and family."
On Sunday anyone, from any religion or background, can attend and ask the panel their questions about the religion.
Mr Owusu-Konadu added: "People should come to this platform of education. Education is key. Education is power. We need to look at people in the right way rather than stereotyping them and understanding what they stand for.
"Because groups like the Taliban and Isis align themselves with Islam for their own selfish interests people mistake that for the Islam religion.
Source: Glasgow Live
https://www.glasgowlive.co.uk/news/glasgows-muslim-community-want-educate-21739375
--------
Angelina Jolie sports Lebanese label in rare red carpet outing with daughter
October 02, 2021
DUBAI: Actress and humanitarian Angelina Jolie had a sweet mommy-and-me red carpet moment with her daughter Zahara Jolie-Pitt at Variety's glitzy "Power of Women" event in Beverly Hills this week. The UNICEF ambassador posed with her 16-year-old daughter, whom she adopted from Ethiopia when she was just six-months-old.
In the red carpet photographs, Jolie can be seen holding her daughter's hand and embracing her. For the rare red carpet occasion, the Oscar-winning actress wore a brown, tiered, silk gown by Lebanese-Iraqi brand Harithand, helmed by Baghdad-born designer Harith Hashim.
The elegant creation, plucked from Hashim's most recent pret-a-porter collection "Sunset Dreams," featured a high neckline, long balloon sleeves and was cinched at the waist.
The label, which was established in 2012, is known for creating contemporary luxury clothing for women using rich fabrics like taffeta and organza.
It is not the first time that Jolie has championed an Arab label in recent months.
The 46-year-old was seen donning jewelry by part-Egyptian designer Jacquie Aiche and Lebanese-Brazilian fine jeweler Ana Khouri for British Vogue's March 2021 cover story, shot by Craig McDean in her Los Angeles home.
Source: Arab News
https://www.arabnews.com/node/1940101/lifestyle
--------
Three ex-Afghan women MPs leave India for Europe
Kallol Bhattacherjee
SEPTEMBER 30, 2021
Three women Afghan political leaders, who had taken refuge in India after the fall of Kabul, left for Europe on Wednesday. The Hindu was urged not to reveal the identity of the three former MPs who were known for their fierce criticism of the Taliban.
The three former MPs were being assisted by Vital Voices, an international group also known for assisting Nobel Peace Prize winner Malala Yousafzai.
The MPs travelled via Dubai where they boarded a connecting flight to a European country. "Once we are settled in the west, we will restart our political campaign for freeing Afghanistan," said one of the MPs who pointed to the heightened risk that their families continue to face under the Taliban rule.
She said there are a handful of former women MPs who are eager to leave the country. In the last two decades, Afghanistan produced several notable women political activists and MPs especially from the ethnic minorities like the Tajiks and the Hazara communities. But the future of women representation appears bleak as the Taliban is unlikely to welcome their participation.
Evacuation flights from Afghanistan have stopped but the Afghans who are stationed in neighbouring areas continue to move towards the west creating a rare surge in legal and illegal immigration to Europe and North America. It is understood that several Afghan political figures took refuge in India following the takeover of Kabul by the Taliban on August 15.
Source: The Hindu
https://www.thehindu.com/news/national/three-ex-afghan-women-mps-leave-india-for-europe/article36745867.ece
--------
URL: https://www.newageislam.com/islam-women-feminism/taliban-ronaldo-afghan-women-footballer/d/125496
New ge Islam, Islam Online, Islamic Website, African Muslim News, Arab World News, South Asia News, Indian Muslim News, World Muslim News, Women in Islam, Islamic Feminism, Arab Women, Women In Arab, Islamophobia in America, Muslim Women in West, Islam Women and Feminism