New Age Islam News Bureau
24 Apr 2017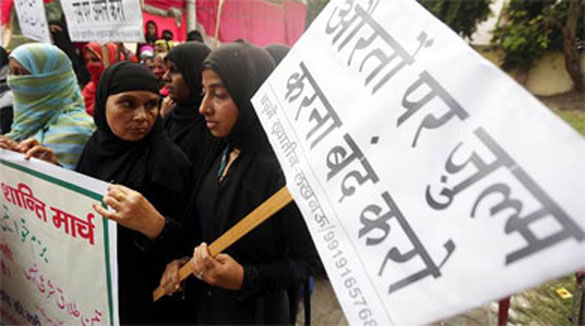 Members of Bajme-E-Khavateen hold a march against All India Muslim Personal Law Board on Teen Talaq Issue in Lucknow. (Source: Express Archive Photo/Vishal Srivastav/Representational)
---
• Talaq, Talaq, Talaq: The Lives Torn Apart
• From Aspiring Stylist to Extremist Widow: One Woman's Syria Story
• Need Firm Law To Fight Triple Talaq, Says Muslim Women's Personal Law Board President
• National-Level Netball Player, Shumayla, Approaches Modi, Adityanath for Triple Talaq Ban
• Watchdog Slams UN for Appointing Saudi Arabia to Women Rights Body
• Lebanon Activists Ramp Up Pressure On Reviled Rape Law
Compiled by New Age Islam News Bureau
URL: https://www.newageislam.com/islam-women-feminism/from-literacy-heading-households-indian/d/110888
--------
From Literacy to Heading Households, Indian Muslim Women Numbers Are Up
April 24, 2017
ARIBA IMTIAZ, the youngest daughter of Imtiaz and Safiya Shaikh, has spent a chunk of her life navigating the grimy lanes of Kasaibada, a butcher's colony in Mumbai's Kurla, to ensure she reached college on time. Her parents were forced to move into this ghetto from Nehru Nagar, also in Kurla, after facing threats during the 1992 communal riots following the Babri Masjid demolition in Ayodhya.
Today, Ariba is a dentist. But she wants to do more; she wants to achieve her dream of entering the civil services before getting married. In many ways, this 24-year-old represents the fraught but palpable change that is underway in the lives of Muslim women in India. With the popular narrative about Muslim women largely revolving around the Burkha and Triple Talaq, Ariba and lakhs of women like her symbolise the concerted drive by Muslim women to reclaim their space within the community and the country by using education as a tool.
According to Census data available since 2001, the number of Muslim female graduates has grown at an astounding rate of 168 per cent (see box). The national average growth during the same period — 2001 to 2011 — was lower at 115 per cent. This trend is ratified by figures made available by the National Sample Survey Office (NSSO), which shows that the growth in attendance rates in educational institutions per 1,000 persons in the age group 0-29 for major religious groups is highest for Muslim females. Significantly, this was more than the national rate in urban and rural India.
"There is a rising desire among Indian Muslims for education. I have come across many cases where the male child of a family has dropped out and started working, while the family facilitates the education of the girl child," says Dr Abdul Shaban, deputy director, Tata Institute of Social Sciences. "However, the benefit of this education in social terms can only be felt over a larger period of time.
For instance, even now, not enough educated Muslim women are getting jobs in the organised sector," says Shaban, who is also a member of a commission set up by the Telangana government to study the socio-economic and educational status of Muslims. NSSO data shows that Shaban's assertion is tied to the general fall of women in the Labour Force Participation Rate (see box above). Interestingly, even educated Muslim women, who are part of the workforce, are increasingly finding it difficult to get jobs.
"Without a broad range of empowerment initiatives, Muslim women will be unable to address their vulnerability. Unless critical masses of Muslim women are mobile and able to independently access state machinery, they will not be able to seek redress for the development deficit facing them," states a report by Dr Amitabh Kundu, who headed the Post Sachar Evaluation Committee. Data shows that this gap may have forced many Muslim women to opt for self-employment. NSSO figures show a 10 per cent fall in self-employed women in urban India but an 85 per cent increase among Muslim women.
This growing confidence can also be gauged from the fact that the proportional share of households headed by females is higher among Muslims than the national average. The government defines 'Head of the household' as one who manages its affairs and takes decisions, as acknowledged by others in the house. However, there is no denying the fact that Muslim women remain the most vulnerable and susceptible social group when it comes to divorce. The divorce rate for Muslim women is 5.63 for every 1,000 married women, while the national rate is 3.10.
In this group, Muslim women between 20 and 34 account for nearly 44 per cent of the total 2.12 lakh Muslim women divorcees. This age group makes up only 24 per cent of the total Muslim female population in India. At the same time, data shows, there seems to be some course correction from within the community on divorce and separation. While the total number of divorced and separated women grew by 40.13 per cent, from 23.42 lakh to 32.82 lakh between 2001 and 2011, the growth was marginally less at 39 per cent for Muslim women, from 3.59 lakh to 4.99 lakh.
Interestingly, there also appears to be an increasing assertion by young Muslim women on decisions of marriage and the choice of having children. According to 2011 Census figures, among Indian women between the age of 20-39, the number of those who have remained unmarried has been the highest among Muslims — a 94 per cent increase from 2001. Data also shows a rise among Muslim married women between the age of 20 to 39 who do not have or have opted not to have children — a 39 per cent increase.
"Things are slowly changing on the ground. The trend may not be so obvious in rural areas. But as urban Muslim women become more empowered, they are taking time to plan their families," says Rubina Feroz, general secretary, Ishterak Education Society, and member of the Association of Muslim Professionals.
Says Ariba, the dentist from Kasaibada, "There is a growing realisation that you need to take charge of your life. Some of it stems from a sense of victimisation you feel as a member of a minority within a minority. Some of it comes from the fear that you may be discriminated. However, if you are part of the bigger, broader world with your fundamentals in place, it gets very difficult for people to bully or mess with you."
http://indianexpress.com/article/india/muslim-women-education-bukha-triple-Talaq-4625330/
--------
Talaq, Talaq, Talaq: the lives torn apart
24 April 2017
New Delhi: Afrin was always fond of the social media. For the 22-year-old Shahjahanpur resident, it was a form of refuge - an escape from a life torn apart by four years of a tumultuous marriage.
One chilly January evening this year, she was lost in a happy reverie, scrolling down her Facebook timeline, featuring mundane updates on love, life and poetry, punctuated with news, when a post hit her.
It was from her husband. "Talaq, Talaq, Talaq, it said.
Afrin read the three words over and over again as her three-year-old daughter scattered toys all over the bed, some of which fell to the floor with a loud jangle.
It was merely the beginning of Afrin's trial. A day later, her mobile beeped with an incoming message. It read, "Talaq, Talaq, Talaq.
Her husband had expressed his determination loud and clear. As if the relentless torture with unending dowry demands was not enough, Afrin was now being booted out.
"She was always happy as a child. But the incidents seem to have irreversibly changed her life," Afrin's mother, Fareeda Begum, told PTI from Uttar Pradesh's Shahjahanpur.
Afrin has been taken to a relative's house, away from her maternal home, as the husband's family has been threatening to take her daughter away, her mother said.
Her husband's way to annul the marriage, which in Islam is a civil contract based on consent, has broken Afrin's spirit. And it is this form of termination that is at the heart of a raging dispute on the practice of triple Talaq.
The issue came to the fore in February last year when Shayara Bano, a triple Talaq victim, petitioned the Supreme Court, seeking a ban on the divorce form, polygamy and nikah halala, a practice under which a divorced Muslim woman has to marry again, consummate the marriage and then break it if she wants to go back to her first husband.
Thousands of Muslim women across the country have since formed pressure groups and spearheaded signature campaigns demanding the abolition of the practice.
Shayara's case has been clubbed with a clutch of similar petitions by the apex court, which will hear the matter from May 11. The Center has already taken a stand against triple Talaq.
Muslim law board's stand
The All India Muslim Personal Law Board (AIMPLB) claims Shariat upholds the validity of triple Talaq - under which a Muslim husband can divorce his wife by merely pronouncing the word "Talaq" three times.
Talaq, or divorce, can be obtained in either of two ways. Under 'Talaq-ul-sunnat', there has to be a three-month period, called 'iddat', between the pronouncement of Talaq by a husband and a lawful separation. But 'Talaq-e-bidat' authorizes a man to do so in a single sitting.
However, over the years, a campaign against triple Talaq which experts say finds no mention in the Quran - has snowballed into a movement, riding on the woes of thousands of Muslim women whose husbands have walked off by just uttering these three words. Some took absurd routes, such as pronouncing Talaq in text messages and, in recent times, on Facebook.
Like several others, Afrin has mustered the courage to approach the police against her husband who took advantage of the contentious provisions of the Muslim Personal Law.
As the debate on triple Talaq, polygamy and nikah halala rages, these women from across the country are fighting a battle not just with the law board but within themselves as they find their lives weighed down by the stigma attached to divorces.
Take 24-year-old Rubina, who married an affluent man double her age, in 2015 to be able to financially support her family. But soon after marriage, he started threatening her with divorce.
"Society has completely ostracized me and people molest me or behave inappropriately when I go for job interviews," Rubina, who has been living away from her husband, said. "I have nowhere to go."
Some of these victims have knocked the door of the apex court seeking a stringent law against these "oppressive" practices, hoping to safeguard the future of other women and balance gender equations within the community.
Denied monetary relief
Among those seeking change is Rizwana, a 33-year-old Railways employee in Delhi. One of the petitioners in the SC against polygamy, she married Indian Air Force employee Mohammed Khalid in 2012. But Khalid, it turned out, had deceitfully married her by concealing his two previous marriages, which she discovered within a year of their marriage.
"I found two dependent cards in my husband's bag issued by the Air Force which carried names and photographs of two women addressed as his spouse," she said.
When Rizwana sought a divorce, Khalid held that Islam allowed him to marry without divorcing his wives.
Being a government servant may have made Rizwana financially independent, but it took away from her the right to alimony or any kind of monetary relief from her estranged husband.
"In our country, women with government jobs are not entitled to alimony. Men want to marry a woman who holds a government job, then torture her for dowry and easily divorce her without the fear of liability," she said.
Leading a similarly onerous and painful life is 37-year- old Farzana. The Kanpur-based single mother was tortured by her husband who demanded dowry and concealed his first marriage from her.
"Some years into the marriage, I found out through neighbors that he had married earlier. It came as a shock to me but I could not do much and tried to work my marriage out for the sake of my children.
In 2009, she filed a domestic violence and maintenance case against her husband and in-laws.
"But I have not got any relief yet. I applied for divorce also which is pending before a court in Kanpur," she said.
The controversy, in many ways, is reminiscent of the Shah Bano case of the Eighties, which was a landmark step in Muslim women's fight for social justice and equality.
In 1985, the SC had decisively ruled in favor of Bano, who had sought maintenance from her husband who had divorced her. But following a backlash from orthodox Muslim groups, the then Rajiv Gandhi government diluted the order through an Act.
The Muslim Women (Protection of Rights on Divorce) Act, 1986, gave Muslim woman the right to maintenance only for the period of iddat (about three months) after a divorce. Her relatives or the Waqf Board are to take care of her after that.
http://english.manoramaonline.com/news/nation/2017/04/24/triple-Talaq-lives-torn-apart-muslims-india.html
--------
From aspiring stylist to extremist widow: one woman's Syria story
April 24, 2017
QAMISHLI, SYRIA: Islam Maytat thought marrying an Afghan-British businessman was her ticket to a new life as a fashionista in London. Instead she became a widow living under extremist rule in Syria.
At just 23, the young Moroccan spent three traumatic years in northern Syria under the Islamic State group's so-called 'caliphate'. Tens of thousands of foreigners have joined extremist groups in Syria, including women who are encouraged to marry and raise the children of IS fighters.
Some, like Maytat, have been lured unknowingly into marriages with would-be militants. Maytat spoke to AFP after fleeing IS's northern stronghold of Raqa to territory controlled by a US-backed alliance fighting the extremist group.
Now safe in the Kurdish-majority city of Qamishli, Maytat holds her gurgling 10-month-old daughter Maria in her lap as she tells her story. "Meeting my husband was one of the things that motivated me to study fashion design in Europe, but I had no luck. Everything went wrong," she said.
She first met Khalil Ahmed — an Afghan-British trader who worked in Dubai — online in early 2014, and they married two months later. He flew to Morocco to marry her and they then went to Dubai, stepping into a complex web of lies and journeys across the Middle East that would eventually take her to Syria.
Ahmed proved to be a strict, controlling husband who did not allow her to wear makeup or bright clothes. After a brief trip to Afghanistan to meet his family, Maytat was eager to get to London and start working as a stylist.
Ahmed proposed travelling to Istanbul, convincing a reluctant Maytat that it would be easier to move to London from there. But as soon as they landed in Turkey, Ahmed immediately drove her to the southeastern city of Gaziantep near the border with Syria.
Ankara has long been accused of turning a blind eye to IS fighters using the porous Syrian-Turkish border to transport people, goods, and funds — allegations it vehemently denies.
Islamic State rapes, tortures Sunni Arab women too: HRW
In Gaziantep, Maytat and Ahmed moved into a large house full of ecstatic couples from countries including Saudi Arabia, Algeria and France. "I asked them 'Why are you here?' And they told me they were there to migrate to the caliphate in Syria," Maytat recalls.
In June 2014, IS declared a self-styled "caliphate" across Syria and Iraq, where it implemented its literal interpretation of Islamic law. "I began to cry. It was two weeks after the caliphate was declared and the women kept saying 'We're going to the land of the caliphate, the land of the Muslims', and they were all happy," Maytat says.
In August, Ahmed and Maytat made their own journey across the border into war-ravaged northern Syria. They settled in the northern Syrian town of Manbij, where Ahmed's brother was already living with his family.
"I said to my husband 'Why did you destroy my life like this? You should have told me from the beginning that this is what we were going to do'," Maytat recalls. "And he said 'You're my wife — you have to listen to what I say'."
Tears welling, Maytat says she had felt powerless to resist Ahmed, her only link to her previous life. By September, she was pregnant with her first child — Abdullah — and Ahmed was sent to a month-long military training before deploying to IS's front in Kobane.
On October 8, 2014, Ahmed's brother told Maytat her husband had been killed in combat. "I became more depressed. I said to myself, this is the only person I knew in this foreign land, and now I'm alone here," she tells AFP.
In northern Afghanistan, bereaved women join fight against Islamic State
Pregnant and alone, Maytat moved into a shared "guest house" for widows of militants, mostly Uzbeks and Russians. This is when the military training started. "When they forced us to do weapons training I was pregnant, but I had no choice," she says.
Unable to communicate with many other widows, Maytat was allowed to move into a building housing other Arabic-speakers. "There were French, Tunisians, Moroccans and Algerians. I stayed there until I gave birth to Abdullah."
Less than a year after her first husband died, Maytat remarried in order to escape the shelter. Her second husband, an Afghan known as Abu Abdullah, took her to Raqa, the de facto capital of IS's caliphate. "I couldn't deal with life there — he wouldn't let me leave the house — so I asked him for a divorce two months later," she says.
She then married for the third time in three years, this time to an Indian fighter in Raqa known as Abu Talha al Hindi. That 18-month marriage produced her daughter, Maria. When Maytat learned Abu Talha had been killed battling the US-backed Syrian Democratic Forces, she joined up with another militant widow, a Yazidi woman. They escaped IS territory via "a secret route" that she refused to divulge.
Traumatised by her past, Maytat is now also worried about her future and that of her two young children. "I still don't know what to do with my life. "I hope to return to Morocco with both of my children, but I don't know if I'll have a future or not there."
https://tribune.com.pk/story/1392060/aspiring-stylist-extremist-widow-one-womans-syria-story/
--------
Need firm law to fight triple Talaq, says Muslim Women's Personal Law Board president
24 Apr 2017
With numerous incidents of triple Talaq coming to the fore, All India Muslim Women's Personal Law Board (AIMWPLB) president Shaishta Amber on Monday advocated that justice will not be meted out until a law is made in this regard.
Lambasting the Muslim Law Board for inaction, Amber said that men are misusing the triple Talaq divorce system.
"Till the time people who are guilty are not punished, this social evil will not end. These people are misusing divorce. And personal law has failed in all fronts. And until a law is made till then such incidents will keep on cropping up," said Amber.
Amid the raging debate over triple Talaq and the rights of Muslim women, another case of the age-old practice has emerged in Andhra Pradesh's Hyderabad city.
A case was registered on March 16 in the Sanathnagar Police Station on the complaint of Sumaina Sharfi under Sections 420, 406, 506 r/w 34 of the Indian Penal Code (IPC).
Sumaina complained that Owais Talib, whom she married in 2015, messaged her 'Talaq Talaq Talaq' on November 28 last year, signifying that their marriage had come to an end.
Yesterday, the reports of a national-level netball player Shumayala Javed from Amroha district of Uttar Pradesh being divorced for giving birth to a girl child came up.Shumayala Javed, a national level champion for seven times, hails from Amroha district of Uttar Pradesh. She was married to Azam Abbasi, a resident of Lucknow's Gosaiganj area in 2014.
Thousands of Muslim women across the country have since formed pressure groups and spearheaded signature campaigns demanding the abolition of the practice.
The All India Muslim Personal Law Board (AIMPLB) claims Shariat upholds the validity of triple Talaq - under which a Muslim husband can divorce his wife by merely pronouncing the word "Talaq" three times.
Talaq or divorce can be obtained in either of two ways. Under 'Talaq-ul-sunnat', there has to be a three-month period called 'iddat' between the pronouncement of Talaq by a husband and a lawful separation. But 'Talaq-e-bidat' authorises a man to do so in a single sitting.
The AIMPLB has issued appeals to all maulanas and imams of mosques to read out the code of conduct during Friday 'namaz' and emphasise on its implementation.
The board has made it clear it will not tolerate any interference in the Shariat laws and claimed that majority of the Muslims in the country do not want any change in their personal law.
http://www.dnaindia.com/india/report-need-firm-law-to-fight-triple-Talaq-says-muslim-women-s-personal-law-board-president-2413898
--------
National-Level Netball Player, Shumayla, Approaches Modi, Adityanath for Triple Talaq Ban
Apr 24, 2017
A national-level netball player has approached Prime Minister Narendra Modi and UP chief minister Yogi Adityanath seeking a ban on triple Talaq, joining the growing chorus against the social practice among Muslims.
Shumayla Javed was divorced by her husband, uttering the Arabic word thrice, two years ago for giving birth to a girl child.
She has now written to two leaders seeking justice for the victims of the social practice, Shumayla told media persons at Amroha in Uttar Pradesh on Saturday.
Shumayla , who lives with her parents in Peerzada locality of the town, said the unilateral oral divorce granted to Muslim men by Islamic law has ruined her life.
Terming the practice a "social evil" she said it should be weeded out to provide a better life to Muslim women.
Triple Talaq – under which a Muslim man can divorce his wife by uttering "Talaq" thrice – has been thrust under the national spotlight after a number of women approached the Supreme Court to ban the ritual.
Modi in his'Mann ki Baat' programme called the practice anti-women.
The All India Muslim Personal Law Board (AIMPLB) is against a blanket ban on the practice. It has, however, called for a social boycott of those who misuse the practice by repeating the Arabic word for divorce thrice in one sitting.
Shumayla got married to Farooq Ali of Lucknow in February 2014.
Describing her ordeal, she claimed a few months after the marriage her in-laws started torturing her for dowry. Her life took a turn for the worst after she gave birth to a baby girl in May, 2015. Eventually her husband gave her "Talaq" in April 2016.
She participated in the all India netball championships thrice.
Shumayla, who now works in an office as a data entry operator to earn her livelihood, alleged police had refused to register her complaint.
But now after the change of regime in the state, she is hopeful of getting justice.
Earlier, two other women from the city--- Mariam and Shaheen—too raised their voice against the Islamic practice and demanded its abolishment.
Amroha MLA and former minister Mehboob Ali said he would extend all possible help to the player in her battle for justice.
http://www.hindustantimes.com/india-news/national-level-netball-player-approaches-modi-adityanath-seeking-ban-on-triple-Talaq/story-uRQrFv53zJmtOEZTN5mN2M.html
--------
Watchdog slams UN for appointing Saudi Arabia to women rights body
Apr 23, 2017
A human rights watchdog group has lashed out at the United Nations for appointment of Saudi Arabia as a member of a committee on gender equality, despite Riyadh's massive discrimination against women.
"Saudi discrimination against women is gross and systematic in law and in practice," said the executive director of the human rights group UN Watch, Hillel Neuer, in a Sunday statement.
"Why did the UN choose the world's leading promoter of gender inequality to sit on its gender equality commission," he said in a statement. "Electing Saudi Arabia to protect women's rights is like making an arsonist into the town fire chief," he later tweeted.
On Wednesday, the UN's Economic and Social Council (ECOSOC) elected 13 members, including Saudi Arabia, to four-year terms on the Commission on the Status of Women, which is exclusively dedicated to the promotion of gender equality and the empowerment of women.
Out of 144 on the Global Gender Gap Index, Saudi Arabia was ranked 141 in 2016.
In recent years, the Al Saud regime has come under intense pressure by rights groups for mistreating women.
Saudi Arabia is the only country in the world that prohibits women from driving. The ban stems from a religious fatwa imposed by Wahhabi clerics. If women get behind the wheel in the kingdom, they may be arrested, sent to court and even flogged.
Under Saudi law, a woman must have permission from a male family member, normally the father, husband or brother -- in the case of a widow, sometimes her son -- to obtain a passport, marry, travel, exit prison and sometimes work or access health care.
In January, a UN Special Rapporteur on human rights, Philip Alston, slammed Saudi Arabia's treatment of women, saying, "The driving ban should be lifted, and women should no longer need authorization from male guardians to work or travel."
http://www.presstv.ir/Detail/2017/04/23/519204/Saudi-Arabia-UN-women
--------
Lebanon activists ramp up pressure on reviled rape law
22 April 2017
BEIRUT: Lebanese activists ramped up their campaign to scrap a controversial law allowing rapists who marry their victims to go free, with a dramatic installation on Saturday along Beirut's sunny seaside.
A proposal to scrap Article 522 of the penal code — which deals with rape, assault, kidnapping and forced marriage — was introduced last year and approved by a parliamentary committee in February.
It will go before parliament on May 15 and activists hope that MPs will vote to eliminate it.
On Saturday they urged Lebanese citizens to sign a campaign to ramp up the pressure on legislators at an open-air exhibit.
Thirty-one wedding dresses made of white lace and wrapping paper hung limply from makeshift nooses between four palm trees along the Lebanese capital's corniche.
"There are 31 days in a month and every single day, a woman may be raped and forced to marry her rapist," said Alia Awada, advocacy manager at Lebanese non-government organization ABAAD.
"We are trying as much as we can to shed light on this issue and tell parliament that the time has come for them to vote on canceling Article 522."
The reviled article, which also deals with the rape of minors, allows offenders to escape punishment by wedding their victims.
"If a valid marriage contract exists between the perpetrator of one of these crimes... and the abused, the prosecution is suspended," it reads.
"If a verdict has been issued, the implementation is suspended."
Awada said: "We called on all parliamentarians and decision-makers in the Lebanese state with this message: every 'yes' from you is a 'no' to a rapist."
Standing amid the fluttering wedding dresses, Minister for Women's Affairs Jean Oghassabian described the article as being "from the stone age."
"Its turn has come, it's the second item on the agenda" at an upcoming legislative session on May 15, Oghassabian, who is also an MP, told AFP.
Lebanese artist Mireille Honein, who designed the exhibition in Paris and brought it to her homeland this week, said she made the dresses out of white paper "to highlight the ephemeral nature of marriage and of laws."
"And I hung them up, because this type of law simply robs women of their essence, leaves them without an identity and suspends them in a life that does not suit them and is shameful for those imposing it on them," Honein told AFP.
As passersby paused to look at the ghostly installation, volunteers from ABAAD invited them to sign a petition demanding parliament prioritize the article's elimination.
Silver-haired Rafiq Ajouri, who hails from a southern Lebanese village, was persuaded to sign on while on his morning stroll along the corniche.
"If I were to get raped, why wouldn't I get my rights? I'd want people to stand beside me," he said.
But the elderly man, who has five sons and three daughters, hesitated when an ABAAD volunteer said women should be allowed the same liberties as men.
"They can have their freedoms, but within limits. Why? Because they're girls."
http://www.arabnews.com/node/1088986/middle-east
--------
URL: https://www.newageislam.com/islam-women-feminism/from-literacy-heading-households-indian/d/110888
New Age Islam, Islam Online, Islamic Website, African Muslim News, Arab World News, South Asia News, Indian Muslim News, World Muslim News, Women in Islam, Islamic Feminism, Arab Women, Women In Arab, Islamophobia in America, Muslim Women in West, Islam Women and Feminism