New Age Islam News Bureau
19 Apr 2015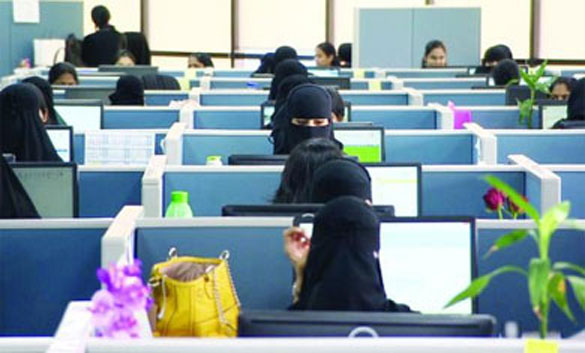 More and more Saudi women are applying for IT jobs
------------
• Domestic Violence against Men 'Widespread' in Saudi Arabia
• More Saudi Women Want Jobs in IT Sector
• Grappling With the Surge in Temporary Marriages in Saudis
• Worsening Conditions for Women in Iran Begin to Draw Attention
• ISIS Child Rape Survivors Need Help
• Warning Signs for Possible Sex Abuse: Saudi Society.
• Anti-Veil Call Raises Hackles In Egypt
• Islamic State Video 'Shows British Punk Rock Mother Leading Women Extremists'
• Human Rights Commission of Pakistan Reports Rise in Women in Politics
• Alabama Student Abandons Family to Join ISIS, Urges Muslims She Left Behind To Be Violent
Compiled by New Age Islam News Bureau
URL: https://www.newageislam.com/islam,-women-and-feminism/new-age-islam-news-bureau/from-brides-to-battlefield---women-don-new-role-for-islamic-state/d/102544
------------
From brides to battlefield - women don new role for Islamic State
19 April, 2015
Women travelling to join Islamic State militants are no longer just seeking to become "jihadi brides" but are taking on new roles, on the frontline in logistics, intelligence and as medics, according to military and expert sources.
Female presence in Islamic State's battles to establish a medieval-style caliphate across the Middle East has been unusual with the radical Sunni Islamists imposing strict restrictions on women's dress and behaviour and deeming their role as domestic.
But as more foreigners, both male and female, go to join or fight Islamic State, the traditional role of women is being challenged, with reports of women working at hospitals controlled by Islamic State and aiding in logistics.
Colonel Rafat Salim Raykoni, head of a military intelligence unit in the Iraqi Kurdish peshmerga forces battling Islamic State militants, said women fighters had emerged around the town of Sinjar, a frontline in the fight in northern Iraq.
"They are not many but they are starting to arrive on the frontline. Here in Sinjar they are very active," he told Reuters in the peshmerga headquarters in the outskirts of Sinjar city.
Raykoni is not the only one to have spotted the trend with high-ranking commanders in different areas of Iraq and Syria reporting Islamic State women around the battlefield although so far no female militants have been reported killed.
Pareen Sevgeen, the commander of a Kurdish women militia in Iraq, YJA Star, who is also known by her nom de guerre Beritan, was fighting north of Sinjar earlier this year when her brigade intercepted communications of the jihadis.
"We heard a woman giving orderd to men. She was saying move there or here, go left or right. She was obviously a commander," said Beritan while sitting in her compound outside Sinjar dressed in a dark green military uniform.
YJA Star, which also campaigns for gender equality in the region, was able to retake the area within hours and they never heard from the woman again despite making inquiries.
"We looked for her because we wanted to know more. We know she is a foreigner by the way she was talking on the radio. Arabic is not her first language. Our sources on the other side told us she is from India."
The Canadian counter-terror research group iBRABO, late last year said they had identified one woman who travelled from Canada to Islamic State frontlines, giving away her locations on Twitter as she visited besieged cities in Syria and Iraq.
Tracking her mobile phone's geo-tagging function on Twitter, the group concluded her movement "reflects a broader trend of women becoming more active in supporting male jihadists, such as intelligence collection, implementation and adherence to Sharia Law, and even reported execution of punishments to women judged to be in transgression of Sharia Law".
Jayne Huckerby, director of the International Human Rights Clinic at Duke University's School of Law, North Carolina, was not surprised about women appearing on the frontline as thousands of foreign recruits join the fight. The London-based International Centre for the Study of Radicalisation and Political Violence (ICSR) estimates at least 20,000 foreigners have joined the Syria/Iraq conflict of which about 4,000 are Western citizens. The Institute for Strategic Dialogue estimates about 550 of these are women.
ICSR director Peter Neumann has said about 80 per cent of foreign fighters from Western nations are joining Islamic State in Syria and Iraq, drawn by its ideological appeal and savvy outreach in foreign languages and over the Internet.
Islamic State seized large sections of north and west Iraq and much of eastern Syria last year and the Iraqi government, with its Western and Iranian allies, is now trying to recapture the nearly one-third of Iraq under the jihadists' control.
So far, most attention about the role of women in the conflict has focused on those joining as "jihadi brides".
In one of the most high-profile recent cases, three British schoolgirls are thought to have travelled through Turkey to Syria in February to join the militant group. Their families and British authorities have made repeated appeals for them to return home.
But four of nine British medical students who were believed to have crossed into Islamic State-held areas this month were also reported to be female with their parents are trying to convince them to come home.
"We are providing consular assistance to families of British nationals who are believed to be missing after travelling to Turkey," a Foreign Office spokesman said, without giving any further details of the students who were studying in Sudan.
The Home Office has said the medics would not automatically face prosecution under anti-terror laws if they returned to Britain as long as they could prove they had not been fighting for Islamic State.
Huckerby said the evidence challenged the Western stereotype of women just wanting to be "jihadi brides" and was an important evolution in the group's view on the women in the caliphate.
"A number of Western women who travelled to [Islamic State] have expressed their willingness to fight and to be in combat. They want to become Jihad Jane types," said Huckerby.
She said this shift was flagged in a recent manifesto by Islamic State's all-female al-Khansaa Brigade, whose mission is to pursue and arrest women who break the group's strict rules on Islamist morality.
This manifesto, translated by the London-based think-tank the Quilliam Foundation, maintained that women are permitted to abandon their domestic roles for jihad "if the enemy is attacking her country and the men are not enough to protect it and the imams give a fatwa for it".
There are precedents of women fighting in the Islamic world, said David Romano, a political science professor at Missouri University and expert on women fighters.
He pointed to the Moscow theatre-hostage crisis of October 2002 when at least 170 people were killed, including 40 male and female attackers claiming allegiance to an Islamist militant separatist movement in Chechnya.
About 140km northeast of Sinjar, on the battlefield around Teleskuf, peshmerga general Wahid Koveli, head of a Special Forces First Division, has also heard Islamic State female fighters on the radio at least twice.
"Female fighters have started to arrive on the frontline. It might mean that [Islamic State] are in difficulties and they are starting to use everybody to help them fight," he said.
http://www.nationmultimedia.com/opinion/From-brides-to-battlefield--women-don-new-role-for-30258186.html
----------
Domestic Violence against Men 'Widespread' in Saudi Arabia
19 April, 2015
Forty-four men were victims of domestic violence in the Kingdom last year, the National Society for Human Rights (NSHR) has revealed.
The NSHR's 11th annual report stated the organization had handled 14 cases in Riyadh, 13 in Jazan, eight in Dammam, five in Madinah, two in Makkah and one each in Asir and Jeddah.
Amal Al-Raie, a social worker, said the country does not have accurate statistics about the prevalence of domestic violence against men but believes that they make up a small proportion of cases. Most involved women and children, she said.
However, she called on government bodies to take action on the issue before cases increase. She said there was no need for a separate organization to deal with such cases, whether involving men, women or children.
Psychiatrist Salman Al-Habib said that there is "widespread violence" against men, but they are reluctant to report that family members have abused them. It is a "hush-hush matter," she said.
Meanwhile, the Human Rights Commission in Makkah said it did not receive any reports of violence against men. Ibrahim Al-Shadi, a member of the commission and its official spokesman, said this was probably because other organizations were dealing with such cases.
Victims usually only turn to the commission when they cannot get help from other organizations. He said the commission is always prepared to assist those coming to complain.
http://www.arabnews.com/saudi-arabia/news/734236
----------
More Saudi women want jobs in IT sector
19 April, 2015
Many Saudi women are breaking stereotypes by seeking work in the information technology sector rather than in the fields of education and health, say experts.
Fatima Asiri, a project manager in IT engineering at Asir education department, told Arab News that many women want these jobs because they can work at home in some instances. In addition, they are interested in new technology, she said.
Asiri said she receives many questions from women, which indicates that they are interested in learning more about the industry. Women would excel in the field because they have good taste and are artistic, which would help in design, she said.
They also have the patience and determination to do well, particularly in analyzing codes, programming and solving intricate problems, she said. Asiri said women are important to the industry because they can also advise other women how to protect data on their phones and other devices from being accessed or hacked.
However, despite their desire to work in the industry, jobs are still set aside for men, said Maram Ali. "Most programming and technical support jobs in Saudi Arabia, both in the public and private sectors, are for men. Very few job advertisements ask for women workers," said Ali, who was the only woman attending a technical training course in the region. Ali said social media has helped women learn more about the industry and share their experiences.
Nadia Baeshen, an economic expert at King Abdulaziz University, said that there is increased demand from women to study computer programming. "Although study in this field requires a high grade of no less than 85 percent at high school, the demand continues to rise in comparison to arts and social studies."
Baeshen said many men are increasingly fearful that their jobs would be taken over by women, in a field where there are already limited jobs for graduates. However, she believes that there would be many more jobs created because of increasing technological advances in the world.
Sarah Hamoud, deputy dean of information technology at Imam Muhammad bin Saud University, said that Forbes magazine recently stated that an IT management position was the fourth highest-paying job in the world for women, after a chief executive officer, pharmacist and lawyer.
http://www.arabnews.com/saudi-arabia/news/734166
----------
Grappling With the Surge in Temporary Marriages in Saudis
19 April, 2015
THE Saudi Charitable Society for the Welfare of Saudi Families Abroad (Awaser) has warned Saudi citizens against engaging in any temporary marriage contracts abroad.
Speaking to Al-Riyadh newspaper, Tawfiq Abdulaziz Al-Suwailem, chairman of the board of directors, said the society works with the ministries of social affairs and foreign affairs as well as Saudi missions abroad to crack down on Saudis who enter temporary marriages.
"There should be legislation and extensive media coverage of such marriages arranged by brokers outside the country. Saudi men should realize the consequences of these marriages.
Unfortunately, over the past 10 years, these types of marriages have spread and are out of control. They have been called tourist, summer and common-law marriages and they all have one common thing: they're temporary and the disengagement ends with a divorce," Al-Suwailem said.
Causes
There are several reasons behind the surge in temporary marriages among Saudi men travelling abroad such as the affluent lifestyles many citizens enjoy, high dowry demands by Saudi parents and the high costs associated with marriages in general. Another major reason is the poor economic situations in foreign countries, which makes it easy for Saudis to have a low-cost temporary marriage.
The fact that a number of fatwas have been issued by various scholars permitting temporary marriages has also contributed to the phenomenon.
"Many Saudis don't realize the consequences of their actions until it is too late. Besides, starkly different cultures and traditions can be an obstacle to the success of these marriages," Al-Suwailem explained.
Of the people seeking temporary marriages, the majority are elderly men, many of whom are unable to find a Saudi woman willing to marry them. Young men with limited income come next.
For them, temporary marriages abroad are a cost-effective alternative to marrying in the Kingdom. Then there are men who are already married but want another wife to enjoy their vacation with. Finally young men who travel abroad either to study or enjoy a vacation choose to get married.
The fact that many men engage in temporary marriages does not mean that all marriages between Saudi men and non-Saudi women are unsuccessful.
If serious and dedicated to making the marriage work, unions between Saudi men and foreign women can last a lifetime, especially if both couples come from similar backgrounds and hold similar values.
An increasing number of Saudi women, for various reasons, are putting off marriage until their 30s or 40s.
The latest statistics put the number of women who are delaying marriage at around 1.5 million and this number is expected to go up this year, according to Al-Suwailem.
"Poverty and unemployment among young men are two important reasons why the majority of men do not want to get married to Saudi women.
Another reason is most young women who have passed 30 refuse to be second wives. Some women put education and work above marriage and prefer to delay marriage at their own risk.
Let's not forget that some fathers are greedy and demand high dowries when someone proposes to their daughters," he said.
Airport brokers
A group of citizens Al-Riyadh daily interviewed claimed most young Saudi men who travel to certain countries are targeted by marriage brokers the moment they step out of the airport.
The brokers even target men who appear to be religious and try to convince them to engage in temporary marriages.
The citizens called on any Saudi planning to travel abroad to visit the Ministry of Foreign Affairs' website and read the warnings regarding temporary marriages.
http://www.saudigazette.com.sa/index.cfm?method=home.regcon&contentid=20150418240770
----------
Worsening Conditions for Women in Iran Begin to Draw Attention
19 April, 2015
Almost two years after his 2013 election, President Hassan Rouhani and his Vice President for Women and Family Affairs, Shahindokht Molaverdi, spoke up against discrimination against women this week, in the face of steadily deteriorating conditions for women in Iran.
"The government considers it its duty to take necessary action for women to enjoy and utilize social opportunities," said Rouhani on April 12, 2015. "The government will strive so that 50% of the society does not remain unemployed, isolated, and [Iran's] second gender," he added.
The Rouhani administration's prioritization of the P5+1 negotiations over Iran's nuclear program has effectively meant little attention paid to domestic issues, including women's rights, despite his repeated campaign pledges to address discrimination against women. Some of the most repressive legislation in the history of the Islamic Republic of Iran, which has further restricted women in their social lives, employment opportunities, and health care, has been put forward during the past two years.
This includes the pending Plan to Promote Virtue and Prevent Vice, which explicitly calls for Basij militias to enforce strict hijab (female dress). This legislation not only violates the rights of all Iranian women, it also presents a danger to their continued safety. In March 2015, the International Campaign for Human Rights in Iran released a report, Vigilante Violence: The Acid Attacks against Women in Iran and the State's Assault on Women's Rights, which showed how this legislation has laid the groundwork for violent attacks against women in Iran and called on the Iranian Parliament to immediately withdraw the Plan.
In a rare direct reference to this Plan, Rouhani stated during the April 12 speech that, "We have no patriarchy nor matriarchy in Islam, what we have is a meritocracy. Men and women side by side by each other on social issues, are [the embodiment] of [the Islamic principle of] 'promotion of virtue and prevention of vice.' Although, unfortunately, in our society today, 'prevention of vice' has only been brought out on some streets, and against women at that."
Rouhani continued, "Our biggest vice today is unemployment. This is the biggest factor in the country's development today. The biggest vice is water shortages and drought. How come these vices and virtues have been discounted so low? Who has reduced vice and virtue to a few secondary Islamic principles?"
"Of course even the secondary Islamic principles are to be respected, but where is the prioritization? What are our society's needs [at this time]?" he asked.
Referring to the Supreme Leader Ali Khamenei's naming the new Iranian year, "The Year of Empathy and Compassion Between the State and the Nation," Rouhani stated, "We cannot have empathy with only 50% of the society; rather, it must be realized in 100% of the society. Respect for women must be maintained at all levels."
Other developments have also been observed with cautious optimism by proponents of women's rights in Iran. On April 11, Rouhani's Vice President for Women's Affairs, Shahindokht Molaverdi, criticized the government's recently announced quotas for government jobs. She objected to the fact that of the 2,284 announced positions, only 16 of them were designated as "women only" jobs, and 500 of them had unspecified gender requirements, with the vast majority of the slots reserved for men. She asserted in her speech that gender discrimination "does not correspond with the President's promises."
Earlier this month, two prominent Iranian human rights defenders, Nasrin Sotoudeh and Narges Mohammadi, expressed optimism over the recent moves in Iran to amend the laws banning women from sports stadiums, even as they noted that real and permanent changes would require time and sustained citizen support for their full realization. The moves to end the ban have followed an international outcry over Iran's refusal to allow women to attend major sports events, which included statements by the president of FIFA (Fédération Internationale de Football Association) that the ban was "intolerable". However, statements by the Iranian state officials that the ban would be at least partially lifted have been followed by conflicting statements by other officials claiming the issue has not yet been decided upon, indicating the issue is still making its way through the maze of Iranian domestic politics.
In his most recent report to the UN Human Rights Council, the UN Special Rapporteur on the situation of human rights in Iran, Ahmed Shaheed, stated that the situation of women in Iran had worsened since Rouhani's election. "Concerns previously expressed over gender inequality in law and practice persist. Recent legislative attempts made by the Iranian Parliament appear to further restrict the rights of women to their full and equal enjoyment of internationally recognized rights," the report stated.
http://www.iranhumanrights.org/2015/04/rouhani-women-discrimination/
----------
ISIS Child Rape Survivors Need Help
19 April, 2015
The nightmare of 12-year-old "Jalila" began when fighters the Islamic State (ISIS) abducted her, along with her family, in northern Iraq. They separated her from her family and imprisoned her in a house in northeastern Syria with other abducted Yazidi women and girls.
Then the jihadist fighters came, one after another, to inspect them. One singled Jalila out, took her home and proceeded to rape her for three days. Six other ISIS fighters eventually took possession of Jalila during her captivity, she told me recently—three of them raped her.
This was not an isolated act. When ISIS attacked towns in northwestern Iraq in August and abducted thousands of fleeing Yazidis, its forces systematically separated young women and girls from their families and other captives. They then moved the women and girls from place to place inside Iraq and Syria, raping and beating many of them, and forcing them into sexual slavery.
alila eventually escaped, but her ordeal is far from over. When I visited Iraq in January and February to interview Yazidi women and girls about their experiences, I found that many of them desperately need psychological counseling and other medical care, which is often unavailable or inaccessible.
"I can't sleep at night because I remember how they were raping me," Jalila told me in the northern Iraqi city of Dohuk. "I want to do something to forget about my psychological problems. I want to leave Iraq until things get better; I don't want to be captured again."
As an investigator of human rights violations, I have documented many atrocious acts of sectarian violence and wanton bloodshed over the last decade. But ISIS's targeting of Yazidi women and girls is unique in its ferociousness. This apparently systematic abuse constitutes war crimes, and may well amount to crimes against humanity.
ISIS leaders have attempted to use religion to legitimize the enslavement and rape of Yazidi women. In a document apparently issued by its Research and Fatwa Department, the group puts forward its extreme interpretation of Islamic law, saying it permits sex with non-Muslim "slaves"—including young girls who have yet to reach puberty—as long as they are "fit" for intercourse.
The same document refers to female slaves as property, thus sanctioning their sale and disciplinary beating. Former captives told me that ISIS fighters had sold girls and women to one another for as much as $2,000.
For the few hundred Yazidi girls and women who have managed to escape ISIS's iron grip, the nightmare continues. Most of them now live in the three predominantly Kurdish provinces in northern Iraq. The survivors we met suffer acute emotional distress and persistent trauma as a result of the violence they experienced; some are suicidal.
Overwhelmed Kurdish officials and community groups have made valiant efforts to provide health services to the Yazidi women and girls, but major gaps in the available programs remain. Some women received treatment immediately after returning, while others were only able to obtain essential medical care weeks after escaping from captivity. Some women who received treatment and tests for pregnancy and infections were neither aware of the purpose of those tests nor informed of the results.
Some women became pregnant. Their access to reproductive health services—including safe abortion—is crucial, but it is inconsistently provided. International organizations and nongovernmental groups have told me that there is not only a lack of psychosocial support but also reluctance by the women and girls to accept such help. Even when help was available, therapists and organizations were often not adequately trained or equipped to assess the psychological needs of former captives.
The Kurdistan Regional Government—with assistance from Iraq's central government, the United Nations, and international donors—should ensure these women and girls have access to necessary medical and psychosocial services, including trauma support and ongoing counseling.
This should include immediate treatment for injuries sustained during attacks, access to emergency contraception and safe and legal abortion services where medically appropriate, preventive measures and treatment for sexually transmitted infections, prenatal and maternal health services, financial assistance, education and employment-skills training to help reintegrate them into the broader community.
However the conflict against ISIS plays out, the needs of the survivors and their communities should be addressed. While in many ways Jalila is lucky to have escaped captivity, her family is still missing and she is ensnared by her harrowing past.
By ensuring that girls like Jalila receive the psychological help that they need, we help to rehabilitate former captives, restore broken communities and prevent ISIS's misogynist cruelties from ruining lives forever.
http://www.newsweek.com/isis-child-rape-survivors-need-help-323026
----------
Warning signs for possible sex abuse: Saudi society.
19 April, 2015
THE rising number of sexual abuse cases calls for imposing stringent legislation to put an end to a worrying trend that is a source of concern for all members of Saudi society.
It has been found that in many of the reported cases harassers used extortion and blackmailing tactics with victims in order to force them to engage in illicit sexual relationships, according to Alsharq daily.
Parents have a big role to play in educating their children about this problem and explain to them, in simple terms, what constitutes sexual abuse and how not to fall victim to predators.
Parents should continue to educate their children as they grow older and enter adulthood. Social activists agree that this is a very important step in light of the fact that teenagers may get incorrect or unreliable information from outside sources.
Another thing parents must do is teach their children to always talk about what happens to them at school or in public without feeling ashamed or afraid.
ight environment
Abbas Al-Mayouf, social activist and writer, says sexual abuse is a social disease and some teenagers may engage in such negative practices because their parents have not created the right environment for them at home.
"The teenage years are pretty dangerous and risky. Families should keep a close eye on their sons and explain to them the harmful sexual behavior and practices.
Any questions teenagers have should be answered and not ignored or overlooked, or even dismissed as trivial. Ignoring them might lead them to find answers in the wrong way and from the wrong people," Al-Mayouf warned.
He continued that sex education is the responsibility of each and every parent, teacher and mosque imam. A family should be worried if their son's behavior changes abruptly because behavior changes may be a sign for psychological intervention.
Al-Mayouf mentioned extreme worry, spending too much time alone (introversion) and stammering when talking as signs parents should not ignore.
"These are clear signs something is wrong with their son who is most probably being sexually abused by someone," he said, warning families against leaving their sons alone without parental supervision when they surf the Internet.
Globalization has made it easy to exchange and download pornography and sexually explicit photos, he added.
Dr. Muhammad Al-Ali, professor of Islamic Culture at Imam Muhammad Bin Saud University, said sexual abuse is a new phenomenon in Saudi society and went on to blame parents' over reliance on maids to raise their children as one of the reasons for the increase in the number of sexual abuse cases in the Kingdom.
"There are several reasons for it and the main one is an absence of proper Islamic education. Sadly, most families rely heavily on housemaids to take care of their children.
This is a grave mistake parents make as children will grow up loving the maid more than they love their parents. Children should be raised based on Islamic values," Al-Ali said, while calling upon parents to monitor the behavior of their sons and daughters.
Abdulmonem Al-Hussain, social activist, said a recent study revealed an increase in the number of sexual abuse cases in society.
He cited numerous reasons for the increase such as the rising number of satellite channels offered to viewers in the Kingdom, poor economic conditions, unemployment, rising divorce rate and delayed marriage.
"Most abuse cases involve relatives targeting weaker members of the family. It's often someone in the family who sexually abuses a child," he pointed out.
Al-Hussain also blamed expatriates for the increasing number of sexual abuse cases in society, citing incidents when members of the Commission for the Promotion of Virtue and the Prevention of Vice (Haia) caught several expatriate workers for sexually abusing children.
"Some expatriate workers were caught selling pornographic films and decoding cards for satellite porn channels.
I believe the study doesn't reflect the actual number of victims as many children and families tend not to report such cases," he added.
Psychologist Jafar Al-Abad said children who fall victim to sexual abuse often feel guilty, ashamed, worried, frightened, depressed, frustrated, distracted, forgetful, hostile and suicidal.
Victims may also suffer from different disorders that affect their academic performance.
http://www.saudigazette.com.sa/index.cfm?method=home.regcon&contentid=20150418240771
----------
Anti-veil call raises hackles in Egypt
19 April, 2015
Cairo: A call by a prominent secular journalist for Egypt's Muslim women to take off the hijab headdress has triggered huge controversy in the predominantly Muslim country.
Sherif Al Choubachy has urged Egyptian women to hold a rally in the iconic Tahrir Square in Cairo next month to remove the widely popular headgear, which he said is a symbol of political Islamism.
"Since its ascendancy on the political scene, political Islamism has exploited the hijab to attain its goals," Al Choubachy, who is an Egyptian, posted on his Facebook page days ago. "I lived in Egypt in the 1950s when there was no hijab and it was a beautiful time of morals. Today, the hijab is everywhere, but values have collapsed."
He added that his rally proposal is inspired by Egypt's pioneering feminist Huda Sha'arawy who in 1923 removed her face veil in public, a daring act at the time signalling rebellion against restrictions on women. She founded the first Egyptian feminist union.
The vast majority of Egypt's Muslim women nowadays wear the hijab in public, a trend that secularists attribute to the rise of political Islamism in the country since the 1970s. The Muslim Brotherhood came to power after winning Egypt's parliamentary and presidential elections in 2012. The Islamist group was deposed by the army a year later following enormous street protests against its rule.
Al Choubachy's proposal has brought him under scathing criticism. Al Azhar, Egypt's top Islamic body, condemned the call as a "flagrant infringement of human freedom and dignity".
"The hijab is mandatory for female Muslims once they reach the age of puberty," said Abbas Shuman, a senior Al Azhar official. "It's unacceptable for anyone to ask a Muslim woman to quit praying, fasting or Haj [pilgrimage]," Shuman said, referring to mandatory Islamic duties. "Those advocates of liberty should allow the Muslim girl freedom to show her observance of her religion's teachings just as the non-committed girl is given the freedom not to wear it [the Islamic headscarf]."
Al Choubachy, who is a Muslim, has drawn criticism from rights campaigners too.
"Freedom does not accept imposing ideas on people whether on religious or secular grounds," said Hafez Abu Saeda, who heads the non-governmental group, the Egyptian Organisation for Human Rights. "Assailing the hijab represents extremism," he tweeted.
Meanwhile, rights activist Majda Faraj, a rights activist, has filed a legal complaint against Al Choubachy, accusing him of stirring sedition in the country.
Al Choubachy shrugged off the complaint, vowing on Friday to go ahead with what he called the "war " to confront militant ideas, according to private newspaper Al Watan.
There was no comment from the Egyptian government on the furore. Nor is it clear yet if authorities will authorise the rally suggested by Al Choubachy.
Earlier this year, President Abdul Fattah Al Sissi, a self-proclaimed pious Muslim, called for a "religious revolution" to help root out violent militancy in Egypt.
https://www.zawya.com/story/Antiveil_call_raises_hackles_in_Egypt-GN_17042015_180430/
----------
Islamic State video 'shows British punk rock mother leading women extremists'
19 April, 2015
Mum-of-two Sally Jones, 45, of Chatham in Kent, is thought to feature in the video of gun-toting militants in al-Khanssaa Brigade – the all-women group set up by IS.
The former punk rocker escaped to the Middle East in 2013 after converting to Islam in the wake of the 2003 Iraq invasion.
She has changed her name to Umm Hussain al-Britani and claimed to have wed jihadi computer hacker Junaid Hussain, 20, who was jailed in 2012 for stealing personal information from former prime minister Tony Blair.
The chilling new video shows an army of women marching with firearms and appearing to be on a training mission.
As they chant they raise their weapons into the air in a brazen show of loyalty.
The video, which is dubbed with Arabic music, then sees the women shooting into the distance in a show of force.
hey are all wearing the full black burka, with some in trainers.
Security chiefs think the video shows Ms Jones, according to the Daily Mirror.
"This could be the first real evidence that Sally Jones is involved at a high level with al-Khanssaa," a source told the newspaper.
"Her public statements cause great concern and are being taken incredibly seriously. The threat she poses to our security should not be underestimated."
She is wanted in the UK for numerous terror offences.
She has previously tweeted that she wanted to kill Christians.
She wrote: "You Christians all need beheading with a nice blunt knife and stuck on the railings at raqqa…Come here I'll do it for you."
The al-Khanssaa brigade is a female-only militia set up by the Islamic State in their self-declared capital of Raqqa, Syria.
The religious police force punishes women for 'un-Islamic' behaviour – with one of the group's key figures believed to be Aqsa Mahmood, 20, of Glasgow, who fled to the Middle East in 2013.
Mahmood recently denied recruiting three schoolgirls from the Bethnal Green Academy in east London, who are feared to have travelled to Syria earlier this year.
http://www.express.co.uk/news/uk/571075/Islamic-State-video-Kent-punk-rock-mother-Sally-Jones-leading-women-extremists
----------
Human Rights Commission of Pakistan reports rise in women in politics
19 April, 2015
LAHORE: The Human Rights Commission of Pakistan (HRCP) released its annual 'State of Human Rights in 2014' report on Friday.
According to the report the year opened with a series of faith-based assaults on religious minorities and came to a close with the massacre of young students in Peshawar which resulted in the highest death toll from a terrorist attack in the nation's history.
The horrific incident has, however, created a consensus against bands of extremist elements working under the banner of religious organisations.
The year under review threw up the occasional ray of hope with an increase in women's active participation in political parties, passing of a law against child marriage and an increase in minimum wage.
According to the report parliament enacted 10 laws, less than half the previous year's 22. Nine presidential ordinances were promulgated and the highest number of provincial acts and ordinances emerged from Khyber Pakhtunkhwa, followed by Sindh, Punjab and Balochistan.
The Hindu Marriage Bill and the Christian Divorce Bill, which were tabled in parliament in 2011, remain pending. No progress was made on the Domestic Violence Bill either.
In 2014, 1.793 million cases were pending in courts across the country. The gap between the laws and their implementation caused crime rates and low conviction rates to grow, especially in relation to crimes against minorities and vulnerable sections of society.
According to HRCP research, of the 37 cases registered during the year for offences relating to religion, seven of the cases were registered under Section 295-C of the Pakistan Penal Code that carries a mandatory sentence of death.
Furthermore, according to the report, no efforts were seen to institute judicial and legal reforms. And the legislature seemed inclined to promulgate laws that sought to promote state security at the expense of citizens' rights and liberties.
The report also contains statistics regarding law and order; jails, prisoners and disappearances; freedom of thought, conscience and religion and will be available on the HRCP website shortly.
http://tribune.com.pk/story/871743/year-under-review-hrcp-reports-rise-in-women-in-politics/
----------
Alabama student abandons family to join ISIS, urges Muslims she left behind to be violent
19 April, 2015
According to an in-depth Buzzfeed News report, a 20-year-old Alabama college student from Hoover was radicalized through social media and ultimately abandoned her family to join the so called Islamic State.
The student, who Buzzfeed identifies as "Hoda," now resides in an ISIS-controlled area of Syria, leaving her family in Birmingham to wonder exactly how it all happened.
"I want to apologize for what my daughter did," Hoda's father, Mohammed, told Buzzfeed. "I believe she's been brainwashed. She's not that kind of girl. They brainwashed her."
Mohammed and his wife moved to the United States from Yemen in 1992. All of his children were born here and are American citizens. He says he "controls his kids" like "every family," but that ISIS "found somehow, some way to (get) through" to his daughter.
Perhaps the most difficult thing for Mohammed to come to grips with is that a present he gave his daughter appears to be the way they "got through" to her.
Upon her graduation in 2013, Mohammed gave his daughter her first cell phone.
"When [Hoda] get a cell phone, she went on it like any teenager happy with a phone, and she opened Facebook and I saw some of her pictures, herself, and I told her, 'No, that's not acceptable,'" he recalls.
"Sometimes she (was) scared, and I thought, What do you have?"
He found what he described as "Islamic apps," like the Qur'an, but nothing that sparked suspicion. He was actually more suspicious that she was talking to boys than he was that she was being radicalized.
Hoda now says that she became interested in deepening her commitment to Islam by watching radicalized Islamic scholars on YouTube. And initially her family liked the changes they saw in her.
"I dressed and behaved more modestly," she said. "It helped me with my temper and made me a better person overall. They liked the change until they saw me getting 'jihadi'."
She later set up a Twitter account without her father's knowledge and gained thousand of followers, ultimately interacting with known ISIS members.
One of the few Twitter followers she had who actually knew her personally from the Birmingham Islamic Society — which vehemently condemns ISIS on its website — said she was clearly different online than in person.
"She was kind of an activist, but it didn't show in person," the friend told Buzzfeed. "She would post really controversial issues on Twitter, sometimes, or like, religious issues. (But in person) you would never have thought that she was anything other than a quiet, shy girl."
While she maintained the "quiet girl" act at home and began isolating herself from her friends, she identified more and more with radicalized ISIS members and supporters online — the people who would ultimately help her execute an elaborate plan to abandon her family and move to ISIS-controlled territory.
She started her journey by lying to her parents, telling them she needed to go to Atlanta for a college field trip. She left one morning last November carrying only a purse and a school bag. Later that evening she told her family she had accidentally gotten on the wrong bus, and rather than coming back to Birmingham, she would have to stay the night in Atlanta. The following day the family received a call from an unknown number. It was Hoda. She was in Turkey and revealed to them that she was becoming a member of the Islamic State.
"People are nice [in Hoover] but they're all about the dunya (the material world), which I didn't like," she said.
And in spite of what her father now says, she speculates that her parents may have had some inclination of where things were headed.
"They didn't know I was leaving, but they had an idea," Hoda said. "They'd see news reports about girls who have made it [to Syria] and say things like, 'Hoda would probably do that.'"
She now laughs off the idea that she has somehow been brainwashed.
"Everyone's parents or family members says that about those who have come here," Hoda said. "To that I say, 'Fear Allah, fear Allah with what you accuse us of.'"
Online, she's even bolder, urging Muslims she left behind in Alabama to violently attack their enemies.
"Americans wake up!" she tweeted on March 19. "Men and women altogether. You have much to do while you live under our greatest enemy, enough of your sleeping! Go on drive-bys and spill all of their blood, or rent a big truck and drive all over them. Veterans, Patriot, Memorial etc Day parades..go on drive by's + spill all of their blood or rent a big truck n drive all over them. Kill them."
Around Christmas of last year, Hoda married a 23-year-old ISIS fighter. He was killed by Jordanian air strikes less than three months later. In spite of that, she has remained committed to staying in ISIS-controlled territory.
"She's gone," her father said. "She's gone."
http://yellowhammernews.com/faithandculture/alabama-student-abandons-family-to-join-isis-urges-muslims-she-left-behind-to-be-violent/
----------
URL: https://www.newageislam.com/islam,-women-and-feminism/new-age-islam-news-bureau/from-brides-to-battlefield---women-don-new-role-for-islamic-state/d/102544