New Age Islam News Bureau
2 Jun 2015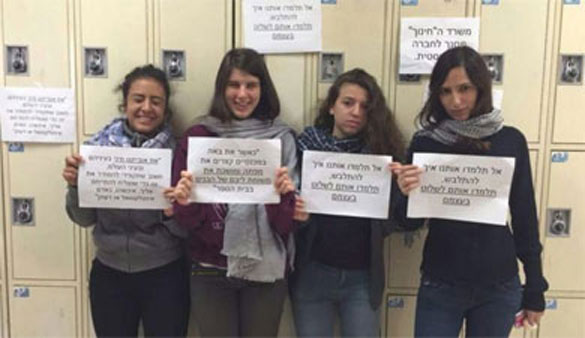 Israeli high school students protesting dress codes
----------
• Facebook Post Asks Muslim Men to Cover Their Women, Activists Hit Back With International Day of Mini Skirt
• 650 Abuse Cases in Makkah in Six Months
• Mozambique Plans to Stop Early Child Marriage
• Justices Rule for Muslim Denied Job over Headscarf
• Nigeria's Ban on Female Genital Mutilation Is a Big Win for Women's Rights
• Top US Court Rules for Muslim Woman Denied Abercrombie Job over Hijab
• Feminists, Muslim Women in Denial about Islamic State
• Report: Muslim Rohingya Women Gang Raped At Border Camps
• Renewing the Promise For Maternal and Child Survival in Afghanistan
• Women in Tunisia Tell of Decades of Police Cruelty, Violence and Rape
Compiled by New Age Islam News Bureau
URL: https://newageislam.com/islam-women-feminism/from-banning-shorts-full-body/d/103300
---------
From Banning Shorts to Full-Body Burqas, Israeli Women's Bodies Become A Battlefield
02 June, 2015
In his efforts to portray Israel as part of the enlightened Western world, Prime Minister Benjamin Netanyahu never misses an opportunity to stress the fact that Israel embraces modernity and pluralism over the dangerous fundamentalism and extremism that characterizes the Middle East.
To a certain extent, he's right. After all, nowhere else in the region could you find an event like Tel Aviv's Gay Pride Month, which just kicked off this year, with a theme of spotlighting the rights of transgender men and women? All month, men in tiny thong bathing suits cover the city's Mediterranean beaches enjoying the freedom to engage in public displays of affection, and the clubs are packed with men, women, and everything in between – culminating in a Gay Pride parade where both men and women frolic in the street in varying degrees of dress and undress. And last week, in the holy city of Jerusalem, a Slutwalk protesting sexual violence and featuring topless women took place without major incident.
But underneath the freedom and openness that characterizes Israeli secular popular culture lurks a palpable growing nervousness that society is headed in a more repressive and fundamentalist direction. It's not a new feeling, but it has picked up steam since the reentrance of ultra-Orthodox parties into the government coalition and key positions of power.
You could feel that nervousness in this week's headline-grabbing social media-fueled debate launched by high school girls against the dress codes enforced in many schools.
As temperatures have soared above 40 degrees Celsius, school rules forbidding girls to wear shorts while allowing boys to do so - or schools that selectively enforce bans on shorts for both sexes and only punish girls for infractions - have become the target of widespread protest.
The issue has been vociferously argued on television and radio talk shows. To those who follow such trends in North America, debates over girls and the length of their shorts are anything but unique - heating up as the temperatures rise, everywhere from California to Montreal to New Jersey as to whether bare female legs are incompatible with serious academics. Toronto girls have taken the movement a step further this year, with that community embroiled in a debate over whether there is a place for exposed midriffs in school in a debate over crop tops.
But while much of the debate in Israel is similar - there is an element of fear and urgency that distinguishes the conversation: a tangible fear of a slippery slope into a religious fundamentalism regarding the way society views women's bodies, prioritizing potential male discomfort over actual physical female discomfort.
On nearly every radio and television show where the issue is being discussed (and, let's face it, what media outlet can resist the story of teenage girls fighting for the right to show their legs?) the discussion of appropriate school attire quickly detours when the person representing the pro-shorts side of the argument - usually female - openly worries that if girls capitulate on the issue of defining their thighs and knees as body parts that must be covered, soon, they will be required to cover their arms, then their hair - and who knows what's next?
Unlike their counterparts in the U.S. and Canada, they have evidence in front of them when it comes to the ways that modesty wars can spin out of control. In cities and neighborhoods right next to theirs, they watch Orthodox and ultra-Orthodox dress codes become more and more extreme, and the battles over them more pitched - as religious women in Beit Shemesh who wear long skirts, cover their shoulders and their heads with headscarves, are attacked because their sleeves weren't long enough.
And most frightening is what is happening in Ramat Beit Shemesh and parts of Jerusalem, where there is a small cult of women that believes in extreme modesty: full black Burqas that cover their bodies and faces even more indistinguishably than the Muslim Niqab.
A member of the group, nicknamed the "Taliban women" by Israelis, encountered photographer Yaacov Lederman in Beit Shemesh this week and his photograph and video of the woman and her three daughters, encased in black cloth went viral on Facebook.
http://www.haaretz.com/blogs/routine-emergencies/1.659147
---------
Facebook Post Asks Muslim Men to Cover Their Women, Activists Hit Back With International Day of Mini Skirt
02 June, 2015
A recent Facebook campaign, calling women to dress modestly has attracted disparate reactions. The campaign called out to men to make their female relatives go covered in public and also cited verses from the Quran to bolster their posts. But the social media has hit back with the International Day of the Miniskirt.
According to the Facebook campaign, launched from Algeria, Islamic Hijab and modest clothing protected women from unwanted attention. It called for Muslim men to make sure that all their female relatives are suitably covered. The Facebook campaign "Be a man and don't let your woman out in revealing clothes" has attracted thousands of likes and also backlash from activists. The posts had Quranic verses and had pictures of toddlers in hijab.
Few posts compared women with objects and this has raised red flag among the activists. One post had pictures of a clean covered lollipop and the uncovered ant laden one with a caption "you can't stop them, but you can protect yourself." Another image compared a women's body to that of a peeled banana.
Woman activists have taken umbrage to these views and a strong reaction has come from Tunisia, a country which is known for its modern views on woman's right. Tunisian woman rights campaigner, Rachida Ben Othman, led an on-line counter attack by calling for an "International Day of the Mini Skirt." Women have told BBC that the campaign was offensive and demeaned women. "It had to make the same point, they chose the veil as a piece of clothing and we chose the miniskirt," said a campaigner who wished to remain anonymous.
The Miniskirt event Facebook page was briefly taken down, but has been reinstated. The campaigners are asking all women around the world to post selfies in their miniskirt on June 6 to show solidarity. The "Be the man" campaign had attracted severe criticism in the social media and has also polarized opinion in the Arab world.
http://www.ibtimes.com.au/facebook-post-asks-muslim-men-cover-their-women-activists-hit-back-international-day-mini-skirt
----------
650 Abuse Cases in Makkah in Six Months
02 June, 2015
JEDDAH — Makkah Social Affairs said there have been 650 cases of abuse victims being admitted to protection homes over the past six months, Al-Hayat reported.
Makkah Social Affairs Director Abdullah Al-Tawi said protection homes are a place where victims are temporarily or permanently placed to protect them from abusers.
"We had 117 cases in October, 101 in November, 89 in December, 115 in January, 112 in February and 116 in March," he said.
"The protection homes accept women who have been emotionally, physically and sexually abused," said Al-Tawi.
He also said his department has dealt with cases of victims running away from home, suicide attempts, burn victims, child custody battles and others involving violence and abuse. The victims are mostly women and children who had no education and no access to health care.
"They are usually without identification or have some problems with Civil Status authorities preventing them from receiving their full rights as citizens."
He added the victims are placed in protection homes where they undergo therapy.
"Sometimes the victims drop the lawsuits they filed against their abusers and the protection home tries to mediate the situations if possible.
"In cases of severe abuse against women and children, victims are well protected and the directorate sues the abuser on behalf of the victim."
http://www.saudigazette.com.sa/index.cfm?method=home.regcon&contentid=20150602245875
--------
Mozambique plans to stop early child marriage
02 June, 2015
The Mozambican Minister for Gender, Children and Social Welfare, Cidalia Chauque has revealed the government's plan to eradicate early child marriages, a frequent practice which she described as criminal."We want to eradicate premature marriages, a crime in which families often sell or hand over for marriage girls 13 or 14 years of age in order to pay off debts to other families and this practice depends on the cultural tradition of each province Chauque was quoted by state-controlled Radio Mozambique on Monday.
Speaking at a conference in Barcelona the official said girls as young as eight in Mozambique are forced to go to camps where they are shown how to please a man in bed in order to prepare them for married life.
Chauque said these sexual initiations begin once menstruation starts and sometimes involve sticks being inserted inside the girls.
According to Chauque, the training, which can last a week and is shrouded in secrecy, also teaches girls about hygiene, domestic duties and how to conduct themselves in the community.
Data from 2011, from the United Nations Children's Fund, (UNICEF) show that child marriage in Mozambique affects 14 percent of girls aged 15 and under, and 48 per cent of adolescents under the age of 18.
The UN agency warned that Mozambique has one of the highest rates of child marriage in the world, compromising the rights of young girls to education and health.
The province worst affected is Cabo Delgado, in the far north, where 68 percent of girls under 18 are married, followed by Manica, 64 percent and Zambezia, 62 percent.
http://en.starafrica.com/news/mozambique-plans-to-stop-early-child-marriage.html
----------
Justices rule for Muslim denied job over headscarf
The Associated Press
02 June, 2015
WASHINGTON (AP) — The Supreme Court ruled Monday for a Muslim woman who did not get hired after she showed up to a job interview with clothing retailer Abercrombie & Fitch wearing a black headscarf.
The justices said that employers generally have to accommodate job applicants and employees with religious needs if the employer at least has an idea that such accommodation is necessary.
Job applicant Samantha Elauf did not tell her interviewer she was Muslim. But Justice Antonin Scalia said for the court that Abercrombie "at least suspected" that Elauf wore a headscarf for religious reasons. "That is enough," Scalia said in an opinion for seven justices.
The headscarf, or hijab, violated the company's strict dress code for employees who work in its retail stores.
Elauf was 17 when she interviewed for a "model" position, as the company calls its sales staff, at an Abercrombie Kids store in a shopping mall in Tulsa, Oklahoma, in 2008. She impressed the assistant store manager with whom she met. But her application faltered over her headscarf because it conflicted with the company's Look Policy, a code derived from Abercrombie's focus on what it calls East Coast collegiate or preppy style.
Abercrombie has since changed its policy on headscarves and has settled similar lawsuits elsewhere.
The federal Equal Employment Opportunity Commission filed suit on Elauf's behalf, and a jury eventually awarded her $20,000.
But the federal appeals court in Denver threw out the award and concluded that Abercrombie & Fitch could not be held liable because Elauf never asked the company to relax its policy against headscarves.
Justice Samuel Alito wrote separately to agree with the outcome, but not Scalia's reasoning. Justice Clarence Thomas dissented.
http://finance.yahoo.com/news/justices-rule-muslim-denied-job-143554854.html
----------
Nigeria's ban on female genital mutilation is a big win for women's rights
02 June, 2015
In a move welcomed as a step in the right direction by international advocates, outgoing Nigerian president Goodluck Jonathan has signed a bill officially banning the practice of female genital mutilation (FGM). The Violence Against Persons (Prohibition) Act 2015, which was passed by the Nigerian Senate earlier in May, also will prevent men from leaving their families without proving financial support, according to Reuters.
The United Nations defines FGM (also sometimes referred to as female genital cutting, or FGC) as "all procedures involving partial or total removal of the external female genitalia or other injury to the female genital organs for non-medical reasons." Globally, an estimated 100 million to 140 women and girls from nearly 30 countries have undergone the procedure, with the highest rates concentrated in Africa and the Middle East. In Nigeria, Africa's most populous country, UNICEF reports that around 27 percent (almost 20 million) of women and girls ages 15-49 have been cut.
Although at times inaccurately characterized as a specifically Muslim custom, FGM actually pre-dates Islam and carried out by followers of a variety of religions, including Islam, Christianity and Judaism. Practitioners often defend the practice by arguing it is traditional rite of passage, but opponents such as Amnesty International consider it a form of violence against women, and have linked it to a variety of medical problems.
So far women's advocates have generally expressed optimism in the wake of Jonathan's 11th hour action, but they caution that legislation alone will not be enough to eradicate a practice so deeply-rooted in familial and ethnic customs. Real change must be cultural, not merely political.
"We welcome this ban as we welcome any ban on FGM, in any country," Tarah Demant, senior director for Amnesty International USA's identity and discrimination unit, tells Quartz. "But it's unclear whether other countries will do the same."
Demant said that any legislation that recognizes violence against women as unacceptable is a move in the right direction, but it remains to be seen how the new law is implemented and enforced, which may ultimately determine its effectiveness. "We are hopeful this ban will be [coupled] with educational outreach to ensure women have access to their health rights, and are free from violence," she said.
http://qz.com/416627/nigerias-ban-on-female-genital-mutilation-is-a-big-win-for-womens-rights/
--------
Top US Court Rules for Muslim Woman Denied Abercrombie Job over Hijab
02 June, 2015
The US Supreme Court on Monday ruled in favour of Samantha Elauf, a Muslim woman who was denied a job at an Abercrombie & Fitch clothing store in Oklahoma because she wore a headscarf for religious reasons.
The justices decided the case, which united Christian, Muslim and Jewish and other religious organizations, with an 8-1 vote, ruling in favour of the federal Equal Employment Opportunity Commission (EEOC), which sued the company on behalf of Elauf.
"The EEOC applauds the Supreme Court's decision affirming that employers may not make an applicant's religious practice a factor in employment decisions," said EEOC chair Jenny Yang, in a statement.
"This ruling protects the rights of workers to equal treatment in the workplace without having to sacrifice their religious beliefs or practices."
In a statement to the Guardian, an Abercrombie & Fitch spokesperson said: "While the supreme court reversed the tenth circuit decision, it did not determine that A&F discriminated against Ms Elauf.
"We will determine our next steps in the litigation, which the supreme court remanded for further consideration."
In 2008, when she was 17, Elauf was denied a sales job at an Abercrombie Kids store in Tulsa. The legal question before the court was whether Elauf was required to inform the potential employer of a need for a religious accommodation in order for the company to be sued under the 1964 Civil Rights Act, which bans employment discrimination based on religious beliefs and practices.
When attending her job interview, Elauf was wearing a headscarf, or hijab, but did not specifically say that as a Muslim she wanted the company to give her a religious accommodation that would allow her to wear it. She was denied the job because her hijab violated the company's 'look policy' in two ways: it was black, and it was considered to be headwear.
During the 25 February hearing of the case, Justice Elena Kagan compared the situation to an employer deciding it did not want to hire Jewish people and then looking out for names that appeared Jewish as a way to screen applicants.
"That's gotta be against the law, right?" she said.
Justice Antonin Scalia, who had appeared sympathetic to the store's argument, wrote the majority opinion.
"An employer may not make an applicant's religious practice, confirmed or otherwise, a factor in employment decisions," he wrote. "For example, suppose that an employer thinks (though he does not know for certain) that a job applicant may be an orthodox Jew who will observe the Sabbath, and thus be unable to work on Saturdays.
"If the applicant actually requires an accommodation of that religious practice, and the employer's desire to avoid the prospective accommodation is a motivating factor in his decision, the employer violates Title VII."
In his dissenting opinion, Justice Clarence Thomas argued that Abercrombie did not intentionally discriminate. The store remained neutral with regard to religious practices, he wrote, adding: "Elauf received the same treatment from Abercrombie as any other applicant who appeared unable to comply with the company's look policy."
He did concede that those who wore headscarves could feel more harshly treated under the look policy.
Muslim groups said in a friend-of-the-court brief that employment discrimination against Muslims was widespread in the US and that the act of a woman wearing a headscarf was often what triggered such discrimination. The EEOC has reported that Muslims file more employment claims about discrimination and the failure to provide religious accommodations than any other religious group.
Groups representing Christians, Jews and Sikhs also filed papers backing Elauf
Abercrombie & Fitch's statement to the Guardian continued: "A&F remains focused on ensuring the company has an open-minded and tolerant workplace environment for all current and future store associates.
"We have made significant enhancements to our store associate policies, including the replacement of the 'look policy' with a new dress code that allows associates to be more individualistic; changed our hiring practices to not consider attractiveness; and changed store associates' titles from 'model' to 'brand representative' to align with their new customer focus.
"This case relates to events occurring in 2008. A&F has a longstanding commitment to diversity and inclusion, and consistent with the law, has granted numerous religious accommodations when requested, including hijabs."
Many of those changes have been implemented following the departure of Michael Jeffries, who has been the company's chief executive since 1992. Jeffries left in December after shares fell about 39% over 12 months.
In April, the company announced that "by the end of July, there will no longer be sexualized marketing used in marketing materials, including in-store photos, gift cards and shopping bags".
Reuters contributed to this report.
http://www.theguardian.com/law/2015/jun/01/supreme-court-rules-favor-muslim-woman-hijab-abercrombie-fitch
----------
Feminists, Muslim women in denial about Islamic State
02 June, 2015
Sydney mother Assma Abdullah (Jasmina Milanov), who recently abandoned her two children and escaped to Syria, made hijrah, or migration in the cause of Allah. She is one of many vulnerable targets of Islamic State, which has enslaved and brutalised women, and introduced female police to persecute their own sex.
Why are Muslim women around the world enthusiastically joining a jihadist movement that enforces subjugation, and why are Western feminists giving jihadists a free pass?
Islamic State published a recruitment document, Women in the Islamic State: Manifesto and Case Study, with references to the holy texts. Written in Arabic and released by al-Khansaa, an armed brigade of female morality police, the treatise endorses hudud punishments such as public execution or lashing for "crimes against religion": adultery, homosexuality, theft and apostasy. Women must remain hidden, veiled and homebound, and nine-year-old girls can get married. The manifesto envisions a future removed from the corruption of "Saudi tyrants" and atheistic Western contamination. Women are entreated to commit themselves to the movement and raise children as true believers.
In areas under Islamic State control, women are obligated to wear full Islamic dress, and female students from age 10 must cover their face and hands outside school. Following the recent capture of Palmyra, Islamic State commanders threatened women with flogging for disobeying Islamic dress code. Education must conform to a curriculum of takfiri dogma, which excommunicates and labels Muslims apostates or infidels if they are considered insufficiently pious.
Islamic State has executed women for refusing to marry jihadists, and in Iraq, decreed that female genital mutilation should be performed on women between the ages of 11 and 46.
Women and girls from minority ethnic and religious communities, such as Christians, Yazidis, and Shabak and Turkmen Shi'ites have been used as human shields. Many were abducted and sold as sex slaves in markets after being stripped and examined for virginity.
Islamic State has encouraged women to form their own militias, such as the Khansaa and Umm al-Rayan police units, based in Iraq and Syria. While operating checkpoints for a monthly salary, members are instructed to apprehend men who disguise themselves in women's clothing to avoid being conscripted by Islamic State. Using thousands of enslaved Yazidi women, Khansaa is also running brothels for the benefit of Islamic State fighters.
Some of the most dedicated Khansaa women are said to be British extremists. Aqsa Mahmood from Glasgow is thought to be a central figure.
In the tradition of early Islamic conquests, Islamic State fighters claim religious legitimacy for slavery, based on texts that specify the distribution of war booty: four-fifths for fighters and one-fifth, or khums, to Muslim commanders.
In their online magazine Dabiq 4, Islamic State refers to the revival of sexual enslavement during war as heralding the apocalypse.
Islamic State has coerced women into "sexual jihad", a form of temporary marriage for the pleasure of fighters. Foreign females have not migrated to Islamic State areas to fight in the frontline but to take part as "jihadi brides" or "comfort women" for militants.
For many recruits, the promise of a swaggering warrior lover and marriage blessed by a purified religion is irresistible compared with nuptials arranged by pragmatic parents.
The reality of living under Islamic State may be grim but newcomers are driven by online propaganda. Tantalised by the adventure of joining a revolutionary movement, they are ready to breed children for polygynous jihadis and a new world order. A future with Islamic State holds the promise of purpose and certainty in a recaptured golden age of Islam; a utopian existence in this world, and eternal life in paradise with loved ones. Also on offer is the surreptitious indulgence of enacting dark fantasies of violence fired by religion and sanctioned by the mob.
Not every generation has the opportunity to bring about a revolution, even if it looks to the past. In recent times, political upheavals in Iran, Algeria and Afghanistan were motivated by a desire to regain a sanctified early Islam.
Such a retrograde concept of uprisings, typical of radical political change in the region, is alien to the Western model of revolution as a progressive force for freedom and modernity.
Any liberal ideals initially proclaimed by the Arab Spring have been buried by Islamic State and discarded by naive female volunteers from abroad. But their conscription is vital for Islamic State because the caliphate needs settled families. About 550 women, of 4000 Western recruits, are thought to have moved to Islamic State areas, and some have brought their children. Islamic State also has enlisted more than 400 children, the "Cubs of the Caliphate",
Instead of repudiating jihad, misogyny, temporary marriage, polygyny and centuries of patriarchy, human rights violations are being underwritten by the follies of gullible Muslim women around the world, as well as Western feminists, who traditionally pride themselves on opposing any sign of gender discrimination in their own societies.
By accepting institutionalised persecution of females by Islamic State, the feminist movement inevitably sides with the militia and its ideology.
During the Cold War, such fellow travellers were labelled useful idiots.
http://www.theaustralian.com.au/news/world/feminists-muslim-women-in-denial-about-islamic-state/story-e6frg6ux-1227378584281
---------
Report: Muslim Rohingya women gang raped at border camps
02 June, 2015
PADANG BESAR, June 2 — Muslim Rohingya women who were held at human-trafficking camps in Thailand and Malaysia were subjected to gang rapes by their captors, assaults that left at least two of them pregnant, a Malaysian media report said.
Malaysia's state-run Bernama news agency quoted a Rohingya survivor of the camps, Nur Khaidha Abdul Shukur, as saying young women would be taken away nightly from the jungle post where she was held near Padang Besar in Thailand.
She passed through the camp last year, according to the report released late yesterday.
"Every night, two or three young and pretty Rohingya women were taken out from the detention pens by the guards to a clandestine place," she was quoted saying.
"They would be gang raped by the guards. Two young women at the camp became pregnant after the gang rape."
The report also quoted her husband Nurul Amin Nobi Hussein saying he witnessed similar crimes taking place at nearby camps on the Malaysian side of the border.
The discovery last month of human-trafficking camps — and scores of nearby graves — first in Thailand and then over the border in Malaysia has caused shock and revulsion in Southeast Asia.
Seven camps were uncovered in Thailand beginning in early May and 33 bodies found in mass graves.
In late May, Malaysian police announced they had found 28 camps on their side of the border and 139 graves, which are still being exhumed.
The camps are believed to have been used by people-smuggling syndicates who move large numbers of impoverished Rohingya out of Myanmar, where they face systematic repression, with most heading for Malaysia.
Speaking from the northern Malaysian town of Alor Star, Nur Khaidha told Bernama that she entered the country illegally late last year after paying the smugglers to release her from the camp.
She said women sometimes were taken away by guards for several days to be used as sex slaves.
Her husband, who said he transited the Malaysian camps earlier in 2014, told Bernama the same occurred there.
"In the night, several of the guards would go to the pens housing the women and take them to a nearby place," he said.
"We heard the shrieks and cries of the women because the place they raped them was very close to our pens, but as the incidents were at night, we could not see what was happening."
AFP was not immediately able to confirm the claims with authorities.
Thai police have arrested nearly 50 people, including some local officials, since launching a crackdown in early May.
Malaysia has said 12 of its police officers are among those being investigated for possible involvement in the camps on its side.
The Thai crackdown threw the human flow into disarray, causing a humanitarian crisis by trapping thousands of starving migrants on boats at sea.
US Assistant Secretary of State Anne Richard, who is on a tour through the region to address the migrant issue, told reporters late yesterday that she had met some women boat people now in Malaysia and many had endured harrowing experiences.
"It was very clear to me... they had gone through terrible, terrible experiences.
"They are not in good shape," she said.
http://www.themalaymailonline.com/malaysia/article/report-claims-muslim-rohingya-women-gang-raped-at-border-camps#sthash.Q4C39KKp.dpuf
-----------
Renewing the promise for maternal and child survival in Afghanistan
02 June, 2015
Dr. Malalai Naziri, a Maternal and Child Health Officer in Afghanistan, has seen the difference that cost-effective, high-impact interventions can make to reduce maternal mortality, as well as newborn, infant, and child mortality.
She recently told me about a young 22-year-old mother from Logar province in eastern Afghanistan, whose first two babies died at full term in utero, due to foetal distress.
Fortunately, the young mother finally went on to deliver a healthy baby girl at Kabul Hospital following the introduction of health facility protocols that mandated the use of a partograph in the management of labour.
This low-cost tool monitors key indicators during labour including, among other things, the heart rate and blood pressure of both mother and baby. This in turn allows for timely decision-making and interventions by health providers before complications arise.
The support provided to the mother to breastfeed her newborn daughter within the first hour of delivery and to give her adequate warmth, was also critical to saving the infant's life.
Stories like this are positive signs of progress in Afghanistan and, thanks to government commitment, partner support and community engagement, the future is looking brighter for millions of mothers and children across Afghanistan.
This past week in Kabul, it was also truly inspiring to see over 350 representatives of government, the UN, development partners, and civil society, come together to make, what I believe will be, a profound difference in the lives of Afghan mothers and children.
The 'Call to Action' conference, which culminated in the Kabul Declaration, was an intense and strategic moment, benefiting from national and international expertise, to accelerate progress towards reducing maternal, under-5 and infant mortality in Afghanistan, and to save an additional 35,000 lives over the next five years under the banner of A Promise Renewed.
The aim is to build on the success of the past 25 years: between 1990 and 2013, the number of Afghan children dying before the age of 5 decreased by 46 per cent. The number of newborns dying within the first 28 days declined by 29 per cent. The number of mothers dying due to complications from pregnancy or childbirth also decreased, and a greater number of women now access health care services.
Immunization is another important, high-impact intervention which has ensured that at least 60 per cent of Afghan children are fully protected against preventable deadly diseases. By improving and maintaining health systems, and providing vital immunization services, even in hard-to-reach areas, the lives of children and mothers are saved every day.
But there is much more still to be done. The fact that one child in every ten in Afghanistan dies before they reach their fifth birthday is wholly unacceptable. The fact that most Afghan women, and especially those in remote areas, do not have access to health care services, must change.
In organising the 'Call to Action' conference with the Ministry of Public Health, USAID, and Aga Khan University, UNICEF is helping to improve dialogue and partnerships – not only amongst ourselves, civil society and the private sector – but also with communities, children, adolescents and young people.
Renewing the promise is just the start of a long road ahead – but it is a road to a defined goal. 2020 is just five years away and with this commitment, under the leadership of the National Unity Government, we will work together for an equitable assurance of health rights – especially for the disadvantaged, marginalized, the hard-to-reach and the poor.
We are working not only with communities and families in the Afghan society of today, but for children and future generations in Afghanistan who legitimately demand from all of us, that we translate these promises into reality.
Akhil Iyer is the UNICEF Representative in Afghanistan.
http://blogs.unicef.org/2015/05/17/renewing-the-promise-for-maternal-and-child-survival-in-afghanistan/
----------
Women in Tunisia Tell of Decades of Police Cruelty, Violence and Rape
02 June, 2015
TUNIS — She was just 21 when she was arrested by Tunisia's state police, who hauled her into an Interior Ministry office and "beat me up so hard that I don't even remember how I found myself there." But that was not the worst part.
Hamida Ajengui said she was stripped, and hung upside down by a dozen police officers who hurled abuse at her and threatened her with rape.
"I was a girl," Ms. Ajengui, now 46, said in an interview. "I was raised in a certain environment where it is ethical to be a moral, respectable, polite person. Then all of a sudden I was taken to this place where they strip you — they took all my clothes off — they leave you completely naked."
Tunisia has embarked on a bold and painful experiment, gathering testimony from victims of six decades of abuses under two dictatorships before its revolution four years ago led to a still-fledgling democracy. Already, thousands have arrived to lodge complaints at the country's Truth and Dignity Commission, which is scheduled to begin public hearings in June with the goal of exposing the violations, making reparations and holding the abusers accountable in a search for national reconciliation.
Just a few months into the process, 12,000 victims have come forward, most of them men. But what has surprised even longtime human rights activists is the number of women starting to tell stories of extreme cruelty, sexual violence and rape.
By far the most difficult and traumatic cases, commission workers say, are accounts like Ms. Ajengui's, because women are seen to embody family honor in this conservative society.
Women were tortured as brutally as men were. But they suffered an added stigma — that of rape and sexual assault. Such abuse was used as a systematic and institutionalized form of torture, often directed at women for no reason other than that they were married or related to a member of the opposition.
Others were themselves activists — leftists, nationalists, unionists, Islamists or students — who were arrested alongside their male colleagues. Ms. Ajengui's offense was that she was raising money to help support prisoners' families.
Prisoners, men and women, found themselves not only ostracized, but also blocked from jobs and education, and made to sign in at a police station two or three times a day. "It was like a punishment to your whole life," Ms. Ajengui said.
After waterboarding, electrocution, beatings and rape with wooden sticks and police batons, the women suffered miscarriages and lasting internal injuries that have left them psychologically scarred. Some still live in thrall to their torturers, whom they see in their neighborhoods. During interviews with a half-dozen women who were tortured, none could relate what happened without weeping.
"We had this paradox," said Sihem Bensedrine, a former journalist and human rights activist who leads the Truth and Dignity Commission. Both dictatorships — under Habib Bourguiba and then Zine el-Abidine Ben Ali — vaunted policies that led the Arab world in advancing women's rights, she noted.
"Ben Ali did a lot of 'feminization,' " Ms. Bensedrine said. "But there were massive violations against women, especially rape, more than we thought."
Women were raped in their own homes or neighborhood police stations while their husbands were in prison, she said. "It was not only to gain information but to dissuade them from opposing: 'I will hurt you and break you, so you do not even try,'" was how Ms. Bensedrine described it.
Ms. Ajengui said she was hung in the notorious "roast chicken" position — trussed and suspended naked from an iron bar — for 16 hours as the police threatened to violate her with their batons. "They would touch your breasts," she recalled. "They would touch you everywhere."
Hours later, she was dragged bleeding and unconscious to a cell, and late in the night a police officer assaulted her and threatened her with rape unless she revealed more information. "I felt it was over for me, I was broken, but at that moment I thought I was going to lose my honor forever," she said, breaking into tears.
She survived and married a fellow activist — who was also imprisoned and tortured — and had four children.
Not all women were so resilient. One of the most important cases before the commission concerns a woman who remains a serious psychiatric casualty 24 years after her torture and today lives in almost complete isolation.
The woman, a mother of four and the wife of an Islamist activist who himself spent 16 years in prison, was tortured and raped with a wooden stick during one long night of interrogation after her husband's arrest in 1991.
She received such serious internal injuries that she was admitted to a hospital and had an emergency operation to remove her ovaries. She suffered a mental breakdown from which she has never recovered and continues to be treated at a psychiatric hospital in Tunis.
"She was beaten so hard when I was in jail," her husband explained, asking that their names not be published because of the family's continuing trauma.
"Her physical incapacity is rated 70 percent," he said, noting that she suffers severe headaches and problems with her eyes. "She could spend the whole week in the house without talking to anyone."
His family has been destroyed by the strain. His brothers fled the country, and his children became estranged.
Their 6-year-old grandchild is troubled too, he said. "He loves his grandmother, but he is asking: 'Why are you mad, why are you crying?' "
Despite the pervasiveness of such brutality under the dictatorships, and Tunisian women's history of activism that stretches from early in the 20th century, many of these women's experiences went largely undocumented, said Ibtihel Abdellatif, who wrote a master's thesis on women's activism in Tunisia.
She set up the Tunisian Women's Association to collect such women's testimonies. "We could not find any institution that had enough knowledge of this," Ms. Abdellatif said. "It is a taboo topic that no one worked on."
Hundreds of women were detained and interrogated without formal process, and so lack documentary proof of their experiences. Others were terrified into silence by the police, who warned them not to go to the news media or human rights organizations.
The women also feared censure in the community. Many of the victims came from deeply religious Islamist families and so were particularly sensitive to the sexual nature of much of the abuse.
"When a woman is imprisoned in an Arab country," Ms. Abdellatif said, "it will just destroy her life because when she leaves, she will be in a bigger prison, rejected by society."
The deep divide between secularists and Islamists in Tunisia also prevented open discussion of the problem.
The main women's groups, which are secular in outlook, did little to investigate the abuses committed against Islamist women during the Ben Ali era. Now the commissioner for women at the Truth and Dignity Commission, Ms. Abdellatif crisscrosses the country encouraging women to come forward. Those women who wish, and whom psychologists deem strong enough, will take part in public hearings — some have already spoken at forums and to the news media.
Few are prepared at this stage to sit across from their torturers, and commissioners say that the process will be rather to hear the victims and honor them. But the women interviewed said they wanted official recognition of wrongs done, of careers thwarted and families damaged.
"There is a great fear of the perpetrators," said Meherzia Belabed, who was a 35-year-old mother of three when she was first arrested in a roundup of opposition activists in 1991. "We know they are back in their jobs but also that they have been promoted. What happened could happen again."
During her interrogation, she told the police she was three months pregnant, but was punched expressly in the stomach and within hours suffered a miscarriage. Her 2-year-old son sat the whole day in the room next door listening to her screams until his father came to take him home. Afterward, Ms. Belabed said, "My family did not talk to me, nor did neighbors, everyone was scared." After repeated raids and detentions, her husband divorced her.
The police used shame as a weapon, forcing prisoners to watch others being tortured and taunting female detainees, saying that no one would marry them and that the shame would follow them to their graves, said one woman who was interviewed. Many described life after prison as even worse than the torture.
"Prison is not four walls," said Fatma Akaichi, who was in her 20s and training to be a teacher when she was arrested for her participation in a students' union in 1995.
"Outside, people did not have any mercy," she said. "People would call you names, especially for a woman there was a lot of shame."
That torment has not fully ended. Even after the revolution, and the creation by law of the Truth and Dignity Commission, victims have been accused of telling their stories to gain financial compensation. "We are being mocked," Ms. Akaichi said, noting that the news media belittled the crimes committed.
"I don't say former political prisoner," Ms. Akaichi said of her experience. "I say I am a political prisoner, because the injustice continues today."
http://www.nytimes.com/2015/05/29/world/africa/women-in-tunisia-tell-of-decades-of-police-cruelty-violence-and-rape.html
-----------
URL: https://newageislam.com/islam-women-feminism/from-banning-shorts-full-body/d/103300