New Age Islam News Bureau
14 March 2013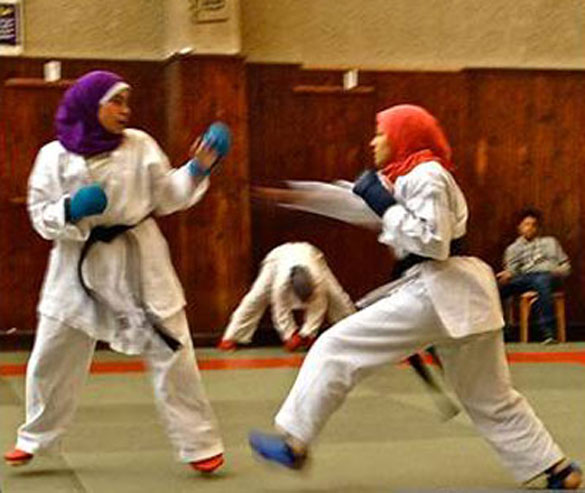 Photo: Egyptian female martial artists break norms and reap the benefit: Self-defense and confidence
-----------
• Police Arrest 10 in Beauty Salon Raid on Charges of Prostitution in Maldives
• Czech Women Tourists Kidnapped In Balochistan: Officials
• Egyptian Female Martial Artists Break Norms and Reap the Benefit
• Over Quarter of S. African Schoolgirls HIV Positive: Minister
• Nightclub Patronising Youngsters Shut Down By Dubai Police
• UK Minister Sayeeda Warsi Urges for Restraint over the Ongoing Violence in Bangladesh
• Pakistani Women Journalists Recognised In Media Awards Ceremony
• Woman Joins Tabuk Education Advisory Panel As Vice Chair for the First Time
• One Woman's Mission to Promote Bangladesh's Beauty
• Barack Obama Invites First Black Miss Israel to Dinner
• Pakistani Activist Shot Dead In Karachi
• Pakistani Beauty Honoured By Malaysian Govt
• Five-Organ Transplant Patient Becomes a Mother in Miami
Egypt's Muslim Brotherhood Blasts Anticipated U.N. Women's Document
Compiled by New Age Islam News Bureau
URL: https://www.newageislam.com/islam,-women-and-feminism/new-age-islam-news-bureau/frenchman-rips-off-muslim-woman's-veil/d/10766
----------------
Frenchman Rips off Muslim Woman's Veil
13 March 2013
Women in France found guilty of wearing Niqab in public can be fined 150 euros ($190) or be forced to undergo citizenship training. (AFP)
A Frenchman who ripped a Muslim woman's veil off her face as she strolled in a fairground was Wednesday given a five-month suspended prison sentence and ordered to compensate his victim.
The 30-year-old man, who admitted charges of aggravated assault, had justified the September 2012 attack at the time as an attempt to uphold a controversial law banning women from wearing Niqab, face-covering veils, in public.
That defence was thrown out by public prosecutors, who accused him of acting as a vigilante and carrying out an assault motivated by his victim's religious faith.
The man, who was not publicly identified on the request of his lawyers, was also convicted of presenting a false identity to police.
The incident in the western city of Nantes was the latest in a series triggered by France's controversial ban on the wearing of full face veils in public, which came into force in April 2011.
Last September, Louis-Marie Suisse, a Muslim teenager in Marseille, was sent to prison for two months after being convicted of biting a policewoman in an altercation sparked by her arrest for wearing a full-face veil.
Under the law, women found guilty of wearing Niqab in public can be fined 150 Euros ($190) or be forced to undergo citizenship training.
Human rights group Amnesty International has condemned the legislation as breaching French citizens' right to freedom of expression.
http://english.alarabiya.net/en/News/2013/03/13/Frenchman-rips-off-Muslim-woman-s-veil.html
----------------
Police Arrest 10 in Beauty Salon Raid on Charges of Prostitution in Maldives
By Ahmed Nazeer | March 14th, 2013
Police have arrested 10 people in the 'Roma Beauty and Wellness Centre', a private beauty salon in Male, on charges of prostitution.
In a statement police said the arrest was made last night at about 9:35pm in an operation police conducted after receiving intelligence reports about the salon.
Four Maldivians, four Thai women and two Bangladeshi men were arrested in the beauty salon; all of them were inside the premises when police raided.
Police claimed that when police raided the salon four of the 10 people inside the premises were naked and involved in sexual activities.
When police searched the premises of Roma Beauty and Wellness Centre they discovered MVR13, 000 (US$845) and "tools used for sexual activities".
Police said the office of Roma Beauty and Wellness Centre was also searched, where police discovered ''other items'' in connection with the case.
Police said all the searches were conducted after obtaining search warrants from the court.
As police raided the salon located in the block between Ahmadiyya School and the UN Building, a large number of people gathered around the area to watch the raid.
The men and women arrested were teased by the crowd gathered as the police brought them out.
http://minivannews.com/society/police-arrests-10-from-beauty-salon-on-charges-of-prostitution-54530
----------------
Czech women tourists kidnapped in Balochistan: officials
March 14, 2013
QUETTA: Unidentified gunmen on Wednesday kidnapped two women tourists from the Czech Republic in Balochistan, officials said. Local government officials said the women entered the province from Iran as tourists and were abducted from an area some 550 kilometres west of Quetta, the main town of Balochistan which borders both Iran and Afghanistan. "Both the women were from Czech Republic and entered in Pakistan as tourists," Akbar Hussain Durrani, the provincial home secretary told AFP. "Gunmen stopped their bus in the Nok Kundi area of Chaghi district and abducted both of them." Durrani said women were being escorted by a tribal policeman when they were abducted. The guard was also taken captive but was later freed. Nobody from the Czech embassy was available to comment late Wednesday but Qambar Dashti, a senior government official in Quetta confirmed the incident. Kidnappings plague parts of Balochistan and northwest Pakistan, where criminals looking for ransom snatch foreigners and locals, sometimes passing their hostages on to Taliban and al Qaeda-linked groups. Balochistan has been hit by an insurgency in recent years with Baloch nationalists demanding political autonomy and a greater share of profits from the province's wealth of natural oil, gas and mineral resources.
http://www.dailytimes.com.pk/default.asp?page=2013\03\14\story_14-3-2013_pg7_7
----------------
Egyptian Female Martial Artists Break Norms and Reap the Benefit
March 14, 2013
Mira Nassif, former Egyptian judo champion, master's student and small-business owner, credits judo for her current success.
"The courage to start my own design company and take all the necessary risks, starting from scratch and believing how big it could become, was totally because of the judo," says Nassif.
Like Nassif, a growing number of Egyptian women are now joining the ranks of tae kwon do, judo and karate classes and acknowledging the positive impact that training has on their lives. Indeed, such training provides not only excellent exercise but gives trainees real self-defence skills that can be applied in situations of physical or sexual assault.
Beyond this significant benefit, martial arts can also be life-changing, with benefits including increased self-confidence, discipline, focus and general character building.
It may surprise some that martial arts are popular in Egypt with both male and female athletes. These sports became widespread at private studios and sporting clubs from the 1970s onwards.
Today, there are more than 300,000 registered with the Egyptian Karate Federation, not including thousands of judo and tae kwon do athletes, and those who take private lessons.
Most martial arts are seen as appropriate for Muslim women, as the uniforms are conservative and allow women to wear Hijabs. In January, the World Karate Federation approved of the use of Hijabs in competition.
Egyptian women have a legacy of excellence in martial arts. They have been training and competing alongside their male counterparts on the National Karate Team since its founding in 1971, for example. Egyptian female athletes also competed in judo and tae kwon do at the Olympic Games in the first years they became medal-earning events for women, in 1992 and 2000, respectively.
Two athletes are now leading the front in changing prevailing gender stereotypes — world champion Heba Mohamed and former Africa and Mediterranean champion Shayma Magdy. They are the first female athletes in Egypt to continue intensive training on the national team after getting married.
Even more groundbreaking, Magdy is a new mother. Her father accompanies her on the training sessions, watching his granddaughter while Magdy practices attack techniques comprising powerful combination punches and kicks across the training floor.
Of course, there are often challenges that come with stepping into such traditionally male-dominated arenas. Many women and girls have been criticized but they don't let this stop them from training and fighting.
Parents of female martial artists are assured that their daughters can respond quickly to a threatening situation and use their training to defend themselves if necessary. At the age of 9, Sarah Ahmed, a student at Helwan University, came home from school crying one day because another student had hit her.
Shortly afterward, her mother signed her up for karate classes at a sporting club. Eleven years later, Ahmed's mother still goes to tournaments to support her daughter and emphasizes the importance of self-defense skills for girls.
Ahmed, after several rounds of sparring, says karate has given her tremendous confidence and helped her become more outspoken.
Similarly, Asma Abdallah, who has been a judo student for more than 18 years, says judo boosted her self-confidence. "I'm not afraid to speak for myself and express my opinions — it's my right," Abdallah says. "Judo has helped me feel strong and find my voice."
Researchers have conducted several studies in the US and Canada that aim to quantify the benefits of self-defense training for women. Results have shown increased perceptions of self-worth, awareness and mobility.
Although no such quantitative study has been carried out in Egypt, members of the martial arts community here are eager to affirm similar benefits. Some coaches feel that the most important reason for girls and women to train in martial arts is the inner confidence they gain from their ability to defend themselves.
Athletes say their training has helped give them self-confidence, and could empower more girls and women to go out on their own rather than stay in their homes.
Many female martial artists also point to how their experiences encouraged them to work to achieve their goals outside of the dojo, or training studio. Martial arts trainers say the fighting spirit can help both in the streets and in the classroom, with one karate instructor saying her training helped her decide to study for her master degree in Islamic history.
Many of the athletes say martial arts have positively impacted their lives and helped develop their character.
Female martial artists are not necessarily confined by gender barriers, but instead fill multiple roles. They are wives, mothers, students and professionals — all while also being accomplished athletes.
This piece was originally published in Egypt Independent's weekly print edition.
http://www.egyptindependent.com/news/egyptian-female-martial-artists-break-norms-and-reap-benefit-self-defense-and-confidence
----------------
Over quarter of South African schoolgirls HIV positive: minister
South African health ministry reports 28% of schoolgirls are HIV positive and 94,000 fell pregnant in 2011
14 Mar 2013
As many as 28 percent of South African schoolgirls are HIV positive, according to figures from the country's health minister reported by local media on Thursday.
Unveiling statistics that minister Aaron Motsoaledi admitted "destroyed my soul," he added that four percent of schoolboys have the virus.
Full report at:
http://english.ahram.org.eg/NewsContent/2/9/66841/World/International/Over-quarter-of-SAfrican-schoolgirls-HIV-positive-.aspx
----------------
Nightclub Patronising Youngsters Shut Down By Dubai Police
Dubai Police take action following complaints from parents of children as young as 12
By Bassma Al Jandaly
March 13, 2013
Dubai: Police have shut down a youth-oriented club following complaints by concerned parents of patrons stating that the establishment's clientele was restricted to those aged 12-21.
Police said the concept of a nightclub exclusively for those below 21 years of age had upset families. "Parents said teenagers should not experience what it is like to be in a nightclub," police said.
Full report at:
http://gulfnews.com/news/gulf/uae/crime/nightclub-patronising-youngsters-shut-down-1.1158052
----------------
UK Minister Sayeeda Warsi Urges for Restraint over the Ongoing Violence in Bangladesh
14 Mar 2013
Baroness Sayeeda Warsi, British senior foreign and commonwealth office minister, conveyed UK government's concerns over the ongoing violence in Bangladesh and urged all sides to exercise restraint.
Speaking on Wednesday following continuing reports of violence, Baroness Warsi said, "The strength of democracy is the right it affords to all citizens to participate in the political process."
"I am appalled by the recent violence, unnecessary deaths and vandalism that have blighted Bangladesh recently. It has no place in legitimate protest," she said.
Full report at:
http://www.thedailystar.net/beta2/news/uk-minister-urges-for-restraint/
----------------
Pakistani Women Journalists Recognised In Media Awards Ceremony
By Sara Faruqi and Alisia Pek Xue Ning
March 13, 2013
KARACHI: The first Women in Media Awards ceremony took place at the Beach Luxury Hotel on Wednesday and celebrated the works of female Pakistani journalists.
The journalists won awards in the print, television, radio and online categories. Each of the women spoke on what their story was and how they went about covering it.
For the winner of the online journalism award, Sadia Haider, the award was validation for the work she had put in the last few years. After accepting her award Haider explained that her husband, who worked for the News Agency Reuters, was killed in Afghanistan. Since then she has been exploring the concept of violence in society, especially towards women, through different reporting mediums. "I am glad I'm standing here as a journalist for my work and not just a camera person or photographer" said Haider.
Full report at:
http://dawn.com/2013/03/13/pakistani-women-journalists-recognized/
------------
Woman Joins Tabuk Education Advisory Panel As Vice Chair for the First Time
14 March 2013
The Education Council of Tabuk has for the first time appointed a woman as the deputy chairman of its Teachers' Advisory Council.
An overwhelming majority of council members elected Basmah Al-Johani, principal of the Seventh Intermediate Girls' School, in the council's first meeting after it was restructured this year. Council Chaiman Muhammad Al-Lehaidan, who is also the director General of Education in the province, stressed the need to double the efforts of men and women teachers to develop the province's educational process and improvement of the professional skills of teachers to comply with professional ethics.
Full report at:
http://www.arabnews.com/saudi-arabia/woman-joins-tabuk-education-advisory-panel-vice-chair
----------------
One Woman's Mission to Promote Bangladesh's Beauty
Fashion, livelihoods and Bibi Russell
BY DIBARAH MAHBOOB
14 Mar 2013
I stepped into a fanfare of colours and themes that I ordinarily consider ordinary — the abandoned packet of Mr. Twist, hand-paintings behind trucks and old-school autorickshaws. Bibi Russell warmly greeted me in, offered a seat on one of the "truck art" themed chairs before scurrying off to dress models for a photo shoot.
"I'm very fussy," said Russell, "Each of my items comprises a livelihood. There is a lot of dedication, hard work and a story behind each piece at Bibi Productions."
I sat excitedly to see the artist at work; Bibi Russell is easily one of the most inspiring Bangladeshis of the day. The first Bangladeshi woman to study in the London College of Fashion and a former international supermodel, Russell, a former international supermodel, set up Bibi Productions in 1995 to promote Bangladeshi textiles and handicrafts within the local as well as the international market.
Full report at:
http://www.thedailystar.net/beta2/news/fashion-livelihoods-and-bibi-russell/
----------------
Barack Obama invites first black Miss Israel to dinner
Yityish Aynaw, the first Ethiopian-born pageant winner, said the US president had been a 'notable influence in her life'
Phoebe Greenwood
13 March 2013
It will be one of the hottest tickets in town. When the US president, Barack Obama, arrives in Israel on an official visit next week, one of the highlights for the country's dignatries will be a dinner hosted at Israeli president Shimon Peres's home. And among those set to dine with the two presidents is the first black Miss Israel, Yityish Aynaw.
When the president's staff called to invite her to the dinnerAynaw, who was crowned just a few weeks ago, was understandably taken aback. "I didn't believe this was happening," she told the Jerusalem Post.
Full report at:
http://www.guardian.co.uk/world/2013/mar/13/president-obama-black-miss-israel
----------------
Pakistani activist shot dead in Karachi
By: Mansoor Khan | March 14, 2013
KARACHI - Renowned social worker and Director of Slum Rehabilitation Project known as Orangi Pilot Project, Parveen Rehman, was gunned down on Wednesday in an incident of target killing within the precincts of Pirabad police station.
Parveen Rehman currently working as Director of Orangi Pilot Project founded by Akhter Hamid Khan was shot dead when she was on her way home from Orangi Town.
DIG Javaid Odho, when contacted, told TheNation that the gunmen riding a motorbike targeted her near Abdullah College. Assailants managed to flee from the scene while she was taken to Abbasi Shaheed Hospital where the doctors pronounced her dead, DIG Odho added.
He further said that assailants targeted her specifically and did not harm the driver.
Full report at:
http://www.nation.com.pk/pakistan-news-newspaper-daily-english-online/national/14-Mar-2013/social-worker-parveen-shot-dead
----------------
Pakistani beauty honoured by Malaysian govt
March 14, 2013
The Best Model Pakistan organising committee has proven yet again that being the only and foremost pageant company of Pakistan, it has a responsibility and does not only nominate delegates from Pakistan who are just beautiful but people who are brainy as well. Last year Best Model Pakistan's very own beauty queen Fahmina Chaudhery Mirza made the headlines by being the first Pakistani woman to be crowned an international and the most coveted title of Ms Asian Queen International and this year again she has some great news for Pakistanis to express joy for and that is she has been awarded the 21st Century Asian Excellence Prestigious Cultural Achievement Award, an award established to give proper recognition to the outstanding achievements of the honouree by Asia's Excellent Entrepreneur Federation. She is honoured the award after her tireless efforts to bridge the cultural gap between Pakistan and the Asian countries. After winning the award, Fahmina said, "Pakistani women today are all set to expedite the space, yet here in Asia they are looked upon as sympathetic creatures, which is wrong and I am proud that I am born and have lived in Pakistan."
http://www.dailytimes.com.pk/default.asp?page=2013\03\14\story_14-3-2013_pg9_11
----------------
Five-Organ Transplant Patient Becomes a Mother in Miami
March 14, 2013
MIAMI: Miami doctors say they believe a five-organ transplant patient is the first to deliver a baby, making her the first reported case in the world.
Fatema Al Ansari was 19 and living in Qatar when she was diagnosed with a blood clot in a major vein to the intestine. In 2007, she underwent surgery at Jackson Memorial hospital in Miami and was given a new liver, pancreas, stomach and small and large intestine. Five years later, she gave birth to a girl.
Al Ansari faced some complications during pregnancy, but her doctors say she is capable of having more children.
Al Ansari says it's "the best feeling in the world" to be a mother. Her doctors add there are no reported cases of a five-organ transplant patient in the world giving birth. (AP)
http://www.thenews.com.pk/article-92141-Five-organ-transplant-patient-becomes-a-mother
----------------
Egypt's Muslim Brotherhood blasts anticipated U.N. women's document
14 March 2013
Egypt's Muslim Brotherhood sharply criticized an anticipated U.N. document on combatting violence against women, saying on Wednesday that it was "deceitful," clashed with Islamic principles and undermined family values.
The text or details of the document have not been published yet, but it may be issued at the end of a meeting of the U.N. Commission on the Status of Women this week in New York. Negotiations have been bogged down in debate.
The Brotherhood, which has emerged as the most powerful political faction in Egypt since the 2011 uprising, say the draft under discussion advocates sexual freedoms for women and the right to abortion "under the guise of sexual and reproductive rights."
Full report at:
http://english.alarabiya.net/en/News/2013/03/14/Egypt-s-Muslim-Brotherhood-blasts-anticipated-U-N-women-s-document.html
----------------
URL: https://www.newageislam.com/islam,-women-and-feminism/new-age-islam-news-bureau/frenchman-rips-off-muslim-woman's-veil/d/10766