New Age Islam News Bureau
21 Oct 2014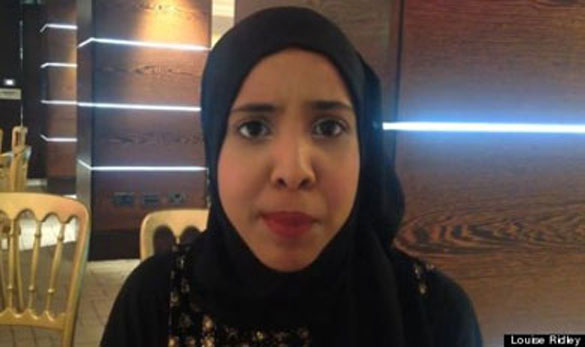 Teenage FGM Campaigner Fahma speaks out about FGM
-----------
• Paris Opera Expels Veiled Woman during Performance
• Teenage FGM Campaigner Reveals the Moment That Changed Her Life
• Terrorism-Themed Ads Aimed at Democratic Women Echo Bush
• Kenyan Girls Trading Sex for Food - One Woman's Battle to Help
• Female Kurdish Fighters Face down ISIL in Kobani
• The West's Female-Genital Mutilation Wake-Up Call
• Condemned Christian Woman to Take Blasphemy Case to Top Pakistani Court
• US Wife of Saudi Granted e-Mail Divorce
• Australia's Parliament House lifts face veil ban
• Pakistani Women-Specific Transport Project 'Tabeer' Closed Permanently
• ABVP: Live-in Relationships a Crime against Women; JNU Student Responds in Open Letter
• Badge of Honour: KP's Female Cops Break New Ground
• Sexual Violence 'Rampant' In South Sudan: U.N.
• Acid Attacks in Isfahan Have Nothing to Do With the Hijab, Say Iranian Officials
Compiled by New Age Islam News Bureau
URL: https://www.newageislam.com/islam,-women-and-feminism/new-age-islam-news-bureau/french-veil-ban-is-turning-muslim-women-off,-away/d/99650
------------
French Veil Ban Is Turning Muslim Women Off, Away
21 October 2014
PARIS (WOMENSENEWS)--Sarah B. is giving herself five years before she seriously considers leaving France.
"I am telling myself that my future is maybe not here," she said in an interview at a fast food restaurant in Paris in September. "If I cannot be accepted as I am, I will leave. I don't want to fight my whole life to be accepted. I also want to live peacefully and be free like any other woman."
The 18-year-old native of a Parisian suburb is thinking of other possible countries. "Maybe Canada or England. Or I will simply return to my parents' homeland: Morocco."
Like everyone interviewed for this article, she spoke in French and her words are translated. She asked not to use her last name because of fear of repercussions for expressing her opinion.
Sarah B. said she suffers discrimination that's tied to her religious beliefs and appearance in France, a country that partially bans religious head coverings. For Muslim women, that means the Hijab that covers their hair and chest.
In 2011, Sarah B. decided to start covering her hair with a veil and to dress modestly. She wears loose, long skirts and dresses that hide the shape of her body. But due to France's 2004 national ban on any religious signs in public schools, she takes off her hijab every time she enters the high school where she is pursuing her nursing studies. "It hurts," she said, when asked about how she feels when she removes it.
"I love France," she said. "It is a country that has offered me a lot but I am also entitled to my freedom. I have the right to be myself. The first thing when you live here is to feel French, but I don't feel French. The problem is that we will never be seen as French, we are just seen as Muslim."
A dozen French Muslim women interviewed for this article echoed Sarah B.'s sense of discrimination and rejection.
In the absence of any official studies assessing the economic and social impact of the law on Muslim women in France, the Feminist Collective for Equality, a Paris-based advocacy group, is conducting research that it plans to release in March 2015.
"This work falls on us since we are the ones committed to see the end of that law," said Ismahane Chouder, co-president of the collective. "No one cared up to now, neither the Ministry of Education, nor the government, not even the human rights groups or women's groups."
Conflicts Between Schools, Families
The Ministry of Education withdrew its decision to let Women's eNews interview the mediator in charge of solving conflicts between schools and families of veiled students.
"All conflicts were solved within two years of the passing of the law," Mireille Sibille, a ministry spokesperson, said in a phone interview.
Instead of leaving France, some Muslim women are taking "e-jobs," such as telemarketing or phone surveys, where they are hidden from the public and work either remotely or from behind a screen to not have physical contact with the outside world.
In one possible bright spot, some are launching their own businesses instead of continuing to fight for acceptance. The trend was detailed in an article in the French newspaper Le Monde in September. Many of the women featured in the article were working online, creating websites to sell clothing and accessories. One source in the article saw good markets for such women in the Halal food industry, finance, tourism, cosmetic and beauty, pharmaceutical products and learning games for children.
But for many veiled women, the ban is exclusionary. They withdraw into their own communities and look for jobs and internships with Muslim-owned businesses or organizations.
"Most of the interns we had at the CCIF were veiled women," Elsa Ray, the spokesperson at the Collective Against Islamophobia in France, said in an interview in the group's Paris office. "Because they know that we will accept them without questioning their veil."
Ten years after the 2004 ban, Ray describes the law as catastrophic for Muslim girls and women. "The consequences are not only terrible for the young girls directly affected by the law but also because of all the drifts that ensued . . . The voice of Muslim women has been taken away."
Rey is referring to other restrictions that followed the 2004 ban. In 2007, the government issued instructions to extend the religious sign restriction, including the hijab, to businesses serving the public, such as hospitals. In 2012, a memo issued by then-minister of education, Luc Chatel, banned women from wearing the hijab when accompanying their children on school outings.
Ray said the bans have made Muslim women more vulnerable to discrimination and violence than Muslim men "because they are more visible due to the veil they are wearing." Sixty-eight percent of Muslims in France were victims of Islamophobia in the form of violence or discrimination or both at least once in their lifetimes, found a June study by the Collective Against Islamophobia in France. Among those suffering discrimination, 76 percent are women.
For instance, once they enter an office, some Muslim women are told they cannot interview for a job because of their veil, Ray said. Others are asked inappropriate questions during an interview, she added. "'Do you pray five times a day?' or 'do eat halal?' are some of the illegal questions asked of Muslims when they show up at interviews."
Psychological Harassment Too
When veiled women manage to secure employment, Ray said her group has noted "several cases of psychological harassment in the workplace, co-workers and employers using insulting and degrading terms." There is no data to say how many women are turned away from the workplace and are now staying at home. "It is not necessarily their primary choice but the law has had an impact on a couple's life too. It becomes hard for the husband to see his wife being rejected everywhere she goes," said Ray.
Last year, however, an attempt to extend the ban to universities failed. The recommendation from the High Council of Integration didn't receive support from the presidents of universities, the Ministry of Higher Education and the National Observatory of Secularism.
Pierre Tevanian teaches philosophy at a high school in Drancy, about 6 miles from Paris. In 2008, he co-authored the book "Les Filles Voilées Parlent" (The Veiled Girls Speak Up). In it about 40 women who were students when the law was passed in 2004 share their stories.
Tevanian said that veiled Muslim women suffer such a shortage of work opportunities that they tend to pass on their jobs to another one Muslim woman when they leave or hear of an opening. "That is what they call 'les plans voilées' – 'the veiled network.'"
During an almost two-hour interview at a cafe in the Belleville district of Paris, Tevanian related numerous stories of Muslim women choosing expatriation, giving up work and educational opportunities and secluding themselves. Some, he said, spend years at university to keep themselves active, while some women choose to create their own business.
Laila Glovert, 33, left France four years ago for London, where she works as a health advisor in a clinic to help smokers quit. For all that time she has lived apart from her daughters and husband.
Career opportunities keep her in London but she is also hindered from returning to France by the memory of a woman who yelled at her to go back to her own country and hit her multiple times with her shopping trolley in the streets of Paris.
"I will never return to France," Glovert, who converted to Islam 13 years ago, told Women's eNews in an email interview. "The only thing that could take me back is the day my children can no longer deal with the distance. For now, I visit them often and they come see me during holidays."
Hajer Naili is a New York-based reporter for Women's eNews. She has worked for several radio stations and publications in France and North Africa and specializes in Middle East and North Africa women in Islam.
http://womensenews.org/story/religion/141020/french-veil-ban-turning-muslim-women-away#.VEY76iLF84U
-----------
Paris Opera Expels Veiled Woman during Performance
21 October 2014
France's government is drawing up a new set of rules for theatres after Paris Opera ejected woman for wearing a veil during a performance, the institution's deputy director said.
The incident took place when a veiled woman was spotted on the front row of a performance of La Traviata at the Opera Bastille, Jean-Philippe Thiellay told AFP, confirming a media report.
France brought in a law in 2011 banning anyone from wearing clothing that conceals the face in a public space, or face a 150 euro ($190) fine.
The woman was sitting just behind the conductor, visible to monitors, wearing a scarf covering her hair and a veil over her mouth and nose during the performance on October 3.
"I was alerted in the second act," said Thiellay, adding that "some performers said they did not want to sing" if something was not done.
France's ministry of culture said a bill was currently being drafted to remind theatres, museums and other public institutions under its supervision of the rules regarding veils.
The spectator and her companion -- tourists from the Gulf, according to MetroNews -- were asked to leave by an inspector during the interval.
"He told her that in France there is a ban of this nature, asked her to either uncover her face or leave the room. The man asked the woman to get up, they left," Thiellay said.
"It's never nice to ask someone to leave... But there was a misunderstanding of the law and the lady either had to respect it or leave," he said.
http://english.alarabiya.net/en/News/world/2014/10/19/Paris-Opera-expels-veiled-woman-during-performance-.html
-----------
Teenage FGM Campaigner Reveals The Moment That Changed Her Life
21 October 2014
At just 14 years old, Fahma Mohamed discovered something shocking.
The practice of female genital mutilation (FGM) was taking place in her own community. She asked her mother what the term meant.
What she discovered led Fahma to begin campaigning for the brutal ritual to stop. "I was in complete shock that this even existed," she told The Huffington Post UK.
Working with local charity Integrate Bristol, the schoolgirl has made an inspiring contribution against gender inequality and violence against young people arriving from outside the UK.
This year, now aged 18, Fahma launched a petition backed by The Guardian, demanding former education secretary Michael Gove write to every school in the country to urge them to safeguard girls from FGM.
Within three weeks, it attracted more than 230,000 signatures and won the support of Nobel-prize winning education campaigner Malala Yousafzai and UN secretary general Ban Ki-moon.
Gove bowed to pressure and met Fahma, before finally agreeing to write to teachers.
It hasn't been easy. She has been ignored and endured criticism and even threats for speaking out against the ritual, which is usually carried out on young girls.
But last week, she was awarded the Good Housekeeping Women Of The Year Award for Outstanding Young Campaigner of the Year, in recognition of her determination and commitment to warning girls and parents across the UK about FGM.
Lindsay Nicholson, the Editorial Director of Good Housekeeping, said Fahma "proves that you don't need access, influence or a large staff to effect real change – just passion, drive and overwhelming determination."
FGM involves the cutting off or partial cutting of a girl's genital organs. It is common in some African, Asian and Middle Eastern communities.
http://www.huffingtonpost.co.uk/2014/10/20/fahma-mohamed-fgm-campaigner_n_6014424.html
-----------
Terrorism-Themed Ads Aimed at Democratic Women Echo Bush
21 October 2014
More than in any election in the past decade, Republicans are counting on terrorism fears to win votes -- especially in races against women Democrats.
At least 60 terrorism- or national security-related ads have aired in congressional contests in such states as Georgia, Kentucky and North Carolina. They're running with the most intensity since President George W. Bush's 2004 re-election campaign, when the airwaves were full of ads depicting Democrat John Kerry as weak on national security, data provided by Kantar Media's Campaign Media Analysis Group show.
Of the top five Democratic targets, four are women.
"There is a phenomenon that I haven't seen in my lifetime, and that is this fear factor, whether it's Ebola or the wars," said Ed Rollins, a Republican who directed Ronald Reagan's 1984 presidential re-election campaign.
"If there wasn't the overarching fear out there, you couldn't run this without being painted as anti-woman," Rollins said. "It's a subtle or not-so-subtle way of saying: These candidates are not as strong as they should be."
One ad attacking Democrat Michelle Nunn, who is running for an open U.S. Senate seat in Georgia, says she has admitted that a foundation she ran for six years gave money to groups linked to terrorists -- a claim deemed "pants on fire" false by Politifact Georgia.
A spot criticizing Kentucky's Alison Lundergan Grimes replays President Barack Obama stating his middle name -- Hussein -- as he takes his oath of office. Democrat Grimes is challenging Senate Republican leader Mitch McConnell.
Closing Arguments
Heading into the final two weeks of the midterm congressional campaigns, the ad wars are punctuating the two parties' closing arguments in contests that will determine who runs the U.S. Senate. Republicans need a net gain of six seats to win the majority.
In their ads, Republicans are seeking to redirect the conversation to national security concerns that are likely to surpass other issues for many independent female voters, said a party strategist with knowledge of the approach.
Bob Shrum, a Democratic Party strategist, rejected that explanation. "I don't think it's just about moving women from thinking about women's issues," he said. "It's about playing on stereotypes about women" being weak on security.
Republicans, who historically poll better than Democrats on national security, were given an opening to focus on the matter by the beheadings of journalists by Islamic State extremists and the U.S. airstrikes in Syria. Those events raise the specter of greater U.S. involvement in the Middle East.
'Security Moms'
As Democrats step up assaults on Republicans such as Representative Cory Gardner in Colorado's Senate race for his record on gender issues, Republicans are seeking to narrow the rival party's advantage with women voters by appealing to "security moms." That's a demographic that Bush effectively cultivated after the 2001 terrorist strikes.
One 2004 ad had an especially big effect in the crucial state of Ohio, said Shrum, who was then a senior Kerry adviser. It featured a girl whose mother was killed in the World Trade Center attacks praising Bush for trying to "make sure I'm safe."
Unlike the Kerry campaign -- which waited weeks to respond to criticism of his experience in military service during the Vietnam War -- Senate Democrats this year have swiftly countered.
'Terrible Lie'
"That's a terrible lie and an insult to the millions of volunteers I worked with to make a difference," Nunn says in a spot about the supposed terrorist funding by the institute she headed, which is tied to the Bush family. "President Bush's son called it shameful."
Incumbent Senators Kay Hagan of North Carolina, Jeanne Shaheen of New Hampshire and Mark Udall of Colorado -- all in tough contests to keep their seats -- have put up ads responding to attacks.
The Republican ads are playing into worries among many Americans that the U.S. is less secure because of recent crises.
A poll released yesterday by Politico showed that voters in the most competitive races are voicing growing concern about terrorism and the Ebola virus, and are skeptical about both political parties. Two-thirds of likely voters in those states said the U.S. has "lost control of its major challenges," Politico said.
Women Candidates
Many of the spots raising terrorism alarms are running in Senate battlegrounds against women candidates. Others are airing in states such as Colorado where Democrats are pressing a "war-on-women" theme -- an effort to publicize Republican policies such as limiting access to birth control and abortion, and encompassing equal pay and violence against women.
The ads are sponsored by outside spending groups including Ending Spending Inc. and American Crossroads, as well as the National Republican Senatorial Committee and individual campaigns. The ad attacking Nunn was paid for by the NRSC and the spot aimed at Grimes was funded by McConnell's campaign.
Terrorism-related ads have run more than 2,000 times against Grimes and Nunn and almost 2,000 times against Hagan, CMAG data show. By comparison, in Arkansas, where Democratic Senator Mark Pryor is on the ballot, and Iowa, where Democrat Bruce Braley is running for the Senate, such ads have aired just over 200 times.
Udall, who has hammered Gardner on women's issues in their Senate contest, including the Republican's support for curbing abortion rights, has been attacked 770 times in such ads.
Colorado Contest
At least one of the Republican groups spending the most on broadcast ads, American Crossroads, is focusing its final batch of commercials in Colorado on terrorism. Udall, who had missed a February hearing on Islamic State, was caught on camera saying the group didn't present an "imminent threat" to the U.S. His comment came before the beheadings of the journalists.
A spot aimed at North Carolina's Hagan features a military mom named Nancy Anderson, who says her son is a U.S. Marine.
"It makes me so mad to see how the president's weakness has allowed the Islamic State to grow," she says into the camera. "And Senator Hagan, she just goes right along with him," she said. "We can't let our kids die in vain."
Democrats argue that the attacks are unfair, saying Obama has kept the U.S. safe from another Sept. 11-type attack.
Ten years ago, Bush and his party tried to make the same case. "He was the president and he had protected the nation," Shrum said. "It was a classic don't change horses in the middle of the stream argument," he said. "What's going on this year is just to raise fears."
House Races
The spots are also running in a number of House races and against men, including one in Minnesota that calls Democratic Representative Rick Nolan "dangerously liberal." Another sponsored by the National Republican Congressional Committee warns that Islamic State terrorists "are actively working to come for us," claiming that Nolan voted to release fighters held at Guantanamo Bay.
Yet with the Senate in play, most of the attention is focusing on contests for that chamber.
In Georgia, Politifact says the claim by Republican David Perdue that Nunn's Points of Light institute funded terrorist groups is based on MissionFish, a business that Points of Light once owned that collected donations for about 20,000 charities.
One charity, Islamic Relief USA, that received money from MissionFish has partnered with the umbrella group Islamic Relief Worldwide. While Israel has accused IRW of having links to Hamas, a U.K. commission found no ties, according to Politifact. The U.S. and Israel have designated Hamas a terrorist group.
Voter Trust
Republicans are trying to take advantage of one of the policy areas where voters still trust men more than women.
Americans prefer women to handle numerous policy challenges, including health care, education, Social Security and immigration, said Dianne Bystrom, an expert in women candidates and political ads at Iowa State University.
Men still hold a decisive advantage on terrorism and crime, she said. "It's something they're going to try," she said of Republicans, especially "in close races where women may not be seen as tough."
http://www.bloomberg.com/news/2014-10-21/terrorism-themed-ads-aimed-at-democratic-women-echo-bush.html
-----------
Kenyan Girls Trading Sex for Food - One Woman's Battle to Help
21 October 2014
Nairobi — The alcohol lining the 12-year-old Kenyan girl's stomach did nothing to quell her hunger pangs.
So when one of her mother's drunken customers, in the one-room drinking den that doubles as their home in Nairobi, offered her a boiled egg in exchange for sex, she agreed.
Brittanie Richardson, a 27-year-old American campaigning against the child sex trade in Kenya, witnessed the act during a routine visit to meet the family and felt powerless to act.
"The room was full of people: men, women, the mum is there, the sister. It was one of those things where you felt you should try and be the knight in shining armour and just grab the kid," Richardson told the Thomson Reuters Foundation.
"But I kept reminding myself, I could snatch this kid right now and then be this enemy in this community or I can sit and make relationships. It just broke my heart that rape had become so normalised.
"When she finished, she just sat and ate her egg with a blank stare."
In Nairobi's overcrowded slums, hungry children often trade their bodies for a few coins or food. The city of about 3.1 million people is home to two million slum dwellers, and the Kenyan capital's slum population is growing by 6 percent a year.
Kenya has up to 30,000 child sex workers, according to the United Nations children's fund, mainly along its palm-fringed tourist beaches, with child prostitution widely acknowledged as a problem that needs to be tackled by stronger law enforcement and by giving the youngsters a way out.
BROTHEL RESCUES
Richardson, from Atlanta, Georgia, had no idea of the extent of the problem in Kenya until she started travelling regularly to Africa while at college, initially to South Africa to help fight social injustices and then to Mozambique.
A meeting with a Canadian woman in Mozambique who needed help to set up a rescue home for children caught up in the sex industry led Richardson to the Kenyan town of Mtwapa, a notorious red-light district on the coast.
"It was a time of being heartbroken and shocked. Seeing a 15-year-old, much less an 8-year-old, telling me that she has to have sex to eat was completely shocking," Richardson said.
"I hated it. I couldn't speak the language. I had never been a parent. We had these kids in the house that we were supposed to take care of... They are traumatised, they can't sleep, I can't sleep."
Richardson found herself becoming one of a growing number of activists running grassroots campaigns to stop grinding poverty from sending children from the slums into the sex trade.
She would sneak into brothels, strip clubs and alleys, sometimes posing as a prostitute, to lure girls away, an experience she described as "terrifying".
But after two years of running the Mtwapa rescue centre, Richardson wanted to do more to help and in April this year set up the charity Art and Abolition which aims to help "sex slaves" through the performing arts, therapy and education.
Assisted by a local social worker, Richardson selected 10 girls aged between eight and 16, who were living in the slum of Sinai to take part in her programme. Sinai is one of about 200 slum settlements in the city.
"All 10 of them have either been raped or been forced by poverty or their parents to have sex for money," said Richardson, who has dreadlocks, a broad smile and the word 'Love' tattooed inside her left arm.
RECOVERY THROUGH ARTS
Richardson said her commitment to her work stemmed from personal experience as she was sexually abused as a child by a close family member but everyone tried to ignore it.
She credits the Freddie Hendricks Youth Ensemble of Atlanta, a theatre company founded by a jazz trumpeter, for saving her.
"I saw what the arts and genuine love did for me as a survivor and I wanted to do it for more girls," said Richardson.
"It built up so much self confidence in me. It was just a really free space, full of a love that none of us had ever had before, and so it really just changed my life."
Art and Abolition ran its first camp in August - a week of music, dance, drama and visual arts - culminating in a performance. A two-week camp is planned for December.
But her work comes at a cost and Richardson has managed to garner the support of a dozen artists and activists in New York who are holding fundraisers for Art and Abolition this month.
They include U.S. model Cameron Russell - who gave a notorious TED talk called 'Looks aren't everything' where she changed from a black micro dress into a long floral skirt to show the power that image has over our lives - and Morley, a New York singer-songwriter who has performed with Sheryl Crow.
Richardson said it was heartbreaking that in Sinai's fetid alleys, most of the girls' mothers were alcoholic sex workers. Some knowingly sent their daughters out to sell their bodies while others forced them into situations where they were raped.
The youngest girls in her programme are sisters, aged eight and 10, whose mother made them sell peanuts in a local nightclub. Both of the girls were raped.
Their mother was in denial until Richardson took the children for medical examinations and confronted her, making her come to terms with what she was doing to her daughters.
Richardson said she no longer judged women who sold their children after her work in Kenya.
"After I hear their stories and I get to know these women, I realise that they really are not different to us at all. I probably would have done it too," she said.
http://allafrica.com/stories/201410200310.html
-----
Female Kurdish Fighters Face Down ISIL In Kobani
21 October 2014
Kurdish women make up nearly one third of the People's Protection Units (YPG) now battling the "Islamic State of Iraq and the Levant" for Syria's Kobani, activists and analysts tell Al-Shorfa.
"Kurdish girls and women are no different from men in terms of rights and duties," said Shirin Kobani, who joined the Women's Protection Unit (YPJ) more than 10 years ago and currently resides in the city, also known as Ain al-Arab.
With regard to her name, she said, fighters who join a combat unit take on a nom de guerre and their real name is not revealed until "after his or her martyrdom, or if absolutely necessary".
The news about how ISIL abuses women "increases the women's strength and determination to fight this savage group", she said.
Women "will not submit to ISIL to be raped, or enslaved, or subjected to their teachings that are alien to true Islam", she said.
Since joining the unit, Kobani said she has received training on the use of weapons of all types.
New recruits undergo a five-week basic training that includes military training and classes in politics and history, she said.
These courses continue on a regular basis so everyone is ready at all times for any emergency, she said.
DEFENDING KOBANI
Kurdish fighters of both sexes were previously grouped together under YPG leadership, said Ocalan Sheikhi, a Kurdish activist from Kobani who does relief work on the Syrian-Turkish border.
However, men and women were separated in 2012 and the YPJ was established after the number of female volunteers rose sharply, he said.
Most of Sheikhi's female relatives in Kobani have remained in the city to defend it, and are currently fighting with YPG and YPJ units, he told Al-Shorfa.
Sheikhi estimated the number of female fighters at more than 6,000, in addition to those working in rescue, medical, supplies and communications units.
Dozens of female fighters have fallen in the recent battles with ISIL in Kobani, he said.
Among the most prominent of the female fighters is Nalin Afrin, who leads the women's battalions and is the deputy commander in chief of YPG units in Kobani, Sheikhi said.
WOMEN'S BATTALIONS THROUGH HISTORY
The Kurdish female fighters' participation in the military operations in Kobani "is not a new phenomenon or merely an isolated case imposed by the reality in Kobani", said Syrian journalist Mohammed al-Abdullah, who currently resides in Cairo.
Women and girls between the ages of 16 and 40 have been recruited as fighters in the past, he told Al-Shorfa, and this is not limited to a particular party or region, but is widespread in Syria and Iraq.
There are other women's groups fighting ISIL in Mount Makhmour in Iraq, al-Abdullah added.
Military analyst Maj. Gen. Abdul-Karim Ahmed, who is retired from the Egyptian army, spoke to the positive impact that the involvement of women's groups in the fight for Kobani has had.
"The reports being circulated via the media about the participation of Kurdish female fighters in Kobani has a positive psychological impact in the confrontation with ISIL," he told Al-Shorfa.
Kurdish women's participation exposes the real face of ISIL and its mistreatment of women as inferior to men, he said.
The women's participation also has military implications, as it significantly augments the fighting force, he added, and military operations will be easier and more successful "with the female fighters reinforcing the [male] fighters".
http://al-shorfa.com/en_GB/articles/meii/features/2014/10/20/feature-01
-----------
The West's Female-Genital Mutilation Wake-Up Call
21 October 2014
The U.K. alone is now treating 300 women and girls each month for the after-effects of the brutal, unnecessary surgery. We need Obama to follow through on his promise to eradicate it.
New figures from the U.K. are finally revealing the true extent of female genital mutilation: In just six months, nearly 2,000 women and girls have been treated by Britain's National Health Service after undergoing the brutal procedure.
And with these statistics, which have been made available for the first time, hiding from the issue is no longer an option for Britain and the U.S.—and President Obama's pledge to eradicate this abuse has never been more pressing.
While FGM—the process of removing either parts or the entirety of the external female genitalia—has been a federal offense in the U.S. since 1996, a dearth of tangible data has meant years of Western authorities theorizing on the extent of (and solution to) the problem—with few results. Though the past year has seen a number of legislative steps being taken toward both identifying victims and punishing perpetrators, these calls to action have largely occurred on paper, and convictions remain nonexistent.
"The NHS is getting real numbers based on real cases, and this takes [these measures] out of the theoretical discussion and clearly puts it into the context of individuals," says Shelby Quast, the Washington-based policy director of women's rights organization Equality Now. "It's a very high number, but this is just the tip of the iceberg."
A prevalence study has been pledged, but like so many measures of this ilk that have been discussed, whether it will be put into practice remains to be seen.
For the U.K., a nation of 64 million people, this number is staggering: An average of around 300 girls and women are being treated for FGM each month; not far off 100 per week, more than 10 every single day. The report's findings have been an unsettling glimpse into the enormity of the practice and the problem—one which is now more visible, certainly, but still lacks the training and funding required before real changes can be implemented.
Former U.S. Rep. Mary Bono, who played a major role in the passing of a bill against FGM "holidays" (in which girls would be taken to their parents' native countries to undergo the procedure), describes the latest findings as "disturbing on many levels."
"Two thousand women may have been seen by medical professionals, but that doesn't account for the many others who have suffered without any treatment," Bono said. "Unfortunately, the issue is almost completely ignored in the U.S., even though it is occurring here as well."
In the past few months, Washington has made further promises about how it will deal with FGM, in meetings with senior-level officials from the White House and Department of Justice, as well as human-rights workers, as recently as early October. A prevalence study has been pledged, but like so many measures of this ilk that have been discussed, whether it will be put into practice remains to be seen. "It's good news that we're seeing a lot in terms of commitments," Quast adds, "but it's also extremely important that we don't stop there."
In terms of transparency, the U.K. has taken a vital step forward by openly quantifying the extent of the situation. For too long, issues deemed as "foreign" by Western governments have been allowed to permeate communities, neighborhoods, families—all because they have taken root elsewhere first. Whether it's a major health epidemic, the mass kidnap of children, or girls undergoing bodily mutilation, it is no longer good enough to just hope that these problems won't infiltrate our soil.
And, shocking as these recent numbers are, we must bear in mind that what trickles through to America or Britain is a tiny fraction of the issue elsewhere. With FGM found to be common practice in 28 African countries by the World Health Organization, and a quarter of those nations with a "cutting" rate of more than 85 percent, the scale of this violence is almost unimaginable.
It is not America's job to solve Africa's problems, but we can't continue to dismiss this as the troubles of a faraway land. We have a responsibility to help those who need it —wherever they may be in the world—and to ensure that the promises readily espoused as convenient soundbites really do become a reality.
http://www.thedailybeast.com/articles/2014/10/20/the-west-s-female-genital-mutilation-wake-up-call.html
-----------
Condemned Christian woman to take blasphemy case to top Pakistani court
21 October 2014
Islamabad, Pakistan (CNN) -- A Christian woman sentenced to death for blasphemy in Pakistan plans to take her case to the country's highest court after a high court last week rejected her appeal, her attorney says.
Asia Bibi, a mother of five from Punjab province, was accused of defiling the name of the Prophet Mohammed during a 2009 argument with Muslim fellow field workers.
The workers had refused to drink from a bucket of water she had touched because she was not Muslim.
In November 2010, a Pakistani district court found Bibi guilty of blasphemy. The offense is punishable by death or life imprisonment, according to Pakistan's penal code, and Bibi was sentenced to hang.
On October 16, the Lahore High Court upheld the verdict.
Human Rights Watch described the court's decision as a "disgrace to Pakistan's judiciary."
"Asia Bibi's case is an example of how Pakistan's vaguely worded blasphemy law has led to discrimination, persecution and murder since its imposition almost three decades ago," spokesman Phelim Kine told CNN.
Bibi's attorney, Naeem Shakir, told CNN on Monday that he would file an appeal once he had received a detailed copy of the judgment.
"I have a very strong case, I am sure the Supreme Court will provide us with relief. There is no concrete evidence against Asia Bibi, and the courts are only relying on the statement on those two women," Shakir said.
Blasphemy allegations
At a 2010 media conference, Bibi said the allegations against her were lies fabricated by a group of women who didn't like her.
"We had some differences, and this was their way of taking revenge," she said.
An investigation by Shahbaz Bhatti, who was then Pakistan's minister for minority affairs, also found the charges stemmed from religious and personal enmity, and he recommended Bibi's release.
Bhatti was the only Christian member of the Cabinet in Pakistan, where 95% of people are Muslim, and had opposed the blasphemy law. In 2011, he was assassinated in Islamabad.
The Pakistan Taliban claimed responsibility, saying the killing was "a message to all of those who are against Pakistan's blasphemy laws."
Two months earlier, the governor of Punjab province, Salman Taseer, had been shot dead by his security guard because he, too, had supported Bibi and spoken out against the law.
Court reaction
Speaking Monday after last week's verdict, Shakir admitted also feeling that his life was in danger.
"I do feel threatened. Even in the court, there were some two dozen people who were against Asia Bibi. I have not received any threats literally, but the presence of people there makes the environment very hostile toward us," he told CNN.
Those calling for Bibi's execution welcomed the court's ruling, Shakir said: "Some of them were so overjoyed and happy that they started crying in delight on hearing the decision of the court."
Qari Saleem, one of the clerics pursuing the case, told CNN via phone that Bibi deserved the punishment. "I am very happy at the decision of the court, and justice has been done," Saleem said, adding that sweets had been distributed in court after the ruling "out of joy and happiness."
Human rights groups' reaction
Initial news of Bibi's death sentence sparked outrage among international human rights groups, which condemned Pakistan's blasphemy law as a source of violence and persecution against religious minorities.
Human Rights Watch's Kine said the law largely targeted religious minorities and was "all too often manipulated to seek personal disputes."
"Pakistan's Prime Minister Nawaz Sharif should use the power granted to him under Pakistan's Constitution to end Asia Bibi's nightmare of years of imprisonment and the threat of a death sentence by pardoning her and repealing or reforming the country's blasphemy law to prevent such tragic mockeries of justice from occurring in (the) future," he said.
Amnesty International last week described the decision as "a grave injustice."
"Asia Bibi should never have been convicted in the first place -- still less sentenced to death -- and the fact that she could pay with her life for an argument is sickening," an Amnesty spokesman said.
In 2010, Pope Benedict XVI called for Bibi to be released, and in 2012, activists presented a petition to the U.N. Human Rights Council calling on Pakistan to free her.
Bibi wrote about her ordeal in a 2012 book called "Get Me Out of Here." It includes a letter she wrote to her family urging them to have faith in God. "My children," she wrote, "don't lose courage or faith in Jesus Christ."
http://edition.cnn.com/2014/10/20/world/asia/pakistan-asia-bibi/index.html
-----------
US Wife of Saudi Granted e-Mail Divorce
21 October 2014
An American court has approved a woman's plea to get a divorce from her Saudi husband via e-mail after the man left the country with her three kids and prevented her from seeing them.
The judge, Robert Sakfaj, agreed to the request made by the woman after she proved that she could no longer communicate with him in any other way.
An arrest warrant has been issued for kidnapping the children and refusing to return to the country, which is a violation of the custody rights previously granted to the mother, in addition to failing to attend a hearing on the matter.
Jessica, who filed for divorce last April, said that they have been married since June 2004.
"I am tired of being married to a person who took my kids from me and continues to deprive me of seeing them, while doing everything in his power to make our lives miserable," she said.
The husband was a master's degree student at the Shippensburg University of Pennsylvania and left the country on Nov. 24 last year with his children, nine-year-old Mohammed, seven-year-old Ibrahim, and five-year-old Ilyas, after the court granted them approval to visit their father.
The court saw evidence confirming that he had received official documents via e-mail before.
The judge also ruled that the mother is entitled to their family car after registration expired last month and her husband failed to renew it.
http://www.arabnews.com/saudi-arabia/news/647196
-----------
Australia's Parliament House Lifts Face Veil Ban
21 October 2014
Australia's Parliament House on Monday lifted a short-lived ban on facial coverings including Burqas and Niqabs after the prime minister intervened.
The department that runs Parliament House had announced earlier this month that "persons with facial coverings" would no longer be allowed in the open public galleries. Instead, they were to be directed to galleries usually reserved for noisy schoolchildren where they could sit behind soundproof glass.
That announcement was made just as Parliament's last two-week session was ending and had no practical effect.
On Monday, the Department of Parliamentary Services, or DPS, said people wearing face coverings would be allowed in all public areas of Parliament House.
It said face coverings would have to be removed temporarily at the front door so that staff could "identify any person who may have been banned from entering Parliament House or who may be known, or discovered, to be a security risk."
A DPS official, who declined to be named, citing department policy, said that by late Monday no visitor to Parliament House that day had a covered face. Face veils are rarely seen in the building.
The ban had been widely condemned as a segregation of Muslim women and a potential breach of anti-discrimination laws.
Prime Minister Tony Abbott has said he wasn't notified in advance and had asked House Speaker Bronwyn Bishop to rethink the ban.
The restriction had been authorized by Bishop, who has campaigned for a ban on Muslim head scarves in schools, as well as Senate President Stephen Parry.
The controversy came as the government attempts to assure Australia's Muslim minority that new counterterrorism laws and police raids on terror suspects' homes in recent months were directed at countering criminal activity, not any particular religion.
The opposition welcomed the overturning of the ban and demanded an explanation for it.
"In 2014 for two weeks, the official policy of the Australian Parliament was to practice segregation and we need to ensure this does not happen again," senior opposition lawmaker Tony Burke said in a statement.
Parry said the veil ban was not made on the advice of police or the national domestic security agency.
He told a Senate committee that the ban had been warranted as an interim measure because of police advice that 10 men and women had plotted to "disrupt" the House of Representatives "wearing garments that would prevent recognition of their facial features and possibly their genders."
That never happened. But Bishop told Parliament that she and Parry would have been "derelict in our duty" if they had not dealt with it.
Security has increased at Parliament House since the government raised its terror warning level last month in response to the domestic threat posed by supporters of the Islamic State group. Australia is participating in the U.S.-led coalition against Islamic State militants in the Middle East.
http://english.alarabiya.net/en/News/world/2014/10/21/Australia-s-Parliament-House-lifts-face-veil-ban.html
-----------
Pakistani Women-Specific Transport Project 'Tabeer' Closed Permanently
21 October 2014
ISLAMABAD: The women specific transport service `Tabeer' finally decided to close its operations permanently despite the huge demand of women commuters for a separate facility to travel with comfort. The pilot project was launched in February 17 for three months, which was completed in May 17 and declared to be successful from the concerned authorities. At that time the project was stopped for a month, taking the excuse of construction work at Murree Road and it was announced repeatedly by Rawalpindi Transport Authority high-ups that it would be restored after the completion of the pillar works at Murree Road for Metro Bus Service. The statements of Regional Transport Authority officials appeared in sections of press repeatedly, that the project remained successful and more vans would be deputed for the convenience of women who had a long demand of respectable transport service for them. However, on contacting Secretary Regional Transport Authority (RTA), Awais Manzoor, who was confident to restore the bus service after the completion of pillar work at Murree Road here on Sunday said that the project is finally closed. He said women transport issues would be solved with the start of the Metro Bus Service in twin cities of Rawalpindi and Islamabad in January next. He further informed that the bus has a capacity of around 80 seats among which 35 percent would be reserved for women only and according to the plan 25 buses would ply on the route so there would be no difficulty for the passengers to reach their destinations. Giving details of the fare for the Metro Bus Service, the Secretary RTA said it is expected to be same as the fare in Lahore, which is Rs. 20 for each person. Separate transport service for women is a longstanding demand of the females of twin cities of Rawalpindi and Islamabad who have to wait for hours at bus stops especially in the morning and evening when everyone is in a hurry to reach their destination. The two front seats reserved for women in public vans are not enough to cater their need as they decision was taken three decades back when the ratio of the workingwomen was quite low and only few women would step out of their homes, mostly for an emergency or any severe issue.
http://www.dailytimes.com.pk/islamabad/20-Oct-2014/women-specific-transport-project-tabeer-closed-permanently
-----------
ABVP: Live-in Relationships a Crime against Women; JNU Student Responds in Open Letter
21 October 2014
Just a month back, Akhil Bharatiya Vidyarthi Parishad (ABVP), the student wing of Bharatiya Janata Party, strode into power in the Delhi University Students' Union elections and promised to change the face of the prestigious university.
Having never been one to make politically correct statements or evolve with changing times, ABVP's latest "Cultural Values" campaign launched in the campus earned them ire from the more liberal students.
Quite admirably aimed at ensuring women's safety, the defenders of the Indian culture contend that "Live-in relationships go against the grain of Indian culture and the institution of family. It is also true that hardly any such relationship succeeds."
ABVP has started a campaign to dissuade students from live-in relationships, and has promised to start a campaign against love jihad when the college re-opens.
"We are not against love and it is not our intention to target a particular community, but forced conversion of Hindu women by Muslim men using unethical means is a worrying trend and is a reality today," ABVP national secretary Rohit Chahal clarifies to The Indian Express.
The campaign against live-in relationships, which, according to the ABVP stand against the very institution of the family, apparently is part of the union's awareness drive against atrocities on women.
"The campaign was to express concern on rising crime against women. And we think that live-in relationships contribute to that because unlike marriage, live-in relationships don't give financial security to a girl. They are against Indian culture. There are many cases of girl alleging rape by their boyfriends, and that has to stop," Saket Bahuguna, a representative of the party, told The Times of India.
While many progressive-thinking students and teachers voiced their opinion on the campaign being archaic, Aparna Mahiyaria, a student at Jawaharlal Nehru University (JNU), sent Chahal a letter explaining the ebb and flow of actually being in a live-in relationship with someone raised in another religion, specifically, a Muslim. The letter was published in Scroll.
She begins the letter by painting a picture of her life with her boyfriend: "I have a boyfriend. We live together. He is adept with household work and shares it equally with me. Not only that, we are each other's emotional support in any situation of crisis and trouble. It is a beautiful feeling to come back home (at whatever time) to him".
Hailing from a seemingly orthodox Hindu family that staunchly supports the RSS, she knows of the suffocation in being forced into a marriage based purely on family and religious status. She prefers a live-in relationship with her boyfriend, who she is "hopelessly in love with".
The JNU student also demands that if ABVP really wants to respect women, they have to respect the decisions made by women too, for after all, women are able, rational beings: "Respecting women is about respecting their choice ‒ even the choice to say no. Women are able, rational beings ‒ by the virtue of being humans, and anyone who thinks they respect women must first acknowledge their ability to make decisions for themselves."
She concludes the letter by asking the puritan party if they could understand the concept of two people devoid of any religion or caste identities come together as equal partners in a relationship.
http://www.ibtimes.co.in/abvp-live-relationships-crime-against-women-jnu-student-responds-open-letter-611831
-----------
Badge of Honour: KP's Female Cops Break New Ground
21 October 2014
Were it not for Officer Afshan, Swabi's Nasreen Bibi* might never have entered a police station to lodge a complaint. Her husband had levelled baseless accusations at her and tortured her, and Nasreen was left with no option but to approach the local police station in Kalu Khan.
"I had arrived from the village of Dagai; I approached the female official at the women's desk with my complaint," narrates Nasreen. "The officer then sent male policemen to bring my husband over to the station. He apologised for his mistakes, and pledged before the cops that he would not repeat them."
Nasreen found the assistance so useful that her trust in the police was reposed. Based on her experience, she now believes that if something untoward happens again, she would not hesitate to visit the police station again. Officer Afshan had made a huge difference to Nasreen's life.
These are incremental changes in Khyber Pakhtunkhwa — young women are not just recognising crimes committed against them, but are now also standing up to be counted in policing and law enforcement across the province.
In Malala Yousufzai's home province, young women are slowly but surely assuming more policing duties
One such brave woman is Dr Anoosh Masood: she is the first-ever woman assistant superintendent of police (ASP) in the province. "I opted to join the police because I knew I would find a huge forum to help people; more women are needed in this field," remarks Dr Masood.
But she is not the only one: another young woman, Sonia Shamroz, who belongs to a prominent family of Khyber Pakhtunkhwa, is currently undergoing training at the National Police Academy (NPA) and will report to the province once she has graduated.
In July last year, the Khyber Pakhtunkhwa government had introduced women desks in about 56 police stations across the province. Ihsan Ghani, a former inspector general of police presently serving as director general of the National Police Bureau, argues that the purpose of setting up the female counters was to facilitate women who would not enter a male-dominated police station, or were reluctant to visit male counters to lodge their complaints.
"These desks were set up to provide help to women through women cops, so that they can be better heard and helped," says Ghani. The plan was to introduce the desks at all the police stations to facilitate women complainants. Swabi and Swat were the first districts to set up female counters at the women police station, followed by Peshawar and other districts. However, a few police stations are yet to get the facility.
And yet, the initiative has started showing tangible benefits.
"Women were reluctant to visit police stations but when they came to know about the women desks, they started turning up to register their complaints," recalls Officer Afshan. She was among the first three policewomen who took over the job of lodging complaints for women complainants at her separately established desk.
The poor ratio of women among police officers is also reflected by the fact that there are only 16 women among hundreds of PSPs in the country. The ratio of junior female officers would be probably higher in the National Highways and Motorway Police, where they can be seen patrolling in almost all parts.
The success of the women's complaint desk has coalesced well with the aspiration of young women such as Dr Anoosh Masood. Having won a gold medal in Medicine, Dr Masood was a busy medic before she donned the police uniform.
"It is good to be in mainstream policing; the job is quite challenging," she says. Dr Masood was first posted in Lahore but later transferred to the picturesque Abbottabad district to join up with her family. Her spouse is also an ASP-Under Training in Abbottabad.
"I preferred Pakistan over the US for my specialisation," recalls the young ASP from the 40th Common Training Programme (CTP) of the Police Service of Pakistan (PSP). "Women are more dedicated. And being a PSP officer is more a kind of an administrative job, which is why I preferred it over medicine."
The induction of more women in the police force started from Abbottabad; the tranquility in the city lends itself to more favourable conditions for women officers as compared to other districts of the volatile KP. This is probably why the two female cops promoted as deputy superintendents of police (DSPs) in mid-September were both from Abbottabad. Nazia Noreen, promoted as DSP, was also serving as station house officer (SHO) of the Women Police Station in Abbottabad till her promotion. Another DSP, Shahzadi Noushad, is presently posted in the Police Training College in Hangu.
"Both the officers promoted to the rank of DSP, Shahzadi and Nazia, are professional, experienced and committed police officers. We have another female officer, Inspector Samina Zafar, as the in-charge of the complaint cell at the district police officer's (DPO) office," remarks Abbottabad DPO Mohammad Ali Gandapur.
According to Gandapur, the in-charge of the complaints cell as well as the station house officers (SHOs) of the women police station are dealing with cases, complaints and matters related to women — either as complainants or as the accused. He was full of praise for Dr Masood too. "The attachment of ASP-UT Dr Anoosh Masood is almost over. She will graduate from the NPA in a couple of months, and will report to the central police officer in Peshawar for further posting," adds Gandapur.
Swabi DPO Sajjad Khan too believes that the women's desks across the district are doing a great job in delivering justice to women. "We have appointed educated and committed female officers at these desks to better help out complainants from their own gender," he says.
The provincial police bosses have recently decided to give 10 percent quota to women in recruitment in all ranks. The province normally recruits constables on their own, while assistant sub-inspectors and in some cases sub-inspectors through the provincial public service commission. The province is to recruit 29 females as assistant sub-inspectors through PCS in the coming months. Female constables and head constables can also compete for over 320 posts of ASIs that are to be selected from the in-service cops.
"It is good to see women getting promotions in police, but more women need to be promoted to higher levels as well — as DIGs, AIGs and IGs," says Bushra Gohar, former MNA and central vice-president of the Awami National Party (ANP). "At all levels, 33pc women are required to ensure meaningful improvement. Mostly women are restricted to the lowest levels with very few opportunities of upward mobility. Women face huge challenges working in the Police department," says Gohar.
According to a media report in 2013, Pakistan has only 0.89pc women in the police force; this ratio is seven percent in India, 1.9pc in Bangladesh, 27pc in UK, and 12pc in the United States. The federal capital had 1.2pc females in its police force.
The poor ratio of women among police officers is also reflected by the fact that there are only 16 women among hundreds of PSPs in the country. The ratio of junior female officers would be probably higher in the National Highways and Motorway Police, where they can be seen patrolling in almost all parts.
Helena Rizwan, was the first ever female to have been recruited in the PSP track as ASP. Belonging to the 23rd CTP, Helena remained all alone across the country before Maria Mahmood was recruited in the 35th CTP. And then women started finding their way into the force as senior cops. Helena was recruited in 1997 while the second ASP Maria joined the police force in 2010.
Twelve women ASPs have graduated from the NPA since 1997, while four ASPs are about to graduate in a couple of months. In 2011, four women graduated as ASPs, including Amara Athar, Shaista Rehman and Nida Riaz Chatta from Punjab and Syed Zahida Bukhari from Khyber Pakhtunkhwa. Sindh got its first female ASP the very next year when Irum Awan passed out from the NPA. Two other ASPs in her batch included Irum Abbasi from Khyber Pakhtunkhwa and Riffat Haider from Punjab. In the last three years, one ASP was recruited in 2012, two in 2013 while four will pass out this year. Among the 16 ASPs so far, the highest number, 10, came from Punjab. Sindh, Punjab and KP all have got two each ASPs so far.
A female police inspector Ghazala Syed made headlines in April this year, when she was posted as first female SHO in Karachi. She was tasked to lead the force of Clifton police station. She was soon followed by two other ladies, who were appointed SHOs within a few weeks time.
Till last year, women were posted as SHOs only of women's police stations, most of which are not very effective. Two female police stations were established in Khyber Pakhtunkhwa, one each in Peshawar and Abbottabad, on the directives of former Prime Minister Benazir Bhutto in the mid 1990s. However, both police stations are yet to lodge a single FIR, and only help other police stations in conducting raids or keeping a female accused in their lockup.
But perhaps, the past is all set to change — despite their few numbers, policewomen have not only performed well but have also sacrificed their lives in the line of duty. Shazia Gul of the Nowshera district police was the first female cop to have sacrificed her life in May 2011; she was deployed at the entrance of the district courts when a bomb went off at the main gate. Slowly but surely, women are protecting and defending Khyber Pakhtunkhwa.
The writer can be contacted at kashifaziz88@yahoo.com
http://www.dawn.com/news/1138366/badge-of-honour-kps-female-cops-break-new-ground
-----------
Sexual Violence 'Rampant' In South Sudan: U.N.
21 October 2014
Rape and other forms of sexual violence by all sides in South Sudan's civil war have become so widespread that a 2-year-old child was among the victims, the U.N. special representative on sexual violence in armed conflict said on Monday.
"In my 30 years of experience, I've never witnessed anything like what I saw in Bentiu," Zainab Hawa Bangura told reporters about a recent trip to the northern town, one of South Sudan's regions worst hit by the conflict.
"The IDPs (internally displaced persons) seeking refuge there face a combination of ... insecurity, unimaginable living conditions, acute day-to-day protection concerns and rampant sexual violence," she told reporters.
Fighting erupted in December in South Sudan - which declared independence from Sudan in 2011 - after months of political tension between President Salva Kiir and his sacked deputy and political rival, Riek Machar. Peace talks brokered by African regional bloc IGAD have yet to bring an end to the bloodshed.
"Survivors and health care workers told me heartbreaking stories of rape, gang rape, abduction, sexual slavery and forced marriage," Bangura said. "Those who try to fight back against their attackers are often raped with objects instead. Some victims have even been raped to death."
She said the victims included women, men, girls and boys, with 74 percent of them below the age of 18, according to South Sudanese hospital officials.
"The youngest victim they have treated is 2 years old," Bangura said.
She said both sides in the conflict have committed sexual violence, adding that orders had been given within the military forces to perpetrate rapes on the basis of ethnicity.
Bangura added that said a radio station in Bentiu called Radio Bentiu FM was used to broadcast appeals for men to rape women and girls based on their ethnic backgrounds and what was believed to be their political loyalties.
At the end of Bangura's trip to South Sudan, she and the government signed a communique outlining steps that would be taken to put an end to the rapes, adding that the message must be sent across the military's chain of command, Bangura said.
She was especially concerned about the lack of psychological and medical care for the victims.
"I am also concerned about the lack of reporting of this crime due to the closure of government offices, insecurity in the country, malfunctioning police services, (and) a lack of capacity by the police and medical service providers," she said.
The conflict in South Sudan has killed more than 10,000 people, caused over 1 million to flee and driven the country of 11 million closer to famine. By year-end, a third of the people could face the threat of starvation, the United Nations said.
Last month the United States warned Kiir and Machar to engage in serious peace talks to end nearly a year of violence in the world's newest state or face U.N. Security Council sanctions.
http://english.alarabiya.net/en/News/africa/2014/10/21/U-N-says-two-year-old-raped-in-South-Sudan.html
-----------
Acid Attacks In Isfahan Have Nothing To Do With The Hijab, Say Iranian Officials
21 October 2014
There has been a spate of acid attacks on young women in Isfahan, Iran.
According to police, attackers riding on motorbikes have thrown acid in at least four women's faces in the city, but local media have put the number as high as eight.
There are fears that the victims were chosen because they were wearing clothing or headscarves that were revealing or did not conform to perceived Islamic norms, though authorities have so far denied that the assaults had anything to do with the hijab.
The Isna news agency has spoken to a number of victims and their families, including a 27-year-old woman, identified only by her first name Neda, who was targeted two weeks ago in Isfahan close to Bozorgmehr Square. She has since been taken to a hospital in the Iranian capital, Tehran, for further treatment but the agency said she had lost full sight in one of her eyes and has partial sight in the other.
"While in her car, Neda had pulled over in order to answer her mum's call," the victim's father told Isna. "Two men riding a motorbike threw acid in her face and ran away, leaving her burnt in different areas such as her eyes, her left ear, neck, hands and legs."
"What was her fault?" he asked. "She had not committed a single crime, she had always lived with her head kept high and never had a spat with anyone."
Another victim, named Maryam, was also driving outside with her windows pulled down when a similar assault took place. "A rider threw nearly two litres of acid through the driver's window towards me, which affected my face, hands and my body," Maryam told Isna. "I did not know about the serial acid attacks in Isfahan, I think I was one of the early victims."
Women in Iran are required by law to cover themselves head to toe but many, especially young women in bigger cities, defy the regulations and the morality police by showing their hair or wearing clothing that could be deemed inappropriate.
In public places such as big squares or universities, Iranian police caution women with "bad hijab" and sometimes arrest those who have gone too far with challenging the official line.
Despite this, the authorities have condemned the attacks in Isfahan as reprehensible, vowing to bring those responsible to justice, though they reject any link between the crimes.
"The acid attacks in Isfahan were not serial crimes," Isna quoted the deputy interior minister, Morteza Mirbagheri, on Monday, as saying. "We have arrested three to four suspects."
Mirbagheri said there were no safety concerns about Isfahan in regards to acid attacks and promised that the local government would fight such "insane" actions.
A member of the Iranian parliament's national security committee, Abbas-Ali Mansouri, said: "Foreign and Zionist intelligence agencies" were aiding those carrying out the attacks in order to distort Islam's image worldwide.
The attacks have led to widespread panic and nervousness in Isfahan, the reformist Shargh daily reported. "The news about the acid attacks have attracted a great deal of attention the on internet and have prompted fear among women," the newspaper said.
Local news sites have asked why all the victims have been young women.
Acid attacks in Iran are usually linked to personal grudges. In 2011, the case of an Iranian woman who was blinded when a spurned suitor threw acid at her drew international attention.
http://www.theguardian.com/world/iran-blog/2014/oct/20/acid-attacks-isfahan-hijab-iran-young-women-motorbikes
-----------
URL: https://www.newageislam.com/islam,-women-and-feminism/new-age-islam-news-bureau/french-veil-ban-is-turning-muslim-women-off,-away/d/99650