New Age Islam News Bureau
15 February 2021
• More Than 300 Women in UAE Donate Their Hair to Cancer Patients
• NASCAR's First Arab American Female Driver to Make Her Debut At Daytona International Speedway
• After Attacks, Edmonton Blogger Asks: Why Is My Hijab Still A Threat?
• Manchester City Using Social Media to Spread Female Participation in Football
• Hyderabad: Gang Nabbed For Trafficking Women to Gulf Countries
• Saudi Arabia's New Laws a Boon for Women
• 125 Women Committed Suicide In Pak District In 13 Months
• Hajiya Gambo Sawaba: 'The Most Jailed Nigerian Female Politician'
Compiled by New Age Islam News Bureau
URL: https://www.newageislam.com/islam-women-feminism/france-female-whirling-dervish-rana/d/124310
--------
France's Female Whirling Dervish Rana Gorgani Connects Over Zoom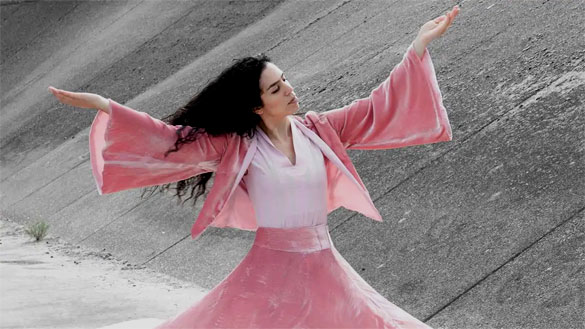 French-Iranian Rana Gorgani is opening up Sufism to a wider audience
-----
14.02.2021
One of the world's few female whirling dervishes, Rana Gorgani has opened up Sufism to a wider audience, and is now making surprising spiritual connections over Zoom thanks to the pandemic.
French-Iranian Gorgani, 37, used to think of whirling—a sort of "moving meditation" through which Sufis seek to commune with the divine—as something that should remain behind closed doors.
Despite growing up in France, she was initiated into the practice while visiting Iran, a place where Sufis often face persecution by the authorities and dancing in general is frowned upon.
She had never intended to perform the whirling in public—that was something normally reserved for men. But a decade ago, she decided she wanted to share its beauty with a festival audience in Montpellier.
"After some minutes, I panicked and stopped for a few seconds. It felt like I was breaking some rule," she recalled. "But I started turning again, and heard a roar of applause, and I told myself 'everything is OK'."
When people came up to her after the show, with tears in their eyes, to thank her—she realised this was something she wanted to pursue full-time.
Sufi whirling, sometimes known by the Arabic name Sama (which means "listening"), sees performers twirl in distinctive wide robes in a rhythmic turning that mirrors the movement of the Earth around the Sun. It's more than a dance, said Gorgani -- "it's a prayer, an act of devotion to the divine".
A traditional part of Sufism, particularly in Turkey, Iran and Afghanistan, it is normally only practised by women when they are separated from men. But for Gorgani, in Sufism—a more spiritually focused approach to Islam founded by followers of 13th century spiritual poet Jalal al-Din Rumi—the soul is neither masculine nor feminine.
To be female and a dervish "does not go against this spirituality", she said. "In Europe, I am lucky to be able to express myself artistically and freely."
Her parents fled Iran after the revolution, and it was during her first visit there at the age of 14 that Gorgani became interested in Sufism. She has since taken part in many ceremonies in Iran and Turkey, but often secretly.
Now her performances have been forced online by the pandemic, but she has been "touched and moved" by the number of people reaching out to learn more about Sama.
Her first Zoom class, during France's first lockdown, attracted around 100 people and the numbers have continued to grow as she delivers performances on every new and full moon.
To her surprise, the experience has been "extremely intense", with participants saying they are in profound need of meaning and connection. "I think I've helped some people reveal something to themselves," she said.
While rooted in her studies in the anthropology of music and dance, she nonetheless likes to mix up the soundtrack, opting not only for traditional Sufi music, but also live piano and even traditional French tunes such as those of Jacques Brel.
"Wherever I find a state of grace," she said.
https://lifestyle.livemint.com/how-to-lounge/movies-tv/frances-female-dervish-connects-over-zoom-111613272841320.html
--------
More Than 300 Women In UAE Donate Their Hair To Cancer Patients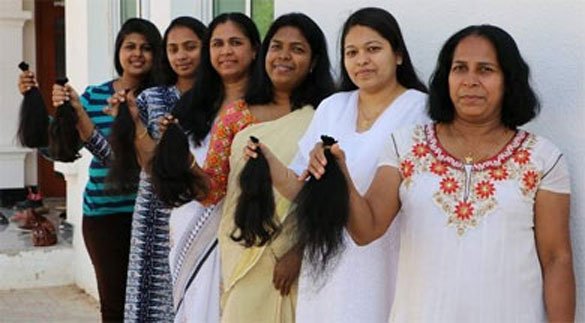 Irene James donates her hair to Dabur's Locks for Hope Drive.
-------
February 15, 2021
Anjana Kumar
Dubai: More than 300 women expatriates in the UAE have donated 60kg of hair in just two months to Friends of Cancer Patients (FOCP) — a non-profit organisation founded in 1999.
FOCP is a member of a group comprising different international and regional organisations, including the Union for International Cancer Control (UICC) based in Geneva — Switzerland, The American Cancer Society, The NCD Alliance and Kuwait-based Gulf Federation for Cancer Control. FOCP is also an affiliate of local health bodies such as UAE Ministry of Health, Abu Dhabi Health Authority, Sharjah Health Authority and Dubai Health Authority.
Expats of various nationalities contributed their healthy mane as part of an initiative launched by Dabur Amla in October 2020. The initiative encouraged women to donate their hair in support of cancer patients through FOCP. The campaign titled 'Strong Hair Stronger You' has been inspiring women across the UAE to donate their hair.
Indian expatriate Nour Ahmad, 18, said she was motivated seeing other girls and women donating their hair and this pushed her to do the same. "This is such a simple yet meaningful way to morally support those who have had to face the side-effects of chemotherapy. I encourage everyone who is capable to go ahead and make a donation since empowered women empower women!"
Sri Lankan expat Tharanga Jeevani Ediriweera, 39, said: "I hope to bring a smile to one person. It will fill my heart with gratitude. I thought it would be difficult to donate my hair during the COVID-19 pandemic, but it wasn't!"
Filipina expat, Dynah Clarice Revil, 36, said she donated her hair for the initiative as she knew it would help cancer patients to regain their self-esteem and confidence after losing their hair due to chemotherapy treatment. "I know how difficult it is for cancer patients to come to terms with the change in their appearance. I am so blessed and grateful that I am able to help minimise their emotional stress through this gesture."
Pakistani expat, Batool Hussain, 38, could not agree more. "Fighters do not need donations, they need appreciation! I was in search of a medium to show love and appreciation to my Cancer-fighting sisters. That's when I came across this initiative by Dabur Amla. The process was so organised and convenient. I am glad I found an easy access to this cause in a tough year like 2020."
Big move
For another Indian expat, Irene James, 30, this was a big move. As a child, she had been known for her long and lustrous hair. In fact, she would cry at the very thought of cutting her hair, but it was easy for her to take the decision this time. "It was for a good cause. Not everyone has the strength or chance to make another person's life beautiful. Through this initiative, I was blessed to be able to do that. I did not want to lose this wonderful opportunity. The process was very convenient as I was allocated a Tips and Toes branch in Dubai Festival City Mall, which was very close to my home."
Arathi Jayaprakash, 19, also recalled how long hair has been part of her life. "My hair gave me a sense of security and shaped my self-identity. But knowing that there are people who do not have that motivated me to donate it. My grandmother had cancer and I remember her being insecure about losing her hair and being upset about it. Knowing that battling cancer and losing hair can affect people's self-esteem, I wanted to help in whatever way I could. Donating my hair was something that I wanted to do for years and when I got the chance I finally donated it."
Arathi admitted that she was a little nervous about how she would look after donating 12 inches of her hair. "This was the shortest I have ever had, but it looked great and I'm very glad that I donated it."
Krishan Kumar Chutani, CEO, Dabur International, said: "We are overwhelmed by the participation of so many thoughtful people who have been instrumental in making our effort a success. Cancer survivors are winners against all odds and we are glad to bring a smile to those winners through this initiative."
During the campaign, Tips & Toes Salons placed hair collection boxes in 23 branches across the UAE to collect hair from volunteers and offered free haircuts as part of the initiative.
Eliane Haddad, brand manager, Tips & Toes, said: "It has been an honour for us to be a part of such a noble cause. We had 23 of our 33 branches dedicated to this initiative. Clients could visit any of the 23 branches to donate their hair. We are happy to have associated with Dabur Amla and FOCP for having structured a process whereby people could donate their hair easily. We contributed by educating our visiting clientele about the initiative and also offered free haircuts and 30 per cent off hair colour for those who were willing to participate in this cause. People visited our branches where donation boxes were placed to facilitate the process."
https://gulfnews.com/uae/more-than-300-women-in-uae-donate-their-hair-to-cancer-patients-1.77041707
--------
NASCAR's First Arab American Female Driver To Make Her Debut At Daytona International Speedway
February 13, 2021
By Alaa Elassar
(CNN)Toni Breidinger says that when she sat behind the wheel of a go-kart at age 9, she knew she would become a race car driver.
Twelve years later, Breidinger has become the first Arab American female driver to participate in a NASCAR national series, according to NASCAR.
The 21-year-old joined the racing team Young's Motorsports to race in the 2021 stock car competition ARCA Menards Series and NASCAR's pick-up truck competition, Camping World Truck Series, which begins with the Lucas Oil 200 at Daytona International Speedway in Florida on Saturday.
"I'm honored and excited to be the first, but i don't want to be the last," Breidinger, who is of Lebanese descent, told CNN. "I hope I can pave the way for future female Arab drivers as well."
Breidinger is a 19-time United States Auto Club winner, a record for any female driver, and debuted in the Top 10 at Madison International speedway in ARCA Menards in 2018.
Breidinger said racing on the Daytona speedway "is a dream come true."
"Daytona has always been on my bucket list to race at. Every driver's dream is to race there one day," she said. "It's such a historic track. It's a step in the right direction to hopefully race in the Daytona 500 one day."
Breidinger hopes to one day reach the NASCAR Cup Series, the top racing series.
"As soon as I got into a go-kart, I really just knew," Breidinger said. "I've always had so much passion for it. I love the competition, the adrenaline rush. I'm hooked on it."
"When the helmet comes on and I'm racing, it's not about being a female driver anymore. I'm just like anyone else trying to get to the finish line," she said.
Breidinger will be driving Young Motorsports' #02 Chevrolet SS car for the ARCA Menards race and their #82 Chevrolet Silverado for the Camping World Truck series.
"We're working diligently to strengthen diversity across the sport and the diverse makeup of our drivers represents an important part of that mission," Brandon Thompson, NASCAR vice president of diversity and inclusion, told CNN. "We want women and people of color to see themselves represented in our competitors because it's those connection points that will help NASCAR grow and become more diverse."
The Lucas Oil 200, an 80-lap, 200-mile race, is the first of 20 races on the 2021 ARCA Menards Series schedule.
The season-opener for the 69th ARCA season begins around 1:30 p.m. on Saturday and will be televised on FOX Sports 1 and live streamed on ARCARacing.com.
https://edition.cnn.com/2021/02/13/us/daytona-nascar-arab-american-female-driver-toni-breidinger-trnd/index.html
--------
After attacks, Edmonton blogger asks: Why is my hijab still a threat?
Feb 14, 2021
Wati Rahmat, an Edmonton activist and blogger, wanted to speak out after two more Muslim women were attacked in the city last week.
The Hate Crimes and Violent Extremism Unit is investigating the assaults, which are the latest in a series of high-profile, daytime attacks against Edmonton women wearing religious headscarves.
In the midst of a brutal cold snap in Edmonton where many have bundled up and a pandemic where most people wear face coverings, she asked: Why is my hijab still a threat?
Rahmat wrote an essay on the subject and joined Radio Active host Adrienne Pan to talk about her experiences in Edmonton. She said leaders and others haven't been doing enough to condemn recent violence against Muslim women.
This interview has been edited for length and clarity.
Q: What made you want to write this piece?
A: Like any other Muslim woman, I was very disturbed when I read about the attacks earlier in the year in and around Southgate, and I had a few conversations with friends and one of them [is] a non-Muslim. She was talking about how, on a morning walk, it was a very cold morning and she was all bundled up with a mask and toque and scarf. And then she realized that she looked no different than a Muslim woman, but she didn't feel threatened and she was not treated any differently.
And then when I heard about the other two additional attacks last Friday, I just thought about that reflection that my friend made. And I just thought: why? In a global pandemic, we're having a cold snap, everyone's covered up but why are Muslim women still attacked? So I thought: why is my hijab still a threat?
Q: Do you feel like the hijab or niqab has been politicized and that's contributing to this lashing out against Muslim women?
A: I lived in Montreal for nine years and I moved here six years ago and both periods of time when … people harassed me on the streets telling me to take off my hijab has [aligned] with the [Quebec] provincial election and in Edmonton also the last provincial election, I was walking down Jasper Avenue and then somebody just shouted at me, 'Take that thing off your head, you don't need it here, we're a free country,' kind of thing.
People might not realize it, but this is something that Muslim women experience quite often. And I just want to add that, for my black Muslim sisters, the experience and harassment [are] much more compounded because of anti-Blackness.
It is just unbelievable.
Q: Can you describe what it feels like to be in that situation?
A: Sometimes I can be eloquent, but when you get confronted with that, sometimes you're just lost for words and the immediate thing is fear. What if this person is coming, grabbing your hijab or pushing you down, which happened four times just this year, right? So the fear is there.
The better part of me, the activist part of me, would try to reach out and say, 'What's your issue?' Or try to have a conversation, trying to dispel the ignorance. But really, when I'm confronted with that, the first thing is fear. And I just want to get out of the area as soon as possible.
Q: I understand that you left Montreal to escape that. Do you find that things are better in Edmonton in regards to Islamophobia or is it quite the same?
A: My experiences in Montreal, people were more vocal.
But in Alberta, in Edmonton so far, it's been more subdued, which I'm happy [about]. But I think it's maybe just under the radar where people are not as vocal. But when it comes out, it seems to come up more violently as can be seen with the four incidents. So it's a toss-up.
To be honest, these last four attacks [are] perplexing to me and some of my friends have discussed it. What is the instigating factor? It's usually like there's an election or some world event. I don't know, is it the pandemic? It's something that's very perplexing.
https://www.cbc.ca/news/canada/edmonton/wati-rahmat-edmonton-muslim-attacks-1.5912937
--------
Manchester City using social media to spread female participation in football
February 14, 2021
DUBAI: An online initiative set up by Manchester City with the aim of inspiring a new generation of female footballers is back for its fourth edition after attracting thousands of young girls since its inception in 2018.
This year, the program is looking to raise participation even further in the wake of the disruptions that the COVID-19 pandemic has wreaked on sporting participation around the world.
#SameGoals pledges to deliver a special limited-edition football provided by PUMA to every girl who shares a video showing them scoring or saving a goal, with the aim of helping her maintain her passion and focus on achieving her dreams during a difficult period.
"I'm really looking forward to being involved in the initiative and the workshops," Manchester City and Scotland midfielder Caroline Weir said.
"It's been really exciting to see #SameGoals grow year-on-year so far."
"The players who held the football clinics last year were blown away by the response and although this year we won't be able to do things in person as usual, it's so important to continue the growth of #SameGoals however we can in these unprecedented times," she added.
To receive their free ball, girls need to post a video on Twitter, Instagram or TikTok, that shows them scoring or saving a goal using #SameGoals.
The goal can be created anywhere using any kind of ball, the more creative - the better.
Participants can then upload their video on the official Manchester City website.
"Keeping fit and motivated has never been so important as it has this past year either," Weir said.
"To have already had so many young girls get involved in the past three years is just amazing, but I know there's a lot more out there and we'd love you to join in. "
"I've been in the position of those young girls wanting to play football and the #SameGoals campaign really does enforce just how much Manchester City cares about growing the women's game, right from grassroots level," she added. 
In addition to the social media movement at the event's core, previous years have seen City Football Schools host special coaching clinics for young girls across the UAE as part of the campaign.
As part of the 2021 campaign Manchester City will also be hosting a series of free online workshops focused on women's football, with several professionals across the club taking part.  
The series will cover business and management perspectives as well as coaching and technical tips, with the likes of head coach Gareth Taylor, managing director Gavin Makel, first team players Weir, Esme Morgan and Sam Mewis offering their support amongst others. 
"Increasing participation levels at grassroots level and encouraging young girls to have their first experience of playing football is something that we, as a Club, are tremendously passionate about," said Gavin Makel, managing director of Manchester City Women.
"The #SameGoals campaign is a great example of that, having engaged with thousands of people worldwide over the last four years."   
"Being able to see and hear some of the inspiring stories through #SameGoals is something that we are very proud of, as we aim to make meaningful impact with not just individuals, but within local communities," he added. 
https://www.arabnews.com/node/1808991/sport
--------
Hyderabad: Gang Nabbed For Trafficking Women to Gulf Countries
By Sakina Fatima
9th February 2021
Hyderabad: Special operations team of LB Nagar on Tuesday busted Al-Hayath tours and travels, Malakpet and arrested four interstate human traffickers and rescued a woman victim being trafficked to Oman.
The police seized visa documentation, 40 passports belonging to various persons, Rs. 6000 and mobile phones.
According to the police, the main accused has been identified as Mohammed Imtiyaz (35) who is a travel agent and had a gang of fellow accused who helped him in this.
The gang indulged in illicit human trafficking by trying to send a woman Shaik Khader bee of Medipally to Muscat, Oman, in a fraudulent manner, promising her work on visiting visa instead of working visa.
Rachakonda commissioner of police Mahesh Bhagwat said in a press conference that Imtiyaz got acquainted with her through her aunt and knowing her financial problems he started offering her jobs in the Middle East.
He then arranged for a visa and booked her a flight to Muscat on February 2.
The victim felt something was fishy when the suspects asked her to share her pictures to them on whatsapp after which they will pay her the promised sum of Rs.30,000. She grew suspicious and escaped from the airport.
Further, the suspects had collected passports from nearly 40 people including 12 women and 28 men to make visa arrangements for sending them to different Gulf countries.
They and two other travel agencies in Kadapa were found to be involved in the racket, and were trafficking women to Kuwait, Saudi Arabia, Oman, Dubai and Qatar, said the commissioner of police.
https://www.siasat.com/human-trafficking-gang-involved-in-women-trafficking-nabbed-2086621/
--------
Saudi Arabia's New Laws a Boon for Women
February 13, 2021
Tariq A. Al Maeena
Last week, the Saudi Crown prince Mohamed Bin Salman or MBS as he is popularly known announced that the kingdom 'will introduce four key legislations this year as part of its reform measures to reform judicial institutions as well as to improve the legislative environment in the Kingdom.' "The lack of clear legislation previously has led to a variation in legal provisions," he said. "This was painful for many individuals and families, especially women, permitting some to evade their responsibilities. This will not take place again once these laws are promulgated pursuant to legislative laws and procedures."
Noting that the Kingdom had taken serious steps towards developing its legislative environment as of late, an official statement released after his announcement added that "These steps include adopting new laws and reforming existing ones. They are meant to preserve rights, entrench the principles of justice, transparency, protect human rights and achieve comprehensive and sustainable development, which reinforces the global competitiveness of the Kingdom based on procedural and institutional references that are objective and clearly identified," according to a statement released following his announcement."
The news was welcomed one and all by the majority of the country's citizens and residents alike. For them, it meant for the most part that a codified system of laws will put an end to the non-uniform dispensing of justice that was the norm in the past, often based on the whims or the cultural roots of the judges themselves. The new laws go a long way in honouring the role and legal sanctity of women who for decades were being marginalised under archaic male guardianship laws.
The issue of male guardianship was meant to protect and preserve the honour, integrity, and legitimate rights of one's womenfolk. The reality of honouring this responsibility, as was being exercised in certain segments of our society, was, unfortunately, a bitter contradiction with women being the invariable victims.
An example of some years back came to mind of a welfare house in need of certain household items to alleviate the sufferings of the residents. This particular welfare resident housed over 20 women whose ages ranged between 27 and 55. Among the items much needed were air-conditioners to stave away the summer heat, a freezer to store perishable foodstuff given by charitable individuals, a washing machine to clean the few items of clothing these women possessed, among their other needs.
As I came to know of the pitiful conditions of some of these women, I first wondered that how with the existing male guardianship laws constantly tooted about by our clerics was it possible for some of our own people to plunge into such regrettable circumstances.
And as I delved into the circumstances that forced some of these women into this home, the stories that came out were indeed tragic. In one instance, a middle-aged lady was forced out of her home when her husband remarried a much younger wife. With no family to turn to and no marketable skills, the shelter run by a humanitarian was her only lifeline.
A 27-year-old tribal girl was forced out by her family when she refused to marry the groom of their choice. Again, she was not prepared for the outside world and soon found herself isolated and destitute. Homeless and with no options, she turned to the shelter for survival.
Another woman was subjected to the violent beatings of an abusive husband. Constant threats of divorce eventually led her mate to literally discarding her on the streets to fend for herself. Again, with very little education and no skills, she had nowhere to run to except for the shelter.
And then there was the story of a sickly woman, one who worked all her life turning in all her earnings to her family. She was prevented from entering into marriage for fear her family would lose their only source of income. When she fell sick and was no longer able to work, her family literally had no use for her and turned her out. She was no longer their meal ticket!
Where were the men of these womenfolk; men who had stripped these unfortunate women of their privileges? Men, who flaunted their badges of guardianship, but had discouraged their women from the marriage of their choice or education or the learning of skills, and were the first to exercise total domination in the form of exclusive guardianship.
Stripped of dignity and their legitimate rights, these women and others like them stared at a very bleak future. In a society that was previously guided by judges and clerics with their own brand of male guardianship, the new laws, as announced by the Crown Prince, are a breath of fresh air, and no longer will women have to suffer such abuse.
— Tariq A. Al Maeena is a Saudi sociopolitical commentator. He lives in Jeddah, Saudi Arabia. Twitter: @talmaeena
https://gulfnews.com/opinion/op-eds/saudi-arabias-new-laws-a-boon-for-women-1.77149419
--------
125 Women Committed Suicide In Pak District In 13 Months
February 15, 2021
Islamabad: At least 25 women committed suicide in Tharparkar district located in Pakistan's Sindh province mainly due to poverty and social inequalities, a media report said on Sunday.
The figure came to light during a workshop organised in Mithi where psychologists, civil society, and non-governmental organisations discussed the causes and problems related to the rising trend of women forced to take their own lives in the district, said the Geo News report.
A participant of the workshop revealed that more than 100 women had taken their own lives over the past one year.
The workshop discussed how on the one hand, the people of Tharparkar, especially women and children are losing lives to various diseases while on the other, poverty and customs are also forcing young women to take their own lives.
Tharparkar district is the largest in Sindh and it also accounts for the largest Hindu population in Pakistan.
But it also has the lowest Human Development Index rating of all the districts of the province.
According to UN figures, 87 per cent of the district's population live under poverty.
https://www.freepressjournal.in/world/125-women-committed-suicide-in-pak-district-in-13-months
--------
Hajiya Gambo Sawaba: 'The Most Jailed Nigerian Female Politician'
By Tayo Agunbiade
15 Feb 2021
Stories from the life of Hajiya Gambo Sawaba, one of northern Nigeria's most important female political activists, who was born on this day in 1933, have become the stuff of folklore.
According to one, her fighting spirit was evident when, as a young girl growing up in northern Nigeria in the 1930s and 40s, she would always intervene in other children's fights on the side of the loser, telling them: "I have bought this fight from you", before carrying on the scuffle.
The fights came frequently, and her clothes would inevitably get torn. So, the story goes, in order to minimise the frequency with which she would have to replace her daughter's damaged dresses, Sawaba's mother, Malama Fatima, resorted to making them out of tarpaulin.
Whether or not this particular story was true, there was no denying that throughout her life, Sawaba never shied away from a fight, particularly when it was on the side of the downtrodden.
A teenage activist
Her story began on February 15, 1933.
In 1943, when she was 10 years old, her father died. Her mother died three years later and, soon after, at the age of 13, Sawaba was married to a second world war veteran named Abubakar Dan Sarkin. At 16, she gave birth to her only child, Bilikisu.
By the following year, her political activism had begun.
At the time, the British ruled over Nigeria using a system of Indirect Rule, whereby Native Authorities (NA) administered colonial policies in the 12 northern provinces through local emirs and district and village leaders.
The Northern Region was ruled by the conservative Northern Peoples' Congress (NPC). But in 1950, a school teacher in Kano City called Malam Aminu Kano formed a new political party, Northern Elements Progressive Union (NEPU).
NEPU supported "women's education in both religious and secular spheres and their being given enough space – politically and economically".
It was in sharp contrast to the NPC, which controlled the Native Authorities and whose leadership was quoted as saying: "We in the north are happy, our women are happy about their condition. There is not a single Northern woman who has told anyone that she is unhappy. We know what is right for women and our men know what is right for themselves."
NEPU's messages resonated with Sawaba's sense of justice and she became an early member of the party's women's wing.
By this time, there were already calls for women's voting rights in other parts of Nigeria – by the likes of the renowned feminists, Olufunmilayo Ransome-Kuti and Margaret Ekpo in the western and eastern regions of Nigeria, respectively. Sawaba would soon lend her voice to theirs.
'Freedom and redemption'
Sawaba was not her birth name. Meaning freedom or redemption, it was given to her by her political mentor, Malam Aminu Kano, after she had been elected president-general of NEPU's women's wing.
Although folklore gives an alternative version of how she came by the name. According to this, she became known as Sawaba after attending a political rally at Jakara Market in Zaria. As the crowd waited for the official speaker, a male Zaria council member known as Alhaji Gambo Sawaba, she took to the stage to talk about voting and education rights for women.
When Alhaji Gambo Sawaba arrived, he announced to the audience that as she had been the first woman to address a political rally in the north, she would henceforth be known as Gambo Sawabiya – the feminine version of Sawaba.
If this version of the story is correct, Sawaba clearly preferred the male version as that is the one she stuck to. From then on, in Zaria's political circles, people differentiated between the two politicians by saying: "Gambo Sawaba [male]; Gambo Sawaba [female]."
Whatever the truth behind her name, Sawaba became synonymous with the politics of freedom and emancipation in northern Nigeria, especially for women.
Imprisonment
She openly advocated against child marriage, forced and unpaid labour and unfair taxes, and canvassed for jobs for women, education for girls and full voting rights.
Her husband's family, however, were unhappy with her efforts to merge motherhood and political activism and an amicable separation soon followed. As was the custom at the time, her baby daughter was handed over to her in-laws.
But she had also attracted the ire of the authorities. As many women in the north followed the practice of purdah, a form of social seclusion, Sawaba went from house-to-house to speak to them. This displeased the Native Authority in Kano and, in 1952, she was hauled before the conservative Alkali (Magistrates) Court, on charges of "drawing out women who were in purdah". The court sentenced her to three months in prison.
It was the first of 16 prison sentences she would serve during her lifetime. She was arrested so often, in fact, that she always kept a blanket with the words 'Prison Yard' inscribed on it nearby so that she could take it with her whenever the police came for her.
Later that year, the authorities in Kano ordered her to leave the city. To make sure she complied with the order, local law enforcement agents escorted her back to Zaria.
But she continued her political activism – and periods of imprisonment – in her hometown. As well as Zaira and Kano, she was also imprisoned in Kaduna and Jos.
According to the Daily Trust newspaper: "Whenever she was on trial, the courtroom was filled with her supporters."
But it was not just jail time she endured.
The Daily Trust reported, "On two occasions she was stripped naked and given eighty lashes in Zaria Central Prison. She also endured the indignity and pain of having her hair shaved off with a broken bottle."
In 1990, Sawaba's political compatriot, the late Malama Ladi Shehu, told the First Nation Magazine about the abuses female political activists faced: "Gambo and some other NEPU women, very many of them who were imprisoned, had their hair shaven and were beaten up; and some of our members were even killed. Quite a number of them."
The vote
But imprisonment did not stop Sawaba and other members of the women's wing of the party campaigning for enfranchisement. In 1956, they marched to the office of the regional premier, Sir Ahmadu Bello, in Kaduna to demand the franchise for women in the north in future parliamentary elections.
The premier said he would consider it – but his pledge came to nothing.
Women in southern Nigeria had been granted a limited franchise in 1951. In 1954, the Eastern Region followed suit and the Western Region in 1959.
But, according to the book Imperialism and Human Rights: Colonial Discourses of Rights by Bonny Ibhawoh, in 1954, the ruling NPC in the Northern Region issued a statement saying: "Women would be given franchise, only in God's time."
Eight years later, during a debate in Nigeria's Senate on voting rights for Northern women, Senator Wuraola Esan, one of the two women in the Senate and a representative from the Western Region, declared: "I daresay, God's time may never come as far as franchise for women in the north is concerned."
Again, in 1965, she told the Senate: "I would like to remind my Northern brothers that … it is time the women of the north had the franchise. It is relevant for me to remind our Northern brothers of their promise that the women of the Northern Region will be given the franchise in due course. I am only appealing to them to make that 'due course' soon."
In his autobiography, Bello, who was assassinated during a military coup in January 1966, explained his stand on enfranchisement for Northern women: "I dare say that we shall introduce it in the end here, but – and this is important – it is so contrary to the customs and feelings of the greater part of the men of this Region that I would be very loth to introduce it myself. The education of women must reach a far greater strength, and the numbers of properly educated women must be increased to many times the present, before the vote would be used to full advantage."
Sawaba did not forget his failure to grant women the right to vote and once declared that were it not "for the fact that women in the North were not allowed to vote or be voted for" she would have stood against him in his own constituency.
Northern women would eventually get the vote in 1976.
Sawaba, however, never achieved electoral success – either with NEPU or the two other parties she joined later on in her career.
In 1998, she announced her retirement, telling the New Nigerian newspaper: "Politics in the country has lost its flavour and is no longer a game of ideology, but a game of self-aggrandisement."
A heavy price
But she had paid a heavy price during her 48 years in politics.
In an interview with the New Nigerian newspaper in 2000, the then 67-year-old Sawaba recalled one of her worst moments, describing how she "was beaten up by six men and left to die in a bush" while on her way to a meeting. No one was ever charged over the assault.
On another occasion, the New Nigerian had quoted her as saying: "There is no opening in my body – mouth, nostrils, eyes or anywhere else – from which blood did not gush out from because of torture.
"My front teeth are artificial. The originals were broken and pulled out."
She also confirmed that as a result of torture she had endured in prison in 1957, she had needed surgery to remove her womb to save her life.
Having witnessed the emotional and physical pain her mother endured, Bilikisu never contemplated following in her path. Now a 71-year-old grandmother and retired civil servant, she lives in the family home in Benin Street where photos of Karl Marx, Thomas Sankara and Samora Machel had once adorned the living room walls.
"My earliest memories of her when I was growing up was she was fully engaged and involved in civic politics alongside her friends," Bilikisu recalls. "Our home was the centre of political meetings and activities."
It was not only political associates who were welcomed in the house.
"Throughout her life, she maintained an open-door policy that saw friends, associates and ordinary members of the public come to the house," Bilikisu explains.
"[Our] home was never free of adopted children, house guests and visitors."
While Sawaba was a political activist to the outside world, at home she was someone who loved to cook, her daughter recalls.
"[She] would not allow anyone to cook for her. She had particular favourites, the Nupe traditional dish of Dukuno, and also Tuwon Shinkafa or Sakwara [popular northern Nigerian dishes]."
Sawaba married – and divorced – three more times after her teenage marriage. Her second husband was a railway worker, her third a Cameroonian boxer, who was regularly threatened with deportation by her political opponents, and her fourth a businessman.
After her last marriage ended, Sawaba devoted her energies to caring for the children she had taken in.
After her death at the age of 71 in October 2001, the Daily Trust newspaper wrote: "Gambo Sawaba took on herself the task of training other people's children. She relished the job of taking care of helpless kids. Apart from dozens of her sister's children that she brought up and trained, she adopted many from the street … right now there are over 30 of such adopted children in her house. Among them is a baby less than a month old she had just brought from the hospital a few days before her death."
Bilikisu says that until her dying day, her mother "never stopped hoping for a better society and remained optimistic that Nigerians, especially women, would be free from tyranny and dictatorial leadership in governance".
Her political status was perhaps illustrated by the presence of two former heads of state at her funeral rites in Zaria.
In its tribute, the New Nigerian described her as: "Blunt, non-conformist and outspoken, the most tortured and jailed Nigerian female politician."
https://www.aljazeera.com/features/2021/2/15/hajiya-gambo-sawaba-the-most-jailed-nigerian-female-politician
--------
URL: https://www.newageislam.com/islam-women-feminism/france-female-whirling-dervish-rana/d/124310
New Age Islam, Islam Online, Islamic Website, African Muslim News, Arab World News, South Asia News, Indian Muslim News, World Muslim News, Women in Islam, Islamic Feminism, Arab Women, Women In Arab, Islamophobia in America, Muslim Women in West, Islam Women and Feminism