New Age Islam News Bureau
20 Sept 2016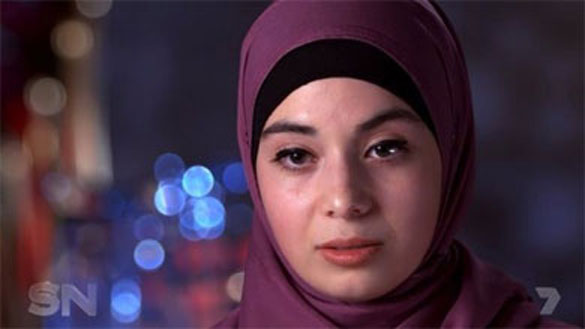 Sydney medical student Zeynab Alshelh wanted to show solidarity with Muslim women in FranceImage copyrightCHANNEL 7
-----
• Woman Carrying Baby, 2 Others Shot In South Philadelphia
• How Women Are Speaking Out In Pakistan
• No Ifs and Buts: Muslim Boy Must Shake Hands with Female Teachers
• Portrait of Life as a Muslim Woman
• Amal Clooney Seeks Justice for Islamic State Sex Slaves
• Muslim Marriages Case in Cape HC Thrown Out, For Now
Compiled by New Age Islam News Bureau
URL: https://www.newageislam.com/islam,-women-and-feminism/new-age-islam-news-bureau/france-burkini-ban--australian-woman-forced-off-riviera-beach/d/108615
-----
France Burkini Ban: Australian Woman Forced Off Riviera Beach
19 September 2016
A Muslim woman from Australia has told how she was forced to leave a beach in France for wearing a burkini.
Zeynab Alshelh, a 23-year-old medical student, told Australian media she had travelled to Europe to show solidarity with local Muslim women.
Footage broadcast on Channel 7 showed local people saying they would call the police if she didn't leave.
The ban on burkinis in several French Riviera towns was overruled in August by the top administrative court.
Local mayors who brought in the laws said the full- body swimsuits were a symbol of Islam and potentially provocative after the July terror atrocity in Nice.
Ms Alshelh said she and her family travelled to France to learn more about the situation and see if there was "anything that we can do to help these girls just live a normal life".
She told the BBC's Newsday she "couldn't comprehend how it was illegal" to go a public beach in a burkini.
She went to Villeneuve-Loubet beach, where the ban had already been overturned, but "the locals decided they didn't want us there so they told us to leave, and if we didn't leave they would call the cops".
"We left because we didn't want to cause any problems
The video footage aired on the Channel 7 show Sunday Night showed a man threatening to call the police if they did not leave the beach.
Other beachgoers gestured at her or made disapproving comments.
Ms Alshelh said she didn't feel she had been "inflammatory" by going to the beach. She said she "just went as a tourist".
"I looked at the beach and you just want to swim."
Ms Alshelh had told Channel 7 that the view that Muslim women who choose to cover their hair or face are oppressed was false.
"I just find it ridiculous," she said.
"It is a symbol of my faith, it is a symbol of my religion, it is a symbol of Islam and to go out there and wear the Hijab, it helps people focus on what's inside rather than what's on the outside."
What is a burkini?
A burkini is a full-body swimsuit that covers everything except the face, hands and feet
The name is a mix of the words "Burqa" and "bikini"
Unlike Burqas, Burkinis leave the face free
Burkinis are marketed to Muslim women as a way for them to swim in public while adhering to strict modesty edicts
The French bans have referred to religious clothing and as they were loosely phrased, came to be understood to include full-length clothing and head coverings worn on the beach - not just burkini swimsuits
Burkini creator: 'It's about freedom'
Pauline Hanson, the leader of the anti-immigration One Nation party, last week called for a ban on the Burqa saying that Australia was at risk of being "swamped by Muslims".
Aheda Zanetti, the Australian woman credited with creating the burkini, said the swimwear represents freedom and healthy living, not oppression.
"It is as Australian as you can get, it was born in Australia and it started off in Australia," Ms Zanetti said.
"Why would they ban something when I designed a swimsuit that was part of integration within Australian lifestyle?"
What French law says on secularism and religious clothing?
In 2010, France became the first European country to ban the full-face veil in public
A 2004 law forbids the wearing of religious emblems in schools and colleges
In 1905, a law was passed that aimed to separate church and state. That law of separation guaranteed freedom of religion, and built on earlier laws enshrining secularism in education. No reference was made to clothing.
Source: bbc.com/news/world-australia-37382318
------
Woman Carrying Baby, 2 Others Shot In South Philadelphia
September 19, 2016 11:46PM
SOUTH PHILADELPHIA (WPVI) -- A woman carrying a baby was among two innocent bystanders caught in the crossfire in what police say was a bizarre shooting at a busy South Philadelphia intersection in broad daylight.
It happened around 4:35 p.m. Monday at 18th and Wharton streets - where police have found 17 shell casings.
Police say a 32-year-old mother who was carrying her 10-month=old baby boy was struck by a stray bullet in her left upper arm close to her shoulder:
"And the baby was being carried on the woman's chest, so the baby's head and torso was probably just inches from where the bullet struck his mother," Philadelphia Police Chief Inspector Scott Small said.
A few feet away, a 62-year-old woman was struck in the leg by another stray bullet.
Both women were taken to Penn Presbyterian Medical Center in stable condition.
Both are said to be innocent bystanders.
A third person, a 40-year-old male, was shot in the leg, also listed in stable. It's unclear if he was the intended target.
"The description of our shooter right now was just a male wearing a dark hooded sweatshirt who possibly entered a dark colored Ford F-150 pickup truck," Small said.
Meanwhile, a 32-year-old male carrying a handgun suffered a broken toe as he fled the scene in fear.
Police say he had a permit to carry and was not involved in the shooting.
They still don't know what the shooting was about.
"We're just really fortunate that all three victims are going to survive. Two of them that we're certain are just innocent victims, struck by stray gunfire," Small said.
Police are reviewing surveillance video to see if it caught any part of the incident.
Source: 6abc.com/news/woman-carrying-baby-2-others-shot-in-south-philadelphia/1518050/
----
How women are speaking out in Pakistan
September 20, 2016
ISLAMABAD - Tasmeen Ahmar used to watch the guard outside her house, reading the newspaper to his male friends. Too often they would laugh and joke and then stare at a woman passing down the street.
"I knew what story they were reading, what they were laughing about," she frowned.
Sexual assaults against women are sensationalized in Pakistan's print media, especially the more conservative Urdu-language papers which reach the vast majority of the nation's readers. The reporting focuses on women have somehow lost their honor.
"In our language, all the abuse focuses on the woman," Ahmar said. "Why not replace it with a simple word. Rape."
Too often there was a smirk to the sensational headlines. In one case, a neighbor sexually assaulted a woman married to a mason who was away at work. The copy editor wrote that the assailant "plastered" the wife.
Ahmar singlehandedly founded Uks - a research, publication and radio center - in 1997 to monitor the country's competitive newspaper scene in both English and Urdu, documenting just how women were being portrayed.
Uks is Urdu for "reflection."
And what gets reported in newspapers, aired on television and radio reflects how people think about themselves, both men and women. Where Sheryl Sandberg is urging women to stand up for themselves in corporate America and "lean in," Ahmar and many others are speaking out on women's issues in a country too often stereotyped for its treatment of women.
Donald Trump drew fierce criticism this summer in his back and forth with the Gold Star family, wondering aloud why Mrs. Ghazala Khan had remained silent beside her husband. Critics pointed to the implication that "good" Muslim women are better seen than heard, that somehow the culture doesn't permit them to speak up for themselves.
A look around the crowded streets of Islamabad and you realize there is no single code for how women should act or dress in this society.
They ride sidesaddle on the backs of motor scooters that weave down the heavy trafficked boulevards. They deal with customers in busy cellphone shops in the downtown.
A majority of the women in the shops and along the busy streets will sport a head scarf. A very few will be veiled in a full burka, with only their eyes glinting into the Islamabad sun.
Other women do away entirely with head scarves. In the cafes and tea shops you will see professional women. Some wear expensive lacy tunics and pants and colorful shawls that accent their long hair. The images children see for themselves define who they can become as adults.
This is a country where rural women still carry heavy jugs of water on their heads, but they also are doctors and journalists and jet fighter pilots. Pakistan elected Benazir Bhutto in 1988 as the first Muslim country with a woman prime minister. Women make up 20 percent of Pakistan's parliament.
Reflecting the everyday reality of Pakistani women in the nation's media is part of Uks's mission.
Uks put women journalists to work, going into the field to record their stories. They go bravely into sometimes dangerous territory. One of her reporters was the first female to sit in on the proceedings of a tribal court in the distant province of Balochistan where Western journalists are banned.
They focused on radio which still has the greatest reach in a land of 200 million people, the majority stilling living in rural areas where some women may be forbidden to watch television. Or few may read newspapers. They did a 10-part series on honor-killings.
Fathers will kill daughters, brothers will kill sisters, seeking to avenge some perceived slight or stain on the family name. Acid is flung into the faces of women.
Too many men may point to clerics who will point to a verse in the Koran that suggests men are allowed to beat their wives "lightly."
"Who's to say what 'lightly' means," Ahmar argues.
Honor killing have no basis in Islam and considered as murder under Pakistani law, when they are reported, according to Ahmar. "It's more of a tribal thing," she said.
She pushed her fellow journalists, why was there no coverage of women's sports. Why did political reporters focus on what the women senators and representatives were wearing and who did their make-up on the opening day of Parliament?
"You don't have to wait until there's a rape case to write about the issue," she scolded editorial writers.
Uks radio programs have tried to look at important issues as they relate to women, from energy to AIDS/HIV prevention. Beyond their physical safety, Ahmar and others advocate for more gender equality. They've begun to document how LBGTQ residents are treated as well.
In a conservative society, even professionals and middle class families carry old assumptions about women's role. Too many women will pursue professional studies in journalism and other professions but not enter the field. In Pakistan, the stay-at-home mom is too often preferred.
"Men are still encouraged not to marry a working woman. She won't be there to serve them when they come home, to make them hot meals, to entertain them, to bear their children," Ahmar said.
In the 20 years of Uks, Ahmar sees progress in how her nation looks at women.
"We have problems, serious problems, but how do we move ahead?" Ahmar said. "I'm an optimistic person."
http://www.citizen-times.com/story/news/local/2016/09/19/how-women-speaking-out-pakistan/90722878/
--
No Ifs and Buts: Muslim Boy Must Shake Hands with Female Teachers
September 20, 2016
A Swiss school has rejected the appeal of a Muslim schoolboy who refused to shake hands with female teachers on religious grounds.
"The boy was one of two teenage brothers at a high school in Therwil who caused a nationwide furore earlier this year when they said shaking hands with female teachers went against their religion, which forbids physical contact with a member of the opposite sex who isn't family," The Local, a European newspaper, reported on Tuesday.
According to the paper, the Basel school had initially agreed to exempt the boys from shaking hands with all teachers, irrespective of gender. This was done to reach a compromise and avoid discrimination against women at the same time. The situation subsequently triggered countrywide outrage, being widely seen as an insult to Swiss culture.
No such thing as a 'Muslim terrorist': Dalai Lama
Local authorities then intervened and ruled that the boys must shake their teachers' hands or face disciplinary measures, as well as a fine of up to 5,000 francs. "The public interest with respect to equality between men and women and the integration of foreigners significantly outweighs the freedom of conscience of the students," the authorities had said. They also observed that refusing to shake hands for religious reasons would involve others in a "religious act" and was therefore different from the wearing of a headscarf or refusing to take part in swimming lessons.
The rejection comes a week after the school board rejected a complaint lodged by the parents over disciplinary measures taken against their son. Authorities have clarified that it is the teachers' right to demand a handshake.
Welcoming the school's decision, Monica Gschwind, the head of the city's education department, said: "Shaking hands with teachers is deeply rooted in our society and culture," The parents can now lodge a further appeal to the city's education authorities, but Gschwind said she would lobby the local government to support the school's decision.
All local customs should be respected in schools, regardless of religion, Gschwind said. "For me it is clear: the handshake is enforced — no ifs and buts," she said. Authorities also suspended the family's Swiss citizenship ever since the case came into the limelight, pending further discussion.
German teachers stage walkout after Muslim pupil refuses to shake hands with female staff
The incident is not without precedent. Teachers at a school in Germany had stormed out of a graduation ceremony in July this year after a Muslim pupil refused to shake hands with female staff on "religious grounds". As the female teacher at the Kurt-Tucholsky School in Hamburg went to shake hands with the student, he offered his wrist instead saying, "No offence, my religion won't let me do that. I do not mean to disrespect you."
http://tribune.com.pk/story/1184890/no-ifs-buts-muslim-boy-must-shake-hands-female-teachers/
--
Portrait Of Life As A Muslim Woman-
20 SEPTEMBER 2016
THE storm over bans on the burkini in more than 30 French beach towns has all but drowned out the voices of Muslim women, for whom the full-body swimsuits were designed. The New York Times solicited their perspective, and the responses (more than 1,000 comments from France, Belgium and beyond) went much deeper than the question of swimwear. Saima Ashraf, 39, at the Barking Town Hall in London, where she is a leader in the local government. Ashraf said such an achievement would not have been possible for her as a veiled woman in her home country, France. What emerged was a portrait of life as a Muslim woman, veiled or not, in parts of Europe where terrorism has put people on edge. One French term was used dozens of times: Un combat (a struggle) to live day to day. Many who were born and raised in France described confusion at being told to go home. Courts have struck down some of the bans on Burkinis — the one in Nice, the site of a horrific terror attack on Bastille Day, was overturned Aug 25 — but the debate is far from over. "For years, we have had to put up with dirty looks and threatening remarks," wrote Taslima Amar, 30, a teacher in Pantin, a suburb of Paris. "I've been asked to go back home (even though I am home)." Now, Amar said, she and her husband are looking to leave France. Laurie Abouzeir, 32, said she was considering starting a business caring for children in her home in Toulouse, southern France, because that would allow her to wear a head scarf, frowned upon and even banned in some workplaces. Nawal Afkir, 25, whose hobby is street photography, in Brussels. "I am a social worker and I do my best to strive for a fair and free society. To me, wearing the veil does not mean being enslaved by a man. On the contrary, it means reappropriating the body and femininity," said Afkir. Many women wrote that anti-Muslim bias had intensified after the attacks on Charlie Hebdo in Paris in January 2015, and in Brussels, Paris and Nice more recently. A student, Halima Djalab Bouguerra, 21, in Bourg-en-Bresse, France, dated the change further back, to the killings by Mohammed Merah in the southwest of the country in 2012. "The way people look at us has changed," Bouguerra wrote. "Tongues have loosened. No one is afraid of telling a Muslim to 'go back home' anymore." Here are some excerpts from the comments we received. They have been condensed and edited for clarity, and translated for those who wrote in French.
http://www.nst.com.my/news/2016/09/174604/portrait-life-muslim-woman
--
Amal Clooney Seeks Justice for Islamic State Sex Slaves
Sep. 20, 2016
Islamic State militants who have enslaved, murdered and raped Yazidi women and children must be brought to justice, no matter the price, international human rights lawyer Amal Clooney said on Monday.
Clooney, a barrister at Doughty Street Chambers in London, is on a mission to prosecute the group through the International Criminal Court for their crimes against the Yazidi community.
She announced in June she would represent Yazidi women in Iraq who have been victims of sexual slavery, rape and genocide by Islamic State militants, also known as ISIS.
"It's been harrowing to hear the testimony of girls as young as 11 and 12 talk about what's happened to them. And still we haven't been able to do anything about it," she said in an interview with US television broadcaster NBC on Monday.
"They are brainwashing people and I think one of the ways to take action against that is to expose their brutality and their corruption and partly, you can do that through trials."
When asked if she would pursue this case "no matter the price" Clooney said she would, adding that she did not take the decision lightly.
"We did discuss it and we are aware of some of the risks involved, of course," she said, referring to a conversation with her husband, Hollywood actor George Clooney. "This is no joke. This is ISIS."
"I put my own life at risk"
Islamic State militants have killed, raped and enslaved thousands of Yazidis since 2014, accusing them of being devil worshipers and forcing over 400,000 of the religious minority to flee their homes in northern Iraq.
According to the United Nations, the Sunni militants enslaved about 7,000 women and girls in 2014, mainly Yazidis whose faith blends elements of Christianity, Zoroastrianism and Islam, and is still holding 3,500, some as sex slaves.
The United States, the European Parliament and the Council of Europe have all described the militant group's actions as genocide.
Yazidi campaigners, including Nobel Peace Prize nominee Nadia Murad Basee Taha, have been pushing for international justice for the crimes committed against them by Islamic State.
"I put my own life at risk, but I don't have a life without giving hope to other victims," said Taha, who appeared alongside Clooney on NBC.
Taha, who was appointed a UN goodwill ambassador for human trafficking victims on Friday, has urged the international community to do more to bring the jihadist militants to justice.
"Even today, I am not free. I cannot feel free while thousands of other girls like me are still captive," she said at her appointment ceremony in New York.
"My real fear is that once ISIS is defeated, ISIS militants will just shave off their beards and walk the streets of their cities as if nothing has happened. We cannot let this happen."
Taha said she was abducted by Islamic State militants from her village in Iraq in August 2014, and taken to the Islamic State stronghold of Mosul, where she and thousands of other Yazidi women and children were exchanged by militants as gifts.
She was tortured and repeatedly raped before she escaped three months later.
Clooney said two years on, there was no justice for Yazidi women and children.
"I'm ashamed as a woman that girls like Nadia can have their bodies sold and used as battlefields," said Clooney, addressing UN officials in New York on Friday. "I'm ashamed as a human being that we can ignore their cries for help."
http://www.the-star.co.ke/news/2016/09/20/no-matter-the-price-amal-clooney-seeks-justice-for-islamic-state_c1423483
--
Muslim Marriages Case in Cape HC Thrown Out, For Now
20 September 2016
Cape Town - Within minutes Western Cape High Court Judge Siraj Desai kicked out a controversial application aimed at expediting the passing of legislation which will give full recognition to Muslim marriages.
He found on Monday that the application, which was supposed to be argued before him for several days this week, could not proceed without the involvement of crucial chapter nine institutions.
The Women's Legal Centre (WLC), which lodged the application in the public interest, has been ordered to serve the application on two chapter nine institutions - the SA Human Rights Commission (SAHRC) and the Commission for the Promotion and Protection of Rights of Cultural, Religious and Linguistic Communities.
The issues before the court in the WLC's application fall squarely within the ambit of these institutions, Judge Desai found.
They were therefore entitled to be joined as parties to the proceedings, he said.
If the institutions decline to participate, they will have to file notices of their intention to abide by the court's decision. If they agree to participate, they will be given an opportunity to file papers of their own.
The case was postponed to March 20.
Judge Desai's ruling was made after attorney Zehir Omar, who represents the United Ulama Council of South Africa, raised a number of concerns last week.
One of these related to the non-joinder of the chapter nine institutions.
Omar also raised an additional six preliminary points and argued that each formed sufficient basis for the dismissal of the WLC's application with costs.
In the end, Judge Desai only accepted the non-joinder point.
The proposed legislation on Muslim marriages has been talked about in religious and legal circles for more than two decades and entails the delicate balancing of shariah (laws) with several rights, particularly women's rights, in the constitution.
The WLC believes that the non-recognition of Muslim marriages amounts to an ongoing violation of the human rights of women in such marriages and it is taking government departments to task over the issue.
Despite a lengthy law reform process, legislation has still not been passed.
This prompted the WLC to lodge the application. It claims that the government has been dragging its feet.
The President, Minister of Justice, Minister of Home Affairs, the Speaker of the National Assembly, the Chairperson of the National Council of Provinces and the United Ulama Council of South Africa are opposing the application.
The Law Society of South Africa, SA Lawyers for Change, the Muslim Assembly, the Islamic Unity Convention, the Commission on Gender Equality and a body that also calls itself the United Ulama Council of South Africa (which includes the MJC) have been admitted as friends of the court.
http://www.iol.co.za/news/crime-courts/muslim-marriages-case-thrown-out--for-now-2070418
--
URL: https://www.newageislam.com/islam,-women-and-feminism/new-age-islam-news-bureau/france-burkini-ban--australian-woman-forced-off-riviera-beach/d/108615
New Age Islam, Islam Online, Islamic Website, African Muslim News, Arab World News, South Asia News, Indian Muslim News, World Muslim News, Women in Islam, Islamic Feminism, Arab Women, Women In Arab, Islamophobia in America, Muslim Women in West, Islam Women and Feminism