New Age Islam News Bureau
9 Aug 2020
• Four Years Old Girl Who Survived the Christchurch Mosque Massacre Wants To Face The Shooter In Court To Ask Him 'Why?'
• See Art by Utah Women as Exhibits Mark the Anniversary of the 19th Amendment
• Christian Girl Who Converted to Islam Allowed to Go with Muslim Husband by Lahore High Court
• Egypt's Sexual Assault Accusations Spotlight Social Stigmas
• Collective 615 Offers Women Distraction-Free Workspace
• Gabriela Ruffels To Face Rose Zhang For U.S. Women's Amateur Title
• Let's Not Forget Vulnerabilities of Women, Girls after Beirut Port Blast
• South African Women Still Live In 'Apartheid-Lite' Society
• Meet 4 Extraordinary South African Women Providing Covid-19 Training To Several Sectors Of Society
Compiled By New Age Islam News Bureau
URL: https://www.newageislam.com/islam-women-feminism/four-years-old-girl-survived/d/122583
-------
Four Years Old Girl Who Survived the Christchurch Mosque Massacre Wants To Face The Shooter In Court To Ask Him 'Why?'
9 August 2020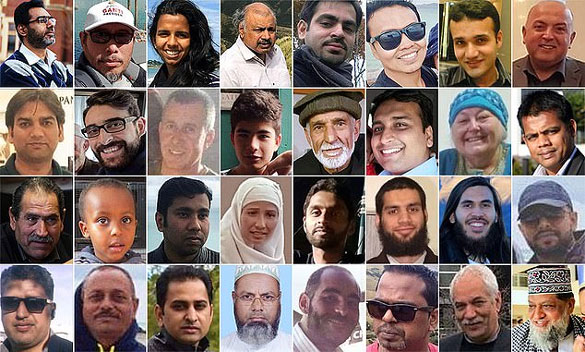 The horrific terror attack in Christchurch, which left 51 worshipers dead, has been described as New Zealand's darkest day (Pictured: victims)
-----
A four-year-old girl who suffered brain damage in the horrific Chirstchurch mosque attack wants to face the shooter in court to ask him 'why?'
Brenton Tarrant murdered 51 people and injured dozens more in a brutal massacre at the Al-Noor Mosque and Linwood Islamic Centre on March 15 2019.
The 29-year-old Australian live-streamed his assault on New Zealand Muslim community members on Facebook and later pleaded guilty to his charges.
The young victim, who is now six and cannot be named to protect her identity, has expressed interest in facing the white supremacist in court.
Her father told Stuff she is recovering from her injuries and has started to regain memories of the horror assault.
'She remembers everything from that day. She just asked me, "Why did he hurt me?"' he said.
The girl spent three months recovering in hospital and struggles to walk properly as a result of her injuries.
Her father said he would inquire about whether she can read an impact statement to the shooter in court, as a vital part of her recovery.
Psychologist Sara Chatwin said while children generally do not speak in court, the process could be valuable for the victim's rehabilitation.
'It may be that the child is able to do that in a way that lessens some of the angst that she suffered,' she said.
Tarrant pleaded guilty to 51 counts of murder, 40 charges of attempted murder and a charge of engaging in a terrorist act and is expected to be jailed for life.
The terror charge against him was the first prosecution of its kind in New Zealand.
Tarrant first entered the Al Noor Mosque as Friday prayers were beginning and opened fire.
Worshipers scrambled as the shots rang out. Some managed to smash windows to escape, while others had to lay with the bloodied bodies and pretend to be dead.
Tarrant then drove to the Linwood Mosque on the other side of the city and continued shooting.
Two police officers managed to finally stop the shooter by ramming their car into his gold Subaru Outback.
They dragged Tarrant out of the car, and he was arrested.
Inside the car were improvised explosive devices, which were later disarmed.
A 73-page manifesto was published detailing how his actions were racially motivated and how he was inspired by Norway mass killer Anders Behring Breivik, who killed 77 in 2011.
Tarrant, who describes himself as a far-right fascist, came to his radical views from conversations in dark corners on the internet, consolidated on trips to Europe.
He grew up in the northern New South Wales town of Grafton, moving to New Zealand in 2017 and settling in the South Island town of Dunedin.
Tarrant will remain in a maximum-security jail in Auckland ahead of his sentencing on August 24.
https://www.dailymail.co.uk/news/article-8608131/Girl-4-miraculously-survived-Christchurch-mosque-massacre-wants-face-shooter-court.html
-------
See Art By Utah Women As Exhibits Mark The Anniversary Of The 19th Amendment
By Becky Jacobs
09-08-2020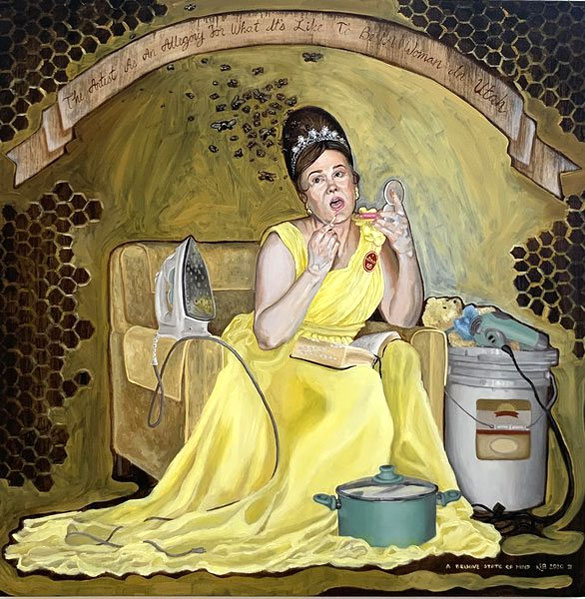 (Photo courtesy of Nancy Andruk Olson) "Beehive State of Mind," created by Kirsten Holt Bietler, is part of the exhibit "Rouge: Utah Women's Voices," which features 30 local female artists who portrayed how they view their roles as a women in Utah today.
------
One painting shows a woman in a kitchen holding a power drill and a bowl as she balances on a board on top of a ball. Another shows a woman wearing a yellow dress and tiara as she puts on makeup with a beehive in the background. A third display features live birds in a cage.
This is how 30 female artists chose to portray their roles as a women in Utah today.
The exhibit, "Rouge: Utah Women's Voices," is one of the art projects on display in the Beehive State as people across the country celebrate the centennial anniversary this month of the ratification of 19th Amendment, which expanded voting rights to women across the U.S., on Aug. 18, 1920.
People can view "Rouge" through Sept. 19 at the Bountiful Davis Art Center, at 90 N. Main St. in Bountiful. It's accompanied by "Utah Women Making History," an exhibit from Better Days 2020, a nonprofit that promotes the state's suffrage history, featuring illustrations created by Brooke Smart of 50 Utah women.
The center is also hosting "Mother: Landscape," an exhibit that examines "the correlation between the treatment of the natural world and women within a patriarchal society," as well as "Locate," which "looks to navigate identity through visually exploring the impact and accumulation of experiences tied to places."
Together, the exhibits portray the experiences of women from the past and present in the Beehive State, said Nancy Andruk Olson, who curated "Rouge."
(Photo courtesy of Nancy Andruk Olson) "True Peace is not a Lovely Facade - It's Homemade," created by Katrina Berg, is part of the exhibit "Rouge: Utah Women's Voices," which features 30 local female artists who portrayed how they view their roles as a women in Utah today.
Women artists "are grossly underrepresented in museums and galleries throughout the United States," Olson said. From 2008 to 2018, "only 11% of art acquired by the country's top museums for their permanent collections was by women," the New York Times has reported.
"I wanted to provide opportunity for representation and to explore their voices," Olson said.
https://www.sltrib.com/artsliving/2020/08/08/see-art-by-utah-women/
--------
Christian Girl Who Converted to Islam Allowed to Go with Muslim Husband By Lahore High Court
August 9, 2020
LAHORE: The Lahore High Court has allowed a Christian girl who married to a Muslim man after converting to Islam to go and live with her husband peacefully.
Maria Shehbaz, 18, had embraced Islam and married Naqash Tariq with her own free will, however, her mother Nighat Shehbaz had lodged an FIR against Tariq under abduction charges. A sessions court at Faisalabad had sent the girl to Darul Aman against her will and her husband had assailed the impugned order in the LHC.
The petitioner-husband stated Maria had contracted marriage with him on October 25, 2019 with her own free will and consent after entering into Islam. She stated before sessions judge that she was a sui juris girl and no one had abducted her. She was living with her husband peacefully. The petitioner pleaded the girl did not want to go with her mother but the sessions court had wrongly sent her to Darul Aman. He requested the court to allow the girl to go with him. He pointed out that she could not be compelled to go with her parents as there was a serious life threat to her.
Girl's mother argued that her daughter was minor and not eligible to contract marriage under the provisions of the Child Marriage Restraint ACT 1929. She stated that her daughter was allegedly kidnapped by Naqash Tariq to force her into marriage against her free will. She said her daughter Nikah Naama had also been found bogus and Nikah registrar had lodged an FIR in this regard.
Justice Shahid Mehmood Abbasi observed in his order issued on August 4 that on the desire of the mother, the girl was examined by the LHC and she responded that she was more than 18 year old. She recited "Kalma Tayyaba" and maintained that she had converted to Islam without any duress or pressure before marrying the petitioner.
The court observed that she was well conversant with the fact that her husband was already a married person and had kids, but she stated that she wanted to accompany her husband. "Statements of Maria Shehbaz as well as her general appearance unambiguously show that she is a grown up young lady who seemed to have attained the age of puberty and acknowledged the petitioner as her lawful husband.
Moreover, prior to lodging in Darul Aman she was living with the petitioner as his wife for a considerable time." The court further ruled that it could not determine the illegality and irregularity in the process of solemnization of the marriage when the girl herself was repeatedly recognized the petitioner as her husband. It was the domain of family court, the court concluded.
After setting aside the sessions court order to keep girl at Darul Aman, Justice Abbasi freed and allowed her to accompany her husband.
https://www.thenews.com.pk/print/698210-christian-girl-who-converted-to-islam-allowed-to-go-with-muslim-husband
-------
Egypt's sexual assault accusations spotlight social stigmas
Aug 09, 2020
When dozens of Egyptians began posting accounts of sexual assault on social media last month, activists sensed a "#MeToo" moment in a nation where women have long felt disadvantaged.
Like high-profile trials in the United States where the now global women's rights hashtag took off, prosecutors launched charges in Egypt's best-known recent case: a student from a wealthy background facing multiple accusations.
Yet when the administrator of the Instagram page that attracted the first testimonies tried to expose a second high-profile case, death threats came and she suspended the account at the end of July out of fear, she said.
Furthermore, in what activists see as a move undercutting women's rights, prosecutors have recently charged several women for "inciting debauchery" with songs and dances in TikTok videos.
One had posted a video saying she had been raped and blackmailed and appealing for help.
Campaigners say there remains a deep-rooted bias in the conservative, Muslim-majority nation to place more blame on women for behaviour deemed provocative than on men for sex crimes.
A United Nations' survey in 2013 found that 99% of Egyptian women had experienced harassment.
"We are always told that we are the reason for all the wrongdoing happening to us … whether it's because of what you are wearing or the place you went to," said Amina Salah El-Din, a 25-year-old internet content creator who says she was a victim of assault last year.
The recent testimonies stemmed from the case of Ahmed Bassam Zaki, a former student at the American University in Cairo (AUC) in his early 20s, who was charged last month with indecent assault against at least three women.
Allegations against Zaki were posted in previous years on a private Facebook group run by AUC students. Authorities reacted after the accusations surfaced on an Instagram account named @assaultpolice.
"There is this stereotype that sexual harassment only happens in certain (poorer) environments," said Azza Solaiman, an activist and lawyer who helped document the complaints.
Zaki has not addressed the accusations publicly but denied some of them during questioning, according to a prosecution statement. Contacted by Reuters, his father declined comment.
After Egypt's top Sunni Muslim authority – known as Al-Azhar – and the state-run National Council for Women urged more victims to come forward, accusations surfaced against three rights activists, one of whom publicly confessed and was fired and a Coptic Church priest who was also dismissed.
Attention also fell on an alleged gang rape at a luxury Cairo hotel in 2014, with more testimonies on @assaultpolice, before it was taken down. Accounts continued on other pages, however and the public prosecutor's office announced an investigation on Wednesday.
Even so, judicial authorities remain ill-equipped to deal with harassment and assault crimes, according to activists, some of whom have been highlighting Egypt's assault problems since long before #MeToo trended in the West.
Egypt did introduce jail terms of at least six months or fines of at least 3,000 Egyptian pounds ($188) for harassment in 2014, after attacks on women near Cairo's Tahrir Square during celebrations for President Abdel Fattah al-Sisi's inauguration.
Female police officers now patrol on public holidays or celebrations. But the definitions of rape, assault and harassment still often let defendants get off lightly, campaigners say.
"The problem is largely related to the legislative environment, which makes the system unable to deal with this issue," said Mohamed Fouad, a member of parliament who pressed for action on Zaki's case.
A Justice Ministry spokesman was unavailable to comment and Egypt's state press centre and an Interior Ministry spokesman did not respond to questions.
With their pursuit of the TikTok stars, prosecutors have called themselves "guardians of social morality" in targeting women deemed to be wearing suggestive clothes. Activists say the prosecutions violate freedom of expression.
Chasing the man who assaulted her outside her apartment in a working-class Cairo neighborhood, she said she had to accuse him of theft to encourage bystanders to catch him.
"They see it's rare for women to report sexual harassment and that no one follows this through to the end, so they thought it only natural that I would drop it, or file a robbery complaint instead," she said at an interview at a friend's home.
https://www.wionews.com/world/egypts-sexual-assault-accusations-spotlight-social-stigmas-319196
-------
Collective 615 offers women distraction-free workspace
August 8, 2020
NASHVILLE, TN (WSMV ) — Fighting the distractions that come with working from home can be tough, especially with spouses and kids at home.
One Nashville woman has a solution for that and its a place where only women can go and work.
Located in West Nashville off Charlotte Pike is Collective 615, a co-working space just for women.
"We have meeting rooms, breakout rooms and phone booth rooms," said Kathy Thomas who is the woman behind the project.
Thomas started the company back in February and was open just a few weeks before she was forced to close due to COVID-19.
It's purpose is to give women a place to go where they can collaborate and work together, without all the distractions.
"I can't do laundry or get distracted by hearing my husband on his conference calls," said Leah Glover-Hayes who has her own podcast, her story of success.
"It's a workspace but it's also comfortable. I get to show up to a place that's meant for work and getting stuff done," said Hayes.
"Everyone's masked, social distancing when we can, if not fully masked. We're bringing the education in, it's just looking a little different these days," said Thomas.
You can even use the space to host a lunch or business meeting in one of the private rooms.
Thomas says while its a place of business, its also a community, where women get creative and inspire one another.
"People were really craving to get back to some sort of normalcy, even though it's heavily adjusted," said Thomas.
And you can visit Collective 615 as early as 6 a.m. and stay as late as midnight.
Membership is required to use the workspaces and there are various plans based on your needs. Click here for more information on Collective 615 and membership options.
https://keyt.com/news/national-world/2020/08/08/collective-615-offers-women-distraction-free-workspace/
-------
Gabriela Ruffels to face Rose Zhang for U.S. Women's Amateur title
09-08-2020
ROCKVILLE, Md. -- Gabriela Ruffels keeps falling behind and keeps winning her matches in the U.S. Women's Amateur, leaving her only one match away from becoming the first back-to-back winner in nearly a decade.
Ruffels never led in her quarterfinal match Saturday until she made a 10-foot birdie putt on the 18th hole at Woodmont Country Club to beat Emilia Migliaccio. Then, the 20-year-old from Australia fell 2 down through five holes in the semifinals against Valery Plata. Ruffels rebounded quickly, holed a 40-foot birdie putt on the 13th to go 2 up and won 2 and 1.
Ruffels now has won 11 consecutive matches, the longest streak to start a U.S. Women's Amateur career since Dorothy Campbell won 13 straight in 1909 to 1911. She will try to become the fifth player to successfully defend, and the first since Danielle Kang in 2011.
"Winning the U.S. Women's Amateur for the second time would mean everything," Ruffels said. "I know the list of names that have won it twice and I'd love to join them. It's the biggest tournament in women's amateur golf and it would be an honor."
Getting to the semifinals was hard work. She fell behind on the front nine with bogeys on both par 5s, but she won the ninth and 10th holes with par to square the match. Migliaccio took a 1-up lead when Ruffels bogeyed the 15th, and the Aussie squared the match with an 18-foot birdie putt on the par-3 16th.
That set the stage for the final hole. Migliaccio hit her approach to 35 feet, and Ruffels took advantage of a great drive by going after the flag with an 8-iron from 144 yards to about 10 feet away for the winning birdie.
Zhang recorded a 2-and-1 victory over Kaleigh Telfer of South Africa in the morning, and then dispatched of Alyaa Abdulghany of Malaysia by the same score in the afternoon.
Zhang and Abdulghany combined for 10 birdies, with Zhang making four of them through eight holes to build a 3-up lead. The last one was a 40-footer on No. 8.
"I was really feeling that birdie on No. 8," said Zhang, the No. 9 player female amateur in the world. "From then on, I just tried to keep the momentum going."
"I feel like it's the same, very similar to last year," Ruffels said. "I'll definitely draw on that experience. This championship is so crazy, with mixed emotions all the time. It's like a roller coaster. I'm just so happy right now."
https://www.espn.in/golf/story/_/id/29624589/gabriela-ruffels-face-rose-zhang-us-women-amateur-title
-------
Let's Not Forget Vulnerabilities of Women, Girls after Beirut Port Blast
08/09/2020
The Arab Institute for Women at the Lebanese American University expresses its support, sorrow and solidarity with Lebanon in the aftermath of its recent tragedy.
On Tuesday, August 4, the port of Beirut – along with the city of Beirut – was decimated by an explosion whose impact will be felt for decades to come.
Beirut has once again been brought to its knees. Lebanon was already debilitated by layers of disaster – economic collapse, government ineptitude, unprecedented levels of poverty, the COVID-19 pandemic.
The explosion in the port of Beirut collapsed large parts of the city in a matter of minutes. Total casualties are unknown and rising. The impact of this will be felt for decades to come.
Lebanon was already paralyzed by weakened systems of social protection, reduced access to safe services and support, displaced communities and increased vulnerabilities. These will only be magnified as a result of this tragedy.
All of Lebanon grieves and suffers. And yet, when lives are lost, when livelihoods are destroyed, when economies collapse, when people are struggling for survival – they turn on women.
All of Lebanon grieves and suffers. And yet, when lives are lost, when livelihoods are destroyed, when economies collapse, when people are struggling for survival – they turn on women.
It might appear inappropriate to speak of women and girls now, at a time when the entire population is crippled. But we must speak about women and girls so they are not forgotten. Despite common perceptions, it is precisely in these settings that women's rights and freedoms are at risk.
In contexts of insecurity – such as the one we are now living in – pre-existing vulnerabilities are amplified. And women in Lebanon were vulnerable before the explosion, before COVID and before the economic collapse.
Before Beirut's tragedy on Tuesday, increased levels of poverty were driving women to resort to risky measures for survival. Economic insecurity brings shortages of food, fuel and medicines, and creates new dependencies.
New homelessness will drive people to temporary shelter without lighting, water, toilets. These spaces will be overcrowded, putting women and girls next to men they do not know. All of this increases risks for women.
For several months, Lebanon has struggled. Resources have been stretched and basic services are at breaking point. It is at these moments that traffickers take advantage of those who are vulnerable and have no other means.
For several months, Lebanon has struggled. Resources have been stretched and basic services are at breaking point. It is at these moments that traffickers take advantage of those who are vulnerable and have no other means.
In the workforce, there will be less space for women, meaning they will be forced to resort to the informal economy, with great risks and no protections. Women's burden of unpaid care will increase. Women's role as the social safety net for the family and the community will further compromise their time, energy and resources.
Education for all children has been severely compromised, but girls in particular face the additional risk of child marriage, viewed by the parents as an opportunity to reduce the family's economic burden by having one less mouth to feed. Such is the reality in contexts of severe poverty.
Violence against women will also increase, as it does in every emergency around the world. Intimate partner violence is the world's most common – and best hidden – form of violence against women.
Violence against women will also increase, as it does in every emergency around the world. Intimate partner violence is the world's most common – and best hidden – form of violence against women.
In Lebanon, this was already exacerbated as a result of the economic crisis and the COVID pandemic. In contexts of insecurity, even the fear of violence is a form of violence.
It is time to focus on the Lebanon of the future. It is possible to rebuild a Lebanon on a stronger foundation – one that treats all equally.
Let us start with women. Building a country that prioritizes the lives and well-being of women is a non-negotiable imperative. Women and girls have the right to feel safe. After all, if women are not safe, no one is safe.
We can start by providing funding and support to women's groups so they can have a role in the new Lebanon. Let us ensure they have the necessary tools and resources to advocate on behalf of women and girls.
We can start by providing funding and support to women's groups so they can have a role in the new Lebanon. Let us ensure they have the necessary tools and resources to advocate on behalf of women and girls.
Women must be engaged at all levels of leadership and decision-making for this response and beyond. This is not an afterthought; it is an immediate necessity.
We often speak of Lebanese resilience. Women are the face – and the force – of our recovery and our resilience. Now is the time to let women rise from the ashes.
https://themedialine.org/news/opinion/lets-not-forget-vulnerabilities-of-women-girls-after-beirut-port-blast/
-------
South African women still live in 'apartheid-lite' society
09 AUGUST 2020
James Brown wrote the critically acclaimed song, It's a Man's World, but it Wouldn't be Nothing Without a Woman or a Girl, back in 1966. The lyrics are revered worldwide and continue to be part of our everyday conversations. But for some reason society doesn't seem to resonate with, or completely refuses to acknowledge, the second part of the lyrics. For the longest time, women have been disenfranchised in almost all areas of society and the economy. Almost 10 years prior to the release of the song, close to 20,000 South African women, from all races and across all walks of life, marched to the Union Buildings on August 9 1956 to put up a fight against carrying passes - a discriminatory tool whose purpose was ultimately the suppression of freedom of movement.
By limiting movement, you limit the overall potential of human beings. You take away their dreams and sanity. Movement creates opportunities for wealth and prosperity. Sixty-four years later, the movement of women is stil...
https://www.businesslive.co.za/bt/opinion/2020-08-09-south-african-women-still-live-in-apartheid-lite-society/
--------
Meet 4 extraordinary South African women providing Covid-19 training to several sectors of society
09 AUGUST 2020
Essential workers continue to work tirelessly to combat the Covid-19 outbreak. This National Women's Day, we honour four extraordinary occupational health experts who are leading the country on national Covid-19 guidelines and procedures, online training and education, as well as surveillance and research, in order to promote health and safety in workplaces across South Africa.
The team of women are part of the national Covid-19 Occupational Health Outbreak Response Team (OHORT), which brings together various experts and collectively carries out rigorous daily online training across several sectors of society to mitigate the burden of the disease.
Essential frontline healthcare workers, CEOS, paramedics, government departments, and retailers are some of the many sectors these women have provided training in dealing with Covid-19 cases. Training sessions include, among others: what employers should do when a worker tests positive, control measures for workplaces, screening protocol, cleaning and decontamination procedures, and the correct methods of wearing personal protective equipment (PPE).
The four women are also leaders from the National Institute for Occupational Health (NIOH), a World Health Organization (WHO) Collaborating Centre and a Centre of Excellence.
Dr Spo Kgalamono
A renowned expert in occupational medicine and currently the acting executive director for the NIOH, Kgalamono has over 20 years' experience in occupational health and holds a joint appointment at Wits University's School of Public Health.
She is the recipient of many awards, and has been recognised by the Public Health Association of South Africa as one of the three most influential women in public health in South Africa. Kgalamono sits on several committees including the International Working Group on Occupational Diseases, and the Medical Bureau for Occupational Diseases Review Authority.
Dr Tanusha Singh
Singh is the head of immunology and microbiology at NIOH and the OHORT Chair. With over 20 years experience in occupational health, she is the recipient of a number of research grants, and holds a joint appointment with the Department of Clinical Microbiology and Infectious Diseases at Wits University.
She is revered for pioneering the Bioaerosol Monitoring Unit - the only one of its kind in SA – and the Aspire laboratory, a novel initiative and the only one globally. In addition to this, Singh also spearheaded the development of the Airborne Mycobacteria Tuberculosis Research Laboratory for airborne TB detection in workplaces. She sits on several committees including the International Labour Organisation and the WHO.
Dr Odette Volmink
A medical doctor and occupational medicine specialist, Volmink is also one of the lead Covid-19 trainers. She has worked in the public hospital setting, both in urban and rural areas in South Africa before heading to the UK, where she was first introduced to the field of occupational medicine.
Since returning to the country, Volmink joined the NIOH and has both a clinical and teaching role in occupational medicine. This includes work with different universities as well as delivering training in the registrar programme in occupational health and public health medicine.
Jeanneth Manganyi
A registered occupational hygienist and head of the NIOH Occupational Hygiene Section, Manganyi has previously worked at a private approved Inspection Authority and was involved in exposure assessments in a wide range of industries, including iron and steel, railway, power utilities, manufacturing and office buildings.
Manganyi is also involved in teaching and training, as well as critical research into respirator fit testing and facial anthropometry for respirator design. Through this, she aims to improve the protection of workers using tight fitting respirators.
https://www.health24.com/Medical/Infectious-diseases/Coronavirus/meet-4-extraordinary-south-african-women-providing-covid-19-training-to-several-sectors-of-society-20200809-3
--------
URL: https://www.newageislam.com/islam-women-feminism/four-years-old-girl-survived/d/122583
New Age Islam, Islam Online, Islamic Website, African Muslim News, Arab World News, South Asia News, Indian Muslim News, World Muslim News, Women in Islam, Islamic Feminism, Arab Women, Women In Arab, Islamophobia in America, Muslim Women in West, Islam Women and Feminism