New Age Islam News Bureau
17 Jun 2019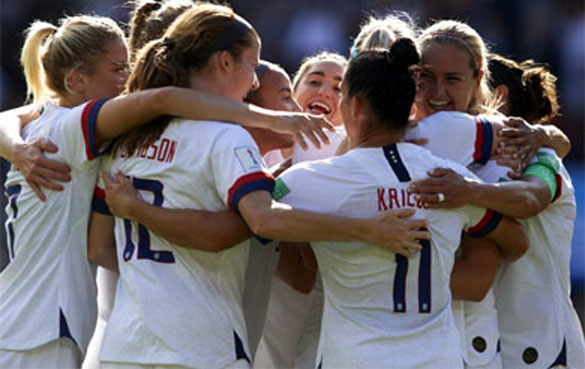 Bootlegged feeds from Doha-based beIN Sports of top football games have been broadcast by Saudi-based BeoutQ since 2017 [Maja Hitij/Getty Images]
-----
• FIFA Tells Saudis to Stop Pirating Women's World Cup TV Feeds
• Muslim Female Artists Reflect On Identity and a Sense of Belonging In Manchester
• Nisa Homes to Open Shelter for Muslim Women in Edmonton
• Asiya Andrabi Admits Her Involvement in Receiving Funds from Foreign Sources: NIA
• Rescued Women in Nigeria Return to Boko Haram Fighters
• Pak Women Need Maximum Int'l Exposure for Better Results: Malik
• British-Iranian Woman Jailed in Tehran Begins New Hunger Strike, Husband Says
Compiled by New Age Islam News Bureau
URL: https://www.newageislam.com/islam-women-feminism/forcible-marriage-among-reasons-suicide/d/118907
--------
Forcible Marriage among Reasons for Suicide among Young Iranian Women
Jun 16, 2019
According to the reports of the past month, forcible marriage has been among the reasons for suicide among young women in Iran who in the absence of any legal support, find their only way out of problems in ending their own lives. Following are two tragic stories:
On Wednesday, June 5, 2019, Souma Khedri, 19, ended her own life by taking rice pills. Souma who lived in Kiyouleh village in Baneh (western Iran), had been compelled into forcible marriage with a relative against her own will. Souma Khedri's family refused to turn her body in to the Coroner's Office.
In another report on forcible marriage from Piranshahr, Sara Esmaili, 17, who had been forced to marry a relative ended her own life on Friday, May 31, 2019, in the village of Pasveh.
Suicide due to poverty and pressures in the family
Four women by the names of Kajal Mahmoudi, 21, Mahin Mohammadi, Zahra Sharifi, 25, and Shiva Khosravi, 29, committed suicide by taking rice pills on May 29, June 1, 11 and 14 in the cities of Urmia, Abdanan, Ilam and Paveh respectively.
Golpari Amiri hanged herself on Friday, May 31, 2019, after having a fight with her husband. The report did not specify where she killed herself.
According to another report, Kimia Sheikhani, 19, also hanged herself on June 15, 2019. She had returned home to her father after having a fight with her husband.
Two reports on June 15, 2019, from Oshnavieh also said an unidentified young woman in Fajrabad village and an unnamed 20-year-old married woman in Gorgavi village died after committing suicide without specifying their methods.f
A young woman in Mashhad threw herself off a height in Amouzegar Blvd. on Friday, May 30, 2019. She had been under enormous economic pressure. Earlier, on Wednesday, May 22, 2019, in Tehran, a 34-year-old woman and her six-year-old son jumped off the fourth floor of a building, ending her own and her son's life. (The state-run ROKNA news agency – May 22, 2019)
Kobra Assadi, 20, ended her life by setting herself ablaze on May 29, 2019. The place of her death was not specified in the report.
https://women.ncr-iran.org/2019/06/16/forcible-marriage-among-reasons-for-suicide-among-young-iranian-women/
--------
FIFA Tells Saudis to Stop Pirating Women's World Cup TV Feeds
June 17, 2019
FIFA has asked a Saudi-backed satellite broadcaster to stop transmitting pirated feeds of Women's World Cup games from a Qatari network.
Bootlegged feeds from Doha-based beIN Sports of top football games have been broadcast by Saudi-based BeoutQ since 2017.
FIFA, which sells the exclusive rights to beIN, on Sunday called out Arabsat for distributing BeoutQ.
"FIFA is aware that unauthorised transmissions of the FIFA Women's World Cup 2019 are being made available across the MENA region, primarily Saudi Arabia, via the pirate broadcaster known as beoutQ," FIFA said in a statement to The Associated Press news agency.
"BeoutQ's unauthorised transmissions of the FIFA Women's World Cup 2019 are made available by way of Arabsat satellite frequencies.
"FIFA is therefore seeking the cooperation of Arabsat in addressing the misuse of FIFA's intellectual property."
Screengrabs from BeoutQ's coverage of England's victory over Scotland at the Women's World Cup last week show the beIN logo on the screen.
Saudi authorities declared beIN illegal in the kingdom in a proxy battle in the nation's wider economic and diplomatic boycott of Qatar that was launched two years ago. BeIN has pursued Arabsat through the French courts.
"Even if we are illegally denied access to justice in Saudi Arabia, we will use every means possible to hold beoutQ and Arabsat to account for their daily theft of rights-holders' intellectual property," beIN group chief executive Yousef Al-Obaidly said.
"But we are not fighting this battle alone - the weight of the international community is now firmly coming to bear on Saudi Arabia to end its safe haven for piracy, which is destroying not only the economic model of the global sports and entertainment industry, but the livelihoods of content creators all around the world."
Arabsat was founded in 1976 by members of the Arab League and the Saudis hold the biggest stake with 36.7 percent. There was no immediate response to a request for comment from Arabsat.
"FIFA continues to explore each of its legal options as a means to address beoutQ's unauthorised broadcasts," football's governing body said.
"In this regard, FIFA is working with a number of other rights holders whose rights have also been infringed by beoutQ."
In January, FIFA, UEFA and the Asian Football Confederation issued a joint statement with the English Premier League, German Bundesliga and Spanish league denouncing "persistent and illegal screening" of games where beIN owns the Middle East rights.
https://www.aljazeera.com/news/2019/06/fifa-tells-saudis-stop-pirated-women-world-cup-tv-feeds-190616155536415.html
--------
Muslim Female Artists Reflect On Identity and a Sense of Belonging In Manchester
Ben East
June 17, 2019
Growing up in the UK in the 1960s and 1970s, Robina Akhter Ullah, 57, felt unique, a curio, even. "I was always the first," remembers the artist. "The only Muslim in high school, in college, getting a degree. I was always trying to prove I belonged, that it didn't matter that I was brown. I could fit in. But though I could change my voice," she says, in a distinctive Mancunian drawl, "I couldn't change my skin colour." She says it didn't matter where she was from, she was always subjected to racist remarks.
The epithet cuts through the gallery space in Manchester where Ullah is hanging her contribution to a fascinating group exhibition. But her reflections on identity and memory are a key part of Beyond Faith: Muslim Women Artists Today.
It's long overdue survey of five contemporary artists, who practise or have trained in the north-west of England; none are household names in the art world. But in a way that's the whole point of this exhibition – it's the result of an academic research project by the University of Manchester, which has posed important questions about how Muslim women are represented in the cultural and creative industries.
The journeys of the Muslim female artists
The answer is probably hidden in Ullah's own experiences. She only got back into making art again relatively recently – her mother died and she started producing work for herself "to feel normal again". It had been 25 years since she'd studied art, Ullah explains, as she takes me over to one of her strongest pieces of textile work. But something reignited in her.
"When Mum died, all my links with Pakistan went," she adds. "The stories disappeared. I was unmoored from that culture. So here, The Sun Never Sets On The British Empire looks at fractured memory; if you look at the fabric, there are threads hanging, and that's a reflection of how fragile our lives can be.
"You see how those pieces don't connect?" she gesticulates. "Well, how will I reconnect to Pakistan? Now, I'm not sure that will ever happen."
While Ullah is speaking, Shabana Baig takes photos of the exhibition space. Like Ullah, it feels like participating in Beyond Faith is an important moment for Baig – after her degree in textile design she freelanced for a while in the early 1990s before changing career to work in the voluntary sector. She currently has a role as a therapist for Greater Manchester Rape Crisis.
Finally, it seems, her colourful, detailed mixed-media work is getting the attention it deserves. "I was asked in the run-up to this show why I hadn't pursued a career in the arts," she says. "It's not because I'm a Muslim but I do have to say that when I was a freelance designer, my parents didn't want me to move to London where all the jobs were – they wanted me to get married.
"I didn't, by the way, but I did find that it was difficult to follow that career path on my own. So I kind of just stopped."
In fact, over the past couple of years, Baig's interests began to converge as she started to use art as a means of therapy and recovery for her clients. It wasn't long before she dug out work that had been "sitting under my bed for 28 years or more". She dusted it off, realised it was quite good – "very much about me as a second generation Asian woman dealing with a culture clash" – and started reworking some of the pieces.
"It was a really exciting moment, but even then I wasn't in it for the glory of an exhibition; it was more to help my own well-being and the mental health of others. So I've now got myself a studio space and, you know what, I might start doing card designs. I'm going to dabble again, let's put it like that, and see where it takes me. But I feel so much better already."
Looking to inspire a new generation
Later, research assistant Jana Wendell will tell me that one of the aims of the project and exhibition is to make sure that Ullah and Baig's experiences when they were young Muslim artists are not repeated, that there is encouragement, structure and a potential career path underpinning the talent and enthusiasm.
Not many start as young as Aida Foroutan, though, who as a four-year-old would soothe herself through blackouts and air-raids in Tehran by drawing. "It was my way of coping with my fears and conflicts, and I've never stopped that," she says of the series of paintings on show that look at the global oppression of women.
And just as the work dreams of a better world, so Foroutan hopes that there will be a moment in the not too distant future when exhibitions gathering together Muslim artists won't be necessary. "I could ask why I should be ­pigeonholed as a Muslim artist? I'm just an artist, that's it," she says.
"But that's the way it is. I once spoke to a gallery in London about representing me, and their first question was to ask me where I was from. When I told them, they said they already had an Iranian artist – and this was without ever seeing my work. That's so wrong – and it doesn't happen to western artists."
In the meantime, then, in this imperfect world, Beyond Faith: Muslim Women Artists Today is hugely important, a chance to enjoy and explore thoughtful work that perhaps would never otherwise have seen the light of day – and also, through the artists' work with the Whitworth Gallery's existing collections, place it in interesting contexts.
"I hope it shatters a few myths and challenges peoples perceptions about being a Muslim woman," says Robina Akhter Ullah. "That label doesn't mean you all have the same experiences – the five of us here all have such different backgrounds – but what unites us is Islam."
https://www.thenational.ae/arts-culture/art/muslim-female-artists-reflect-on-identity-and-a-sense-of-belonging-in-manchester-1.875213
--------
Nisa Homes to Open Shelter for Muslim Women in Edmonton
By Kashmala Fida
June 16, 2019
EDMONTON—Washrooms without bidets, a lack of halal food options, soiled prayer mats and the presence of men were just some of the complaints Aliyah Gauri heard from Muslim women seeking shelter in Edmonton.
Gauri is the project manager for Nisa Homes — transitional homes for Muslim, immigrant and refugee women and children who are seeking shelter after fleeing domestic violence. Nisa Homes operates four shelters across Canada; in Mississauga, Ont., Surrey, B.C., Windsor, Ont., and Calgary. The homes shelter anywhere between eight to 12 women at a time.
This fall, Nisa successfully raised $100,000 to open a shelter in Edmonton.
"In terms of why we came here, we were getting calls from here," Gauri said, adding that there had even been times when people were so uncomfortable with their shelter options in Edmonton, they travelled to other cities to find help.
According to a Canadian Centre for Justice Statistics report released in February 2017, there has been a two per cent increase in family violence in Alberta since 2014. Out of all Canadian provinces, Alberta currently ranks third highest for its rate of intimate partner violence.
Although research on issues related to domestic violence in immigrant communities remains limited, the conversation has been shifting in recent years. Not only are shelters now specifically collecting data on the number of immigrant women coming in, but tools and resources available are also being directed to cater to the needs of immigrant women.
In April last year, the Alberta Council for Women's Shelters (ACWS) introduced a revised version of the danger-assessment tool, first created by a researcher from Johns Hopkins University in 1986. The tool is a questionnaire to assess whether women are at risk of being killed by their intimate partners.
The revised version is aimed at immigrant communities, with questions in their languages that focus on the experience of immigrant women. Edmonton law enforcement, medical staff and immigrant and LGBTQ serving agencies were trained on how to assess the danger levels of immigrant women in an abusive relationship.
Nisa Homes was started in Mississauga, Ont., by the National Zakat Foundation, a non-profit organization that collects donations from Muslims and gives to other Muslims in need. Zakat refers to charity in Arabic and is one of the Pillars of Islam. Nisa means woman in Arabic.
Yasmine Youssef, national manager of Nisa Homes, said the foundation kept getting applications from Muslim women repeatedly fleeing domestic abuse at home. The foundation conducted an extensive study to see if there was a need for a transitional home that could better serve Muslim women.
"What they found was that a lot of women are not stepping forward because they are afraid of stigmas, they are afraid of Islamophobia ... so they either prefer to stay in those abusive relationships or end up staying with friends or family or couchsurfing," Youssef said.
With Islamophobia on the rise in the country — a 2018 Statistics Canada report showed that 2017 saw a sharp increase in hate crimes, up 47 per cent over the previous year — women were fearful of putting themselves in another vulnerable situation.
She said the study they conducted found that many women who had gone to shelters often had bad experiences, usually at the hands of other residents. Women would report hearing comments like "Doesn't your religion say that a man can hit his wife?" having their hijabs pulled, and even having someone defile their prayer mats.
The first shelter opened in 2015 in Mississauga, followed by the one in Surrey the same year.
The shelters have since seen an increase in the number of women attending, as well as an increase in the number of phone calls for help, Women reach out via phone-call for any number of reasons, from searching for a safe space to stay, to advice on what to do at home if abuse occurs. The first year the shelter in Mississauga housed 43 women. Last year they housed 201. This year to date, they have already housed 101 women.
The number of calls for help the organization gets nationally has been rising, too. Nisa received 127 calls in 2016. Last year, they received 657.
Youssef noted that the rising number of Muslim women seeking shelter at Nisa Homes is not due to a rise in domestic abuse, but rather more awareness around the issue and an increase in available resources.
"Obviously, when we started off, not many people knew about us. With time, we became more well known and we heard from a lot of women ... that ,'the only reason we came is that we knew that you would cater to my cultural and religious needs,' " she said.
Three main Edmonton shelters — Win House, WINGS of Providence and Lurana Shelter — have seen an increase in the number of immigrant women using their services. From 100 in 2014 to 133 in 2017, according to the Alberta Council of Women's Shelters. That number has decreased slightly in 2018, down to 112.
The percentage of immigrant women going to shelters in Edmonton is higher than the provincial average. In Alberta, on average 11 per cent of women admitted to shelters are immigrant women, whereas in Edmonton 15 to 20 per cent are immigrant women.
Kirsty Hagan, family support manager at Carol's House, an Edmonton women's shelter that specifically caters to immigrant women, said raising awareness about available shelters has encouraged more women to come in.
"We are seeing more immigrant women coming in, even through our other shelters that aren't specifically for immigrant women," she said.
Women from Edmonton started reaching out to Nisa Homes in 2016. In 2018, they received a total of seven calls from women in Edmonton who had heard of them. This year, they have already received seven calls to date.
"As we are not even halfway through the year, we anticipate more calls, so this is an increase since last year," Gauri said.
As the city's population increases, so too does the number of immigrant women and children, which is why Gauri said it was important to bring Nisa homes to Edmonton. She conducted an assessment of need for the city and what she heard here echoed the experiences of women in Ontario.
"I know there has been an instance with a woman getting her prayer mat and someone peed on it," she said.
She said language is also a huge barrier for many Muslim women. The majority of Muslim women in Edmonton peak Urdu, Arabic and Somali. "These are their primary languages, they never really had to master the English language," Gauri said.
Through fundraising, they have enough money to open a shelter, but Gauri said they will continue to fundraise for operating costs.
https://www.thestar.com/edmonton/2019/06/16/nisa-homes-to-open-shelter-for-muslim-women-in-edmonton.html
--------
Asiya Andrabi Admits Her Involvement in Receiving Funds from Foreign Sources: NIA
Jun 16, 2019
National Investigation Agency (NIA), which is probing the Jammu and Kashmir terror funding case, on Sunday said that Dukhtaran-e-Millathad chief Asiya Andrabi has confessed during interrogation that she had been collecting funds and donations from foreign sources to organise protests by Muslim women in the state.
"During interrogation, Asiya Andrabi admitted she had been collecting funds & donations from foreign sources, for which her organisation Dukhtaran-e-Millathad had been organising protests by Muslim women in the valley," said the NIA.
The NIA also added that Andrabi made the confessions after she was confronted with evidence regarding funding of educational expenses of her son in Malaysia from 2011 onward through foreign remittances made by Kashmiri businessman Zahoor Watali. It is to be noted that Watali is currently behind bars in connection with a terror funding case.
"Separatist Asiya Andrabi was confronted with evidence regarding funding of educational expenses of her son in Malaysia from 2011 onward through foreign remittances made by Zahoor Watali," noted the NIA.
The NIA has collected evidence that Asiya Andrabi has close links with the Pakistani Army and use to receive funds from its spy agency the Inter-Services Intelligence. According to NIA, Andrabi has close contacts with Pakistan-based terror outfit Lashkar-e-Taiba (LeT) chief Hafeez Saeed through a serving Pakistan Army officer, who is also closely related to her.
The NIA said that Masarat Alam, who is also currently in jail in connection with terror funding case, has revealed during interrogation that agents based in Pakistan route the funds through hawala operators which were transferred to separatist leaders including veteran Hurriyat Conference leader Syed Shah Gilani. Masarat is the so-called poster boy of stone pelters and violent agitations in Kashmir valley.
Sources said that National Security Advisor Ajit Doval is personally monitoring the cases against Asiya and Masarat. It is to be noted that Doval spearheads the Central government's strategy in Jammu and Kashmir on the terror front.
https://zeenews.india.com/india/asiya-andrabi-admits-her-involvement-in-receiving-funds-from-foreign-sources-nia-2212046.html
--------
Rescued Women in Nigeria Return to Boko Haram Fighters
By Meghna Prakash
June 17, 2019
We've familiarised ourselves with the ongoing conflict in Kashmir, Syria and the most recently talked about Sudan conflict because of wide global media coverage about these war-torn regions. Yet, the Boko Haram conflict in Nigeria is another alarming issue that has uprooted the lives of millions of people but has been treated with neglect by international media and humanitarians. The military has rescued thousands of women from the traumatising capture of the Boko Haram fighters, yet hundreds of these women decide to go back to the extremist terrorist group and not return home to their villages. Upon the examination of certain living conditions and other factors, this article attempts to navigate the perspective of these women refugees who choose to return to their abductors.
Boko Haram's rise is a blatant gender-specific fight between millions of North-East African women. This decade long war has targeted and adversely changed the lives of thousands of women who have been abducted and enslaved by the militant group. Women are in majority amidst the displaced 2.4 million persons in the region and continue to bear the stigma of being former Boko Haram wives. The conservativeness of African society doesn't allow space for the blurred lines between forced accomplice and sympathiser. These women are banned from re-entering society, forcing them to adopt newer domestic roles. It's important to examine the socio-cultural reasons and human rights violations to improve our policies regarding the reinstatement of refugees.
History of Boko Haram
Since Boko Haram's emergence in 2002, the insurgent movement, also known as Jama'atu Ahlis Sunna Lidda'awati wal-Jihad started a violent campaign to impose their religious and extremist interpretations of Islam.
Led by the leader, Mohammed Yusuf, the group undertook violent attacks against the police force in 2010. Christian or even Muslim factions that opposed them had their women abducted. Boko Haram also attacked civilians and extended the brutality to schools to prevent the influence of 'western education'. The kidnapping of 276 schoolgirls near Chibok in 2014 became a prominent international crisis, resulting in a movement called 'Bring back Our Girls' which received global media attention and support. Right after this incident, the Civilian Joint Task Force, state security forces and a state-sponsored civilian militia pushed Boko Haram to remote villages. However, the insurgency group has rooted their headquarters in Sambisa forest of Borno state and continues to strike with increasing force.
What roles in society do women refugees take on?
Since its emergence in 2002, Boko Haram has paid particular attention to women in rhetoric and action. The sect called for tighter restrictions for women in some areas of life but also promoted their access to Islamic education and offered financial empowerment. Boko Haram began to abduct women and girls for both political and pragmatic ends. The seizure of more than 200 schoolgirls near Chibok in 2014 was a much-publicised spike in a wider trend. The group took Christian and later Muslim females to hurt communities that opposed it. By awarding 'wives' to fighters, it attracted male recruits and provided an incentive to combatants.
Boko Haram attacks, the military's persecution of suspects and its strategy of emptying contested areas have forced over a million women and girls to flee homes. Separated from husbands and sons conscripted or killed by Boko Haram or arrested by security forces, many women are now fully responsible for their families' protection and economic well-being. In the words of a woman who fled her home in Andara village in December 2016, "The soldiers, they betrayed us, they said that we should come out of from our villages. They said it would be safer and that they would give us a secure place to stay. But when we came, they betrayed us. They detained our husbands and then they raped us, women."
During times of conflict, rape and other forms of sexual violence are common. History has been evidence that rape is used as a weapon of war. In Sierra Leone, 94% of the displaced households were subject to sexual violence. There has been evidence of a very high risk of HIV/AIDS among female populations in areas of conflict. Even in Kashmir, women have helped the separatists by feeding combatants, providing shelters; as couriers carrying messages. In a war economy, women take on new roles during the war, as men join the fighting. For E.g. in Cambodia and Sudan women-headed households increased by one third.
Measures needed (legal and humanitarian)
In Nigeria, the federal government and its international partners must strive to ensure laying of clear legal procedures in case of the following.
• Detaining women because they were believed to be "Boko Haram wives" or because they arrived in displacement unaccompanied by their husbands.
• Imposing stricter movement restrictions on women than men in the satellite camps (especially where this has contributed to women's de facto detention).
• Perpetrating sexual violence in the satellite camps.
Furthermore, Nigeria should also ensure the right to food, water, and health in all of its detention facilities. International human rights law prohibits torture and cruel, inhuman and degrading treatment. It is a right that states cannot derogate from in any situation, even in times of conflict.
War Crimes
The beatings that some women described in Bama prison, Monguno barracks and Giwa barracks constitute torture and other ill-treatment. The violence, rape, and abuse by soldiers and Civilian JTF members against women and adolescent girls, the impact of which was intensified by the fact that many of them were young and survivors of abduction, forced marriage, sexual violence and other violations by Boko Haram, amounts to torture. The failure by authorities to provide people with information on the status or whereabouts of their family members in detention for long periods of time is also a form of ill-treatment. Certainly, to the extent possible, development programs should have among their principal objectives the mitigation of the negative consequences of conflict.
How gender dynamics play a part in fuelling the Boko Haram insurgency should be a clear warning that women's integration into decision-making processes at all levels is critical to a durable peace. Women have been sexually vilified and paraded as weapons of war. We must do our best to ensure these women can avail their basic civil rights to a life with dignity, without constant exploitation.
https://feminisminindia.com/2019/06/17/rescued-women-boko-haram-fighters/
--------
Pak women need maximum int'l exposure for better results: Malik
AM KHAN
June 17, 2019
LAHORE - Former Davis Cupper Rashid Malik has said that Pakistan women players have prepared well for Fed Cup 2019 but for getting better results, there is a need of providing them maximum international exposure.
Talking to The Nation, Malik (Tamgha-e-Imtiaz) said that although Pakistan women team comprising Sara Mansoor, Sara Mehboob, Meheq Khokhar and Noor Malik are good ones and prepared well for the mega event, yet the real issue is that our opponents are far superior as they were heavily invested and played a great number of international events and trained well in the longer camps before entering this tournament, so they will surely have better chances than us.
"I have observed training of our women team in Islamabad, which is preparing for Fed Cup to be held in Malaysia. The preparation is not bad as the girls have worked really very hard but they could have been better if the camp was for bit longer," he added.
Malik said that the opponents are tough and a lot of their girls are ranked quite high in WTA Ranking. "Sabina Sarapova of Uzbekistan is ranked 171 in the world highest in this event. She has beaten Sania Mirza before also. Our girls have to be mentally tough to win matches. I have full faith if they play to their potential, they can do well."
He suggested that Pakistan Tennis Federation (PTF) should focus more on women tennis so that they should win more medals for Pakistan in SAF Games and other international events. "Our focus should be also on U-10 and U-14 girls and boys, if we want our country to be in top countries in Asia.
"Now is the time, we need to get sponsors for these young players so that they may fight in tournaments abroad to get mentally ready for big events. Even Aisam did the same thing, playing a lot of international tournaments. In his case, he has full support of his father from childhood and kept on supporting him till he made his position in that standard. Everyone is not that lucky to give such a support to his child. So we need to help those talented kids, who can't afford to play such an expensive game," he added.
The former Davis Cupper said that Pakistan has produced many top women players like Perveen Sheikh, Ushna Suhail, Sara Mansoor, Sara Mehboob, Marium Rahim, Nosheen Ihtisham, Mehvish Chisti, Haleema Rahim, Nida Waseem, Farrah Khushid, Saadiya Jan, Noor Malik and many others. "Only they could not come up in the international tournaments due to lack of sponsorship. Ever chip has talent but we just need to explore it and give a lot of international exposure.
"Punjab Academy has produced many international players and national champions but to be world class player, we need full funding with proper management. Some players are born talented and some become champions with their hard work. Pakistan is full of talent but we need to develop nurseries everywhere of all sports from age 4 years onwards. In last four years, as being PLTA secretary, my only aim was to make the game popular in every school and I have significantly succeeded in achieving my task and now more keen to worker hard to do a lot more," Malik concluded.
https://nation.com.pk/17-Jun-2019/pak-women-need-maximum-int-l-exposure-for-better-results-malik
--------
British-Iranian Woman Jailed in Tehran Begins New Hunger Strike, Husband Says
June 16, 2019
LONDON — A British-Iranian woman who has been imprisoned in Tehran has begun a new hunger strike to demand her freedom, her husband said as he vowed to support her by fasting outside the Iranian Embassy in London.
The woman, Nazanin Zaghari-Ratcliffe, was a project manager with the Thomson Reuters Foundation when she was arrested in April 2016 at a Tehran airport as she headed back to Britain with her young daughter, Gabriella, after a family visit.
Ms. Zaghari-Ratcliffe, now 40, was sentenced to five years in jail after being convicted of plotting to overthrow Iran's clerical establishment, a charge strongly denied by her family and the foundation, a charity that operates independently of Thomson Reuters and Reuters News.
"Today I received a phone call from Nazanin in prison," her husband, Richard Ratcliffe, said in a statement on Saturday. "She had informed the judiciary that she has begun a new hunger strike — she will drink water — to protest at her continuing unfair imprisonment."
"She sounded nervous, but calm," he added. "Her demand from the strike, she said, is for unconditional release. She has long been eligible for it."
Iran's judiciary could not immediately be reached for comment on Saturday. Tehran has previously said that her case is in the judiciary's hands.
The hunger strike comes amid heightened tensions between the West and Iran, which the United States and Britain blame for explosions on two oil tankers in the Gulf of Oman last week. Iran has denied involvement.
A poster of Ms. Zaghari-Ratcliffe outside the Iranian Embassy in London in March.
Britain has long called for Ms. Zaghari-Ratcliffe's release, a demand repeated on Twitter by Foreign Secretary Jeremy Hunt on Saturday. Her jailing has added further tension to Britain's already strained ties with Iran.
In 2017, Boris Johnson, then the foreign secretary and now the front-runner to replace Theresa May as prime minister, was accused of worsening her plight when he told Parliament that her conviction for sedition was a mockery of justice because she had been "simply teaching people journalism."
Ms. Zaghari-Ratcliffe's employer, family and local parliamentary representative said Mr. Johnson's statement was not only untrue but had also created new risks for her. Days after Mr. Johnson's comments, Ms. Zaghari-Ratcliffe was taken to a new court hearing to face fresh charges, and Mr. Johnson's words were cited as evidence that she had been engaged in "propaganda against the regime."
In January, Ms. Zaghari-Ratcliffe went on a three-day hunger strike after her family said she had been refused permission to see a doctor to examine lumps in her breast and to address other health issues. Her family said she had ended the hunger strike a few days later after she was granted medical treatment.
Her husband said he, too, would stage a hunger strike from Saturday: outside the Iranian Embassy in London.
Mr. Ratcliffe said his wife "had vowed that if we passed Gabriella's fifth birthday with her still inside, then she would do something — to mark to both governments that enough is enough. This really has gone on too long."
High-level diplomatic attempts to secure her release have so far failed. Mr. Hunt granted Ms. Zaghari-Ratcliffe diplomatic protection in March, but Iranian officials have refuse to recognize her dual nationality.
Last year, she was granted a three-day furlough to see her young daughter and other relatives, then returned to prison.
https://www.nytimes.com/2019/06/16/world/europe/nazanin-zaghari-ratcliffe-iran.html
--------
URL: https://www.newageislam.com/islam-women-feminism/forcible-marriage-among-reasons-suicide/d/118907
New Age Islam, Islam Online, Islamic Website, African Muslim News, Arab World News, South Asia News, Indian Muslim News, World Muslim News, Women in Islam, Islamic Feminism, Arab Women, Women In Arab, Islamophobia in America, Muslim Women in West, Islam Women and Feminism