New Age Islam News Bureau
28 May 2015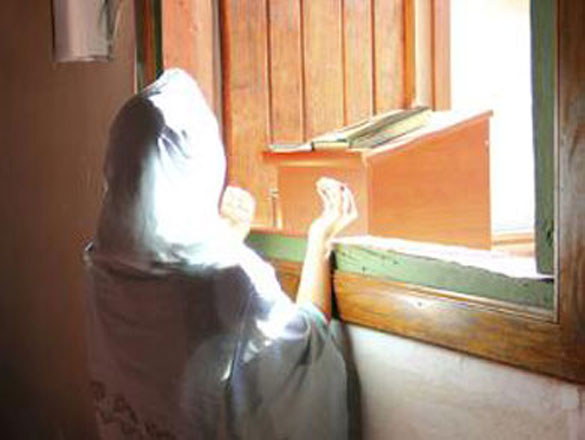 A Muslim girl's prayer for her Hindu brothers (Thinkstock Photos/ Getty Images)
-------------
• Hindu Woman Wants To Marry Muslim, Sent To Nari Niketan
• Bride at 14, Mom at 16, Sumaiya Still Emerges Topper in Std XII
• A Muslim Girl's Prayer for Her Hindu Brothers
• Netherlands Plans to Ban Full-Face Muslim Veils in Public Places
• Swabi Women Take Part in Election Campaign for First Time
• Sydney mother allegedly abandoned her two children to join Isis in Syria
• Study Claims 19,333 Prostitutes 'Work' in Four Major Moroccan Cities
• Study: ISIS Girls Seek Sisterhood, Not Just Marriage
• Saudi Women Constitute 51% of University Students
• Women's Municipal Role under Shoura Scrutiny
• Women Recent Victims of Anti-Muslim Hate Crime in West Yorkshire, Helpline Reveals
• Khloe Kardashian Angers Fans by Wearing Traditional Muslim Garment
• KCPW Presents: America Abroad – Understanding Islamic Feminism
Compiled by New Age Islam News Bureau
URL: https://newageislam.com/islam-women-feminism/forced-sex-with-kidnapped-women/d/103213
------------
Forced Sex with Kidnapped Women Is not Rape: ISIS Woman
28 May, 2015
Rabat – A "Jihadi bride" of the Islamic State of Iraq and Syria (ISIS), whose husband kidnapped a girl from the Yazidi minority ethnic group as a slave, has claimed that forced sex with kidnapped women is not rape, but rather is an Islamic practice inspired by the Prophet Mohammed.
The alleged statements of Umm Sumayyah Al-Muhajirah were printed in the ninth edition of the ISIS propaganda magazine Dabiq, in an article entitled: "Slave Girls or Prostitutes."
In the article, the Jihadi bride claims that enslaving Yazidi women through war is "a great prophetic Sunnah [teaching of Mohammed] containing many divine wisdoms and religious benefits," according to the Independent.
"[A Yazidi woman's] enslavement is in opposition to human rights and copulation with her is rape?!?," she questioned rhetorically.
"We indeed raided and captured the Kafirah [infidel] women, and drove them like sheep by the edge of the sword. And glory belongs to Allah, to His Messenger, and to the believers."
"It is better to use a Yazidi sex slave than a prostitute in the West," she claimed, because prostitutes "openly commit sin."
In her five-page-statement, Al-Muhajirah also insulted U.S. first lady Michelle Obama, branding her as a prostitute whose "price won't exceed a third of a dinar."
"Who knows, maybe Michelle Obama's price wouldn't even exceed a third of a dinar, and a third of a dinar is too much for her!," the extremist writer said.
She applauded the terror group's bloody crusade to establish an Islamic State across Iraq and Syria as God's will: "By Allah, we brought it back by the edge of the sword, and we did not do so through pacifism, negotiations, democracy, or elections. We established it according to the prophetic way, with blood-red swords, not with fingers for voting or tweeting."
In a previous edition of the propaganda magazine, the Jihadi bride also called for other Muslim women to immigrate to Syria and become wives to ISIS extremists.
http://www.moroccoworldnews.com/2015/05/159345/forced-sex-with-kidnapped-women-is-not-rape-isis-woman/
------------
Hindu Woman Wants To Marry Muslim, Sent To Nari Niketan
By Prashant Pandey | Allahabad | May 28, 2015
The Allahabad High Court has ordered the immediate release of a woman from the Nari Niketan in Amroha district, where she was detained for a month on the orders of the sub-divisional magistrate (SDM).
The woman, Kanchan Verma, and her friend, Nasir Ali, were detained by the police on April 27 under Section 151 (breach of peace) of the Criminal Procedure Code (CrPC) outside a school under Gajraula police station area of Amroha district. The woman is a teacher at the school.
According to reports, a mob had gathered outside the school when Verma's parents tried to stop her from going with Ali, a married man. While the couple reportedly know each other for the last 12 years, her family opposed their relationship as they belong to different religions. Ali later submitted before the court that he would like to marry Verma.
The couple were produced before the SDM of Dhanaura area. The SDM sent Ali to judicial custody and Verma to Nari Niketan till further orders. Ali was later released on bail. During her stay in Nari Niketan, Verma approached the high court with a habeas corpus petition, seeking her release on various grounds including restrictions on her from attending school, and being made to stay with juveniles in inhospitable conditions. Passing the order on Tuesday, a division bench of Justices Tarun Agarwala and Amar Singh Chauhan said: "The right to life and personal liberty is the most precious right of a human being, which is governed by the rule of law. The Constitution is the rule of law. No one can rise above the rule of law in the Constitution. The executive cannot deprive a person of his life or personal liberty without authority of law." Criticising the SDM's order, the court said: "We find that even after recording the statement of the petitioner that she is an adult, a divorcee and wants to live with a person of her choice, there was no occasion for the magistrate to detain her in a Nari Niketan. This order, in our opinion, is patently without any authority of law. We are of the opinion that personal liberty in such a high-handed manner cannot be curtailed merely on an apprehension, especially, when such an apprehension was not in existence. We are of the opinion that the liberty to move, mix, mingle, talk, share through company cannot be substantially curtailed and the action taken was totally violative of Article 21 of the Constitution." The court said there was nothing in the police report to justify apprehension of a law and order situation, although people from two religions were involved. It said Section 144 (prohibiting unlawful assembly on apprehension of breach of peace) of the CrPC could have been invoked if required. The court directed the police to escort the woman to her parents' house, adding that she was free to choose the next course of action.
http://indianexpress.com/article/cities/lucknow/hindu-woman-wants-to-marry-muslim-sent-to-nari-niketan/
--------
Bride At 14, Mom At 16, Sumaiya Still Emerges Topper in Std XII
TNN | May 28, 2015
Nagpur: She was married when 14 and gave birth to a son while being in Std XII. She still managed to score 83.54% in her HSC exams and emerged topper among night school students. Meet Sumaiya Anjum, 17, a student of Taj Baba Night High School and daughter of a daily wage labourer. She achieved the academic feat while taking care of her infant in the absence of her husband who works at Mumbai.
It was past 12 noon when the results came out but since she is currently with her in laws in a village named Parsoni in Bihar, the school authorities could not reach her. Her school's principal Syed Muzammil stated Sumaiya was topper in night school category. TOI was first to reach her on the phone with the news at 7 pm on Wednesday and inform her about her achievement. The news made Sumaiya so happy she was not able to put her feelings in words.
She attended a regular NMC school till Std VII and had an average life when scoring well in exams was the only worry. Having been born in a conservative Muslim family, her dad then began defining boundaries that restricted her from commuting to school which was some distance away. "Being her father I knew her potential but I could not accept the idea of a grown up girl attending school. I thought it wasn't necessary," said her father Abdul Ghani. So committed was Sumaiya to education that she pleaded with her father to be allowed to atten nearby night school that functions for just two hours in the evening. He relented and she entered the school in Std VIII.
Her class teacher Nazra Patel showered praises on Sumaiya. "For her, it was usual to attend half a lecture and run back home as her infant would scream for her," Patel told TOI. Sumaiya said, "When Zaifa (her son) was born, I knew life won't be the same. Pursuing the same dream now as a mom will be difficult. But, I tell you frankly, studying while carrying the baby in my arms turned out to be pretty doable. It never felt like a burden."
After appearing for her HSC exams, her father sent her to Bihar to live with her in-laws. Sadly, that appears to be the end of academic road for her. She made it clear she had no plans of coming back to Nagpur. Asked about plans after HSC, she hesitantly replied, "I am fortunate that I could finish my school. I don't think I can ask for anything more."
Assistant government pleader Trupti Udeshi said though child marriages were prohibited by law, those still getting their children married off couldn't be booked unless a spouse lodged a complain. "It's prevalent in many communities, it becomes an offence only after court proclaimed it. Still, he marriage is not binding. Such marriage get sanctity only after both partners attain 18 years of age."
She added since laws were not strictly implemented, police can't book the husband for rape unless the woman complains. "A guardian can lodge a complaint, but it is very rare in child marriages that are performed as per wishes of elders in the community," she said.
http://timesofindia.indiatimes.com/city/nagpur/Bride-at-14-mom-at-16-Sumaiya-still-emerges-topper/articleshow/47450119.cms
-----------
A Muslim girl's prayer for her Hindu brothers
TNN | May 28, 2015
Human compassion can break all boundaries, feels Dr P N Rangan, as he reminisces about an unforgettable encounter in Iran
It was during the independence movement in Iran when this heart-wrenching episode occurred in my life. It was a traumatic moment that taught me an important lesson about mankind. It still disturbs me emotionally, even after 29 long years.
I was working as a physician in Iran at a hospital in Sanandaj, the capital of Kurdistan province in Iran. The Islamic revolution was at its peak as Shah Raza Pahalvi, the then king of Iran, had fled the country and taken political asylum in Morocco.
Even as the revolution gained momentum every day, the province of Kurdistan was thrown into tremendous turmoil and upheaval. After the establishment of the new Islamic government, a crackdown on the separatist elements was initiated by the Islamic militia. The city of Sanandaj was besieged by the army and blown apart by continuous mortar shelling for about two days. Then the army literally terrorized the city.
Due to certain prior commitments, I had to stay back with a surgeon friend after sending our families to India. We stayed at a rented place for those few days. The upper storey of the house was occupied by a kind landlord and his family (who we were fortunate to have found in those trying times) while we stayed below on the ground floor. The kinship we shared with them was almost like that of an extended family. Caste, religion and nationality were forgotten over our bond. We stayed holed up in the basement of that house right through all the shelling.
Next morning after the takeover, we were urgently required to attend the heavy casualties at the hospital. Even as we prepared to leave, I remember Nahideh, the daughter of our landlord, read out the holy Koran praying for the safety of us, her Hindu brothers. Her serene face, as she recited the Ayat, has been etched on my memory for an entire lifetime. It was at that point I realized the meaning of human ties in their very essence.
She then went on to request the ambulance driver to take them to her eldest sister's home situated near the airport, which was damaged due to shelling. In all her innocence, she believed that nobody would have the heart to fire at the ambulance. We left, headed towards the hospital, ignorant of the fact that, possibly, this was the last time I was seeing Nahideh.
Forty minutes later, on the same day, I suddenly heard the screams of my landlord and his family, right outside the Emergency door. I rushed out only to find Nahideh fighting for her life. She was brutally hit by a sniper's bullet, her skull had cracked and she was bleeding profusely. All our desperate attempts to revive her proved futile.
Her death left a gaping hole in my faith. It confused me about the sanctity of prayers as I kept questioning God about his demands. How could someone who prayed for the well-being and safety of others meet such a cruel end in our presence? I am in waiting but haven't yet got a satisfactory reply from Him. I merely console myself with the knowledge that God loves those who die young. He must have thought it was time for me to change the direction of my life.
We left Iran eventually before the beginning of the Iran-Iraq war. This incident left an indelible emotional impression in my subconscious. I understood then that love and compassion transcend all man-made boundaries of caste, community, colour, race, religion and country. The departed Nahideh was a living example of that.
http://timesofindia.indiatimes.com/life-style/relationships/soul-curry/A-Muslim-girls-prayer-for-her-Hindu-brothers/articleshow/47443091.cms
-----------
Netherlands plans to ban full-face Muslim veils in public places
28 May 2015
The Dutch government has agreed to introduce a partial ban on the wearing of the full-face veil in public places, the Home Affairs Ministry said in a statement.
The proposed ban, which must be approved by parliament before it can become law, would apply to all face-covering clothing, including ski-masks and helmets, on public transport and in schools, hospitals and government offices.
The measure "had nothing to do with religion," Prime Minister Mark Rutte told journalists in The Hague last Friday after the proposed measure was passed by the cabinet.
"In a free country like the Netherlands, everyone has the right to dress how they choose, no matter what others think. That freedom is only limited in situations when it is essential for people to look at each other," the statement said.
Anti-Islam opposition politician Geert Wilders, whose far right policies have won him widespread support among Dutch voters, has long sought a ban on face veils and burqas. Wilders told Dutch television on Friday the proposed measure was "weak".
Only a few hundred women in the Netherlands veil themselves completely, but Rutte said such laws were needed to "enforce values" of Dutch society.
France banned full-face veils in 2010, in a move that was upheld last year by the European Court of Human Rights.
http://blogs.reuters.com/faithworld/2015/05/27/netherlands-plans-to-ban-full-face-muslim-veils-in-public-places/
-----------
Swabi Women Take Part In Election Campaign For First Time
28 May, 2015
SWABI: For the first time in the history of Swabi district, women candidates for the upcoming local government elections are seen busy in door-to-door campaign to secure votes.
In the past, women in several areas of the district were deprived of their right to vote but now they are busy in canvassing without any interruption in the conservative society.
In various union councils, women supporters of the candidates, both men and women, are campaigning for them. Several candidates told this scribe that their women relatives and supporters were also taking part in their election campaign.
Muzaffar Khan, a candidate for district councillor seat from Maneri Bala union council, said that his two wives and sisters were running his campaign. "This is the first time that men have realised the importance of women vote," he said.
Gul Nabi Khan, another candidate, said that women of his family were educating womenfolk about their right to vote and its importance.
Mohammad Farooq of Saleem Khan union council said that his nephew was contesting for district councillor seat and women of his family were active in his election campaign. He said that they would visit each and every house in the area. However, the candidates admitted that some families were still reluctant to allow their women to take part in the electioneering or exercise their right to vote. "Now it is very clear that the number of women voters will be increased," they added. They said that the women of several educated families were contesting elections and they had a bright chance to get elected on the seats reserved for women.
Local people term it a revolution in a conservative society
The local people said that Iftikhar Khan, a candidate in Batakara union council, did not have time and his wife Shaheen Bibi, who was also in the run for a reserved seat, was running election campaign for herself and her husband.
Mr Iftikhar lives in Tarbela Dam residential colony and works as a security official at a private institution. In his free time, he drives an auto rickshaw. The entire election campaign is run by his wife. It seems strange because it is an uphill task for a woman to manage all the house work, give time to children and also run election campaign in a conservative society.
"It's a revolution from all aspects. It doesn't matter whether they win or not," said a candidate.
Zahir Dad, a candidate in Maneri Bala union council, said that at the initial stage it was quite difficult for his women relatives to take part in his election campaign. "Now they have learnt the tactics to convince voters," he added. Several candidates also expressed similar views, making it clear that the scenario about women right to vote was changed in the district.
Dr Yasmeen Jasim, former MPA and district president of ANP women wing, said that they had worked hard for participation of women in the elections. "There is still need of more work by all the political parties," she added.
Dr Yasmeen said that only ANP had an active women wing as other political parties failed to nominate office-bearers of their women wings and encourage them to work for participation of women in elections.
The members of local welfare organisations said that Election Commission of Pakistan should play active role for participation of women in the polls. The results of the elections should be declared null and void in those areas where women didn't cast their votes, they said.
http://www.dawn.com/news/1184490/swabi-women-take-part-in-election-campaign-for-first-time
------------
Sydney mother allegedly abandoned her two children to join Isis in Syria
28 May, 2015
A Sydney woman who abandoned her two children to join Islamic State has been brainwashed, her mother says.
It's believed Muslim convert Jasmina Milovanov left her seven-year-old son and five-year-old daughter for a life with Isis in Syria.
She told a babysitter caring for her children that she was going to pick up a new car but never returned to her western Sydney home. On 3 May, she reportedly sent a text message to her ex-husband, who was in Turkey, telling him to return to the children.
"She never mentioned anything," her mother told Network Ten on Tuesday. "I even saw her the week before and she was alright. Probably she is brainwashed. She is so young and naive."
Milovanov, who goes under the name Assma Abdulla on Facebook, posted about her arrival in "sham" – the Arabic word for Syria.
"In the blessed land of sham ... bad reception ... Please forgive me for everything," she wrote, in a post that has been deleted.
It's believed the mother-of-two had links to a notorious jihadi bride recruiter, who may have lured her to Syria. A close friend has told ABC News Milovanov often posted on Facebook about finding a husband.
"What we believe is Assma really wanted to get married, she was very lonely ... we think that's how they've encouraged her to go," the friend said. "She's not a terrorist. I don't believe she's gone over there to fight."
Another friend said Milovanov borrowed $2,500, which they now believe was used to fund her trip to Syria.
"We are in shock. For her not to come home to her kids ... they were her whole world," the friend, who did not want to be named, told the ABC. "It's blowing my mind because she was so normal."
The foreign minister Julie Bishop said: "I'm deeply pessimistic about the fate of this apparently troubled young woman."
However, she was thankful the woman had left her children in Australia, unlike other alleged recruits.
Meanwhile, a 23-year-old Brisbane man has also left Australia, but it's believed he wanted to fight against Isis militants.
Ashley Dyball has reportedly posted several times on Facebook, saying he was headed for the "front line tomorrow #fuckisis".
Another post, featuring an image of him dressed in camouflage gear and holding an assault rifle, said: "No news is good news. Miss everyone from home hope your (sic) all well #YPG #FUCKTHEISLAMICSTATE". Media reports said Dyball may have links with the Kurdish People's Protection Units fighting Islamic State militants in Syria and Iraq.
http://www.theguardian.com/australia-news/2015/may/26/sydney-mother-allegedly-abandoned-her-two-children-to-join-isis-in-syria
------------
Study Claims 19,333 Prostitutes 'Work' in Four Major Moroccan Cities
28 May, 2015
Rabat- According to recent survey conducted in four major Moroccan cities, over 19,000 women work as prostitutes as of 2011, according to the Moroccan daily Al Akhabr in its May 28 edition.
The study, which was commissioned by the Moroccan Ministry of Health in the cities of Rabat, Fez, Agadir, and Tangier, reveals that the majority of the women have resorted to prostitution because of social or economic problems.
The study also notes that between 62 and 73 percent of prostitutes have either divorced or lost their husbands before the age of 24, while 2 percent are married.
According to the same source, between 300 and 400 sex workers were interviewed in each of the four cities.
The study, which did not include Marrakech, which is believed to be a major hub of prostitution, shows that Rabat has the highest number of prostitutes, with 7,333.
According to the same study, between 50 and 80 percent of prostitutes live alone, while financially supporting others. The study thus shows that between 45 and 85 percent attend the needs of more than three persons. The survey also shows that the majority of women questioned by investigators claim to have first had sex with their husbands, while 11 to 25 percent admit to having suffered from rape.
The survey comes during the heated debate underway in Morocco after the first video clips of the film "Much Loved" were posted on YouTube. The film, which was produced by Nabil Ayouch about the phenomenon of prostitution in Marrakech, caused outrage among many of the Moroccan public public opinion.
The controversy surrounding the film prompted the Moroccan Ministry of Communications to ban its screening in the country's cinemas.
"After a CCM group saw the film in an international film festival, it was decided not to authorize the release of the film in Morocco," the Ministry of Communications said in a statement on Monday.
"The film undermines the moral values and dignity of Moroccan women, as well as all the image of Morocco," it added.
http://www.moroccoworldnews.com/2015/05/159485/study-claims-19333-prostitutes-work-in-four-major-moroccan-cities/
------------
Study: ISIS girls seek sisterhood, not just marriage
28 May 2015
The notion that young women are traveling to Syria solely to become "jihadi brides" is simplistic and hinders efforts to prevent other girls from being radicalized, new research suggests.
Young women are joining the so-called Islamic State of Iraq and Syria (ISIS) group for many reasons, including anger over the perceived persecution of Muslims and the wish to belong to a sisterhood with similar beliefs, according to a report released Thursday by the Institute for Strategic Dialogue and the International Center for the Study of Radicalization at King's College London.
Western societies must understand these varied motivations if they hope to prevent more women from joining the militants and potentially returning to their home nations to commit acts of terrorism, argue the report's authors, Erin Saltman and Melanie Smith. Thinking of them as all being brainwashed, groomed, innocent girls hinders understanding of the threat they pose.
"They're not being taken seriously," Smith said. "It's inherently dangerous to label people with the same brush."
The researchers suggest that while the term jihadi bride may be catchy from a media point of view, the young women who are traveling to Syria see themselves as something more: pilgrims embarking on a mission to develop the region into an Islamic utopia. Many would like to fight alongside male recruits, but the group's strict interpretation of Islam relegates them to domestic roles.
The primary responsibility for a woman in ISIS-controlled territory may be to be a good wife and a "mother to the next generation of jihadism," but the study concluded that women are playing a crucial propaganda role for the organization by using social media to bring in more recruits.
"The propaganda is dangerous," Smith said. "It draws vulnerable or 'at risk' individuals into extremist ideologies ... simplifying world conflicts into good versus evil which allows someone the opportunity of being the 'hero' - an empowering narrative for a disenfranchised, disengaged individual."
Young women are often vulnerable to this kind of rhetoric because they are questioning their identities as they grow into adults. Many of the young women observed said they felt socially and culturally isolated in secular Western society, and saw the region controlled by ISIS as "a safe haven for those who wish to fully embrace and protect Islam," according to the report.
About 550 young women, some as young as 13, have already traveled to ISIS-controlled territory, according to the report.
The authors combed the social media accounts of more than 100 female profiles across platforms such as Twitter, Facebook and Tumblr. To grow their sample, they used a "snowball" technique in which female ISIS migrants were identified among networks of other ISIS networks. Photos, online chats and other accounts helped place the women geographically in Syria or Iraq. Researchers say the women came from 15 countries and were largely operating in English.
They consistently talked about the camaraderie they experienced after moving to ISIS territory, and often used social media to post images of veiled "sisters" posing together.
"This is often contrasted with discussions about the false feeling or surface-level relationships they iterate they previously held in the West," the authors said. "This search for meaning, sisterhood, and identity is a primary driving factor for many women to travel."
They are also searching for romance in the form of marriage.
"Online, images of a lion and lioness are shared frequently to symbolize this union," the report said. "This is symbolic of finding a brave and strong husband, but also propagandizes the notion that supporting a jihadist husband and taking on the ISIS ideology is an empowering role for females."
One woman identified only as Shams and who is a qualified doctor, found her husband through an arranged meeting. He proposed immediately. She posted an image of her wedding, which features the ISIS flag in the background. Her bearded husband wears a tie. She wears a white burqa with only a slit for the eyes.
She captioned the picture: "Marriage in the land of Jihad: Till Martyrdom Do Us Part."
While they are enticed by romantic stories about groups of women eating by candlelight and bathing in the Euphrates, most of the young migrants quickly find that the reality of their lives belies the rhetoric.
While life in Syria is difficult, few women voice their grievances directly. ISIS has relied on a decentralized network of "messengers" to proliferate its world vision, and the network snaps into action to quickly reprimand anyone who speaks out. The hashtag "#nobodycaresaboutthewidow," didn't last long.
But the women do warn those who may follow them that they should be ready to "be tested" by intermittent electricity, water shortages, bitter winters and the travails of life in a war zone. Health care is a particular concern, with one Western woman describing her experience of having a miscarriage in an ISIS hospital because she couldn't communicate with the doctor.
"These anecdotes serve to disprove the idea of the well-integrated, utopian society that is so strongly emphasized by ISIS propaganda," researchers said.
http://english.alarabiya.net/en/perspective/analysis/2015/05/28/Study-girls-seek-sisterhood-not-just-marriage-in-ISIS.html
------------
Saudi Women constitute 51% of university students
28 May 2015
RIYADH: Saudi women make up 51.8 percent of registered students at public universities and 49 percent at private institutions, the Education Ministry announced recently.
This has largely been due to the massive spending allocated to education by the government, continuously since the times of the founder King Abdul Aziz up till the reign of the present government, the Saudi Press Agency reported, quoting the ministry's statistics.
The ministry has initiated several projects to help women over the years.
Custodian of the Two Holy Mosques King Salman has recently approved the Princess Noura bint Abdulrahman Award for Excellence to encourage women to take up leadership positions in science here and abroad, the report stated.
In 2012, there were 511,593 women students registered at public universßities, which rose to 551,192 in 2013, making up 51.8 percent of all students.
At private institutions, the number of students rose from 26,589 in 2012, to 33,686 in 2013, making up 49 percent of all students.
In addition, at public universities in 2013, 6,356 students graduated with degrees, 16,221 with master's qualifications and 1,744 with doctorates. There were 177 students selected for fellowship programs.
At private universities, 2,771 students graduated with degrees in various scientific disciplines in 2013, compared to 1,480 in 2012.
Since the launch of the Custodian of the Two Holy Mosques Foreign Scholarship Program in 2005, the ministry has provided support for women to take up courses in a wide variety of disciplines for undergraduate and postgraduate study at some of the top institutions in the world.
Saudi women are studying in 57 countries, with 18,221 in the United States, 6,754 in European nations, 2,923 in Canada, and 1,445 in Australia and New Zealand.
The Kingdom has also recently ensued that women are employed at private and public companies in the country, with efforts by the Labor Ministry to reserve jobs for them in certain industries.
http://www.arabnews.com/saudi-arabia/news/753206
------------
Women's municipal role under Shoura scrutiny
28 May 2015
JEDDAH: The Shoura Council is currently reviewing legislation overseeing municipal councils, and has rejected and approved several amendments proposed by the Council of Ministers.
In a closed session, the Shoura committee dealing with the law rejected an amendment proposed by the Cabinet specifying that women participating in the Dec. 12 elections must abide by Islamic law, according to a report in a local publication recently.
The Shoura stated that this was unnecessary because it is already mandatory for everyone in the country to abide by the principles and laws outlined in the Qur'an and Sunnah of the Prophet, peace be upon him.
The Shoura also rejected an amendment that it should be mandatory for the Finance Ministry to approve the budgets of municipal councils. It also said it was opposed to a change that seeks to appoint a high-ranking municipal employee on each council.
The Shoura approved an amendment that ministers may not issue regulations related to the appointment of election supervisors if these people work for other independent monitoring authorities.
It also approved an amendment that criminalizes donations to election officials under certain circumstances.
The Shoura did not comment on other amendments put forward by the Council of Ministers, and agreed to hold another closed session to review these proposals.
Among the recommendations the Shoura has made to the Council of Ministers is a requirement to review the law every two years.
The municipal elections will be held between 8 a.m. and 5 p.m. on Dec. 12 with the results announced the following day, according to reports.
The whole election process, including campaigning by candidates, takes place over three months.
Voters can register between 5 p.m. and 10 p.m. from Aug. 22 to Sept. 14. Candidates can do so from Aug. 30 to Sept. 17.
Preliminary lists of candidates will be published on Sept. 30 while the last date for withdrawal is Nov. 19, when the final list of candidates will be announced.
http://www.arabnews.com/saudi-arabia/news/753221
------------
Women recent victims of anti-Muslim hate crime in West Yorkshire, helpline reveals
28 May 2015
EXCLUSIVE: A hate crime helpline has recorded two anti-Muslim incidents in West Yorkshire in the span of two days, including a report of an elderly woman being verbally abused on the street.
Tell MAMA, a nationwide project launched by not-for-profit organisation Faith Matters, logged the incidents after witnesses had reported them.
On 17 May, a Muslim women's group was targeted with online abuse in Bradford.
An individual reported a 'multitude' of abusive Facebook posts to Tell MAMA after a number of people targeted the group.
Comments included "return to your country of origin", "f*** off back to the place your people come from", and one comment randomly asked the group if they condemned Hezbollah.
A day later on 18 May, an elderly Muslim woman was verbally abused by drunk men whilst walking the street in Huddersfield.
Two drunk men began verbally abusing the female, who wore a loose scarf, as she walked passed a nearby pub. The abusive language included reference to alcohol.
After witnessing the abuse, a Muslim male contacted Tell MAMA to report the incident who in turn forwarded the case to police.
http://www.yorkshirestandard.co.uk/news/women-recent-victims-of-anti-muslim-hate-crime-in-west-yorkshire-12212/
-----------
Khloe Kardashian Angers Fans by Wearing Traditional Muslim Garment
28 May, 2015
Uh oh. Fans are outraged at Khloe after she flaunted a Hijab in a new Instagram pic while in Dubai. The 'KUWTK' star is being slammed for donning the traditional Muslim garment, which she called 'Habibi Love.'
But first, let Khloe Kardashian take a selfie. While the KUWTK star enjoys her time in Dubai, the 30-year-old posted a controversial selfie on May 26, wearing a traditional hijab which most Middle Eastern women wear in accordance to their cultural beliefs. KoKo stirred up some heated reactions from her fans on Instagram, some even calling it "disgustingly offensive."
Khloe Kardashian Wears Hijab While In Dubai — Offensive?
The photo shows Khloe's head and neck covered up in the Hijab, just allowing us a peek at her gorgeous eyes. A hijab is a garment worn by most Muslim women while out in public in the presence of men. While women who visit the country are not required to wear the modest attire, Khloe's choice to participate seemingly set fans into a fury over the pic, which she captioned, "Habibi love." (Note: habibi is the Arabic word for 'my darling.') Here are reactions from outraged fans on Instagram.
"Her caption doesn't make any sense! P.S. Wearing Hijab/Niqab is for the pious and pure women of Islam!"
"Women getting killed and beaten up for wearing the Niqab, but you keep pretending it's a fashion accessory, the disrespect."
"This is disgustingly offensive."
"This woman should not be the role model of anyone especially not for Muslim women."
"She's disregarding a cultural/religious symbol by appealing to her own commercial interest."
A few fans also had Khloe's back!
"I don't get how this can be offensive to anyone."
"i am from dubai :) and i know that she doesn't have to wear it and we emiraties wear it our selves in a way to make it look fashionable :) plus im a local here and i dont feel offended," a user explained. Another person wrote, "Its not offensive she is just showing respect. And looking great doing it."
http://hollywoodlife.com/2015/05/26/khloe-kardashian-hijab-dubai-instagram-pic-fan-reactions/
------------
KCPW Presents: America Abroad – Understanding Islamic Feminism
28 May, 2015
Women around the world are striving for full gender equality in how they speak, work, and pray. But feminism takes on new meaning when viewed through the lens of Islam.
"I think that Islamic feminism is actually going to be the entry point for this whole renewal of Islamic discourse… So it will be up to the Muslim women themselves who are not willing to let go of their religion, but at the same time, they are not willing to accept being treated as second class citizens because of a certain version of religion." -Marwa Sharafeldin, Muslim family law reformer, Cairo, Egypt
In this hour-long program we travel the world to examine the meaning of Islamic feminism and meet with women activists who are working for change. We visit Egypt, where we learn how one of the world's most influential centers of Islamic study is squaring its teachings with the changing status of women. In Morocco, we go to a courthouse where recent changes to Muslim family law are making it easier for women to divorce, inherit property, and gain custody of their children. In France, we look at how extreme secularism may be protecting or persecuting Muslim populations. And in the United States, we visit the country's first all-female mosque, and learn how one progressive Muslim feminist is expressing herself and her religion in a surprising way — with comedy.?
http://kcpw.org/blog/features/2015-05-26/kcpw-presents-america-abroad-understanding-islamic-feminism/
------------
URL: https://newageislam.com/islam-women-feminism/forced-sex-with-kidnapped-women/d/103213