New Age Islam News Bureau
7 Feb 2013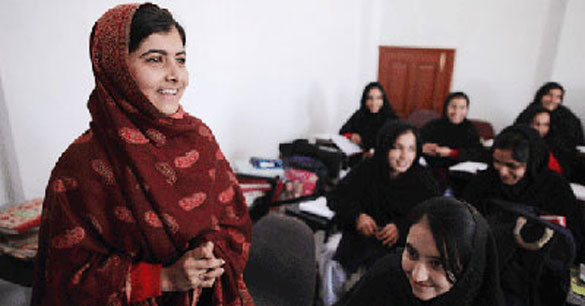 • Islamic Extremists Give Timbuktu Woman 95 Lashes for 'Forbidden' Love
• Polygamy Fading Out Of Fashion for African Muslims, Men and Women Alike
• Afghan Rape Victim Jailed For Adultery Now Forced To Marry Attacker
• Egyptian P M: Dirty Breasts Cause Diarrhoea Epidemic
• Sara Netanyahu's Fashion Faux-Pas Sparks Criticism
• Malala: 'Today you can see that I'm alive'
• Female Genital Mutilation: Many Pakistani Women's Painful Secret
• Muslim Brotherhood's 'message of respect' to Egypt's women
• Egyptians Protest against Sexual Violence
• Malala Vows To Continue With Her Campaign
• Journalists Hail Pakistan Women Parliamentarians
• Pakistani Man Beaten Up By Ex-Wives for Marrying Their Sister
Compiled by New Age Islam News Bureau
Photo: Malala Yousafzai
URL: https://newageislam.com/islam-women-feminism/forced-sex-husbands-rape-malaysian/d/10308
--------------
Forced sex by husbands is rape: Malaysian women's groups
February 06, 2013
Kuala lumpur: A Malaysian women's group has suggested that the acts of husbands forcing themselves on wives and women being forced to insert objects into their private parts should be included in the definition of rape in the law.
This is one of the reforms that the Joint Action Group for Gender Equality (JAG) has proposed following the Prime Minister Najib Razak's pledge that pro-women laws will be implemented swiftly.
The group, which consists of nine bodies including Sisters In Islam (SIS) and Women's Aid Organisation (WAO), said the country's laws should be amended to expand the definition of rape in line with current needs.
SIS programme manager Suri Kempe quoted a recent case of a father who forced his 13-year-old daughter to insert an object but was only investigated for molest. "This is why we need to make changes to our laws to suit contemporary notions of justice," she said here yesterday.
Molestation carries a maximum jail term of 10 years, a fine or whipping while those guilty of rape can be punished up to 20 years in jail and is liable to whipping.
All Women's Action Society's senior programme officer Lee Wei San said women had a right to say no to sex at any time.
"However, marital rape has yet to be recognised as a crime," she was quoted as saying by Star daily.
The group plans to write Najib to arrange a meeting to discuss long-standing women issues.
SIS board of directors member Zainah Anwar said the group would send him all 23 memorandums issued by JAG in the past decade.
One of the issues to be highlighted to Najib, who is also Women, Family and Community Development Minister, will be the Islamic Family Law (Federal Territory) (Amendment) Act 2006.
The law, among others, allows the right of a Muslim husband to claim joint assets from his existing wife or wives upon his polygamous marriage.
Najib said last month that pro-women legislation would be given due attention and there would not be a repeat of a seven-year wait for a Bill to be passed, as what happened with the Domestic Violence Act.
http://zeenews.india.com/news/world/forced-sex-by-husbands-is-rape-malaysian-women-s-groups_827388.html
--------------
Islamic Extremists Give Timbuktu Woman 95 Lashes for 'Forbidden' Love
February 07, 2013
THE love story in the fabled desert outpost of Timbuktu began over the phone, when he dialled the wrong number.
It nearly ended with the couple's death at the hands of Islamic extremists who considered their romance "Haram'' - forbidden.
What happened in between is a study in how al-Qaida-linked militants terrorised a population, whipping women and girls in northern Mali almost every day for not adhering to their interpretation of the strict Islamic moral code known as Shariah.
It is also a testament to the violent clash between the brutal, unyielding Islam of the invaders and the moderate version of the religion that has long prevailed in Timbuktu, once a centre for Islamic learning.
Salaka Djicke is a round-faced, big-boned girl with the wide thighs fashionable in the desert, an unforgiving terrain that leaves many women without curves. Until the Islamists came and upended her world, the 24-year-old lived a relatively free life.
During the day, she helped her mother bake bread in a mud oven, selling each puffy piece for 50 francs (10 cents). In the afternoon, she grilled meat on an open fire and sold brochettes on the side of the road. She saved the money she earned to buy herself makeup and get her hair styled.
Like her sisters and friends, she spoke openly with men - including the stranger who called her by mistake more than a year ago.
The man thought he was calling his cousin. When he heard Salaka's voice, he apologised. His voice was polite but firm, with the authoritative cadence of a man in his prime. Hers was flirtatious, and her laugh betrayed her youth.
They started talking.
A few days later, he called her again. For two weeks, they spoke nearly every day, until he asked for directions to her house.
She explained how to find the mud house on Rue 141, past the water tower also made of mud, in a neighbourhood less than a mile from where he sold gasoline from jerrycans by the roadside. She had time to put on a yellow dress.
He arrived on his motorcycle.
He was older - she does not know how old -- and already married, a status that bears no taboo in a predominantly Muslim region where men can take up to four wives. She found him handsome.
From that day on, he ended phone conversations with the phrase, 'Ye bani,' or 'I love you' in the Sonrai language.
Instead of Salaka, he called her "cherie" - sweetheart in French, still spoken in this former French colony.
He showered her with gifts, starting with a 6-metre-long piece of bazin fabric, the hand-dyed, polished cotton which is the mainstay of Malian fashion. It was a royal violet, and he paid to have it tailored into a two-piece outfit, with a flame-like flourish of orange brocade on the bodice.
She put it on for him, and they went to the photo studio one street over. They stood against the poster backdrop of an enamel-blue waterfall. He put his arms around her and invited her to sit on his lap.
By the time the first group of rebel fighters carrying the flag of the National Movement for the Liberation of the Azawad drove past her house on April 1, the two had been seeing each other for several months. He called to see if she was okay.
These fighters in military uniforms made clear their goal: They wanted to create an independent homeland known as Azawad for Mali's marginalised Tuareg people.
Only days later, a different group of fighters arrived, wearing beards and tunics that looked like the kurtas common in Pakistan and Afghanistan. Their black flag resembled the one people had seen on YouTube videos posted by al-Qaida in the Islamic Maghreb. They called themselves Ansar Dine, or "Defenders of the Faith."
They produced a pamphlet outlining how a woman should wear the veil, and whom she could and could not be seen with. Eschewing any contact with women, they handed the leaflets out to the men.
One of them was Salaka's boyfriend. He drove his motorcycle to her house to give it to her.
She didn't have enough money to buy the plain, colourless veil prescribed to cover the entire body. So her boyfriend went to the market and paid for two, one red and one blue. The women of sub-Saharan Africa are so used to wearing vibrant colours, he couldn't find any that were black.
As their love affair grew more intense, so did the crackdown by the Islamists in northern Mali, an area equal in size to Afghanistan.
Three months after they arrived, they arrested an illiterate man and woman, both dirt-poor herders living together for years with their animals outside the town of Aguelhok. The man had left his wife to reunite with his teenage love, and they had two children out of wedlock, the youngest just six months old.
In the last week of July, the Islamists sped into their nomadic camp and arrested them. They drove them to the city centre, where they announced the couple would be stoned to death for adultery.
They dug a hole the size of a man and forced them to kneel inside. They made the villagers come out to see what Shariah was.
Then they cast the first stone.
The fear was now palpable on the streets of Timbuktu. Salaka and her boyfriend stopped seeing each other in public.
When he came, they sat in the enclosed courtyard of her parents' home, behind the veil of its chrome-red dirt walls.
Even in relatively modern Timbuktu, it was not considered appropriate to leave the couple alone in a room. So he arranged for a friend to loan him the keys to his empty house in a neighbourhood less than a mile away.
Would she please join him there, just for an hour, once a week?
She hesitated. He begged her, saying he couldn't be without her. They determined that the Islamic police stopped their patrols at 10pm.
She went once and got home safely. She went again.
They began meeting once a week. She insisted on staying no longer than 40 minutes. He brought her on his motorcycle, stopping close to the house and pushing the bike through a blanket of sand to avoid attention.
By this time, the Islamists were beating everyone from pregnant mothers and grandmothers to 9-year-olds for not covering themselves fully.
A woman was no longer supposed to talk even to her own brother on the stoop of her house. At a certain point Salaka knew they were going to get caught. She planned out what they would say.
In one version, she would say he was her uncle. In another she would call him her older brother. In yet another, they would try to pass off as a married couple.
On the night of Dec. 31, the two left Salaka's house on a motorcycle, headed west and turned onto Road No. 160.
They passed the bread oven belonging to one of her mother's competitors. They skirted an alley crowded with handmade bricks laid out to dry. They turned left, and then right again, taking a circuitous path to confuse anyone who might be following them.
When they got close, they chose the narrowest alleyways, used only by motorcycles and donkey carts instead of the Toyota pickup trucks of the Islamic police. They passed the house where they planned to meet and doubled back in an alley. He cut the motorcycle's engine, told her to stay 100 metres behind him and pushed the bike through the sand as usual.
She watched him leave. She was breathing so hard she was afraid the stars could hear her. He passed the first intersection, then the second, and then the third.
The bearded men came on foot via the third intersection. There were four of them. Her lover jumped on his motorcycle and gunned it across the sand. He was the married one and would have paid the higher price.
She knew she couldn't outrun them. So she stood. And in the moments it took for them to descend on her, she realised it would be futile to lie.
They took her to the headquarters of the Islamic police, inside a branch of the local bank. They shoved her into the closet-like space where the ATM machine is located and locked the gate behind her.
When she didn't come home that night, her worried sister called her cell phone. The Islamic police answered and told her where Salaka was.
In the morning, her family came to slip her a piece of bread through the grills of the gate, feeding her like an animal at the zoo. Later that day, the police transferred her to a prison they had set up just for women in a wing of the city's central jail. For the next three nights, she slept alone on a hard floor in a large, cement room.
On Jan. 3 they took her to the Islamic tribunal. Just eight days before French President Francois Hollande unilaterally approved a military intervention in Mali on Jan. 11, Salaka was sentenced to 95 lashes. It was a severe punishment even by the standards of the Islamists.
They took her to the market at noon on Jan. 4, the same place where she bought the beef for the brochettes she sold and the flour used to make her mother's flatbread. She recognised the meat sellers. One of them used his phone to record what happened next.
The police made her kneel in a traffic circle. They covered her in a gauze-like shroud. They told her to remove her dress, leaving only the thin fabric to protect her skin from the whip. Curious children jostled for a better view.
What they did to her was witnessed by dozens of people in Timbuktu, and can still be heard on the meat seller's cell phone.
A man announced Salaka's crime and her punishment. Then he began flogging her with a switch made from the branch of a tree. Her high-pitched cries are contorted with pain. You can hear the slap of the whip. You can hear her laboured breathing.
They hit her so hard and for so long that at one point she wasn't sure if the veil had fallen off. She could feel the blood seeping through.
When it was over, they told her that if they ever saw her with a man again, they would kill her.
Her lover called as soon as she got home. The night she was caught, he ran away to Mali's distant capital, becoming one of an estimated 385,000 people who have fled their homes from the north.
He said over and over: "I'm sorry.'' He promised to marry her. But he has not yet returned. She still will not name him, fearing the Islamist extremists will be back.
Her face warms when she speaks of him and contracts when she describes her pain and humiliation. There isn't a child in Timbuktu who doesn't recognise her, she says. Even now she avoids the market, sending her sisters to buy the meat instead.
"This was a tyrannical regime, which had no pity towards women,'' she says. "I'm not the only one that went through this. I did this because I was in love.''
Last week, Salaka was among the thousands of people who poured into the streets to cheer French soldiers as they liberated the city. She folded and put away her blue and red veils.
In recent days, she pulled out her lover's gift of the violet bazin with the flame-patterned brocade from the bottom of a pile of clothes she was not allowed to wear under the city's occupiers. She painted her lips a translucent fuschia. She went to the newly opened hairdresser.
The photo studio where she and her lover posed by the cardboard waterfall remains closed, so instead her brother snapped a picture of her.
If you look closely, you can see the marks left by the whip across her now-naked shoulders.
Salaka's story was pieced together from interviews with her over three days. Salaka took AP journalists to the rendezvous house, the place where she was arrested, the ATM machine, her prison cell and the market. Her family, city officials and several witnesses confirmed the whipping, and a meat seller shared with the AP a sound recording that captures the sentencing and her screams. The account of the stoning in Aguelhok is from the city's mayor.
http://www.news.com.au/world/islamic-extremists-give-woman-95-lashes-for-forbidden-relationship/story-fndir2ev-1226572243769
--------------
Polygamy Fading Out Of Fashion for African Muslims, Men and Women Alike
By Mustapha Mulonda
7 Feb 2013
GOMA – Young Muslim men in the Democratic Republic of Congo are less interested in having several wives than their fathers were. Facing rising prices and feuds over inheritance, the new generation doesn't see how the benefits outweigh the costs of having multiple spouses in the same household.
As for the women of the current generation coming of age, they see that wives are often the victims of polygamous customs, and reject this form of marriage. It's also worth noting that it is no longer legal under Congolese law.
"If you want to end up like me, embrace polygamy..." This is how 70-year-old El Hadji H.E warns his grandchildren. In the middle of his large parcel in Magendo, the popular neighborhood of the eastern city of Goma, a large, old house occupies much land. In the garden are two wrecked Volvo trucks, the latest symbols of yesterday's prosperity for this family of 40 children and eight wives.
It's impossible to get everyone through school, but El Hadji adds thhat "22 of my girls and boys who couldn't go to school went to Koranic school." Still, such religious teachings are not enough to help them find a job and cope with what life has planned for them. One of his sons, Amadi Rubani, just got fired from his job at a security company, which prefers hiring people with high school diplomas.
Even the Muslim authorities dissuade the population from taking multiple wives. After the noon prayer, Imam Shabani Kiboko often explains that polygamy isn't compatible with the Congolese lifestyle. The multiple dowry gifts are prohibitive. "In the eighties, All my father had to do was read a passage from the Koran ... and the father-in-law would give him his daughter to marry," remembers Salumu Idi.
And so young Muslims, more and more, are rejecting polygamy. They remember from their own childhoods the small rations and the need to share with numerous siblings, the fights it leads to. The patriarch's death is also a factor of conflicts: very often, he leaves no will behind.
Financial questions
Ali Moussa, the family elder, found himself in a prickly situation. He can't marry several women for he's not allowed to: His father left him the responsibility of two of his spouses as well as the children whom he must put through school. "Here's what my father left for me: his wives and my brothers."
Women's associations are getting involved. They tell each other that a household with one husband is a good thing. Also, whenever they consider getting engaged with a married man, it's better to check his finances. This recommendation even finds a religious echo for it is specified in the Koran's An-Nisaa Sura.
Some of these women also note the benefits of a more intimate couple without any rivalry: "I choose monogamy, for it's the best way to share secrets with your husband without taking the risk of them being divulged," claims Yasmin.
Too often, women growing up in polygamous families suffer from injustice, especially the second, third or fourth ones. In case their husbands die, they get harassed by the in-laws who are not restrained by any legal acts. "After my husband's death, his family came and took everything in my house, children included, arguing about how I wasn't their brother's wife," regrets a young widow with four children who sued her in-laws to guarantee her kids would get their share of the inheritance. Now a member of the Union of the Muslim women, she takes advantage of her misfortune to dissuade people from choosing polygamy.
As a reminder, according to Anne-Marie Furaha, jurist and project leader for the human rights association Social Action for Peace and Development, the Family Code (art. 330-333) stipulates that marriage is the "civil, public, solemn bond through which a man and a women not engaged in a previous registered marriage, can enjoy legal union." Such a marital union cannot be ordained by a Church or other sectarian group alone, in order to be legally recognized by the state.
http://www.worldcrunch.com/culture-society/polygamy-fading-out-of-fashion-for-african-muslims-men-and-women-alike/marriage-polygamy-muslim-islam-congo-family-wedding/c3s10773/#.UROsrB1thm4
-------------
Afghan Rape Victim Jailed For Adultery Now Forced To Marry Attacker
Feb 6, 2013
An Afghan woman, who was jailed for adultery after being raped by her cousin's husband, has now been forced to marry her attacker to restore the family's honour and avoid becoming a social outcast.
The 22-year-old woman, who is known as Gulnaz, married her attacker last week in Kabul, after spending more than 13 months as a virtual prisoner inside a women's shelter.
Gulnaz's heartbreaking story highlights Georgie Anne Geyer commentary: London's Muslim Patrols show lack of assimilations the desperate plight faced by thousands of women in Afghanistan, who endure horrific abuse and have no effective recourse under the law, the Daily Mail reports.
Gulnaz was found guilty of 'adultery by force' following the brutal attack in 2008 which left her pregnant.
She was sentenced to two years in jail, which was later increased to 12 years on appeal.
Gulnaz gave birth to her daughter in the Badam Bagh women's prison in Kabul before President Hamid Karzai took the highly unusual step of freeing her with no pre-conditions in December 2011.
But free from prison, Gulnaz faced a life of isolation and poverty as mothers without husbands are shunned by their communities and their own families and become social outcasts.
It has now been suggested that she reluctantly accepted the offer of getting married to her attacker and approached the rapist's family to arrange terms.
While she was staying at the shelter she reportedly used a needle to tattoo her rapist's name on her hand in a sign of love.
The marriage was formalised at a family court in Kabul on Saturday, but many involved in the case fear Gulnaz will be consigned to a life of domestic slavery as the rapist's second wife.
There are even fears she could be killed to restore his family honour, the report added.
http://www.dnaindia.com/world/report_afghan-rape-victim-jailed-for-adultery-now-forced-to-marry-attacker_1797064
--------------
Egyptian P M: Dirty Breasts Cause Diarrhoea Epidemic
By Daniel Miller
FEBRUARY 7, 2013
The Egyptian prime minister has blamed a diarrhoea epidemic sweeping through rural areas on women not keeping their breasts clean.
Prime Minister Hisham Qandil said he had witnessed children suffering from diarrhoea immediately after they had been breastfed because their mothers hadn't cleaned themselves probably.
Full report at:
http://sheikyermami.com/2013/02/07/islamic-science-dirty-breasts-cause-diarrhoea-epidemic/
--------
Sara Netanyahu's fashion faux-pas sparks criticism
Feb 07 2013
Jerusalem: Israeli Prime Minister Benjamin Netanyahu's wife Sara has caused a media storm by wearing a see-through lacy black dress at the swearing-in ceremony of the new lawmakers with critics rebuking her taste as "cheap and immodest".
54-year-old Sara turned up at the 19th Knesset (parliament) opening ceremony in a tight black see-through lace dress, much to the disapproval of media.
Uriel Heilman of the JTA news agency compared her outfit to something worn by Beyonce, and made fun of her by saying, "Sara Netanyahu is no Michelle Obama".
"The outfit Sara chose for Tuesday's inauguration of the 19th Knesset was a form-fitting, lacy number with a transparent top. Except for a black band covering her bust, everything north of the waist was on full display. Who does she think she is, Beyonce at the Super Bowl?" Heilman wrote.
Full report at:
http://www.indianexpress.com/news/sara-netanyahus-fashion-fauxpas-sparks-criticism/1070889/
-----------
Malala: 'Today you can see that I'm alive'
By Evan Puschak
02/05/2013
Today you can see that I'm alive," said 15-year-old Malala Yousafzai on Monday in her first speaking interview since being shot by the Pakistani Taliban last October. Despite the terror of her attack, Malala remains obstinate in her fight to promote education for girls around the world.
"I can speak. I can see you. I can see everyone," said Malala. "And I'm getting better day by day."
In a five-hour, two-part operation, doctors at Queen Elizabeth Hospital in Birmingham attached a titanium plate to the left side of Malala's skull, and implanted a cochlear device in her left ear to restore her hearing. Both operations were successful and she won't need any further surgery, according to her surgeon, Dr. Anwen White.
Full report at:
http://tv.msnbc.com/2013/02/05/malala-today-you-can-see-that-im-alive/
--------------
Female Genital Mutilation: Many Pakistani women's painful secret
February 6, 2013
Farahnaz Zahidi Moazzam
"I don't want my daughter to have to go through it. I have been through it; my mom has been through it and so has my naani (grandmother).
We have been going through this forever.
It's a custom – the done thing, but I can't imagine my baby having to go through the same!
I am 34 and I still remember it distinctly. I felt humiliated even as a seven-year-old. It was not very painful, but I felt slighted at how they held me down, how embarrassed I felt. But most of all I feel resentment – even today – over the fact that we never talked about it before or after that. Everyone pretends like it never happened."
This is the story related by a Pakistani mother whom I talked to today about Female Genital Mutilation/Cutting (FGM/C), practiced in her community.
Full report at:
http://blogs.tribune.com.pk/story/15979/female-genital-mutilation-many-pakistani-womens-painful-secret/
--------------
Muslim Brotherhood's 'message of respect' to Egypt's women
Muslim Brotherhood senior leader Essam El-Erian points to the centrality of women in his life and their role in 'resisting injustice, corruption and harassment'
7 Feb 2013
As increasing reports of sexual harassment and violence targeting female protesters have been creating uproar amongst Egyptians, leading Muslim Brotherhood member and Freedom and Justice Party (FJP) Vice President Essam El-Erian sent a message of appreciation to Egypt's women.
Full report at:
http://english.ahram.org.eg/NewsContent/1/64/64242/Egypt/Politics-/Muslim-Brotherhoods-ElErian-sends-message-of-respe.aspx
--------------
Egyptians protest against sexual violence
Thousands march against increasing instances of sexual harassment of female protesters.
07 Feb 2013
Thousands of men and women have marched in Egypt against the sexual harrassment of female protesters.
More than 20 women were sexually assaulted last month during the second anniversary of the so-called "Arab Spring" protests that led to the downfall of Hosni Mubarak, former president.
But sexual violence is nothing new in Egypt, one study estimates that more than 80 percent of women have experienced it at least once.
Al Jazeera's Hoda Abdel-Hamid reports from Cairo.
http://www.aljazeera.com/video/middleeast/2013/02/20132623514913956.html
--------------
Malala vows to continue with her campaign
Pakistani girl who was shot by Taliban says in a video statement that she will continue to fight for girls' education.
04 Feb 2013
A Pakistani schoolgirl, who was shot by the Taliban, remains defiant in arguing for girls' education, saying she would keep up the same campaign that led to her attack.
Speaking clearly but with the left side of her face appearing rigid, 15-year-old Malala Yousufzai said she is "getting better, day by day" after undergoing weeks of treatment at a British hospital.
Full report at:
http://www.aljazeera.com/news/europe/2013/02/20132417281895939.html
--------------
Journalists Hail Pakistan Women Parliamentarians
By Kiyya Qadir Baloch
Feb 7, 2013
ISLAMABAD: Journalists and experts during a panel discussion held in Islamabad on Wednesday agreed that women parliamentarians' performance was better than male parliamentarians in terms of business, questioning and legislation.
Participants were of the view that women's stereotypes in the media had been hindering the development and empowerment of women in Pakistani society.
Uks Research Centre in collaboration with Search for Common Ground, Pakistan (SFCG) held this panel discussion on 'Portrayal of Women's Leadership in Media'.
Radio Pakistan Director General Murtaza Solangi, Jinnah Institute Policy and Programmes Director Raza Rumi, PTV Special Correspondent Fozia Shahid; SFCG Country Director Ammara Durrani and Uks Research Centre Executive Director Tasneem Ahmar were key speakers on the occasion.
Full report at:
http://www.dailytimes.com.pk/default.asp?page=2013\02\07\story_7-2-2013_pg11_8
--------------
Pakistani Man Beaten Up By Ex-Wives for Marrying Their Sister
February 7, 2013
GUJRANWALA: A man was beaten up on court premises on Wednesday by his two former wives (sisters) for allegedly kidnapping and forcibly marrying their sister.
The incident occurred when Adnan and his third wife Anum were leaving the sessions court after the judge, Mansoor Ahmed Khan, ruled in their favour and disposed of the petition filed by the women's father. The father, Muhammad Riaz, had accused Adnan of kidnapping Anum and forcibly marrying her. However, after hearing Anum say that she had married of her free will, the judge gave the decision in their favour.
Full report at:
http://tribune.com.pk/story/503572/man-beaten-up-by-ex-wives-for-marrying-their-sister/
--------------
URL: https://newageislam.com/islam-women-feminism/forced-sex-husbands-rape-malaysian/d/10308