New Age Islam News Bureau
29 Sept 2017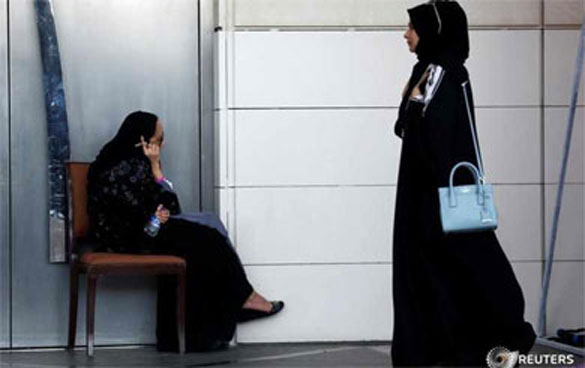 A Saudi woman speaks on the phone as another woman walks past her in Riyadh, Saudi Arabia September 28, 2017. REUTERS/Faisal Al Nasser
-----
• Ministry Says Legal Driving Age for Women in Saudi Arabia Is 18 Years
• A Muslim Woman from Ontario, Canada 'Touched' By Anonymous Gift
• Karandaaz Pakistan to Support Women Entrepreneurship
• Saudi Envoy to US: Royal Decree Affirms Women Play Central Role In Kingdom
• Saudi Arabia's Banks Getting Ready to Finance Women Buying Cars
Compiled by New Age Islam News Bureau
URL: https://www.newageislam.com/islam-women-feminism/for-first-time-saudi-arabia/d/112707
--------
For the first time in Saudi Arabia, women authorized to issue fatwas
29 September 2017
RIYADH: Saudi woman are now allowed to issue fatwas following a vote in the Shoura Council.
The historic move was approved by 107 votes and ends 45 years of only specialist men being able to issue fatwas in the Kingdom.
The female muftis are to be chosen by a royal decree.
The Shoura Council approved the recommendation, made by one of its members, during its 49th meeting, calling on the General Presidency of Scholarly Research and Ifta, the only governmental body authorized to issue fatwas in the Kingdom, to open independent sections for women.
Women members of the Council last March had demanded that the issuing of fatwas should not be limited to men, through the involvement of female academies specialized in the study of jurisprudence in issuing fatwas.
The Council called on the General Presidency to appoint specialists for the issuance of fatwas, and provide the necessary human and material requirements, asking it to involve specialists in the Islamic Shariah sciences in some of its works.
The Council also called for the establishment of Ifta-affiliated endowments, and work to develop a mechanism to follow up the implementation of the order to organize the fatwa.
The Shoura Council's decision was welcomed by specialists in Islamic law and jurisprudence, as well as the majority of the population.
Professor of Juristic Policy at the Naif College for National Security, Saad Al-Quwaie, told Al Hayat newspaper that the involvement of women in Islamic jurisprudence and their participation in scientific activities was one of the key issues in the Kingdom.
"Confirming the work of women in the General Presidency of Scholarly Research and Ifta is an important requirement of Islamic law and jurisprudence. It is governed by the rule of warding off evils takes precedence over bringing benefits for the sake of gender balance, without forgetting that each one has its own role," he said.
He also said that "the work of women in the General Presidency will be in the field of dissemination of science and awareness."
He added that the recommendation opened up new horizons regards solving the problem of unemployment among women, guaranteeing the right of women to have a flexible and safe working environment, as permitted by Shariah.
Al-Bishi, a specialist in Shariah policy said that women are central in Islamic communities and the move allowing them to issue fatwas would benefit society.
"This recommendation coincides with the Kingdom's comprehensive renaissance in the fields of social, economic, political, scientific and juristic." Al-Bishi said.
He added that the global and regional fluctuations and transformations have forced the Ifta institutions and the scientific and research centers to develop their programs and originate new specialties compatible with the changing course.
"It also imposed the need to introduce women with jurisprudential skills and expertise in emerging cases to repel external interference from those who deal with Saudi women's issues contrary to Shariah law and the system of this country," he said.
http://www.arabnews.com/node/1169376/saudi-arabia
--------
Ministry says legal driving age for women in Saudi Arabia is 18 years
29 September 2017
Major General Mansour al-Turki, the spokesperson of the Saudi interior ministry, has said that the legal driving age of women in the country is 18 years.
"The royal decree is clear in terms of implementing traffic laws on men and women alike," Turki told Al-Arabiya news channel.
He noted that security forces are always present on the kingdom's roads and will deal with women as passengers, adding they will not find it "difficult to deal with women when they begin to drive and will do all it takes to maintain everyone's safety."
Enhancing traffic safety
Turki said the interior minister thinks the recent decision to lift the ban on women driving represents a strong push to the ministry's efforts to enhance traffic safety through education.
"Women will certainly benefit from being able to drive and it will help them understand traffic rules and manners. This will positively affect their educational role while raising children to properly handle cars and be on the road," he added.
https://english.alarabiya.net/en/News/gulf/2017/09/29/Ministry-says-legal-driving-age-for-women-in-Saudi-Arabia-is-18-years.html
--------
A Muslim Woman from Ontario, Canada 'Touched' By Anonymous Gift
28 September 2017
A Muslim woman from Ontario, Canada, has thanked the mystery person who gifted her 25 Hijab-wearing dolls.
Sheza Hasan was returning home when she discovered a box, with a note, by her doorstep.
Inside the "super sweet package" she discovered the dolls, all wearing headscarves.
Ms Hasan posted a picture of the surprise gift on Facebook, where it has been shared widely and attracted the attention of the world's media.
"Some gestures touch you deep into your soul," she wrote.
"A wonderful soul anonymously dropped off this super sweet package on my porch.
"On the package was a sweet little note to tell me that she noticed that there aren't too many hijabi dolls out there so she made 25 of them for us," Ms Hasan said.
"This warmed my heart and reminded me that there are always more good people out there than the other kind," she continued.
"When being ourselves - a seemingly simple idea - seems like the toughest thing to accomplish, gestures like this reach out to us and provide the strength we need to carry on."
Ms Hasan's story has been shared thousands of times on social media and covered by CBC in Canada.
"The response has been beyond what I could have ever imagined," she said in a follow-up post.
"Sitting in front of the camera or being in the spotlight is really difficult for me."
"It is my sincere hope that seeing a Muslim woman speak for herself on TV softens people's hearts and changes their perception of who we are."
Most of all, though, Ms Hasan said she wanted to thank the anonymous person who had made the dolls and left the gift.
"I don't think you can ever imagine how profound your gift is for the community," she said.
"It would be exemplary for others to see and be inspired by you.
"I humbly request for you to reach out to me."
http://www.bbc.com/news/blogs-trending-41428249
--------
Karandaaz Pakistan to support women entrepreneurship
September 29, 2017
ISLAMABAD - A social sector organisation will provide more than Rs20 million to support women entrepreneurship in the country.
Karandaaz Pakistan has joined hands with three business incubators to launch its programme on women entrepreneurship. Through the DFID-funded Innovation Challenge Fund, Karandaaz is providing grants worth Rs25 million to LUMS, Balochistan University of Information Technology, Engineering and Management, and Invest2Innovate (Pvt.) Ltd.
These grants will be used by partner incubators to identify women-owned, growing businesses and provide them with high quality entrepreneurship training. Businesses that perform well in the programme will be eligible to receive investment from Karandaaz.
Women-owned business across Pakistan that have the potential to grow and are looking for investment can apply to be part of the program, which will run from September 2017 till March 2018. The program will build the capacity of the women entrepreneurs and also provide them access to suitable investors.
Speaking about the programme, CEO Karandaaz Ali Sarfraz explained: "Karandaaz is committed to breaking barriers for women entrepreneurs in Pakistan. We want to demonstrate to the private sector the tremendous potential within women-led businesses." Ali Sarfraz commended the enthusiasm of all 30 business incubators that took part in the pitching process of this second round of the ICF.
http://nation.com.pk/islamabad/29-Sep-2017/karandaaz-pakistan-to-support-women-entrepreneurship
--------
Saudi envoy to US: Royal decree affirms women play central role in kingdom
28 September 2017
Prince Khalid bin Salman, the Saudi ambassador to the US, confirmed at a press conference at the embassy in Washington on Tuesday that Saudi women will be able to drive alone and won't need their guardian's permission to get a driver's license.
Prince Khalid and the king's son, said letting women drive is a "huge step forward" and that "society is ready."
The announcement came in the form of a royal decree that was released on Tuesday.
"Saudi Arabia is changing. We have dynamic leadership," he said. "We are implementing our Vision2030 initiative through which we are empowering women and youth to play a greater role in the Saudi economy and take better advantage of the increasing opportunities that result from the Kingdom's modernization and economic reform initiatives,"
The ambassador added: "The issue of women driving was never a religious or a cultural issue. In fact, the majority of the members of the Council of Senior Scholars in the Kingdom agree that Islam does not ban women from driving. This was a societal issue. Today, we have a young and vibrant society and the time had come to make this move."
"Over the course of our 87-year history as a nation, change and progress has been a constant. And today, through Vision2030, that change is moving at an even greater pace, in line with our religion and values, as we pursue our vision for a vibrant society with strong roots, a thriving economy less dependent on oil and an ambitious nation that can responsibly contribute to the security and prosperity of the world around us."
https://english.alarabiya.net/en/News/gulf/2017/09/28/Saudi-envoy-to-US-Royal-decree-affirms-women-play-central-role-in-kingdom.html
--------
Saudi Arabia's banks getting ready to finance women buying cars
29 September 2017
DAMMAM: The decision to allow women to drive will result in increased car sales requiring bank loans, and it is expected that banks will see a growing demand on this kind of loan; therefore, Saudi banks are getting ready to offer services to these women, a bank source said.
Talat Hafiz, secretary-general of the media and banking awareness committee of the Saudi banks, said that banks are ready to finance women wanting to buy cars directly and indirectly through payments to car dealerships, pointing out that this decision will have beneficial economic impacts such as facilitating the work of women and expanding their economic roles.
He pointed out "one of the main problems impeding women's work is transportation. The money women spend on taxis is considered a big waste. Therefore, families will be able to save a lot now."
"Car sales in the Kingdom reach 600,000 thousand annually. However, this number will increase by 50 percent in the coming period, which will have many positive impacts on the country's economy, including the GDP," he added.
As for the banks' position regarding this decision, he said that banks make no distinction between women and men, whether it is a consumer, mortgage or investment loan. However, banks expect to receive more female applicants in the coming period, which will have a positive impact on the overall economy.
He said that banks are ready to support this decision, noting that there will be new job opportunities for women in the transportation sector, such as with transportation companies Uber and Kareem, which might hire female drivers, giving more privacy to women who would prefer a female driver instead of a male one.
http://www.arabnews.com/node/1169381/saudi-arabia
--------
URL: https://www.newageislam.com/islam-women-feminism/for-first-time-saudi-arabia/d/112707
New Age Islam, Islam Online, Islamic Website, African Muslim News, Arab World News, South Asia News, Indian Muslim News, World Muslim News, Women in Islam, Islamic Feminism, Arab Women, Women In Arab, Islamophobia in America, Muslim Women in West, Islam Women and Feminism