New Age Islam News Bureau
12 Apr 2020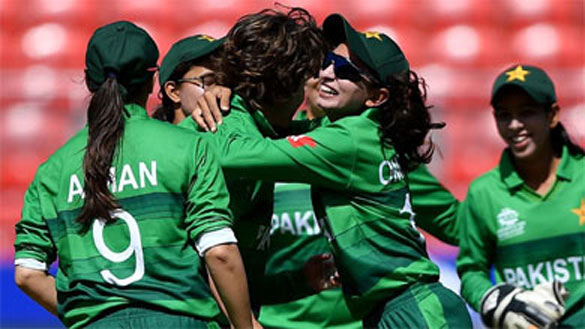 Pakistan women Cricket Team
------
• For Saudi Women, In Isolation Lies Economic Opportunity
• 'Most of The Men Are Your Enemies': One Woman's Crusade in Somalia
• Saudi Women's Driving Activist on Trial Almost 2 Years After Ban Was Lifted
• Pakistan Women's Team Coach Starts Online Classes for Players
• 29 Years on Death Row, Pakistan Woman, Kanizan Bibi, Suffers Mental Illness
• Dekalb Crash Claims Lives Of 2 Arab Women
• 4,311 Deserving Women Get Financial Assistance in Jhang
• Women in Turkey 'Weaving Networks of Solidarity' As Gender-Based Violence Rises
• Minister Advises Domestic Violence Victims to Call Women's Ministry Hotline for Quick Police Action
• Met Police Concedes Forcing Woman to Remove Hijab at Airport Was Wrong
Compiled by New Age Islam News Bureau
URL: https://www.newageislam.com/islam-women-feminism/for-saudi-women-isolation-lies/d/121553
------
For Saudi women, in isolation lies economic opportunity
MADISON CLOUGH
April 06, 2020
This week, the world continues to grapple with the coronavirus disease (COVID-19)-induced isolation that has given rise to both unimaginable loss and moments of resilience.
In the Gulf, daily life has been reshaped by restrictions that few could have predicted. Saudi Arabia, which acted quickly to suspend travel, implement remote work, and close restaurants, stores, and malls out of concern for public safety, has been hailed for its thorough response.
The Kingdom recognized that the earlier it mandated these measures, the more severe economic disruption it might face in the immediate term. The public's welfare took priority, nevertheless, with the aim of shielding the Kingdom from a more devastating outbreak down the line.
Now, with most citizens and residents at home, some may see opportunity in isolation. Saudi women in particular may use these challenging times to identify ways to enter a market that will shift almost entirely online.
Saudi Arabia is likely to see an increase in homebound women selling goods and services online. For those who are otherwise not working or studying remotely, the shuttering of physical storefronts can boost sales for businesses run from the home.
In February 2020, Saudi Minister of Commerce Majid Al-Qasabi stated that e-commerce in Saudi Arabia represented SR80 billion ($21.3 billion) in services and products, with the Kingdom boasting over 45,000 shops and e-commerce platforms.
These figures are likely unsurprising to many Saudi women, who have long found creative ways to generate income from their homes, using social media and word of mouth to sell goods as diverse as traditional foods, custom-designed abayas, handmade jewelry, perfume, and more.
In fact, women owned nearly half of the 27,000 online shops registered on the Ministry of Commerce's Maroof portal last year.
Some of these women have faced difficulties entering the traditional workforce due to personal or cultural factors, including family concerns over gender mixing at work and a higher likelihood of starting a family while young. In recent years, these barriers have in part lowered due to Crown Prince Mohammed bin Salman's reform drive.
Under the National Transformation Program, the government aims to raise Saudi women's economic participation from 17 to 25 percent. Progress has been extremely promising so far: In early 2019, the number of women working increased by more than 280 percent, from 156,000 in 2018 to 596,700 only one year later.
In the coming days, it is likely that even more Saudi women will embrace opportunities to work as independent businesswomen from the privacy and comfort of their homes.
We may also see a rise in women as service providers, from teachers to language tutors, life coaches, counselors, and consultants. Should these women one day decide to scale their pursuits into larger enterprises, they will be able to take advantage of the lightning-quick time it takes to process a business license in the Kingdom, which the Saudi Arabian General Investment Authority (SAGIA) cut from 53 hours to 4 hours in 2018.
A question worth asking, then, is what the Saudi workforce might look like when the situation eventually stabilizes and normalcy returns to daily life. The country as a whole will benefit if Saudi women who become engaged in e-commerce during the COVID-19 crisis can maintain their economic participation.
Income-earning women produce societal and economic rewards for all. With more gender-inclusive economic growth, a diversified range of goods and services often appears to meet the public's tastes. At the family level, working women can contribute to empowered households where financial decision-making is more equitably spread.
Greater female inclusion can also lead to higher spending power among women who give back to the national economy. One World Economic Forum study noted that achieving greater gender balance in the workforce could increase GDP by approximately 35 percent, leading to higher productivity and pay for both men and women.
The Saudi government and business community can take a number of steps to encourage women who are now wondering how to monetize their pursuits from home. For example, SAGIA can release an online business toolkit tailored to women seeking to initiate small enterprises. Prominent female business owners can also share their success stories and practical advice in virtual workshops and coaching sessions with aspiring entrepreneurs. Most practically, Saudi Arabia's Small and Medium Enterprises General Authority (Monsha'at), which has facilitated millions of riyals in new business funding and online training for entrepreneurs, can also consider a new round of online outreach campaigns targeted towards women.
Well suited to innovate in these challenging circumstances, Saudi women deserve the financial assistance and professional mentorship necessary to raise their economic participation at a time when it is needed most.
Without a doubt, the road to economic recovery will be long and arduous. The public will find, however, that while Saudi Arabia stays at home, women's economic ambitions will not be limited by four walls.
• Madison Clough is a strategic communications professional residing in the Gulf. She holds a master's degree in international security from George Mason University and specializes in communications on geopolitical and cultural issues.
https://www.arabnews.com/node/1653826
--------
'Most of the men are your enemies': one woman's crusade in Somalia
9 Apr 2020
The long, black hem of Ibado Mohammed Abdulle's diya drags in the sand, creating mini tornadoes of dust under her sandals. At a circular fence of waist-high thorny bushes, she knocks on the metal sheet serving as a makeshift door. A woman's face, partially hidden by a bright green hijab, appears. "Salaam Alaikum," Abdulle says, "peace be upon you."
Holding up a hand to the armed guards tasked with accompanying the visiting charity staff following her around the displacement camp, she instructs them to stay outside.
Abdulle, 48, was living in the desert town of Oog in northern Somalia in 2016 when drought turned the region to dust, driving thousands of families from their homes. Now she makes daily visits to one of three sprawling displacement camps outside the town to campaign for vulnerable women and girls. Once a climate refugee herself, she knows what their lives are like.
"I tell them to gather in groups when they go out," Abdulle says. "That most of the men are your enemies, so don't go out alone so you can be safe from the violence and the rape, especially at night-time."
In Somalia, climate change is driving rape, sexual violence and intimate partner violence. Droughts linked to climate change ravage the landscape with increasing frequency, hurting families who depend on farming and herding animals.
The spike in regional violence against women and girls takes two forms: domestic violence against women who have become family breadwinners , and sexual violence against women and girls who have migrated to camps near crowded urban centres.
Abdulle came from a pastoralist family, displaced by drought and conflict during Somalia's civil war in the 80s. After a nomadic life with her family, Abdulle was sent to the capital city, Mogadishu, for her education. She returned first to her parents in northern Somalia, and then moved to Oog.
"When my family [lived] in the countryside, we had a drought like this one [in 2016]," Abdulle says. "The people were helped. Some were educated, some worked and some of them went abroad. I know something about the droughts. When the droughts come, there can be good change for the people, especially for women."
In 2016, when waves of displaced pastoralist families streamed into Oog, looking for healthcare, food, water and shelter, Abdulle felt compelled to document the crisis and to protect and empower women and girls. She recorded videos to send to the government and the Somali diaspora, requesting support for the overwhelming need.
Abdulle's no-nonsense attitude and unrelenting commitment encouraged the community to approach the local government to request she be put in charge of their welfare. Holding a paid leadership position overseeing men is an usual responsibility for a woman in Somalia's male-dominated society.
"The surprising thing is that the three male heads of the three IDP camps are … happy that Ibado is above them," said Muna Hussein, a gender officer at Oxfam, who works closely with Abdulle. "They listen to her."
Camp conditions are hazardous for women: there is no lighting at night, and no doors or fences to keep out opportunistic criminals and predators. As drought continued in 2017 and 2018, the population in Oog's camps boomed. And crimes against women and girls mounted.
While updated statistics are hard to come by, at least 25% of Somali women have experienced gender-based violence exacerbated by conflict and displacement due to the climate emergency, World Bank data shows. Much of this violence happens in displaced communities.
Research from Oxfam suggests women in Somalia are most at risk when walking to collect water and firewood, using outdoor toilets and sleeping in makeshift huts that lack doors and lighting. The perpetrators come from both inside and outside the camps. The government, fragile and under-resourced, cannot provide protection and services to the nearly 2.6 million Somalis already displaced.
Abdulle has sought to help local women and girls protect themselves by organising groups to collect water and firewood. She has also coordinated forums, groups of volunteers who meet to learn how to campaign for their needs and rights. She also acts as a counsellor and friend for women who have been attacked.
"If a girl who was raped came to me, I would start by speaking with her," Abdulle says. "Then, I would take her to the hospital for any treatment. And I would take her to the nearest police station immediately to arrest the perpetrator of this crime."
In the blazing afternoon sun, with strong winds kicking up fierce dust storms, the makeshift tents in the displacement camp look identical: round huts propped up by sticks and covered in a patchwork of faded, old cloth. But Abdulle knows the women living in each one and navigates between the huts with ease.
Sukhra Idris, her name changed to protect her privacy, lives alone in this camp with her two children. When Abdulle enters, she greets her with a hug.
"I met a boy and fell in love and felt I was ready for marriage," Idris says, pulling up the bright green hijab as her young child tugs from her head. "I was in a hurry for that because I was very young."
When the 2016 drought hit, the couple's livestock transportation business was ruined. . According to experts, men unable to provide for their families often become more prone to domestic violence. Idris says her husband began to abuse her, slamming her against a wall, punching and slapping her.
"I told him to do his own work because we didn't have enough to eat and needed to support old people like my mom and dad," said Idris. "At that time, he was beating me if I asked him to bring milk for his kids."
Idris tried several times to leave, but social stigma pressed her to return. It was only with Abdulle's support that Idris was able to leave for good. She struggles to survive with her children in the displacement camp and one has died from diarrhoea.
After a long day, Abdulle visits Oog's only hotel to sit beneath the shade of a tree and sip a cup of camel milk tea. With climate change intensifying and droughts increasing in the region, Abdulle knows she alone cannot meet the overwhelming needs of all Somali women and girls. Her greatest hope is that the displaced women she is helping to train and empower will pick up the fight.
https://www.theguardian.com/global-development/2020/apr/09/most-of-the-men-are-your-enemies-one-womans-crusade-in-somalia
--------
Saudi women's driving activist on trial almost 2 years after ban was lifted
18 March 2020
LONDON -- The trial of a prominent human rights activist who campaigned for women being allowed to drive in Saudi Arabia held its first open-court session Wednesday, nearly two years after her arrest.
Loujain al-Hathloul, 30, was arrested in the Kingdom in May 2018, along with 11 other women's rights campaigners. Just over a month later, women in Saudi Arabia got behind the wheels of their cars and drove for the first time after over three decades of campaigning from activists to overturn the ban on women's driving.
The lifting of the ban was initially met with euphoria by women drivers in the Kingdom, although the trial of al-Hathloul highlights that reforms have been limited and Saudi Arabia still faces intense criticism on its human rights record.
"The very existence of this sham trial pulls the veil off of the authorities' so-called push for reforms in the Kingdom," Lynn Maalouf, Amnesty International's Middle East Research Director, said in a statement to ABC News. "How can they initiate change in the country when the very women who fought for these reforms are still being punished for it?"
While she was expected to make an appearance, al-Hathloul did not appear in court Wednesday, although her family members are believed to have attended, sources familiar with the case told Amnesty International. After the opening of the trial, the court has now been closed for two weeks, and the human rights group has not been told when the rescheduled court date is. If found guilty, she could face jail time.
The trial of al-Hathloul, which began on March 13 with a series of closed hearings at the Criminal Court in Riyadh, comes as the kingdom has faced increasing scrutiny over its human rights record. The spotlight has fallen on Crown Prince Mohammed bin Salman, who initially promised an agenda of reform, after the murder of journalist Jamal Khashoggi and the unfolding humanitarian disaster in neighboring Yemen.
In 2019, the kingdom executed a record number of prisoners, despite the Crown Prince's promise to curb the use of the death penalty.
Amnesty International and other rights groups have called for al-Hathloul's immediate release, and said she has been tortured and sexually abused while in detention.
"In prison, Loujain has suffered torture, sexual abuse and solitary confinement -- compounding the fact that she has been deprived of her freedom unjustly for almost two years now," Maalouf said. "It is high time the authorities not only drop these ludicrous charges but also ensure independent and impartial investigations into her treatment in detention, and hold those responsible accountable for their actions. This is the only course of action that would lend some credibility to the authorities' reform drive."
https://abcnews.go.com/International/saudi-womens-driving-activist-trial-years-ban-lifted/story?id=69662620
--------
Pakistan Women's Team Coach Starts Online Classes For Players
Apr 11, 2020
Head coach of the Pakistan women's cricket team Iqbal Imam has started online classes for his players who are staying indoors as part of the safety precautions against the coronavirus pandemic.
"I am passing on my knowledge on drills in batting, bowling and fielding — whether it be hitting the hanging ball, taking catches, gripping the ball, one-step bowling or any other exercise which can be done in a close room — to the players," Imam said.
The Pakistan Cricket Board has suspended all cricketing activities in the country as the world comes to a standstill.
Players are sharing videos of their exercise drills and challenging their teammates to fitness challenges on social media.
https://www.samaa.tv/sports/2020/04/pakistan-womens-team-coach-starts-online-classes-for-players/
--------
29 Years on Death Row, Pakistan Woman, Kanizan Bibi, Suffers Mental Illness
Apr 10, 2020
ISLAMABAD (AP) — Kanizan Bibi was 16 when she was charged with murdering her employer's wife and five children. The police said she was having an affair with her employer, who was also arrested and later hanged.
Until his execution in 2003, Khan Mohammad swore he and Bibi had never had an affair and had not killed anyone. He maintained his wife and children were killed as payback in a long-running land dispute with his relatives.
The Cornell Center on the Death Penalty Worldwide is spearheading efforts along with the independent Justice Project Pakistan to get Bibi released. But the coronavirus pandemic that has shut down most of Pakistan seems to have also shut down Bibi's chance at freedom.
She's one of more than 600 mentally ill prisoners in Pakistan's overcrowded prisons. A March 30 hearing to present yet another psychiatric evaluation was postponed when courts closed.
Most days Bibi can barely dress herself. She hasn't spoken in more than a decade and her father, before he died in 2016 pleaded in a letter to Pakistan's president to free his only child.
"They hung her from a fan with ropes thicker than her tiny wrists, beating her small frame with all their might. They let mice loose in her pants, which they tied from the ankles so that they could not escape. Kanizan had been terrified of mice her whole life," he wrote. "I am a poor man and I beg that the death sentence of my daughter be converted into life in prison."
Justice Project Pakistan this week warned of a steep rise in COVID-19 cases in Pakistan's crowded jails. The Supreme Court of Pakistan this week agreed to release some mentally ill and disabled prisoners to ease conditions, but only those whose sentences are less than three years.
A land dispute between relatives was at the center of her case. Her employer's cousins had been feuding with him over land and had originally been arrested for the murders. They pointed to Bibi and accused her of adultery, a crime of shame in conservative Pakistan, saying that's why she killed her employer's wife and children. In villages adultery can bring summary executions by family members.
Bibi was accused of involvement in the killings and charged with murder. Unsubstantiated adultery claims and a confession elicited after days of torture were enough for the judge to sentence her to death.
Delphine Lourtau, who heads the Cornell Center on Death Penalty Worldwide said the group's research showed that women often aren't just punished for crimes they are being charged with "but also for transgressing gender norms."
"She has lost touch with reality and is oblivious to her surroundings. There are days when she is unable to eat or dress herself. She trembles, hears voices, and is rarely able to recognize family members," the Cornell Center said.
This story has been corrected to show that the employer's name was Khan Mohammad, not Sher Mohammad.
https://www.kctv5.com/29-years-on-death-row-pakistan-woman-suffers-mental-illness/article_6c73cd5a-669e-5ac7-88b4-aea9a0a235c8.html
--------
DeKalb crash claims lives of 2 Arab women
Apr 11, 2020
A three-vehicle crash Friday afternoon about a mile south of Fyffe killed two people, according to Alabama State Troopers.
Robin Darrell Anderson, 47, of Arab, was killed when the 2018 Ford F150 he was driving was struck head-on by a 2002 Chevrolet Silverado driven by William Seay, 36, of Rainsville.
Anderson, who was not wearing a seat belt, was pronounced dead at the scene, as was Hannah Danielle Moon, 23, of Arab, who was a passenger in his vehicle.
Seay was airlifted to Huntsville Hospital. The driver and passenger of a third vehicle , a 2010 Chevrolet Silverado, were not injured.
https://www.gadsdentimes.com/news/20200411/dekalb-crash-claims-lives-of-2-arab-women
--------
4,311 deserving women get financial assistance in Jhang
April 12, 2020
JHANG: As many as 4,311 deserving women received financial assistance on Saturday under the Prime Minister's Ehsaas Kifalat Programme at nine special distribution centres in the district.
The special distribution centres were set up at the Government Ghazali Degree College, Government Boys High School Shah Jewana, Mai Heer Stadium, Government Boys and Girls High Schools Ahmadpur Sial, Government Boys High School Shorkot Cantt, Chenab College Shorkot City, Government Girls High School Wassu and Government Elementary School Dal Mor.
The administration provided proper sitting and clean drinking water facilities to the visitors. Assistant Commissioner Qasim Gil while talking to The News said that 1,634 deserving women got Rs 12,000 and Rs 21,000 as per their approved stipend money at three distribution centres of Tehsil Jhang while further process to serve them was in progress.
The AC said that 816 deserving women had been provided their stipend money at the distribution centres of Tehsil Ahmadpur Sial while 1,081 deserving women received their money from Shorkot City and Shorkot Cantt centres. He told that 780 preserving women had been providing their financial assistance in both distribution centres of Tehsil Athara Hazari.
https://www.thenews.com.pk/print/643303-4-311-deserving-women-get-financial-assistance-in-jhang
--------
Women in Turkey 'weaving networks of solidarity' as gender-based violence rises
APRIL 8, 2020
WOMEN in Turkey are building a network of solidarity and resistance in a bid to "stay alive," warning that the risk of violence has been increased by allowing abusers to return home under coronavirus measures.
Rights groups have said that a decision by the Council of Judges and Prosecutors (HSK) on March 20 undermines Law 6284, which is aimed at "protecting women and the family from violence."
They say that the protection of women must be taken into consideration during the crisis, warning that in reality policy now means: "Let violent men return to their homes."
As reported in the Morning Star, women's shelters are in crisis, with many across Turkey forced to close their doors despite rising gender-based violence.
Women's Defence Network spokeswoman Buse Ucer said that "women feel the threat of being killed," but added: "We will not despair."
She said that the network had been contacted by many women, including large numbers of nurses and health workers, during the crisis.
Interior minister Suleyman Soylu acknowledged that 73 percent of women murdered last year were killed in their own homes.
But the group lamented the lack of funding and support for women's shelters, with a lack of capacity meaning that women have nowhere to turn to if they experience violence in the home.
"When we say 'we want to live,' we actually want all the beauties of life. We demand our right to be protected from violence," she insisted.
"And we urgently want the hotline for violence against women to be operated 24/7. We want transparent information about shelters."
https://morningstaronline.co.uk/article/w/women-in-turkey-weaving-networks-of-solidarity-as-gender-based-violence-rises
--------
Minister advises domestic violence victims to call women's ministry hotline for quick police action
12 Apr 2020
BY IDA LIM
KUALA LUMPUR, April 12 — The government urges victims of domestic violence or child abuse to call its special hotline that would enable the police to take immediate action when such incidents are reported, Senior Minister Datuk Seri Ismail Sabri Yaakob said today.
Ismail Sabri appeared to be acknowledging reports of the rise in abuse cases happening in families amid the movement of control order (MCO) — a period where all Malaysians are told to stay at home to curb the spread of Covid-19.
"We also hear there are complaints about domestic problems and there are also fears of abuse cases during the Covid-19 period or during the movement of control order period," he said during a press conference broadcast "live" today.
He said that the Women, Family and Community Development Ministry was working together with the police via special hotlines that victims of domestic violence and child abuse could contact.
"Those who need help involving domestic violence and abuse if there are such (cases) are requested to contact Talian Kasih at 15999 or WhatsApp to 019-2615999 and this has links to the police, and the police will take immediate action based on those complaints.
"If there are reports that you wish to report to the police, Malaysians can lodge reports online, such as through WhatsApp directly to the police, and the police can take action immediately based on complaints received," he added.
This appears to be the first time this topic was mentioned during the daily non-health press conferences during the movement control order period.
In the press conference today, Ismail Sabri did not mention the number of official complaints received regarding domestic violence and child abuse cases, but women groups have previously reported an increase in such cases received via their own hotlines.
https://www.malaymail.com/news/malaysia/2020/04/12/minister-advises-domestic-violence-victims-to-call-womens-ministry-hotline/1855937
--------
Met police concedes forcing woman to remove hijab at airport was wrong
14 Mar 2020
Police have admitted that forcing Muslim women to remove their headscarves at UK airports could be unlawful, a practice likened by one victim to being made "to remove her top".
In an out-of-court settlement, the Metropolitan Police has conceded that when it coerced a woman to take off her hijab so officers could photograph her, it was a breach of her human rights and violated the woman's right to religious observance.
A transcript of a recorded interview with the 25-year-old woman, known as Asiyah, and male officers at Heathrow airport in October 2018 reveals that police told her that "we can take photographs that we need by force".
The officers were using a controversial counter-terrorism power known as schedule 7, which allows individuals to be stopped and searched at UK airports and ports without there being grounds for suspecting the person of involvement in terrorism. It is an offence if an individual fails to answer questions or does not comply with requests such as removing a headscarf.
In the transcript, officers tell Asiyah: "You might end up being arrested because you wouldn't let us take a photograph of your hair."
Asiyah, who was travelling with her family to visit a sister in Bahrain, explained that she was "uncomfortable" with the request to remove her hijab, but said an officer had claimed she was not identifiable while wearing it.
The transcript shows the officer saying: "I have no idea [of] the positioning of your ears on your face. Like, you might not even have any ears. We don't know what you look like."
Human rights group Cage says it has seen a number of similar cases, which could suggest an undisclosed strategy by police to target Muslim women at UK airports.
"It is clear the police knew they were discriminating against Muslim women and therefore opted to settle, in order to avoid Asiyah's case setting a precedent for other women who have had their hijabs forcibly removed," said Muhammad Rabbani, managing director of Cage. "It's high time schedule 7 was scrapped."
The case was won after Asiyah brought a judicial review against the Met following the incident at Heathrow. Her witness statement describes how the threat of force by officers terrified her.
"An image came into my head of me on the floor, with female officers surrounding me, trying to put handcuffs on me and pulling my hijab off my head and a lot of screaming."
Asiyah, born in London, said that being told to remove her hijab by the two male officers present was like being told to get naked.
"For any woman who does not wear hijab, it would be the equivalent of two men telling a woman to remove her top so they can take pictures of her. The fact they were men insisting I did this made it even worse and embarrassing for me. It is part of the purpose of the hijab to preserve yourself from the gaze of men."
Following the case, when the Met agreed to pay £15,000 in damages, the Home Office has yet to issue fresh guidance on the issue or address the concerns of women such as Asiyah.
Among the other cases received by Cage is that of Summayah, who was travelling in a wheelchair and feeling ill when she was stopped at Gatwick airport after a holiday in Turkey and taken for questioning.
"The final blow was asking me to remove my hijab. By that point, I had been interrogated for over an hour. I felt sick, like I was going to pass out.
"They threatened me with arrest if I didn't comply and remove my hijab, so they could take pictures. I felt so dehumanised. This has had a very complex impact on my mental health and life."
Anne McMurdie, a solicitor at Birnberg Peirce, who represented Asiyah, said: "Stopping people on a suspicionless basis and intruding on their religious observance and private life without any reason is an abuse of a power, which is already very draconian".
Despite her victory, Asiyah, who agreed to remove her hijab because she felt "bullied and pressurised", said she remained concerned that the photographs might have been widely circulated.
"I keep thinking how men might be looking at me without my hijab, and I wonder how many times a day they are being viewed and how many different men are viewing them. For me, it feels the same as if the police had taken a photo of me naked that was then being looked at by male police officers or maybe male members of the security services. I felt my dignity had been taken away and I had been stripped."
McMurdie said: "There is nothing to prevent them sharing [the image] with others like the security services. There is nothing in the law to regulate how long it is kept for, who can view it, who it is shared with. One of the evils with this is that the abuse continues."
Cage recently wrote to the all-party parliamentary group on British Muslims urging it to investigate the "discriminatory" practice of removing hijabs during border checks.
https://www.theguardian.com/law/2020/mar/14/metropolitan-police-concede-forcing-woman-to-remove-hijab-wrong
--------
URL: https://www.newageislam.com/islam-women-feminism/for-saudi-women-isolation-lies/d/121553
New Age Islam, Islam Online, Islamic Website, African Muslim News, Arab World News, South Asia News, Indian Muslim News, World Muslim News, Women in Islam, Islamic Feminism, Arab Women, Women In Arab, Islamophobia in America, Muslim Women in West, Islam Women and Feminism