New Age Islam News Bureau
30 Aug 2017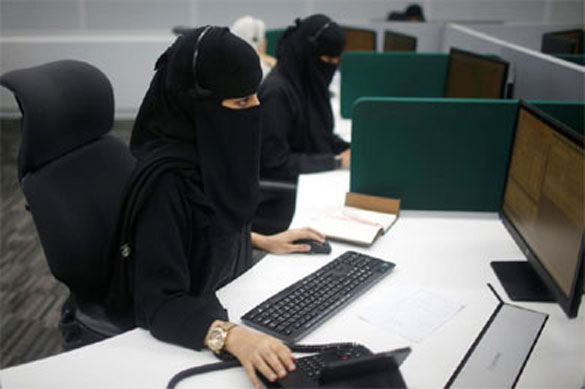 Saudi women work inside the first all-female call centre in the kingdomÕs security sector, in the holy city of Mecca, Saudi Arabia August 29, 2017.
----
• `Female Circumcision Is an Established Practice in Islam', Says SYS
• Saudi Female Passport Officers Assigned At Airports
• Marriage Not Made In Heaven in Islam: Veteran Actress-Activist Shabana Azmi
• Can Child Marriage Be Stopped? One Girl Did and Wants Others in Indonesia to Follow
• Reopening Of Women Crisis Centres, Bilawal Hails Verdict
• Emirati Woman Restores Confidence of Acid Attack Victims
Compiled by New Age Islam News Bureau
URL: https://www.newageislam.com/islam-women-feminism/for-first-time-saudi-women/d/112384
--------
For first time, Saudi women step into Haj emergency role
Mahmoud Mourad
Aug 30 2017
MAKAKH — Seven women sit in front of computer screens fielding distress calls from across Makkah ahead of the annual Haj pilgrimage this week, in a first for Saudi Arabia as it tries to expand participation in the workforce.
The seven, almost all wearing the black niqab over their faces, form the first women's section of an emergency call center in the Kingdom, which has begun offering more education and employment opportunities to the half of the population that has traditionally stayed at home.
The women verify a caller's location and request, which could be related to fire, crime, illness or a traffic accident, before passing the information on to first responders.
That's a big shift in the Kingdom.
Saudi Arabia adheres to strict interpretations of Islamic law and tribal custom, requiring women to have male guardians and obey a modest dress code. They are barred from driving.
However, the Saudi government has begun introducing gradual reforms to open new job opportunities for women as part of a vision to wean the country off oil — on which it relies for more than 60 percent of its income — and transform society.
"Saudi women are present in multiple fields, so they can also be present in the security sector," 31-year-old Baara Al-Shuwaibi, who studied English at a Makkah university, told Reuters, headphones hanging over her ears.
The women all speak English and received training before starting their jobs in recent weeks. Dozens of men sit in a separate room doing the same work.
"I receive a call, check the location and send the request to the proper authority as fast as possible, especially if it's an emergency like fire or ambulance," Shuwaibi said.
The National Operations Center in Makkah launched two years ago, becoming the first in the Kingdom to unify government response services. There are plans for similar sites in Riyadh, Medina and the Eastern Province.
This is the first year the women's section will operate during the Haj, which is expected to attract about two million Muslims from around the world for a week of sacred rituals starting on Wednesday.
Maj. Gen. Abdel Rahman Al-Saleh, who runs the operations center, said it receives around 65,000 calls each day during Haj, 50 percent more than normal.
"We consider the women's section a step forward to demonstrate that women can work in any place and in any field," Saleh said.
There are plans to increase the number of women and offer them advanced training, he said.
Hassa Al-Badi, who manages the women's section and has a master's degree from an American university, said women callers sometimes asked to speak to another woman due to the sensitivity of their request.
"Women are now present in the security sector and, God willing, they will continue to advance," she said. — Reuters
http://saudigazette.com.sa/article/516202/SAUDI-ARABIA/Saudi-women
--------
`Female Circumcision Is an Established Practice In Islam', Says SYS
Aug 30, 2017
KOZHIKODE: Female circumcision is an established practice in Islam, says Sunni Yuvajana Sangham, (SYS) a feeder organization of the Samastha Kerala Jam-Iyyathul Ulema.
Working secretary of the SYS Abdul Hameed Faizi Ambalakkadavu said that circumcision is Sunna (the traditional portion of Muslim law based on Muhammad's words or acts) in Islam.
"It is mandatory for the male while it is optional for the female," he said.
"Female circumcision is a boon for women and gives a pleasurable experience for men. In Islamic practice, the organ is not completely cut as in female genital mutilation, but only a small portion is removed," he said.
According to Faizy, the authoritative books in the Shafi Madhab, which Sunnis in Kerala follow, the fe male circumcision is an accepted practice.
"The book by Ibn Hajer al-Haytami, which we follow to issue fatwas and `Fathul Mueen' by Sheikh Sainudeen Makhum contain references to female circumcision," he said.
The SYS leader said the practice was not widely prevalent in Kerala now because of the dearth of experts.
"There should be women experts to do the procedure," he said. Asked about the protest staged by the Muslim Youth League (MYL) against a centre in Kozhikode where female circumcision was done, he said MYL workers might have done it because they were not aware of the religious perspective of the issue.
Meanwhile, addressing a news conference, MYL state general secretary P K Firoz who took the initiative in forcibly close down the centre, welcomed discussions on the issue.
"But as a political organization, we swung into action against the introduction of a practice not prevalent in the state. We also had a discussion with the doctor against whom the allegation is made and found out that he too had little knowledge about it," he said.
Firoz said after the closure of the centre there were discussions at various levels. "Let there be discussions and let the people analyze. Reforms in the society do not occur overnight," he said.
http://timesofindia.indiatimes.com/city/kozhikode/female-circumcision-is-an-established-practice-in-islam/articleshow/60288986.cms
--------
Saudi female passport officers assigned at airports
Aug 30 2017
JEDDAH — Several Saudi female passport officers have been assigned to finalize the arrival procedures for female pilgrims coming through King Abduaziz International Airport, said Rafaat Felemban, the supervisor of women's affairs at the airport.
"All the female officers have been given intensive training courses on how to finalize the arrival and departure procedures such as biometric fingerprinting, taking photo, etc. They have also been thought on how to identify any forged document and answer any inquiry about the airport's procedures. They are highly competent and skilled," she said.
All female officers work at Haj terminals where they use advanced machines to finalize the procedures.
http://saudigazette.com.sa/article/516204/SAUDI-ARABIA/Saudi-woman
--------
Marriage Not Made In Heaven in Islam: Veteran Actress-Activist Shabana Azmi
AUGUST 29, 2017
Mumbai–Veteran actress-activist Shabana Azmi believes marriage is not made in heaven in Islam and that it's a contract.
Sharing an article on "Madrasas in Uttar Pradesh to teach 'correct ways of divorce'", Shabana tweeted on Tuesday: "Marriage is not made in heaven in Islam. It's a contract. We need a model 'Nikahnama' in which clauses of the contract are drawn up fairly."
Shabana, who is married to veteran writer-lyricist Javed Akhtar, has always been vocal about a lot of issues.
Last week, she welcomed the Supreme Court's ruling on triple Talaq saying the judgment is a victory for brave Muslim women in the country.
She also runs the NGO Mijwan Welfare Society. The foundation was started by her father Kaifi Azmi.
The NGO was launched with the goal of creating employment opportunities for women, and reviving the art of chikankari embroidery.
http://indianewengland.com/2017/08/marriage-not-made-heaven-islam-shabana-azmi/
--------
Can Child Marriage Be Stopped? One Girl Did and Wants Others in Indonesia to Follow
Aug 30 2017
Kuala Lumpur. In Sanita Rini's village on the Indonesian island of Java, child brides were so common that girls who were not married by the time they turned 16 were labelled "old virgins."
Like other parents in the village, Rini's tried to marry her off — to a motorbike driver seven years her senior — as soon as she celebrated her 13th birthday.
"I was shocked. I cried, I was angry," she told the Thomson Reuters Foundation.
"I knew from my friends who married young, they can't continue school, their life is over," said Rini, now 22.
Rini's story is not uncommon in Indonesia, which is among the top 10 countries in the world with the highest number of child brides, according to campaign group Girls Not Brides.
But she stopped her child marriage and now, along with a group of teenage girls, Rini is seeking to empower others to fight back through a new network, the Youth Coalition for Girls.
One in four girls marry before they turn 18 in Indonesia, according to the United Nations' children agency Unicef. On average over 3,500 Indonesian girls are married off every day.
Globally, 15 million girls become child brides each year, exposing them to greater risks of exploitation, sexual violence, domestic abuse and death in childbirth.
Campaigners say poverty and tradition continue to drive underage marriage in Indonesia, a sprawling archipelago in Southeast Asia with a population of 250 million people.
Striking a Deal
The UN defines child marriage as a formal marriage or informal union before age 18. However in Indonesia, the minimum age a girl can wed is 16, and 19 for boys.
Rini said her father, a construction laborer, and mother, who runs a grocery store from home, tried for two years to marry her to the man from her village to help the family's finances.
The youngest of five siblings, Rini resisted and her parents eventually dropped the idea after she struck a "deal" with them.
"I asked my parents how much they have spent on me, for my education. I said I would repay them this money if they let me continue my studies. If they forced me to get married, they would not get a single cent," she said.
The coalition hopes stories like Rini's can inspire other girls to stand up for their rights on issues ranging from child marriage to sexual violence.
Launched in March, the group now has 180 members aged between 15 and 24 in 11 provinces across the archipelago who want to tackle gender equality through talks and book projects.
The coalition has a few survivors of child marriage and Rini, the group's deputy head, said sharing their experiences help girls who are trapped to envision a different future. "I want to tell the girls, they are not alone. They have the power to say no," she said.
The coalition also reaches out to parents to tell them the importance of education and encourage them to let their children continue their studies until at they are at least 18.
A university graduate, Rini has spoken about her experience in Japan and the Netherlands and her parents are proud of her.
The new coalition comes as women's rights campaigners in Indonesia broaden their movement by engaging men and religious leaders.
In April, female Muslim clerics issued an unprecedented fatwa — a religious edict which is not legally binding but influential among Muslims — to declare underage marriage harmful and said its prevention was mandatory.
Rini admits the network is only in its infancy, but she hopes by taking this step, politicians will start engaging youths themselves when drafting policies and enacting laws.
"My dream is to see boys and girls in Indonesia enjoy their rights equally," she said.
Thomson Reuters Foundation, the charitable arm of Thomson Reuters, that covers humanitarian news, women's rights, trafficking, property rights, climate change and resilience.
http://jakartaglobe.id/news/can-child-marriage-be-stopped-one-girl-did-and-wants-others-in-indonesia-to-follow/
--------
Reopening of women crisis centres, Bilawal hails verdict
30-Aug-17
KARACHI: Pakistan People's Party (PPP) Chairman Bilawal Bhutto Zardari has hailed the Supreme Court of Pakistan verdict directing Khyber Pakhtunkhwa (KP) government to reopen four women crisis centres shut down by the provincial government previously. In a statement, the PPP chairman said depriving the women of their rights and deserved facilities was the worst example of governance by the KP government. The PPP chairman said women of KP province should rise up to snatch their due rights. He added that PPP would always stand for their emancipation and well-being. He asked the KP government to reopen the women crisis centres without any further delay stressing that any option for further litigation on the issue would be resisted. It may be recalled that a three-member bench of the apex court, headed by Justice Dost Muhammad Khan, upheld the Peshawar High Court's (PHC) verdict and discarded the KP government's appeal against reopening of the women crisis centres. The KP government had appealed to the apex court against the PHC order. The PHC had given the order after women working at the centres had petitioned for the centres' reopening.
http://dailytimes.com.pk/pakistan/30-Aug-17/reopening-of-women-crisis-centres-bilawal-hails-verdict
--------
Emirati woman restores confidence of acid attack victims
August 29, 2017
Intrigued by the art of designing prostheses, she took courses abroad and trained for two years
Emirati Ashwaq Al Hashimi never imagined she would one day work in prosthetics.
Graduating with a Business Administration degree, she sought a job in Rashid Hospital and was given a role as physiotherapy aide. That's when she met Deril Atkins, the Indian anaplastologist who designed prostheses to restore malformed parts back in 2000. Intrigued by the art, she took courses abroad and trained under him for two years. In 2012, she opened her own Omniyati Prosthetics Arts Centre in Deira with the support of Mohammed Bin Rashid Establishment for SME Development.
The centre, the first of its kind in the UAE that manufactures all kinds of cosmetic prosthesis from start to end, receives over 100 cases annually from GCC and other Arab countries including Saudi Arabia, Kuwait, Oman, Sudan, Egypt, Palestine and Iraq.
"We provide patients who lost body parts as a result of injuries, attacks, birth defects or diseases with prosthetics that would restore their appearance and confidence," said Al Hashimi.
"Our role comes in when plastic surgeries cannot restore certain body parts. While prostheses are only cosmetic, our role extends to helping people retrieve their confidence and be integrated in the society."
Having an eye-orbital prosthesis, for example, helps protect the eye socket and bone development for children, she said. "In some cases, children renew their parts every six months depending on their growth."
The centre manufactures silicon-made prostheses including facial prosthesis, nose, ears, fingers, hands and feet, with about 85 per cent of the cases requesting eye prosthesis.
"The prosthetics field is still growing in the Middle East. There are currently limited facilities that provide such services in the Arab World," said Al Hashimi, noting the increase in number of patients.
Her first case and prolonged support to acid victims
In collaboration with Atkins, the centre helped fund and design the facial prosthesis for Zakia, the Pakistani acid attack survivor of Saving Face documentary that won the Oscar at the 84th Academy Awards.
"In many of the acid attack cases, surgeries cannot restore a missing part, so victims have to wear prostheses for the rest of their lives," said Al Hashimi.
Currently, Al Hashimi is seeking support to help three other acid attack cases coming from Egypt in the next few months. She stressed on the difference made with the support of other hospitals in the country in operating on the medical side that enables the prosthesis to be applied.
"In Sana's case for example, the difference wouldn't have been possible without the support of the American Academy of the Cosmetic Surgery Hospital," she said, noting that further funds are needed to complete Sana's treatment.
"Acid attack victims are not covered by insurance or charitable organisations because it's labelled under the umbrella of plastic surgeries. Therefore, they suffer socially and psychologically along with their families and those surrounding them," she said.
She noted that nothing replaces the feeling of making a difference to people whose lives have been stripped away. For Al Hashimi, it goes back to giving people good quality pieces. "Patients are already suffering so it's our duty to do our job with love and passion.
"If you're in the field, and found yourself counting how much money you'll get out of it, then you lost your profession and humanity. You have to have the passion for it."
Acid attacks: It's not just a phenomenon in developing countries
There's a common misconception that acid attacks take place only in developing countries. They are, in fact, a worldwide phenomenon that has been on constant rise. More than 1,800 acid attacks have been reported in London since 2010 and the city recorded 261 attacked in 2015, rising to 458 last year. This year alone, 119 such attacks were recorded in the UK.
Acid attacks have also been recorded in Canada, Italy (with 27 registered assaults in 2016) and other industrialised countries. Approximately 1,500 acid attacks are recorded worldwide annually. Bangladesh, India, Pakistan, Nepal, Cambodia and Uganda are countries with the highest reported incidence. While more than two-thirds of recent victims in the UK are men, globally, 80 per cent of acid attack victims are women and girls.
How to act quickly during an attack?
If you're a witness to an acid attack, it's important to act as quickly as possible to minimise damage to the eyes, skin and surrounding tissues. Place the burn under running water for at least 15 minutes to disperse the chemical.
https://www.khaleejtimes.com/news/general/emirati-woman-restores-confidence-of-acid-attack-victims
--------
URL: https://www.newageislam.com/islam-women-feminism/for-first-time-saudi-women/d/112384
New Age Islam, Islam Online, Islamic Website, African Muslim News, Arab World News, South Asia News, Indian Muslim News, World Muslim News, Women in Islam, Islamic Feminism, Arab Women, Women In Arab, Islamophobia in America, Muslim Women in West, Islam Women and Feminism