New Age Islam News Bureau
8 Nov 2015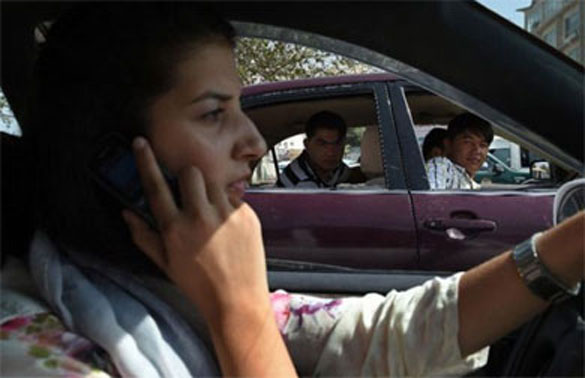 Since Rokhsar Azamee, 23, began driving the streets of Kabul in 2014, she has endured condescension, ridicule, and even threats to her life with some men deliberately causing 'accidents' to harass her. PHOTO: AFP
------------
• For Afghan Women, Driving a Car Brings both Fear and Freedom
• Indian Muslim Personal Law Board To Up Representation of Women
• Violence against Women: Madrid Stages Big Protest March
• 50 Lakh Women Voters Added In These Polls in Bihar: Chief Election Commissioner
• State Bank of India Chief Tops Fortune India List of Most Powerful Women in Business
• Suu Kyi's Date with Destiny Arrives As Myanmar Votes
Compiled By New Age Islam News Bureau
URL: https://www.newageislam.com/islam,-women-and-feminism/new-age-islam-news-bureau/for-afghan-women,-driving-a-car-brings-both-fear-and-freedom/d/105207
---------
For Afghan Women, Driving a Car Brings Both Fear And Freedom
AFP | Nov 8, 2015
KABUL: Since Rokhsar Azamee began driving the streets of Kabul last year, she has endured condescension, ridicule, and even threats to her life with some men deliberately causing "accidents" to harass her. But she will not be deterred.
The 23-year-old journalist learned to drive to avoid aggravation from men in the street as she waited each morning for a taxi with a driver who would not hassle her on the way to work.
But even the purchase of her own car has not shielded her from condemnation in the male-dominated, ultra-conservative society of Afghanistan.
"For many men," she says, "it is a new thing to see a woman drive a car, they will harass you. One way to do so is by causing an accident."
Once as she was heading home in her white 1997 Toyota Corolla, she was followed by a group of four or five men driving an SUV.
Her anxiety growing, she kept driving until they blocked her in a semi-deserted street in downtown Kabul, forcing her to pull over.
But as the men began to clamber out of their vehicle, she saw her chance to escape — reversing quickly then hitting the accelerator.
"It was very horrible experience for me," she says.
It was not always like this. Up until the 1990s Afghan women were commonly found behind the wheel — even driving buses, in the big cities at least.
But in 1992, when the communist regime in Kabul collapsed and civil war broke out, women drivers were slowly discouraged.
And as the extremist Taliban group swept to power in 1996, women were banned not only from driving, but from even leaving their homes without a burqa or the company of a male chaperone.
Change did not come again until the US invasion toppled the Taliban from power in late 2001 and a government backed by Washington took over.
Gender equality was enshrined in the Afghan constitution, and millions of women came out from the shadows to attend schools and universities and work in offices again.
Fourteen years on, however, the idea of a woman driver is still seen as controversial, provocative and even immoral.
Islam does not prohibit women from driving, but laws and cultural norms vary throughout the Islamic world, from Saudi Arabia — where women are banned from driving entirely — to Iran and Pakistan, where women drivers are more common.
In Afghanistan, woman drivers are seen as a Western imposition and a rejection of Muslim values, Babrak, an Afghan man in his fifties, tells AFP.
"Women, especially young girls, driving can increase immorality and even lead to prostitution in Islamic societies," he says.
"These women driving encourage our devout Muslim sisters towards immorality. It is becoming intolerable."
His view is not uncommon in Afghanistan where ultra-conservative men fear such freedoms increase women's independence and the lack of a male chaperone will result in increasingly liberal behaviour.
But in big cities like Kabul women are attempting to shift change into high gear. The increase in the number of women drivers has been growing at a steady rate: Kabul's traffic department estimates show that up to 1,000 women each year now apply to join driving schools in the Afghan capital alone.
In the early years after the end of Taliban rule that figure hovered around 50, Kabul's traffic police chief General Asadullah told AFP.
"The women have the right to learn, they have the right to drive, and we encourage them for that," he says.
Social activist Sohaila Sama, 25, looks forward to driving her own car to the green plains of northern Afghanistan without persecution.
"I have felt better, more confident since I learned how to drive," she says.
"When I see other women drive their vehicles, I feel like our country is moving forward towards a better future, a more civilised one."
The progress is promising, but it may not be enough.
A Taliban resurgence in recent months has UN officials and rights activists fearing that the fragile gains women have made could be further eroded when international forces eventually leave.
Testimony from women's rights activists who fled the Taliban's recent brief capture of the northern city of Kunduz revealed harrowing stories of death squads methodically targeting women — an ominous blueprint of what could happen should the insurgents ever return to power.
Azamee — who, bareheaded and with the radio blaring, took AFP on a ride through the streets of the capital — is frustrated but determined she will not back down.
"I am proud, because when I started driving, I think I set an example for other women," she says.
"Yesterday one of my friends called and said, 'You have to come to my office.'
"I said, 'Why?' She said, 'I have bought a car and I will take you around the city.'
"I was like, that is cool!"
http://timesofindia.indiatimes.com/world/middle-east/For-Afghan-women-driving-a-car-brings-both-fear-and-freedom/articleshow/49708149.cms
-----
Indian Muslim Personal Law Board To Up Representation of Women
Mohammed Wajihuddin,TNN | Nov 8, 2015
MUMBAI: While reiterating its resolve to oppose any attempt to bring in Uniform Civil Code (UCC), the All India Muslim Personal Law Board has said it would increase representation of women in the board and also encourage them to participate more actively in community development works.
Addressing media on Thursday about the campaign 'Save Faith and Constitution' the board launched a couple of months ago, secretary Maulana Wali Rehmani admitted there was a need for reform in Muslim society especially the condition of women.
"The reforms should be from within the Muslim society. They cannot be imposed from outside and we are firm to oppose any move to dilute provisions of Muslim Personal Laws," Rehmani said.
Senior cleric and joint convener of 'Save Faith and Constitution' Maulana Sajjad Nomani said the issue of increasing representation of women in the board was being discussed.
"Currently there are just 25 women out of 250 members in the board's general council and 5 women out of 51 working committee members. We know women are under-represented and in the next annual session, their representation might increase," said Nomani.
Significantly, at a recent meeting in Delhi, the board decided to train women volunteers for the purpose of creating awareness about 'Save Faith and Constitution' campaign.
"Let women be part of all our endeavours to save the country's diversity and democracy which are under serious threat ever since the new government came to power in Delhi last year," said Nomani.
The board has reached out to other minorities and backward classes in its attempt to "save" the Constitution. "We back the board's initiative to oppose the forces which are creating a culture of intolerance in the country," said Catholic Sabha's former president Dolphy D'Souza.
Lauding the authors, artistes and filmmakers who have returned their awards, Nomani said soon the board would write to all those who have returned their awards opposing the culture of intolerance.
"We will appreciate their stand for justice, truth and freedom of expression," added Nomani.
http://timesofindia.indiatimes.com/india/Muslim-law-board-to-up-representation-of-women/articleshow/49707166.cms
------
Violence against Women: Madrid Stages Big Protest March
7 November 2015
Tens of thousands of people have marched in the Spanish capital Madrid to condemn violence against women.
The rally, organised by feminist groups, was attended by representatives of all the main political parties.
Activists dressed in black lay on the ground to remember hundreds of women murdered over the years in what they described as "sexist terrorism".
They said laws against domestic abuse should be extended to include all violence against women.
Activists laid on the ground pretending to be dead to remember women murdered over the years
One estimate put the number of those who took part in Saturday's march at more than 20,000, the BBC's Tom Burridge in Madrid reports.
Trade unions and non-governmental organisations from across Spain also joined the event. Some participants reportedly flew in from the Balearic and Canary islands.
"I think it's important that people like me demonstrate today, because I'm an example of a woman who's been able to get out of domestic violence," participant Olga Aranza was quoted as saying by the Associated Press television.
"And that means that all abused women can also get out violence and that they deserve a better life. You really can get out," she added.
A survey carried out by the European Union last year estimated that 13 million woman in Europe experienced physical violence in 2013.
But statistics and surveys suggest the problem is less prevalent in Spain than other European countries, our correspondent says.
But he adds that violence against women is high in the public's conscience in Spain, and the rally has succeeded in reasserting the issue on the political agenda - only six week's before an unpredictable general election.
http://www.bbc.com/news/world-europe-34756378
-------
50 Lakh Women Voters Added in These Polls in Bihar: Chief Election Commissioner
Bihar | NDTV: November 08, 2015
NEW DELHI: Chief Election Commissioner Nasim Zaidi speaks to NDTV today on Bihar Election Results.
Here are the highlights
Bihar is traditionally known for higher women turnout on account of their social and political awareness
We started our planning in April and we launched a comprehensive program to increase enrolment of women
50 Lakh more women have been brought on to the electoral roll compared to 2010 (when it was 1.4 Crore now 1.9 Crore)
It is a remarkable achievement of our machinery
Due to the outstanding law and order arrangement created a very secure environment
So women in particular were very enthused and turned up in large numbers
Regarding 'khao piyo mahol', EC made great strides in curbing abuse of money, distribution of liquor
Yes, we found lot of foreign currency, fake currency, it is quite noticeable
In 2010 - Rs 35 Lakh seized. In 2015 - Rs 50 crores seized (with help from tax authorities as well)
The planning of the election was such (in the festive season) to ensure the secure and peaceful environment which was critical
We need to see how we can shorten the election period
There was no violence, no bloodshed. There was hardly any irregularity. Only 2 repolls and that too on account of human error
Election was conducted under best possible procedural manner
If you compare data of 2010 and 2015, additional voters are 1.2 cores
I would attribute this additional number is to 'teamwork'
Some of the political parties did appoint booth level agents
I would say it is awareness and information to voters, so everyone was involved
http://www.ndtv.com/bihar/chief-election-commissioner-speaks-to-ndtv-on-bihar-election-result-highlights-1241253
------
State Bank of India Chief Tops Fortune India List of Most Powerful Women in Business
Press Trust of India | November 08, 2015
New Delhi: Arundhati Bhattacharya, chairperson of State Bank of India (SBI), remains the most powerful woman in the Indian business sector, according to Fortune India.
ICICI Bank's Chanda Kochhar and Shikha Sharma of Axis Bank follow Ms Bhattacharya at the second and third positions, respectively.
Besides, Hindustan Petroleum Corporation Limited (HPCL) chairperson and managing director Nishi Vasudeva has bagged the fourth position, while AZB & Partners co-founder Zia Mody and Capgemini India chief executive Aruna Jayanthi shared the fifth rank.
Interestingly, all the top-five rank holders retained their positions from the previous year barring Ms Jayanthi who was at seventh position last year.
Moreover, there are only two debutantes in the Fortune India list of 50 most-powerful businesswomen for 2015.
Portea managing director and CEO Meena Ganesh and Eros International group managing director and CEO Jyoti Deshpande have made their debuts at 43rd and 50th positions, respectively.
On SBI chief, the magazine said, "SBI's financials tell the story of her successful tenure, but it is Bhattacharya's drive that has strengthened her position at the top."
"In her short career as first woman heading one of the oldest commercial banks in the region, Bhattacharya was instrumental in pushing several reforms, including revision of terms for infrastructure loan," Fortune India noted.
These powerful women represent various sectors such as banking, finance, energy, healthcare, media, fashion and entertainment.
The other women who figure in the top 10 are Apollo Hospital Enterprise MD Preetha Reddy (7th position), TAFE CEO Mallika Srinivasan (8th), Shell India chairperson Yasmin Hilton (9th), and NSE MD and CEO Chitra Ramkrishna (10th).
Among others who made to the list are Kiran Mazumdar Shaw, chairperson and MD of Biocon, Renu Sud Karnad, MD at HDFC, Anita Dongre, founder of House of Anita Dongre, Ekta Kapoor, joint MD of Balaji Telefilms, and Ritu Kumar, founder of Ritu Kumar Designs.
http://profit.ndtv.com/news/corporates/article-sbi-chief-tops-list-of-most-powerful-business-women-in-india-1241289
-----
Suu Kyi's Date With Destiny Arrives As Myanmar Votes
AFP | Nov 8, 2015, 08.37 AM IST
YANGON: Myanmar goes to the polls on Sunday in an historic election that could thrust Aung San Suu Kyi's pro- democracy party into power and pull the country away from the grip of the military.
The Southeast Asian nation was ruled for five decades by a brutal junta that smothered opponents with violence, jail and political sleight of hand.
But in 2011 the junta suddenly handed power to a semi- civilian government led by former generals.
Sweeping reforms since have loosened the straitjacketed economy and brought many freedoms to an isolated, wearied people - including the release of most political prisoners.
Polls open at 6:00 am (0500IST) and close in the late afternoon with official results expected to start trickling out by early Sunday.
Suu Kyi's National League for Democracy (NLD) party believes a fair vote will power it into government.
It is the first election the party has contested since 1990, when the NLD claimed a landslide only to see the army ignore the result and condemn Suu Kyi to spend most of the next 20 years under house arrest.
Suu Kyi - affectionately known as "Mother Suu" - towers over the country's democracy movement, acting as a galvanising force for the NLD.
"I will vote for Daw Suu as she is the only one who can bring change for us," Nan Pan Aye, 35, a shop owner in Karen State, told AFP using the honorific "daw".
"I can't wait to vote for her... I will be at the polling station before it opens," she added.
But the 70-year-old Suu Kyi is barred from the presidency by a constitutional clause believed to have been inserted by the army drafters specifically to hamper her political rise.
She has also faced international censure for failing to speak up for the country's embattled Muslim population - especially the ethnic Rohingya in restive Rakhine State.
But her supporters, many of whom will vote for the first time today, see an NLD win as a stepping stone to the fulfilment of her destiny to lead the country.
Waves of people are believed to have travelled to their home constituencies to vote, in a sign of the enthusiasm for the landmark election.
Some 30 million people are eligible to vote, with 91 parties standing in more than 300 constituencies.
http://timesofindia.indiatimes.com/world/south-asia/Suu-Kyis-date-with-destiny-arrives-as-Myanmar-votes/articleshow/49708064.cms
-----
URL: https://www.newageislam.com/islam,-women-and-feminism/new-age-islam-news-bureau/for-afghan-women,-driving-a-car-brings-both-fear-and-freedom/d/105207