New Age Islam News Bureau
14 Jul 2018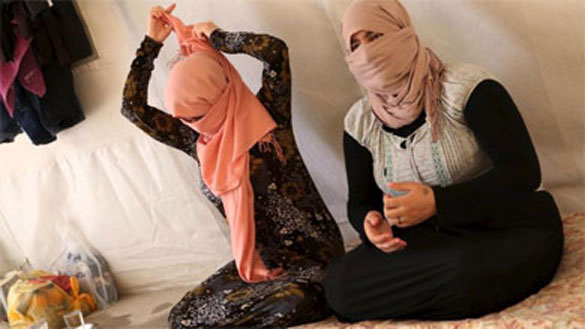 FILE - Yazidi sisters, who escaped from captivity by Islamic State (IS) militants, sit in a tent at Sharya refugee camp on the outskirts of Duhok province, Iraq, July 3, 2015.
----
• Muslim Woman IPS Officer Gives Half Her Salary to Family of Truck Driver, Sardar Maan Singh, Killed by Robbers
• Indigenous Assamese Muslim Woman Struggles To Free Herself from 'Foreigner' Tag
• Tory Suspended After Claims That Islamist Extremists 'Rape British Girls to Create Muslim Babies'
• Saudi Arabian Racing Star Aseel Al-Hamad Backs Formula E Riyadh Race To Inspire Women Drivers
• Muslim Woman Becomes Kenya's First Female Major General
• Muslim Woman Looks to Beat Detroit's Democratic Establishment for Congress Seat
Compiled by New Age Islam News Bureau
URL: https://www.newageislam.com/islam-women-feminism/for-yazidi-woman-abducted-daesh/d/115833
--------
For A Yazidi Woman Abducted By Daesh, a Tearful Homecoming
July 13, 2018
Baghdad: Farida Khalaf somehow kept her composure as she returned to her devastated home village in northern Iraq for the first time in four years—until she entered the schoolhouse.
That was where Daesh militants had separated her and other Yazidi women from their male relatives, selling the women into sexual slavery and sending the men to their deaths.
Today, the walls are covered with the portraits of those who were killed.
She fell to her knees and sobbed uncontrollably.
Khalaf was just 18 years old when she was captured and sold into slavery, and endured four months of rape, torture and beatings until she managed to escape.
She later wrote about her experiences in "The Girl Who Beat Isis: My Story," published in 2016.
The Associated Press does not generally identify the victims of sexual assault, but Khalaf has gone public with her story.
On Tuesday she returned to her village of Kocho for the first time since she was captured, passing rows of homes and buildings destroyed in the battle to retake the village in 2015.
"It was very difficult for me to think that I would come back to Kocho again," Khalaf said later, as she stood inside an empty classroom looking at the photos of the dead.
"I will never forget the day Daesh came and they gathered us in the school and separated us from our families, that will never leave my mind," she said.
The militants swept into Sinjar, the ancestral homeland of the Yazidis near the Syrian border, in August 2014, after capturing the northern city of Mosul and declaring a so-called "caliphate" in large areas of Iraq and neighbouring Syria.
Tens of thousands of Yazidis escaped to Mount Sinjar, where most were eventually rescued by US-backed Kurdish forces.
Those who stayed behind met the fate of Khalaf and her family.
The Yazidis are an ancient religious minority, falsely branded as devil-worshippers by Muslim extremists.
Khalaf was taken to the schoolhouse and separated from her father and older brother, who were killed.
She and her mother were among thousands of women who were bused from Sinjar to the Syrian city of Raqqa, the de facto capital of the "caliphate".
In the book, co-written with the German journalist Andrea Hoffmann, she describes how they were bought and sold like cattle.
She fought back those who raped her and tried to kill herself.
She eventually escaped when her "owner" left the door to her room unlocked, and her mother escaped five months later.
Khalaf spent time in a camp for displaced people in northern Iraq before eventually relocating to Germany, where she lives now.
Ahmad Khudida Burjus, the deputy director of Yazda, a US-based Yazidi rights group, says around 7,000 women and girls were captured and sold into slavery, with nearly half eventually escaping.
In Kocho alone, at least 500 men and boys were killed, and 800 women and girls taken away.
The group has documented at least 54 mass graves of Yazidis, but says a lack of resources has delayed the exhumation of the remains, and that there may be more graves yet to be discovered.
Over the past three years, Syrian and Iraqi forces have gradually driven Daesh out of nearly all the territory it once held.
But the group still maintains a presence in the Syrian desert and remote areas along the border.
At least 3,000 Yazidi women, girls and children are still unaccounted for. Khalaf says their fate is never far from her mind.
"I was in their captivity and I know how difficult it is to be there, a day feels like a year," she said.
"We prayed every day that the day would pass without beating or torture or rape."
https://gulfnews.com/news/mena/iraq/for-a-yazidi-woman-abducted-by-daesh-a-tearful-homecoming-1.2250822
--------
Muslim Woman IPS Officer Gives Half Her Salary to Family of Truck Driver, Sardar Maan Singh, Killed by Robbers
by Tanvi Patel
June 29, 2018
Sardar Maan Singh was driving his truck late at night. He had been working hard and had saved about Rs 80,000, just in time for his nephew's wedding. He was headed home, and you can only imagine how excited he was to meet his wife, mother, and three children after months of being away. However, it was too late before he realised that he had taken a wrong turn somewhere and was on an unfamiliar road.
Maan Singh descended from the truck to ask for directions when two robbers tried to mug him. When he refused to bend to their wishes, they attacked Singh and left. All alone and with no means to treat his wounds, Maan Singh lost his life on the highway that night.
A few hundred kilometres away from this horrible incident, Maan Singh's children, Baljeet Kaur, Jasmeet Kaur and Asmit Kaur, their mother Darshan Kaur and grandmother were sleeping soundly, excited to meet him and utterly oblivious of what had occurred.
The family lives in a small hut in a hamlet of 150 houses in Flora—about 2 kilometres from the Indo-Pak border.
The next day, their world came crashing down when the sad news about Maan Singh's murder was conveyed to them. They had lost all hope when suddenly they got a call all the way from Delhi.
Speaking to Navbharat Times, Baljeet said, "We were worried about how we would continue with studies and manage school fees. Even a square meal seemed unaffordable to us. Then, one day, we got a phone call from Delhi. DCP ma'am (IPS officer Aslam Khan) had found out that we were struggling to live. She spoke to all of us and promised that she would transfer some amount to our account every month. She even told us that she would try to get governmental help for us.
It was a very emotional moment for us. We refused to take her help, but she didn't listen. Our studies and our lives are going on only because of us."
DCP Aslam Khan has been sending half of her monthly salary to the Singh family since that day. She even texts them every day and keeps herself updated on their progress. Every three days or so, the IPS officer calls the Singh family and talks to them like their family.
Even the family doesn't know why this good Samaritan in the form of an IPS officer has been helping them, but they cannot be more grateful. "We haven't even met each other," Baljeet said, adding that "She calls us every other day and talks to us. She especially asks about my studies. We've discussed admitting my brother in a good school in Jammu."
Baljeet adds that she too wants to be an IPS officer and work for the Delhi police. She has already started studying hard for this. Perhaps this is the kind of influence the kind DCP had on the poor children who lost their father in a robbery gone wrong.
https://www.thebetterindia.com/148001/news-delhi-ips-officer-salary-truck-driver/
--------
Indigenous Assamese Muslim Woman Struggles To Free Herself from 'Foreigner' Tag
Jul 13, 2018
GUWAHATI: Rehena Islam, in her mid-forties, is a Khilongiya Musalmaan, meaning she is an indigenous Assamese Muslim. But for almost a year now, she has been spending a harrowing time after police served her a notice of foreigner's tribunal that she has been declared as a foreigner.
A resident of Lekhapani under Margherita subdivision of upper Assam's Tinsukia district, Rehena told TOI that the notice mentioned the name as "Rehena Begum" but police came to her house insisting that she is the woman that has been declared foreigner.
"How can Rehena Islam and Rehena Begum be the same? I am a Khilongiya Musalmaan. How can I be a foreigner? Since last year I have been spending a very difficult time, exploring legal options to prove that I am not the person who has been declared as foreigner. The fact is I am made to suffer for no fault of mine," Rehena, who assists her hubsband Abdul Salim in his business at Lekhapani, broke down.
The tribunal declared Rehena Begum as foreigner in 2005, but Rehena Islam got the notice in Rehena Begum's name on September 7, 2017.
In the 2010 voters' list, Rehena Islam's serial number is 302, while Rehena Begum who has been marked doubtful "D" voter in that list has the serial number 304.
"My name in the voter's list is free from the D voter tag, whereas Rehena Begum had. This shows that we two are completely different persons. My date of birth in my school certificate of North Lakhimpur where I was born is November 1, 1970. The question of I being a foreigner does not arise at all," she said.
Rehena said if a person like her, who comes from a respectable and well-to-do family, has to suffer in the name of foreigner, the situation should be quite pathetic for those from poor and economically weaker sections, who form the majority in "D" voters and declared foreigners' lists.
She said that her izzat (honour) in the society is at stake for being considered as foreigner.
"Being from a well-to-do family, I have a reputation in the society. But now this foreigner tag has ruined me. People have started looking at me with different eyes even though I am a Khilongiya. I am already broken down. But my husband gives me hope that things will be cleared soon," the mother of three, said.
https://timesofindia.indiatimes.com/city/guwahati/indigenous-assamese-muslim-woman-struggles-to-free-herself-from-foreigner-tag/articleshow/64980275.cms
--------
Tory Suspended After Claims That Islamist Extremists 'Rape British Girls to Create Muslim Babies'
14 July 2018
A CONSERVATIVE Party chairwoman and president have been suspended over claims that radical Islamists "rape British girls to create Muslim babies".
Carola Godman Irvine told The Argus she stands by her claims as they were made just days after the Manchester terror attacks a year ago.
The Lewes Conservatives' president and chairwoman said she would not want to be part of any organisation that does not allow her to voice her own opinion.
In the blog post on May 30 last year, she stated "radical so-called Islamists have for decades made it perfectly plain that they hate the indigenous British, our culture, values, freedom and Christian faith".
The farmer and campaigner added: "They have said that they are just biding their time and waiting for instructions from their leaders and when the word comes they will 'systematically wipe us out'.
"Already they are raping and impregnating British girls and young women, 'creating' Muslim babies; just see what is happening in Rochdale. The rest of us they say they will exterminate with bombs and knives."
But she was suspended by the Conservative Party after it was flagged up by the Politics Home website.
A Conservative party spokeswoman said: "Carola Godman Irvine has been suspended from the party pending an investigation."
Mrs Godman Irvine told The Argus she did not regret her statements as they had been made after 22 people had been killed by a bomb at an Ariana Grande concert at the Manchester Arena.
She said: "I thought it was appropriate at the time. To trawl this up at a later time is inappropriate.
She recognised that "there are a lot of law abiding Islamists" but called on them to sort out problems caused by extremists.
She added: "It was at a time when our children had been massacred.
"I think the local communities should not be wringing their hands and saying it's not our problem.
"If things go wrong in our communities with our kids we sort it out."
The blogpost states: "Let us hope that the 22 victims of the Manchester bomb have not died in vain. Perhaps this was the wake-up call which was needed. The policing of city centres must be revolutionised, and radical monitoring of what is going on within the Muslim population, their mosques and schools must be addressed.
"Genuine peaceful Muslim clerics, Imams and communities must take responsibility for their own. They cannot stand by wringing their hands saying, 'it's not us'. It damn well is and if they are not willing to 'police' their own extremists, then something has to be done.
"We have been too cautious, polite, even perhaps afraid to act, while turning a blind eye and allowing vast areas of our cities to become unrecognisable as Britain.
"Local planners have much to answer for by allowing vast mosques to be established which hold thousands.
"Would Christians be allowed to build vast cathedrals in Muslim countries? No, of course not.
"The British public are angry, they want strong leadership, and a government prepared to deal with this problem now.
"We could take the view it is too late, that the genie is out of the bottle, and there is nothing to be done. However, we know this is not so.
"We are not prepared to roll over and accept 'the inevitable', the British don't do that."
http://www.theargus.co.uk/news/16354479.tory-suspended-after-claims-that-islamist-extremists-rape-british-girls-to-create-muslim-babies/
--------
Saudi Arabian Racing Star Aseel Al-Hamad Backs Formula E Riyadh Race To Inspire Women Drivers
July 13, 2018
ZURICH: The sight of fast, expensive cars racing around the monied streets of Zurich is nothing new; the place oozes cash and, for many, the two go hand in hand.
That was the scene last month when Formula E revved into town as one of the 10 stopping points in its 12-race season. For some the sight of the same electric speed machines on the streets of Riyadh, when the city hosts next season's opening race in December, will be equally fitting — the Saudi Arabia capital is known as a spot for fast cars and petrolheads.
But for Aseel Al-Hamad the race will be about far more than who simply reaches the chequered flag first. For the first female member of the Saudi Arabian Motorsport Federation, the race could inspire a generation of Saudi women to get behind the wheel.
The all-electric ABB Formula E Championship will make its Middle East debut in Riyadh just six months after the ban on women driving in the country was lifted. Although details are scarce, it is understood that activities involving women drivers will be incorporated into the ground-breaking race on December 15. For Al-Hamad, who also represents her country on the FIA Women in Motorsport Commission, that could pave the way for Saudi women not only to drive for the first time, but also to dream big and become professional racers.
"This is beautiful news for me. Our mission at the FIA Women in Motorsport Commission is to encourage the participation of women in all aspects of motorsport; not just racers, but as mechanical engineers, marshals, team managers, photographers and PRs," Al-Hamad told Arab News.
"We are so lucky that Formula E is happening after the ban was lifted because it's a great way to push motorsport for women aggressively. "Could we see a Saudi woman racing driver in the future? Definitely."
That the Formula E circus, rather than Formula One, is storming into the Kingdom just months after the female driving ban was lifted is perhaps apt. Unlike F1, three women have raced in Formula E since its inception in 2014, and in Susie Wolff the sport can boast of having a female team principle. As with Al-Hamad, the former test driver for the Williams F1 team hopes the Riyadh race can do a lot for women throughout Saudi Arabia.
"Encouraging more women to be involved in motorsport is very important to me," the principle of the Venturi Formula E outfit said.
"(That's) why I started my initiative 'Dare to be Different' — a call to action to inspire the next generation of women to see the opportunities within motorsport, on and off the track.
"The start of the next season will bring lots of attention to the sport and the host city of Riyadh, but I will be firmly focussed on our debut performance at a new circuit and on ensuring the best possible result for the team."
Motorsport is a tough sport, and on the streets of Zurich it was clear that, at least where Formula E is concerned, it is a highly competitive one as well.
The 10-year deal between the General Sports Authority (GSA) and the city-based spectacle of speed was signed in May and will see the series not only make its Middle East debut, but also unveil its futuristic next-generation car.
The race will be held in the picturesque Old City, Ad-Diriyah, on the outskirts of the capital, and Al-Hamad, who on the same day the female driving ban was lifted drove a Renault Sport F1 car in a parade before the French Grand Prix, insisted that it will accelerate interest in
motorsport across Saudi Arabia and the region.
The Kingdom held its first-ever international motorsport event, the Race of Champions, in February and Al-Hamad said: "The Race of Champions is a big international race and you could see many people who were not familiar with motorsport got introduced to it.
"This is a great opportunity to arouse passion in motorsport in the Middle East. Kids with a passion for this can see they can start training at an early stage and have a career in it.
"We are so happy to host an international race (series) that's very popular. (Formula E) is the future of motorsport and the automotive industry in general.
"Saudi has the Vision 2030, which is very much supporting the idea of leading the way in innovation in technology and industry, so this race is a great, symbolic initiative."
Of the venue she added: "It's a very historic area and it's going to be a beautiful way to show the combination of new technology, which is Formula E's super-fast cars, and the old heritage of Riyadh. There are old mud houses and beautiful palaces, so I believe this is going to be great exposure to the heritage and tradition of our beloved country."
The move to give the green light to Riyadh opening next season's championship — one which will see former F1 ace Felipe Massa join the grid alongside other famous names such as Nick Heidfeld and Nelson Piquet Jr — has also got the thumbs up from the teams.
"(We are) extremely excited to race in Riyadh this December, particularly at such a pivotal time in Saudi Arabia with the Crown Prince's Vision 2030 initiative diversifying its economy and nurturing new industries," Jay Penske, Dragon owner and team principal, and CEO of Penske Autosport, told Arab News in Zurich.
"We are proud that we and Formula E will have the opportunity to participate in Saudi Arabia's vision for the future."
James Barclay, Panasonic Jaguar Racing team director, said: "The Middle East has a wealth of passionate and knowledgeable motorsport fans that will welcome the series to the region. The Middle East is a key region for us to promote our electrification message 'Race to Innovate' and our electrified vehicles."
The race in Zurich, the home of title sponsor ABB's global headquarters, attracted an estimated 150,000 fans and illustrated that the sport, although still very much in the shadow of Formula One, has a popular and growing fanbase and a bright future. The series' first-ever race took place only four years ago and it is already making loud noises in the motorsport world, with fans speculating whether it will one day get out of the slipstream of its better-known cousin and overtake it.
Alejandro Agag, founder and CEO of Formula E, said he could not wait to get to the Riyadh race and introduce the series to a new destination.
"I'm looking forward to seeing the new cars and format in action against the backdrop of iconic city skylines, starting in Ad-Diriyah in December," Agag said.
That view was echoed by Michael Isaac, spokesman for ABB, a global technology company and leader in electrification, robotics and motion, said: "As title sponsor of the ABB FIA Formula E Championship, we are delighted that the 2019 season will open in Riyadh in December. Saudi Arabia is one of ABB's most important markets in the Middle East and we are committed to supporting the development with e-mobility and sustainable technologies."
http://www.arabnews.com/node/1338411/sport
--------
Muslim Woman Becomes Kenya's First Female Major General
13.07.2018
Fatuma Ahmed on Friday became the first Kenyan female soldier to be sworn in as major general of the Kenyan military.
At a swearing-in ceremony held in Nairobi, Kenyan President Uhuru Kenyatta told Ahmed, who also became the first Muslim woman to hold such a high rank in the Kenya Defence Forces that she was a role model to many women in Kenya.
"Major General, let me begin by saying that it is my pride and joy today to witness the unveiling of the first Kenyan woman as a major general in the history of our country," he said.
"I am looking to you and counting on you to be a positive role model for other women in this Republic and to show and to prove to them that there is no limit for Kenyan women and that everything is possible."
Kenyatta also promised the military full support in fighting terrorism.
https://www.aa.com.tr/en/africa/muslim-woman-becomes-kenyas-first-female-major-general/1203397
--------
Muslim Woman Looks to Beat Detroit's Democratic Establishment for Congress Seat
14 July 2018
DETROIT — Rashida Tlaib pulled her brown hair into a ponytail and changed into silver sneakers, a safari hat and a blue T-shirt that said "Rashida for Congress."
Tlaib is running to be the first M
lim woman in the U.S. Congress, but first she has to beat a crowded field of Democrats.
So, for most of the hot June morning, Tlaib stalked the sun-baked streets of River Rouge, a small city near southwest Detroit, hunting for votes in Michigan's 13th Congressional District.
She noted the noxious smell from a nearby refinery, caught up with a motorcycle-riding classmate from Southwestern High School and commiserated with residents about broken streetlights and the construction of a bridge across the Detroit River into Canada. No one asked Tlaib about religion, which was present but invisible, like the cool water she thought about but didn't sip because she was fasting for Ramadan.
"It's not about just being out there and flaunting your faith," said Tlaib, 41. "I always tell people that I'm exposing Islam in such a pivotal way, an impactful way, through public service."
Tlaib is one of many American Muslims talking about public service these days. More than 90 are running for office, from local school boards to the U.S. Senate, as part of a "blue wave" of Democrats. At least five of the candidates for Congress are women. A perfect storm of progressive anti-Trumpism
People who follow religion and politics put Tlaib in the top tier of Muslim American candidates, saying she has as much chance as anyone to break one of the last religious barriers in Congress. The eldest daughter of Palestinian immigrants, Tlaib was already the first Muslim woman in Michigan's Legislature, where she served 2008-2014, before reaching term limits. She's now an attorney and advocate at the Sugar Law Center for Economic and Social Justice.
If you squint, it's possible to see Tlaib's campaign as the confluence of two midterm meta-narratives: the surge of Muslim democrats running for office meets the year of the women, a perfect storm of progressive anti-Trumpism.
Like Alexandria Ocasio-Cortez, a political newcomer in New York who shocked the establishment by beating a prominent Democrat in the party's primary last month, Tlaib is taking an "aggressive and direct" approach to campaigning.
"We are basically running the same campaign, with the same platform and with a very similar candidate," said Andy Goddeeris, Tlaib's campaign manager. Both campaigns describe themselves as unabashedly progressive, and, rather than blanketing the airwaves with ads, have taken their message directly to tens of thousands of voters, meeting them on the streets of Detroit or a New York subway station.
But neat narratives rarely match raw political reality.
Several of Tlaib's Democratic opponents are themselves accomplished women. And while Tlaib doesn't shy away from talking about her faith, it's not a big part of her pitch to her voters. Many Michigan Muslims live in Dearborn and Hamtramck, outside of the 13th Congressional District.
And it will take more than a meta-narrative to beat the four other Democrats vying for the same seat in Congress — a seat previously held by a man, former Rep. John Conyers, who served in Congress for more than 50 years.
Which is why Tlaib knocked on doors all through a scorching June day, and returned to her campaign office late in the afternoon, looking like she had a pound of sand in her shoes.
Her one respite from the heat: a squirt-gun battle with a young aide named Andy.
Starting at the ground floor
The people who argue that Tlaib may be the first Muslim woman elected to Congress usually make the following points:
One, Tlaib raised more than $570,000 in the first quarter of 2018, staggering political observers and easily winning the money race among her opponents. Goddeeris, her campaign manager, said he expects Tlaib to raise a similar amount in the second quarter.
Secondly, many in 13th District already know Tlaib's name, since she was raised in the area and represented parts of it during her three terms in the Michigan Legislature.
"She's a perfect example of how to systematically build political power," said Zaki Barzinji, the White House liaison to American Muslims under former President Barack Obama. "She's not just jumping into a congressional race out of nowhere, she literally spent more than a decade working her way up."
"It's a lesson I wish our broader American Muslim community would learn," Barzinji continued, "because many folks get frustrated that we don't have representation at the highest levels of politics and government, when we rarely put in the effort to start at the ground floor and work our way up."
The third reason people argue that Tlaib could be the first Muslim woman in Congress has little to do with her. Michigan's primary is August 7 and Republicans haven't fielded a candidate. If Tlaib wins the primary, she wins the race. That gives Tlaib an edge against other strong Muslim American female candidates in other races across the country.
That includes women like Ilhan Omar, who is running to fill Rep. Keith Ellison's seat. Ellison is leaving Congress in order to run for attorney general in Minnesota. Indiana's Andre Carson is the only other Muslim currently serving in Congress. Minnesota's Democratic primary is a week later than Michigan's and Omar will have a Republican opponent in the general election.
The other Muslim women running for Congress are Fayrouz Saad, in Michigan's 11th District; Tahirah Amatul-Wadud in Massachusetts' 1st District, and Deedra Abboud, who is running for the Senate in Arizona.
Hoda Hawa, director of policy and advocacy at the Muslim Public Affairs Council, said Omar and Tlaib are the most likely to become the first Muslim women in Congress.
"They've both run for office before and won. They know how to get elected," Hawa said. (MPAC does not endorse political candidates.)
Running against Detroit's establishment
But before Tlaib can start planning for Washington, she has to beat a field of quality Democratic candidates, said David Dulio, chairman of the political science department at Oakland University in Rochester, Mich. The congressional seat had been held by Conyers before he resigned in December amid allegations of sexual harassment.
Ian Conyers, the former congressman's grandnephew and a Michigan state senator, is running to fill the seat, as is Brenda Jones, the president of Detroit's City Council, and Bill Wild, the mayor of Westland, a small city in the district.
"There are so many quality candidates, and each brings different things to the table. Not much would surprise me," Dulio said. "Rashida Tlaib could certainly win this race."
Beating Jones, though, entails defeating much of Detroit's Democratic establishment. The city's mayor, four fellow city council members, as well as powerful pastors and unions are backing Jones.
Tlaib, meanwhile, has run to the left of Jones and the other Democrats, touting her experience as a lawmaker and public interest lawyer battling big companies over pollution. She's been endorsed by the party's progressive wing, including People for Bernie, filmmaker Michael Moore, and Justice for Democrats, the group that backed Ocasio-Cortez in her upset win in New York last month.
Before many people had heard of Ocasio-Cortez, Tlaib was already watching from afar, showing a reporter the New Yorker's campaign video last month.
"Rashida sees a lot of herself in Alexandria Ocasio-Cortez," said Goddeeris, the campaign manager.
"We feel like we are part of this wave that's coming: unapologetically progressive people who are unafraid of taking on the Democratic establishment."
'Our children are struggling'
Like many Democratic candidates, Tlaib hasn't been shy about taking aim at President Donald Trump. She calls his election the "bat signal" that provoked many progressive women to run for office.
Two years ago, Tlaib was arrested for disrupting a Trump speech in downtown Detroit, where she shouted at him that "our kids deserve better" and encouraged him to read the Constitution.
Tlaib dusted off her bullhorn last week to protest the Supreme Court's decision to uphold the President's travel ban on several Muslim-majority countries. A local news report showed Tlaib breaking up a spat between protesters and onlookers.
In public, Tlaib struck a combative tone on the Supreme Court decision, saying she'll introduce legislation to repeal it if she's elected to Congress. — (CNN)
But privately, Tlaib said the anti-Muslim rhetoric coming from some politicians and the media has taken a toll on her family. A mother of two boys, who are 6 and 12, Tlaib tells a story about seeing a political cartoon of a skeleton in a Nazi uniform saying "Allahu Akbar," the Islamic incantation that means "God is great."
One of her sons heard Tlaib talking about the cartoon and said, "Mama, don't worry, if anybody asks if I'm Muslim I will lie and tell them I'm not."
Tlaib said every time she tells that story to Muslim audiences, a few women approach her afterward and share similar experiences.
"I think there's a sense that we've worked so hard, but our children are struggling," Tlaib said, her eyes tearing. "It's very painful. And so people tell me, 'You gotta win, 'cause if you win, then our kids can see that we belong.'"
"That's the pressure I feel," Tlaib said, "and that makes me work harder every day." — (CNN)
http://www.phillytrib.com/muslim-woman-looks-to-beat-detroit-s-democratic-establishment-for/article_88eb38c6-eba1-5d3a-9d03-680bce486caf.html
--------
URL: https://www.newageislam.com/islam-women-feminism/for-yazidi-woman-abducted-daesh/d/115833
New Age Islam, Islam Online, Islamic Website, African Muslim News, Arab World News, South Asia News, Indian Muslim News, World Muslim News, Women in Islam, Islamic Feminism, Arab Women, Women In Arab, Islamophobia in America, Muslim Women in West, Islam Women and Feminism