New Age Islam News Bureau
11 Feb 2020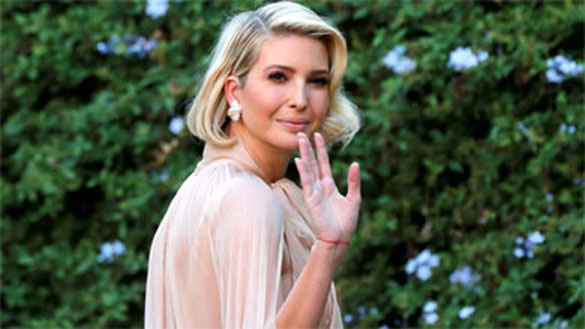 Ivanka Trump. File photo
-----
• Ivanka Trump, Theresa May to Address Women's Forum in Dubai
• Calgary Club for Muslim Girls Fosters Sense of Belonging
• Speech from Returning Female UAE Soldier Wins Nation's Heart
• Empowering Female Students in Iraq
• The Syrian Women and Girls Sold Into Sexual Slavery In Lebanon
• Houthi Violations Against Women Documented, Including Torture and Rape
• Hundreds of Jobs Available through Jeddah Women's College Event
• Why Finding Joy Should Be the New Self-Care for Muslim Women
• High Court Rules Cairo University Can Restrict Use of Full Veils
• UAE on A Winning Run At Arab Women Sports In Sharjah
• 100 Global Leaders to Attend Global Women's Forum Dubai
• More Women Today Hold Managerial Positions In Turkey, Data Shows
• Pope speaks up for Syria women and children
Compiled By New Age Islam News Bureau
URL: https://www.newageislam.com/islam-women-feminism/flirting-with-woman-get-jailed/d/121036
--------
Flirting With a Woman Could Get You Jailed In UAE
Ashish Mehta
February 11, 2020
If you are convicted, the court may issue an order of deportation.
Question
I am a senior business executive based in the emirate of Dubai. Recently, I attended a meeting at an office and after it was over, I initiated a conversation with the woman receptionist there. I complimented her about her beauty and invited her to accompany me for a coffee. Thereafter, the following day, the said receptionist was waiting downstairs with the police. I was confronted by the cops and made aware that the woman had filed a criminal complaint against me. Have I committed an offence? Will the complaint filed against me stand during a court trial?
Answer
Pursuant to the first part of your query, it should be noted that disrespecting women and any act against honour and dignity of women is not in accordance with the culture and tradition of the UAE. As per the provisions of Federal Law No. 3 of 1987 in issuance of the Penal Code of UAE (the 'Penal Code'), it is an offence to obstruct a woman which shall result in the violation of her prudence by word, deed or by using information technology or any other means. This is in accordance with Article 359 of the Penal Code, which states:
"Any person who obstructs a female in such a manner as to violate her prudence by word, deed or by using information technology or any other means shall be punished by a jail term not exceeding one year and a fine not exceeding Dh10,000, or by either of these two penalties."
Further, if the evidence provided by the complainant is accepted by the public prosecutor and if you are convicted, the court may issue an order of deportation against you after serving the sentence issued by court. This is in accordance with Article 121 of the Penal Code, which states:
"If a foreigner has been sentenced to a custodial penalty in a felony or misdemeanour, the court may call in its judgment for the deportation of the convicted foreigner from the state. Deportation orders shall also apply to felonies perpetrated on the honour.
The court may, in cases of misdemeanours, order the commutation of a custodial penalty stated for misdemeanour to deportation."
Ashish Mehta is the founder and Managing Partner of Ashish Mehta & Associates. He is qualified to practise law in Dubai, the United Kingdom and India. Full details of his firm on: www.amalawyers.com. Readers may e-mail their questions to: news@khaleejtimes.com or send them to Legal View, Khaleej Times, PO Box 11243, Dubai.
https://www.khaleejtimes.com/legalview/flirting-with-a-woman-could-get-you-jailed-in-uae-11-
--------
Ivanka Trump, Theresa May to Address Women's Forum in Dubai
February 09, 2020
Dubai: Ivanka Trump, advisor to the President of the United States of America (USA), and Theresa May, former British Prime Minister will be featured next week among a range of high-profile international speakers at Global Women's Forum Dubai (GWFD) 2020.
The forum will take place on February 16-17, under the patronage of His Highness Shaikh Mohammad Bin Rashid Al Maktoum, Vice-President and Prime Minister of the UAE, and Ruler of Dubai.
Organised by Dubai Women Establishment (DWE), GWFD 2020 is a leading global platform that actively engages leaders and experts from around the world in constructive dialogue to discuss improved policies based on international best practices, foster goal-driven partnerships, and shape sustainable communities.
In her role as advisor to the US President, Ivanka Trump focuses on the education and economic empowerment of women and their families, as well as job creation and economic growth through workforce development, skills training and entrepreneurship.
An entrepreneur herself, Ivanka Trump has spearheaded a wide range of initiatives and programmes to support women-owned businesses around the world, particularly in emerging markets. She has been instrumental in launching the Women's Global Development and Prosperity Initiative, an effort to encourage women in developing nations to participate in their economies. The initiative marks its first anniversary on February 12.
Ivanka Trump will also participate in the We-Fi MENA Regional Summit in Dubai, which takes place on the sidelines of GWFD 2020 for the first time in the Middle East and North Africa region. The Summit is co-organised by Dubai Women Establishment (DWE) and the Women Entrepreneurs Finance Initiative (We-Fi), a ground-breaking multi-national partnership launched in 2017 to unlock financing for women-led businesses in developing countries. The initiative is supported by the UAE government, which was among the first contributing donor countries.
May will share her perspectives on female leadership in government and the important contribution of women to political life. The session will be moderated by Lana Nusseibah, UAE Permanent Representative to the United Nations.
President of the UAE Gender Balance Council, President of Dubai Women Establishment, and wife of Shaikh Mansour Bin Zayed Al Nahyan, UAE Deputy Prime Minister and Minister of Presidential Affairs, said: "With an extraordinary political career spanning over two decades, which saw her rise to become one of the world's most influential women, Theresa May is a prime example of female potential and what women can achieve in traditionally male-dominated environments. As a role model for aspiring female politicians around the world, she has championed women and contributed to enhancing female representation within this field, famously stating that 'a woman's place is in elected office'."
Mona Al Marri, Chairperson of the Board and Managing Director of DWE, said: "It will be a pleasure to welcome Ivanka Trump to Global Women's Forum Dubai 2020 this year. As a strong advocate for women's empowerment, and a champion of female entrepreneurship, she has established effective partnerships and led a variety of initiatives that have furthered the positive impact of women across the world. Ivanka Trump will bring valuable expertise and insights into boosting support to women-owned enterprises and propelling female entrepreneurs across the region. We look forward to having her at GWFD 2020."
Ivanka Trump will join other high-profile international speakers, including David Malpass, President of the World Bank Group, and Kristalina Georgieva, Managing Director of the IMF, participating in Global Women's Forum Dubai 2020 this month.
Building on its theme, 'The Power of Influence', Global Women's Forum Dubai 2020 will highlight how effective policies and partnerships in four key areas – Government, Economy, Society, and the Future – can further women's positive impact for a better future.
https://gulfnews.com/uae/ivanka-trump-theresa-may-to-address-womens-forum-in-dubai-1.69599609
--------
Calgary Club for Muslim Girls Fosters Sense of Belonging
Feb 10, 2020
A Calgary Muslim centre is providing a safe space for young Muslim girls to connect with older role models.
The Sisters Youth Club for girls aged seven to 12 meets every other Friday. It always begins with an inspirational talk, usually touching on personal growth and Islamic teachings.
Fatimah Braimoh, 11, says the club has helped her gain a sense of belonging.
"This place and all the mentors make me feel like part of everything — part of Canada, part of a community itself," she said.
The program is hosted by the Muslim Association of Canada at Al-Salam Centre.
It's among a handful of support groups at the centre. Others are for older youth and boys.
Volunteer leader Touka Ali, 17, says the girls do all sorts of activities and explore topics, such as leadership, sisterhood, relations with parents, and Islam.
"I definitely want them to take away just being able to be a good leader, and just a good person overall," she said.
"They are the leaders of tomorrow, as cliche as that sounds."
Nagaht Mahamad, 12, says for her, the club acts as a support system.
"I think it's nice to know that you can turn to someone, even though there are a lot of harsh things that go out in the world against us. It's nice knowing that people go through it with you and you're not alone doing it," she said.
"It's just nice to know that I can learn at the same time as well as making new friends."
https://www.cbc.ca/news/canada/calgary/muslim-youth-mentorship-club-calgary-1.5458017
--------
Speech from Returning Female UAE Soldier Wins Nation's Heart
February 11, 2020
Roudha Mejren
Abu Dhabi: An empowering speech delivered by a female soldier at the homecoming of troops from Yemen at Zayed Military City earlier this week has won the hearts of a nation.
حسن سجواني 🇦🇪 Hassan Sajwani
✔
@HSajwanization
A salute 🙏🏼 to all female uniformed officers serving in my country's armed forces side by side to men.
Here's Brigadier Gen. Dr Aisha Sultan Al Dhaheri, part of #UAEArmedForces #Yemen #proud #honor 🇦🇪❤️ #الصقور_المخلصين
Embedded video
67
11:50 PM - Feb 9, 2020
Twitter Ads info and privacy
17 people are talking about this
Dr Ayesha Sultan Mohammad Al Dhaheri, deputy commander of the Armed Forces Medical Services Corps, delivered her speech in front of His Highness Sheikh Mohammad Bin Zayed Al Nahyan, Crown Prince of Abu Dhabi and Deputy Supreme Commander of the UAE Armed Forces and His Highness Sheikh Mohammad Bin Rashid Al Maktoum, Vice President and Prime Minister of the UAE and Ruler of Dubai, along with Their Highnesses, Members of the Supreme Council, Rulers of the Emirates, Their Highnesses the Crown Princes and Deputy Rulers.
Al Dhaheri has long spoken of the importance of women in this typically male-dominated field and her words are being lauded for empowering and inspiring Emirati women.
"Today I stand alongside my brothers in the armed forces who have participated in the coalition as well as my medical teams who have performed their duties with honour," she said. "The UAE takes pride in its brave men who carried the trust and raised the flag of the nation with their heroism and armed with the belief in God and their loyalty to the Emirates and its leadership.
"Today, we celebrate the return of our participating forces, in a march that began since the start of our military and humanitarian operations in 2015. During the time in Yemen, our forces embodied the values of the UAE and its noble human principles by spreading hope in the hearts of the Yemeni people and supporting aspirations of security, stability, development and the right to a decent life.
"I will not review today what the valiant armed forces accomplished in Yemen, but what they accomplished in support of the Yemeni civilian, the weak child, the grieving woman and the elderly and how they healed their wounds.
حسن سجواني 🇦🇪 Hassan Sajwani
✔
@HSajwanization
In a special ceremony held in #AbuDhabi, @HHShkMohd, @MohamedBinZayed, and Rulers of the Emirates welcome the couragous heroes of the #UAE Armed Forces returning from #Yemen. #الصقور_المخلصين
Embedded video
27
12:09 AM - Feb 10, 2020
Twitter Ads info and privacy
See حسن سجواني 🇦🇪 Hassan Sajwani's other Tweets
"While we were champions of the battlefields, we were also a caring hand to wiping a child's tear, treating patients and providing food, clothing, medicine, and education for all. We were not only lifting a weapon, but lifting the UAE's humanitarian message through our forces that spread hope and embodied the values of our country."
Al Daheri's speech at the ceremony on Sunday proves how far her message of empowering women has come. She has previously praised the leaders for giving her and other females in the military the support to be in their positions. Al Daheri told the press that through her experiences in the field in Yemen and other countries, she found women to be more capable of communicating with victims. She mentioned refugee camps as an example where military personnel needed to have an ability to communicate with the families, specifically in conservative communities where females in the military were greatly needed.
https://gulfnews.com/uae/watch-speech-from-returning-female-uae-soldier-wins-nations-heart-1.69625671
--------
Empowering Female Students in Iraq
10.02.2020
Last year's UN Political Declaration on UHC highlighted the need to 'mainstream a gender perspective when designing, implementing and monitoring health policies, taking into account the specific needs of all women and girls, with a view to achieving equality and the empowerment of women in health systems delivery.'
This month FIGO has spoken with Dr Taghreed Alhaidari, Secretary General, Iraq Society of Obstetrics and Gynecology and Member of FIGO Committee on Human Rights, Refugees and Violence Against Women.
"My greatest joy was being a winner of the FIGO award, in recognition for the women obstetricians & gynaecologists who have a distinguished contribution in the field of women's health services & researches in their countries.
Becoming an OBGYN
Young females in Iraq were always encouraged to be doctors if they were doing well at school and obtained good marks, and that was the story with me too. After I completed medical school, I found myself thinking about my next step, and I was encouraged to go into the field of OBGYN as it has always been the preferred profession for a female doctor in my home country.
I knew that it would be a challenging step in my life, and most of the time my work had taken me away from my family; meanwhile, I needed to make a reasonable balance between my work as a clinician and my academic career as a teacher with all the responsibilities towards my students.
I did accept the challenge, and day by day I started to like my profession.
What brought me a great sense of happiness was to set the concept of working based on evidence in my specialty in Iraq, and taking the research and evidence as a high-priority tool in dealing with developing health services to women. I urged people in the field to work on that to get the best outcome for women's health.
I have also lead and ran a training course in emergency obstetrics, they are multidisciplinary courses which aim to build the capacity of medical staff in the labour wards, enabling them to work as a team and bring safe, evidence-based and standardised health services to the pregnant women.
Advice
One of the greatest pieces of advice was from my senior when she told me that I have to listen carefully to all women, as they will end up teaching me a lot, and to open my eyes into new perspectives in life; she was absolutely right.
Once I had more contact with the women in Iraq, I realised how much they need to be supported, how they needed to get an equal chance and equity in accessing health services and have the ability to seek health advice with dignity and best quality with less financial hardship.
Facing Challenges
When we think about challenges, we need to think about bullying from some of our male colleagues, religious misinterpretation and to some extent some conservative attitudes towards female doctors in general, especially those who are working in the field of OBGYN.
The other point is community attitude towards women in leadership, in the way of their beliefs regarding women rights and women taking full responsibilities.
Straggling in changing behaviour and attitudes towards relaying evidence and building a concrete health system that is dependent on facts can be a big issue. There are also difficulties regarding empowering women and protecting them against violence and harassment which is in many instances undermined by the community.
Women and girls are still unable to realise their sexual and reproductive health and rights, and they keep suffering from gender-based violence. The long days of displacement due to conflict placed an extra burden upon them, for that made them unable to access reproductive health services promptly and that was a leading cause to life-threatening risks during pregnancy and delivery.
Insecurity
One of the biggest challenges in Iraq is the insecurity of subsequent wars, where OBGYNs need to be away from their home and their families for long hours. At night there are curfews, making it a huge risk to return back home or leave to go to work; I am taking a huge risk in order to save the lives of women.
I am from a country that has been undergoing years of subsequent wars, economic sanctions, and armed conflicts which have affected the lives of women, and for that they are unable to contribute economically, socially, and politically. They have suffered from a lack of educational opportunities, where the gender-based discrimination in education is both a cause and an outcome of poverty.
For many Iraqi men, especially in rural areas, women are considered to be followers of men in both the household and society, and education of women is not a necessity.
In Iraq, there is still an imminent need for legislative change, coupled with active enforcement mechanisms to bring Iraq into full compliance with antidiscrimination instruments and ensure women's equal rights in education, science and other aspects. Changing the cultural and social beliefs requires a sensitisation of men at each level: parliamentary, judicial, and legal, as well as within the police forces, civil society, community, and among religious leaders.
Vision for the future of women's health
The health system in Iraq is committed to achieving the Sustainable Development Goals, mainly those related to health. Nevertheless, due to security and political instability the pace of the progress has been evidently slowed down, and to a degree that threatens the progress achieve so far.
Though much still needs to be done, I am rather optimistic that women in Iraq are more empowered and looking forward to getting their rights with the current engagement of civil societies, partners and stakeholders from national and international organisations. This alongside a big positive push towards establishing laws and legislations that would ensure support and provision of better health services, especially those related to women's health. In addition to this, there needs to be changing of behaviour of the community in a positive way to support those needs and demands.
I am passionate about directing the medical education in my country to serve the community, in particular women and young girls, and trying to make the medical school curriculum a tool to serve women's health.
My vision is to continue to encourage graduating students, who have the full technical capacity to serve their community and people, and enabling female students to be empowered as a member of the community, who are believers in providing equal health services to every member in the community".
https://www.figo.org/news/empowering-students-iraq
--------
The Syrian Women and Girls Sold Into Sexual Slavery In Lebanon
by Daniela Sala
February 11, 2020
Beirut, Lebanon - "How do I know most of the women working as prostitutes are controlled?" asked Paul, a volunteer for the Jesuits, a religious order of the Roman Catholic Church, before answering his own question. "[Because] the last time I tried to help one of them get in touch with an NGO, I got beaten and threatened by her captors."
Everyone in Lebanon's "sex trade" seems to be involved in trafficking in one way or another: Sources at both the Internal Security Forces (ISF) and the General Directorate of General Security (GS) in Beirut told Al Jazeera that even pimps working further down the chain of command ultimately report to a bigger network of organised traffickers.
Paul has learned the ins-and-outs of Lebanon's trafficking world over the years. Beirut, the Lebanese capital, and Jounieh, a coastal town about 10km (6.2 miles) north of it, are where most victims of sex trafficking end up in Lebanon.
A GS officer estimated that there are at least 800 women and girls who have been forced into prostitution in these areas. But the numbers are hard to verify because of the hidden nature of the problem.
While the ISF formally identified 29 victims - 10 of whom were Lebanese and 13 Syrian - of sex trafficking in 2017, the most recent year for which there is data, other sources, including officers at the International Organisation for Migration (IOM), the United Nations High Commissioner for Refugees (UNHCR) and NGOs, put the number in the thousands.
The law
The plight of these women is compounded by the way the law is applied in Lebanon. Article 523 of the Lebanese Penal Code criminalises "any person who practices secret prostitution or facilitates it". The punishment is a prison sentence of anything from a month to a year.
It is not illegal to work as a licensed prostitute but seeing as the government has not issued any such licences since the 1970s, those working as prostitutes are vulnerable to being arrested and punished.
Beirut is no stranger to the sex industry. Prostitution was legalised in Lebanon after World War I when the government decided that concentrating prostitutes in one area - Mutanabbi Street, which became Beirut's downtown red-light district before it was destroyed in the Civil War - would protect Lebanese women from French and Senegalese soldiers.
According to the Lebanese Prostitution Law of 1931, brothels were divided into two groups: public brothels and escort houses. The law also set conditions for those working outside the brothels, dividing them into groups of workers; cafe girls, mistresses and "artistes".
After Lebanon's Civil War, which lasted from 1975 to 1990, secret - meaning unlicensed - prostitution became a crime.
But hundreds of women enter Lebanon each year, particularly from Eastern Europe and Morocco, with an "artiste" visa, to work as dancers in clubs. "Artiste" is widely understood to be a euphemism for "prostitute".
Life on the streets
It is about 8pm on a Saturday, close to the Daoura intersection near Bourj Hammoud in Beirut's Armenian district, on a crowded road full of busy shops and cafes. From his car, Paul has just spotted a woman leaning towards a black SUV. She and the driver talk for a few minutes. Eventually, she gets in the car. The transaction is quick, and people passing by do not even seem to notice.
"They found a deal," explains Paul's wife, Ray. The couple, both in their 40s, have been volunteering for the church for years. Paul first got involved 20 years ago when he discovered that one of his neighbours was being forced into prostitution. He says he considered it his "Christian mission" to help. Ray decided to join him soon after they met in 2010.
Paul and Ray are Armenian-Lebanese and asked that their real names be withheld because of the sensitivity of their work. For the past 10 years, they have distributed food and medicine once a week to "people in need", the couple's term for the homeless, drug addicts, beggars and women exploited into prostitution in Beirut.
As they drive around Doura, in the eastern suburbs of Beirut, the main road is still crowded. Two policemen are patrolling the area. But right around the corner, Ray spots another woman sitting in a car with a man. They have seen her here before, waiting on the street corner.
"We meet women who are Lebanese, East Africans and, in recent years, a lot of Syrians, of course," says Paul. "In my experience, they all want to leave the job, but the only ones I have seen leaving a trafficker - it was because they were handed to another [trafficker]."
The Chez Maurice case
It came as no great shock to Paul when, in 2016, news broke that 75 Syrian women had been trafficked and held captive in a Jounieh brothel for years.
What became known as the "Chez Maurice case", after the brothel in which they were held, only came to light because four women managed to escape.
Legal Agenda, a Lebanese NGO that collected several testimonies from survivors of the Chez Maurice brothel, described the place as a "torture chamber".
"I didn't think there was a state [law and order] in Lebanon," one of the trafficked women told Legal Agenda. "[One of the traffickers] told me that he bought the state with his money. I believed him the moment I was detained in the General Security building for 24 hours and then released scot-free."
Despite the media uproar surrounding the case, the owner of the brothel, a Lebanese businessman, was soon released on bail. Hearings into the case have been postponed multiple times and, three years on, the trial is only just about to begin.
'No trust in the system'
In 2011, the US State Department had placed Lebanon on its tier 2 watchlist of countries not fully complying with standards to combat human trafficking. Following pressure from civil groups such as Legal Agenda, Lebanon passed a new anti-trafficking law.
Since then, however, the Syrian crisis has precipitated a mass influx into Lebanon. Many of the refugees are women and children who have already suffered trauma and may be particularly vulnerable to exploitation.
Al Jazeera heard accounts of several scenarios in which Syrian women and children ended up in the hands of traffickers. One involved marriages, either in Syria or Lebanon, where the "husband" later revealed himself to be a trafficker. Another involved groups of women and children being trafficked across the border. There are also cases of women and girls being forcibly recruited within refugee camps or even sold by their families to traffickers.
However they arrived in Lebanon, human rights groups and aid workers say not enough is being done to protect them. Ghada Jabbour, head of the anti-trafficking unit at NGO Kafa ("enough" in Arabic), which focuses on gender-based violence, explains: "There is no trust in the system. Victims do not ask for help and do not report. And, at the same time, there is no outreach programme for the victims."
When the numbers do not add up
According to Lebanon's ISF, the number of identified victims of trafficking - including those forced into begging, labour exploitation and prostitution - has remained steadily low: 19 in 2015, 87 in 2016 (mainly the Chez Maurice survivors) and 54 in 2017. Most were Syrian.
However, Dima Haddad, programme officer at the IOM, says the official statistics do not come close to conveying the magnitude of the problem.
From her office at the IOM headquarters in Beirut, she coordinates a regional taskforce to counter human trafficking in Lebanon, Iraq, Turkey and Jordan - the countries most affected by the Syrian refugee crisis. Sitting at her desk, surrounded by charts showing the dozens of tasks her team has planned for the next few months, she says: "Wherever there is a crisis, there is human trafficking.
"Vulnerability is increasing, hence trafficking is increasing."
Asked whether there are gaps in the system for identifying the victims, Haddad answers immediately. "Absolutely. If I have to be more diplomatic, I would say there is a lot of work to do. It is urgent, as we consider anti-trafficking a life-saving intervention."
There are also great obstacles to women being able to tell their stories. Aside from the shame and stigma that prevent victims from coming forward, it can also be difficult to access them. Approaching women on the street is dangerous - as Paul has found over the years - as they are watched by their traffickers.
In researching this feature, Al Jazeera tried to speak to survivors through NGOs, local journalists and local refugee camp leaders. However, those who were prepared to speak asked for money in exchange, requests that appeared to come from husbands and other relatives. Permission to access Baabda female prison - where many of the women arrested for prostitution are held - was not granted.
Falling through the cracks
During 2017, the ISF adopted a policy of trying to root out all cases involving potential trafficking victims through its Human Rights Unit. As of 2018, at least 108 training sessions had been given to the 37 law enforcement agents attached to the unit to help them identify and deal with suspected trafficking cases. But, according to Alef, a human rights watchdog based in Beirut, and other organisations, these training sessions are rarely given to those on the front lines and are, therefore, missing their target.
Ashraf Rifi, who served as minister of justice between 2014 and 2016, and who was ISF director-general from 2005 to 2013, says it could take 10 to 15 years before there are significant changes in how cases of human, and specifically sex, trafficking are identified and combatted.
"It is a cultural problem," he explains in his office, referring to the low numbers of women - and particularly Syrian women - identified as victims of trafficking. "It's not unusual, because of stigma and discrimination, that Syrian women are considered 'just' prostitutes."
The ISF is also responsible for investigations into exploitation networks. And yet, Rifi adds, one of the main challenges is the "high level of corruption", including within the ISF itself.
In August 2018, the head of the ISF's Human Trafficking and Moral Protection Bureau, Johnny Haddad, was arrested on charges of corruption in connection with a prostitution ring. To date, he is still under investigation by the ISF's ethics committee, meaning that all information related to the case is classified.
Meanwhile, hundreds of women continue to fall through the cracks - treated like criminals instead of victims.
In 2016, 304 women were arrested on charges of prostitution, according to the ISF's data. More than half of them were Syrian. All were placed in prison.
The only support available to these women after they are released comes from charities. Dar Al Amal, a local NGO, helps women recuperate in its sparse offices in Sin el Fil, in the eastern suburbs of Beirut.
Here, the volunteers provide emotional and practical support to women who were forced into prostitution, trying to address their legal, medical and psychological needs.
Ghinwa Younes, a social worker who regularly visits the Baabda women's prison, says: "All the women I met want to quit this life. Most of them are in fact trafficking victims - but ISF did not understand they were victims. As soon as they leave the prison, they rarely get any kind of support and they are immediately back in the network of their exploiters."
When Al Jazeera spoke to Joseph Mousallem, a spokesman for the ISF, he acknowledged that the difference between prostitution and trafficking is not well understood by police officers. "But it is a cultural issue involving the whole of society, not only the security forces," he says.
"Countering trafficking is a priority, but we do have thousands of priorities: the whole system is under pressure. We do our best, but not have the means or the resources to track the victims."
'Of course they are victims'
Lawyer Hasna Abdulreda meets dozens of these women during detention visits. For 10 years, she has provided legal support to women in jail, and she is currently the head of the legal department at the Lebanese Centre for Human Rights, a local NGO.
"In the past five years, every month at least two or three [women] reach out to me, after being arrested as prostitutes," she says. "Most of them are Syrians and, of course, they are victims of trafficking."
But there is little she can do.
"The trials are very fast and if the judge is given any reason to think that the woman is consenting to prostitution (for example because she keeps a share of the money), then he will just send her to prison without any further investigation," Abdulreda explains.
This is despite the fact that both the UN Convention on Human Trafficking and Lebanese law state that the victim's consent should be considered irrelevant.
"The only thing I can do is to give [detained women] my phone number and ask them to call me once they leave so that I can refer them to a shelter or an NGO. In prison, they do not have a phone, so I can't contact them once they are released," Abdulreda adds.
Despite many women asking for help, in 10 years nobody has called back.
For Syrian women, it is more complicated. Because they are foreigners, they are held by the GS for up to two days after being released from Baabda, Abdulreda says.
"I'm not allowed to access their files. I just lose every contact with them."
'Double standard'
Even when trafficking cases go to court, the odds appear stacked against victims of sex trafficking.
Legal Agenda analysed the 34 trafficking cases that made it to court in Lebanon between 2012 and 2017. According to lawyer Ghida Frangieh, who put that report together: "There is a clear double standard in the judges' attitude towards prostitution and begging.
"While in all cases involving forced begging, judges were quite fast in ruling that it was a trafficking case, when it comes to prostitution, they were digging deeper into the means of exploitation, asking for proof that the woman was actually forced into it. In certain cases they ruled that the woman was not to be considered a victim of trafficking as she consented, at least to some extent."
Frangieh says that as well as reflecting a general prejudice against women in prostitution, this view has also been influenced by the Chez Maurice case.
"[Chez Maurice] became the victim paradigm. If you do not fit into this stereotype, you are hardly considered as a victim of trafficking," she explains.
But this is not how trafficking works.
According to a former senior GS officer, speaking on condition of anonymity because he was not authorised to speak to the media, sex trafficking generally happens in one of two ways: through highly organised rings operating in brothels (such as Chez Maurice) or through so-called "free agents".
But, despite their name, free agents still operate under the protection and control of a trafficker. "There is no prostitution that is not linked to the main traffickers," the former officer says.
'Long-term solutions'
"Alone, we cannot do much," says Jabbour from Kafa.
Along with the Catholic NGO network Caritas, Kafa runs a shelter for female survivors of violence, mainly domestic workers who have been abused by their employers. The ISF occasionally refers trafficking victims to them.
But their resources are limited: Since 2015, Kafa has been able to offer protection to approximately 100 women, 20 of whom (all Syrians) were sex-trafficking survivors.
"These shelters are just a starting point," says Jabbour. "What we need are long-term solutions."
Some of these women were relocated overseas, some got married, but others, without a proper support mechanism, simply went back into prostitution - either forced or out of desperation.
"Countering trafficking and identifying victims is something that cannot be done by NGOs. It is a state's responsibility," says George Ghali, director of Alef.
According to Ghali, the problem is not the law but rather in the implementation of the law. "Where are the investigations? We are talking about organised crime. This is not something you can expect NGOs to deal with."
Back in Doura, Paul and Ray keep providing basic help to people in need. They do not have success stories to share.
Paul says he has not received any further threats from the traffickers. "[Why? Because] we make no change in the situation. And even if a girl manages to quit, they would have another one."
He admits that lately, he has considered stopping his volunteer work because of the emotional toll it has taken.
But, giving up is not an option, he concludes.
https://www.aljazeera.com/indepth/features/syrian-women-girls-sold-sexual-slavery-lebanon-200128131326841.html
--------
Houthi Violations Against Women Documented, Including Torture and Rape
10 February, 2020
The UN Security Council's Panel of Experts on Yemen has identified a Houthi network involved in the repression of women who oppose Houthis, including through the use of sexual violence.
In its recent report addressed to the President of the Security Council, the Panel documented a set of violations committed by pro-Houthi women, which included arbitrary arrest and detention of women, looting, sexual assault, beating, torture, and facilitation of rape in secret detention centers.
According to the report, Houthi women constitute an intelligence agency. Among their tasks are searching women and homes, teaching the militias' ideology and maintaining order in women's prisons.
The Panel also documented an increased repression against women. It reported the detention of 11 women, who were beaten, tortured, and sexually assaulted due to their political affiliations or their participation in political activities or public protests.
The report said these women were threatened with being charged with prostitution or with organized crime if they continue acting against Houthis.
It pointed to the Security Council Resolution 2467 (2019), which confirmed the increasing repression of women who express political opinions or participate in demonstrations and stressed that this affects their ability to participate in conflict resolution efforts and decision-making processes.
The Panel affirmed that it has been investigating the involvement of Director of the Sanaa-based criminal investigation department Sultan Zabin in the torturing process of a political activist in an identified location.
It also received testimonies from several humanitarian actors on the militias' intentional rejection of NGO projects related to women, peace and security or women's empowerment.
The Panel also investigated cases of women who were arrested and detained for reasons related to their humanitarian work.
It recommended the Security Council to include in its next decision expressions that condemn enforced disappearance, sexual violence, and repression against women who express political opinions or participate in demonstrations and express their intention to impose sanctions on those who carry out these actions.
https://aawsat.com/english/home/article/2124626/houthi-violations-against-women-documented-including-torture-and-rape
--------
Hundreds of Jobs Available through Jeddah Women's College Event
MOHAMMED AL-KINANI
February 10, 2020
JEDDAH: More than 700 jobs are being made available to students and graduates from Jeddah's International Technical Female College (ITFC) through a partnership with the Saudi Human Resource Development Fund (Hadaf).
The college, which hosted a jobs and careers fair at the weekend, said the opportunities were available to current students and graduates.
ITFC CEO and principal, Sunaina Mann OBE, said the college prepared students from the outset to become employees and part of the workforce.
"There are other skills that are of great importance to employers, such as attendance, punctuality, motivation, being able to work on your own and being able to work as part of a team," she told Arab News. "These are more important to them (employers) than knowing the job because they usually train them on the job. So we are giving the students the mindset, we give them the values that we got used to when we were going to a workplace in the UK."
Prospective employees should have excellent written and verbal communication skills, as well as possessing good IT skills, she said.
The college received positive feedback from employers about students, she added. "They say that the students have the right motivation, they are always there to be able to help (and that) the technical knowledge is what they have been looking for."
Its annual job fair was held at the Jeddah Chamber of Commerce and Industry. It was attended by nearly 700 Saudi-based delegates, the majority of whom said the fair was well organized. A college statement said that almost 100 percent of job seekers at the fair had applied for at least one vacancy.
An industry and employer forum, hosted by the college ahead of the fair, attracted local and national employers. They shared their skill gaps and shortages with college leaders and teachers so that their insights could be embedded in teaching, learning, assessment and to future-proof the ITFC's curriculum provision.
Deputy CEO of the college, Earl Laird said there were over 20 employers at the job fair offering 1,000 positions.
"There are recruitment agencies here with a vast number of job vacancies linked to local employers," he told Arab News. "There are jobs for graphic designers, IT specialists, security, hospitality, marketing, business development, and we have got a hotel group that has significant job vacancies. They are all here to recruit graduate students and the students who are scheduled to graduate next June."
Laird said the ITFC took employers' opinions and remarks seriously, and that the college amended its curriculum accordingly.
"The students here have completed their vocational diplomas," he added. "What we have done is to listen to what employers want. We have then provided the students with those qualifications, hence why there is such a good turnout and why there is a good employer turnout because they know that we are providing the jobs that they need."
Dr. Fahd bin Abdul Aziz Al-Tuwaijri heads the Colleges of Excellence, the authority overseeing ITFC. He said ITFC believed in opening channels of communication with partners to introduce students and graduates to job and training opportunities in the Saudi labor market, and searching for good job opportunities to attract female graduates and contribute to a reduction in the unemployment rate.
He added that the authority worked with Hadaf, chambers of commerce and partners in the public and private sectors to invest in training and career opportunities and showcase them to graduates. The job fair had had a major impact in supporting previous college graduates to secure employment, Al-Tuwaijri said.
ITFC offers five major specialisms: Sales, business studies, technical design, IT and occupational health and safety. It has a student body of more than 1,400.
Visitors to the job fair attended employability workshops and seminars. There were also interview opportunities, with some positions filled on the day.
"Our goal is not only to successfully provide them with the skills and practical knowledge, but for them to receive the necessary skills that the job market needs," Feras Nasani, head of IT services at ITFC told Arab News. "For that reason, we are here to provide the job seekers and students with what skills they need in the future."
https://www.arabnews.com/node/1625881/saudi-arabia
--------
Why Finding Joy Should Be the New Self-Care for Muslim Women
BY TAHMINA BEGUM
10 FEBRUARY 2020
It is easy to feel heavy as a Muslim woman today. Climate change is one reason, with many dense Muslim populations suffering from droughts, spreading across the Middle-East to Turkey, all while the water levels rise and flooding encompasses countries like Bangladesh or Indonesia. We also have social issues - Anti-Muslim hate crimes are soaring in the UK as a consequence to Brexit, and there's the concentration camps holding Uyghur Muslims in China against their will. And have we mentioned what's happening to the Rohingya's in Myanmar? And how many memes have you seen about Iran and #WW3? I've personally lost count.
As a response, the work and self-claimed titles surrounding activism rose so much in 2019 that 'climate strike' was named the official word of the year by Collins Dictionary. The last year of the past decade demanded Muslim women across all generations, race, sexualities, get up and make their voices heard. Even with influential political statements in Britain such as former Prime Minister, David Cameron, linking the radicalisation of Muslim men to the 'traditional submissiveness' of Muslim women — Muslim women have continued to rise up and show the world that we will not remain silent.
Black and brown Muslim artists such as SZA, Issa Rae, Halima Aden, Noor Tagouri and Huda Kattan are just a few names who have transformed their lived experiences into their work that has started conversations and begun the process of change. The stories we are hearing about strength and survival are now a part of many women of colours identities. The result of this means that as a society, we assume Muslim women are strong and able to tolerate anything. For so long, being strong against the rise of Islamaphobia and having to put on our 'best front' is what been expected. But now, the key agenda for many Muslim women - myself included - is to actively seek joy.
Do I think we should stop fighting systemic Islamophobia? Of course not. Do we need to have authentic diversity across several Islamic communities that differ regarding local needs? Absolutely. However, what I am arguing is that though being resistant (while being expected to be 'modest' and graceful) is effective, this obsession with strength can leave little room for Muslim women to be vulnerable. You can easily end up putting the causes, your family, your career and dreams first instead of looking after yourself and scheduling joy.
Personally, in 2020, I'd like to start listening to mybody and frankly, knowing when to care about something and when to stop spreading myself thin. It's a journey to understand a movement is not made up of one person - I do not need to be a part of everything. And it's not just me. There is a new act of self care that other Muslim women are also pursuing and it is simply - but actively- finding the joy in things big and small.
Ashiya Mendheria, a naturopathic nutritional therapy PhD student, wellness and women's health writer is beginning with her body. "I am seeking joy by embracing my body.
She agrees that exercise has unfortunately always been associated with looking more 'attractive', which can lead to body dysmorphia so going forward , she is going to be "doing workouts but without the negative self-talk and comparison; working with my body, not on my body".
Similarly, CEO of Amaliah, a platform amplifying the voices of Muslim women, Nafisa Bakkar, is seeking joy through the small and big things with her mind and body. Walking instead of jumping on a fast paced train, being present when sitting and reading and finding joy in Taekwondo which she says, 'has pushed me physically and mentally"
Bakkar's business partner and sister Selina Bakkar is seeking joy through letting go of guilt and not falling into the trap of the "business of being busy". Instead, she is picking up a new hobby to help her relax. "This year it's painting'.
UK Labour Candidate for the West Midlands, Salma Yaqoob's resolution for seeking joy comes from stepping out of her comfort zone and cooking different dishes. "I might do a world tour in my kitchen. My home has an open-door policy so there will never be a shortage of food critics to give their opinion on what I have served up!"
For beauty and culture influencer and YouTuber, Shahd Batal, it's "dedicating more time to my hobbies, surrounding myself with Muslim women who inspire me and travelling to new cities as often as I can".
Consciously dropping people pleasing and the act of valuing acceptance from others instead of oneself is top of the list for Harry Potter actor, presenter and YouTuber, Afshan Azad, "By doing that, you lose a sense of joy for yourself. I'm focusing more on myself and doing things that make me happy, regardless of anyone else."
Though it's invigorating to hear all these Muslim women place importance on their joy, these new habits believes Mariam Khan, author of It's Not About The Burqa, also need a plan of action. "For me to build joy into my life means being more disciplined. Creating a sort of muscle memory of things to do big and small so joy can exist in my everyday small moments".
So yes, it's time to welcome the joy in all shapes and sizes. If we don't seek joy, consciously reflect and work out what works well for us as individuals, as well as Muslim women, we can't be of help to anyone, especially those in our global community who need us. In my mind, being a Muslim woman who puts her self care first and foremost, is actually the most radical act.
https://www.glamourmagazine.co.uk/article/self-care-for-muslim-women
--------
High Court Rules Cairo University Can Restrict Use of Full Veils
Salwa Samir
February 10, 2020
After five years of public debate, Egypt's top court has settled the issue: Cairo University, one of Egypt's oldest higher education institutions, can ban its professors from wearing full-face veils, or niqabs, inside lecture halls. The ban does not apply to the rest of the campus.
The High Administrative Court ruled Jan. 27 that, while a person's choice of attire is among the personal freedoms guaranteed by the constitution, this freedom is not limitless and should not contradict public morals. The court noted that the Regulation of Universities Law doesn't require staff members to don uniforms, but does demand that they abide by university traditions. With its ruling, the court rejected the appeal by some 80 of the schools' teachers who challenged the ban.
The next day, Cairo University media adviser Mahmoud Alam Eddin told CBC News that the niqab ban in lecture halls would be implemented by Feb. 8, the start of the second semester. Professors who don't comply won't be allowed to teach, he added.
Ain Shams University quickly followed suit, with President Mahmoud al-Metiny announcing Feb. 4 that his school would implement a ban immediately.
The controversy arose five years ago when Gaber Nassar, former president of Cairo University, called for the prohibition. Nassar said back then that the veil hinders clear communication with students, especially during academic lectures.
Egyptian parliament members have attempted numerous times to prohibit niqabs.
In 2018, legislator Ghada Ajami proposed a draft law that called for banning all women from wearing the niqab in public places such as restaurants, universities and parks and called for violators to be fined 1,000 Egyptian pounds ($63) or more.
Ajami described the niqab as a source of sedition in society, as it reflects the extremist ideology of ultraconservative movements. She said the ban would help combat terrorism. But after backlash over the proposal, Ajami gave up the effort, acknowledging a ban might cause divisions in the country.
That same year, Mohamed Abu Hamed, another lawmaker, called on the prime minister to ban the full-face veil in state and educational institutions, similar to action taken in Algeria. But many parliamentarians rejected his call, saying it would restrict personal freedom.
Cairo University is not the first institution to succeed in barring its staff from wearing the niqab. Al-Azhar, Egypt's top religious authority, made the call in 2009.
The former grand imam of Al-Azhar, Sheikh Mohammed Sayyid Tantawi, issued a decision to ban female staff and students from donning the niqab at the university, even in dormitories. Tantawi said the full-face veil is a sign of radicalism and has nothing to do with Islam.
There are supporters and opponents of the ban at Cairo University and in the general public. The Revolutionary Socialists, a movement established in 2011 after the January 25 Revolution, rejected the court's decision.
It said in a statement on Facebook, "We must defend women's right to choose their clothing." The university should pay attention to "factors that actually affect the educational process and the ability of a faculty member to deliver knowledge, not her appearance."
Lawmaker Dalia Youssef hailed the recent ruling and called for extending the ban to include students as well, to help shape Egyptian society's way of thinking.
"I asked the minister of higher education [and the Ministry of Health] to issue a decision that applies to all universities," she said by phone on an al-Haya TV talk show Jan. 28. "The matter doesn't require a draft law, as there is already a court ruling."
Shaimaa Mousa, an assistant lecturer in Greek and Latin studies at Cairo University's School of Arts, told Al-Monitor she totally agrees with the ban.
"Actually, I am against the niqab, whether in or outside the university. How can I communicate with a person who is fully veiled except for her eyes?" Mousa said. "The face and body language are among the most important tools of communication."
However, Mousa noted that niqab wearers may find ways to circumvent the ban, as one ultraconservative Muslim recently suggested. Sameh Abdel Hamid, former leader of the Salafist Nour party, said Jan. 28 on Facebook that niqab-wearing staff at Cairo University should instead wear medical masks in lecture halls. He claimed the masks have many benefits, like avoiding the coronavirus. "The law will not prevent the use of masks," Abdel Hamid said.
https://www.al-monitor.com/pulse/originals/2020/02/egypt-cairo-university-ban-niqab-religion-freedom.html
--------
UAE on A Winning Run At Arab Women Sports In Sharjah
February 10, 2020
Dubai: UAE women athletes delivered one of their finest performances on Sunday at the ongoing Arab Women Sports Tournament (AWST) to bring home medals in fencing, javelin and discus throw.
Other sporting events held on Sunday included the quarter-finals in basketball.
Marwa Al Jasmi, from Sharjah Women's Sports Club, secured a gold for the UAE with a solid javelin throw of 24.29m.
Fellow teammate Jawaher Al Hazimi (23.73m) bagged the silver while Kuwait's Sara Anwar from Al Fatat Sports Club took the third position with her 21.18m throw.
In discus throw, Fatima Al Hosani from Sharjah Women's Sports Club emerged triumphant in the discus throw competition after registering 41.53m in the final throw. Bahrain's Noura Jasim took the silver after logging 40.82m while the bronze went to Zakia Khalfan from Oman's Al Bashair Club for throwing a personal best of 29.5m.
In the 800m, Bahrain's Al Ahli continued with their domination in the track and field events. Clocking 2:16:89 minutes, Manal Al Bahrawi clocked 2:16:89 minutes to win the gold while Kuwait's Amal Al Romi from Al Fatat Sports Club bagged the silver for her 2:21:18 minute effort. The bronze medal went to UAE's Muhra Abdul Rahim from Sharjah Women's Sports club after she crossed the finish line in 2:31:43 minutes.
The 100m relay saw Bahrain's Al Ahli Club clinch the gold medal after their athletes completed the race in 52:36 seconds, followed by Al Fatat Sports Club athletes from Kuwait who completed the race in 53:88 seconds. The bronze went to Saudi Arabia's Princess Nora University Club, after their athletes crossed the finish line in 1:00:11 minute.
Bahrain's Al Ahli Club athlete, Hajar Al Khalidi, clocked 26:15 seconds to win the 200m to secure the gold. Oman's Worod Al Nasereyeh from Al Bashair Club came a close second as she raced to the finish line in 26:63 seconds. Sharjah Women's Sports Club athlete Buthaina Al Suwaidi secured the bronze with her 27.81 second run.
https://gulfnews.com/sport/uae-sport/uae-on-a-winning-run-at-arab-women-sports-in-sharjah-1.69624824
--------
100 Global Leaders to Attend Global Women's Forum Dubai
February 10, 2020
Dubai: Over 100 leaders and experts from across the world will arrive in Dubai next week for Global Women's Forum Dubai (GWFD) 2020 to engage in constructive dialogue on the advancement of women. The event, which has been organised by Dubai Women Establishment (DWE), is taking place from 16 – 17 February, under the patronage of His Highness Shaikh Mohammad Bin Rashid Al Maktoum, Vice-President and Prime Minister of the United Arab Emirates, and Ruler of Dubai.
More than 3,000 delegates from 87 countries are expected to attend over 60 workshops and sessions, including five dedicated plenaries, throughout the two-day conference. Over 250 government representatives, business leaders and women entrepreneurs from the region will also participate in the first We-Fi MENA Regional Summit, which is co-organised by the Women Entrepreneurs Finance Initiative (We-Fi) and Dubai Women Establishment, and taking place on the sidelines of the Forum.
The forum will feature international speakers including David Malpass, President of the World Bank Group; Kristalina Georgieva, Managing Director of the IMF; Theresa May, former Prime Minister of the UK; and Ivanka Trump, Advisor to the President of the United States of America.
Several notable speakers from the UAE will also share insights throughout GWFD 2020, including Shaikha Latifa Bint Mohammad Bin Rashid Al Maktoum, Chairperson of Dubai Culture & Arts Authority; Hessa Buhumaid, UAE Minister of Community Development; and Mariam Al Mheiri, UAE Minister of State for Food Security. Mona Al Marri, Chairperson of the Board and Managing Director of DWE, will deliver the forum's welcome note during the official opening.
Shaikha Manal Bint Mohammad Bin Rashid Al Maktoum, President of the UAE Gender Balance Council, President of Dubai Women Establishment, and wife of His Highness Shaikh Mansour Bin Zayed Al Nahyan, UAE Deputy Prime Minister and Minister of Presidential Affairs, said that the UAE is today reaping the benefits of a development journey set in motion by its wise leadership, who believed in women's capabilities and the importance of their role in society.
"The UAE provides an inspirational model for the empowerment and socio-economic participation of women. The country has created a highly supportive environment for women to enhance their contributions to society. The global community's recognition of these remarkable achievements has led to the UAE becoming a venue for the world's largest events focused on women's empowerment and advancement," she added
"Many countries in the region have launched concerted efforts to empower women and promote gender parity. The UAE has been at the forefront of women's empowerment in the region and made outstanding progress in reducing the gender gap, achievements that have helped significantly raise the country's rankings in global gender balance indicators."
"It is an honour to host Global Women's Forum Dubai 2020, which is an important milestone in the UAE's ongoing journey to elevate the status of women across all sectors. In line with our wise leadership's vision, the UAE has made significant strides in championing women's valuable contribution to the nation's development, successfully enhancing female participation in the workforce and propelling more women into leadership roles. The Forum provides an opportunity to highlight this progress and share our experiences with the global community so that we can together influence policies and foster partnerships to further women's positive impact across the world," she added.
Insightful sessions
A wide range of topics will be explored throughout GWFD 2020, including transformative strategies for global gender balance, the future of women at work during the Fourth Industrial Revolution, propelling female entrepreneurship in the MENA region, women's active role in government, and the importance of female engagement in achieving the UN Sustainable Development Goals (SDGs) 2030, among others. Several breakout sessions will address these topics, presenting a vital opportunity to influence improved policies and foster collaborative partnerships that will empower women around the world to drive transformative change and create a better future for all.
The most effective approach to achieving global gender balance will be discussed during a plenary featuring Hessa Buhumaid, UAE Minister of Community Development. She will be joined by Pedro Conceição from the UNDP's Human Development Report Office, as well as Caren Grown, Senior Director for Gender at the World Bank Group. The plenary panel will be moderated by Dan Murphy of CNBC.
Another plenary will focus on women leaders in government, their contributions to decision-making roles and recommended best practices to promote women's advancement. During this session, Mariam Almheiri, UAE Minister of State for Food Security, will join Rania Al Mashat, Minister of International Cooperation in Egypt; Lana Nusseibah, UAE Ambassador and Permanent Representative to the UN; and prominent Kosovar politician Mimoza Kusari Lila, who was also the first woman to become a mayor in her country. The panel will be moderated by John Defterios of CNN.
With the Fourth Industrial Revolution set to significantly change the future of work, a plenary will explore the expected fast-paced transformation of the economy, and provide insights into the various ways women can establish steady careers and pursue greater success. Khalfan Belhoul, CEO, Dubai Future Foundation – UAE; Emma Mortinho-Truswell, COO and Co-founder of Oxford Insights; as well as Caitlin Kraft-Buchman, Founder and CEO of W@TT are set to take part in this panel.
Female engagement and its role in achieving the UN's Sustainable Development Goals 2030 will be the focus of the final plenary session. Abdulla Lootah, Director General, Federal Competitiveness & Statistics Authority; Shamsa Saleh, Secretary General, UAE Gender Balance Council and CEO of Dubai Women Establishment; Zohra Khan from UN Women; alongside Stefania Fabrizio, Deputy Unit Chief of the Strategy, Policy and Review Department at the IMF, will be among the speakers on this panel to be moderated by Hadley Gamble of CNBC.
Another plenary discussion, 'Empowering Women Entrepreneurs in the MENA Region: New Solutions to Overcoming Barriers' will showcase innovative private and public sector solutions that are supporting women entrepreneurs in the MENA region. Panelists include Nadia Al Saeed, General Manager of Bank Al Etihad; H.E. Rania Al Mashat, Minister of International Cooperation, Egypt; Laura Lane, President of Global Public Affairs at UPS; Michael Okoroafor, Vice President of Global Sustainability & Packaging Innovation at McCormick; and Heike Harmgart, Managing Director at the European Bank for Reconstruction and Development (EBRD).
https://gulfnews.com/uae/100-global-leaders-to-attend-global-womens-forum-dubai-1.69628342
--------
More Women Today Hold Managerial Positions In Turkey, Data Shows
10.02.2020
The proportion of women in managerial positions in Turkey reached 16.3% in 2018, up from 14.4% in 2012, according to 2010-2018 Sustainable Development Indicators announced by the Turkish Statistical Institute (TurkStat) on Monday.
Within the framework of the "2030 Agenda for Sustainable Development," adopted at the Sustainable Development Summit of United Nations, which was held on Sept. 25, 2015, 17 main goals and 169 targets were determined. In order to monitor achieving the sustainable development goals and targets, an indicator set consisting of 232 global indicators were constituted.
The data revealed by the statistical body revealed significant improvements in Turkey's sustainable development goals, including an increase in the number of women holding senior positions.
It showed that, according to the general parliamentary election results of 2018, the proportion of seats held by women in the Grand National Assembly of Turkey (TBMM) has increased to 17.3%. According to the results of parliamentary elections of Nov. 1, 2015, this proportion was 14.7%.
Among others, the indicators showed that the at-risk of poverty rate according to the poverty threshold set at 50% of median equalized household disposable income dropped to 13.9% in 2018, a 3% decrease compared with 16.9% in 2010.
While the at-risk-of-poverty-rate for individuals under 15 years of age was 24.8% in 2010, this rate was realized as 21.6% in 2018. The poverty rate for the population in the 15-24 age group was 18.5% in 2010 and decreased to 16.1% in 2018.
While the unemployment rate for men was 9.5%, it was 13.9% for women in 2018. The highest unemployment rate in the same year was 22% for the 20-24 age group.
Average hourly gross wage was estimated as TL 20.7 in 2018. This value was TL 20.9 for men and TL 20.3 for women.
While the proportion of youth (aged 15-24 years) neither in employment nor in education or training was 32.3% in 2010, it was 24.5% in 2018. This rate was 15.6% for men and 33.6% for women in 2018.
On the other hand, the research and development (R&D) expenditure as a proportion of gross domestic product (GDP) was 0.8% in 2010. This rate increased to 1.03% in 2018. While the number of researchers per million inhabitants was 880 in 2010, this number was realized as 1,551 in 2018.
While the value-addition by the manufacturing sector as a proportion of GDP was 15.1% in 2010, it was 19% with a 3.9% increase in 2018. Manufacturing employment as a proportion of total employment was 18.7% in 2010 and 18.2% in 2018.
While the share of micro-scale enterprises in total manufacturing industry value added was 7.8% in 2010, this share was realized as 4.9% in 2018.
Also, net schooling ratio of age 5 was realized as 75.2% and increased by 8% in 2018 compared with 67.2% in 2015. Early child development index for children aged 3-4 years was calculated as 73.7% in 2018. The index value was 78% for girls and 69.8% for boys.
In 2018, 64% of primary school teachers were women. While the share of female teachers in total was 58.3% for lower secondary school, it was 50.8% for upper secondary education.
On the other hand, while the share of the population using safely managed drinking water services was 98.3% in 2010, it reached 98.6% in 2018. The proportion of wastewater safely treated was 72.8% in 2010 and reached 80.9% with an 8.1% increase in 2018.
While the share of households that have natural gas subscriptions was 51.0% in 2014, this share went up to 63.5% in 2018. The share of the population with access to electricity has been 100% since 2010.
https://www.dailysabah.com/business/2020/02/10/more-women-today-hold-managerial-positions-in-turkey-data-shows
--------
Pope speaks up for Syria women and children
by Ruth Gledhill
10 FEBRUARY 2020
Pope Francis has highlighted the plight of refugees fleeing Syria, in particular women and children.
At the end of the weekly Angelus in St Peter's Square, Pope Francis appealed once again to world leaders to help the thousands suffering as they attempt to escape and survive.
"Painful news continues to arrive from the north-west of Syria, in particular on the conditions of many women and children, of people forced to flee due to military escalation," he said.
"I renew my heartfelt appeal to the international community and to all the actors involved to make use of diplomatic instruments, dialogue and negotiations, in compliance with International Humanitarian Law, to safeguard the life and fate of civilians. Let us pray for this beloved and tormented Syria."
According to the United Nations, 500,000 people have been displaced in Syria since 1 Dec, with eight in ten of these being women and children. More than one million are fleeing for Turkey, which already accommodates more than three million refugees from Syria. The latest crisis is due to the Syrian offensive into the rebel stronghold of Idlib.
Pope Francis also referred to St Josephine Bakhita, whose feast day coincides with yesterday's World Day of Prayer and Reflection against Trafficking in Persons was celebrated.
"To heal this plague, because it's a real plague which exploits the weakest, everyone's commitment is needed: institutions, associations and educational agencies. On the prevention front, I would like to point out that various researches show that criminal organisations are increasingly using modern means of communication to entice victims with deception. Therefore, it is necessary on the one hand to educate on the healthy use of technological means, on the other to supervise and call the suppliers of these services to their responsibilities."
https://www.thetablet.co.uk/news/12464/pope-speaks-up-for-syria-women-and-children
--------
URL: https://www.newageislam.com/islam-women-feminism/flirting-with-woman-get-jailed/d/121036
New Age Islam, Islam Online, Islamic Website, African Muslim News, Arab World News, South Asia News, Indian Muslim News, World Muslim News, Women in Islam, Islamic Feminism, Arab Women, Women In Arab, Islamophobia in America, Muslim Women in West, Islam Women and Feminism