New Age Islam News Bureau
6 Aug 2014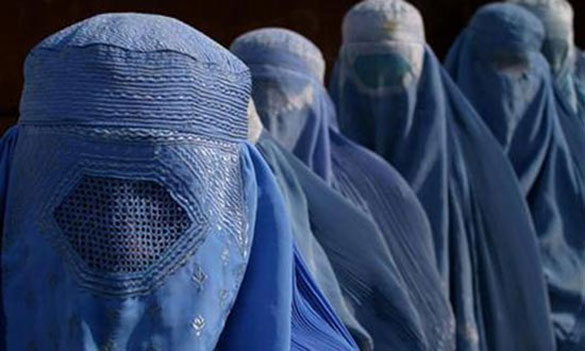 Women 'banned' from going out without male company, File photo
---------
• In KP's Karak Region: Women 'Banned' From Going Out without Male Company
• Saudis Told Not To Marry Women from Pakistan, 3 Other States
• Fertility Push Viewed as Unsexy by Young Iranians
• Sinjar Event Is "Genocide" And IS Use the Kidnapped Women for Temporary Marriage
• Outrage in Saudi at Appearance of Female Newsreader without Headscarf
• Minister's Comments on Women Laughing No Joke for Anti-Erdogan Turks
• No Ban On Use Of Hijab: IG Nigeria
Compiled by New Age Islam News Bureau
URL: https://www.newageislam.com/islam,-women-and-feminism/new-age-islam-news-bureau/flirtatious-women-cause-of-rising-harassment-cases--king-abdulaziz-centre/d/98449
------------
Flirtatious Women Cause of Rising Harassment Cases: King Abdulaziz Centre
Saudi Gazette report
August 6, 2014
JEDDAH — Deliberate flirtatious behaviour by women is the main cause behind the rising number of harassment cases, according to a survey conducted by the King Abdulaziz Centre for National Dialogue.
Faiz Shaflout, director of the centre's department of surveys, told local daily Al-Madinah that 85.5 percent of the sample, consisting of both genders, said women were opening themselves up to harassment.
They accused women of deliberately wearing revealing clothes and makeup with the intention of drawing men's attention.
He said about 91 percent of those surveyed believed the lack of a religious deterrent was also among the reasons behind the rising sexual harassment incidents.
He did not specify the size of the sample but said they were mostly young men and women over 18.
Shaflout said about 67 percent of those surveyed also believed the absence of legislation to tackle sexual harassment was another reason why such offenses were on the rise.
They said that there were no discretionary punishments against harassers who target women.
Shaflout said about 80.6 percent of the sample were unanimous that the absence of social responsibility toward members of society has greatly contributed to the increase of sexual harassment cases.
http://www.saudigazette.com.sa/index.cfm?method=home.regcon&contentid=20140806213728
------------
In KP's Karak region: Women 'banned' from going out without male company
August 6, 2014
KARAK: Local ulema and elders 'banned' here on Tuesday movement of young women outside their homes without the company of male relatives and said the violators would be fined and socially boycotted.
A decision to this effect was taken at a meeting of the Gurguri Islahi Tanzeem chaired by its former president Nasrullah Khan. Local ulema, elders and members of the committee were in attendance.
The participants expressed concern over increasing drug addiction among youth and said that there would be complete ban on sale of drugs in the area. The meeting warned the drug traffickers to quit the illegal business or face dire consequences.
On the occasion, two drug sellers decided to quit the illegal and unethical business. The participants extended support to the committee's struggle for drug-free society.
The meeting also decided that in case of theft in the area the committee would suggest severe punishment and fine for thieves. It was also decided that the affected family would be compensated by the relatives of thieves.
The participants demanded of the police and district administration to extend support to the committee for implementing its decisions.
FUNDS RELEASED: Funds meant for the parent teacher councils for petty repairs and purchase of classrooms consumable articles have been released to the National Bank which would be transferred to the accounts of the respective councils.
This was disclosed by the district education officer Zahid Rasheed Khattak while talking to a delegation of the local chapter of Tanzeem-i-Asataza on Tuesday.
Mr Khattak said the funds amounting to Rs7.7 million would be transferred to the accounts of PTCs in a week. He asked the primary school head teachers to utilise the money with honesty to resolve the basic problems of schools.
He resolved that the education management would ensure transparency in the funds use.
The meeting was informed that Rs9.5 million had been released for purchase of computers for all high and higher secondary schools.
Tanzeem-i-Asataza delegation assured the district education officer of ensuring utilisation of funds in a transparent manner.
http://www.dawn.com/news/1123633/in-kps-karak-region-women-banned-from-going-out-without-male-company
------------
Saudis told not to marry women from Pakistan, 3 other states
August 6, 2014
RIYADH: Saudi men have been prohibited from marrying women from Pakistan, Bangladesh, Chad and Myanmar, says a report in Makkah daily quoting Makkah Police Director Maj Gen Assaf Al-Qurashi.
According to unofficial figures, there are about 500,000 women from these four countries currently residing in the kingdom.
In a move apparently aimed at discouraging Saudi men from marrying foreigners, additional formalities have been placed before issuing the permission for marriage with foreigners. Saudi men wishing to marry foreigners now face tougher regulations.
Those wanting to marry foreign women should first obtain the consent of the government and submit marriage applications through official channels, Maj Gen Qurashi was quoted as saying.
Know more: Saudis begin clampdown on illegal immigrants
The official said applicants should be over 25 and attach identification documents signed by the local district mayor as well as all other identity papers, including a copy of his family card. "If the applicant is already married, he should attach a report from a hospital proving that his wife is either disabled, suffering from a chronic disease or is sterile," he said.
Maj Gen Qurashi said divorced men would not be allowed to apply within six months of their divorce.
http://www.dawn.com/news/1123519/saudis-told-not-to-marry-women-from-pakistan-3-other-states
------------
Fertility Push Viewed as Unsexy by Young Iranians
Aug 6, 2014
NEW YORK (WOMENSENEWS)--Haleh Esfandiari doubts Iran's Ayatollah Ali Khamenei will succeed in boosting his country's birth-rate; at least not by his current methods.
"They are trying to encourage women to marry at an early age," said the director of the Middle East Program at the Woodrow Wilson International Center for Scholars in Washington, D.C., in a recent phone interview. "For 35 years, the Islamic Republic has been waging wars on women but they have not succeeded."
The international sanctions imposed on Iran for its nuclear program took a toll on the economic health of the country. But as the United States and other Western countries have begun to ease sanctions, Iran's economy has started to bounce back.
Young people's reluctance to have children, however, isn't just about the recent hard times, said Esfandiari.
"The young people in Iran are educated and they know what is happening in the outside world. They know that entering an early marriage and having a lot of children could be detrimental to their future," Esfandiari said. She added that even less educated people have begun to think they can't afford more than one or two children.
Nina Ansary, a scholar of the women's movement in Iran, agrees. Today's Iranian youth, women included, have priorities other than getting married and having several children, Ansary said in a recent interview held at Women's eNews' office here.
Young women are putting off marriage, said Ansary, because they "no longer subscribe to the ideology" as presented by the Ayatollah. Iran's youth want to be free, she said. "Islam has become a constraint for young Iranians."
Iran's population is young: nearly 70 percent of the country's 77 million people are under 35. The large majority of Iranians are of reproductive age, but paradoxically the population growth rate is plummeting.
Last winter, Khamenei announced a push for families to have more children. As part of that he is seeking to limit access to contraception for women and ban vasectomies for men.
In June, Iran's parliament passed a text criminalizing birth control surgeries and vasectomies. The bill also includes a prohibition on any advertisement that promotes a decrease in the birth rate. The text has yet to be approved by the Guardian Council of the Constitution, the other institution endowed with legislative power.
No Demographic Problem
Ansary, who lives in California, rejects the argument that Iran is facing a demographic problem. She said the decline of the population is "a good thing" and speaks of "overpopulation" at the moment. She said Ayatollah Khamenei is looking for ways to enlarge the Shia population in order to get a new generation that will subscribe to his ideology.
Iranian women tend to marry at around 25 years old, although the law permits marriage starting at age 13 for girls and 15 for boys. The marriage rate fell by 4.4 percent between March 2014 and a year earlier, according to the country's Registration Office, which records the number of new marriages and divorces. In addition, more than 1-in-5 marriages ended in divorce.
Iran's fertility rate is currently at 1.9 children, below the replacement level of 2.1 children per woman, according to the World Bank. Iranian authorities have been looking for ways to reverse the trend with the hope of doubling of the population, to 150 million, by 2050.
In the wake of the 1979 revolution, Iran's birthrate was 3.6 children per couple, according to the Statistical Organization of Iran and experts. In the late 1980s and early 1990s, Iran was faced with the devastating consequences of its war with Iraq. The country's economy was shaken and the growth of the population started to be problematic.
Iran began calling for the "regulation of the family." The country started to promote contraception and vasectomies and withdrew state subsidies after the second child. Within 10 years, from 1986 to 1996, the population growth rate fell to 1.5 percent from 3.8 percent.
Now authorities are struggling to reverse all that. "A single blossom is not spring" or "More children, better lives" have replaced the old slogan "Fewer children, better life" promoted in the 1990s. Billboards showing happy and large families are now mushrooming in Iran, Al-Monitor reported.
Push for Traditional Roles
Some women's rights activists suspect the clergy will be looking for ways to push women back into more traditional roles: wife and mother.
Esfandiari recalls many attempts to keep women away from universities under Iran's former president, Mahmoud Ahmadinejad. "His government tried to make it harder for women to access higher education in certain fields of study . . . It even tried to dissuade women from studying in cities other than their hometown," Esfandiari said. Women's problems accessing different fields was case-by-case depending where they were enrolled or trying to study; while one university would ban women from studying economics, another banned mathematics, she said.
Milah Jokar, a French-Iranian political analyst, agrees there is a gap between Khamenei's vision and that of younger people. In a recent phone interview conducted in French, he described the current leadership as "anachronistic" and said power holders and young Iranians were also far apart under Ahmadinejad, who held office from 2005 to 2013.
"One of the turning points was the Green Revolution in 2009," said Jokar, referring to a series of protests following the 2009 Iranian presidential election triggered by the disputed victory of Ahmadinejad and in support of opposition candidates Mir-Hossein Mousavi and Mehdi Karroubi.
At the same time he emphasized that Iran is not a monolithic society but diverse and complex.
Iranian society, he said, is "conservative and progressive at the same time," adding that some young Iranians support the discourse of the Ayatollah and still live by conservative rules.
2012 Fertility Push
The fertility push began under Ahmadinejad in 2012 when health authorities eliminated funding for the population control program, which is the equivalent of the family planning. Instead, parents who have five children have become eligible for $1,500 in compensation. Condoms are no longer free. However, hospital delivery stays are now free. Last year, maternity leave was extended to nine months for working mothers and two weeks leave with pay granted to working fathers.
In addition, Iran has become a hub for fertility treatment, attracting couples looking for in vitro fertilization, or IVF, from all over the Middle East.
Iran now has more than 70 clinics nationwide that cater to infertile couples, wrote Azadeh Moaveni in the article "The Islamic Republic of Baby-Making" for Foreign Policy. In order to allow all social classes to access the technology, the state runs subsidized clinics so the cost for treatment is lower than anywhere else in the world, the article said. A full course of IVF in Iran costs about $1,500.
Because of its declining population growth, Jokar, the political analyst, predicted Iran will face an economic problem in the long run. "There was a baby boom during the Iraq-Iran war, which means that Iran is maybe one of the youngest populations in the world aged between 30-34 years. This generation in 30 years will be in its 60s and who is going to pay for retirement pensions?"
For now, Iranian youth are busy getting educated. Eighty-two percent of the Iranian adult population is now literate, well ahead of the regional average of 62 percent. This rate increases to 97 percent among young adults between ages 15 and 24. About 60 percent of university students are women.
Jokar says Iranian women tend to stay at university longer than male peers because the job market offers them less opportunity. As a result something interesting is now happening in Iran, he says: you often find a wife who is better educated than her husband.
Hajer Naili is a New York-based reporter for Women's eNews. She has worked for several radio stations and publications in France and North Africa and specializes in Middle East and North Africa women in Islam.
Would you like to Comment but not sure how? Visit our help page at http://www.womensenews.org/help-making-comments-womens-enews-stories.
Would you like to Send Along a Link of This Story? http://womensenews.org/story/reproductive-health/140804/fertility-push-viewed-unsexy-young-iranians
We welcome comments that advance the story through relevant opinion, anecdotes, links and data. If you see a comment that you believe is irrelevant or inappropriate, you can flag it to our editors by using the report abuse links. Views expressed in the comments do not represent those of the Thomson Reuters Foundation. For more information see our Acceptable Use Policy.
http://www.trust.org/item/20140805101323-ml73p/
------------
Sinjar Event Is "Genocide" And IS Use the Kidnapped Women for Temporary Marriage
August 6, 2014
The High Council of Women's Affairs in the Iraqi Kurdistan region has condemned the recent actions of Islamic State [IS] against Sinjar women, labeling it "genocide".
In a published statement the Council said that they are appalled at the reports of kidnapping hundreds of Sinjar women in recent days.
After IS Militants overran the Yazidi-majority town of Sinjar in Northern Iraq, reports emerged of the extremist group kidnapping Sinjari women and taking them to unknown locations.
"We condemn the recent violations and violence of IS militants against the families of Sinjar especially the kidnapping of hundreds of women," the statement said.
The Council also claimed that some of the girls kidnapped by IS insurgents in Sinjar are as young as nine.
Media reports claim that IS will use the kidnapped women for temporary marriage known in Arabic as "Nikah".
Finally the women's committee called on the international community as well as UN Security Council to aid and assist Yazidi refugees as soon as possible.
According to UN figures, since IS took over Sinjar, about 200,000 people from the area have fled, most of them to Sinjar mountain whilst others travelled to the Kurdistan region.
http://basnews.com/en/News/Details/KRG-Women-s-Council--Sinjar-Event-is--Genocide-/29321
http://www.globalterrorwatch.ch/?p=28935
------------
Outrage in Saudi Arabia at Appearance of Female Newsreader without Headscarf on State television
Lizzie Dearden,The Independent | Aug 6, 2014
The unprecedented appearance of a female newsreader on Saudi state television without a headscarf has caused a scandal in the deeply conservative Islamic state.
The unnamed anchor, who has previously worn a Hijab in clips circulated online, was reading a bulletin from London for the Al Ekhbariya channel.
Strict Islamic dress codes in Saudi Arabia require women to dress "modestly" - usually with headscarves, veils and full-length Abayas.
While women do sometimes appear without head coverings in programmes broadcast by state-controlled channels, newsreaders are never seen without the Hijab.
Saleh Al Mughailif, a spokesman for Saudi radio and television, told Al Tawasul news the correspondent was reading the news from the broadcaster's British studio.
"She was not in a studio inside Saudi Arabia and we do not tolerate any transgression of our values and the country's systems," he added.
He promised that all measures would be taken to ensure there is no repeat of the incident after many viewers expressed outrage.
Al Ekhbariya, which has offices in the Middle East, Europe and America, is known for its use of female anchors after having its maiden broadcast in 2004 presented by the country's first female news presenter.
Social networks in the Saudi kingdom largely commented on the unusual sight of an unveiled woman reading the news, Gulf News reported, and some condemned it as transgression of national traditions.
Others said the issue should not be blown out of proportion or welcomed it as a sign of growing women's rights.
Lashes, hanging and even beheading are among the punishments awaiting women convicted of blasphemy, apostasy, adultery and witchcraft.
It is illegal for women to drive in Saudi Arabia and Islamic codes of behaviour and dress are strictly enforced by the "Mutawwa" religious police.
What is considered acceptable varies across the country, with the full veil (Niqab) worn almost universally in the more conservative capital Riyadh, whereas some women opt for the Hijab in the more relaxed city of Jeddah.
Society has been divided over the possibility of granting women more rights as the Government's labour ministry encourages more women to take up jobs in the private sector, against strong resistance from conservative groups.
King Abdullah Bin Abdul Aziz has appointed 30 women to his advisory body, the Shura Council, in a landmark decision for women's status, Gulf News reported.
A billionaire Saudi prince and businessman, Prince Al Waleed Bin Talal, is also rumoured to take a moderate stance in offices of his Kingdom Holding business empire by not enforcing the veil for employees.
http://timesofindia.indiatimes.com/world/middle-east/Outrage-in-Saudi-Arabia-at-appearance-of-female-newsreader-without-headscarf-on-state-television/articleshow/39695505.cms
------------
Minister's Comments on Women Laughing No Joke for Anti-Erdogan Turks
August 6, 2014
Istanbul: Protests last year against Prime Minister Recep Tayyip Erdogan may have died down, but comments by a top minister's that women should not laugh loudly in public has become a new rallying cause for secular Turks angered by his pro-Islamic rule.
Erdogan remains the hot favourite to win Sunday's presidential election, thanks to a core base of religiously conservative Turks who have prospered under his decade-long domination.
But whatever the result on Sunday, it is certain that Erdogan will not be carrying the whole of an increasingly polarised country with him.
Many secular Turks fear the ruling Justice and Development Party (AKP) wants to gradually Islamise the modern Turkish state, built on strict secular principles since it was founded in 1923 by Mustafa Kemal Ataturk.
Their anger boiled to the surface in the protests starting in May 2013, which were triggered by government plans to build a development over a park in central Istanbul.
The comments by Deputy Prime Minister Bulent Arinc -- a founding father of the AKP -- have become a new lightning rod for their dissent ahead of the presidential elections.
"A man should be moral but women should be moral as well, they should know what is decent and what is not decent," Arinc said in a speech last week.
"Chastity is so important.... She should not laugh loudly in front of all the world and should preserve her decency at all times," he added.
'Resist by laughing'
Arinc's comments sparked an extraordinary campaign on Twitter where thousands of Turkish women posted pictures of themselves laughing deliriously which went viral all over the world.
The pictures were promoted by the hashtags #kakhaha (laughter in Turkish) and #direnkakhaha (#resistlaughter), reprising the "diren" (resist) slogan from the Gezi Park protests.
Last year's unrest quickly blew into wider nationwide demonstrations against the perceived authoritarianism of Erdogan.
Many of the protesters were liberal, secular and female, taking to the street to stand up for their rights in the face of creeping infringements on their freedoms by the AKP.
Their list of grievances included Erdogan's proposals to limit abortion, tighten rules for the morning-after pill and alcohol sales, and his suggestion that women should have at least three children.
Erdogan has since deepened the divisions between secular Turks and his pious supporters by calling the protesters "drunkards", saying he took orders only "from God" and claiming that a veiled woman had been attacked by demonstrators in central Istanbul.
The secular middle-class has further been alienated by Erdogan's uncompromising rhetoric, laws including curbs on the Internet, as well as restrictions on alcohol sales and a push by the government to do away with mixed-sex dorms at universities.
During his election campaign two weeks ago, Erdogan visited a female dormitory, where he advised young girls in headscarves not to be "picky" when they are searching for husbands. "Marry when offered," he said.
'Insulting Turkish women'
"No government has attacked and insulted Turkish women in such a spectacular way," said Deniz Bayram of the Istanbul Feminist Collective women's rights group.
"And it is no coincidence that Arinc is saying these things just now. It is a clear message of how the government wants to continue to have a say on a woman's behaviour, a women's body and women's decisions in the many years to come," she told AFP.
Melda Onur, a lawmaker from the main opposition Republican People's Party (CHP), said Arinc's comments portrayed laughing as an immoral act and left women exposed to violence.
Turkish women's right organisations on Monday filed a criminal complaint against Arinc for "discrimination", "slander" and "inciting hatred".
And on Friday, women will gather in Istanbul to take part in a "laughing protest".
Despite progress in recent years, honour killings, child brides and domestic violence are still serious problems in Turkey, where patriarchal traditions prevail.
According to non-governmental organisations, more than a hundred women in Turkey died as a result of domestic violence in the first six months of 2014.
"Our politicians just want to say that women deserve being raped, beaten, tortured, killed, lose their children and have a miserable life in the end if they don't behave properly," Bayram added.
http://www.firstpost.com/world/minsters-comments-on-women-laughing-no-joke-for-anti-erdogan-turks-1651913.html
------------
No Ban On Use Of Hijab: IG Nigeria
August 6, 2014
On Monday, the Nigeria Police Force said that, the acting Inspector-General of Police Suleiman Abba has not banned the use of Hijab by Muslim women in the country, contrary to rumours making the rounds.
Spokesman for the police Frank Mba said in a statement that, the speculation that the newly appointed police boss has banned the use of Hijab in reaction to recent cases of use of teenage girls in Hijab to carry out suicide bombings was not true, adding that for "purposes of emphasis, the new IGP Abba has not and is not contemplating a ban on the use of Hijab".
Meanwhile, Nigeria Bar Association (NBA) on Monday advised the Federal Government against banning Hijab (Muslim female headscarves), saying such proposal would be unconstitutional.
Okey Wali, President of the association, rather urged the government to find a lasting and peaceful solution to the security challenges threatening the country.
Wali told NAN in Abuja that placing a ban on wearing Hijab due to the recent spate of attacks by female suicide bombers was not a positive and lasting strategy to curbing insecurity.
The NBA president was reacting to recent calls by some members of the public that the government should ban wearing Hijab to checkmate female suicide bombers.
Wali said that it was the right of every individual to dress according to the requirement of his or her religion, adding that it was not an option to ask female Muslim faithful to stop wearing the Hijab.
"Wearing of Hijab by the female Muslim faithful has religious as well as cultural meaning, and nobody can take away that right from them.
"The security agencies should find lasting solutions to the country's security challenges rather than place a ban on wearing of Hijab as that is an easy way out," he said.
http://www.dailytimes.com.ng/article/no-ban-use-Hijab-says-abba
------------
URL: https://www.newageislam.com/islam,-women-and-feminism/new-age-islam-news-bureau/flirtatious-women-cause-of-rising-harassment-cases--king-abdulaziz-centre/d/98449