New Age Islam News Bureau
3 Aug 2016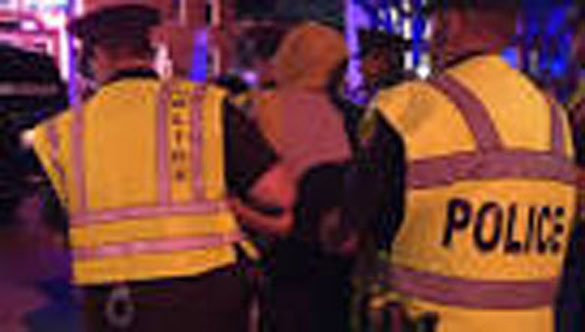 Muslim women being arrested during Black Lives Matter protest in Portland, Maine on July 15, 2016 WGME-TV
------
• Flap over American Muslim Women's Mugshots Released To Public
• Pregnant Woman Attacked For 'Wearing Revealing Clothes, Supporting Coup' In Istanbul
• Female Entrepreneurs Should Contribute To Islamic Creative Industry: Indonesian Minister
• Black Muslim Women & the Hypocrisy of the White American Saviour
• Assaulting Muslim Women Under The Pretext Of Carrying Beef Is A Scar On Our Society
• The Unfair Scrutiny Imposed On Muslim Adolescence
Compiled by New Age Islam News Bureau
URL: https://newageislam.com/islam-women-feminism/flap-ameri-muslim-women-mugshots/d/108165
---
Flap over American Muslim Women's Mugshots Released To Public
Wednesday, August 3 2016
PORTLAND, Maine -- A Maine sheriff's department is investigating whether the rights of Muslim protesters were violated when they were booked into a county jail.
The Cumberland County Sheriff's Office announced an investigation on Tuesday to determine whether booking photos showing the four Muslim women without their Hijabs were improperly released to the public.
On Monday, a man told the Portland City Council the women were "intimidated" into removing their religious headscarves following their July 15 arrest for allegedly blocking traffic during a Black Lives Matter protest in the city. The man told council members the women were promised jail officials wouldn't release photos showing them without their Hijabs.
The women were booked into the Cumberland County Jail, which requires Muslim women to have their booking photos taken with and without their Hijabs.
Cumberland County Sheriff Kevin Joyce said the jail has had a policy since 2009 requiring women to remove their Hijabs to check for contraband, reports CBS Portland affiliate WGME-TV. He said it's always done in private by a female officer, and if there's a threat, they're given a temporary Hijab from the jail.
Joyce said women are photographed both with and without a Hijab, again only in the presence of a female officer, and only the photo of them wearing the Hijab is supposed to be released to the public.
Separately, activists complained to City Council members that Portland police used excessive force in making 18 arrests during the July protest.
Protester and University of Southern Maine student Matthew Raymond, who wasn't arrested, told council members police should be held accountable.
Raymond and two others who spoke at the council meeting charged that police targeted black protesters.
http://www.cbsnews.com/news/flap-over-muslim-womens-mugshots-released-to-public/
--
Pregnant Woman Attacked For 'Wearing Revealing Clothes, Supporting Coup' In Istanbul
Wednesday, August 3 2016
A woman working as a secretary at Turkish daily Evrensel was attacked by a group of people who accused her of "wearing revealing clothes and supporting the July 15 failed coup attempt" on Aug. 2 in Istanbul. The attackers reportedly accused Hazal Ölmez, who was six months pregnant, of supporting the Fethullahist Terrorist Organization (FETÖ), which was behind the failed takeover.
"Why are you wearing revealing clothes? You are a coup supporter and a Gülenist," the group reportedly yelled at Ölmez, as they also called for people nearby to join them in beating her.
"You won't get dressed this way anymore, you will get dressed the way we want you to and you will obey us," the group also said, according to the report.
Speaking about the incident, Ölmez said that she was walking to her home in Istanbul's Kocamustafapaşa neighborhood when three people, two of whom were burqa-wearing women, started to attack her.
"I got out of work and I was going home on a road that I use every day. Someone suddenly pulled my hair from behind. When I turned around I saw a woman wearing a burqa and asked her the reason why she pulled my hair, but she started to attack me," Ölmez told Evrensel, adding that she was called a "traitor" by the group.
"They called for others to attack me. They wanted to lynch me there," she also said.
Saying that a man aged 26 or 27 showed up at the scene a couple of minutes later, Ölmez added that he threatened to attack other people living in the neighborhood.
"A couple of minutes later a man with a long beard came over and shouted, 'There are four others in the neighborhood that we marked, their turn will come.' Then he kicked my ankle," she said.
The group continued to beat Ölmez after she fell to the ground, as other people standing nearby watched the incident and did not offer any help, according to the report.
"Who knows what you did, so they are attacking you," the people nearby allegedly said when she asked for help. Ölmez said that she was saved by a 60-year-old woman.
Saying that she went to the doctor to get a report after the incident, Ölmez added that the doctor told her there wasn't a reason to give her one.
"You can go to the police and file a complaint. We have nothing to do. Fortunately they didn't realize that you were pregnant, your baby could've gotten hurt," the doctor reportedly told her.
"The doctor with those statements accepted that I was beaten, but didn't give me a report," she added.
http://www.hurriyetdailynews.com/pregnant-woman-attacked-for-wearing-revealing-clothes-supporting-coup-in-istanbul-.aspx?pageID=238&nID=102423&NewsCatID=341
----
Female Entrepreneurs Should Contribute To Islamic Creative Industry: Indonesian Minister
Wed, August 3 2016
Finance Minister Sri Mulyani Indrawati has said it is important to empower female entrepreneurs as few of them have harnessed business opportunities, particularly in the Islamic creative industry.
"This will be important to show that female entrepreneurs are ready to take important roles in this world economic forum. It's also important to promote the idea that women can become not only buyers, but also producers," she said on Tuesday on the sidelines of the 12th World Islamic Economic Forum (WIEF), which aims to empower young entrepreneurs and small and medium-sized enterprises (SMEs).
The minister said there was a growing demand for products from the Islamic creative industry, such as fashion, movies and art. Indonesia has huge potential and plays an important role in the world's Islamic fashion industry, she went on to say.
With the 12th edition of WIEF, Sri Mulyani said Indonesian small and medium-sized entrepreneurs had the chance to promote their products and find business partners.
"We are the world's fourth largest population and among the largest economies in the world. Indonesia is an ideal place for investment and also has big investment opportunities, both in sharia-based and common commercial-based sectors," said the minister.
http://www.thejakartapost.com/news/2016/08/03/female-entrepreneurs-should-contribute-to-islamic-creative-industry-minister.html
----
Assaulting Muslim Women under the Pretext of Carrying Beef Is a Scar on Our Society: President of Shariat Protection Committee
August 3, 2016
Hyderabad: Dr. Asa Zohra, President of Shariat Protection Committee in a press statement issued yesterday condemned strongly the inhuman assault of Muslim women under the pretext of carrying beef by Bajrang Dal activities. She said that it is an ugly scar on the cultured society of this country which should be condemned strongly by all the citizens.
She further said that ever since BJP assumed power in the centre, the activists of Gow Raksha have been resorting to violence in some city or the other. Leaders of BJP and RSS are silent on such inhuman acts. There is a need for all the social and secular forces to raise their voice against such acts. She demanded the Govt. to take stern action against the culprits.
http://www.siasat.com/news/assaulting-muslim-women-pretext-carrying-beef-scar-society-dr-asa-zohra-995531/
----
Black Muslim Women & the Hypocrisy of the White American Saviour
August 2, 2016
In The Oppression of Muslim Women by White Supremacy, we learned how when it comes to Islam, white supremacy commodities and discards narratives of women's oppression based upon its own strategic interest. For example, the narratives of black Muslim women such as Safiya Bukhari and Tynetta Muhammad, who utilized Islam as a source of empowerment against the structural racism that they were subjected to in America, garner no where near the sympathies or attention by mainstream society as that of Ayaan Hirsi Ali. In fact, white supremacy has maintained as concealed a dark secret at the foundations of America.
Wikimedia Commons
Having been kidnapped from West Africa and taken to the Americas at the tender age of seven, Phillis Wheatley became world renowned for being the first published African-American poet. As the forebear of African-American literature, her literary works were read worldwide even by heads of states such as George Washington and eminent philosophers such as Voltaire.
In the Emergence of African-American Literacy Traditions: Family and Community, Phyllis M. Belt-Beyan notes a rarely mentioned fact about Phillis Wheatley: "About two weeks after she was brought to work for the Wheatley household, Wheatley peters was writing Arabic symbols on chalk slate and on walls" Though it was illegal for slaves to learn to read and write, Wheatley's constant writing was observed by her owners and motivated them to educate her more.
A true prodigy, Shields writes that Wheatley "learned to read and write in English and Latin within the first year or so of her coming to the American colonies." Remarkably, at the young age of thirteen, Phillis Wheatley published her first work. While Wheatley gained worldwide fame for her poetry, there is a lesser known fact about Phillis Wheatley, one that shakes western modernity to its core.
From her geographic origins emanating from Gambia, to her ability to write Arabic as a young kid, to her most likely ethnic background being Fulani, Professor Will Harris indicates that this could very well mean the "progenitor of African-American literature probably was Muslim." The story of Phillis Wheatley presents a major critique of the "white male savior complex" by which western governments feign concern for Muslim women. While positing itself as the savior of Muslim women, at the foundation of the United States, we have a Black Muslim woman subjected to immense violence in the Middle Passages and forcibly converted to Christianity. This completely dismantles the American exceptionalist narrative that boasts of "the freedom of religion"—a right that was never extended to slaves.
While contemporary Islamophobic discourse often promotes that idea of Muslims imposing "Sharia Law" upon others leading to widespread barbarity and oppression of women, Wheatley's life is that of a black muslim woman whom had "Eurocentric Law" violently imposed upon her. The story of Philis Wheatley disrupts this narrative.
Additionally, the life of Wheatley exposes the islamophobic narrative that has sought to create a caricature of Islam as a religion that inherently oppresses women, denying them equitable access to education.
patheosseriesAs Will Harris notes "the slave child's rapid progress in learning to read, write, and speak English was likely the result of nominal instruction in language acquisition she already obtained in an Islamic school system before being kidnapped into slavery." In other words, Islamic centres established in West Africa played a pivotal and integral role in enabling Phillis Wheatley to eventually become the dynamic poet, author, and pioneer of African-American literature that she became. The early Islamic education of Wheatley enabled her greater social mobility and a plethora of educational opportunities that would have been denied to other slaves in America.
In a thorough comparative analysis of her poetry and Al-Fatihah in the Qu'ran, Will Harris in Philis Wheatley: The Muslim Connection, writes that,""Wheatley mimics the language of this Qur'anic verse in her hymn." However, it is also true that in other poetry, Wheatley extols the virtues of Christianity:"Twas mercy brought me from my Pagan land, Taught my benighted soul to understand." Here Whatley lauds Christianity for taking her from her captivity in Africa and bringing her to Americas. Yet, Harris even suggests that based upon a plethora of Islamic allusions within Wheatley's work that she could have in fact remained Muslim while outwardly expressing Christianity,– a practice adopted as a survival technique by several slaves.
However, it is also a possibility that Wheatley did in fact truly become Christian. Unlike other African Muslim slaves such as Omar Ibn Said and Abdul-Rahman Ibrahim ibn Sori who were kidnapped and taken to the Americas as adults after completing extensive Islamic education, Philis Wheatley was brought to the Americas at age seven. With her Islamic education interrupted at such a young age, she could have in fact been more susceptible than other adult Muslim slaves to the widespread Christian missionary efforts that characterized the slave system.
Whatever the case may be,Wheatley's life exposes a blatant hypocrisy and the need to study the oppression of Muslim women under white supremacy. Though kidnapped and forced to live life as a slave in the United States, her early Islamic education enabled her with the tools to rise above the odds in a white supremacist society order to become a dynamic poet and author. As American exceptionalist discourse promotes itself as "the savior of Muslim women", we should remember the life of Philis Wheatley, a black woman whose early Islamic education was completely disrupted as a result of the transatlantic slave trade.
http://www.patheos.com/blogs/truthtopower/2016/08/black-muslim-women-the-hypocrisy-of-the-white-american-savior/
----
The Unfair Scrutiny Imposed On Muslim Adolescence
August 3, 2016
There's a prolonged, fundamental issue with how we see Muslims represented in the media. We are either the 'good,' polite, will-you-come-over-for-dinner types in the face of bigotry (literally seen recently on QandA) – or the 'bad,' radical "Islamist" who threatens the Western world and everything it stands for.
We are stuck in this perpetual paradigm of the good/bad Muslim, when in reality – like any religion or group of people – there's a bit more to us. It's the same narrative that drives the Sonia Krugers of this world to talk about their fear of scary Muslims coming through Australia's borders, while in the same breath claiming that 'some of their best friends' are Muslim.
We shouldn't be looking for Muslim exceptionalism (the 'perfect' Muslims) to solve Islamophobia. Nor can we accept the now normal suggestions that a country simply reject an entire faith group because not all Muslims are exceptional. We aren't – and that's ok. We don't have to be. Muslims shouldn't feel like they need to be exceptional to simply be allowed to exist. The more we accept the idea that the only acceptable Muslims are the nice ones invited to Kirribilli House for a Prime Ministerial iftar, the more we marginalise the everyday Muslim whose only crime is being ordinary.
"Malcolm Turnbull proposes 'indefinite detention' that could apply for people as young as 14-years-old. What does it say ...
"Malcolm Turnbull proposes 'indefinite detention' that could apply for people as young as 14-years-old. What does it say to young Muslims or those already affected by presumption of guilt?" Photo: Justin McManus
It doesn't help when one of those exceptional Muslims – Waleed Aly – suggests that we #sendforgivenessviral instead of questioning vitriolic Islamophobia. It pushes reactions that don't fit this message, and the people who have them, to the fringe. Excluded from this elite narrative of the comfortable, acceptable Muslim, they become 'bad Muslims' simply by default. This isn't a fault of Aly himself, but a result of how Muslims have been media managed by successive governments and the wider media.
All this does is take agency from Muslims. We are not allowed to express anything other than forgiveness and niceties when met with bigotry. We are told to be nice, upstanding citizens at all times – and if we step a millimetre out of line we are deemed a threat.
Over a week ago, as the country and social media frothed over whether a Muslim had plotted a terror attack at Merrylands police station, earlier that day, Channel 9 ran a story earlier the same day about "angry Cessnock residents threatening to bomb the local council" because plans to build a mosque in the area were finalised. They weren't described as terrorists or potential enemies of the state. Naturally it turned out that the incident at Merrylands police station had nothing to do with Islam or terror, but no apology was issued by the media or police for making that initial mistake in their reports.
I'm not even going to ask what would be said if the roles were reversed, because we already know. I'd much rather ask why these outbursts of fear and anger are able to exist when far milder, imperfect Muslim reactions aren't.
Muslim life is intensely scrutinised even from early adolescence. When I was in school, young Muslim boys no older than 15 were being hounded by ASIO purely on the basis they came from "religious families." It got so bad that a teacher dedicated an entire class to talking to the students about their rights and how to approach the authorities. These were people I had known since primary school. They were rowdy, mouthy and not perfect – but they didn't deserve to be treated like criminals when they were children.
When we live in a culture that presumes guilt before innocence, it won't be too long until people reflect that reality. And usually the guilt surrounds Muslimness, and how Muslim you are. The New Republic published Nathan Lean who explored the idea of the "Moderate Muslim" and found "the idea of a "moderate Islam" or "moderate Muslim" as intellectually lazy because it carves the world up into two camps: the "good" Muslims and the "bad" Muslims." He added that Muslims "until proven good, or in this case "moderate," all Muslims are perceived as "bad," or potentially extreme."
This is already happening. The Prime Minister Malcolm Turnbull's proposed "indefinite detention" that could apply for people as young as 14-years-old. What does it say to young Muslims or those already affected by presumption of guilt?
Harun Causevic was no older than 18-years-old when he was put in a maximum security prison for allegedly plotting a terror attack on Anzac Day. After months he was released on a good behaviour bond for weapon offences. Causevic's lawyer suggested an apology was owed to his client and their family: "I'd hope that they would offer the family and Mr Causevic a proper apology because he's been accused of something that he simply never did," he told The Age.
An apology never came, but just under a month ago Causevic got a second win, getting his agency back as the court ruled against keeping a tracking device on his ankle.
Young Muslims like Causevic are not allowed to go through a regular phase of disobedience or be seen as "troubled" lest they be branded as radicalised. This has been made clear by measures like the "how to spot a Jihadi" package that was proposed for schools last year.
One of the clear indicators of spotting a plucky Jihadi was explained in the piece:
"Under the 'jihadi-watch' scheme, teachers and students would be taught to watch for shifts in behaviour such as students drifting away from their friends, running into minor trouble with the law and arguing with those who have different ideological views to their own."
When I was in school I drifted from my friends, had different ideological views and had shifts of behaviour in the classroom. I thought that was called "growing up".
But now we have a situation where any sign of Muslim behaviour that doesn't fit an imaginary, arbitrary standard is deemed unlawful.
The same logic of acceptability came to bear on a Muslim man who questioned Pauline Hanson on Q&A a few weeks ago. Khaled Elomar's biggest sins were being vocal on Facebook as an anti-capitalist who was against the state of Israel and posting dank memes of Pauline Hanson in a hijab.
The same program gave a platform to Hanson, who had previously compared Muslims to violent, untrained dogs and claimed they should be banned en masse. Again, I wonder whose hostility is acceptable and why. This isn't to say Elomar is a perfect person, but should he have to be, to simply ask a question? Especially one that involves his experience being impacted by the normalising of Islamophobia from the likes of Hanson?
The problem isn't specifically Hanson, nor Kruger. They can exist and rant about their distrust and fear of Muslims, as is their right. The problem is when we see Muslims through only two prisms – be it absolutely positive or absolutely negative – and thus fail them. We fail to see the complexities of their humanity, we fail to understand who they are and how they came to be that way, even if it makes us uncomfortable.
I'm not one thing or another. I, like many Muslims and people more broadly, am a cluster of different things, thoughts, situations, influences, cultures and experiences. But now it would appear that this no longer matters. Now we also need to qualify our love and allegiance to X country AND you need to first help us deal with arbitrary terror, or our stay is conditional as former US President Bill Clinton recently articulated in a speech.
http://www.dailylife.com.au/news-and-views/dl-opinion/the-unfair-scrutiny-imposed-on-muslim-adolescence-20160802-gqjco4.html
--
URL: https://newageislam.com/islam-women-feminism/flap-ameri-muslim-women-mugshots/d/108165