26 June 2022
• Fiza , An MP Woman On Way To Pakistan To Marry Social Media Friend Held At Attari
• Filipina Fuschia Anne Ravena Wins Transgender Pageant In Thailand
• Globe-Trotter: Kazi Asma Azmery A Bangladeshi Single Woman Visits 130 Countries
• 'I Fight For The Women Of Afghanistan' Says Olympic 2024 Hopeful Marzieh Hamidi
Compiled by New Age Islam News Bureau
URL: https://newageislam.com/islam-women-feminism/fiza-pakistan-marry-social-media-attari-/d/127326
--------
Fiza Khan, An MP Woman On Way To Pakistan To Marry Social Media Friend Held At Attari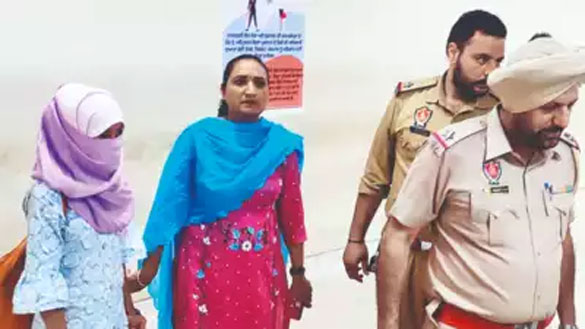 Teacher Fiza Khan (left) in Amritsar police's custody
-----
Jun 25, 2022
AMRITSAR: A 24-year-old woman from Madhya Pradesh's Rewa, who was on her way to Pakistan to marry her social media friend, stopped at the international border in Attari.
Despite having valid visa and travel documents, the woman was stopped at Integrated Check Post (ICP), Attari, due to a Lookout Circular (LOC) issued against her and was handed over to the police by the immigration officials who, on Saturday, further handed her over to a police party from MP.
Police inspector Agyapal Singh informed that on June 16 Fiza went to school but didn't return following which her family members lodged a missing complaint at Rewa City police station.
Sources informed that since Fiza had already discussed travelling to Pakistan so, in the apprehension of her crossing the border, a LOC was issued against her.
On June 23, the woman reached Amritsar and went to Attari international border on her way to Karachi but was held at the ICP due to LOC issued against her.
Sources informed that immigration officials at ICP, Attari, informed about her to the Gharinda police station who recorded her statement and sent her to Nari Niketan, and information was given to Rewa police.
In the past, on April 12, 2019, Kiran Bala, mother of three, a resident of Garshankar in Hoshiarpur district had gone to celebrate Baisakhi with Sikh jatha but upon reaching there she married a Lahore-based man Muhammad Azam whom she had met on the social media.
A year earlier, Bathinda women, mother of two, Tina Sharma had befriended a Gujranwala man Muhammad Suleman while playing an online game and crossed over to Pakistan and married Suleman on October 24, 2018.
Source: Times Of India
https://timesofindia.indiatimes.com/city/amritsar/mp-woman-on-way-to-pakistan-to-marry-social-media-friend-held-at-attari-international-border/articleshowprint/92461407.cms?val=3728
-----
Filipina Fuschia Anne Ravena Wins Transgender Pageant In Thailand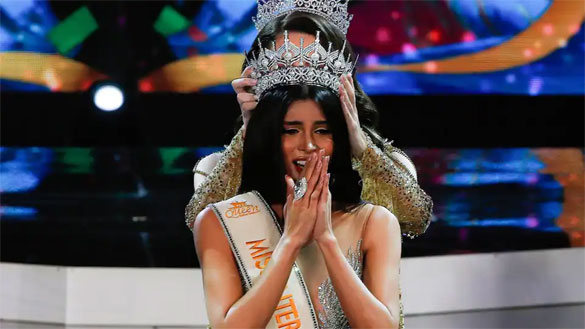 Fuschia Anne Ravena celebrates after winning in the Miss International Queen 2022 transgender beauty pageant in the Thai resort city of Bangkok. Source: AAP / SOPA Images/Sipa USA
-----
26 Jun 2022
PATTAYA, June 26 — Filipina Fuschia Anne Ravena was crowned Miss International Queen 2022 on Saturday at a contest in Thailand billed as the world's largest and most popular transgender pageant.
The 27-year-old business owner beat 22 other contestants for the crown, with the second and third place going to contestants from Colombia and France, respectively.
"My first message to everyone is to spread love and peace and unity because that is the most important thing that we do as of the moment and what's happening in the world right now," said Ravena who wore a glittery-silver evening gown.
The pageant, which was halted for almost two years because of the pandemic, resumed in the Thai seaside town of Pattaya during Pride Month to also celebrate gender equality, said Alisa Phanthusak, the CEO of Miss Tiffany Show, the organiser.
The contest, which brings together transgender people from around the world, was launched over a decade ago to help transgender women feel more accepted by society.
Thailand has one of Asia's most open and visible lesbian, gay, bisexual, and transgender (LGBT) communities, adding to its image of tolerance and attraction as a liberal holiday destination for foreign tourists.
But activists say Thai laws and institutions have yet to reflect changing social attitudes and still discriminate against LGBT+ people and same-sex couples
Source: Malay Mail
Please click the following URL to read the full text of the original story:
https://www.malaymail.com/news/life/2022/06/26/filipina-wins-transgender-pageant-in-thailand/14291
-----
Globe-Trotter: Kazi Asma Azmery A Bangladeshi Single Woman Visits 130 Countries
Kamrun Nahar Sumy
Jun 26,2022
At first glance, Kazi Asma Azmery is a Bangladeshi single woman in her mid-thirties, but a glance at her travel history attached to her passport will say she is a globe-trotter who toured 130 countries as a solo traveller by June this year.
This year she was also accorded with Grand Queens Club Global Leadership Award as a peace traveller. For a woman coming from a conservative Muslim family in Khulna, it is no mean feat when you consider our society abounds with things that can deter one, especially a woman, from her dream, but nothing could deter Asma from actualising her dream of being a globe-trotter: neither her conservative family nor a day in arbitrary detention in a foreign country for just being a Bangladeshi passport-holder.
Being a Bangladeshi expatriate living in New Zealand for the past 12 years, she could easily exchange a Bangladeshi passport for a New Zealand one, but her immense patriotism has kept her loyal to her origin.
Once she was also a travel blogger. Although she did not stick to blogging for long, she still continues to inspire youths and students at home and abroad through her affiliation with different organisations like Rotary International.
'I met a bunch of school students who came from different countries in the Philippines. They were excited when they heard I visited 100 countries alone as a woman. Then I thought if it inspires others, I should share my stories with the world,' Azmeri said in an interview with New Age in Dhaka city on June 17.
She has spoken to about 50,000 students and youths, visiting over 650 organisations, including educational institutions, through Rotary International and other organisations.
'One of my male friends visited 26 countries. Inspired by his journey, I decided to tour at least 50 countries before getting married, she reminisces.
Despite her mother and relatives' objections, Asma, a graduate in business administration, set out on her journey with savings from her salary and selling her jewellery.
Her only motivation for a job is to earn money for travelling. If she spends one and half a years working for salaries, she spends next six months for travelling.
For being a Bangladeshi, Asma was refused visa many times, but that visa refusal made her more determined for being a globe-trotter.
Source: New Agebd
https://www.newagebd.net/article/174337/woman-visits-130-countries-with-bangladesh-passport
-----
'I fight for the women of Afghanistan' says Olympic 2024 hopeful Marzieh Hamidi
June 25, 2022
PARIS: Among the 3,000 people arriving in France to start a new life last August after the Taliban´s return to power in Afghanistan was Marzieh Hamidi.
Hamidi is a national taekwondo champion, but the Taliban´s repressive treatment of women forced her to flee Kabul to follow her dream away from her family and friends.
Born in exile in Iran she once again finds herself in exile, this time in Paris, the home of the 2024 Olympics which features prominently in her plans.
"How could my conscience accept that I fight under their (Taliban) flag who have killed women in the name of Jihad for 20 years, because they say if you get education then you are a bad woman."
"Still I practice for the same goal especially after the arrival of the Taliban, I decided to work harder than before and go to the Olympics to be proud of my country."
"And through this sport I fight for the women of Afghanistan and try to be the voice of Afghan women, especially athletes who are stuck in Afghanistan and no one hears their voice."
"I wanted to raise the Afghan flag and wanted people to say that she is an Afghan girl and the pride of Afghanistan, but they took that wish away from me."
Now, exiled, she appreciates she will have to join the International Olympic Committee´s Refugee team, which competed for the first time at the 2016 Rio Games.
Her new coach in France, Jesse Van Thuyne, says that while there is an understandable amount of physical work to do after such a lengthy layoff and after all she has been through Hamidi has impressed him with her technical skill.
"Her kick techniques are really very good, so Marzieh has to regain her athletism and then with her technical ability it´ll be ideal to resume competition."
Van Thuyne´s club is through its partnership with the Taekwondo Humanitarian Foundation home to other taekwondo-practising refugees like Hamidi.
Despite embarking on a new chapter in her life many thousands of miles away from Kabul, Hamidi says she remains in touch with "all the taekwondo girls who have been stuck in Afghanistan".
"And worse than that, the world is silent about what is happening to the women in Afghanistan and no one nor any institution has helped women athletes and they have been very much ignored."
Should she realise her dream Hamidi will be doing her utmost to give those she has left behind a voice at the Paris Games next year.
Source: Geosuper
https://www.geosuper.tv/latest/16703-i-fight-for-the-women-of-afghanistan-says-olympic-2024-hopeful-marzieh-hamidi
-----
URL: https://newageislam.com/islam-women-feminism/fiza-pakistan-marry-social-media-attari-/d/127326
New Age Islam, Islam Online, Islamic Website, African Muslim News, Arab World News, South Asia News, Indian Muslim News, World Muslim News, Women in Islam, Islamic Feminism, Arab Women, Women In Arab, Islamophobia in America, Muslim Women in West, Islam Women and Feminism