New Age Islam News Bureau
11 Aug 2016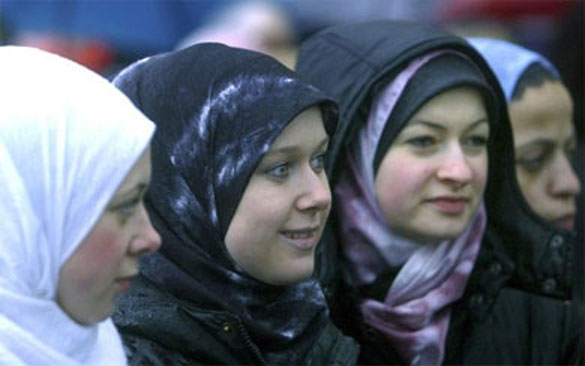 UK Hijab-Wearing Muslim Women CREDIT: ALAMY
--------
• Gujarati Muslim Girl Tanzeem Determined To Hoist Tri-Colour at Srinagar on Aug 15
• Germany to Consider Banning Burqa
• Bangladeshi Catholic Editor Flees Country in Fear of Her Life
• Muslim Girl Tops MA (Sanskrit) Exam in Uttarakhand, India
• UK Hijab-Wearing Muslim Women Being Passed Over For Jobs in Last Form of 'Acceptable' Discrimination – MPs
• Hijabs at Olympics Aren't About Freedom
• America's 1st Female Muslim Lawmaker About To Be Elected
Compiled by New Age Islam News Bureau
URL: https://newageislam.com/islam-women-feminism/first-islamic-mosque-with-women/d/108244
---
First Islamic Mosque with Women Imams Opens In Denmark
10.08.2016
Her name is Sherin Khankan. Born in Denmark to a Syrian father and a Finnish mother, the well-known author and political commentator has started a new mosque in Copenhagen, Denmark. Named as 'Mariam Mosque', it is led entirely by women imams. Speaking to Danish newspaper Politiken, Sherin Khankan, the woman behind the mosque who calls it 'a feminist project', said she started Mariam because she "never felt at home in the existing mosques." Although, Mariam will be open to both men and women."I have never felt at home in the existing mosques. The new grand mosques are unbelievably beautiful, but I have the feeling of being a stranger when I am there. We women stand up in the balcony and look down on what is happening. Many women and young people don't even go into the mosques as you enter into a male-dominated and patriarchal space in which a man has the floor, a man leads prayers, men are in focus and dominate. That is why we are now setting up a mosque on women's terms.", she said. Sherin Khankan told Agence France Presse that "we have normalised patriarchal structures" in our religious institutions and this is "not just in Islam, but also within Judaism and Christianity and other religions." She added that she "would like to challenge that."Khankan is confident that her project will ease the barriers between traditional Islam and a more modern rendition of the faith that can better relate to young worshippers.

"Many imams in this country belong to the traditional school which does not account for the culture we live in. Instead, they help to construct contradictions between being a practicing Muslim and a young person in Denmark. But you can love and honour several cultures and influences at once without betraying one or the other camp".
http://www.tornosnews.gr/en/world-news/17675-first-islamic-mosque-with-women-imams-opens-in-denmark.html
--
Gujarati Muslim Girl Tanzeem Determined To Hoist Tri-Colour at Srinagar on Aug 15
August 11, 2016
Ahmedabad: A 13-year-old Muslim girl in Gujarat's Ahmedabad city has vowed to unfurl the national flag at Srinagar's Lal Chowk on Independence Day.
When asked about her inspiration behind this, 13-year-old Tanzeem Merani told ANI that she has always been reading about the Pakistani and ISIS flags being hoisted in Kashmir, adding the people in the Valley are under so much pressure that they can't even hoist their national flag.
"I have seen it many times on TV, in newspapers and have heard also that it is a part of India. It is India's soil still, Pakistan and ISIS flags are hurled there. I have been hearing this since a long time. Then one day I asked my daddy that why is it so. He told me some negative points as well that this will happen if you go there. So, I told him it is not bad to do something for the country and we should not be afraid," she said.
"When our flag is disrespected then we sit at our homes and voice our opinion against such people. Why don't we ever think to go there and hoist our flag if it is being disrespected there?" she said.
Responding to a poser if she would be able to successfully complete her endeavor since she has not taken permission, Tanzeem said that no permission is needed to enter one's own country and threatened to go on a hunger strike if permission is denied to her.
"It is our Indian soil and we don't need any permission to go there. And if the army will not let me go there then I'll go on a hunger strike and will request them to let me go there," she said.
"I want to give the message of peace and harmony to all and I'm a proud Indian," Tanzeem added.
The girl's father said that she always had such thoughts of doing something for the nation, adding she shared the same sentiments during veteran social activist Anna Hazare's agitation.
When asked that he had not yet sought permission from the government, he said, "I'm unable to understand that do I have to seek permission to sit in my mother's lap…Whom should I ask? We have not taken permission because I believe so. As far as terrorism is concerned, I am not afraid. Whatever will happen, god is with us."
The girl's father, however, admitted the fact that it was not apt to hoist the national flag in Lal Chowk at this point of time.
"I know it's not the right time to go there, but tell me till when should we wait. There is curfew on every 15th August and January 26 which comes once every year. If this will continue for years till when should we wait. Somewhere there needs to be a beginning and my daughter has made that beginning and we have supported her," he said.
Backing his daughter's resolve, the father said that they want to spread the message of Hindu-Muslim unity and encourage the girls.
The chairman of Tanzeem's school has written a letter to the Prime Minister's Office (PMO) urging that the girl is provided permission to hoist the tri-colour besides ample security cover during her visit to Srinagar.
The girl is expected to meet Prime Minister Narendra Modi, Congress vice-president Rahul Gandhi and Delhi Chief Minister Arvind Kejriwal in the national capital tomorrow and put forth her concerns.
http://www.siasat.com/news/tanzeem-merani-determined-hoist-tri-colour-lal-chowk-aug-15-999815/
--
GERMANY TO CONSIDER BANNING BURQA
11.08.2016
LONDON – Germany is to consider banning the female Muslim garment, the burqa. The burqa is a strict Muslim veil that covers the full head and body.
Burka bans exist in other parts of Europe, like France, Belgium and some towns in Italy but a number of Islamist attacks in German cities has made authorities there think they should follow suit.
Germany has very few restrictions on people's dress. Four years ago the government suggested it would be unconstitutional to ban the full burka or the niqab facial veil.
However as part of a raft of anti-terror measures it's being looked at again.
Other proposals being suggested include stopping German people from being allowed to hold dual nationality, recruiting 15,000 more police officers and posting more police on trains and in transport hubs.
However with Germany's acceptance of almost a million migrants last year it's the proposal to ban a religious dress which is the most significant.
GERMAN POLICE RAID SUSPECTED IS RECRUITERS
German police on Wednesday raided the homes and workplaces of three people suspected of trying to recruit supporters for Islamic State, the Federal Prosecutor's office said.
No arrests were made. One of the suspects is believed to have provided financial and logistical support for the militant group, a spokesperson said, noting that the raids took place in the states of North Rhine-Westphalia and Lower Saxony.
German media said searches were carried out in the cities of Duisburg, Dortmund, Duesseldorf and Hildesheim.
"The three suspects are believed to have tried to recruit members and supporters for the foreign terrorist organisation Islamic State between January and July 2015," the spokesperson said.
She said that no further details about the case could be revealed, since the investigation was ongoing.
Germany is on high alert after two Islamist attacks by two asylum seekers in July that killed only the attackers.
Interior Minister Thomas de Maiziere will propose new security measures on Thursday, including speedier deportations and waiving doctor-patient confidentiality in some cases, German media reported.
"We live in difficult times, the terror threat is high, the police are overstretched," he said during a visit to a centre for the deradicalisation of Islamists.
http://ewn.co.za/2016/08/11/Germany-to-consider-banning-female-Muslim-garment
--
Bangladeshi Catholic Editor Flees Country in Fear of Her Life
Thursday, 11 Aug 2016
Rosaline Costa heard people tell her "be careful" so often she decided that she had to flee her native Bangladesh for the United States to stay alive.
Costa, 67, a Catholic, has been the editor of Hotline Bangladesh for 30 years. The monthly newsletter chronicles corruption, crime, terror and religious violence in the nation, which borders India to the east.
But now Costa is in New York City, figuring out how she can get Hotline Bangladesh published nearly half a world away.
Costa left Bangladesh in July. She has been staying with two nephews and a niece, each of whom left Bangladesh themselves a year ago after they had been harassed and threatened.
The niece's Muslim uncle was trying to force her into marrying him, Costa told Catholic News Service on Tuesday during a visit to Washington. One nephew was taken to a mosque and told to convert to Islam under fear of death.
The other nephew, a promising art student, was followed by Muslims and told to convert – and then to join their number so he could help similarly "recruit" others.
"After that, I did not allow him to go to the university anymore for classes," Costa said.
What happened to her kin, according to Costa, is a microcosm of what is happening to Christians throughout the country, as the police and judicial system are either too weak to deter such criminality or indifferent to it.
Religious violence has spiked in Bangladesh in recent years. In May an Italian priest was shot in Dhaka, the capital.
Earlier this year, the US Commission on International Religious Freedom included Bangladesh among the countries it is monitoring, although Bangladesh did not make the list of the worst nations, or even the commission's "Tier 2" group of bad actors.
"I made several editorials in the newsletter" decrying the upsurge in religious violence, Costa said. "In the last two and a half months I could not go out of the house."
It got to the point where, to get to her office, she had to enter her car next to her house, drive it to a garage connected to the Hotline Bangladesh office, and repeat the process in reverse to get back home.
She told of a woman who had been "chopped" – attacked with a knife – and "beaten very badly. But she would not let me visit her in the hospital. She did not want to be identified. Second, she feared for my safety."
Costa said she had been subject to harassing phone calls. "I went to the police and they did not want to take a report," she told CNS.
She said she countered by going to a different police station where she knew an officer and was able to file a report there.
Afterward, though, she got calls from anonymous people with anonymous threats; she believes someone had leaked her complaint to the people who had been harassing her.
Although she has spent 30 years leading a crusade for ethics, fairness and tolerance in Bangladeshi society, journalism has not been the sole focus of Costa's life.
In 1994, she organised women at a garment factory into a labour union.
Although she said she ended her involvement once the union was in place, "I was a target of the factory owner," but was "saved" thanks to the intervention of a Bangladeshi labour federation with ties to the AFL-CIO in the United States.
Costa also worked in the 1990s to better the lives of poor children in Bangladesh. The work won her awards in Nepal and South Korea.
"It's very hard for a woman to receive recognition" in Bangladesh, she explained, although she did receive honours from a Muslim organisation in the country as well as a Hindu-Buddhist-Christian unity council there.
During her time in the United States, Costa has already met with a representative of the US State Department, whom she said told her he would help her find work in the country.
Asked if she thought she might never be able to return to her country, Costa sighed and replied, "I don't want to go back" under the current state of affairs.
http://www.catholicherald.co.uk/news/2016/08/11/bangladeshi-catholic-editor-flees-country-in-fear-of-her-life/
--
Muslim Girl Tops MA (Sanskrit) Exam in Uttarakhand, India
August 10, 2016
Zainab Fatima, a Muslim student who topped the MA (Sanskrit) final examination of Kumaon university, wants to do research in the Vedas and share their wisdom and knowledge with her community members. She says the secrets of life are hidden in the Vedas. "When we can study English in India, why not Sanskrit? asks Fatima, a resident of Jaspur town of Udham Singh Nagar district.
Fatima says she started studying Sanskrit from Class VI though nobody knew the language in her area. Sometimes, she had to face sharp queries from her relatives for taking up Sanskrit as a subject. "My father always supported me and encouraged me to study the language. It is because of his support that I have topped the MA (Sanskrit) exams in Kumaon University the results of which were declared on Wednesday," adds Fatima.
Her relatives also discouraged her from studying beyond intermediate. She had to leave regular study and pursue education as a private student. However, her father Shamshad Husain, who runs a shop of repairing pressure cookers and stoves in the Kashipur market, encouraged her to pursue studies.
Fatima has also qualified C-TET and U-TET after B.Ed. At present she is teaching in a school in Jaspur town. Teachers who guided her say she is a brilliant student and though she was appearing as a private student she always remained in touch with her guides. "She is a brilliant student and will excel further in Sankrit studies. She wishes to do Ph.d in Sanskrit. I hope she understands the rhythm of the Vedas and share their wisdom and knowledge with the community around her," says Dr Vinay Vidhayalankar, teacher of Sanskrit at MB PG College at Haldwani.
http://www.tribuneindia.com/news/uttarakhand/muslim-girl-tops-ma-sanskrit-exam/278723.html
--
Hijab-wearing Muslim women being passed over for jobs in last form of 'acceptable' discrimination – MPs
11 AUGUST 2016
Muslim women who wear headscarves are routinely being passed over for jobs and sidelined in the workplace because of what is seen as one of the last forms of "acceptable" discrimination, MPs have warned.
Highly qualified women who have already overcome major barriers to train in professions such as law, are being written off because of crude assumptions that they are "submissive and weak", a Commons report found.
Some are driven to abandon wearing traditional Islamic dress in order to get a good job, an inquiry by the Commons Women and Equalities Committee was told.
Others find themselves interrogated – illegally – at interviews about whether they are married and have children or want to, while those already in jobs find themselves passed over for important assignments because of assumptions that they might not be "allowed" to travel.
The report calls for urgent action to tackle unemployment in the Muslim community – with rates running at more than double the rate of the general population (12.8 per cent against 5.4 per cent) – or risk seeing further division in society.
It also calls for companies to introduce "name blind" applications to reduce "unconscious bias" against Muslim and other minority candidates – backed up by a change in the law if necessary.
The recommendation echoes remarks by the US President Barack Obama last year warning against "the subtle impulse to call Johnny back for a job interview but not Jamal".
The inquiry, which took evidence from experts and individuals, including spending an afternoon with young Muslim students in Luton, also found women in particular facing simultaneous pressures both from their community and wider society.
Hostility towards Muslims was acting as a "chill factor" putting many off even applying for jobs, they found.
In some cases, the upsurge in attacks on Muslim women, has led Muslim women to look only for jobs which will not involve travelling after dark.
Maria Miller, chair of the committee, said: "The evidence was very strongly that … it was seen as acceptable to discriminate against Muslim women and that [people] almost didn't see it as discrimination.
"You can't have some women more equal than others.
"Everybody is subject to the same law in this country and Muslim women can choose to dress in the way that they want in the same way that other women can and shouldn't have to suffer discrimination as a result of it.
"One of the young women who gave evidence to us told the committee in an informal sitting that she had decided not to wear a headscarf and was struck by the different way she was treated both by people she didn't know but also people she knew.
"There is a distinct level of institutional racism that is being endured by Muslim women and we must be open about that."
The committee also warned that the Government's "Prevent" strategy, which includes a requirement for teachers to report signs of potential radicalisation, has "exacerbated" a sense of inequality experienced by Muslims and increased tensions.
One woman ... was questioned a lot on her ability to travel around the country for meetings and events; she was also asked whether she would be comfortable working with male employees, and felt generally that there were more questions relating to her religious beliefs than her skills and experiences
Written evidence from the Muslim Women's Network UK
Crucially, they said, it meant that other positive initiatives by the authorities were viewed with suspicion.
Mrs Miller said: "One of the reasons we feel that this needs to be tackled quickly is because of the very clear perception among Muslim people that interventions by the Government to support them are linked to Prevent and the anti-extremism policies that the Government clearly has to get right.
"The committee felt strongly that there needs to be a clear break between employment support for Muslims, to get them into work, and counter-extremism policies.
"We found it difficult to get groups to meet with us because we were from Parliament and it was assumed that we were part of the Prevent Strategy and we had to spend a great deal of time explaining to that as a committee we had nothing to do with the Government."
http://www.telegraph.co.uk/news/2016/08/11/hijab-wearing-muslim-women-being-passed-over-for-jobs-in-last-fo/
--
Hijabs at Olympics aren't about freedom
WEDNESDAY, AUGUST 10, 2016
The Rio Olympics, much like everything else these days, seem to be needlessly distracted by identity politics. Despite mediocre Olympic performances, two female athletes have received disproportionate praise and attention from the international media.
American fencer Ibtihaj Muhammed and Egyptian beach volleyball player Doaa El Ghobashy each broke away from their country's standard uniforms to wear a hijab while competing.
Hijabs are worn by a minority of Muslim women in western countries, and a majority in much of the Middle East, North Africa and Asia.
Defenders of the hijab say it represents religious freedom, modesty and a commitment to the Muslim faith.
That may be true for some, but the hijab is also a symbol of oppression, and it has deep ties to fundamental Islamism.
To quote liberal Muslim feminists Asra Q. Nomani and Hala Arafa, "the hijab is a symbol of an interpretation of Islam we reject."
Writing in the Washington Post, Nomani and Arafa argued the word hijab "is never used in the Qur'an to mean headscarf," but instead, its literal Arabic translation is "curtain" and means to hide, obscure or isolate something or someone.
Government laws enforcing the head-covering are relatively new in Islamic societies, and the hijab's rise in popularity has come hand in hand with other problematic elements of radicalization.
Government edicts to wear a hijab only date back to the 1980s, following the Islamic revolution in Iran, as well as the rise of well-funded fundamentalist clerics in Saudi Arabia.
Of course, the overwhelming majority of Muslim women who wear the hijab, including these two Olympians, are peaceful people, not radical jihadists.
There is no doubt that many Western Muslim women choose for themselves to wear the veil.
But many don't have a choice, and we shouldn't pretend the hijab is a symbol of liberation and freedom.
Look at the places that enforce the head covering.
The hijab is mandatory in only the most regressive, illiberal places: Iran, Saudi Arabia, Taliban Afghanistan and areas controlled by ISIS.
In other countries — Pakistan, Somalia and the Palestinian territories, for instance — immense social pressure and physical threats often make wearing the hijab de facto law.
Women who do not conform are routinely beaten or have acid thrown in their faces.
Even in the West, many Muslim women are forced to wear a veil.
A 2003 study in France found 77% of women who wear a hijab say they do so out of fear.
In liberal, democratic France, Islamists threaten and harass Muslim women who choose not to wear the veil.
That is not free choice. The hijab, very often, is coercion disguised as freedom.
While many religions struggle to reconcile ancient beliefs with modern norms, the hijab is uniquely problematic.
Unlike religious symbols such as the Christian cross, Sikh turban or Jewish kippah, the hijab has one purpose.
In its loosest form, it makes women less visible in society. In its most extreme form, the niqab, it erases them entirely.
That is why many liberal Muslim feminists encourage women to remove the veil that physically separates Muslim women from the rest of society.
The Olympics are supposed to be a time to promote global peace and understanding.
Rather than heralding practices that cause immense pain, suffering and exclusion around the world, we should stand with Muslim feminists and call the hijab what it is: A sexist practice that excludes and degrades women.
http://www.torontosun.com/2016/08/10/hijabs-at-olympics-arent-about-freedom
--
AMERICA'S 1ST FEMALE MUSLIM LAWMAKER ABOUT TO BE ELECTED
10.08.2016
The state that has imported the most Somali Muslims over the past 25 years has reached a historic milestone that may be a harbinger of things to come.
In Tuesday's Democratic primary for the Minnesota House of Representatives, Ilhan Omar, a hijab-wearing Somali woman, defeated 44-year incumbent Phyllis Kahn and will likely become the first female Muslim legislator in U.S. history in November. The district is made up mostly of college students and immigrants, offering zero chance for her Republican challenger in November.
Omar escaped perpetual war in Somalia as a child and lived with her family for four years in a Kenyan refugee camp before being resettled by the United Nations and U.S. State Department in Minnesota. Now 33, she works as a community organizer, serving as director of policy initiatives at Women Organizing Women, "where she empowers East African women to take civic leadership roles in their community," according to her website.
Among the six accomplishments Omar lists on her website is lobbying for passage of a city council resolution honoring Muslims in Minneapolis:
"Passing a Minneapolis city ordinance (the first of its kind) to allow businesses to extend their hours 35 days a year to honor, respect and accommodate Muslims celebrating Ramadan."
In an interview with Knight Errant, Omar says she learned about politics mostly from her grandfather's example and by "meeting with people from marginalized, predominantly immigrant communities."
Omar is the current president of the state Democratic Party's Feminist Caucus, which would seem to fly in the face of the beliefs of a practicing Muslim. Islam teaches the submission of women under men, and the wearing the hijab is but one symbol of that submission. Women are counted as "half" of a man under Shariah law for purposes of inheritance.
Dr. Mark Christian, a former imam who grew up in Egypt the son of a Muslim Brotherhood operative, said the Brotherhood uses Muslim women in positions of authority in Western countries where Muslims are still a small minority.
"Every country is different. The Muslim Brotherhood, only in the U.S.A. and West, love to have women in a high level position to show how equally they treat women," Christian writes in his booklet "Women and Islam," but this is "a strategic tactic used to convince the world their women are not oppressed."
But it's a very different story in Muslim-dominated societies in Saudi Arabia, Pakistan, Oman, UAE, Yemen, Somalia, Syria and Afghanistan, where women are typically not allowed to go out in public without being escorted by a father, brother, husband or some other male relative. They must be covered and are taught to "lower their gaze" in the presence of a Muslim man. To prosecute a man for rape requires multiple male witnesses, and if they can't be produced the woman is guilty of adultery.
A Muslim woman also does not have the same inheritance rights as her brothers under Shariah.
Quran (4:11) states with regard to inheritance: "The male shall have the equal of the portion of two females" (see also verse 4:176).
Quran (2:228) states, "and the men are a degree above them [women]"
But feminism is not the only issue in Omar's agenda that would seem antithetical to the principles of Islam. She also considers herself pro-abortion and LGBT rights while vowing to fight for "environmental justice" and "social justice."
Omar gave two victory speeches Tuesday night, one in English and the other in Somali. She has lived for nearly two decades in the Cedar Riverside community, a section of Minneapolis often referred to as "Little Mogadishu." It has the highest concentration of Somali refugees of any area in the country. They have been shipped there by the U.S. State Department's refugee resettlement program and its taxpayer-funded contractors since at least 1994 and the arrivals continue to this day. Somalis are sent to America at a rate of 700 a month under the program, which distributes them into more than 200 cities and towns for permanent resettlement.
Praise from Democrats
Former Minneapolis Mayor R.T. Rybak, who endorsed Omar, told the Star-Tribune. "From a refugee camp to the State Capitol with intelligence and insight. This is a wonderful story to tell as Americans, and a great source of pride for the state of Minnesota's open arms."
Kahn also praised her opponent and congratulated her for the historic victory.
"Ilhan obviously ran a very good campaign and mobilized a lot of people that we didn't see before in previous elections," Kahn said after the results were in Tuesday night.
She said that her own election in 1972 had been historic and "this is a new historic event … our district is the home of historic events."
Some Republicans say 'We told you so'
But some Minnesota Republicans were not so giddy, especially those who have warned for years that the build-up of Somali enclaves would eventually lead to their political empowerment, which represents a whole new phase of what they believe is a campaign of cultural jihad.
Cultural jihad, also called civilization jihad in Muslim Brotherhood documents, uses America's liberal immigration laws to infiltrate and take over through peaceful means, a strategy that's spelled out in the "An Explanatory Memorandum on the General Strategic Goal for the Group in North America." This seized document was entered by the FBI as evidence against the Holy Land Foundation during the largest terror-financing trial ever held on U.S. soil in 2007.
"The Democratic Party rejects the idea of civilization jihad as advanced by the Muslim Brotherhood," said former Congresswoman Michele Bachmann of Minnesota. "Who's laughing now?"
Omar won her victory over two other candidates in a three-way race. Besides incumbent Kahn, another Somali, Mohamud Noor, also ran for the seat. Like Omar, Noor is also Somali-American and an activist in Democratic politics.
In November, Omar will face Republican Abdimalik Askar, a school teacher who political observers in Minnesota say has no chance of winning.
Jan Markell, founder of Olive Tree Ministries, a Christian radio broadcaster in Minnesota and co-author of "Trapped in Hitler's Hell" with Holocaust survivor Anita Dittman, said she will be watching the political career of Omar closely but she doesn't have high hopes based on the performance of Rep. Keith Ellison, the first Muslim member of Congress who is also from Minnesota.
She said many Minnesota Christians will be praying that Omar is "a productive part of our political process and not an advocate of Shariah law."
Ellison swore his oath to uphold the Constitution on Thomas Jefferson's Quran, sparking comments from his supporters at the time that "even Jefferson recognized the importance of Islam." What they didn't say was that Jefferson read the Quran so he could understand the mindset of the enemy Barbary pirates, who were plundering American merchant vessels off the coast of Africa. When Jefferson took office as president he sent the U.S. Navy and Marines to stop the pirates.
Read about President Jefferson's defeat of the Barbary pirates and what he had to say about Islam.
Debra Anderson, the Minnesota chapter coordinator for ACT For America, a watchdog group that opposes Shariah law, said Omar's election is just the first shoe to fall in what will inevitably be many conquests of Islam in her state as a result of the growing Somali enclaves not only in Minneapolis but in St. Cloud, Willmar, Austin, Owatonna and other cities.
"She believes America is oppressive, classic Islamic worldview," Anderson said of Omar's platform as laid out on her website. "Throughout, she uses progressive speak, policies that, if enacted, will ultimately promote the incremental accommodation to Islam.
"She is following the example of Mohammad: Settle. Seek power through politics. Once power is achieved, impose Islamic law."
"Their extensive co-opting of American ideas and words overwhelm me. I don't know where to even begin to counter their lies."
Masters of deception
Former Homeland Security officer Phil Haney agrees that American Muslims operating under the influence of the Muslim Brotherhood are masters of deception.
Haney, co-author of the bestselling whistleblower book "See Something Say Nothing: A Homeland Security Officer Exposes the Government's Submission to Jihad," said Omar is able to get elected in a liberal state like Minnesota by pandering to liberal causes.
"If the predominant political climate of America was conservative, they would support every conservative cause with just as much fervor as they are now supporting liberal causes," Haney said of politically active Muslims. "These guys are master chameleons, and even though their colors are red, white and blue, they're still chameleons."
At the very least, Muslim legislators who swear on the Quran to uphold the U.S. Constitution, can be counted on to be solidly anti-Israel, said Markell.
Hatred of the Jewish people is embedded in the Islamic texts.
The hadith narrated by Abdullah bin 'Umar says: "I heard Allah's Apostle saying, 'The Jews will fight with you, and you will be given victory over them so that a stone will say, 'O Muslim! There is a Jew behind me; kill him!'" [Volume 4, Book 56, Number 791]
Muhammad himself is recorded in the Quran to have beheaded more than 700 Jewish men and boys at the Battle of the Trench outside Medina in 627 A.D.
"A likely logical conclusion is that most Muslim legislators will never act on behalf of Israel," Markell said. "I think this is a safe assumption and a tragic reminder that elections have consequences."
Traditional non-Islamic Minnesota Democrats don't realize their days are numbered, Bachmann said.
"Democrats don't realize that Shariah-sympathetic politicians see the supplanting of the U.S. Constitution by Shariah, in addition to other U.S. laws, as their ultimate goal," Bachmann said. "This isn't far-fetched."
Bachmann introduced legislation in 2014 to get the Muslim Brotherhood banned as a terrorist organization while she was in Congress but Republican leaders buried the bill. It's been re-introduced this year, but Speaker Paul Ryan, R-Wisc., and Senate Majority Leader Mitch McConnell, R-Ky., have again buried the bill.
Wherever concentrations of Muslims have arrived, they continually agitate for Shariah-compliant accommodations, and that's just a fact, Bachmann said.
It happened in 2011 on the federal level when 57 Muslim organizations banded together and demanded of now-CIA Director John Brennan that the White House purge all references to Islam's connection to terrorism from FBI training materials, libraries and teaching curriculum, she said.
"They also demanded certain instructors be removed so teaching what motivates Islamic terrorists would no longer be taught to law enforcement," she added. "Brennan was only too happy to comply, and it was done."
In that instance the offense was criticizing Islam, which is called blasphemy under Islamic law. So teaching America's law enforcement what motivates terrorists is now prohibited.
"Here in Minnesota Muslims demanded and received foot baths in higher-education bathrooms. They have prayer rooms in public facilities, halal-compliant food in public facilities, they defied zoning laws to build a mosque in an area zoned industrial.
"Today, there are at least 129 mosques in Minnesota, with more in the pipeline. There are at least 22 Muslim Student Associations on public college campuses, and approximately a dozen MSAs on public high school campuses."
The federal district court in Dallas found during the Holy Land Foundation trial that MSA chapters were fronts for the extremist Muslim Brotherhood in the U.S.
All of this means Minnesota is "far down the road of civilization jihad," Bachmann said.
Another long-term Democrat politician was defeated Tuesday in Minneapolis by another refugee, Fue Lee of Thailand, though Lee is not Muslim.
"The Democratic Party may think they are brilliantly adding coalitions under their inclusive umbrella," Bachmann said. "But they fail to realize their power will be quashed sooner than they can say 'Shariah.'"
Markell said most of the Somali refugees remain isolated within their own communities and do not assimilate. And in the Twin Cities and surrounding area, "Somali gangs are more and more prevalent in our area and actively harass people and even threaten them."
A gang of Somali men harassed and threatened to rape a young woman in Minneapolis's Linden Hills neighborhood in July, as reported by WND.
"Minnesota's generous welfare system welcomes many and we just want to see the various immigrants from Muslim lands show real appreciation for the new life we offer them," Markell said. "It's far better than the $200 a year some Somalis earn in their homeland."
http://www.wnd.com/2016/08/americas-1st-female-muslim-lawmaker-about-to-be-elected/
--
URL: https://newageislam.com/islam-women-feminism/first-islamic-mosque-with-women/d/108244
New Age Islam, Islam Online, Islamic Website, African Muslim News, Arab World News, South Asia News, Indian Muslim News, World Muslim News, Women in Islam, Islamic Feminism, Arab Women, Women In Arab, Islamophobia in America, Muslim Women in West, Islam Women and Feminism