New Age Islam News Bureau
24 Dec 2016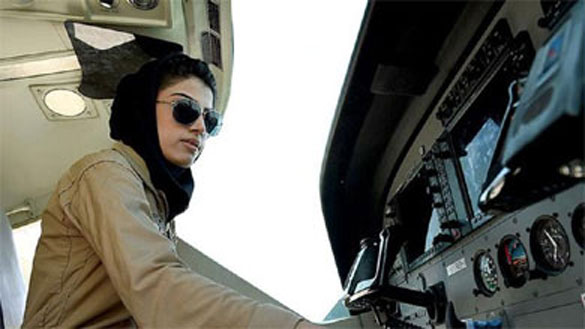 First Fixed-Wing Afghan Female Pilot Requests Asylum in US
-----------
• Muslim Girls Must Take Swimming Lessons Alongside Boys, German Court Rules
• Saudi Woman Use Hashtag to Reject Divorce Claims
• Some of the Kerala Women Taken To Saudi Go Missing, Says Escaped Victim
• A Bangladesh Girl Kills Herself for Not Being Allowed To Chat Over Cellphone
• Who Said Engineering Is Not For Females?
• Why Companies Need More Women in Their Workforce
• The Right Flowers: Local Girls Club Allows Muslim Girls 'Safe Space' To Have Girl Talk
Compiled by New Age Islam News Bureau
URL: https://newageislam.com/islam-women-feminism/first-fixed-wing-afghan-female/d/109485
--------
First fixed-wing Afghan female pilot requests asylum in US
Dec 24 2016
The Afghan Air Force's first fixed-wing female pilot has sought asylum in the United States, it has been reported.
Capt. Niloofar Rahmani informed regarding her intention to remain in the United States on Thursday after completing a 15-month training in Texas.
"Things are not changing" for the better in Afghanistan, Captain Rahmani told The New York Times in an interview on Friday. "Things are getting worse and worse."
According to the Times, Capt. Rahmani broke a sobering piece of news to her American trainers, saying she still wants to be a military pilot, but not under her country's flag. This summer, she filed a petition seeking asylum in the United States, where she hopes to eventually join the Air Force.
This comes as reports emerged late last year suggesting that Capt. Rahmani is receiving death threats.
She is one of the celebrated pilots in the history of Afghanistan for being the first female pilot to fly fixed-wing plane and was presented the International Women of Courage award for the year 2015 in Washington DC.
"Niloofar is as committed to encouraging other young women to follow in her footsteps now as she was as an 18-year-old dreaming of flight school. For her bravery in the face of threats of violence and commitment to an inclusive future for Afghanistan's women and girls, we honor Captain Rahmani as a woman of courage," The American 1st lady stated in the citation presented at the ceremony last year.
She graduated from Shindand airbase of Herat province in the year 2013 and at the time of joining the air force academy Nilofar said she wanted to fly with her brothers and serve for her country.
http://www.khaama.com/first-fixed-wing-afghan-female-pilot-requests-asylum-in-us-02536
--------
Muslim girls must take swimming lessons alongside boys, German court rules
8 DECEMBER 2016
Muslim girls must take part in swimming lessons alongside boys, Germany's highest court has ruled, just days after Angela Merkel called for a partial burka ban.
The country's constitutional court ruled that Muslim schoolgirls must take part in mixed swimming lessons together with boys.
If girls object on religious grounds, they can wear burkinis, the court said.
The case was brought by an 11-year-old Muslim girl of Moroccan descent living in Frankfurt, after she was given an "unsatisfactory" grade because she refused to take part in school swimming lessons.
The girl, who cannot be named under child protection laws, argued she was entitled to refuse to take part in the lessons on religious grounds.
But the court ruled that schools have a duty to encourage "social behaviour" and are entitled the make the lessons compulsory, and that mixed swimming lessons are "not a serious impairment of religious freedom".
While some other pupils at the school chose to wear burkinis to the lessons, the girl who brought the case refused, arguing the costume did not provide sufficient coverage.
She also claimed she was offended by the sight of boys and men in swimming costumes, and called for the lessons to be single-sex.
But the court found that she failed to give a "reasonable case for why the burkini does not conform to Islamic dress codes".
The judges referred to her own arguments in court, saying she had testified that there are "no binding rules in Islam" about swimwear.
The burkini does not reveal the contours of a woman or girl's body when wet, they said.
They said she had failed to give an adequate explanation for why she was unable to look away if the sight of partially clad men and boys offended her.
The court's apparent endorsement of the burkini comes just two days after Angela Merkel added her voice to calls for a partial ban on the burka in German public life.
"The full veil must be banned, wherever legally possible. Showing your face is part of our way of life," Mrs Merkel told her Christian Democratic Union (CDU) party conference.
Our laws take precedence over honour codes, tribal customs and sharia."
Under proposals put forward by the party in the summer, burkas and full face veils would be banned at schools and universities, as well as while driving and for public workers.
It is not clear whether the burkini would be covered by the proposed ban.
Several French towns and resorts imposed burkini bans on their beaches during the summer, before France's highest court ruled the bans illegal.
http://www.telegraph.co.uk/news/2016/12/08/muslim-girls-must-take-swimming-lessons-alongside-boys-german/
--------
Saudi woman use hashtag to reject divorce claims
December 23, 2016
Working women in Saudi Arabia have launched a social media hashtag to reject claims that their decision to take jobs has encouraged divorce.
The move follows an official report showing a much higher rate of divorce amongst Saudi women with jobs: 72,895 last year compared to just 14,895 amongst married women.
A consultant was quoted in newspaper Al Riyadh saying:
"The rising divorce rate among female employees compared with non-working women is a serious indicator and a call to consider seriously the situation."
Saudi women in employment should, he claimed, try "not to neglect their family responsibilities and to balance their commitments to work and to the family."
Unsurprisingly working women were unimpressed by the suggestion and launched a hashtag on Arabic language Twitter which translates as 'work is no reason for divorce'.
Participants explained why they chosen to go out to work in the highly religious and socially conservative country.
One wrote:
"A job guarantees financial independence. Even if my husband is wonderful, how can I guarantee my future if something happens to him, God forbid? I need the job."
She added:
"You will not have to wait until your husband gives you money. You make your own money and you are really independent."
Many said controlling husbands lay behind the spike in divorce.
"These men enjoy seeing their women under their authority and they get really upset when they see their women becoming independent financially."
Another social media user, who called herself 'Amal (Hope), bluntly declared:
"If I was ever asked to choose between a job and a husband, I would choose the job. The reason is very simple: The job will not divorce me and will always guarantee me a social status."
http://www.marilynstowe.co.uk/2016/12/23/saudi-woman-use-hashtag-to-reject-divorce-claims/
--------
Some of the Kerala women taken to Saudi go missing, says escaped victim
24 December 2016...
Some of the women, part of a group of 17 women who were taken to Saudi Arabia on the promise of jobs but were allegedly locked up without food and water by their employers, are missing, said one of the victims who escaped and returned to Kerala.
Ambi Jayan, a Mundakkayam native, told Manorama News that many of the women -- hailing from Kottayam and Idukki -- who were taken there for work have gone missing.
She said that no one got the salary they were promised and the women were brutally tortured for resisting sexual harassment. "I have not been given the salary for two months," she said. The group has been facing this plight for the last six months.
Shocking revelations: 17 Keralite women locked up in Saudi without food
Mundakkayam police have started probing the role of a couple from Thiruvananthapuram who allegedly took the women to Saudi, following complaints filed by relatives of the women.
The women went to Saudi to work as beauticians two years ago. Their trips were facilitated by a couple -- Shajahan (second name not available) and his wife Sumayya Shajahan -- from Thiruvananthapuram. They were offered a salary of Rs 1 lakh per month each. However, it is alleged that they were paid less than Rs 20,000 as the couple charged the rest of the amount as their commission.
They were also threatened to be framed under false charges if they protested.
The plight of the women came to light when they sent a video to their relatives in Kerala.
http://english.manoramaonline.com/news/kerala/women-tortured-in-saudi-escaped-woman-narrates-story.html
--------
A Bangladesh Girl Kills Herself for Not Being Allowed To Chat Over Cellphone
December 24, 2016
A schoolgirl allegedly committed suicide by hanging herself from a branch of a tree beside her house at Mirjaganj village in Nilphamari on Thursday night.
Munni Aktar, 11, daughter of Md Afizuddin of Domar upazila, was the only child of her parents, locals said.
According to her family, Munni hanged herself as her father did not allow her to chat at night over the cellphone and also rebuked her.
Domar police sent the body to Nilphamari hospital for an autopsy, said officer-in-charge of Domar police Ahmed Raziur Rahman.
http://www.thedailystar.net/city/girl-kills-herself-not-being-allowed-chat-over-cellphone-1334848
--------
Who said engineering is not for females?
Dec 24, 2016
By Shahd Alhamdan
For some women, working in a stable environment is acceptable, yet Mashaiel Al-Nifay chose her career path differently by being a safety engineer at King Abdullah Port.
Al-Nifay is in her late 20s, and has a bachelor's degree in physics from Duquesne University, another in science from the University of Pittsburgh and a master's in Civil Engineering from Pitt University.
After returning to Riyadh in May 2014, King Abdullah Port's recruitment department contacted Al-Nifay and offered her a job. Her family has been very supportive of her decision to take the opportunity that will have a big impact on her career path.
She said one of the benefits of working in her job today is the growing insight that women can be effective and efficient in such a tough field.
"Even though the nature of my job is somehow organizational and administrative rather than executional and decision-making, my experience has exposed me to work in my field of specialization as part of the engineering team that designed and constructed the infrastructure of King Abdullah Port. I was also able to learn a lot about ports operations and functionalities," she said.
Al-Nifay said ports and shipping are one of the oldest industries in the world. However, the challenge is in enhancing such industry by building a port that caters to modern times with technology to save time and energy, and provide sustained services, which will positively influence the regional market and eventually the international market.
When she was asked about her daily life in King Abdullah Economic City, Al-Nifay said, "In my opinion, KAEC combines the culture of a coastline city with the confidence and tranquility of the desert. No doubt, KAEC is one of the most valuable and specialized cities that cater to modern needs in terms of job creation and economic growth. It efficiently contributes to the Kingdom's social and economic development."
She said her daily life in KAEC is limited to the needs of her job but for a few hangouts now and then with friends and neighbors. This is due to the limited entertainment options, shopping centers, cosmetic care or any activities other than walking the coastline at the beach and engaging in weekly activities conducted at KAEC, she said.
"To be fair we need also to acknowledge that t this city is still very young compared to other cities in Saudi Arabia and the team behind this project is putting in extra efforts to build a sustainable modern community yet respecting our culture and traditions," Al-Nifay added.
She said two other women work in her department and each one of them has a different role and responsibility. There are other women working at various departments in King Abdullah Port, such as information and technology, human resources, operations and terminal control and planning.
For her, transportation is a major issue and it is costly.
"Inside the city buses operate from 9 a.m. to 9 p.m., which is not enough. While outside the city the fair from KAEC to Jeddah is roughly between SR200 and SR400. When flying to Riyadh or Madinah for instance costs about the same, or less. Thus, I am really excited to see the Haramain Railway Project kicking off as early as possible since it will really solve a major issue for the residents and visitors to KAEC," said Al-Nifay.
Some of her goals for 2017 are to fulfill her role as a safety engineer, contribute to the team and meet the expectations of her department and the company.
http://saudigazette.com.sa/saudi-arabia/said-engineering-not-females/
--------
Why companies need more women in their workforce
Dec 24, 2016
Diversity must be pursued by corporates to become successful in increasingly competitive world
For too long, women have been under-represented in the workforce, especially in the Middle East and North Africa region. They have been held back by limited access to education, responsibilities at home, pay and promotion inequalities, and cultural and religious practices.
However, all this is changing, says Krista Pilot, vice-president of corporate affairs at PepsiCo for Asia, Middle East and North Africa.
"In this region, there is a growing realisation that, to continue advancing in an increasingly competitive world, the energy, knowledge and skills of entire populations, including women, need to be harnessed. Economic diversification can, at least in part, be enabled by workforce inclusiveness. That means employing more women, and giving them the tools and pathways to fulfill their potential in the workplace," she says.
Pilot also highlighted PepsiCo's "2025 Sustainability Agenda", which is designed to foster continued business growth in a way that responds to changing consumer and societal needs, including empowering more women to contribute to the workforce. PepsiCo's CEO, Indra Nooyi, has described boosting diversity in the global team as a business imperative. The 2025 Sustainability Agenda is also aligned with the UN's Strategic Development Goals, Pilot specified.
"We are pursuing new initiatives to promote diversity in our global workforce, support the advancement of women, and spur social and economic development in communities around the world," she noted.
Key initiatives geared towards women in particular include investing $100 million in partnership with the PepsiCo Foundation to support initiatives to benefit 12.5 million women and girls around the world by 2025 and continuing to develop a diverse, inclusive and engaged workforce that reflects the communities where we do business. These efforts include a continued focus on achieving gender parity in PepsiCo's management roles and pay equity for women.
"We know from our experience that diversity drives productivity, creativity and problem-solving," Pilot noted. "It helps to attract and retain talent, builds synergies between teams, and generates market insights. Around the world, we hire women and give them the tools to progress their careers. We have a policy of hiring local women, and giving them access to training programs where they can prepare for senior management roles. It is not enough to draw from various cohorts of the population anywhere; that is not a credible hiring strategy. We look for balanced diversity, creating highly productive, engaged teams."
One of PepsiCo's goals for 2025 is to strive for gender parity in management roles, pay equity for women, and provide special support for working caregivers. In the Mena region, PepsiCo runs several skills and training programmes for women and young people. Among these is the Hadafi (My Goal) Women Entrepreneurship Programme, which provides funding, training and mentorship for Arab women, who have started their own firms, or who are aspiring to be entrepreneurs.
In addition, PepsiCo's women executives also support and provide mentorship to help Arab women to succeed across numerous other partnerships centered around skills-building, such as the partnership with the Arab International Women's Forum aimed at empowering Arab women.
"In Lebanon, 90 students have graduated from our 'Skills for Success' programme, in partnership with Amideast, after receiving finance, IT literacy, and English language courses to improve their job readiness," Pilot revealed. "Through the PepsiCo 'Tomooh' education programme in upper Egypt, PepsiCo has helped young girls from low-income communities to access education. In Jordan and Lebanon, Tomooh provides university-level scholarships, in partnership with Ajialouna and the Jordanian Hashemite Fund for Human Development, enabling them to start or complete their education."
Asked what advice she would give to young women who feel that they must choose between their careers or their family, Pilot answered: "It is all about finding the right balance that fits both personal circumstances and professional aspirations. Each situation is unique, and don't think that 'one size fits all'. I always tell younger women to prioritise - the truth is, no one can 'have it all' but you can have a fulfilling career and a great family life, but you have to prioritise what's most important to you.
She also spoke about how important it is to find a partner who is very supportive and sees you as an equal partner in making the family thrive. "The great news is that, increasingly progressive companies and business leaders are adapting their work-life balance policies, as well as the hiring and promotion strategies, to bring more working mothers into the workforce, rather than just ask women to adopt a model of success that is based on the traditional male experience and role in society."
"It may not feel like it, but women have made incredible strides towards equality in the past 50 years, and I feel that momentum is on our side. It is our responsibility to hold companies accountable, and to continue to do our part in making a diverse workforce a reality," she stressed.
http://www.khaleejtimes.com/business/economy/why-companies-need-more-women-in-their-workforce
--------
The Right Flowers: Local girls club allows Muslim girls 'safe space' to have girl talk
Dec 22, 2016
The East Plano Islamic Center is fairly quiet. Several men and women are attending classes, praying or worshiping quietly to themselves. However, there's one room that's full of energy.
In an upstairs classroom, about 40 girls in lime green hijabs gather together. In front of the class is Samira Maddox, trying her best to quiet the girls' chatter. Today is their last class of their inaugural year, and they're making goals for how they want to be better Muslims by 2017.
The Yameen Yasmina Girls Club is for Muslim girls 9-13 years old. It's led by three Muslim women: Maddox, Amina Abedrabbo and Wafia Gazi. Yameen means "the right" and yasmina is a jasmine flower, so the title speaks to the girls being "the right flower" that will blossom and grow in this club.
"We wanted to have something so that they feel included. They can still be Muslim, love their identity – Muslim girls – be Americans as well and do other things, like how young girls do it in the United States," Maddox said.
Each class has a combination of fun activities and real talk. They discuss issues the girls deal with like bullying, body image and self-esteem. They also bring in guest speakers to talk about Muslim women in history, online safety and other Muslim women in professional careers.
"This age group is the most vulnerable," Maddox said, since several of the girls have dealt with bullying at school. "These are the issues that face young, Muslim girls. It's not even very different than what faces young American girls."
Maddox said she designed the club to show young Muslim girls they're no different than non-Muslim girls. Media sources often show Muslims as "the other," but "the same issues that young girls in America face, they face it too," she said.
"Young girls in America, whether you're Muslim or not, you all deal with self-esteem, body image, all that stuff."
In the Saturday meetings, the girls mix conversations about makeup and hijab styles with talks about how the media portrays Muslim girls.
Almost all the girls have a story about being bullied, mostly by classmates.
"Most of the people here do get bullied a lot because of the media," said Malaak Al-Someri, 12; but at YYGC "I feel like I'm safe and I'm with family and friends."
"I wanted to join because I wanted to learn more about my religion," said Filza Marzook, 13; "and I wanted a safe environment where I can be with friends," said Ayesha Sharif, 13.
Since the start of the club, the girls have gone on field trips to museums, zoos and other outings, all matching in their lime green hijabs. Wherever they go, Marzook said, "we have a really nice field trip that we can all enjoy and we still end up learning about our religion."
The girls said they saw YYGC as a "safe place," from bullying and any kind of hate they see in the world.
"I think it's our safe place because we've all been bullied before, so we can all talk about even our personal stuff," Al-Someri said.
The hijab tends to be the source of their bullying, they said. Allaa Althamary, 14, said, "It makes me feel hated" when she's bullied for her hijab.
"It bothers me because if you go to a church and you see a picture of Mary, she's wearing one too. And Christians don't get made fun of it," Marook said. "The nuns are usually covering their entire body and they don't get made fun … they're sometimes praised for it."
"But when we do it, they're like, 'she's going to blow this place up.' It's really hurtful. It hurts a lot," she said.
The girls also have to combat the way the hijab is viewed by non-Muslims. To the girls, it's a crown. To others, it's a sign of oppression.
"They say women are repressed when they wear the hijab, but at the same time, they're trying to force us to take it off, so they're really repressing us by not letting us choose what we want," said Sameeha Gazi, 12.
Even though they're young girls, they're not immune to the stereotypes of Muslim women, Maddox said. Muslim women are portrayed with no leadership, no voice and no power, but "It wasn't like that in Islam. The prophet's wives were leaders in their community," she said.
By presenting the girls with Muslim women who look like them, Maddox hopes to inspire a new generation of professionals with strong voices and strong identities.
"I think representation is so important because if these girls don't see someone who represents them, how can you tell them, 'you can make change,'" Maddox said. "It's about time they see young women who are Muslims as well."
http://starlocalmedia.com/planocourier/the-right-flowers-local-girls-club-allows-muslim-girls-safe/article_88966410-c92e-11e6-8eda-f3c953c1c9a1.html
--------
URL: https://newageislam.com/islam-women-feminism/first-fixed-wing-afghan-female/d/109485
New Age Islam, Islam Online, Islamic Website, African Muslim News, Arab World News, South Asia News, Indian Muslim News, World Muslim News, Womens in Islam, Islamic Feminism, Arab Women, Womens In Arab, Islamphobia in America, Muslim Women in West, Islam Women and Feminism, Moderate Islam, Moderate Muslims, Progressive Islam, Progressive Muslims, Liberal Islam