New Age Islam News Bureau
10 Jan 2017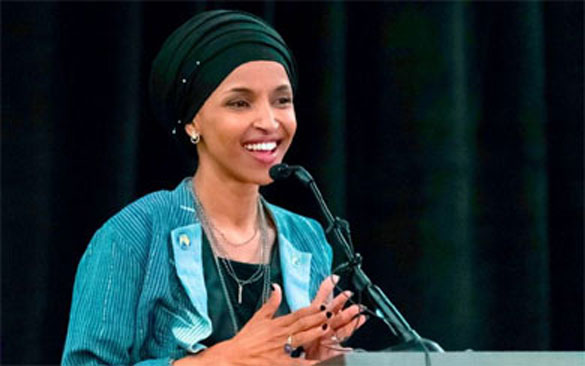 State Rep. Ilhan Omar, center, takes the oath of office as the 2017 Legislature convened Tuesday, Jan. 3, 2017, in St. Paul, Minn.Source: Jim Mone/AP
----
• Woman Blogger From Bangladesh Faces Threat To Life, Seeks International Help
• School For Expats In Saudi Arabia Wins Muslim Woman Top Award
• No Jirga Can Now Block Women From Voting: Sherry
• Supreme Court Of India To Hear Various Petitions On Triple Talaq Today
• Muslim Teen Honoured For Tracking Down Jewish Woman Assault Suspect
Compiled by New Age Islam News Bureau
URL: https://www.newageislam.com/islam,-women-and-feminism/new-age-islam-news-bureau/first-female-muslim-takes-the-oath-on-quran-as-minnesota-house-of-representatives/d/109668
--------
First female Muslim takes the oath on Quran as Minnesota House of Representatives
January 9, 2017
Minnesota: On Tuesday, Ilhan Omar made history in the United States when she was sworn into the Minnesota House of Representatives. She became the first female Muslim and Somali-American legislator, Mic Network reported.
Omar held the Qur'an during her swearing-in ceremony, becoming the second person to do so after Minnesota Rep. Keith Ellison, the first Muslim US congressman and a contender for Democratic National Committee chairmanship.
According to the network, the 115th Congress is the most diverse yet. Despite this, Congress is still about 80% male, around 80% white and about 8% are non-Christian.
What makes Omar's political milestone monumental isn't just her identities as a Muslim woman and a Somali. She is also a refugee and immigrant, who fled the Somali Civil War with her family and lived in a refugee camp in Kenya for about four years.
"The war started when I was 8," Omar said. "One-night militia tried to break into our home, and the exterior was riddled with bullets. My family left our neighborhood, passing through dead bodies and debris."
"I no longer had a bed of my own, the privacy of a shower in my own bathroom — we were essentially homeless," Omar added. "I would fetch water, and my family would reward me with a shilling at the end of the day, so I would go see a movie in the village next door in a makeshift theater: a hut."
Omar's place in American history sends a strong and inspiring message against xenophobic bigotry. The Minnesotan representative is fully aware of this too.
"My election win offers a counter-narrative to the bigotry in the world," she said. "This is a land of immigrants, and most come here for opportunity, a second chance. It's our time to fight for the America we know we can have."
Twitter users celebrated her ceremony with pride:
http://www.siasat.com/news/first-female-muslim-takes-oath-quran-minnesota-house-representatives-1104879/
--------
Woman blogger from Bangladesh faces threat to life, seeks international help
Jayanta Gupta
Jan 9, 2017
KOLKATA: A college student from Bangladesh, who is a secularist-feminist blogger has sought assistance from the international community after facing life threats at home. A few months ago, after the Gulshan cafe attack, she travelled to India in search of help. When she returned to Bangladesh, the situation had worsened.
"I started writing on discrimination against women, children and minorities in Bangladesh since 2012. I am a strong believer in equality, free speech and the preservation of basic human rights. My Facebook ID was banned twice because of the campaign launched against people like me by fundamentalists. I was then using my real name but things started getting bad in 2013. With the number of threats increasing, I adopted the name Kiron Mala and then changed it to Arpita Roychowdhury. In 2014, I joined the Nobojug (New Age) Blog. Apart from threats of being abducted, raped and killed, I also suffered from harassment in public. Fundamentalists as well as members of the ruling party passed sexually explicit comments at me. Even my younger sister had to go through all this because of my writings," Arpita says.
According to her, she has been a victim of atrocities even before she started writing, simply because she belongs to the minority community in Bangladesh. "Soon after my HSC exams, I went for a computer training program. I would be harassed on my way to class. They even entered the class and sexually assaulted me in front of my classmates. In rage, I slapped one of the boys. In retaliation, our home was attacked by a mob that tried to abduct me. We were saved by a few kind neighbours. I was then made to appear before a Shariat-style court and convicted of 'un-ladylike' behaviour," she says.
She claims that an attempt was made on her life recently by some youths on a motorcycle. She was on her way to buy some study material when the youths followed her and stopped nearby. She was saved by a friend who raised an alarm at the crucial moment, forcing the assailants to flee. "I am now in hiding and had to stop my studies. I tried to hide my blog site they are still after me. The local police did not help me and refused to file the report. After the motorcycle incident, a friend's father - who is a police officer - told me to leave the country to save my life. I even tried to hide in India but returned, hoping to continue my studies. This was not possible. I had to flee from my college hostel. Today, I have no academic future and can't think of a career. I can't even meet my family as they are in hiding as well. It's terrible to live in constant fear, running for one's life," Arpita adds.
According to fellow blogger Zobaen Sondhi who has fled to Germany, groups like Ansar Al Islam, Ansarullah Bangla Team (ABT), Al Qaeda in Indian Subcontinent, IS, Jamaat-ul-Mujahidin Bangladesh (JMB), New JMB, Ittehad-Ul-Mujahidin have published multiple hit lists with names of bloggers and writers they plan to kill. "The Bangladesh government is unwilling to ensure safety for secular bloggers and the fundamentalist organisation Hefajat-E-Islam operates with impunity. The Bangladeshi Cabinet Committee for Law & Order, headed by minister of industries Amir Hossain Amu, decided at its meeting on August 9, 2015, to declare atheist authors as criminals, thereby making them liable to prosecution; and intelligence agencies were asked to monitor blogs to trace them. Recently, one of the most powerful politicians of the country, MP Selim Osman vowed to punish atheist bloggers in the presence of high profile police officers."
Between Nov 15, 2014 and April 25, 2016, eleven Bangladeshi bloggers were murdered
They included well-known writer Avijit Roy
Five bloggers were critically injured by fundamentalists
The style of attack has been similar. Bloggers have been hacked with machetes
In many cases, the murders occurred in the presence of close relatives
Nearly all secular bloggers have fled Bangladesh with help from international civil rights groups
http://timesofindia.indiatimes.com/world/south-asia/woman-blogger-from-bangladesh-faces-threat-to-life-seeks-international-help/articleshow/56427060.cms
--------
School for expats in Saudi Arabia wins Muslim woman top award
Jan 10, 2017
BENGALURU: "A Muslim from Saudi Arabia being recognized and awarded by the BJP government. This is India." This is how Syed Mohsin rejoiced when his mother was conferred the Pravasi Bharatiya Samman 2017 in Bengaluru on Monday.
Zeenat Mussarat Jafri, 65, was given the award by President Pranab Mukherjee for providing quality education to children of Indian expatriates in Saudi Arabia. She started the first Indian school in Riyadh in 1982. "My mother is also the first woman of Indian origin from Saudi Arabia to get the Pravasi Samman," Mohsin's elder brother Syed Mudassir told TOI.
A native of Lucknow and a former teacher at Kendriya Vidyalaya, Zeenat went to Saudi Arabia in 1979 with her husband Musarrat Jafri, a former DRDO scientist who later joined the Saudi government as a chemical expert.
Zeenat said: "I was moved by the plight of Indians living in Riyadh. Most of them had left their children behind in India because of a lack of educational opportunities. We wanted to do something and that's when we met Indian Prime Minister Indira Gandhi when she visited Riyadh in 1982. We requested her to speak to Saudi authorities and get permission to start a school for Indian children. We got the green signal."
Zeenat established the International Indian School in Riyadh from the family's savings. From the first batch of 20 students in 1982, the school now has 12,000 students and is affiliated to CBSE. "I get angry when people pull their children out of schools. I want them to complete graduation," said Zeenat, who is running the school for the past four decades.
But what's more Indian about Zeenat and her husband Jafri is that they haven't given up their Indian citizenship.Since Saudi Arabia does not allow for dual citizenship, they have accepted permanent resident status. "I am an Indian and I will always be an Indian," she said.
http://timesofindia.indiatimes.com/city/bengaluru/school-for-expats-in-saudi-arabia-wins-muslim-woman-top-award/articleshow/56432884.cms
--------
No jirga can now block women from voting: Sherry
Jan 10, 2017
The Senate unanimously passed the 'Representation of the People' (Amendment) bill, 2016, introduced by PPP Vice-President Senator Sherry Rehman. The bill ensures that barring women from exercising their right to vote is now a criminal offence.
"Now no jirga can prevent women from voting in the name of custom, tradition or fear," declared the senator.
The senator said, "Passing this bill is a positive step forward. Despite the fact that a woman's right to vote is constitutionally protected, they have faced multiple difficulties in exercising this fundamental right. This bill will ensure that every woman's vote counts."
Highlighting the significance of passing the bill, Rehman went on to say, "This blatant violation of a woman's constitutional right has been prevalent across the country. It is high time that the state criminalises such practices."
Rehman also stated, "We must work further to challenge the legitimacy of an election where women are restricted from voting. This will push leaders to take it upon themselves to guarantee that such practices are completely eradicated".
Numerous reports reveal that, in Pakistan, women voters have been restricted by tribal elders from exercising their right to vote citing 'custom' and 'culture' as their reasons. For instance, although there were over 4,000 women who are registered to vote in Dhurnal, not one of them went to cast their vote in 2015. A similar scenario was reported in Balwal and Dholar as well. A panchayat has reportedly barred women from voting in Sandral Ghagh Kalan. In Buner, women were not allowed to vote at 11 polling stations in 2013. In other cases, women were prohibited from voting as a result of political connivance, which was allegedly the case in Hangu and parts of Malakand in 2015.
"Citing custom and culture as an excuse to stop women from voting is unconstitutional as well. Every citizen of Pakistan has the right to vote, and they should have the freedom to exercise this right without any constraints," reiterated the senator.
"Making women a part of the election process will only strengthen our democracy. This will also give them a voice and raise their stakes in society," concluded the PPP senator.
http://www.pakistantoday.com.pk/2017/01/10/no-jirga-can-now-block-women-from-voting-sherry/
--------
Supreme Court Of India To Hear Various Petitions On Triple Talaq Today
January 10, 2017
The Supreme Court on Tuesday will hear various petition on the Constitutional legitimacy of triple talaq and polygamy in the Muslim community. Several women have filed a petition before the Supreme Court seeking the quashing of the triple talaq practice. The Central Government has also told the top court that it is against gender injustice and for equality between men and women under the Constitution.
However, the All India Muslim Personal Law Board has defended the practice, saying it is better to divorce a woman than kill her. The rights bestowed by religion can't be questioned in a court of law, it said.
In December last year, the Allahabad High Court termed the Islamic practice of divorcing a woman by uttering the word "talaq" thrice as unconstitutional.
The court further observed that the triple talaq practice sanctioned under Muslim Personal Law that governs marriage, property and divorce violates the rights of Muslim women.
"Triple talaq is unconstitutional, it violates the rights of Muslim women," ruled the High Court, adding that no personal law board is above the Constitution.
http://indianexpress.com/article/india/supreme-court-to-hear-various-petitions-on-triple-talaq-today-4467299/
--------
Muslim Teen Honoured For Tracking Down Jewish Woman Assault Suspect
10 January 2017
A Muslim teenager in Brooklyn, Ahmed Khalifa, has been honored for putting his life at risk to chase down an assault suspect in Brooklyn, a news report has revealed.
Khalifa, who is all of 17 and is a Midwood High School student, said he was heading home on December 29 when he saw a man attacking a 56-year-old Orthodox Jewish woman on a Q subway train.
Also read: Two Muslim teens beaten outside New York mosque
According to the CBS New York report, Khalifa got off the train and followed the suspect until police placed the man under arrest. "I just needed to get him, that's all I wanted to do," Khalifa said. "She's like my cousin basically, even though I don't know her."
Khalifa has now been presented with a legislative citation and a laptop. "He doesn't want to be called a hero? He is a hero," Assemblyman Dov Hikind said about the student. Khalifa's father told the newspaper that he is indeed proud of his son.
https://english.alarabiya.net/en/News/world/2017/01/10/Muslim-teen-honored-for-tracking-down-Jewish-woman-assault-suspect.html
--------
URL: https://www.newageislam.com/islam,-women-and-feminism/new-age-islam-news-bureau/first-female-muslim-takes-the-oath-on-quran-as-minnesota-house-of-representatives/d/109668
New Age Islam, Islam Online, Islamic Website, African Muslim News, Arab World News, South Asia News, Indian Muslim News, World Muslim News, Womens in Islam, Islamic Feminism, Arab Women, Womens In Arab, Islamphobia in America, Muslim Women in West, Islam Women and Feminism, Moderate Islam, Moderate Muslims, Progressive Islam, Progressive Muslims, Liberal Islam